'Twas a long time ago, longer now than it seems, that The Nightmare Before Christmas was first released in theaters almost 25 years ago. Over the past two decades, the film has only grown in popularity, spanning theme park attractions, merchandise, and more. And in honor of the milestone anniversary, Her Universe's Ashley Eckstein is taking The Nightmare Before Christmas to new fashion heights. Today, at the Her Universe Fashion Show at San Diego Comic-Con, Eckstein revealed the first-ever couture Funko Pop! dress, and let's just say, it's a real scream.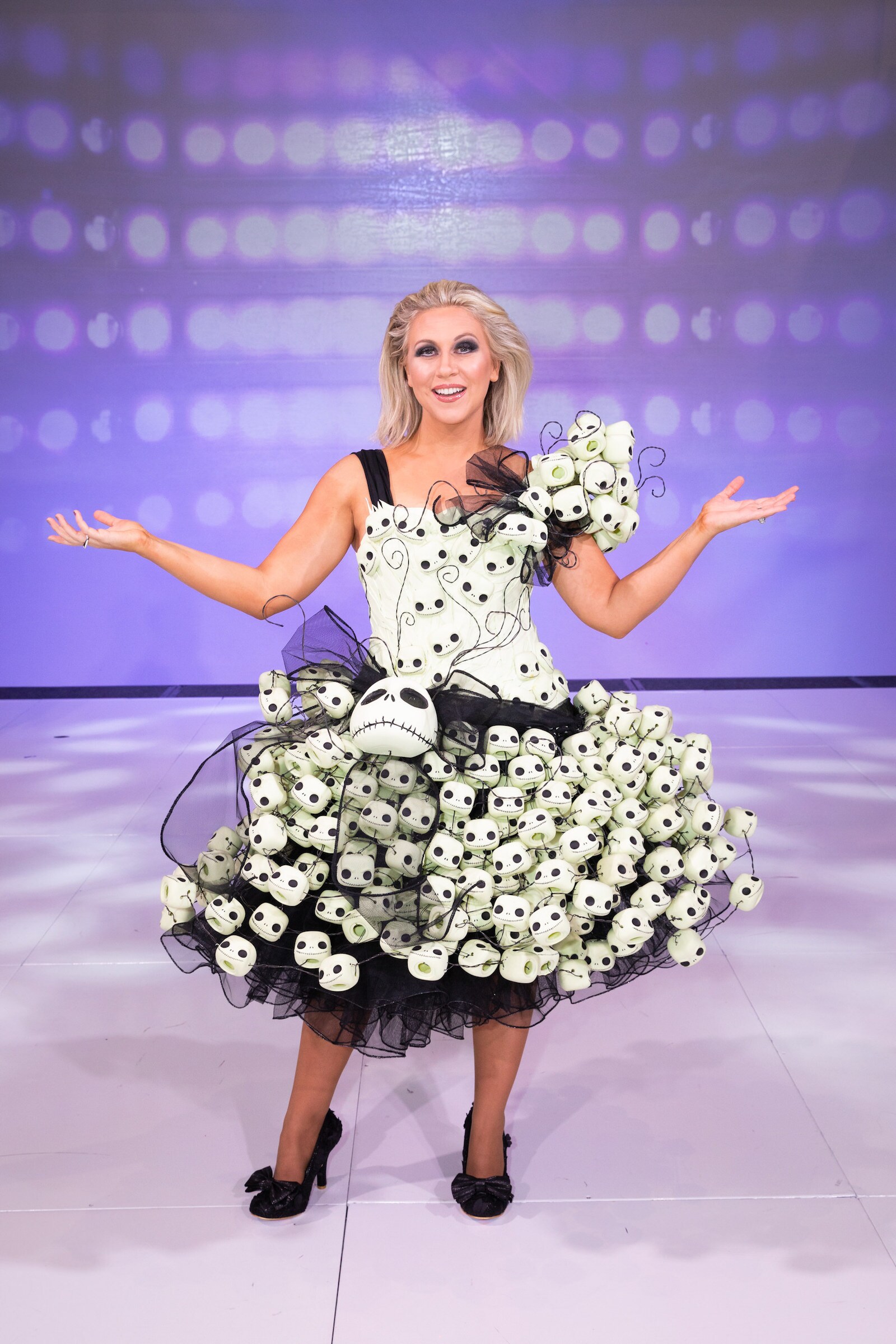 The dress, which weighs 40 pounds, features nearly 500 Jack Skellington Funko Pop! heads. Eckstein worked with her friend and designer, Andrew MacLaine, to create the one-of-a-kind dress. As Eckstein explained:
"The one rule we have for design inspiration for the Her Universe Fashion Show is that the designs should be inspired by anything that is celebrated at San Diego Comic-Con. I really like to wear designs made out of unconventional materials. Two years ago, I wore the first-ever couture gown made out of LEGO bricks designed and made by renowned LEGO brick artist, Nathan Sawaya and designer Andrew MacLaine. So, I wanted to follow that up with the next hottest thing to LEGO, and that's Funko Pop!s. I asked my friends at Funko if there had ever been a couture gown made out of Funko Pop!s, and when they said no, I knew we had to take on the challenge."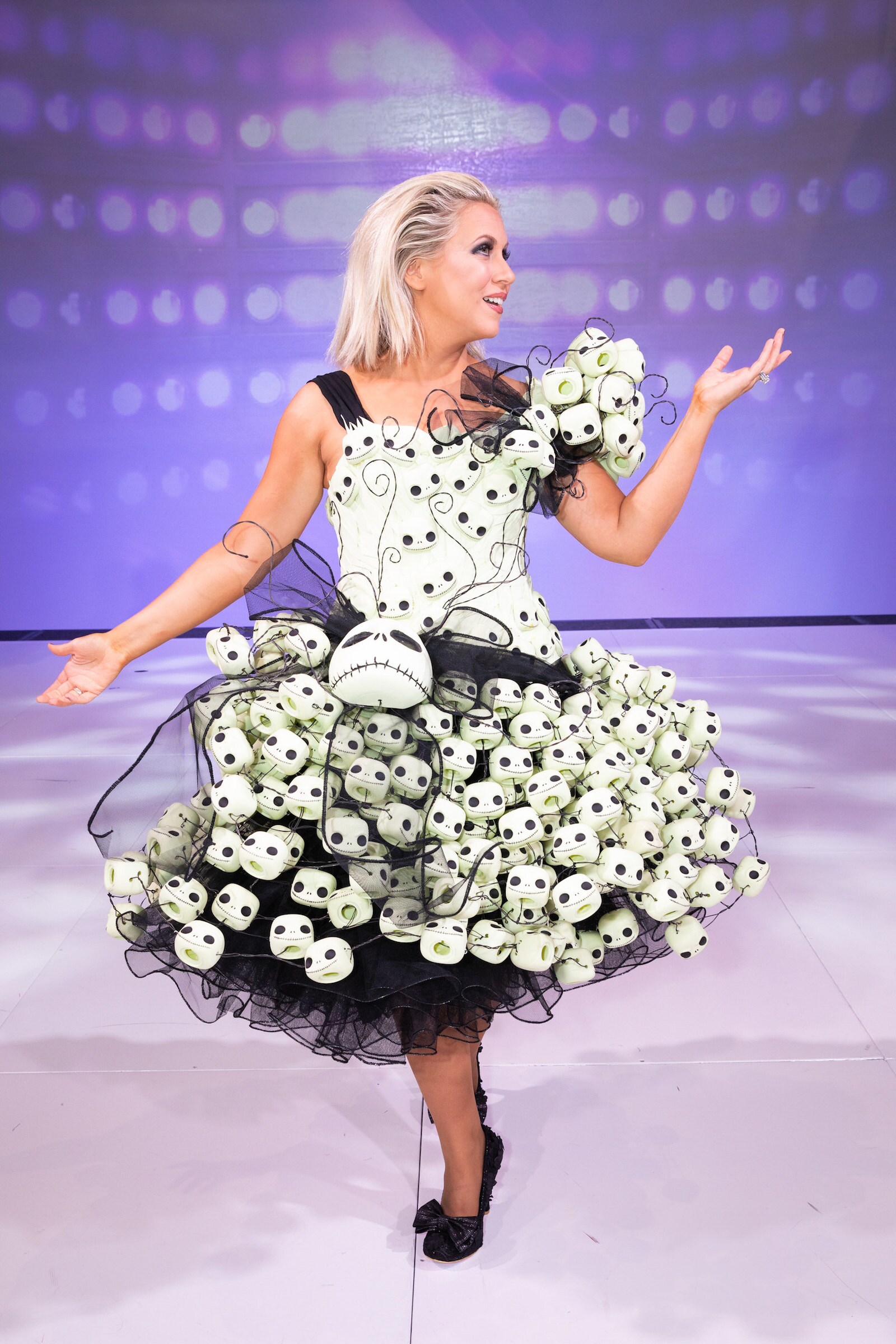 Designing a wearable dress out of the collectible vinyl figures was a unique opportunity for MacLaine. "This dress was a little different than my usual design process.  After working with fabrics for so many years, it's kind of second nature to be able to visualize how material will fall, how it will behave if you cut it in a certain way," MacLaine noted. "This was completely different! Starting out, I did a LOT of different sketches for Ashley, just to see what kind of shape she was interested in, telling her that once we decided on a silhouette, I would then really dig in to figure out how to make it happen with the Pop! heads. She said it was really important that it not be a dress with Pop! heads ON it, but a dress made OF Pop! Heads."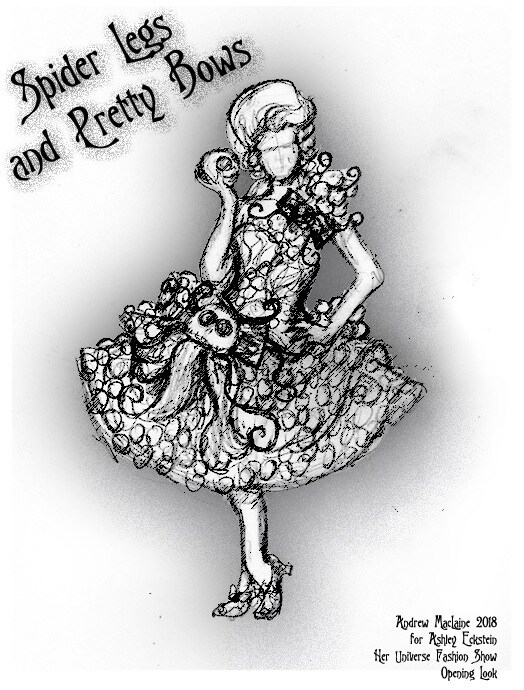 It was also important to MacLaine and Eckstein that the dress fit the world of The Nightmare Before Christmas. "I love that Tim Burton's beloved film is timeless. It's a classic movie that is and will continue to be enjoyed by generation after generation. The movie is just as relevant and popular 25 years later," said Eckstein. MacLaine took inspiration from different parts of the film: from the lines of Jack Skellington's windows in his library, to the lyrics "spider legs and pretty bows," which gave MacLaine the idea "to make huge, nightmarish bows at different parts of the dress to break up the solid color of the heads."
32 sketches later, MacLaine and his friend started to prep the Funko Pop!s for construction, and spent five days wiring hundreds of heads to make the skirt. "It was frightening!" MacLaine said.  "First of all, even though I had seen Pop! figures for years, and even owned some, I never realized how cubic they were, and heavy.  That was the main challenge and concern: the weight." It took an additional three days to make the bodice, and two days to paint and sculpt the wire swirls.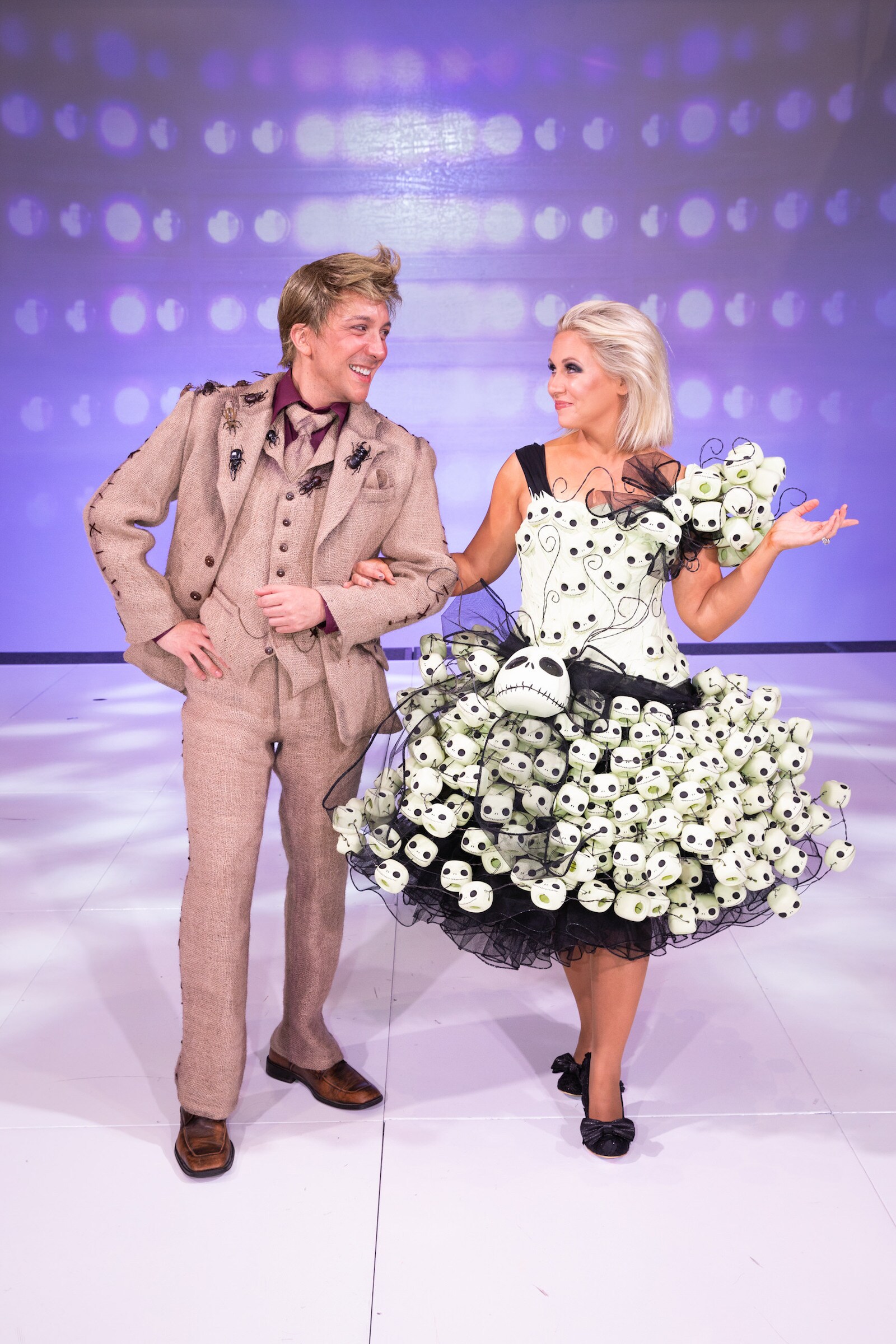 On top of the main design, MacLaine also created a unique Oogie Boogie-inspired suit for himself made out of burlap. "It was actually the idea of the guy who assisted me with prepping the heads," MacLaine explained. "He loves The Nightmare Before Christmas and said, 'You gotta make an Oogie Boogie [suit]!  I have tons of old burlap sacks in my garage!' And I said, 'No!' But then I thought about that saying, 'If you can look good in a burlap sack, you can look good in anything.'  So I went for it!  I learned that burlap is way itchy, no matter what you do to it, but it takes to an iron really well!
With an Oogie Boogie suit alongside Eckstein's Jack Skellington dress, the two friends and collaborators make a perfect Nightmare Before Christmas style pair. "I continue to be blown away by Andrew's abilities. I know I can throw him any crazy idea and he'll be able to bring it to life," Eckstein said. "I'm a little nervous, because I've never worn a 40 pound dress before, but when your adrenaline is pumping and the nerves set in, you don't really feel it."
Stay tuned for more coverage from the Her Universe Fashion Show on Disney Style.