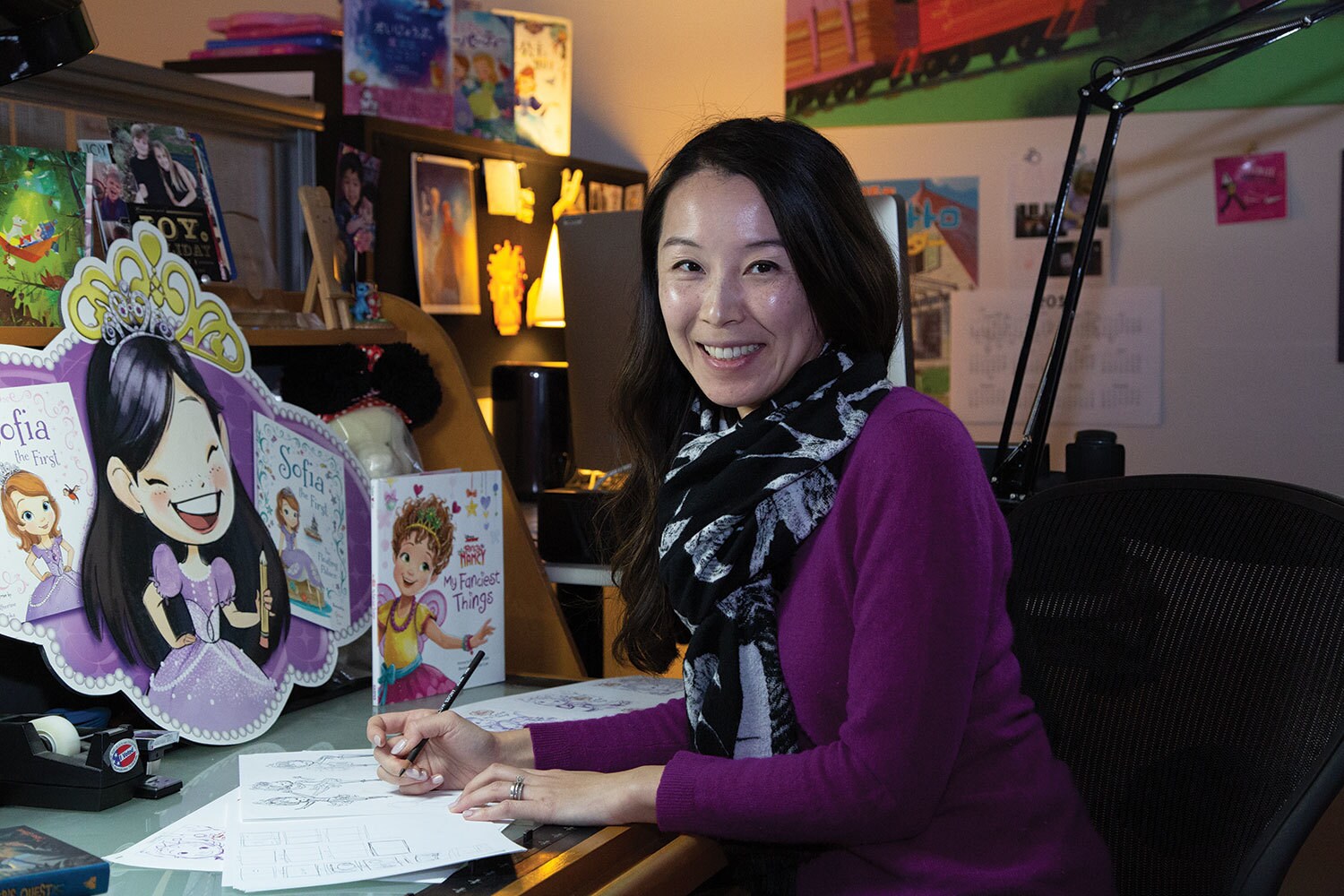 This week's episode of One Day at Disney, now streaming on Disney+, features storybook artist Grace Lee. We had a chance to sit down with Grace and learn more about her favorite types of art, her experience at The Walt Disney Company, and some great tips for encouraging any artist in your family. Keep reading to see what she had to say!
How long have you been a Storybook Artist for Disney?
Grace: Almost 9 years!
Do you have a favorite book or project that you've worked on at Disney?
Grace: My favorite book that I worked on was the picture book Finding Dory's Three Little Words. For this book I had the wonderful opportunity to work on the entire book and illustrate the images in a watercolor style with a computer.
What were your hobbies and interests as a kid?
Grace: As a kid, I loved to draw and craft things. I enjoyed making handmade gifts for my friends and family. It was fun to sketch out the idea, paint some color swatches for it, and figure out how to build it.
What types of classes or electives did you take growing up?
Grace: I took a lot of art classes from a very young age. I did also take different electives, such as shop class, sculpting class, and marching band. I always enjoyed working with my hands and shop class taught me to think dimensionally. And I love the teamwork involved being in band — it taught me the importance of teamwork, and that each person can make a difference.
What did you study in college? What did you think you would be when you grew up?
Grace: I studied Illustration at Art Center College of Design in Pasadena. It was always a dream to work at Disney, but I also wanted to be an elementary school teacher because I like working with kids. I wanted to find fun ways to incorporate art into learning.
What is your favorite medium for creativity?
Grace: I love crafting. I like working with my hands and making physical things. I think it's a nice complement to the 2D drawing I do at work.
Do you ever do any creative projects at home?
Grace: I have a lot of fun creating stuff for friends and family. I have three adorable nephews who are a constant source of inspiration. For their birthdays, I often spend hours on Pinterest researching things I can make for them. I have made custom t-shirts, baked cookies, and even created little illustrations as gifts.
Can you offer 3 tips for parents with kids who would like to be artists when they grow up?
Grace: Tip 1: Keep a sketchbook with you, draw as much as you can, and draw as much from your imagination as you do from real life. It's fun to make up a story with your child and then have your child draw pictures for it as an exercise.
Tip 2: Don't be afraid to make mistakes. Getting good at something is about mileage. I suggest that parents encourage their kids to keep trying, even when they get stuck or make a mistake. When they get stuck or make a mistake, they just have to try again or turn the image into something else. Just keep swimming!
Tip 3: Draw with others. One game I loved to play with my nephews is to draw characters with them. We would each draw a head, and then switch papers to draw the torso, and switch again to draw the bottom half. It's a great way to be creative and learn to collaborate with others.
For more behind-the-scenes magic, make sure to pick up a copy of One Day at Disney from Disney Books, and don't miss One Day at Disney, now streaming on Disney+!