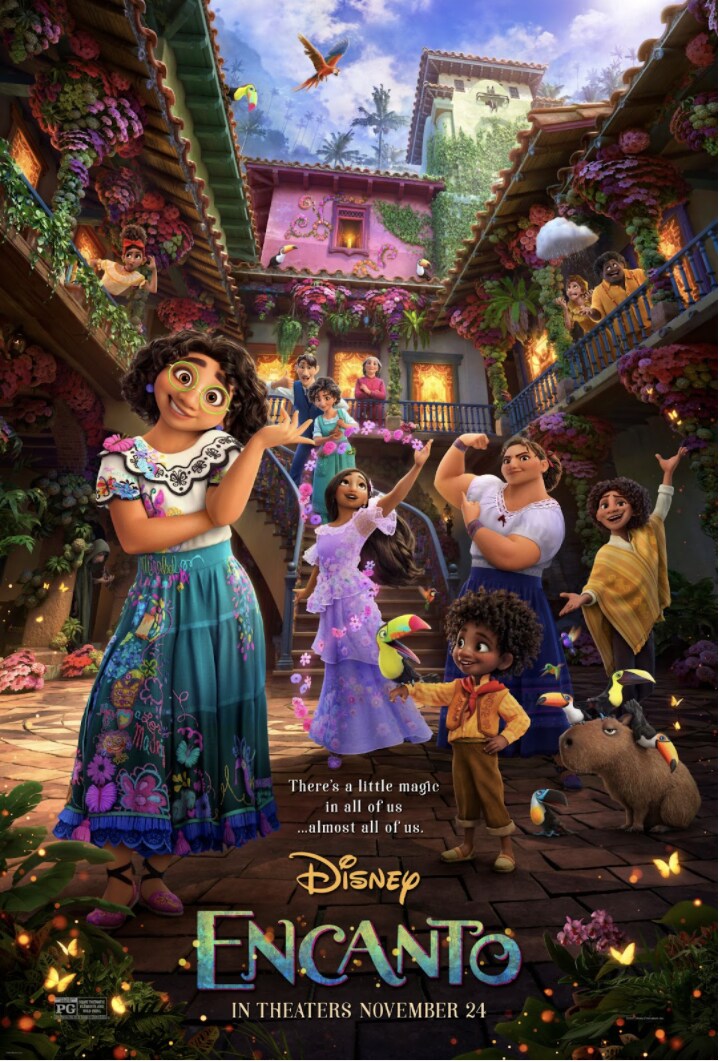 The wait for Walt Disney Animation Studios' 60th feature film, Encanto, is finally over. Directed by Byron Howard and Jared Bush, co-directed by Charise Castro Smith, and with songs from Lin-Manuel Miranda, Encanto tells the story of the magical Madrigal family. Each child in the large family has their own unique gift — except Mirabel, the protagonist, voiced by Stephanie Beatriz. Despite that, it may be up to Mirabel to save her family's magical casa and all of their magic. Disney News recently sat in on a press conference with the cast of the magical movie, where they talked all about how they relate to their characters, what it was like making the movie, and what it's like to have a Disney movie set in Colombia.

It's not uncommon for actors to relate to the characters they play, but several in the Encanto cast feel they were chosen because of how similar they are with their characters. Jessica Darrow plays Mirabel's sister Luisa, who has the gift of super strength. She said, "I love Luisa so much because of how much we are alike. We are both tough crybabies. We got the tough exterior, but soft, mushy, gushy center. And we're very much the rock of both of our families. We take care of our sisters, our mom, our dad, our abuelas." In the generation above her, John Leguizamo plays Mirabel's uncle Bruno, who has the gift of foresight. He said of his connection to the character, "Bruno is that relative who always says the wrong thing at every party, who wrecks every holiday, because they're always talking too much. And that's who I am — I'm Bruno. I was always talking too much, saying everything nobody wanted to say, and my mom would go, 'Please, just be quiet.' I was the black sheep of the family." And María Cecilia Botero, who voices the Madrigal matriarch Abuela Alma, said of her character, "She's like the fuerte," Botero said, which Leguizamo translated to mean, "The force that protects the whole family." "I think I am, too, in my family," Botero added.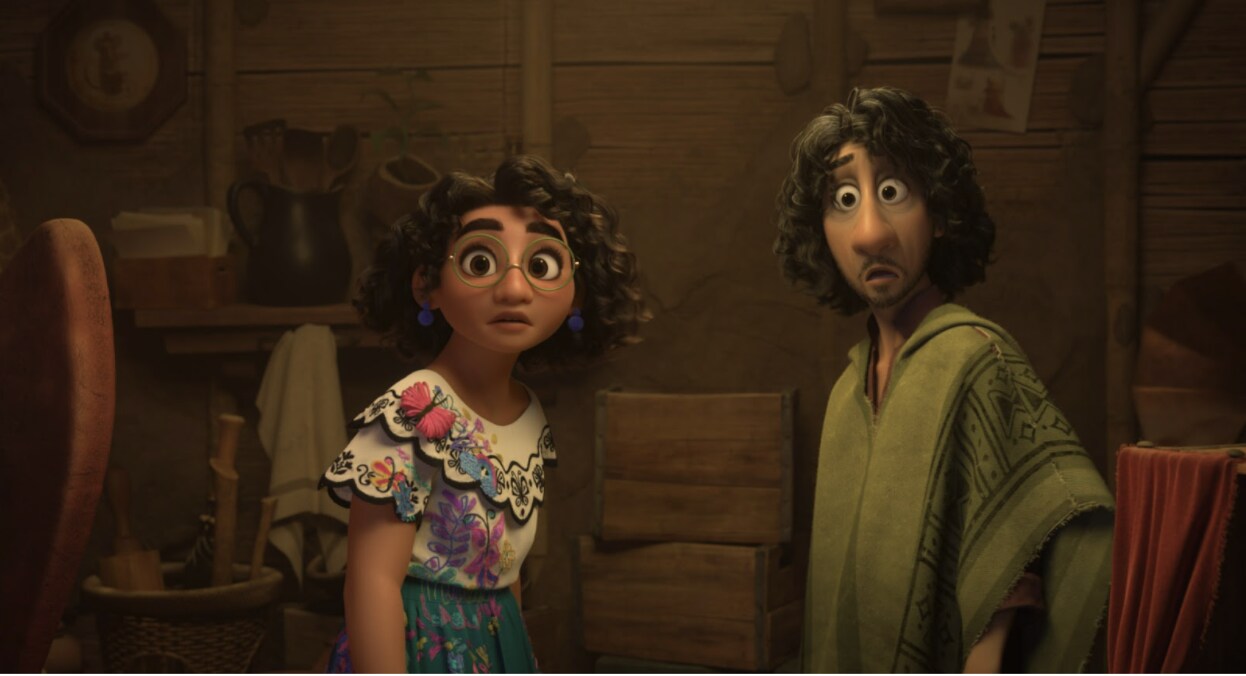 But even if they aren't exactly the same, everyone found something to relate to in their characters. Stephanie Beatriz voices Mirabel, who doesn't have a gift — but Beatriz found that relatable. "There have been many times in my life where I felt like I didn't belong, that I didn't measure up, that I wasn't talented enough to be there. I had imposter syndrome," she said. "But I also discovered by getting older and working more on trusting myself, that I do have something to offer, and it is special, and I am myself. So, you know, not everybody's gonna love that but the people that do, are gonna love it really hard," which is similar to Mirabel's journey in the film. Diane Guerrero, who plays Mirabel's seemingly perfect sister Isabela, also connected with her character's journey. "I used to think that if you weren't perfect, if you didn't do things right, then that would just be the end of it. Like, I used to be so afraid to mess up and ask questions, and I think I used it to protect myself for a long time," she said. "But like Isabela, I've been trying to break free from that. I want to mess up, I want to experiment, and I want to evolve."

Angie Cepeda voices Mirabel's mother Julieta, who has the power to heal through the food she cooks. She said of Julieta, "She has this special relationship with Mirabel. She knows how Mirabel feels about not having a gift, and Julieta's always there for her. I'm kind of like that in my family. I have a lot of nieces and nephews, and it's so important to me to be there for them and try to give some kind of guidance, because I know how it feels when you don't. So I try to be that rock in my family as well. Family's everything for me. And I also love cooking," she laughed. And Mauro Castillo, who voices Mirabel's fun-loving uncle Félix (who married into the family and thus doesn't have magical powers), said, "Félix is the soul of the party. He's a music lover. He's very much like me — I'm a salsa singer and I love to dance, and show all of the goodness from the people in the Colombia Pacific, and the Atlantic Pacific — the region that I come from." Carolina Gaitán plays Félix's wife, Pepa, who has the ability to control the weather with her emotions. But she relates to that — "I'm a little bit crazy as well," she laughed. "Overly dramatic, sometimes; a little bit like a drama queen." Rhenzy Feliz plays Félix and Pepa's son, Camilo, who has the ability to shapeshift and take on the appearance of other people. But it's all in good fun: "He's this entertainer. He wants to make everyone laugh, have a good time. And I feel like that — I mean, I'm an actor, so you know, when you try to get that spotlight, it feels nice, it feels good. He's kind of like that."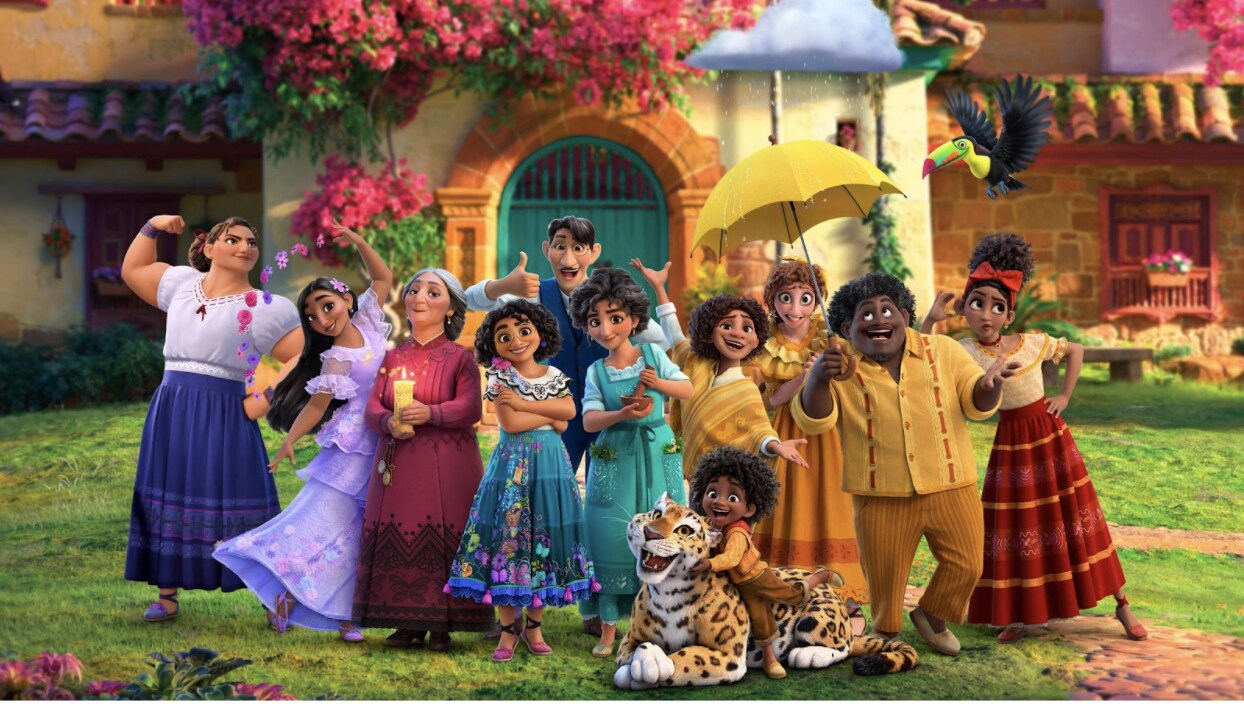 And even though many of the actors found their characters relatable, they still chose to add certain aspects of themselves to their character. Stephanie Beatriz said she brought her own awkwardness — and coping mechanisms — to the character of Mirabel. "Often when I'm uncomfortable, or don't really know what to do or how to handle a situation, I often try to make a joke out of it, to make myself or somebody else more comfortable," she said. "I think comedy is really useful because it takes the air out of stuff, you know? Like, everything can be really intense, and then you make a joke and everyone relaxes. You can't really laugh if you're tense. So I think I tried to bring that to Mirabel."

Many of the powers in the Madrigal family are representative of their characters' emotional roles in the family as well. Diane Guerrero, who plays Isabela, said of her character's ability to grow beautiful plants and flowers, "With this gift came the expectation that she had to be perfect and beautiful, and she uses it kind of like a defense mechanism, something that has worked for her for so long. But I think she discovers that when you're growing up and you're a real human being, perfection really isn't sustainable." Likewise, Mirabel and Isabela's sister Luisa's gift of super strength is a bit of a double-edged sword. "Her gift is super strength, and that is both physical and emotional. She is the emotional Super Hero of the film," shared Darrow. Always having to be strong, though, can take its toll. Botero explained, "To see that family dynamic between the one who's the strong one, and the pretty one? We all have one of those, and we don't understand that that's also a burden." Similarly, Mirabel's cousin Dolores, the daughter of Félix and Pepa who has the gift of amazing hearing, has a flip side to her power. Adassa, who voices Dolores, explained, " Sometimes her well-placed heart is a little bit out of order when she speaks up... But she means well, she just puts her foot in her mouth."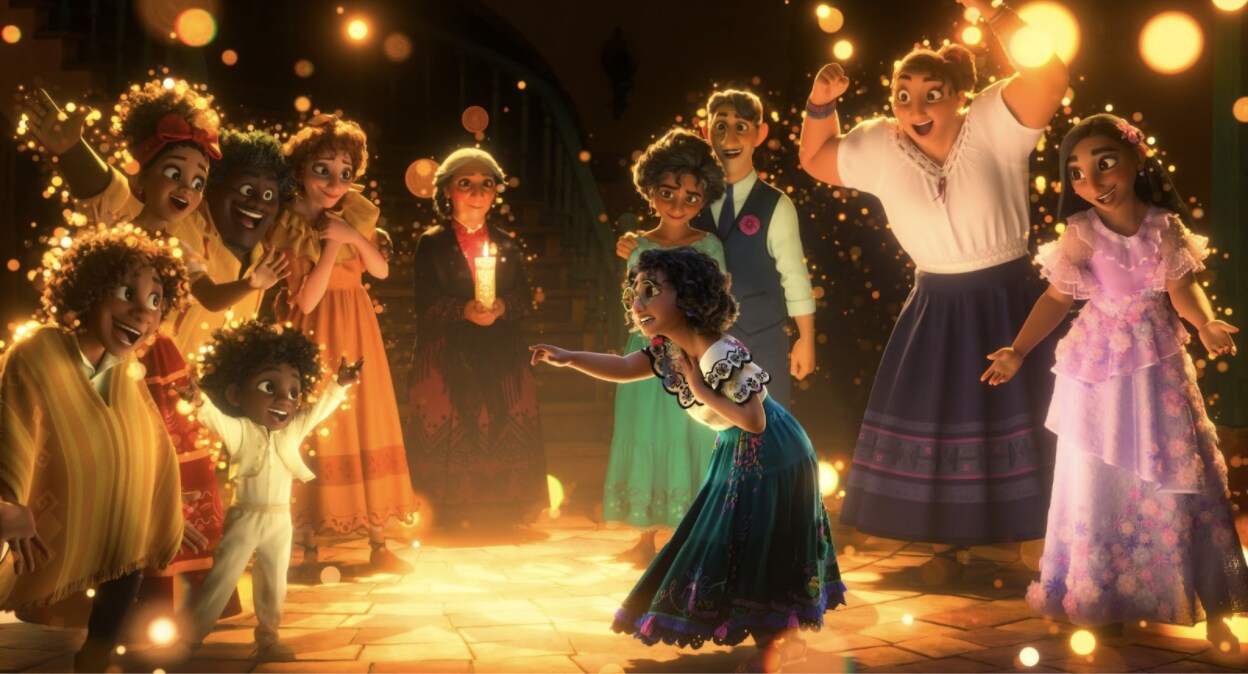 Many of the actors on the cast have roots in Colombia, where Encanto is set. Mauro Castillo, the voice of Félix, is a well-known salsa singer from Cali, Colombia, "the world capital of salsa, la capital mundial de la salsa," he said. Carolina Gaitán, who plays Félix's wife, Pepa, is also a salsa singer, which is just another reason the two are a match made in heaven. She and Castillo felt it was very special to act opposite each other. She also saw Pepa's powers as connected to the diverse climate of Colombia: "That [aspect] of Colombia is very specific — the climate variety that we have. [Pepa] is always raining or thundering, and Colombia is like that. In Bogotá, it's super cold, but then you go to Cali, for example, and it's super warm."

To many of the cast, though, it was the diversity of skin colors portrayed onscreen that really struck them as most truthful to Colombia. John Leguizamo, who was born and partially raised in Colombia, said, "There were a couple of moments that really hit me hard. As a grown man, I was like, 'Yo, my tears are welling up.' And it was when I saw all the colors. 'Cause that's how my family is in Colombia. You know, everybody can be really dark, or light, straight black hair, or super curly hair. I mean, it looked like my family, it looked like the way I grew up. And to see that, you just feel like, 'Oh, my God, we've arrived.' You know, we as Latinx people have finally arrived when there's a Disney movie about you. And then to hear, you know, cumbia, and vallenato, and Carlos Vives, like the real music from Colombia, on top of that, you're like, 'This is too much for me.' It was amazing." And María Cecilia Botero said, "That, to me, is amazing, because you're seeing all shades, all diversities — like, every single part of us. A lot of us are Colombianos, and this is what Colombians look like. It's all of us. And to see that beautiful Afro-Latino and every skin tone represented at the same time." Gaitán added, "I think Colombia deserves so much to be told in this way."
As salsa singers, Gaitán and Castillo weighed in on the diversity of Colombian music, and how it's represented in Encanto. "Diverse music that the people actually know from Colombia… the music from the Pacific Ocean — wow, it's a dream," said Castillo. Of the breadth of music from the country, Gaitán added, "It's so wide." She also noted, "There's something very particular that I notice in this movie, and it's the magical realism. And you can notice it in every single character, in every single frame, in every single scene, in every single song. So it's magical to be part of something that finally tells a bit more, and so highly, about our country that we love with our entire heart."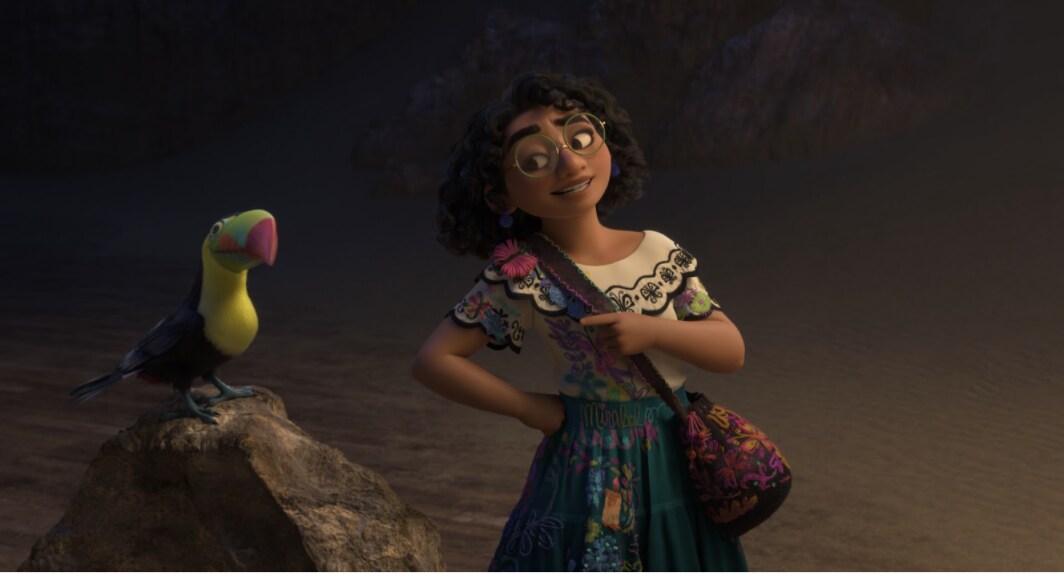 In terms of her experience recording the voice for Mirabel, Stephanie Beatriz shared, "I like to improvise... I think one of the highlights of my life would be when Jared, Byron, and Charise would laugh at something that I would do." As an example, she continued, "I don't want to give anything away, but there's some fun stuff that happens once Mirabel takes off on the adventure, when she's by herself, trying to entertain herself... And I think a lot of that improv ended up making it into the film." Ravi Cabot-Conyers, who plays Mirabel's youngest cousin, Antonio, had a unique experience. Because Antonio's gift is the ability to talk to animals, he rehearsed with an audience: "When I was rehearsing it by myself, I did have a few animal dolls. I had a unicorn, and I think I had a turtle, too."

Overall, Encanto fits neatly into the tradition of Walt Disney Animation Studios' filmography. Beatriz explained, "Disney has this incredible tradition of crafting these female characters who are really brave, really good at heart, want the best for everyone around them, and are willing to go on these sometimes really dangerous, crazy, magical adventures to get what they want." Mirabel's journey perfectly exemplifies that. But Encanto also honors authentic family relationships, as well. María Cecilia Botero said of her character, Abuela Alma, "You know, what I really like about Abuela is that she's not the typical Disney abuela. She's mean sometimes. [But] she's also so tender, so lovely." She continued, "I think we all have [that] somebody in our family. I mean, I have the abuela that I didn't understand, and I saw that strength and that love, and that 'We're gonna make it no matter what.'"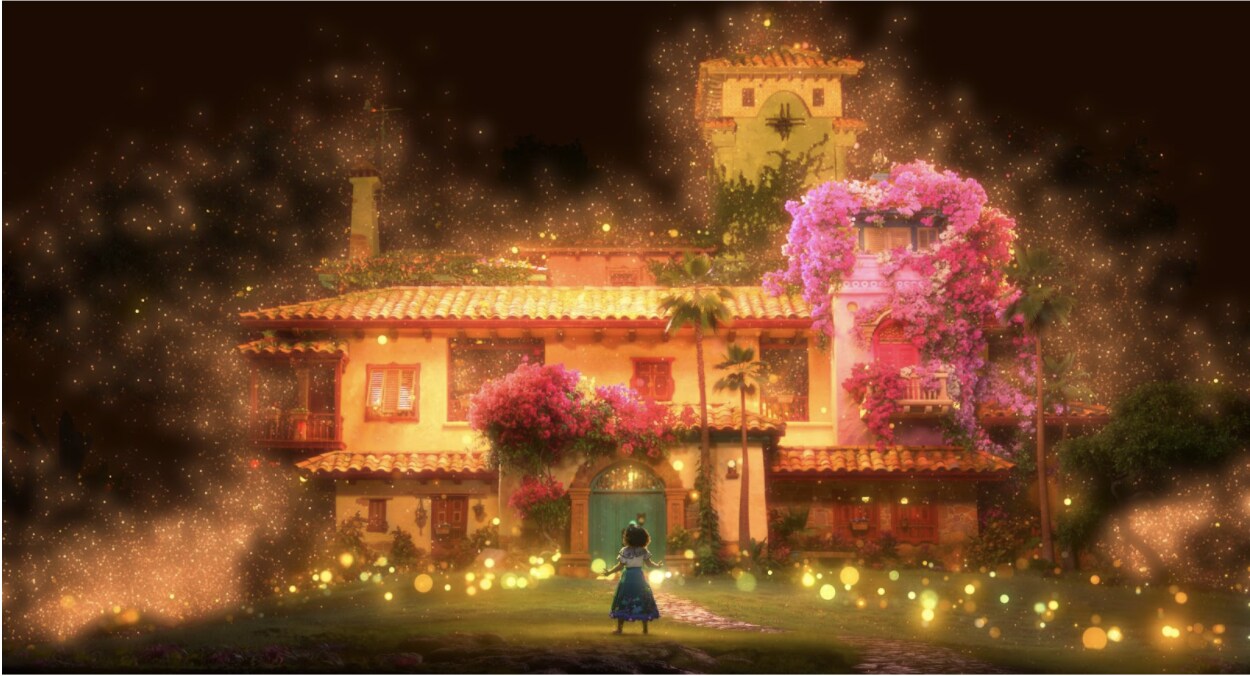 Check out the authentic relationships between the Madrigal family when you catch Walt Disney Animation Studios' Encanto, now in theaters.