I talked to JC about what it was like coming back to Club Mickey Mouse!
The Mouseketeers are back for the Club Mickey Mouse Back-to-School special, and shooting it was full of surprises! While in rehearsal, a guest mentor entered the room and it was none other than JC Chasez! JC was a member of The All New Mickey Mouse Club back in the '90s and, of course, rose to fame as a part of *NSYNC. JC is now a singer-songwriter, record producer, and actor, and he's just as cool as he was back in the '90s. You can see him in a cameo appearance in the Back-to-School special! While on set, I got to interview him, and honestly, I wish I could go back in time and tell my 10-year-old self that this was happening—because she would be shook. I talked to JC about how he got his start, if he still stays in touch with his fellow Mouseketeers, and what it was like coming back to Club Mickey Mouse.
But first, join current Mouseketeers Regan Aliyah, Jenna Alvarez, Gabe De Guzman, Leanne Tessa, Sean Oliu, and Will Simmons in the Club Mickey Mouse Back-to-School special:
Principal Chasez for life! And if you're still dancing to these songs like I am, know that Walt Disney Records will be distributing both singles, "Summer is a Vibe" and "Ready Set Go," and music videos through online music stores. My goal in life is to learn to dance like the Mouseketeers. Now, let's go back to the '90s and talk to JC Chasez about his time in the Mickey Mouse Club:
Michelle Lema:
Let's talk about Club Mickey Mouse! Can you tell me how you were first cast as a Mouseketeer?
JC Chasez:
It was the first audition I ever went out on, actually. I had been performing in talent shows locally and for schools and things like that and ... my mother saw that I was winning and she saw an ad in the paper saying, "Try-outs!" and it was for the movie Newsies. ... So I decided to give it a shot. When I got there, they said I was either too old or too young for the part they were casting that day, but they were casting another show directly next door. It was [Mickey] Mouse Club. So I walked over there and stood in line with everybody else and ... ended up being chosen—I think it was like anywhere from twelve to sixteen people that day. They put us on camera at the end of the day. They asked us to sing a little a cappella, to dance to whatever music they had, and then ... they gave us a one page script to memorize and perform in front of the camera, which I had never done … [I] got a call a few weeks later saying, 'Hey, we sent your audition tape to Disney and they want to put you in the callback!' So they flew me and my father out to Los Angeles for the callback, and there were roughly between 20 and 30 kids there. And out of those 20 or 30 kids they chose like 6 or 8, something like that ... so I was brought in for Season 4. But that's basically how I became a part of the Mouse Club. First audition ever.
Michelle:
That is. Wow. That's amazing. And what was the feeling like when you first found out you were going to be on the show?
JC:
You know, it was disbelief in a way. It's your first audition. Again, I had only done local stuff. And I did one national and I ended up winning, but you just don't think of TV. You just don't think that that's real to you. And, so when the call came in it was exciting, and then [I thought]: can this actually happen? Because it's a dynamic in your family. All of a sudden you have to find a way to live in two places when you're very young. Luckily, Disney is a very smart company and they made the transition very easy for us. They were like, hey we got this covered, don't worry, we've been doing this for a few years now, we got teachers, we got the whole thing. So it puts your parents at ease, and it ended up being a wonderful, life-changing experience.
Michelle:
So, take me back to a day on set. Back to the '90s—when you're on set, rehearsing, filming, what was that atmosphere like?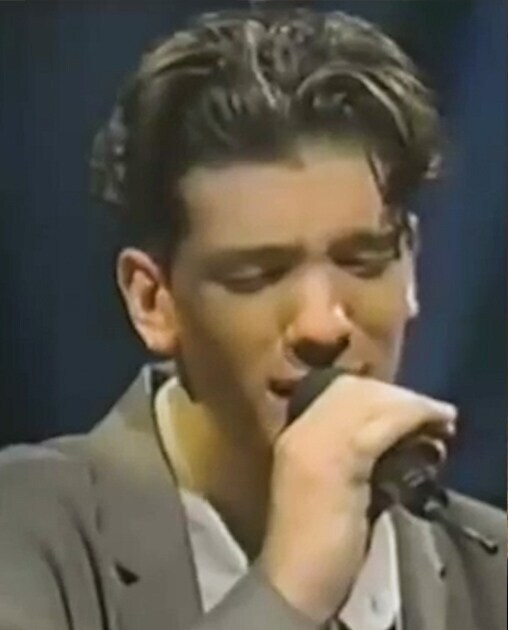 JC:
For us, every day was the best day of your life. Really. Look, anytime that you get to do what you like to do is a good day. Anytime I'm in the studio it's a good day. Anytime I'm on stage it's a good day. They are good days. But, as a 14-year-old, you all of a sudden go from living in suburban Maryland in the outskirts of D.C. to living in the backyard of a theme park. The show was shot in Orlando, and as … my dad would park the car, I'd be walking past a tram that would be going, "And this is the backstage area for this." And we would end up quoting the backstage story [during] the time that we were there. But, the first thing you do is walk to school and spend three hours in school getting taught all your material that your school would send down. And you're making sure that your studies are in a good place. And then from, say, 1 o'clock into the evening, you're either in choreography, learning a sketch, or singing a song in the studio (because we were recording tunes for the Mouse Club at that time.) ...  You'd get the schedule on a Monday and you're like, hmm, I wonder what I'm doing today? Am I in a video? Am I gonna be funny today? And so, it was great. Again, just doing what we loved, being around people that were like-minded but brought different points of view was huge for me ... I was encouraged by people my age as well as adults ... So, it was the best thing that could have ever happened to me.
Michelle:
So, it sounds like you had a lot of support around you. How did that foundation then propel you into the rest of your career?
JC:
Well, really, it was a chance to experiment with entertainment. I got to find myself, because everyone went in there thinking one thing, and [for] some people that's the path they took. And others, they discovered a new talent or a new love for something. When I went in, I was always confident in my dancing. I was like, I can dance, I have no problem doing this stuff, but I was very shy about my singing and I'm still shy about performing anything that I have to memorize or anything like that. Some stuff just stays with you. I was very shy about my singing, and then when I got there … I got to sing all these different styles—because when you grow up in a certain area it seems like you get into a mode there … but there's more out there than maybe just the few square blocks that you're absorbing. So when I got to Disney and I got to hear music from my friend Tony [Lucca] from Detroit. He's like, "This is Detroit!" And then my friend Rhona [Bennett] who's now in En Vogue, she was like, "This is what Chicago's about!" And I'd be hanging with Dale [Godboldo] and he's like, "This is what they are doing in the south, in Dallas!" And all of a sudden, I got to experiment singing these different styles because we're covering songs. I get to find my voice in that three, four year period. And I got to develop it and I became way more confident and I found out that I enjoy it. So, it was huge for me. Just having those different people that I could learn from, rely on, share things with because they were going through the same things I was going through—they could question certain things about what they were doing and if I knew anything about it I was pumped to share. … There was no animosity, there was no jealousy. It really was—whatever they did, they just did it well. They made us feel comfortable, they made us feel like we could be ourselves, and I think that's why so many of us have thrived and have gone on to really step out and be confident in who we are and to share these things with everyone.
Michelle:
Do you ever reminisce with your fellow Mouseketeers?
JC:
We have text chains ... There's a good concentration of people that live here [in L.A.] and people live all over the place, so whenever you're passing through, you're always going to give somebody a heads up, and if there's a chance to sit down for lunch or breakfast or just catch up with anybody, you take advantage of those opportunities. I had breakfast with Tony two weeks ago. He's one that lived between Michigan and Nashville and he was one of my closest friends in the Mouse Club for a few years. Of course, life changes and everybody goes their own way, but any chance that we have to catch up, we're going to catch up.
Michelle:
I love that! And do you have one moment that was your most memorable on set?
JC:
You know, I don't know. I think the most exciting thing for me was always—and this is going to sound cliché—but it was the rehearsals, the practicing. That's where we were really finding ourselves. And there were times where we would make suggestions and all of a sudden those suggestions would come to life, and you're like, "Hey, why don't we say it like this? Oh, that sounds great!" So now you're making an impact on the material not only just from a performance standpoint, but now you're actually incorporating yourself into the material as a creator, and that was always exciting for me. As far as being on set, any day that the crowd's there, the adrenaline is going. If you have people in the audience, you're pumped. But any one moment actually on set? (pause) This is going to sound silly—the day I graduated, we had it on set with the audience there. So that was like, "I graduated high school! In front of all these people! YES!" I know it sounds crazy, but I was proud of that. You work hard. Everybody works hard to go to school, so I was excited that I graduated high school and I got to do it in front of an audience.
Michelle:
Once in a lifetime!
JC:
Yeah, it's a weird thing, but fun!
Michelle:
Did you have a favorite dance move?
JC:
Not any move in particular. I loved going to the choreography trailer. … The sound stages were on one end of the [set], and then [there was] Myles [Thoroughgood]. Myles ... had his own standalone trailer and we always loved going to see Myles because he was always in a good mood and he was always happy. So he was a blast to work with. And we ended up using some of his stuff–we used some of his input even on the early, early demo reel of *NSYNC stuff. We pulled all the Mouse Club people that we met that we liked working with—Justin [Timberlake] and I reached out to anybody that would help us, and if they had time in their schedule, the were actually amazing about saying, "Yeah, we'll help. No problem." Once we made those bonds, we felt like we had friends for life and I feel like that still stands to today. Anybody that shared that experience with us, it was a fun experience, it was a great experience, and I would do anything for any one of them.
Michelle:
And now you're coming back to Club Mickey Mouse after all this time. What is that like to be back?
JC:
I just met [the Mouseketeers] a few days ago and it was wonderful. These kids are so excited to be doing what they are doing. And I'm looking at them and I'm seeing a piece of myself going, "I'm excited about everything." You don't pick up on any jaded qualities ... you just feel a group of young people that want to share everything they have with everyone. So sitting with them was wonderful. I loved seeing that positivity. That excitement. That desire to be better. They have all of that. I'm excited for them. I can't wait to see what they do. If our class had this many people and came out and shared these talents with the world, who knows who we're looking at there. These six kids—look, you could be looking at the next potential [star]—if you're an actor you're going, "I want to be like Keri [Russell] or Ryan [Gosling]." If you're a singer dancer, you want to be Britney [Spears] or Christina [Aguilera]. If you want to be a male singer dancer, you want to be me or Justin. If you wanna be an R&B singer, you want to be Rhona. … It's enough. And I think looking at these six [Mouseketeers], who knows what the future holds for anyone. It could be, they're going to do it for however many years they do it, and then they're going to raise families and be a part of a tech company, or maybe they're going to go on to be the biggest star in the world. The truth is the potential is there.
Michelle:
So many possibilities. And what advice would you give them, or have you given them any advice?
JC:
I thought about this even before I met them. I did. I thought about what was important to me in retrospect and I thought the most important thing that imprinted on me was those friendships. Those learning friendships. I wouldn't have had the courage to do half of what I've done without the encouragement of some of those other Mouseketeers. I wouldn't have had the knowledge to do half of the things I've done without those Mouseketeers. They opened my eyes and my mind and my ears to so many different things that I never would have thought of if I hadn't been a part of it. And so, my main advice was, listen to each other. Make each other better. Because that was one of the best things I ever got out of it, was being willing to listen to someone else. Instead of feeling like, "I got this"—listen. It's the best thing you can do. That was the advice I tried to share with them.
Michelle:
That's great advice right there. What is it about Mickey Mouse Club, Club Mickey Mouse that makes it so special and resonates with people so much?
JC:
Well I think anything that has a legacy—this thing's been around for over 50 years. So there's got to be substance to it somewhere along the way, and I think the principles are good principles. The outreach that MMC gave to us—we got to project a positive image. There's so much craziness going on, and there's so much bullying going on, and whatever you want to call it, we always felt like the show ... gave people somewhere to have fun, and if you learn something, that's great too. I know that we tried to instill a bit of that but the main thing was, just keep it positive. Again, there's just so much in this day in age that isn't always that way. And I think that message resonates and I think it's a helpful message for young people. So I think the reason why it's relevant is because there is a long underlying message of goodness, and that's a good thing.
I think we can all agree that the Mouseketeers and Club Mickey Mouse are definitely a good thing! Thank you to JC Chasez for joining us and for basically making our dreams come true. Make sure to follow Club Mickey Mouse on Facebook and Instagram for all the latest!