This year I got to go on a Disney Cruise Line Alaskan adventure for a seven-night sailing and I am still dreaming about it. Traveling aboard the Disney Wonder to four different ports in Alaska, I ziplined on the largest ziprider in the world, I saw gorgeous whales up close, and I flew on a seaplane to see a glacier. All the while, I was surrounded by my favorite Disney characters, got to eat great food, and saw endless shows that filled my thoughts with magic and joy.
Welcome to my photo diary of every single thing I did on the Disney Wonder in Alaska, because I couldn't leave anything out! My face was like this at all times:
Port: Vancouver
We started our Alaskan cruise when the Disney Wonder came to port in Vancouver. I woke up super early to see the ship come in and, I'll admit it, I cried.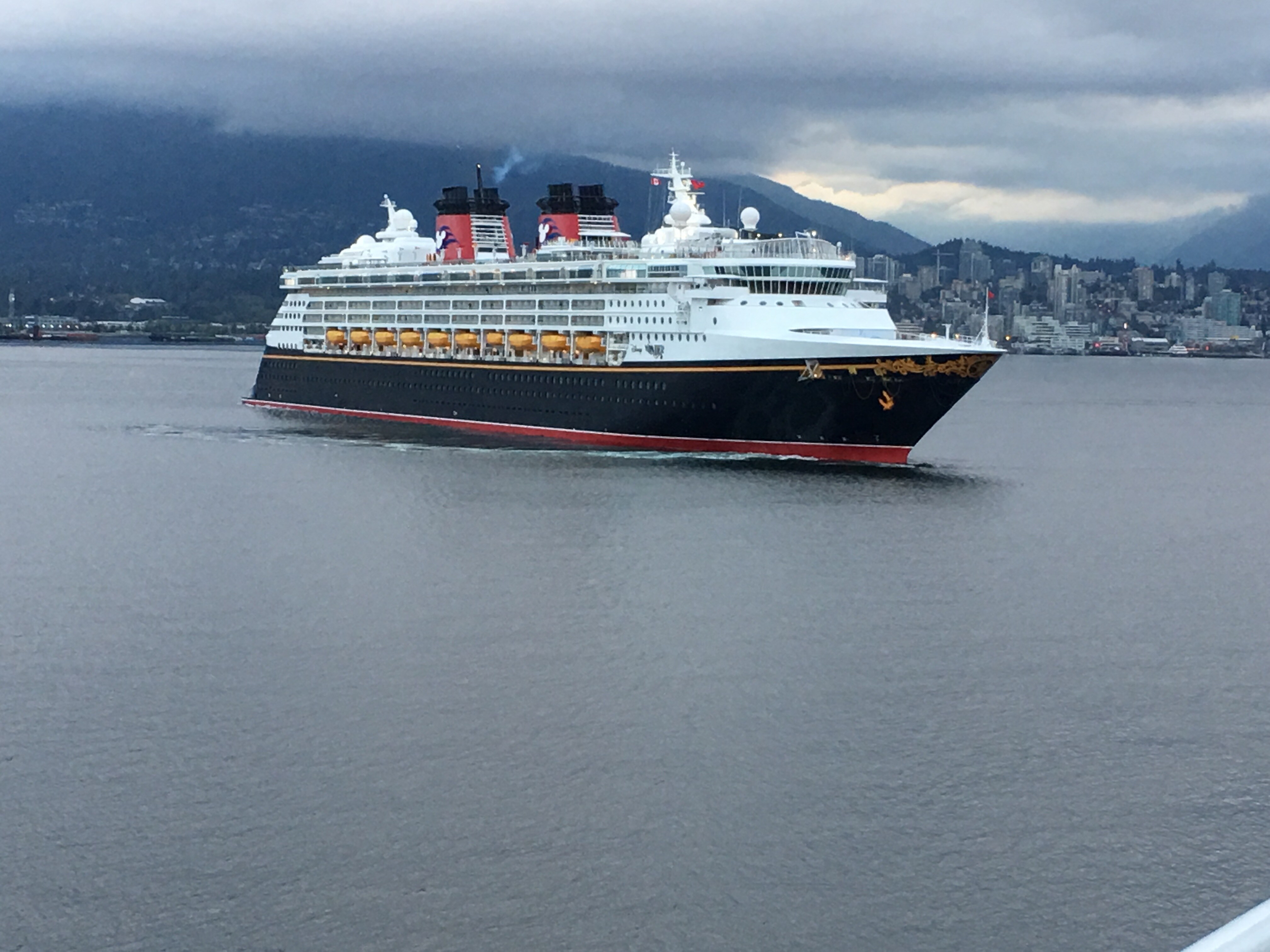 I was so excited to board the ship. When I walked into the main atrium, a delightful Crew Member announced my name and I felt very famous. I joined the "Adventures Away" deck party and waved goodbye to Vancouver. Just so happy in this moment: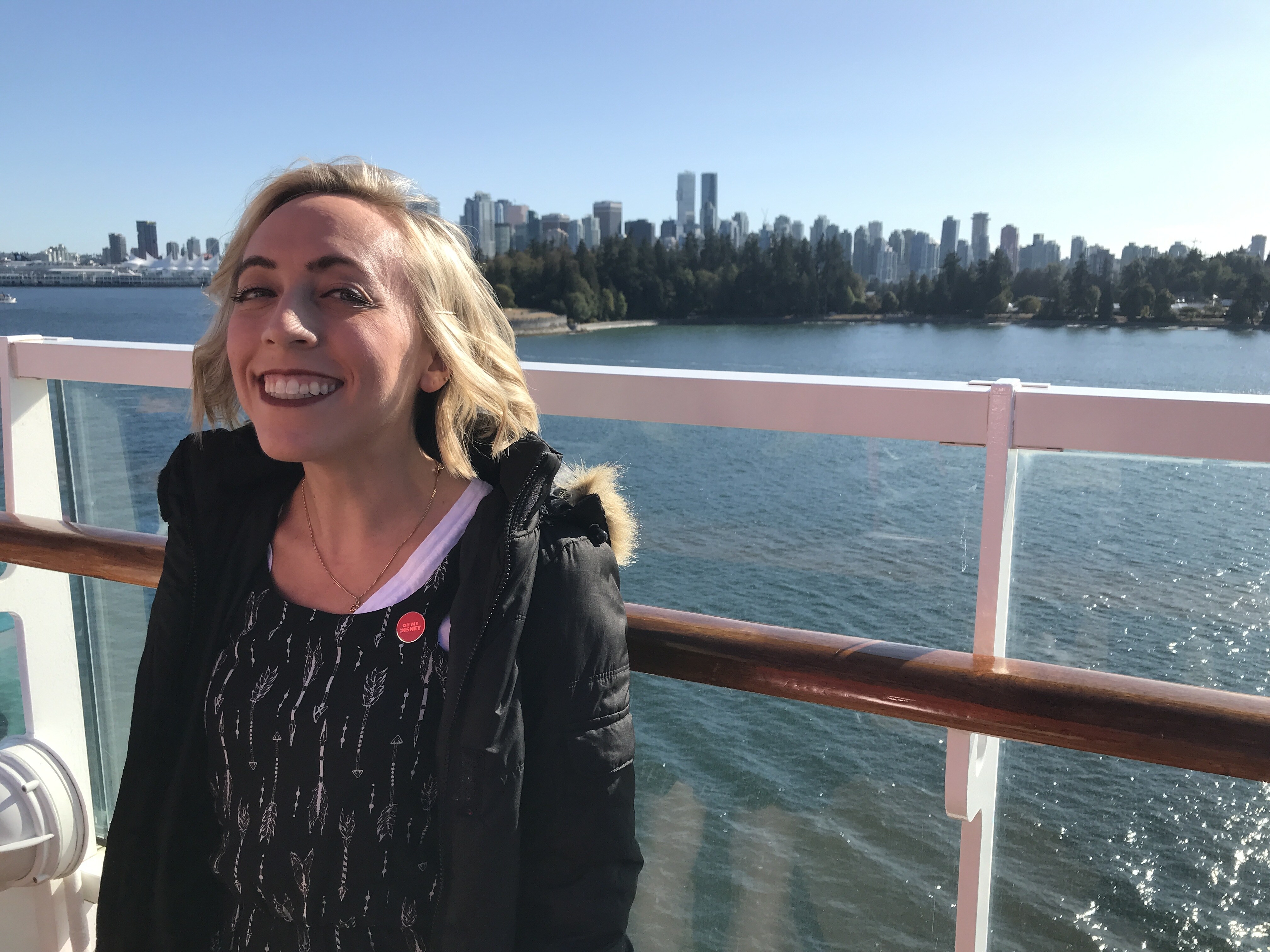 Also, shout out to Vancouver in the background, which is a gorgeous and welcoming city!
Port: Icy Strait Point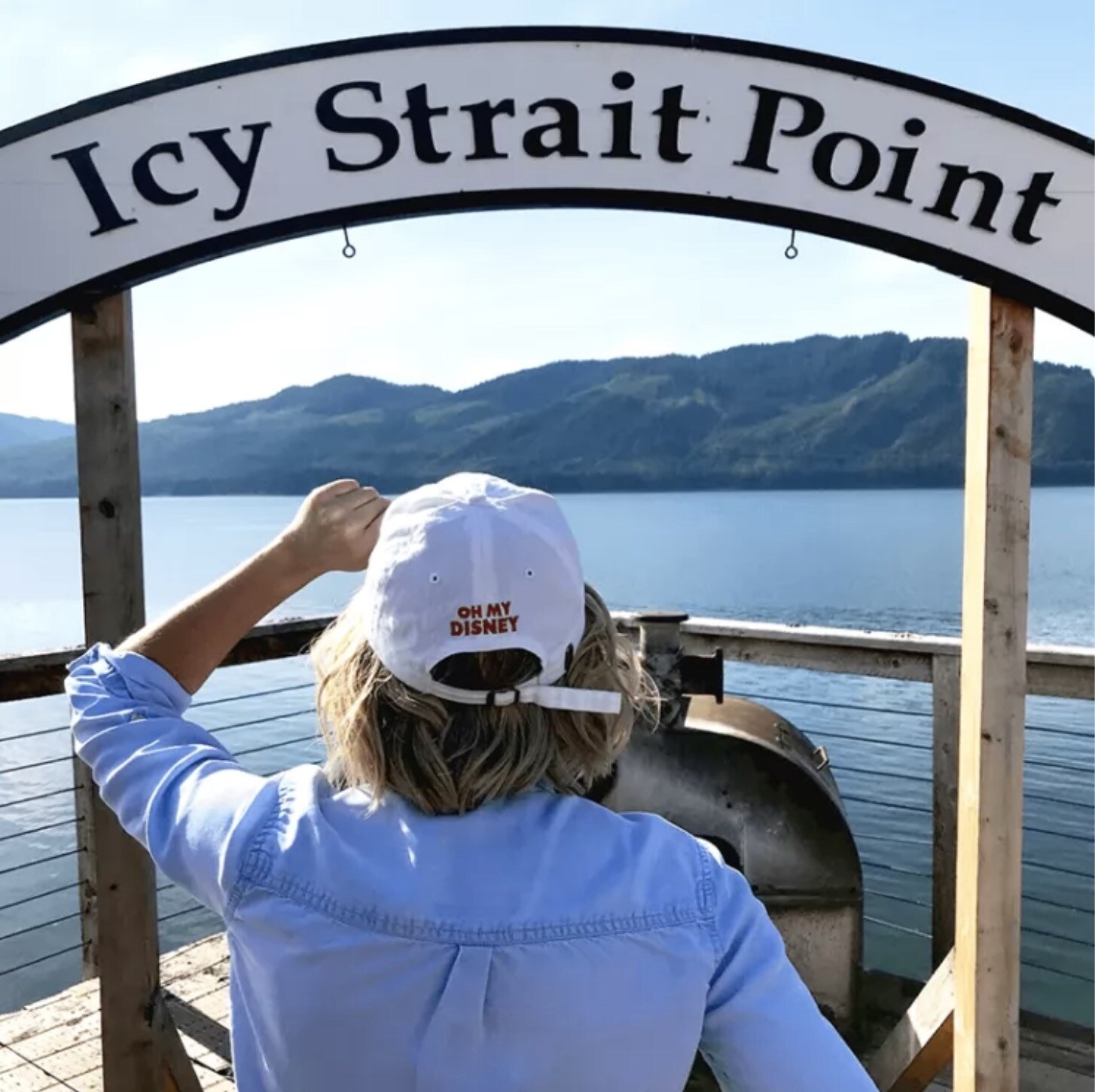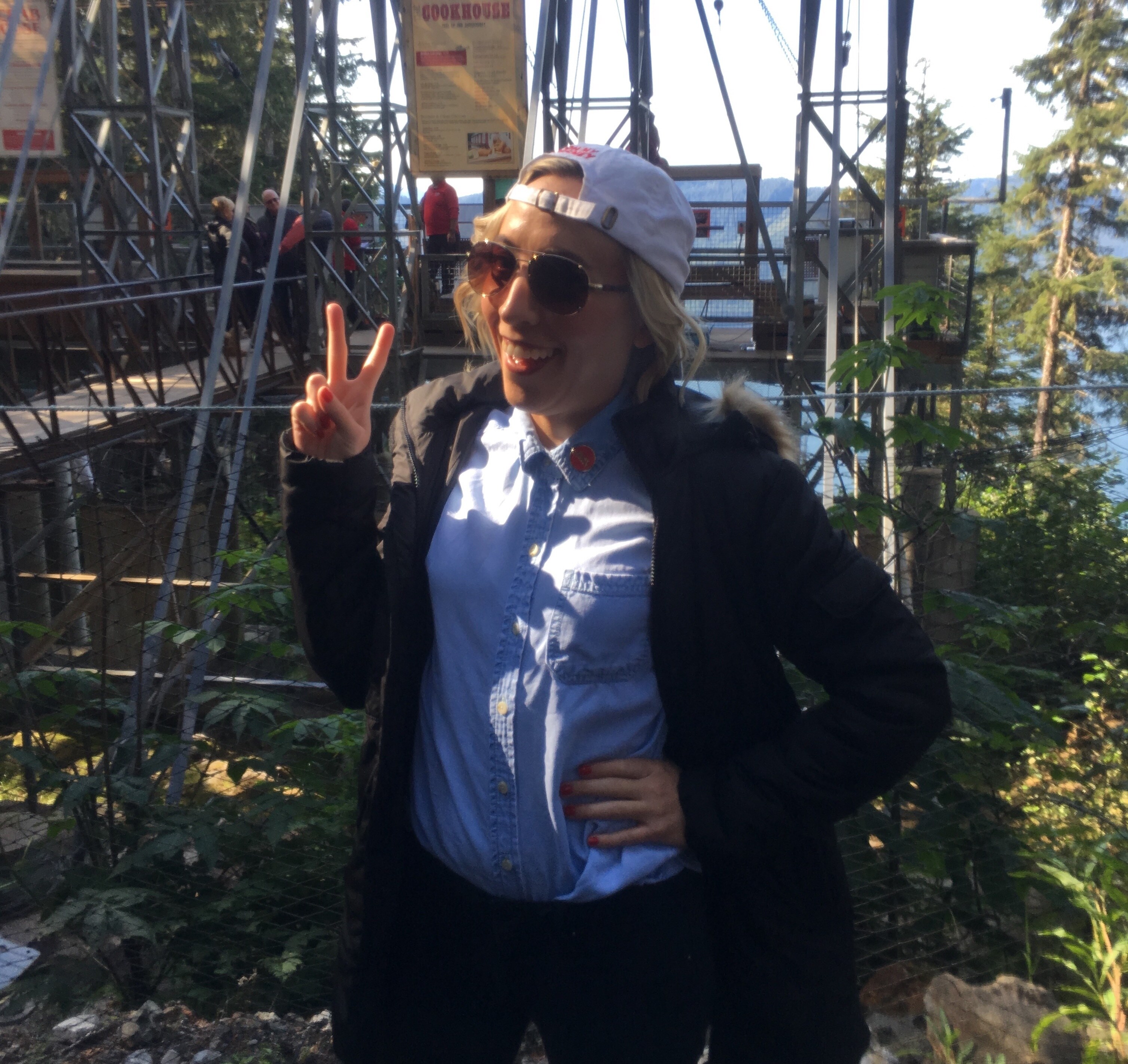 I had a brief post-zipline reflection moment: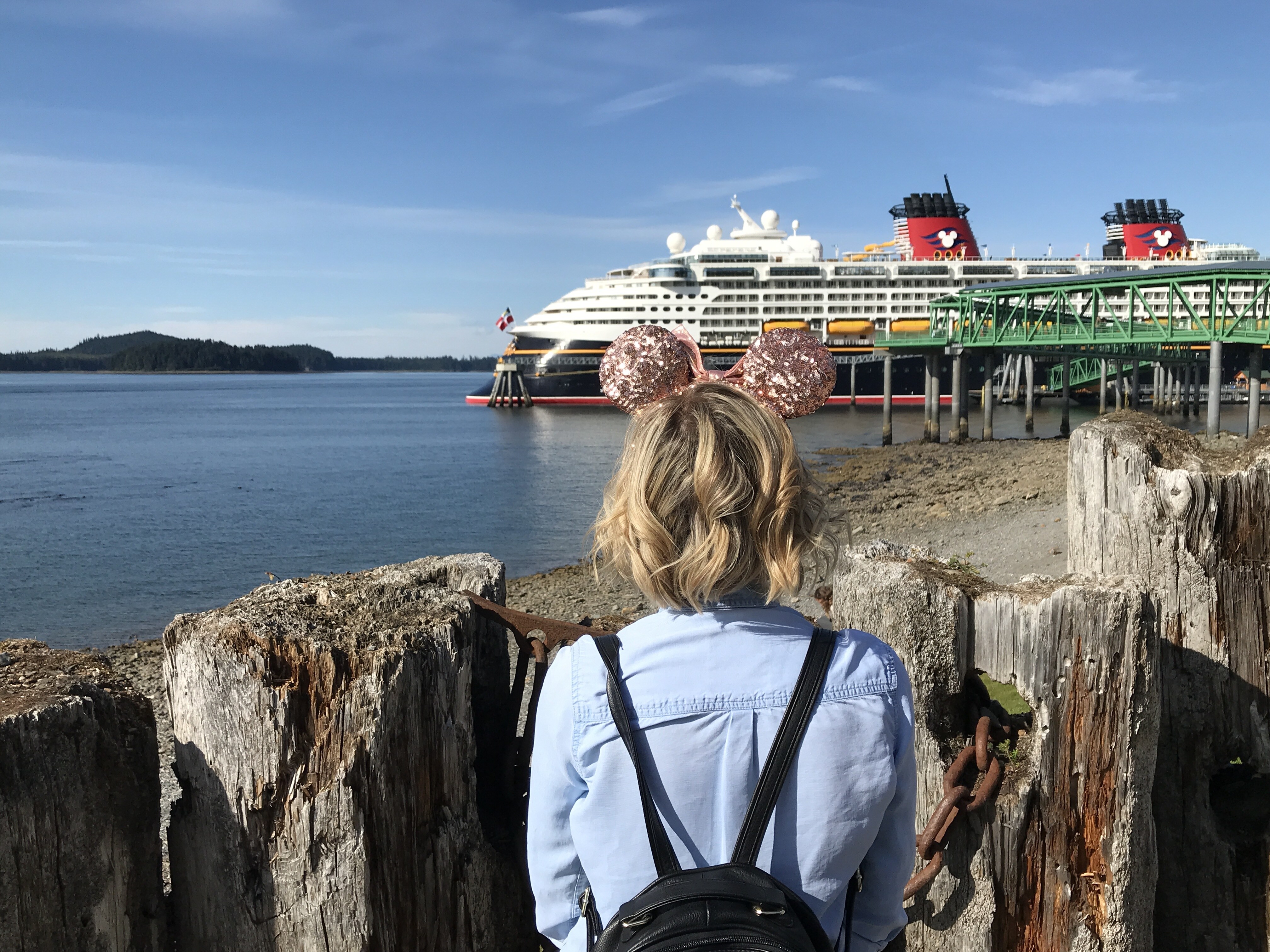 Next, we got on a boat to go whale watching and we saw killer and humpback whales. The humpback whales were bubble-net feeding, where they jump in the air as a large group to get their grub. I think I speak for the entire boat when I say: We. Were. Shook. Also, I got a pic of a killer whale that I'm very proud of: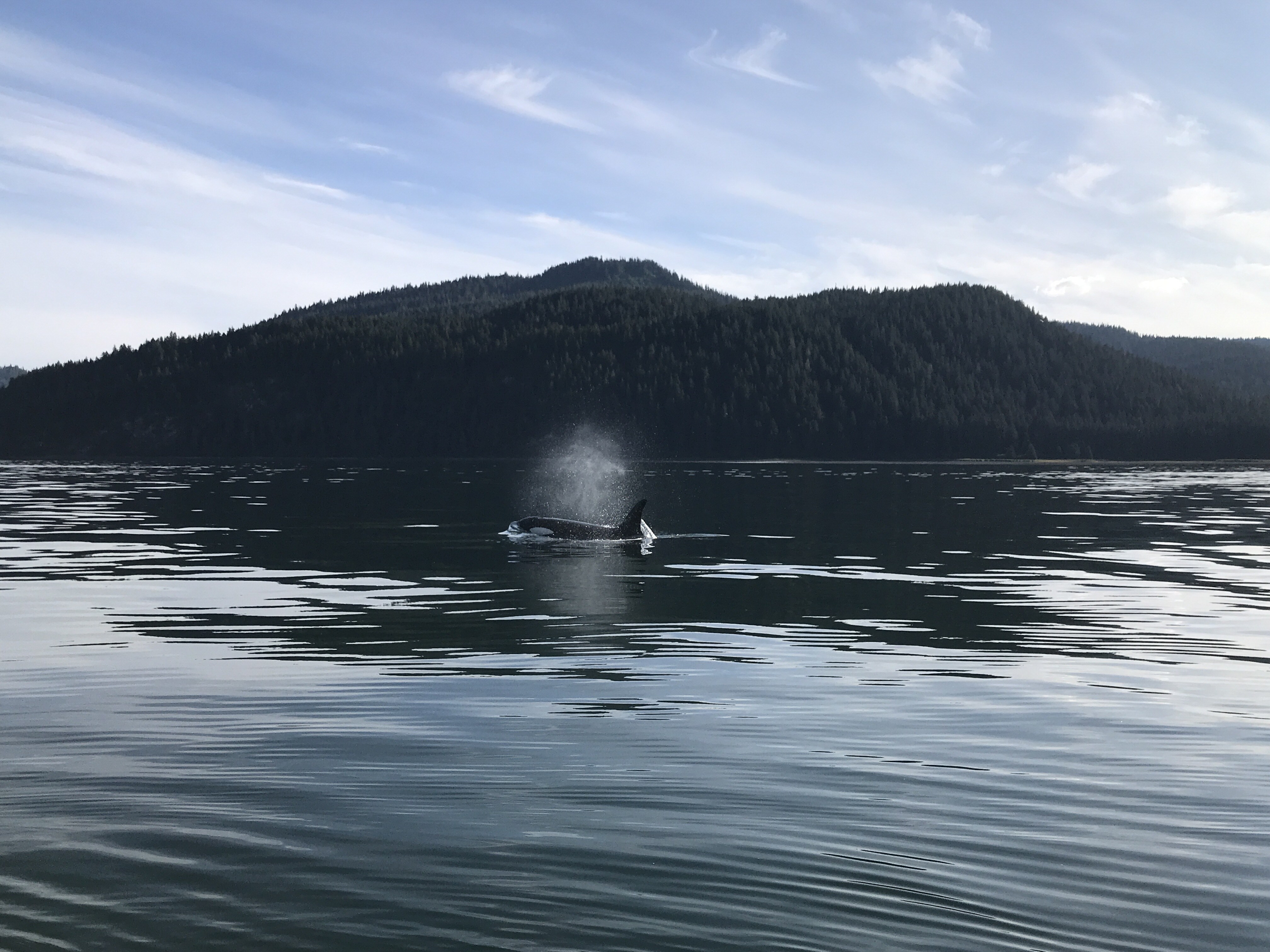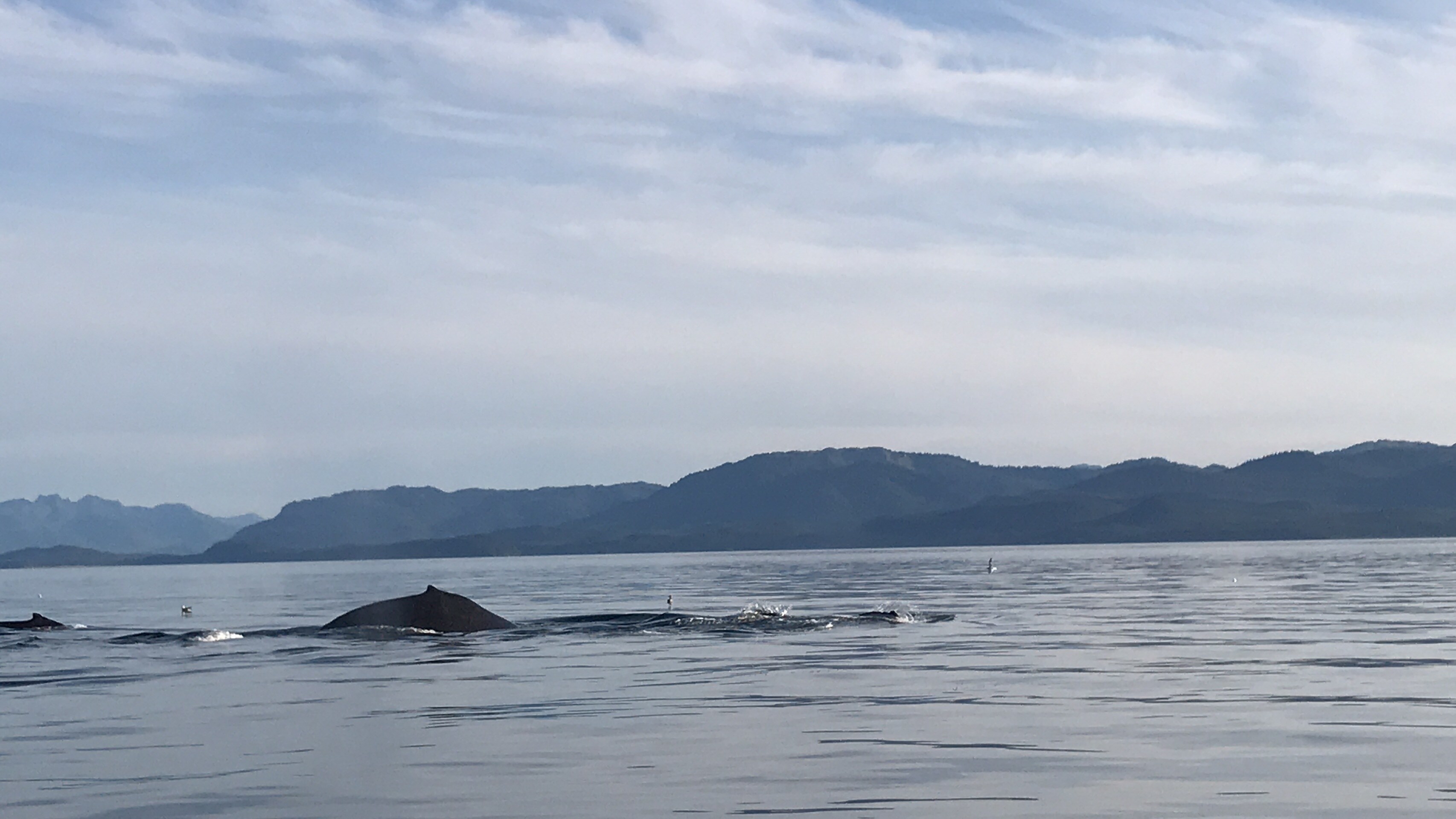 Port: Skagway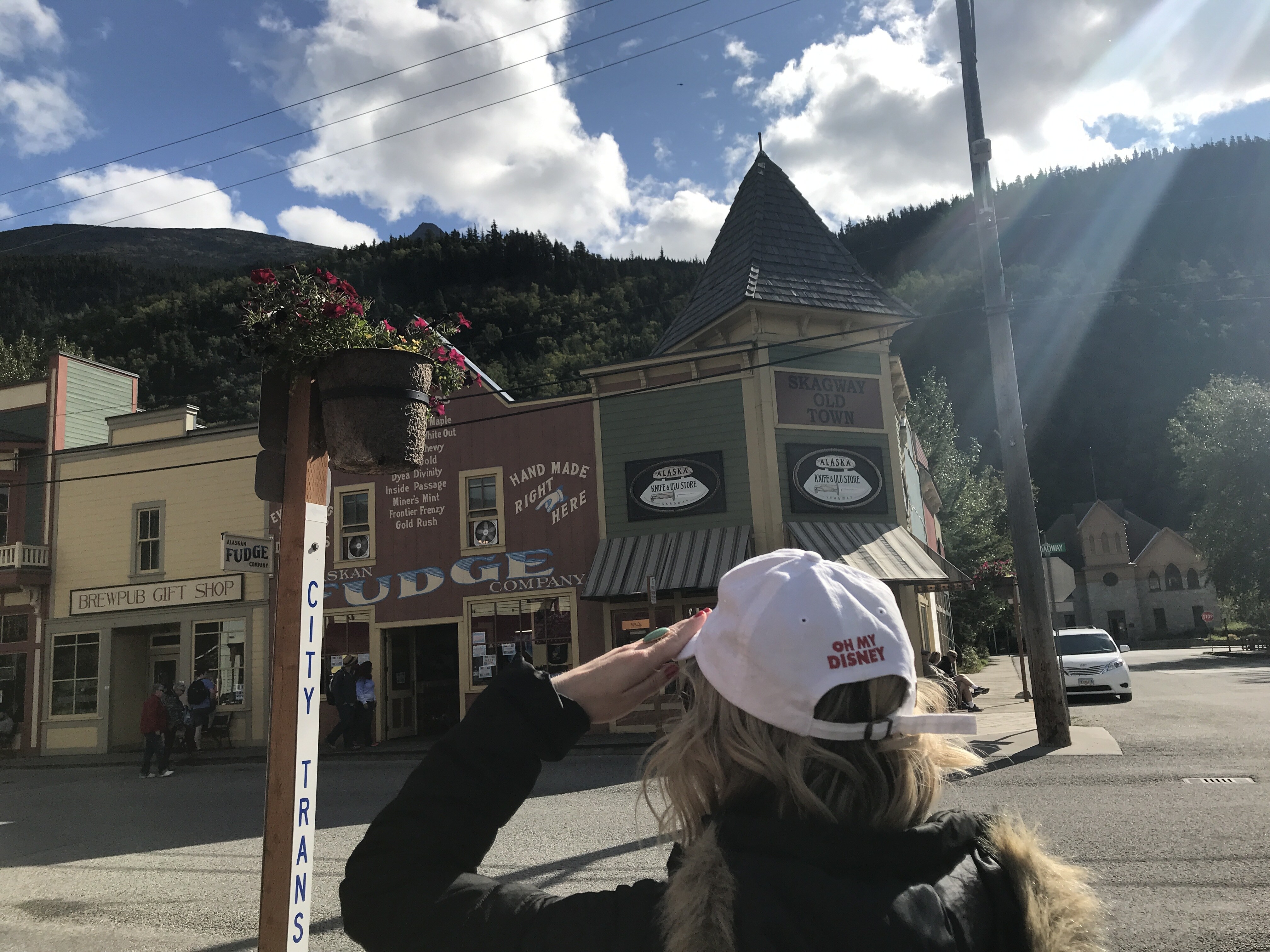 After a delightful evening on the Disney Wonder, it was time for our next port of call: Skagway. The first stop in this port was Liarsville!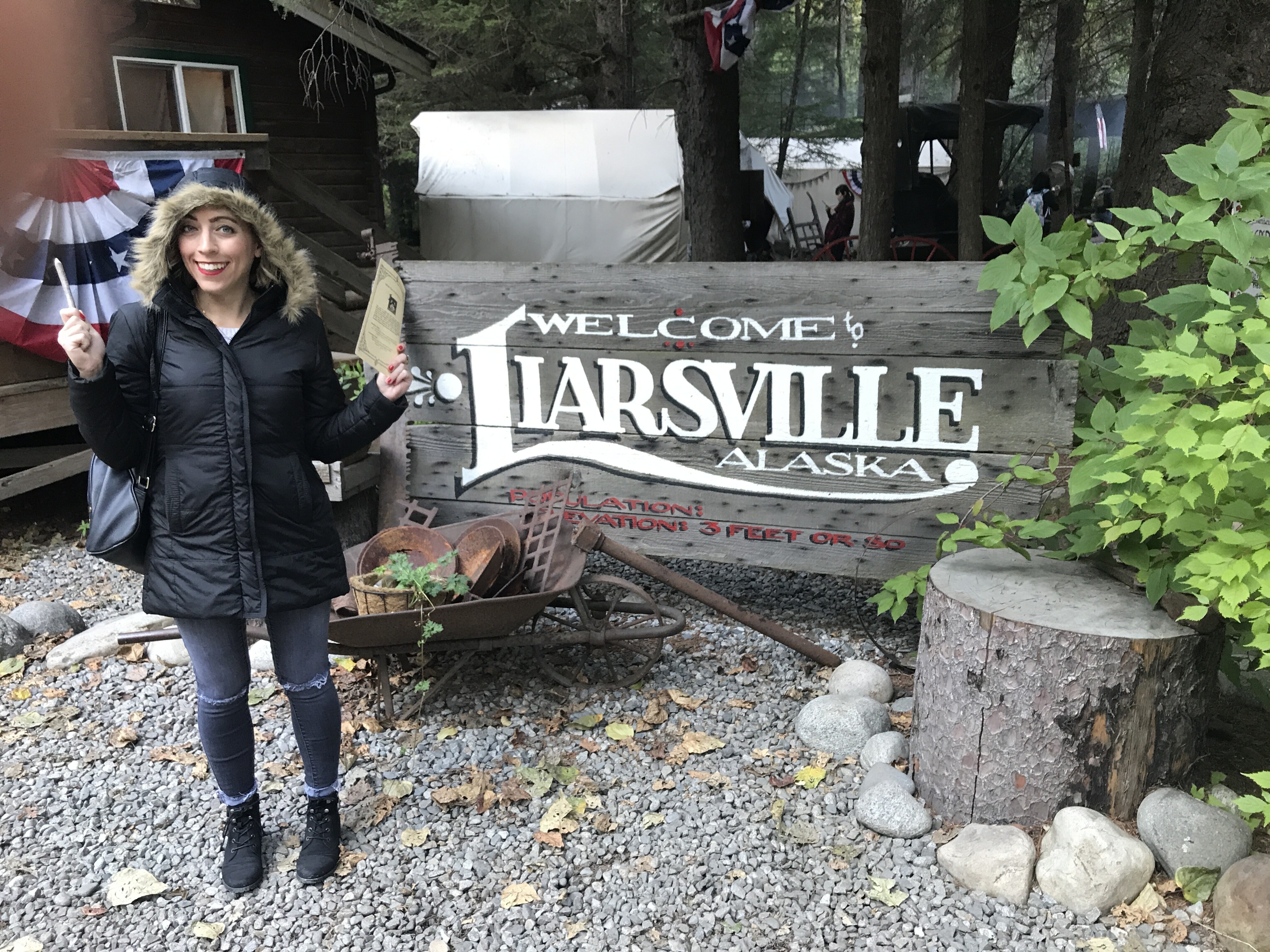 We did some gold mining here and I found a tiny fleck of gold, which I will treasure forever.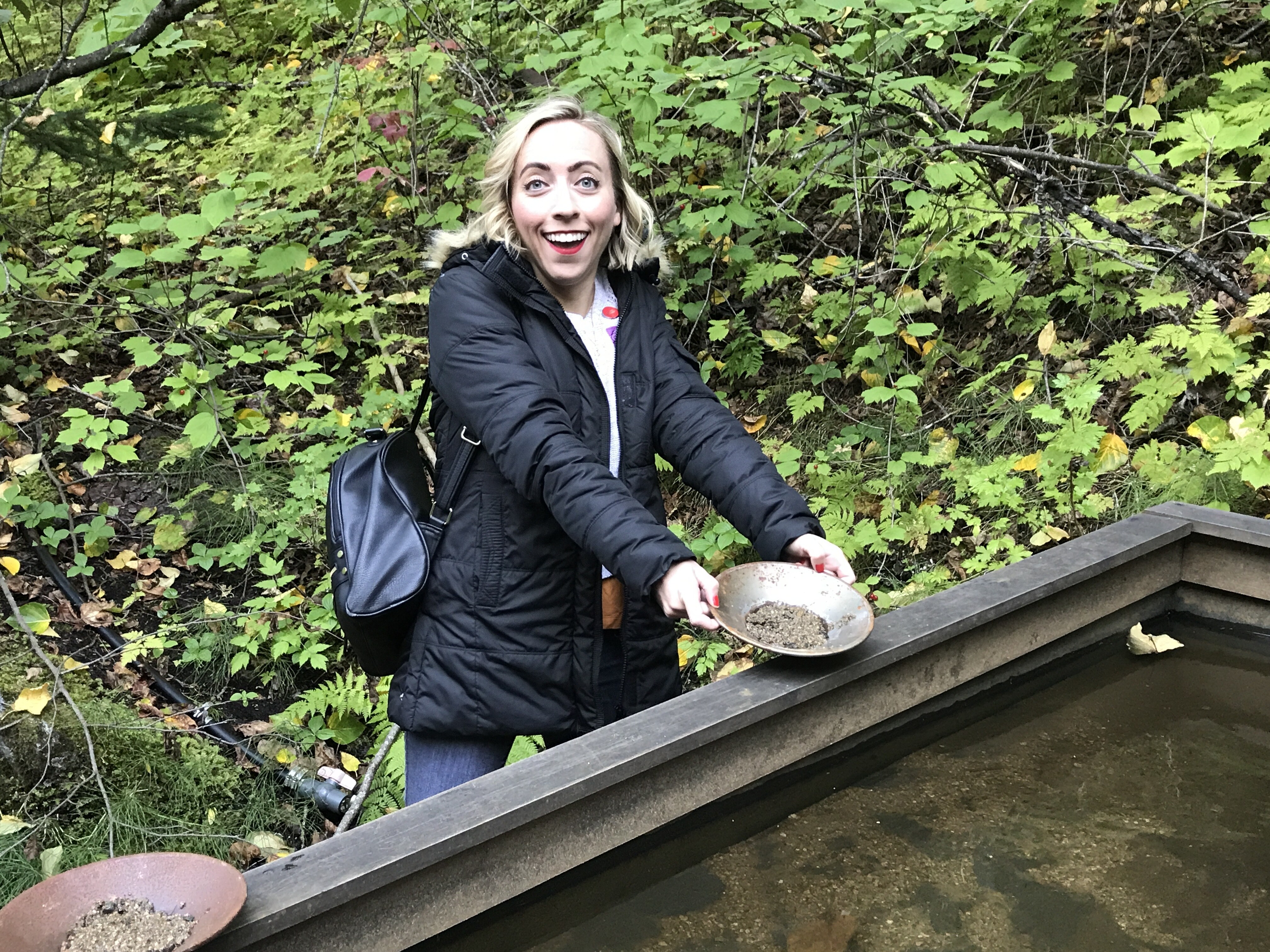 Then we were surprised with a visit from Donald Duck in flannel. In flannel!! This was one of my favorite Disney moments ever: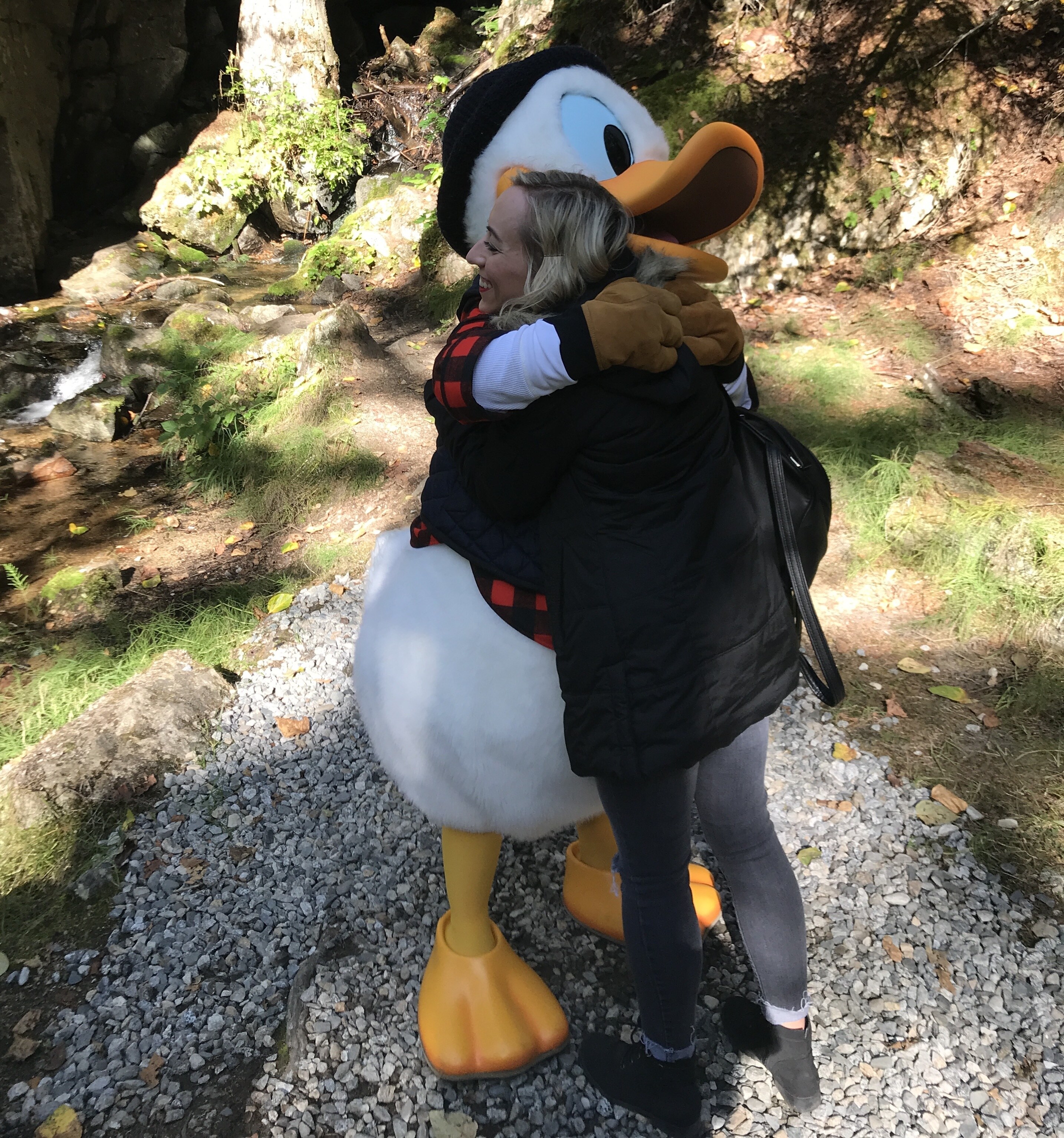 Look at that outfit: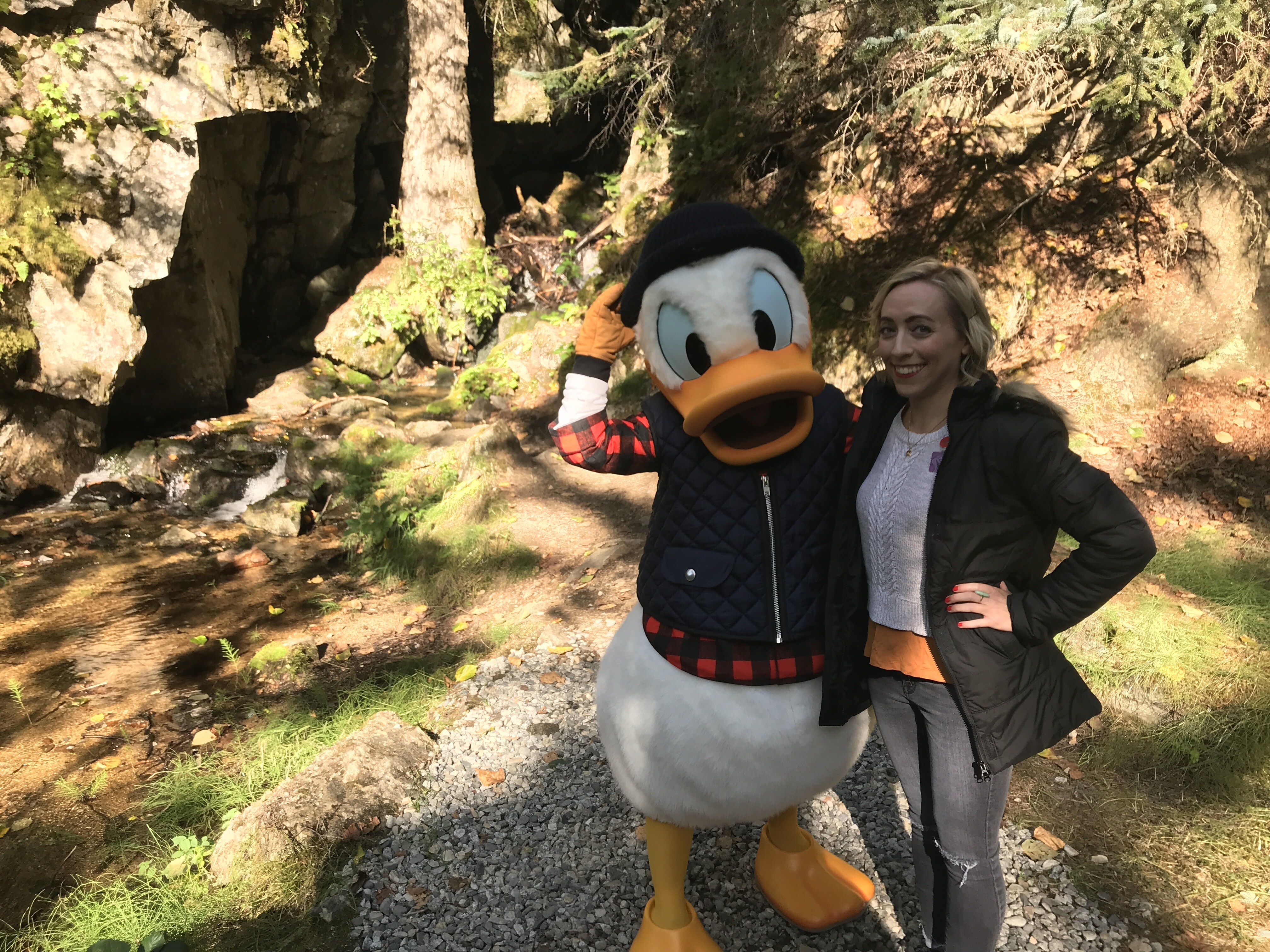 I also took a selfie with Dale, because that's the only thing to do when you're in the woods of Alaska and Chip and Dale show up: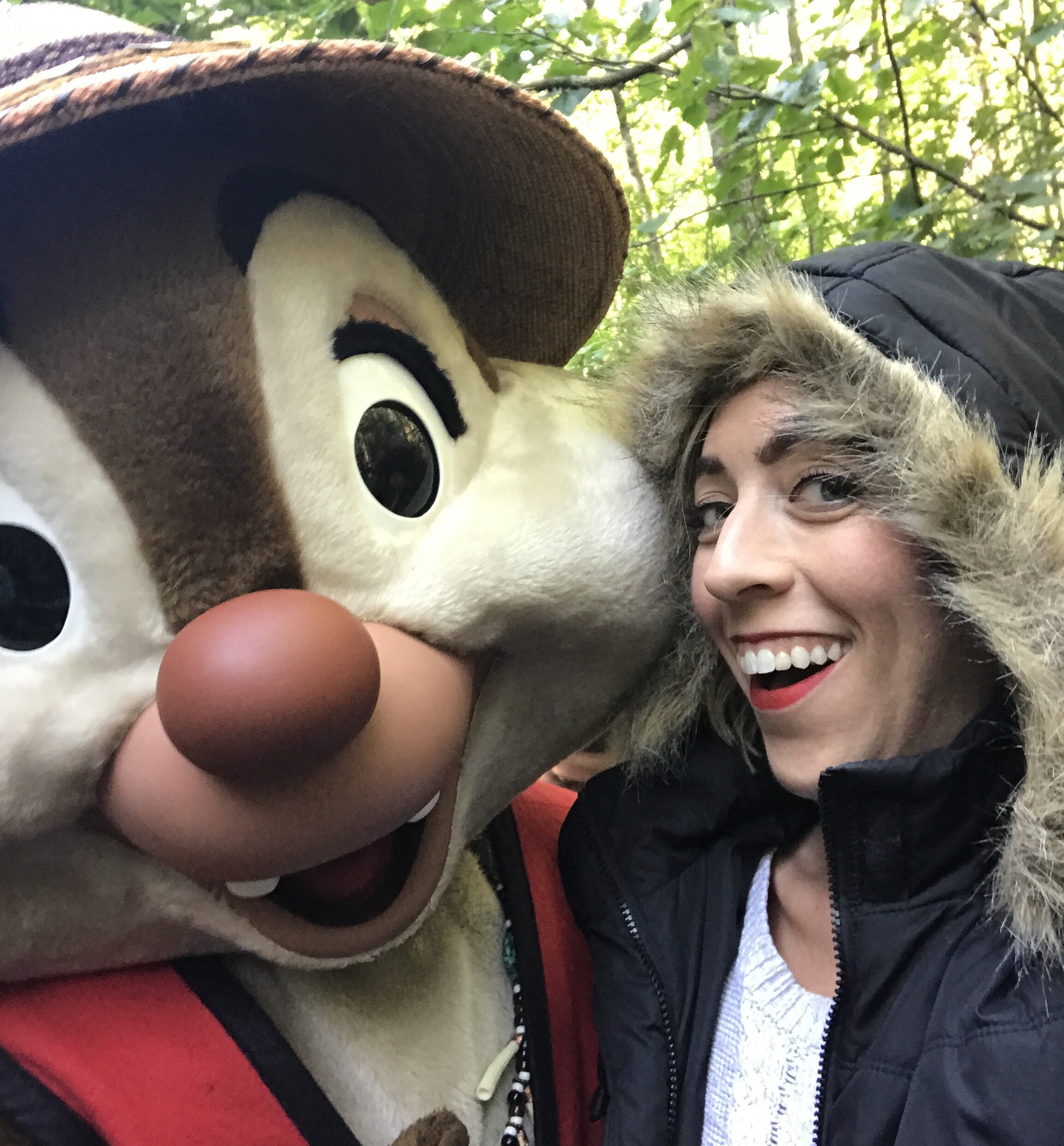 Let it be known that Dale was pretty good at mining for gold.

Next, we explored the town of Skagway, which has so many cute shops and fun things to do.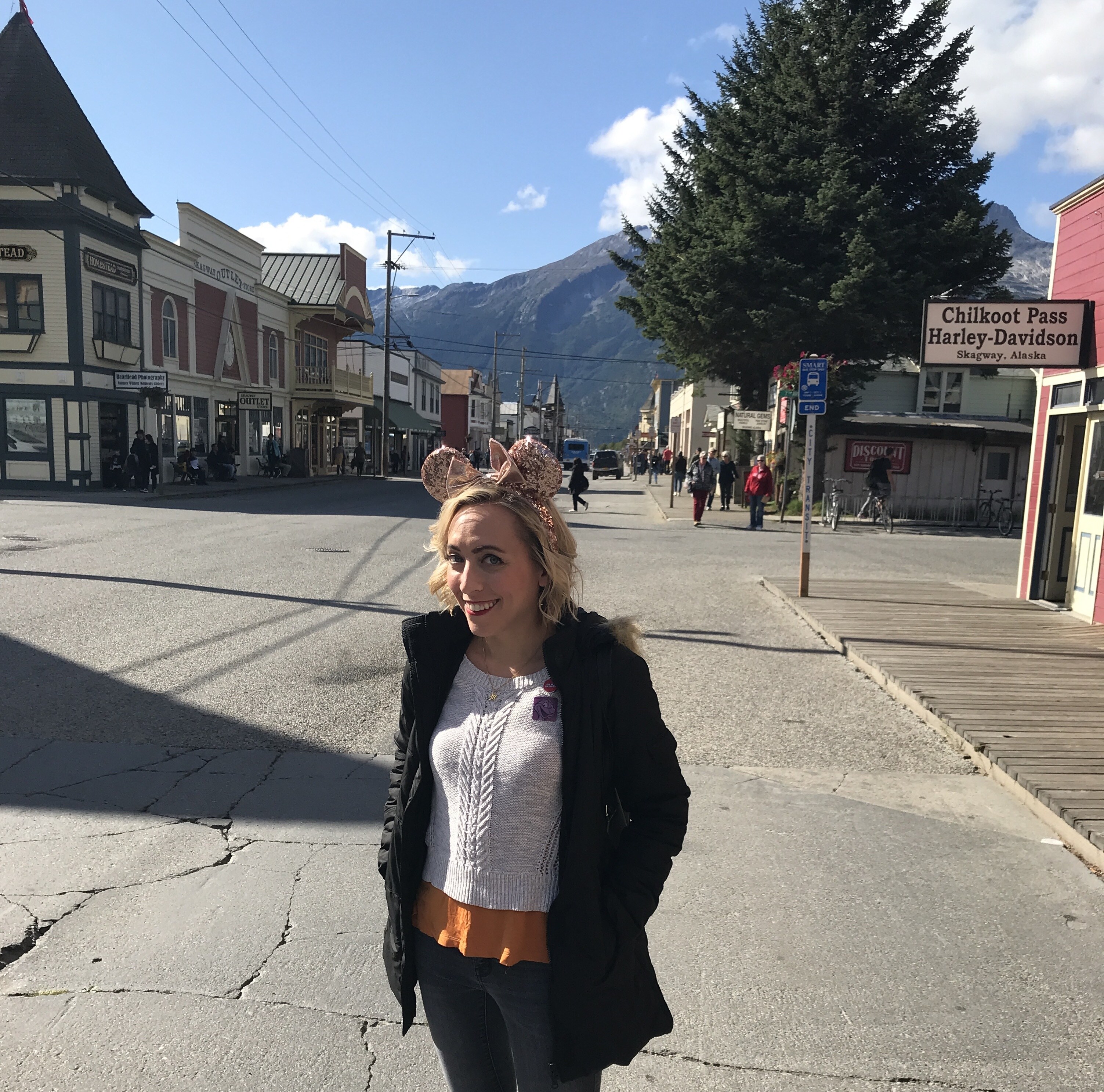 The view of the town with the majestic mountains in the background was truly a sight to see. And of course, I took my now traditional ears pic in front of the ship upon my return: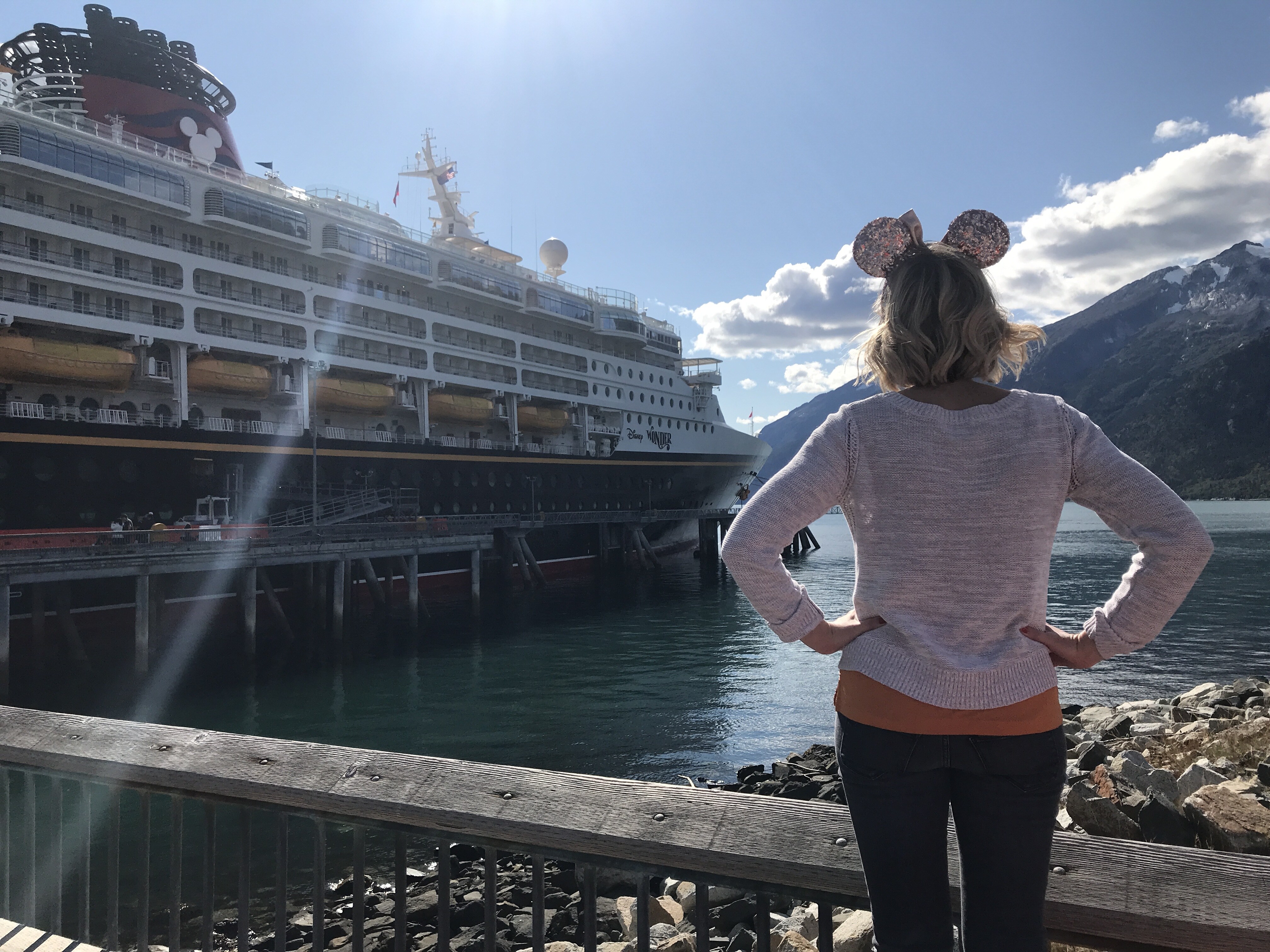 Alaska. Is. So. Gorgeous!

Port: Juneau & the Taku Glacier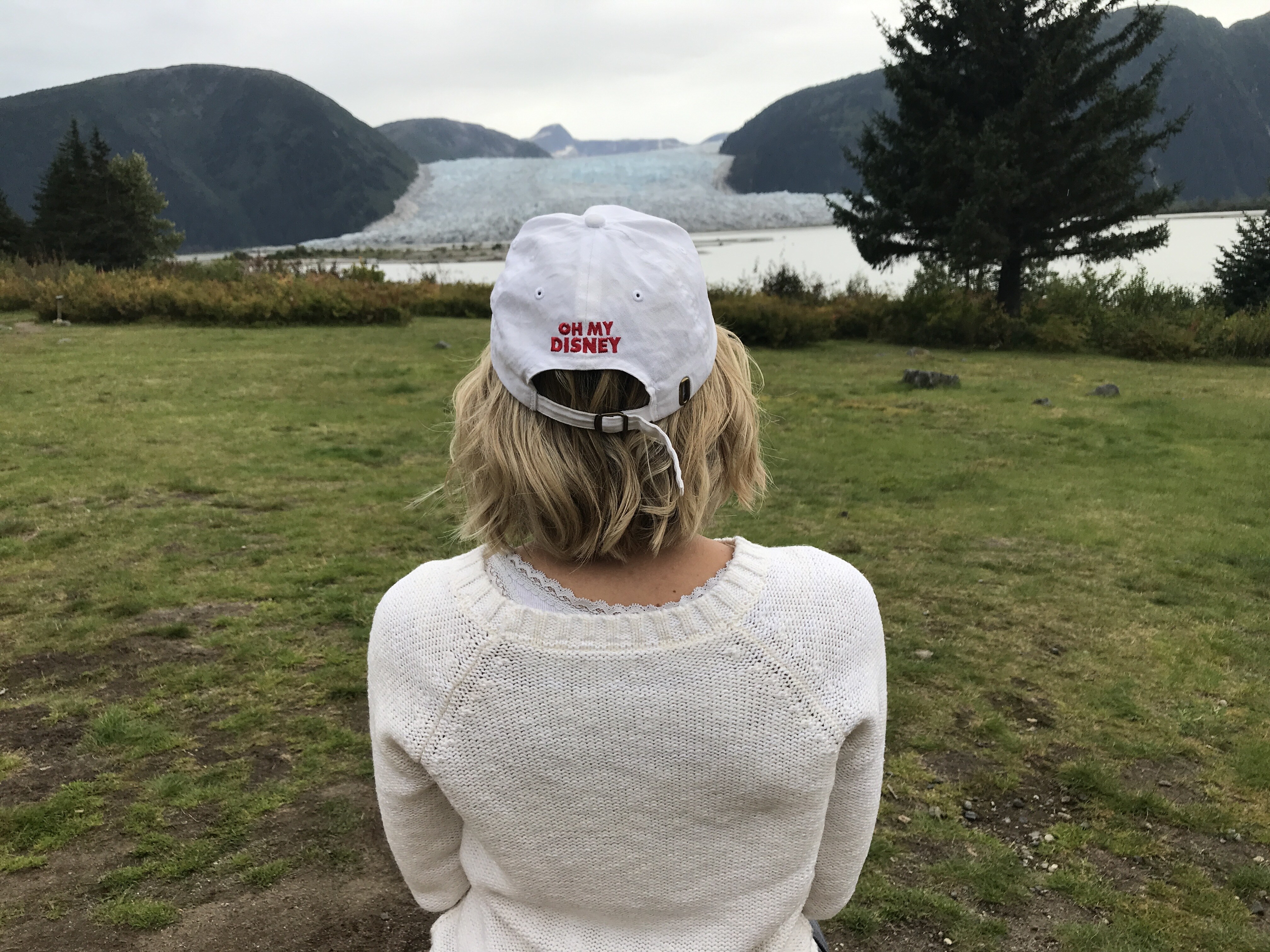 At our next port of call, we signed up to see a glacier. I never in my whole life thought I would see a glacier up close, but I was about to. We got on an adorable seaplane with very cute headphones: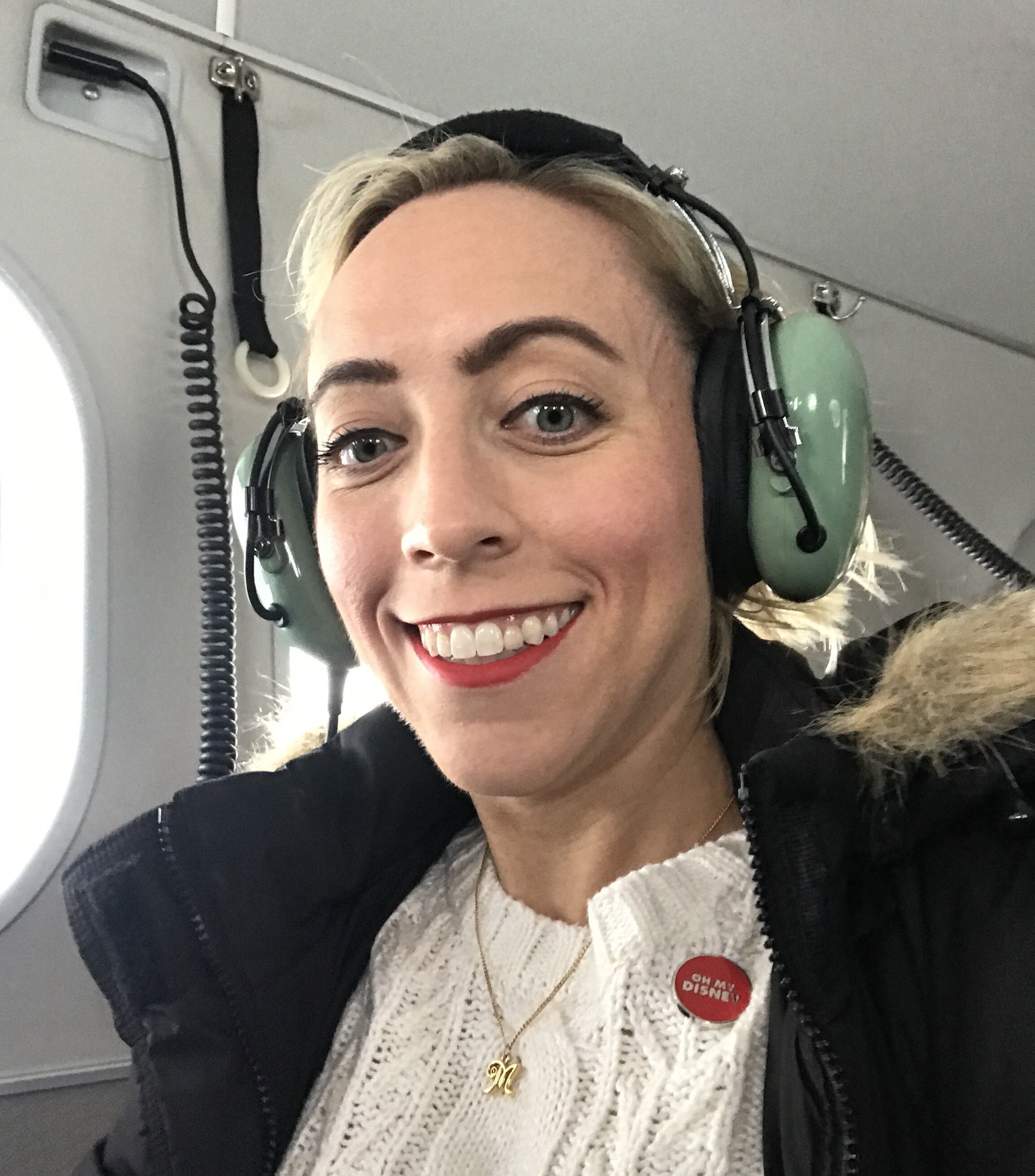 This was one of the glaciers we had a bird's eye view of on our way to Taku: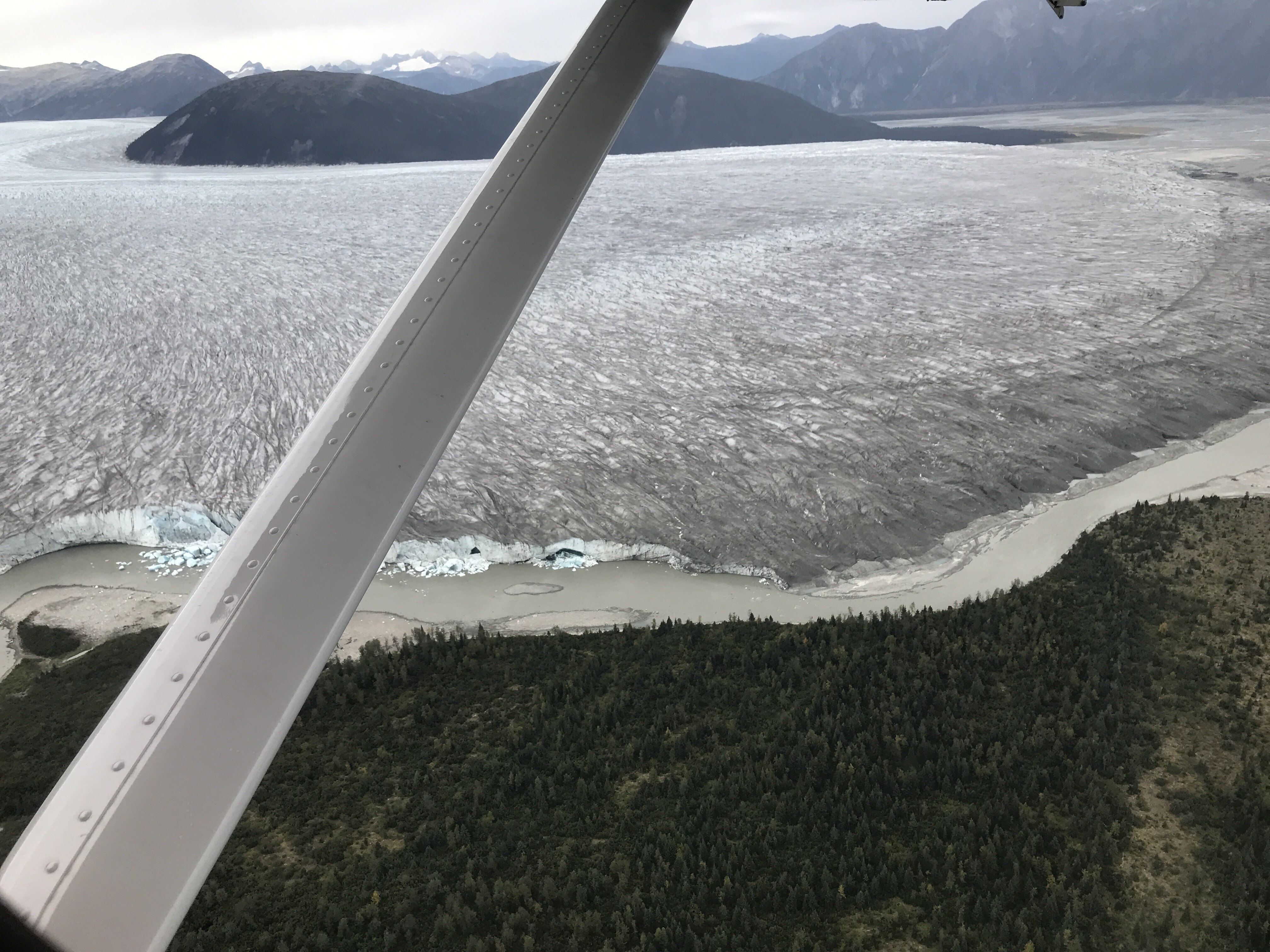 We landed near the Taku Glacier for a meal at the Taku Lodge: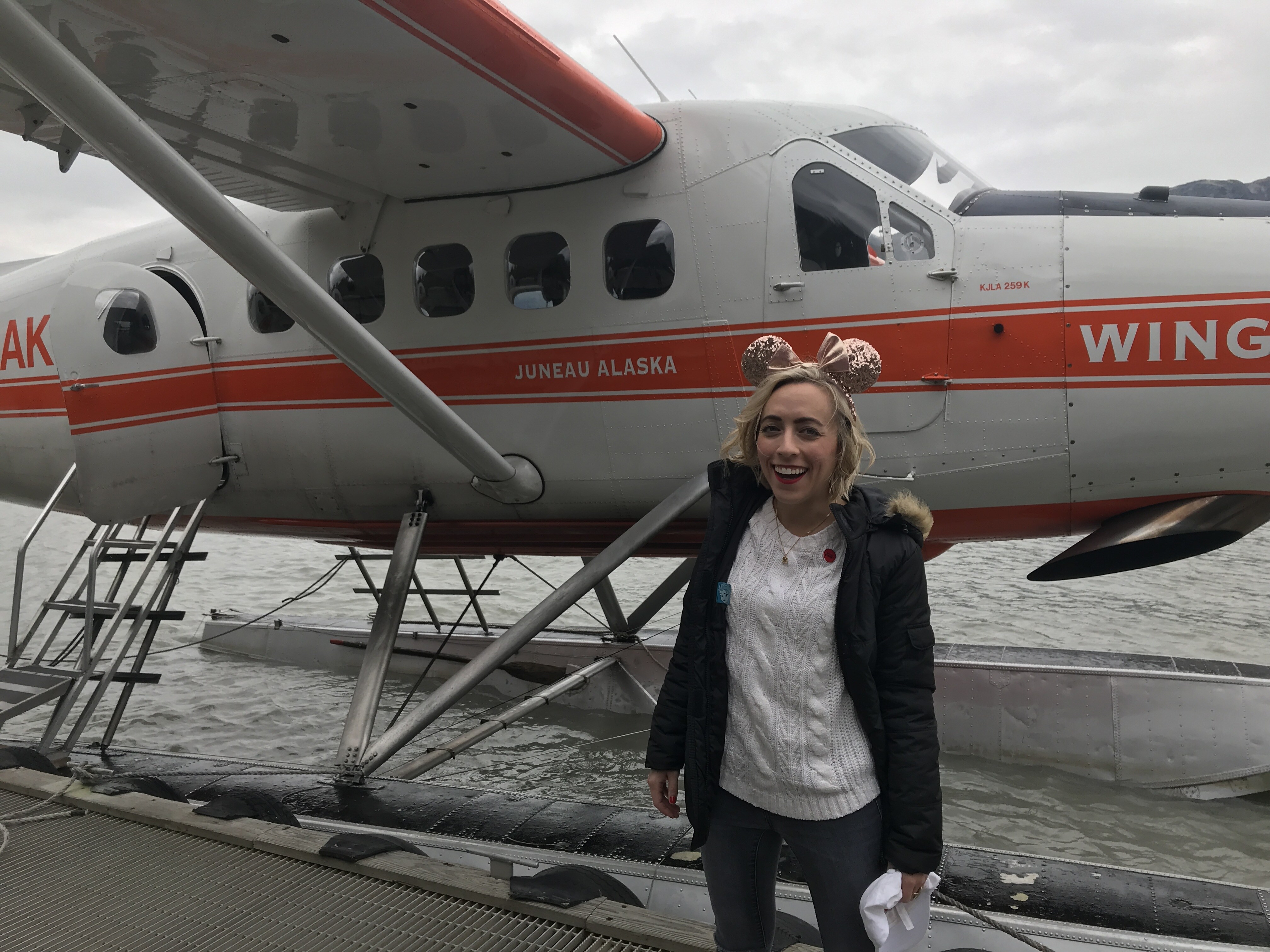 First seaplane flight: success. We then had time to take in the sight of the glacier. The air was so crisp and cold in the best way. Of course, Minnie ears were required: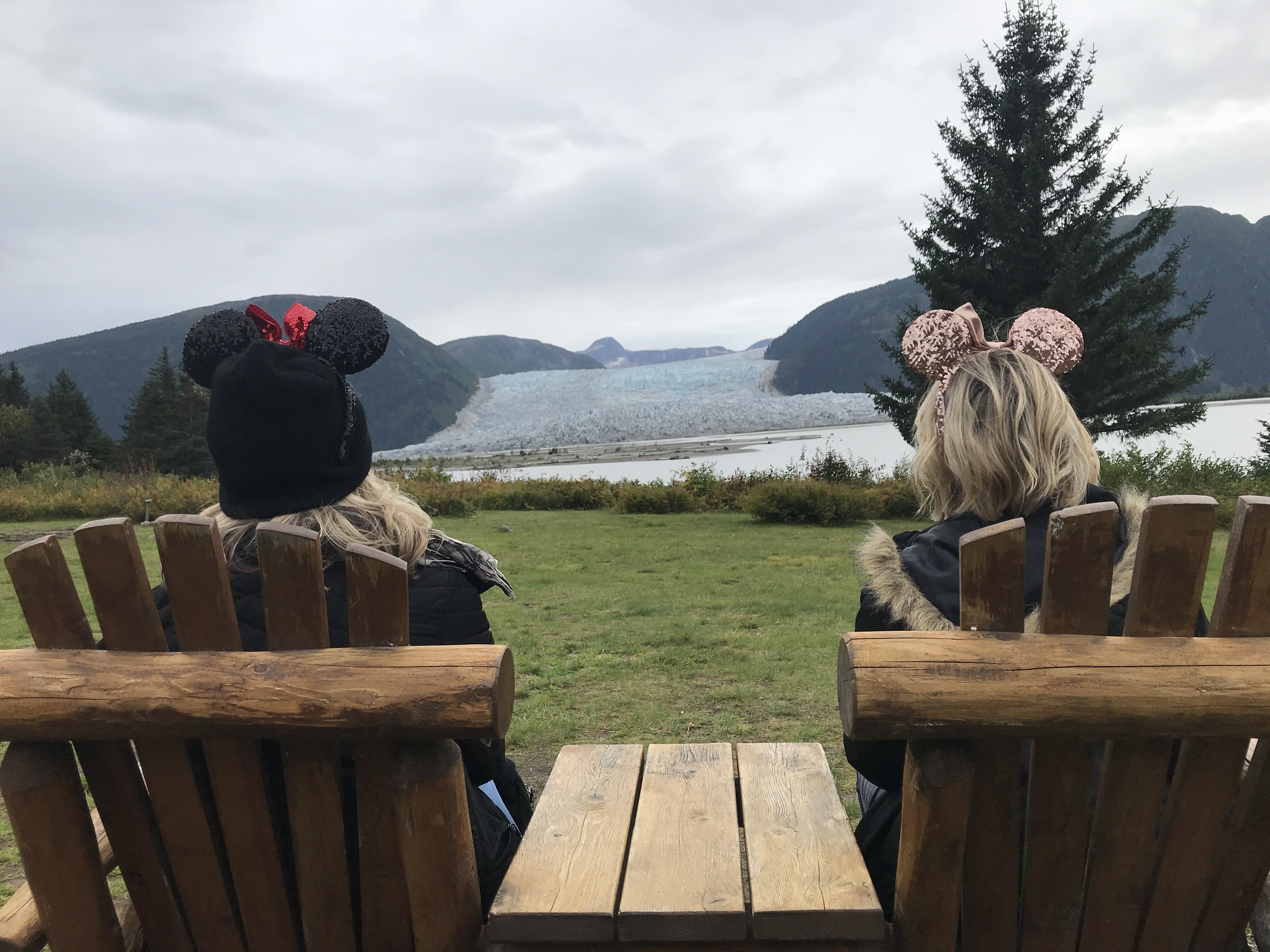 After a warm and delicious lunch, we took a wilderness trek around the area and saw the glacier from the trees: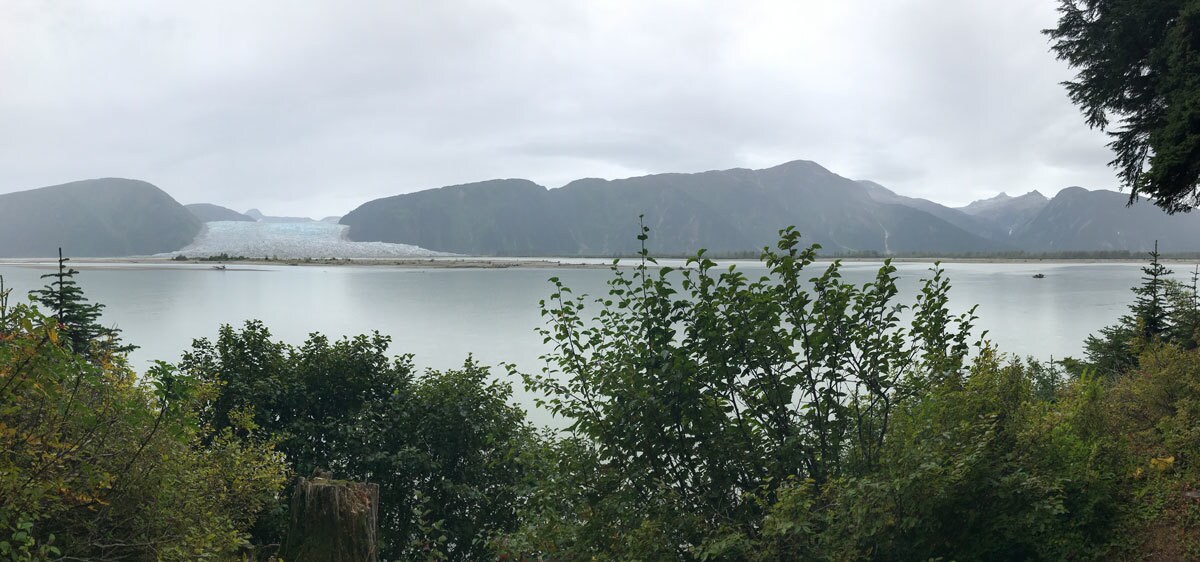 We were all bundled up and the only people for miles around, and it was so peaceful!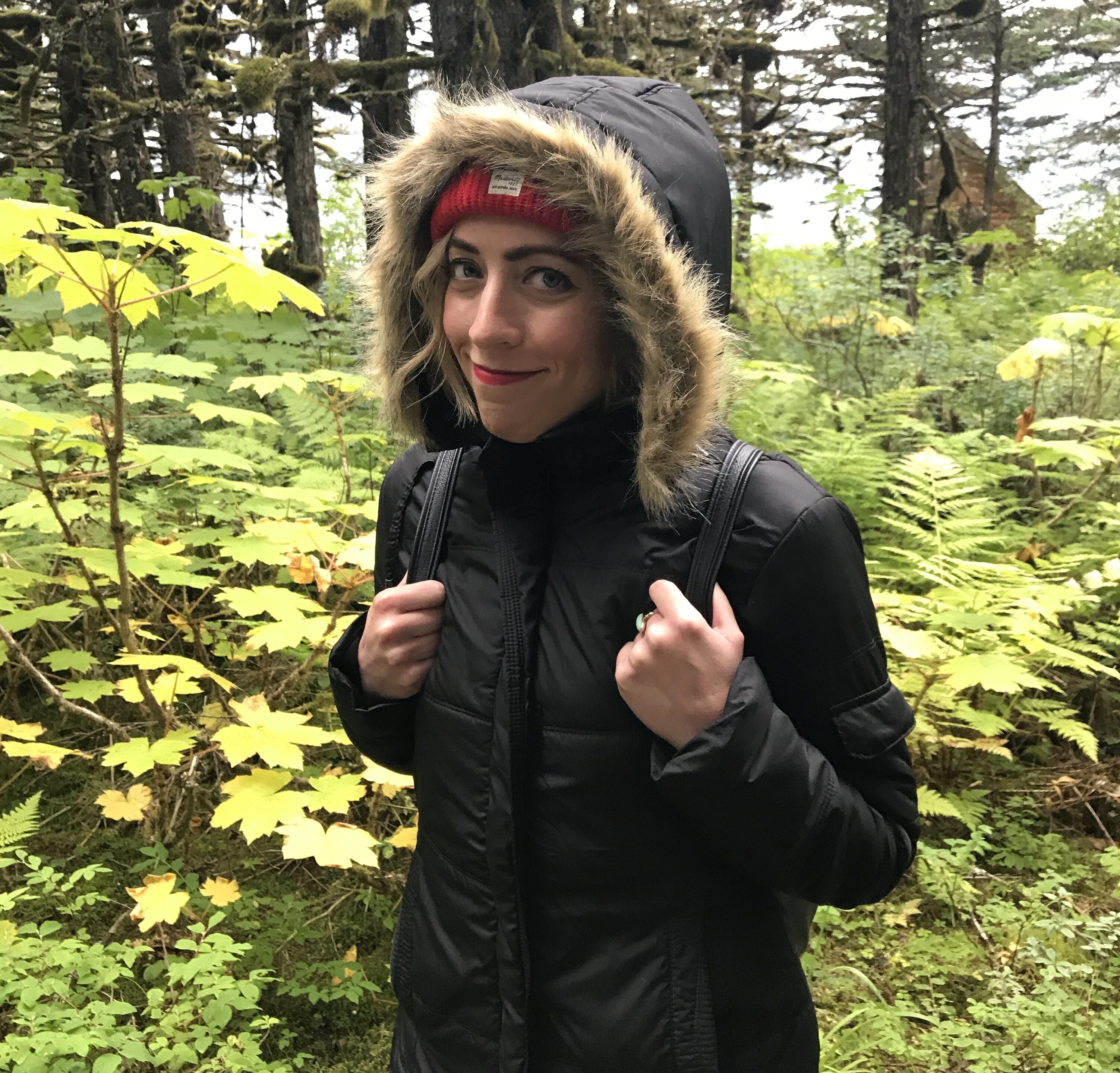 Look at how green everything is!!

Then our ride came to pick us up, and I mastered rocking Minnie ears while also keeping my head warm: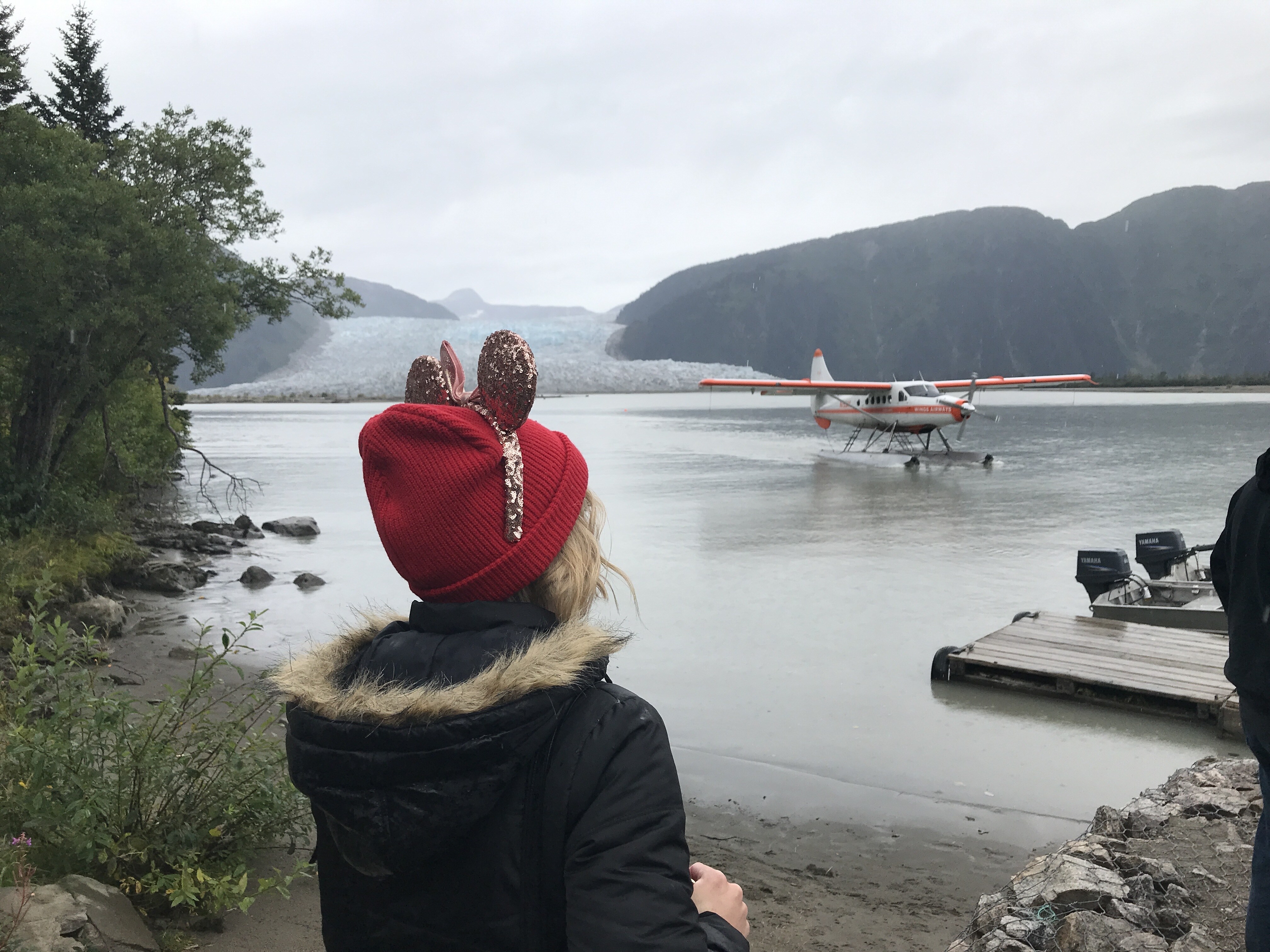 What an unforgettable, incredible day this was in Alaska.

Tracy Arm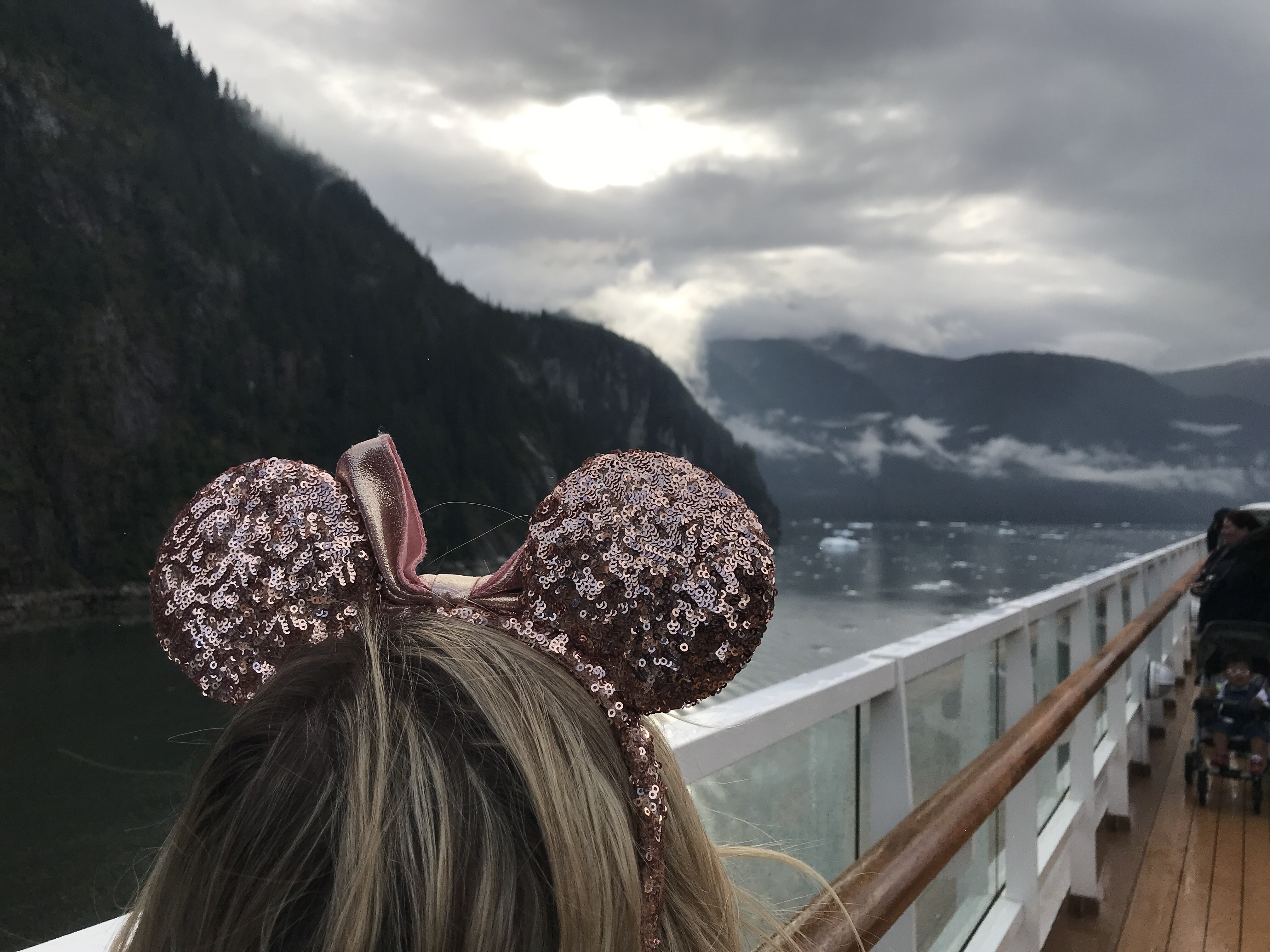 That same day, on our way to the next port, we took a stop in Tracy Arm to see icebergs up close. As the Disney Wonder sailed through the water, icebergs began to appear around the ship. It was wonderfully cold and you could see your breath in the air as the landscape unfolded. This picture kind of says it all: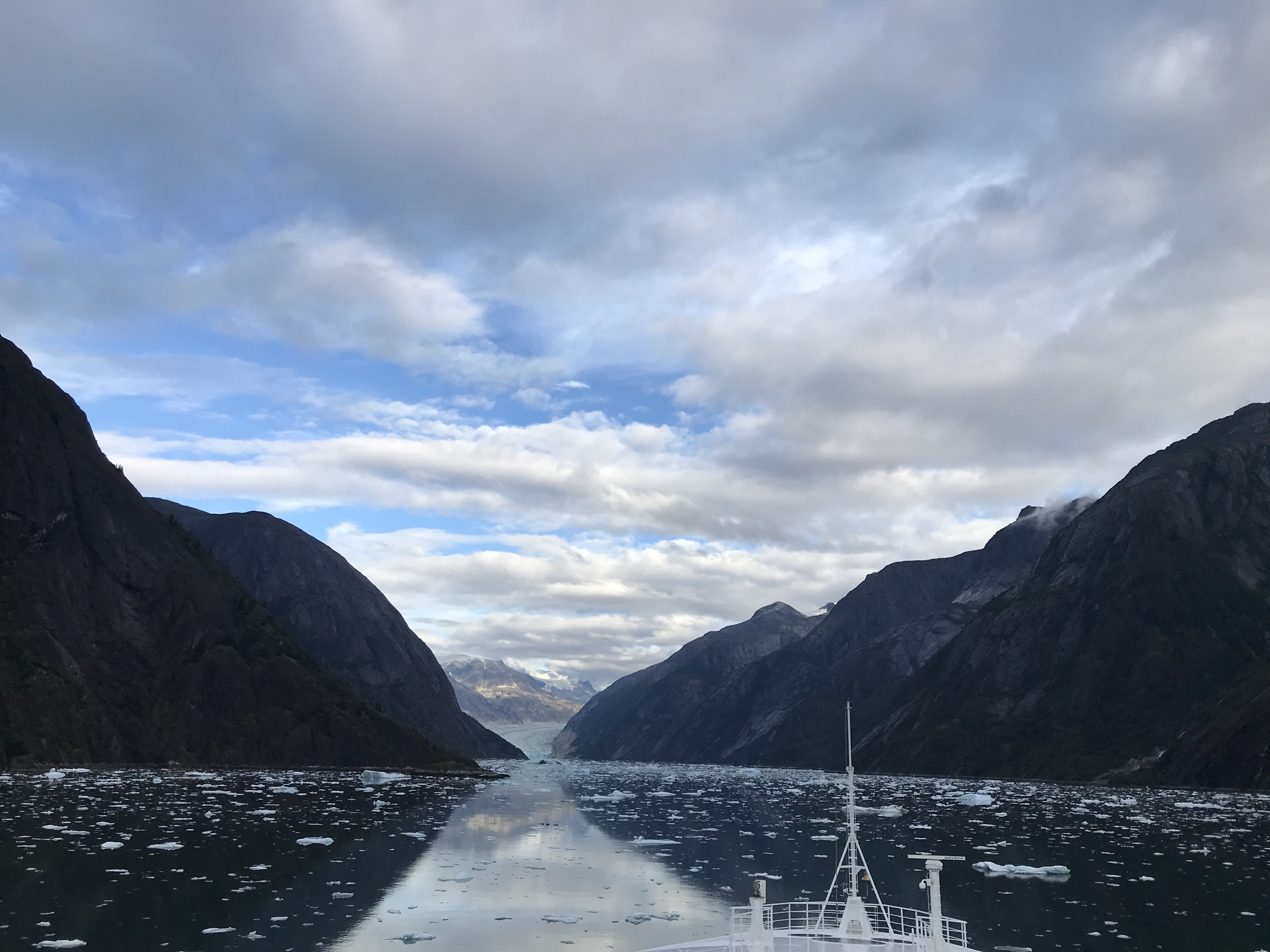 Then Mickey and Minnie showed up in their Alaska-inspired outfits. It was a moment of combined Alaskan beauty and Disney magic that made my heart burst with joy: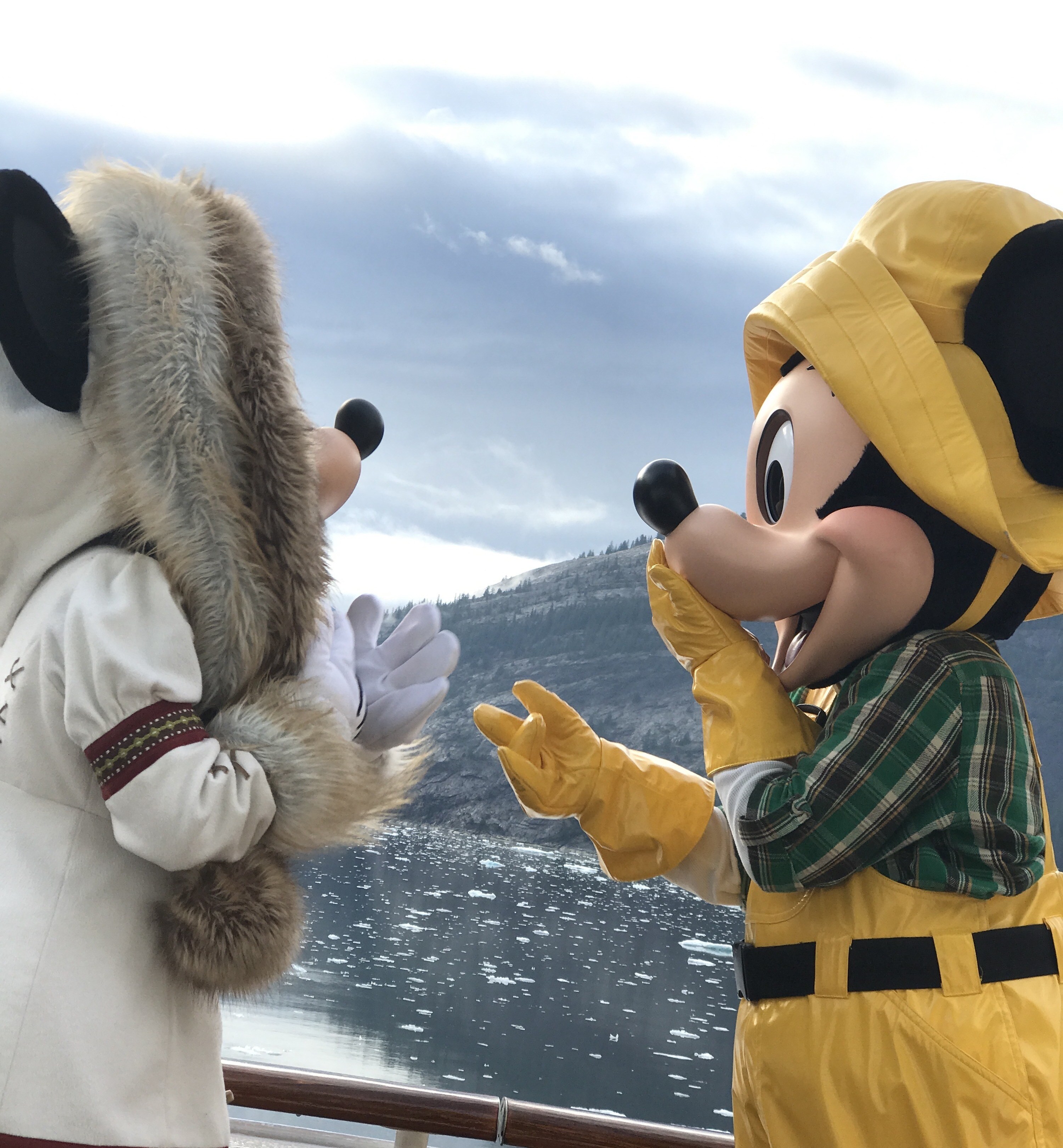 Mickey and Minnie were also delighted by the views, as you can see!

Did I then take a selfie with some icebergs? You bet I did: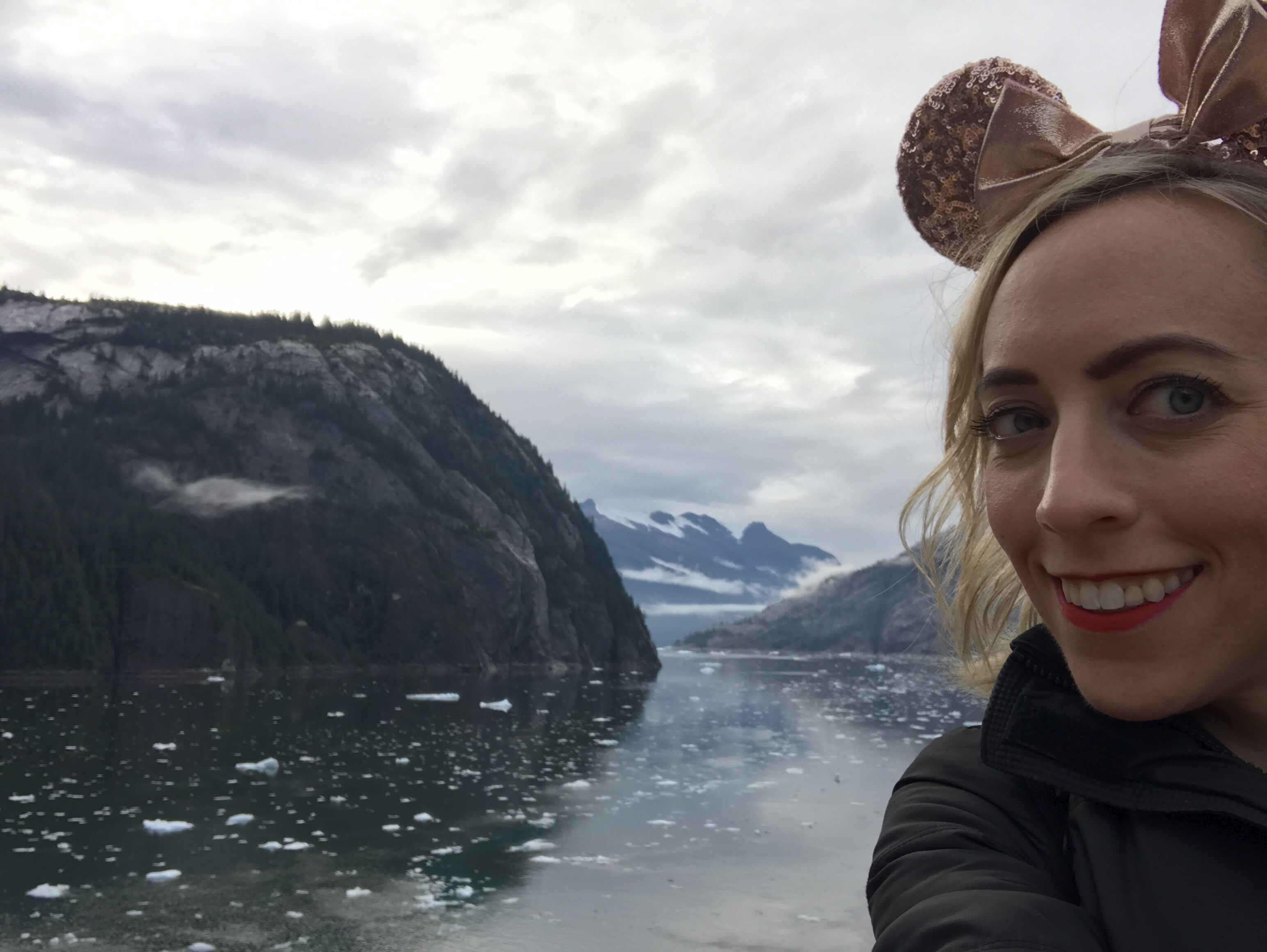 I cannot put into words how gorgeous this moment was. There was a complete silence among all of us on the deck who were watching the icebergs go by, and a mutual understanding among strangers and friends that it was a once-in-a-lifetime experience. I'm weeping just thinking about it!

Port: Ketchikan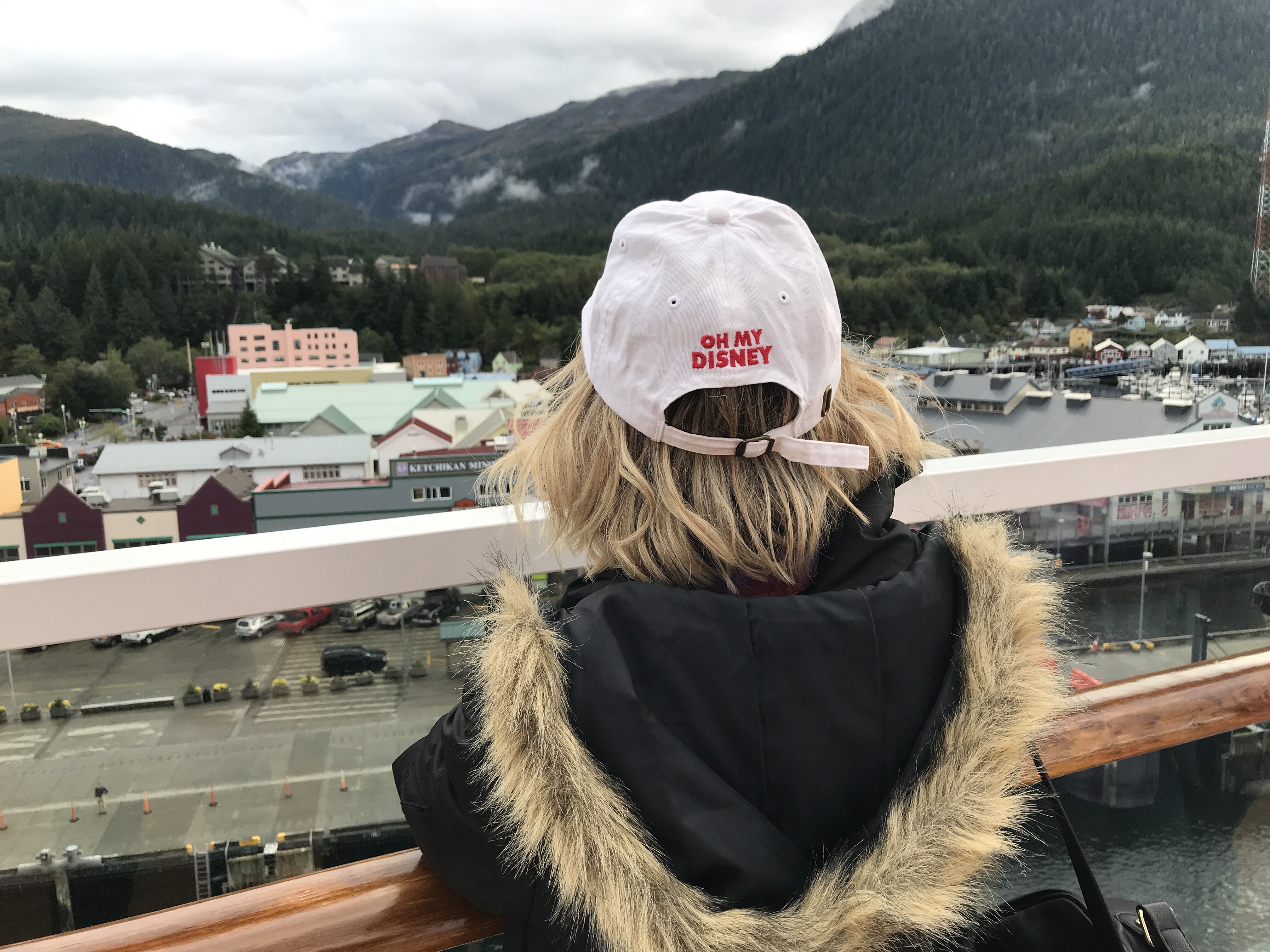 Our last port of call was the wonderful, vibrant town of Ketchikan. The day included a boat adventure to check out some wildlife, and a lumberjack show. Yes, a lumberjack show.

Here I am in front of the boat. I met a crab up close and also saw a bald eagle's nest!!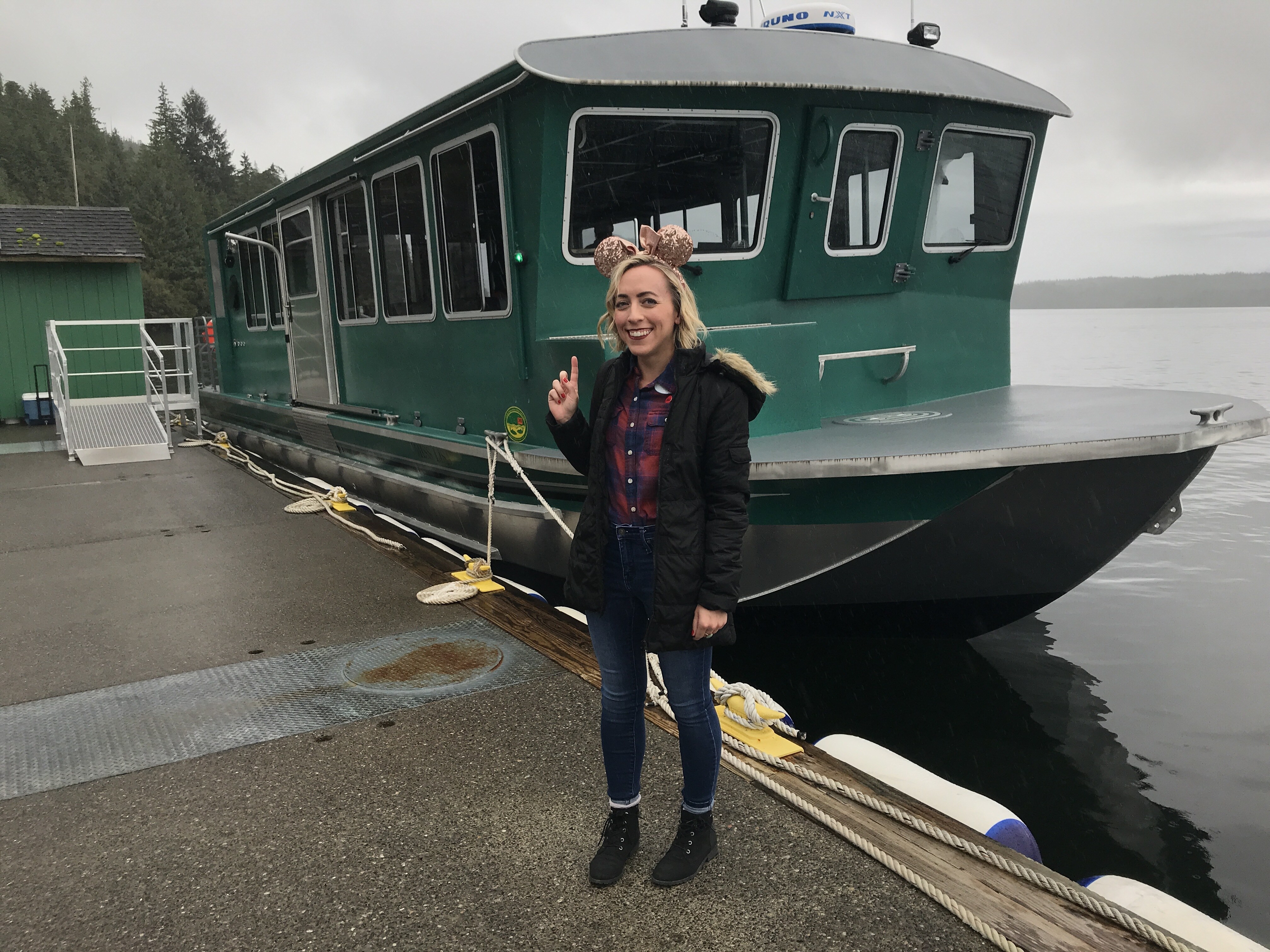 Here is the moment when I spotted the bald eagle. I've actually never seen one so close, and that was really, really cool: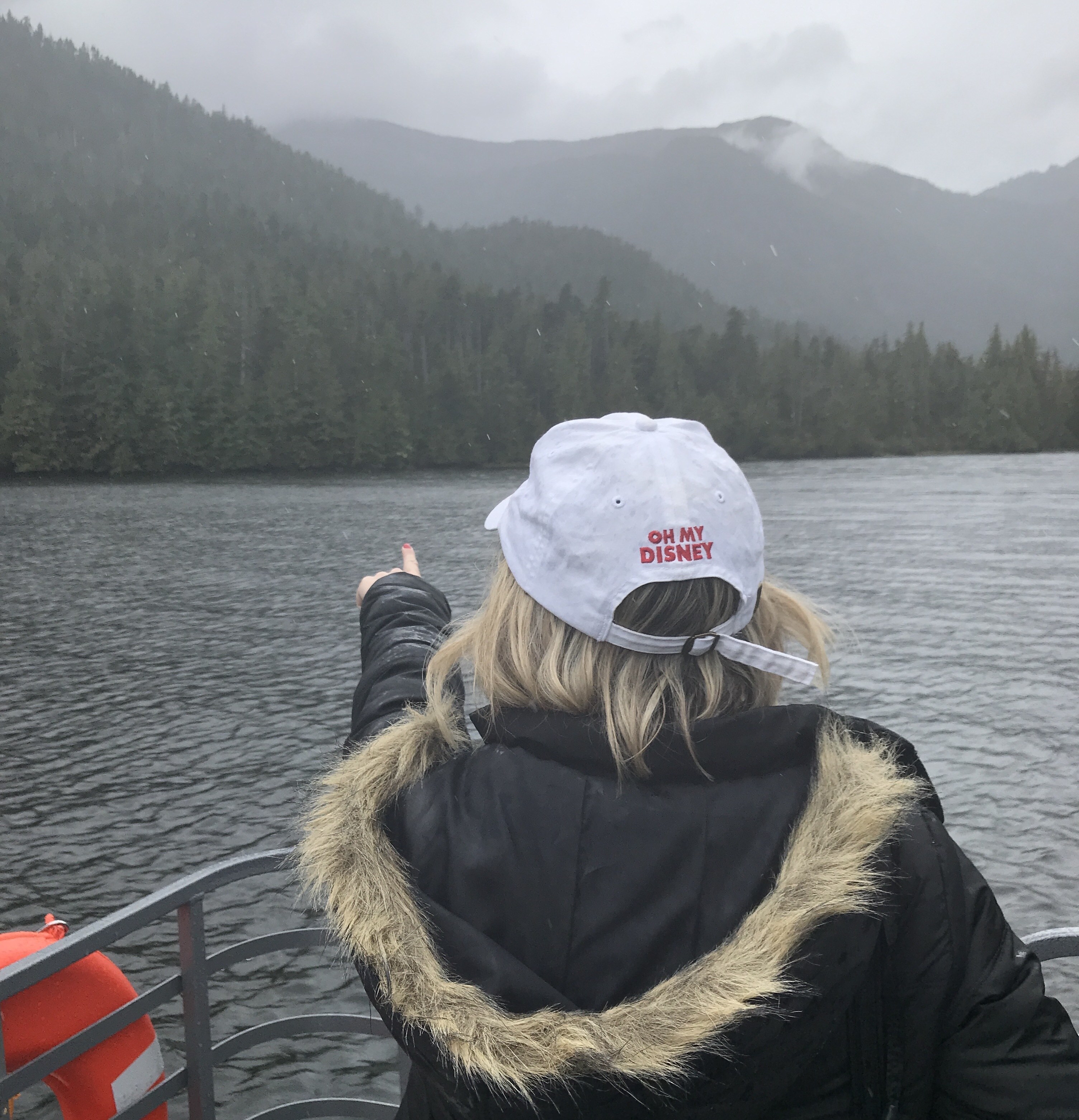 I was so in awe of the bald eagle that I was staring and pointing at it for a good long time. I hope it didn't think I was being rude.

Then it was off to the Great Alaskan Lumberjack Show. The show featured some professional lumberjacks who did crazy things like balancing on a log in the water, competing to chop wood the fastest, and running up poles in mere seconds. I could not believe what I was seeing. I was so into the competition that I was cheering and applauding the whole time. We also had a surprise visit from lumberjack Goofy that sent the crowd into a frenzy: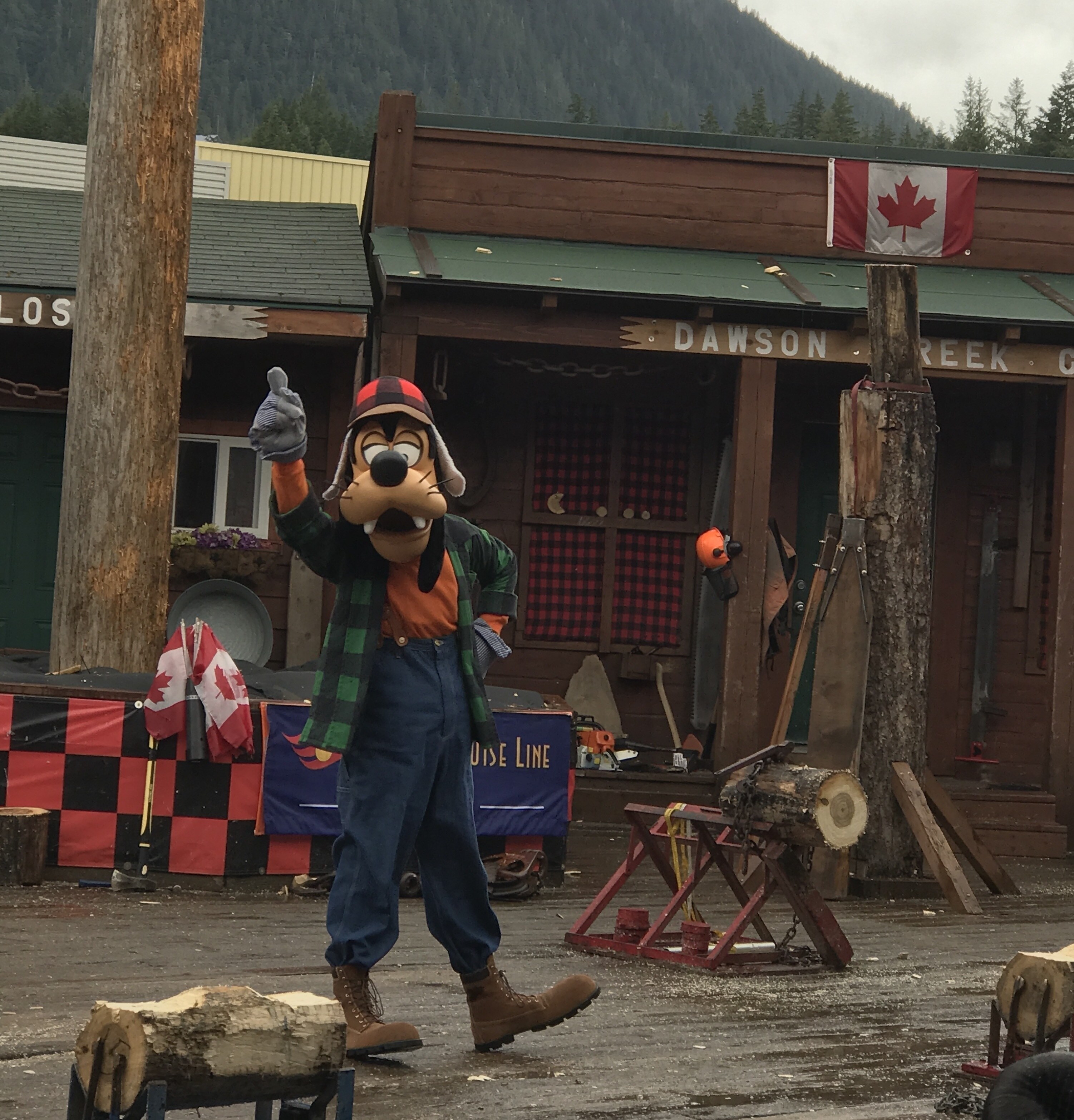 What a champion!!

After exploring the adorable town of Ketchikan, it was back to the ship: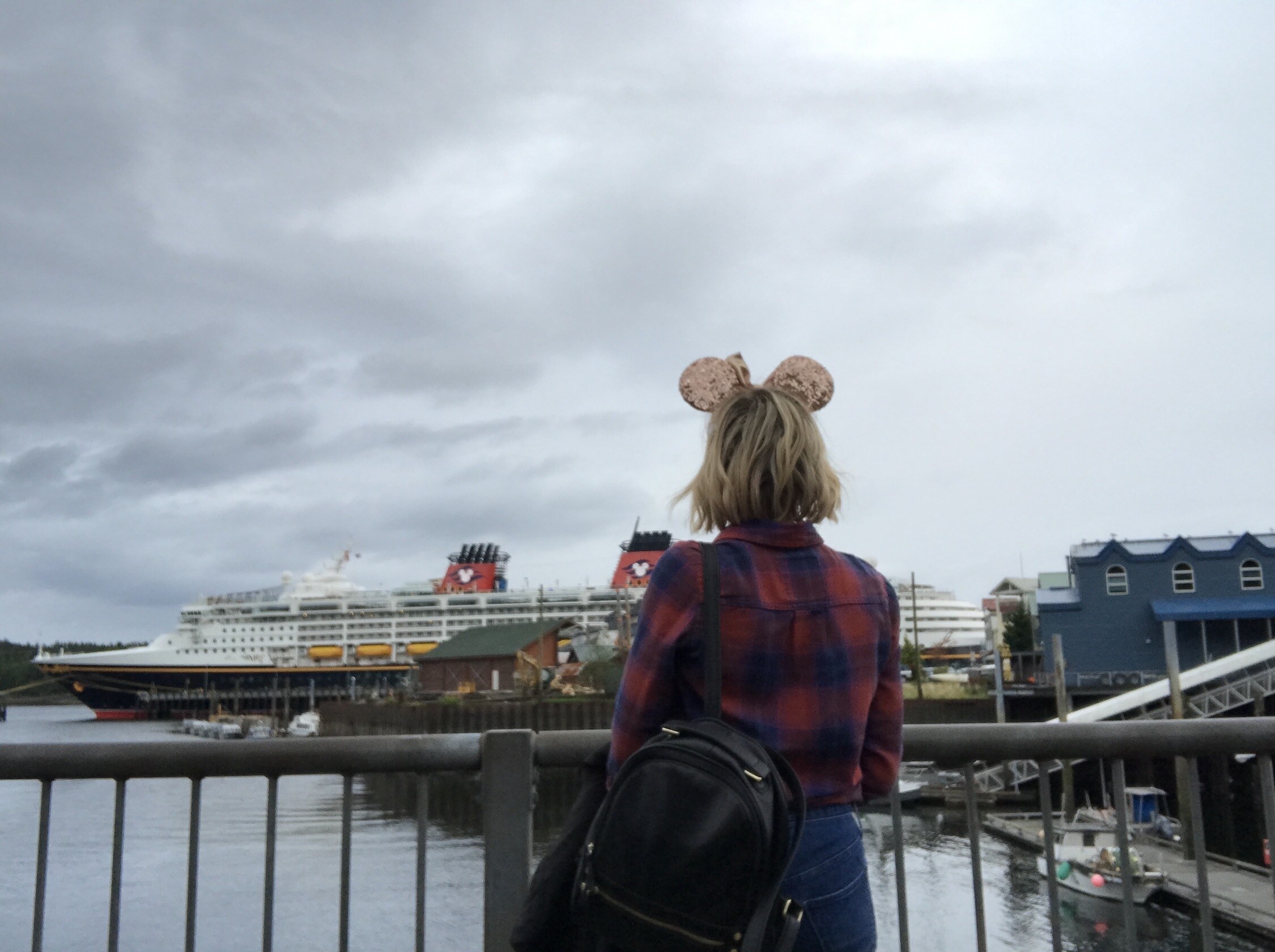 And one last photo on Alaskan soil before we set sail!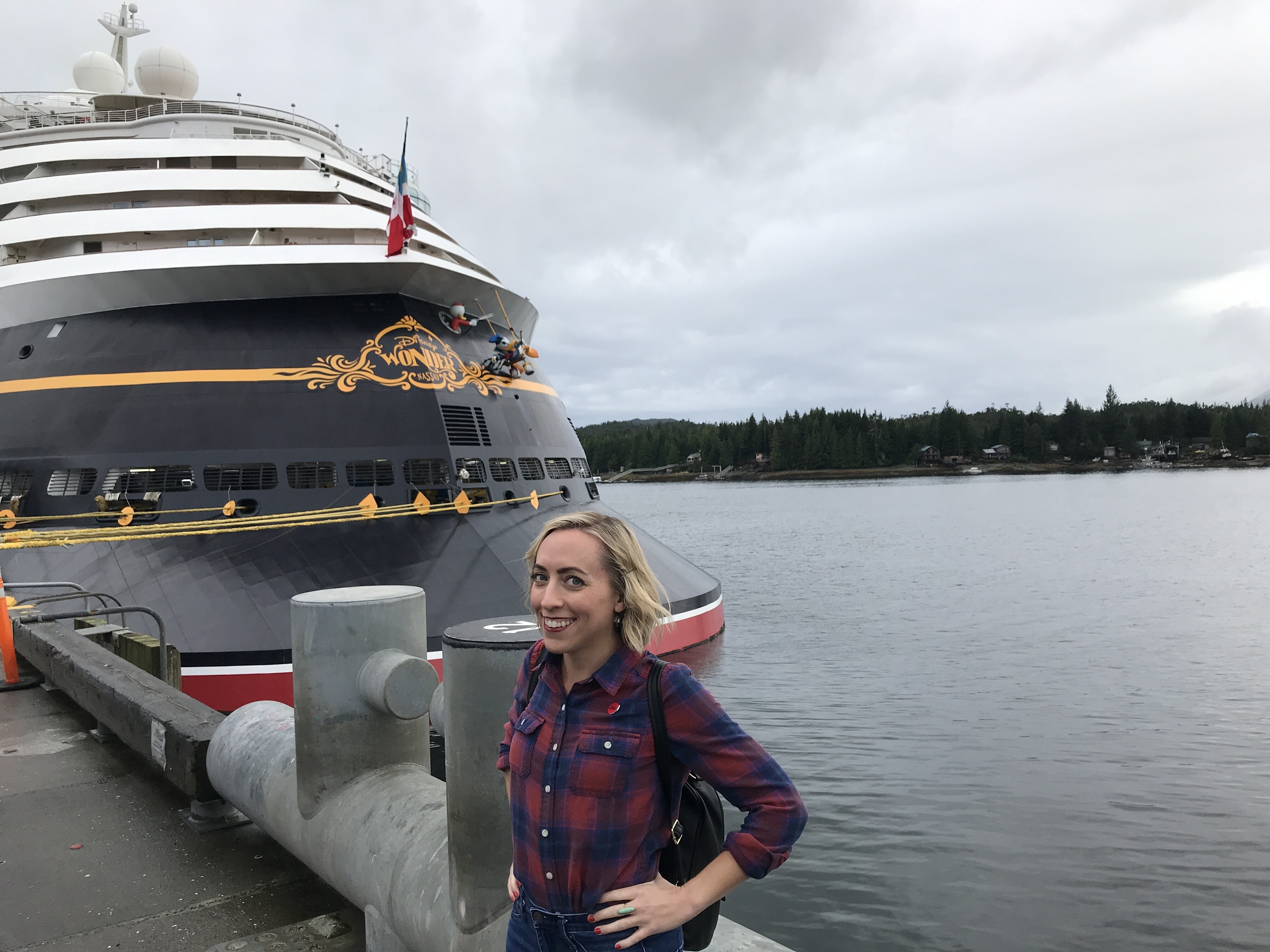 Wearing my lumberjack flannel, of course.

Days at Sea and Evenings on the Disney Wonder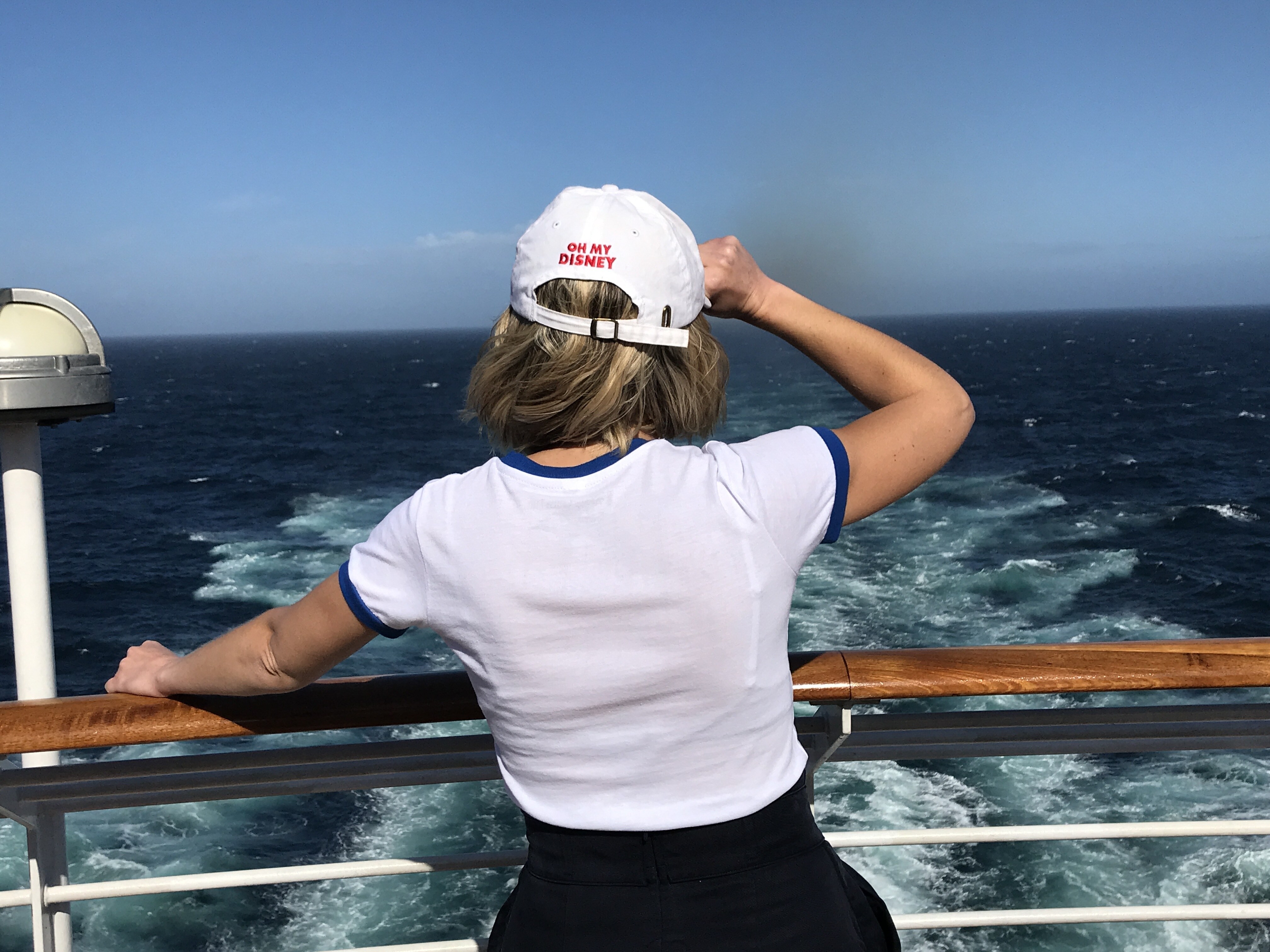 The best part of all these Port Adventures was that we knew at the end of the day we'd be going back to the Disney Wonder, where there would be a wonderful meal and show, and all the things our Disney hearts could want and more.
First of all, I made it my mission to take a photo with every character I could find, and I think I succeeded. This is one of my faves with my pal Mickey: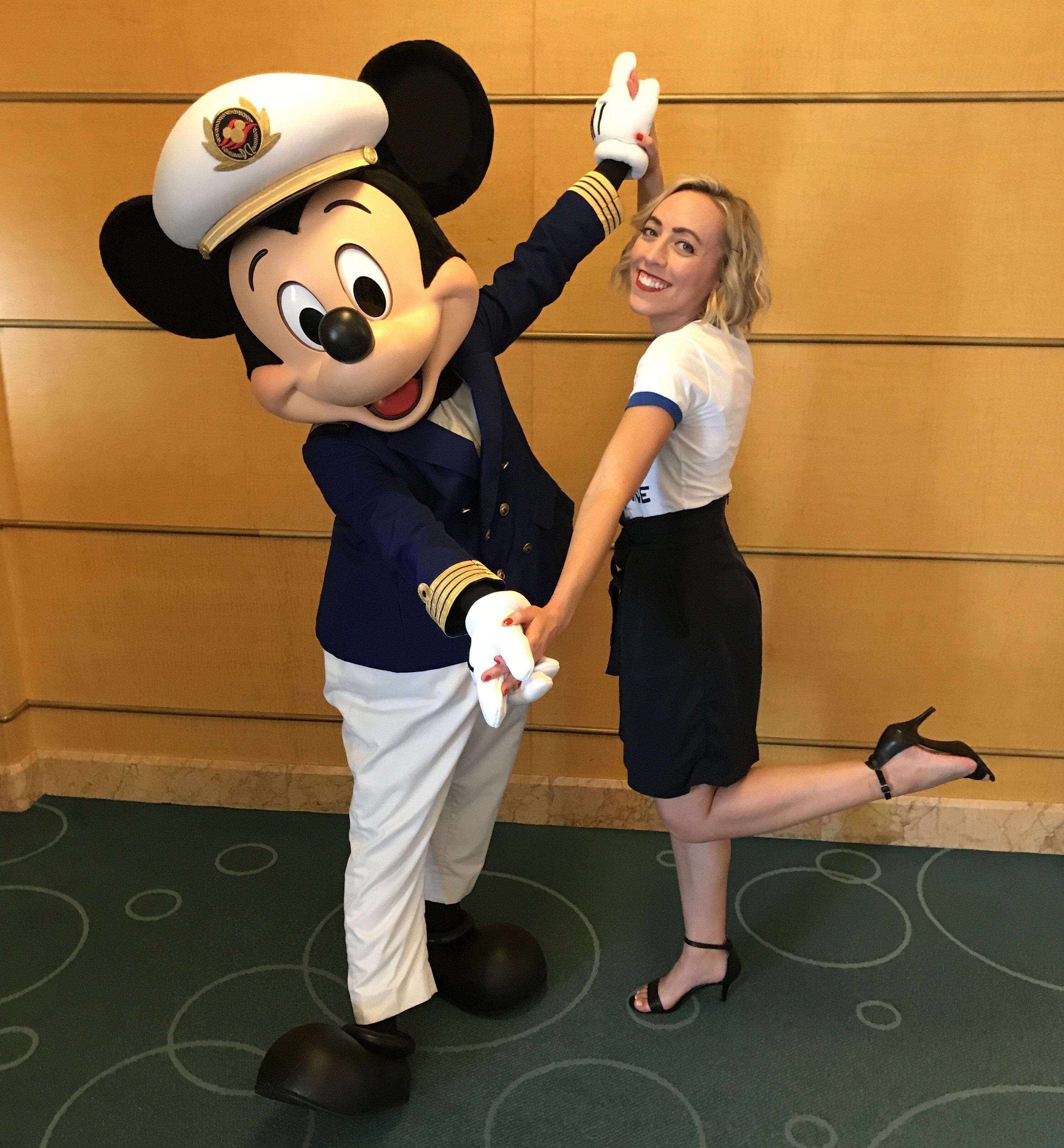 And here is a bunch of photos of all the other characters I met—proof that I took my mission seriously: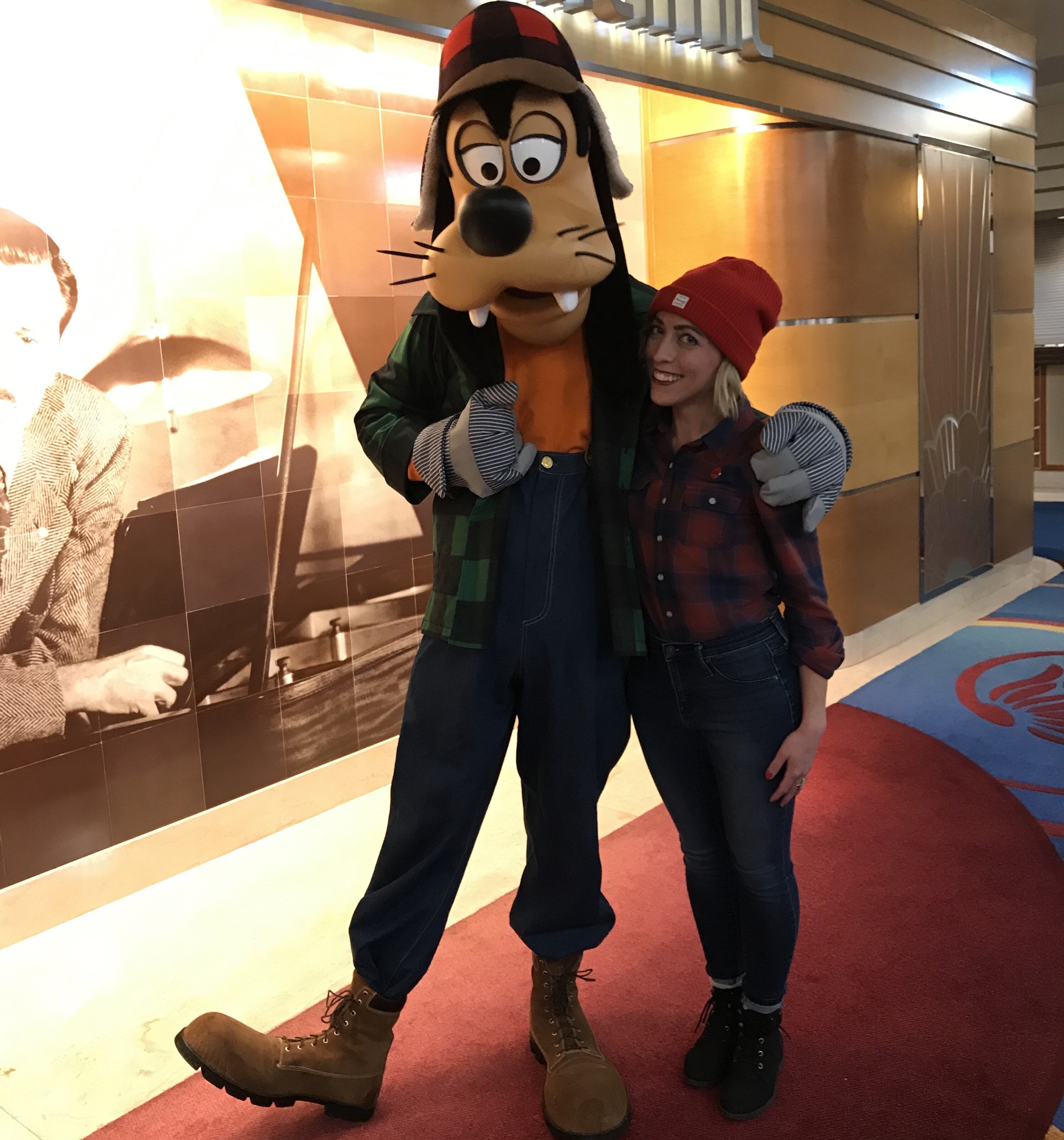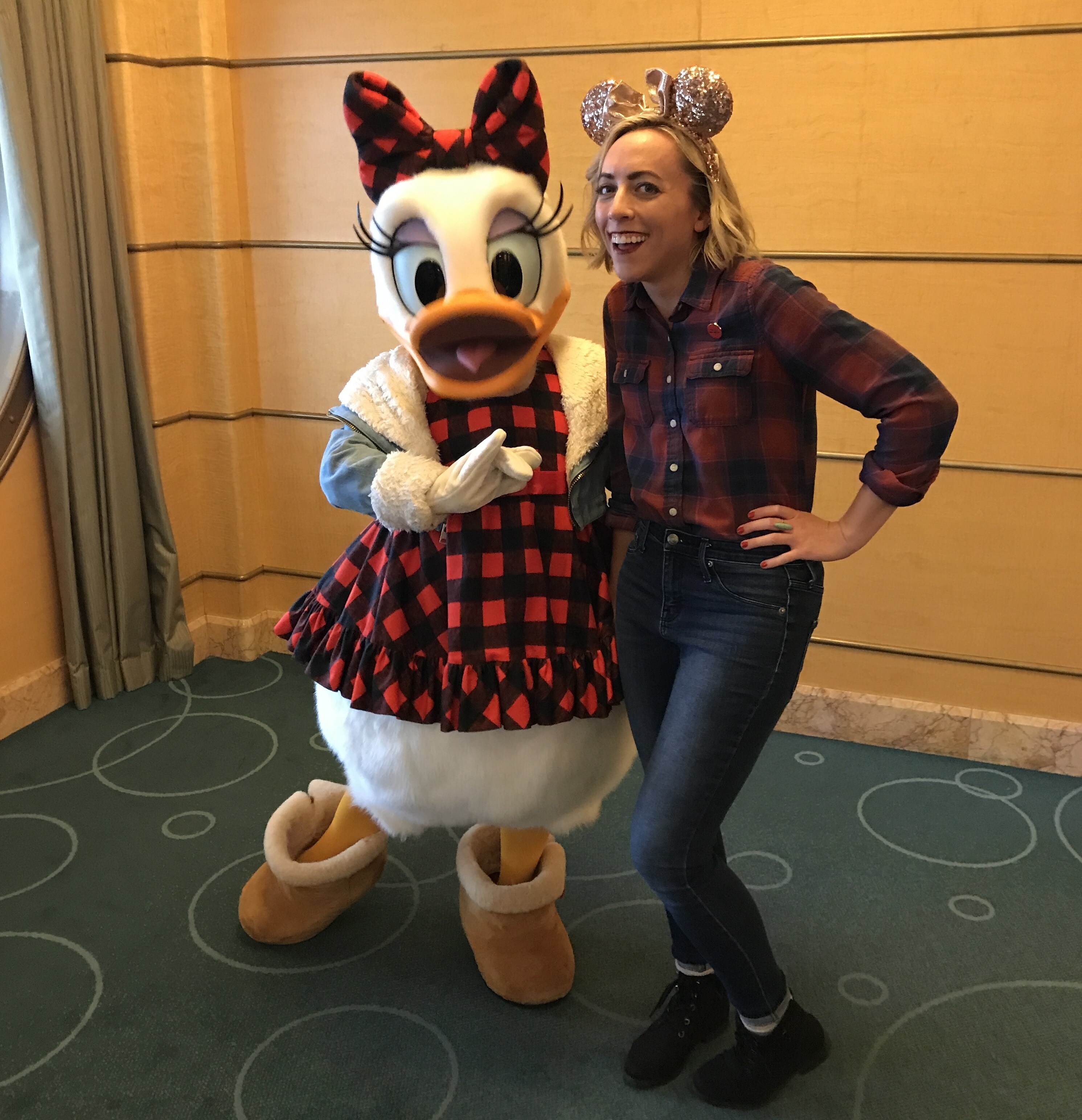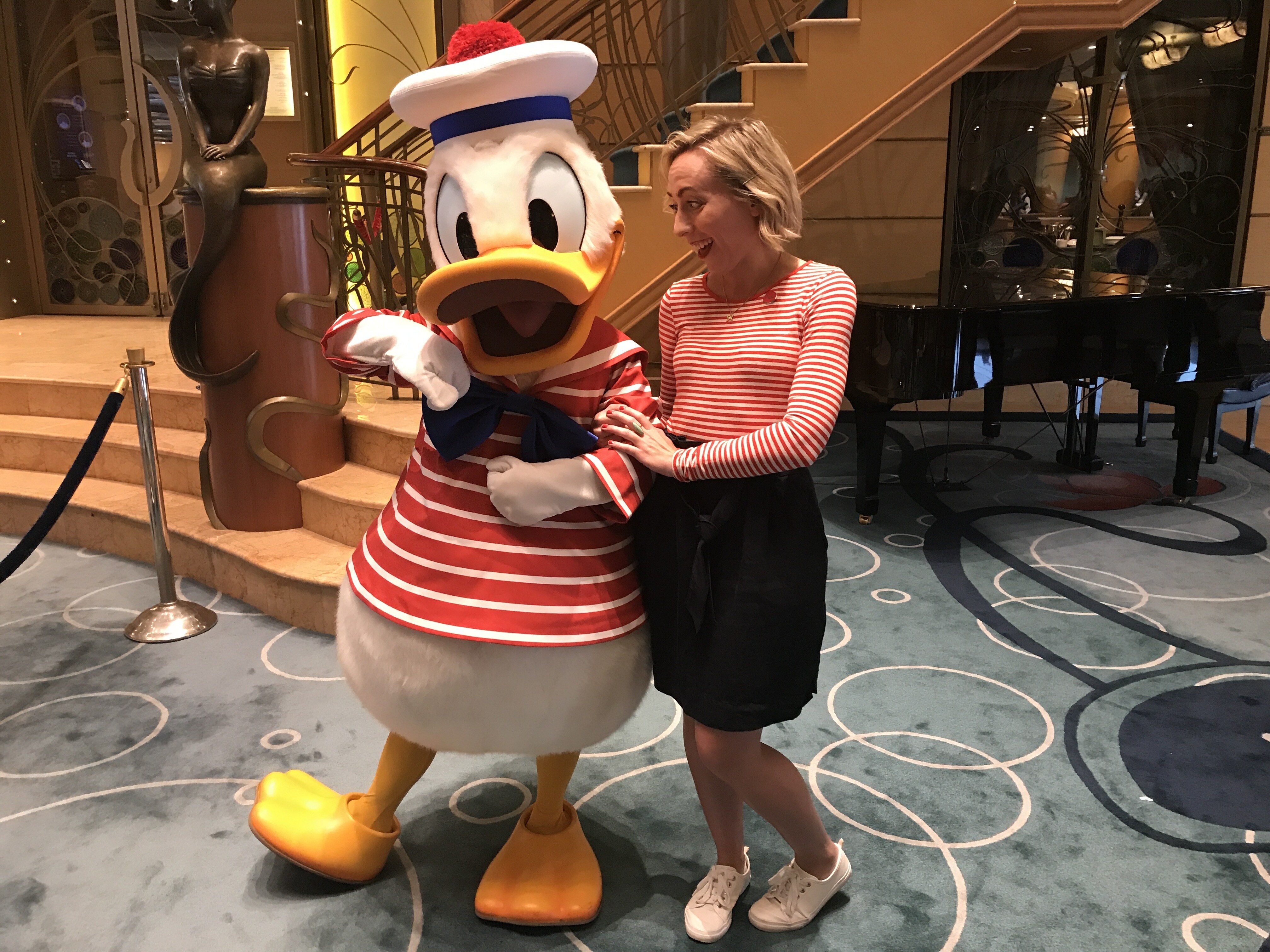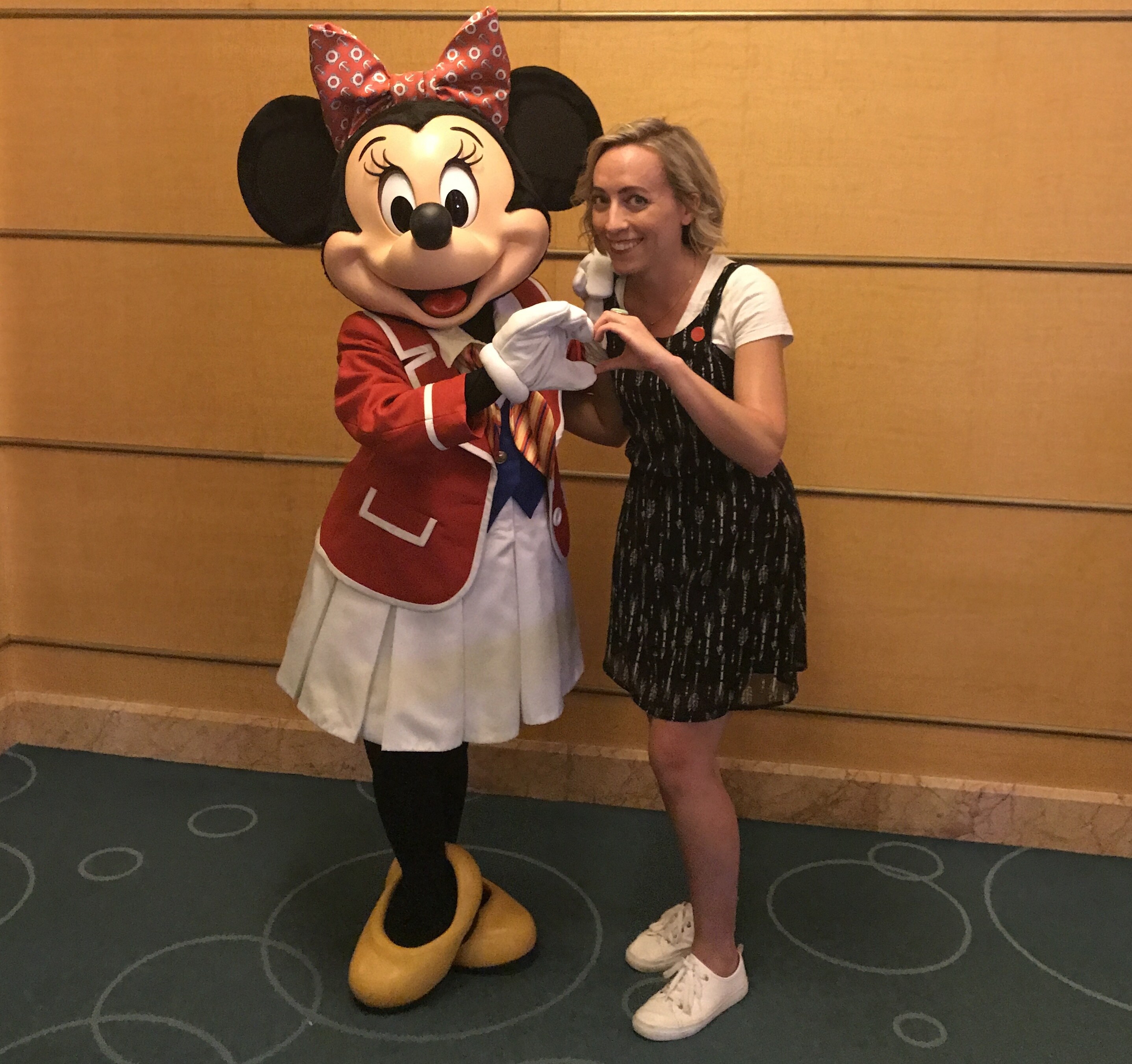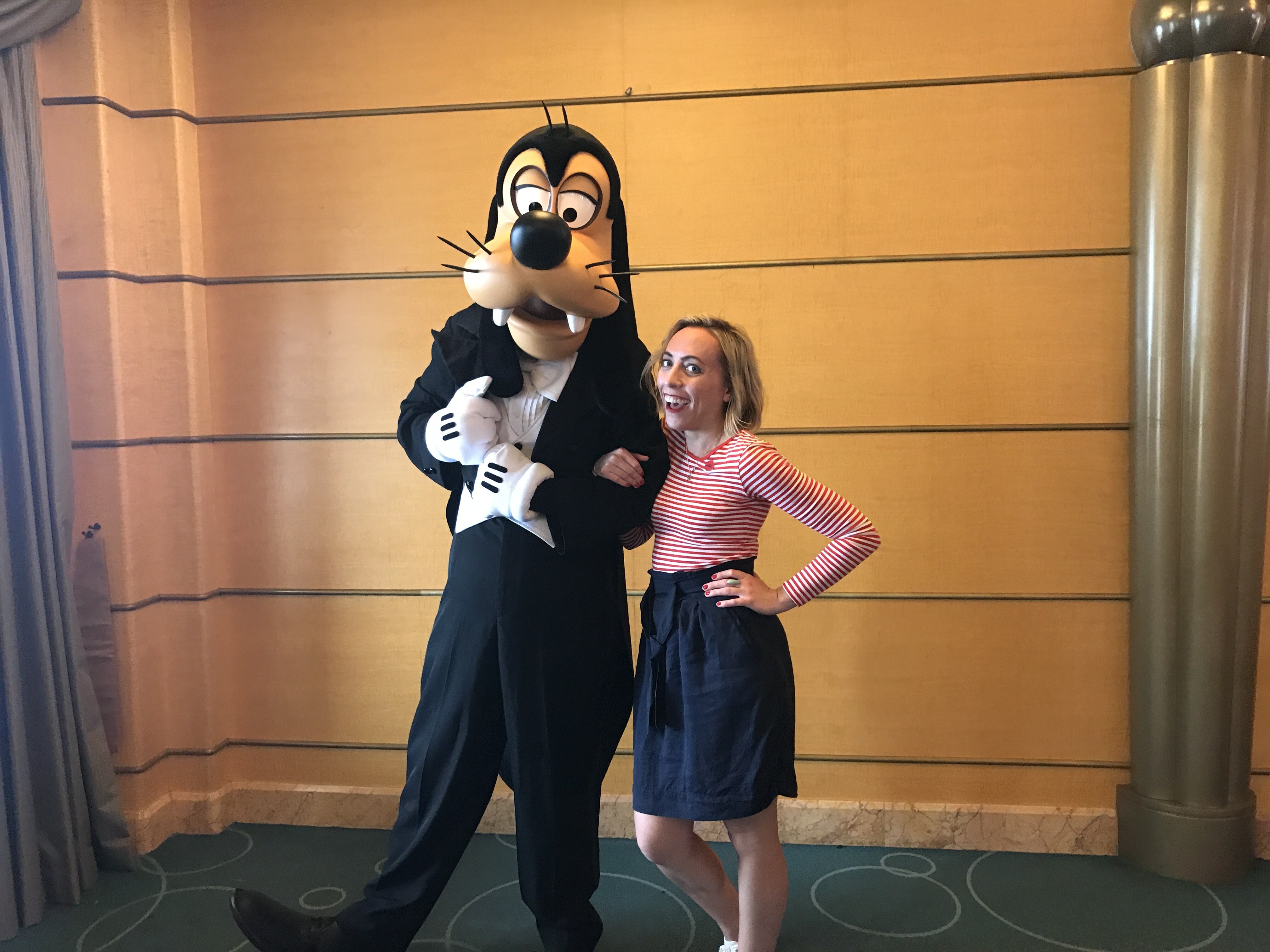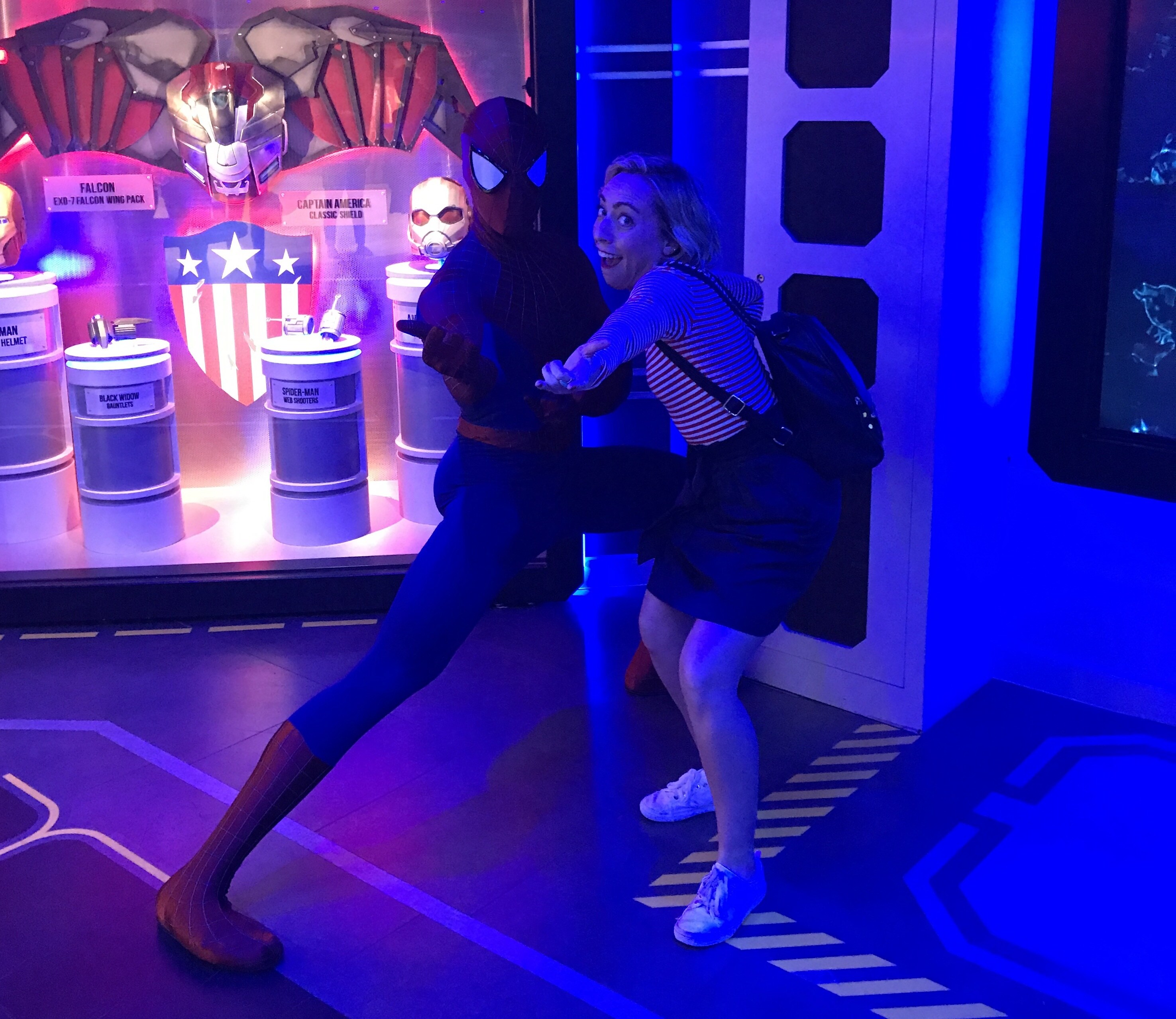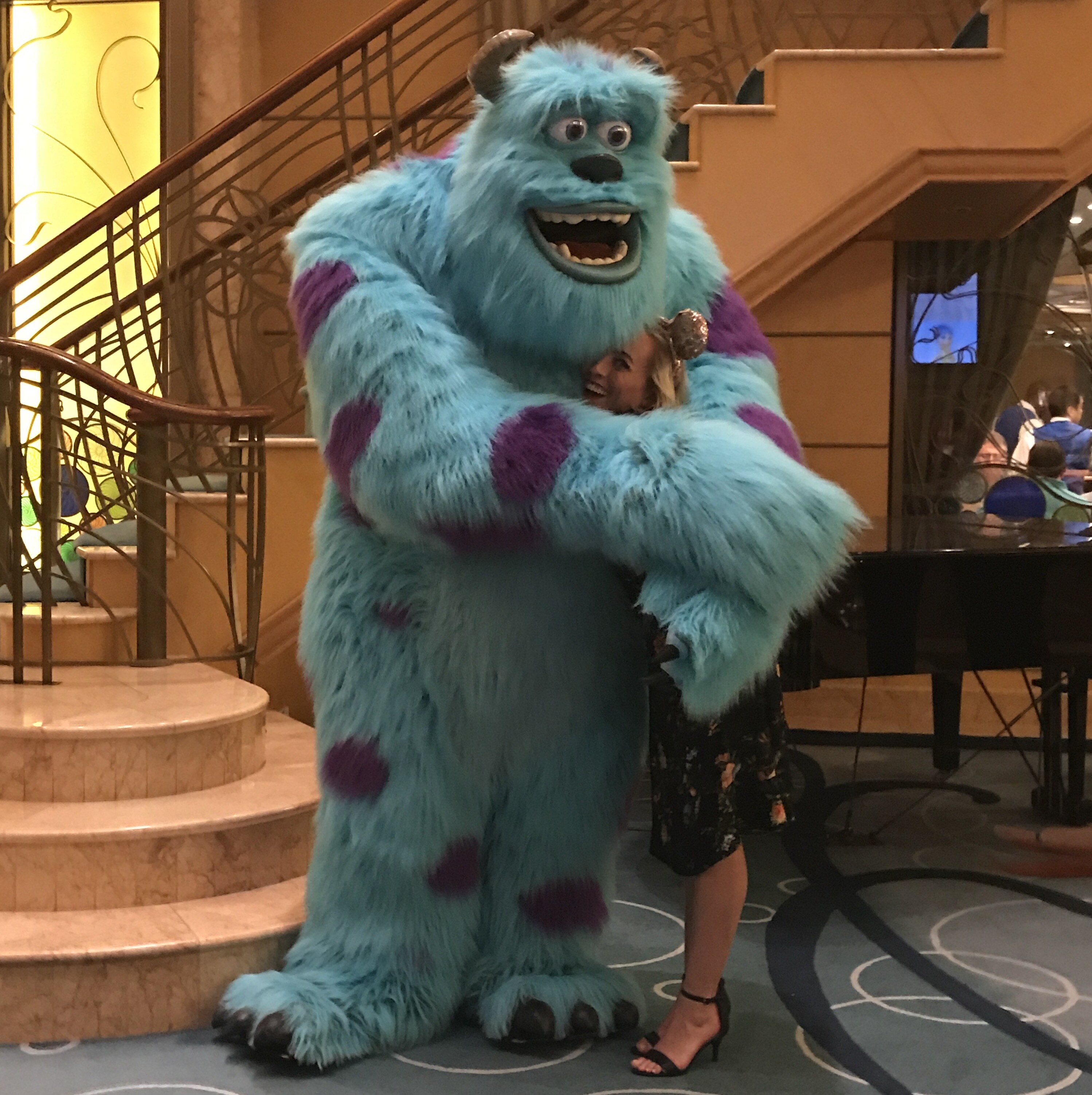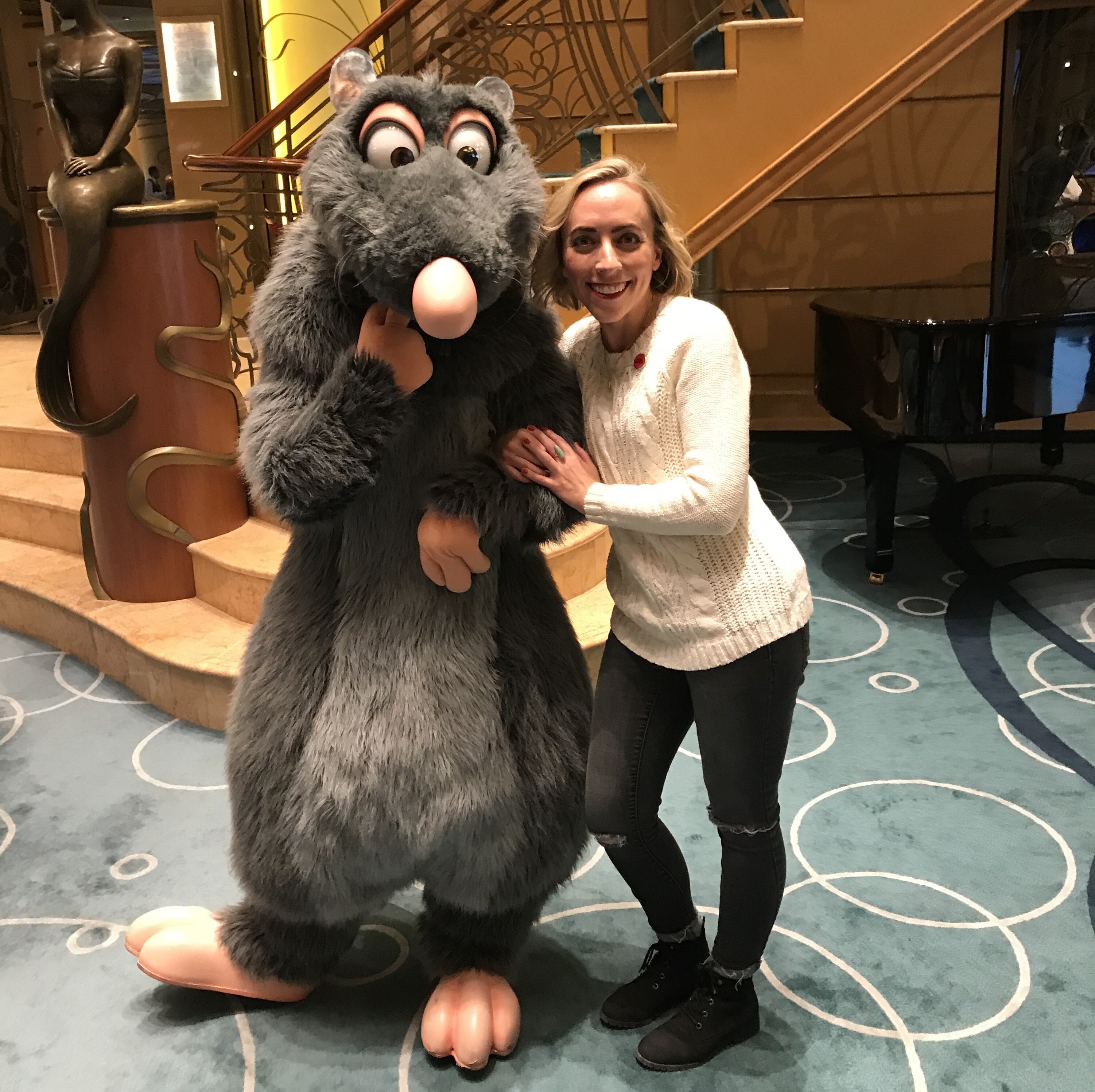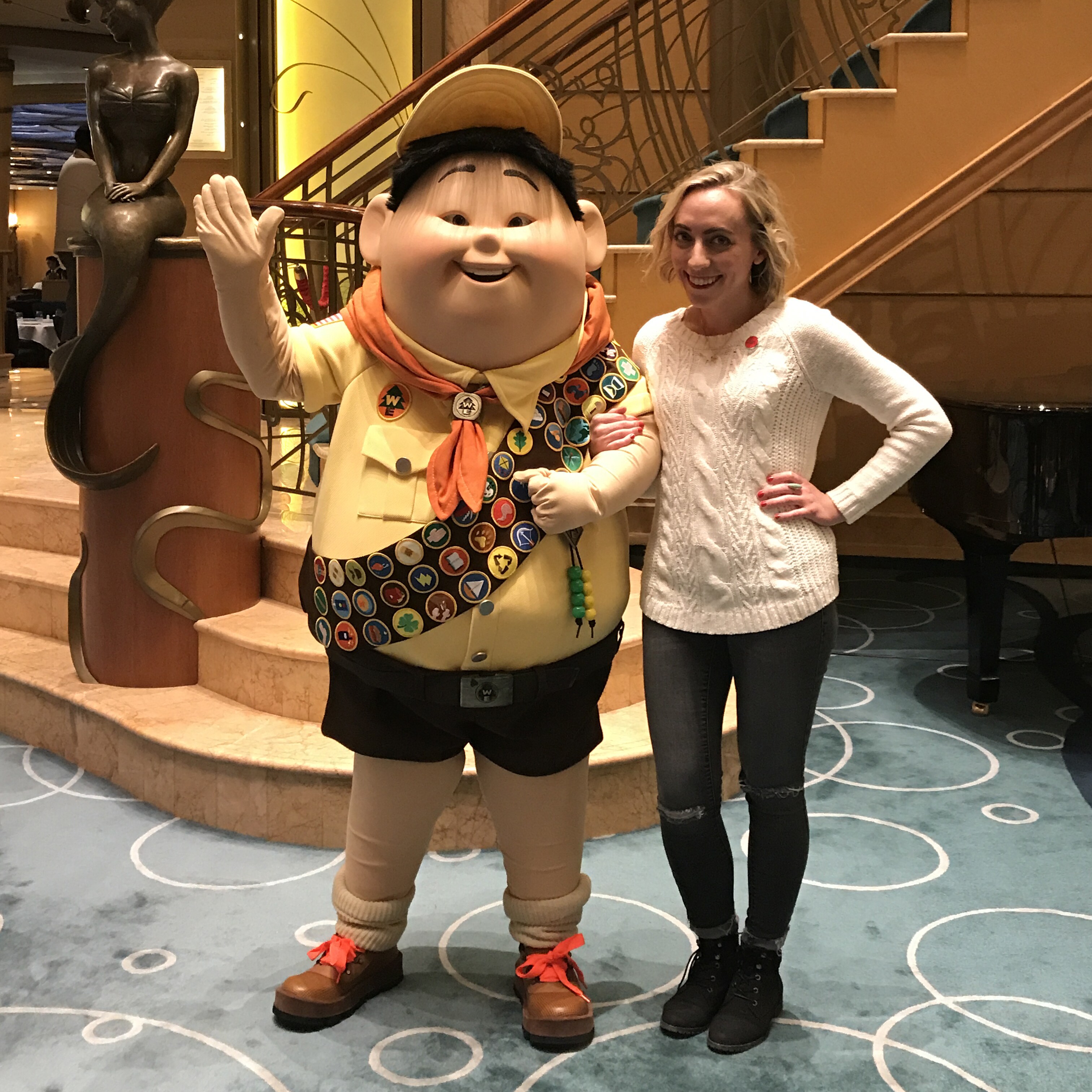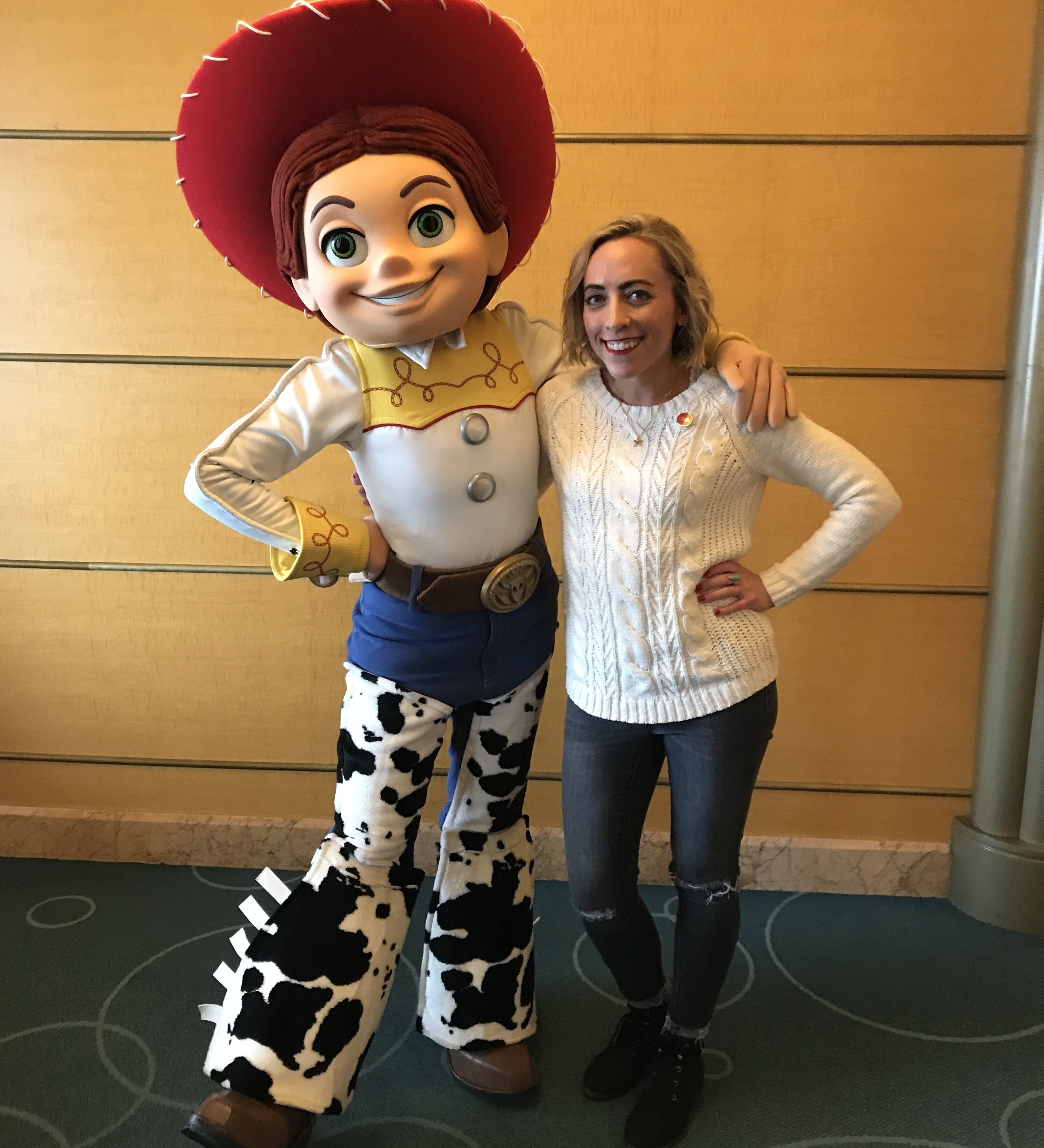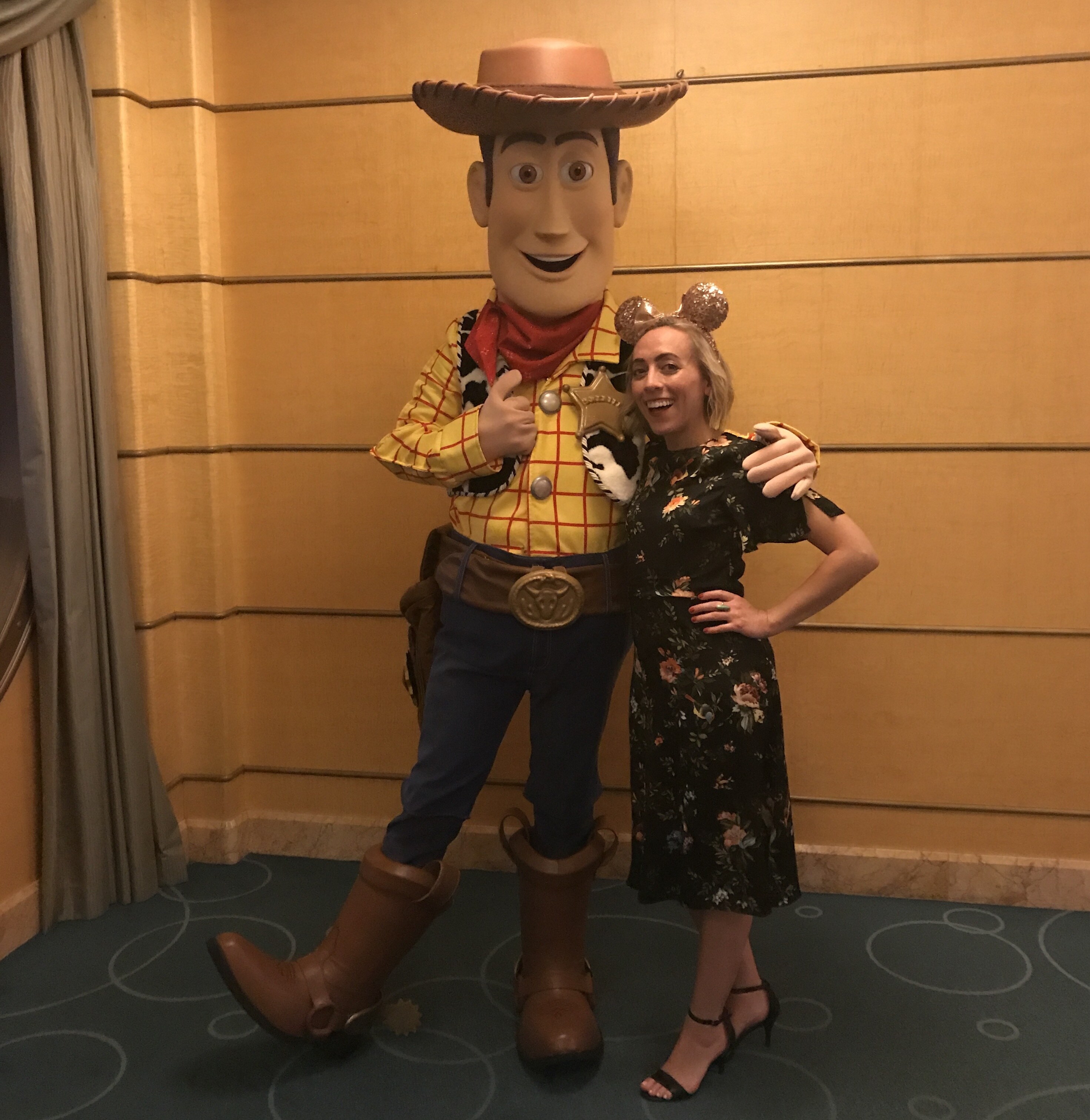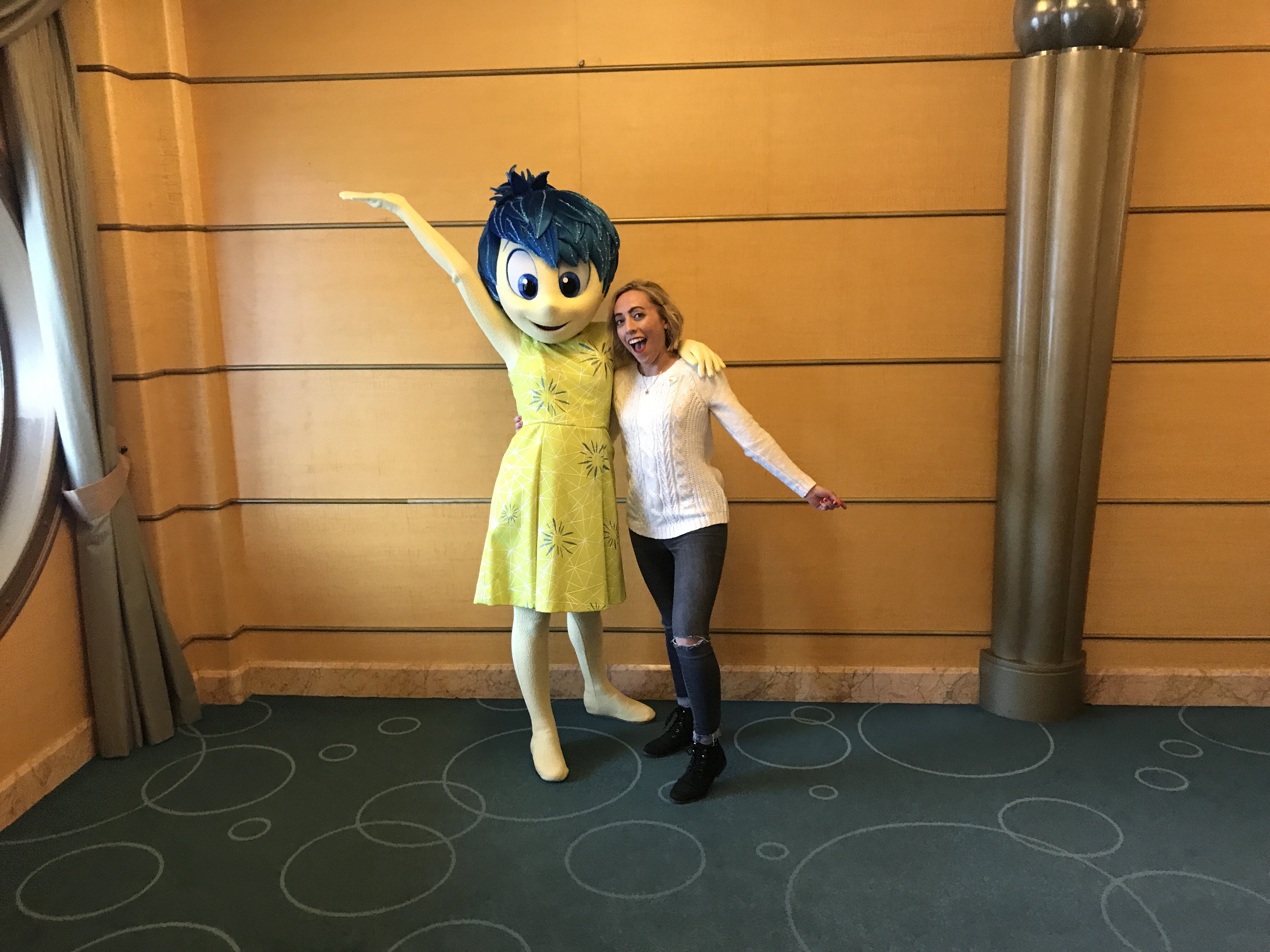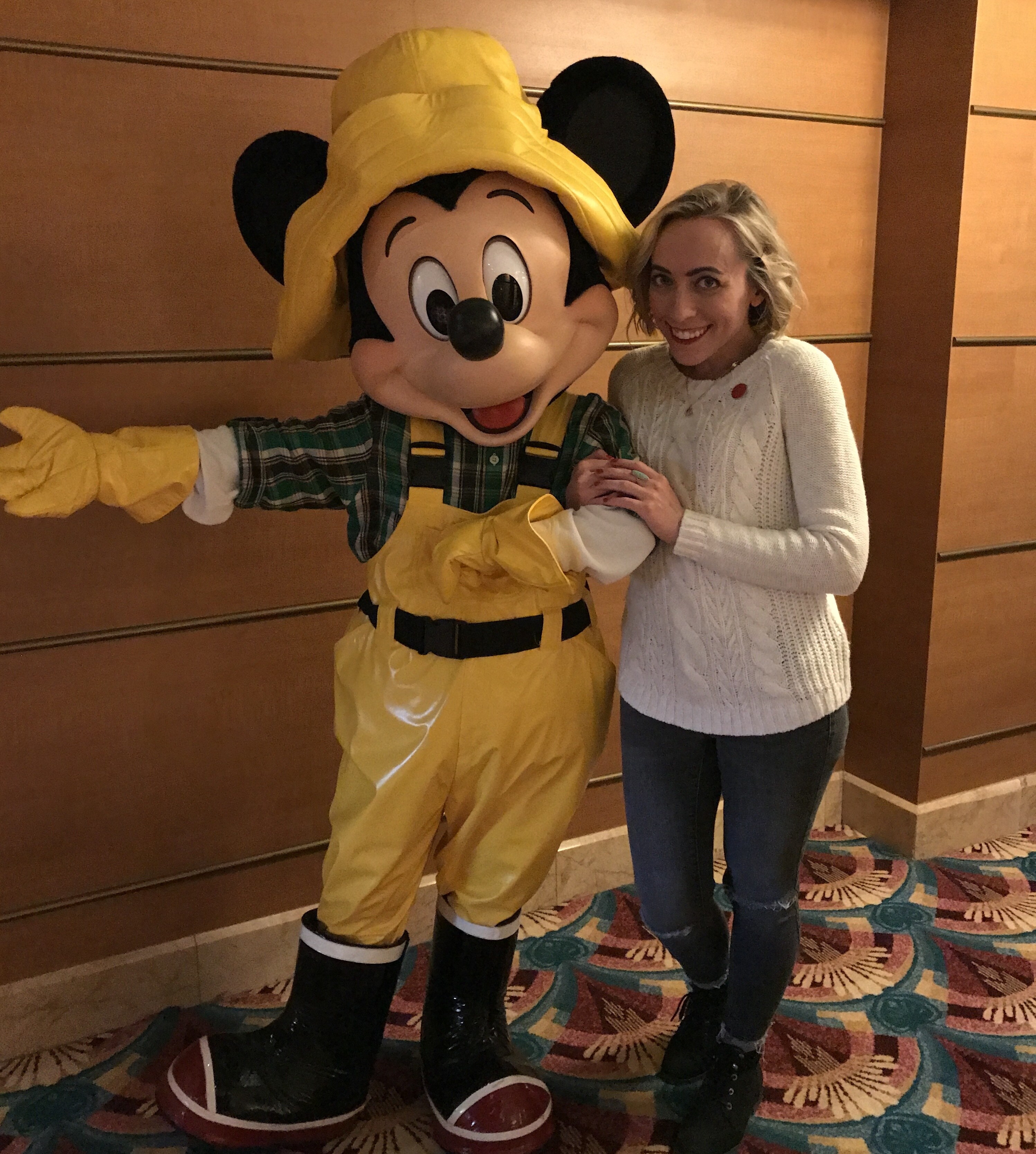 The Disney Wonder had so many amazing dining options, and every meal was memorable. Triton's Restaurant is themed after The Little Mermaid, just inside the ship's atrium. Cabana's is more casual dining where I had many of my breakfasts. The deck outside of Cabana's is a great place to take in the view of the water and snack on all the things.

Tiana's Place is a step inside New Orleans, with amazing gumbo and beignets. At one point during our meal, Tiana stopped by to ask how we were enjoying the food, and I was speechless and starstruck and shook, all at the same time.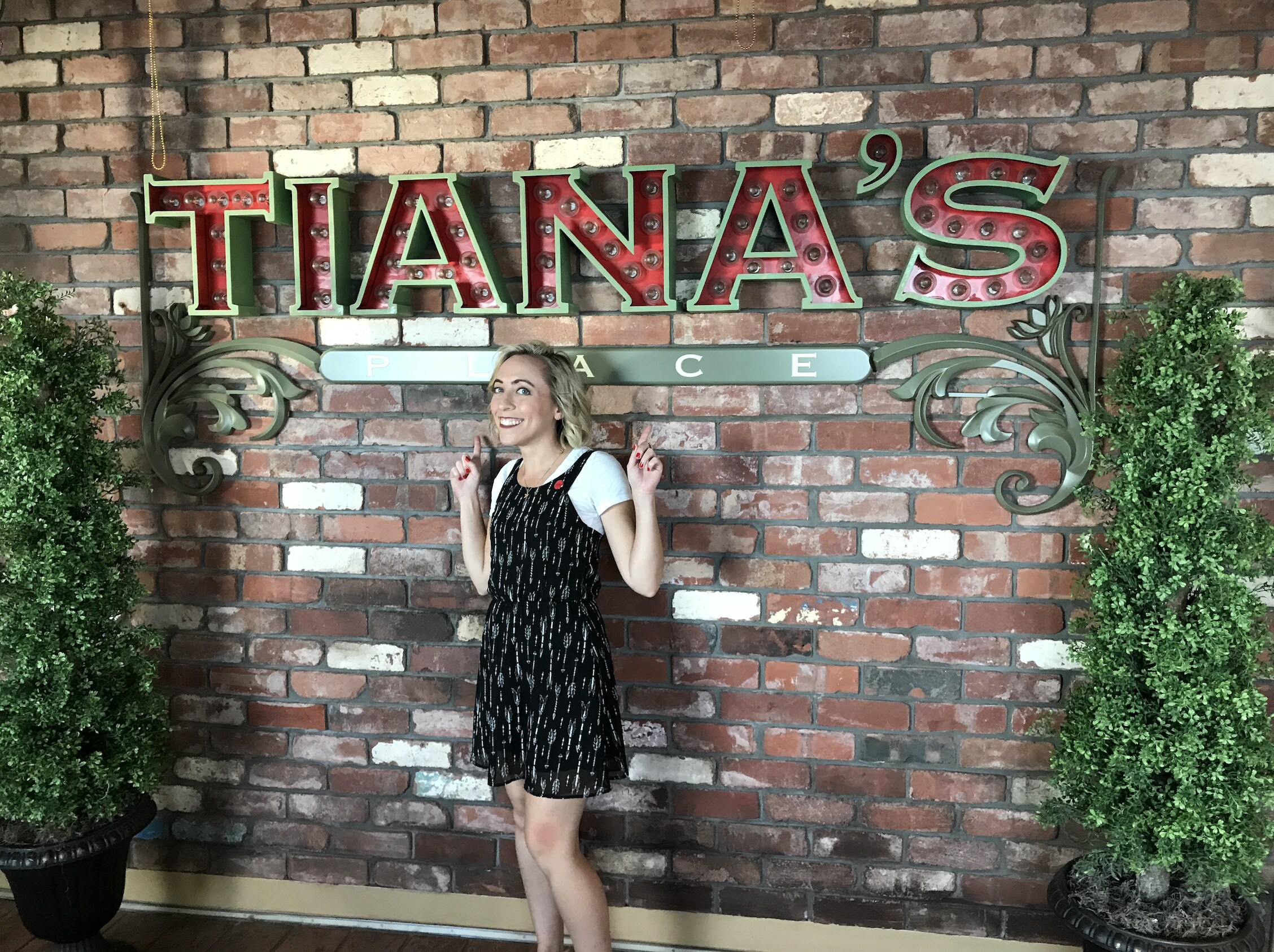 There's also live music throughout the evening that will have you dancing and smiling!

Fans of animation will love the dining experience at Animator's Palate! Everyone at my table got to draw their own character, and at the end of the meal we saw those drawings come to life. Sorcerer Mickey even showed up as a surprise! Also, the entire room is covered in moving animations and sketches from Disney films, and it's so beautiful!
One of my favorite meals I had on the ship was at Palo Restaurant. It's so nice to dress up, put on your best Minnie ears, and enjoy the incredible views as you eat some of the best food you'll ever have. Behold, me after my meal at Palo, full of joy: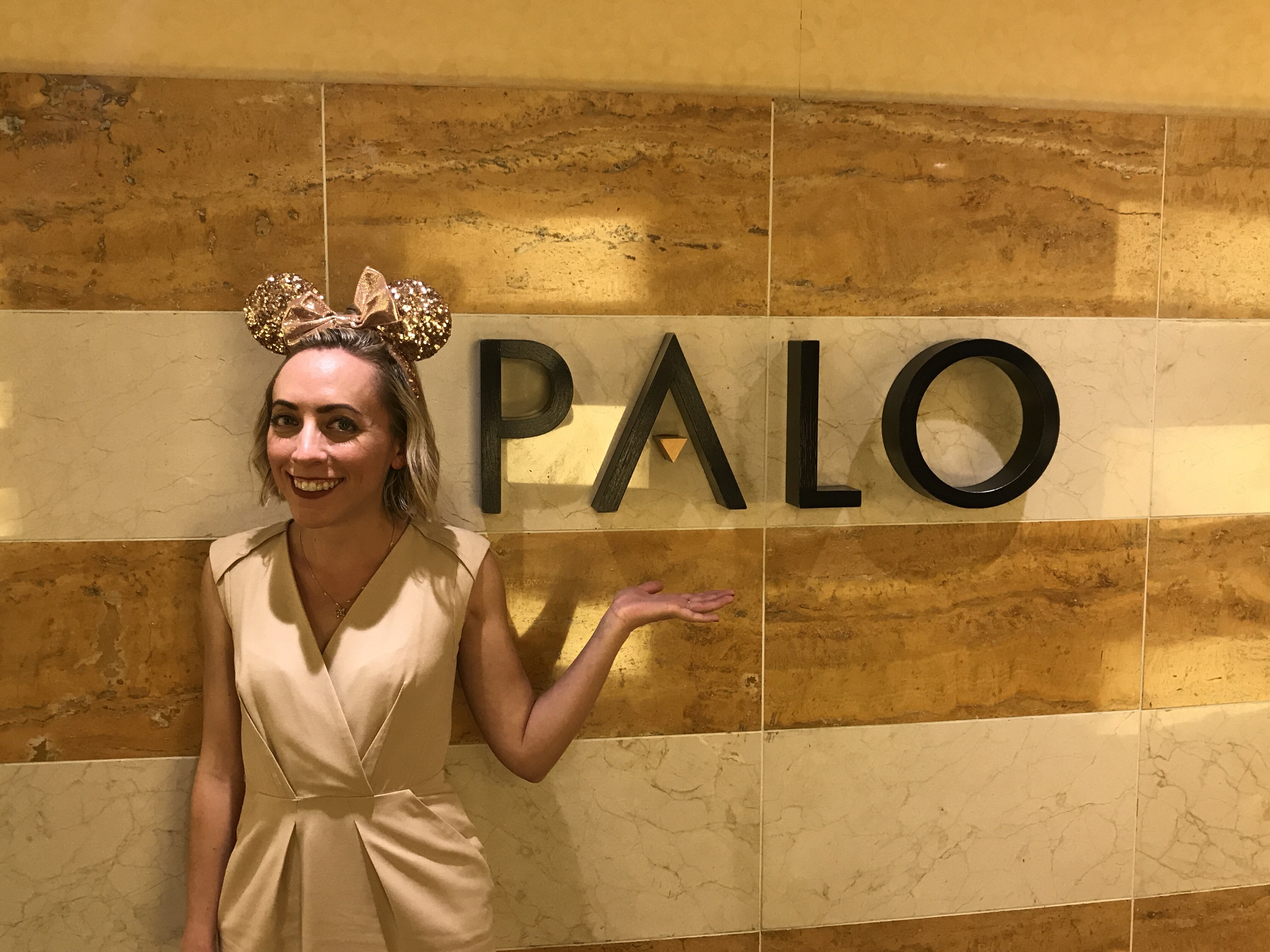 Of course, the Mickey-shaped food is a must. Here is a Mickey waffle I had at the Palo Restaurant brunch: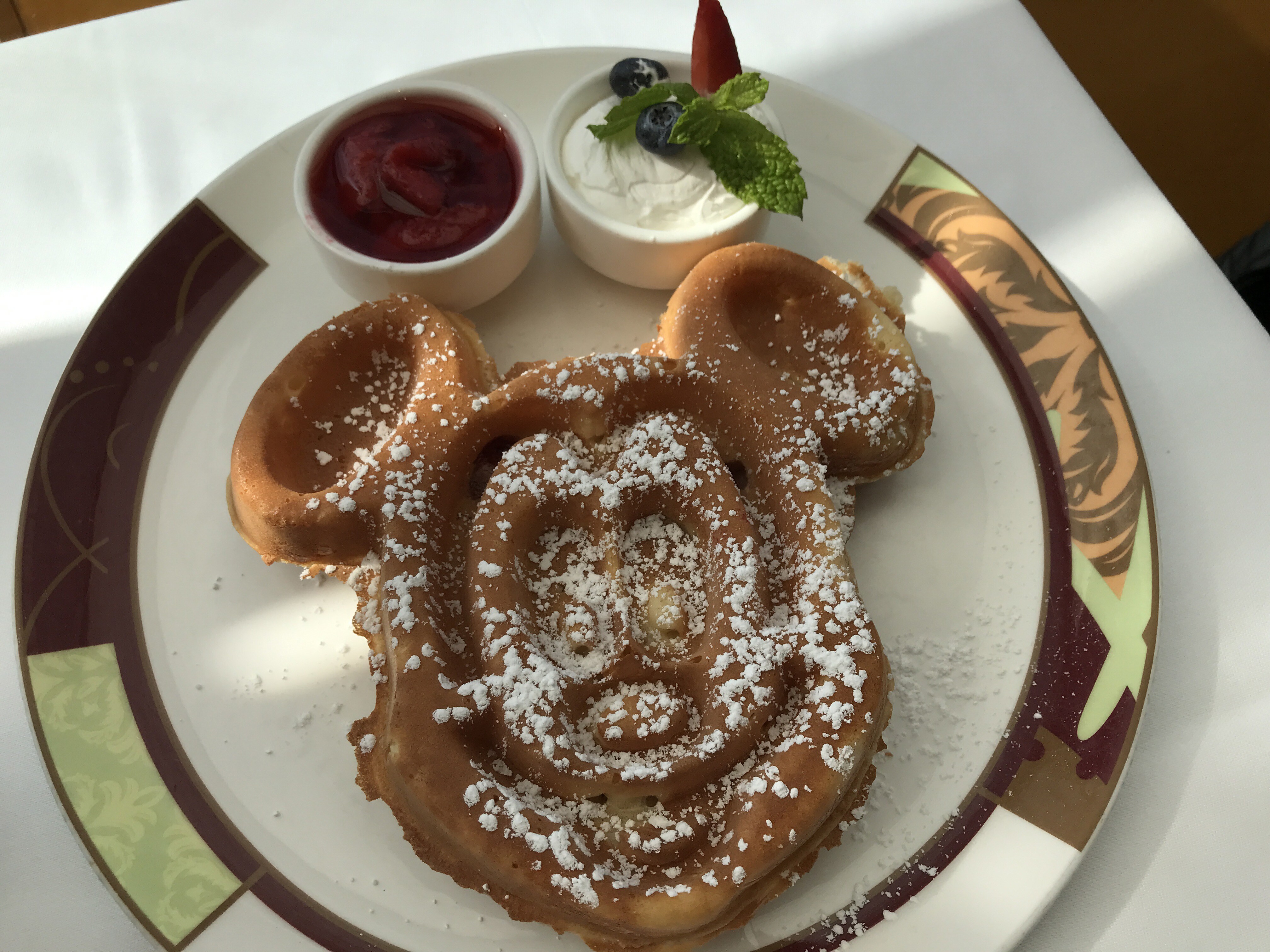 And the Mickey Ice Cream bar, which you can order to be sent to your Stateroom if you're in need of a snack!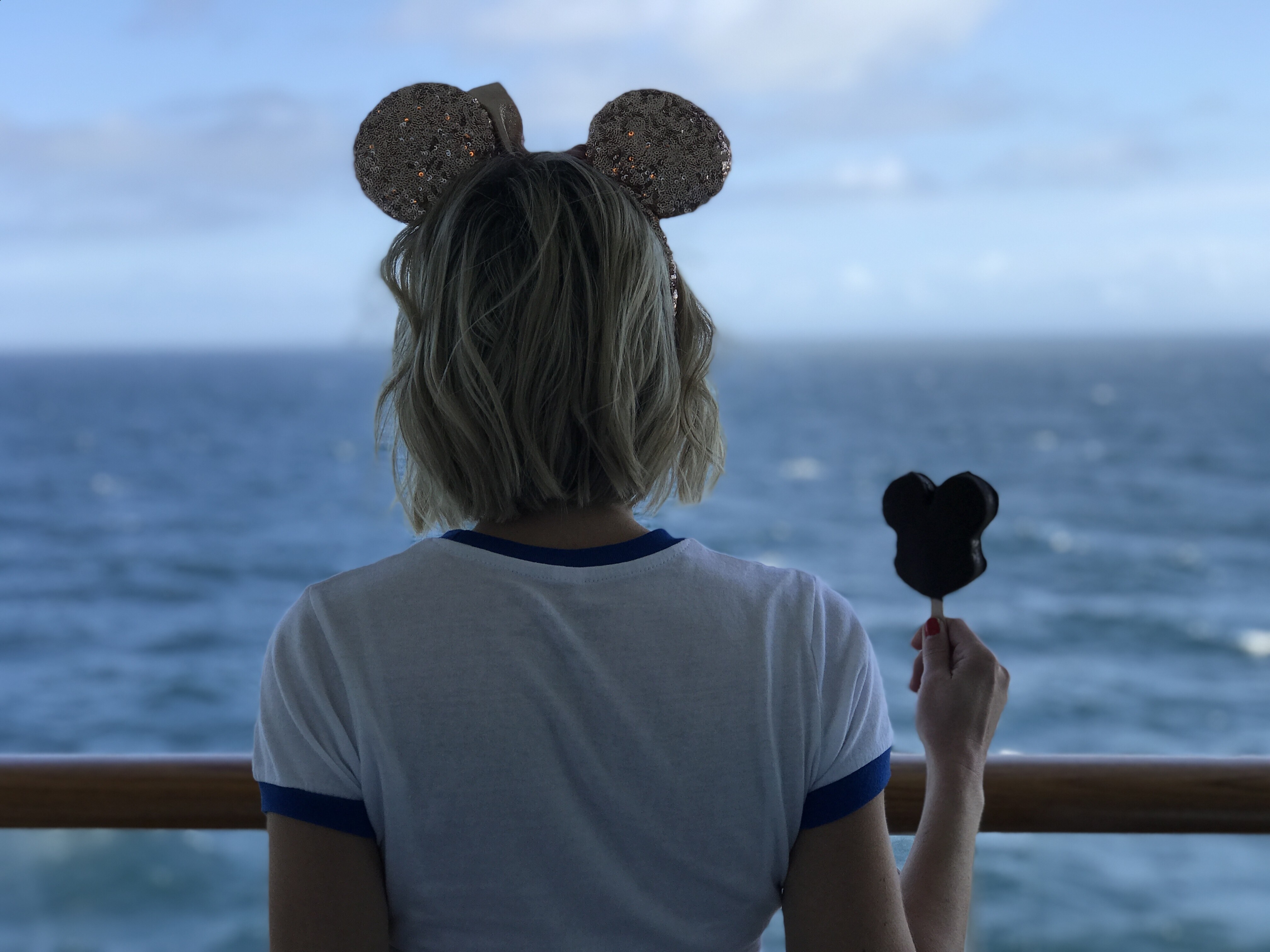 Also, the soft serve ice cream machine on the ship, called Eye Scream, was an area I frequented. It's a wonderful experience to have ice cream in the chill Alaskan air as the water rolls by: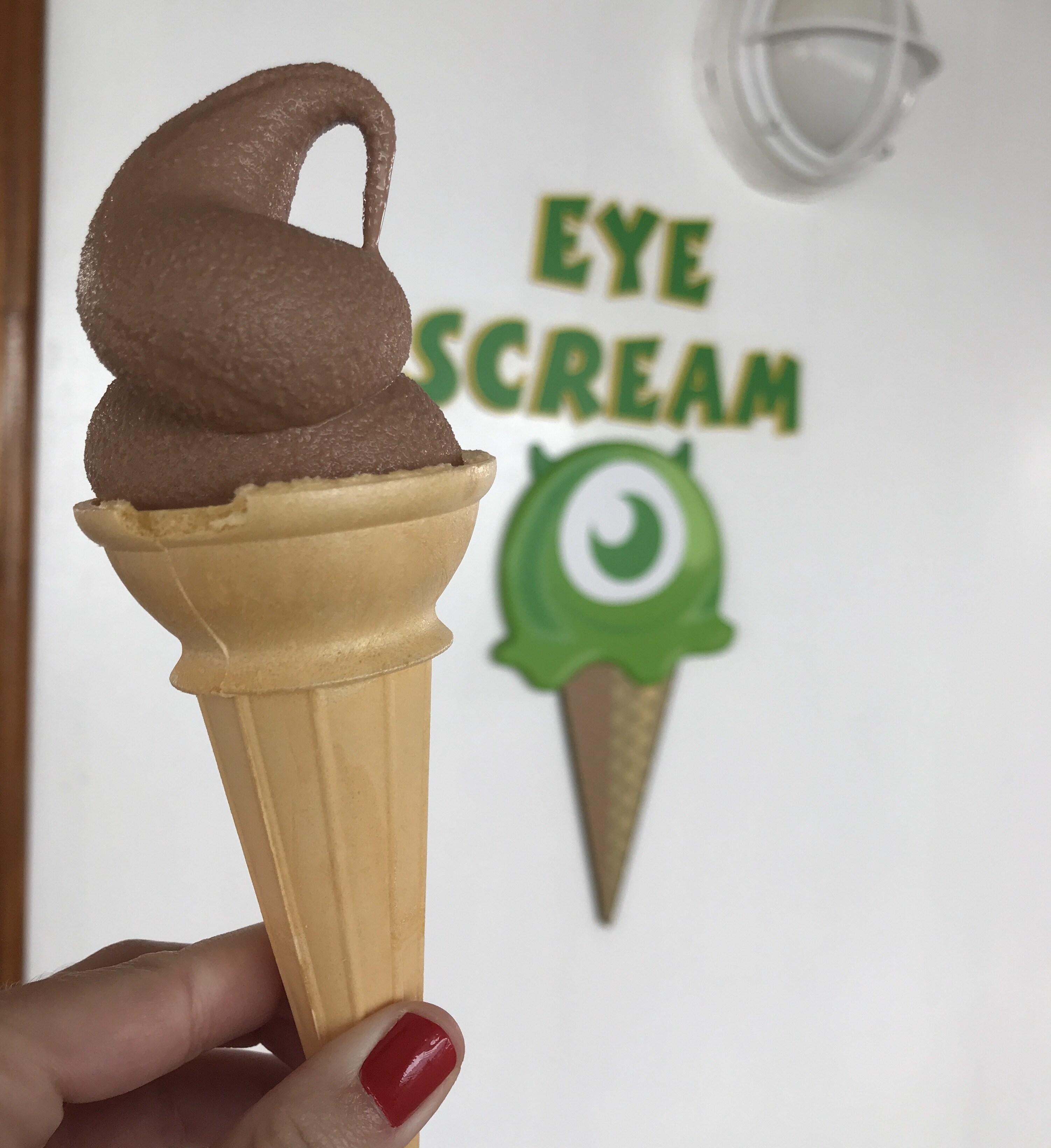 Of course, one cannot go a day without the Mickey Latte, which you can find at Cove Cafe. It's open 24 hours and I could not be more thankful for that.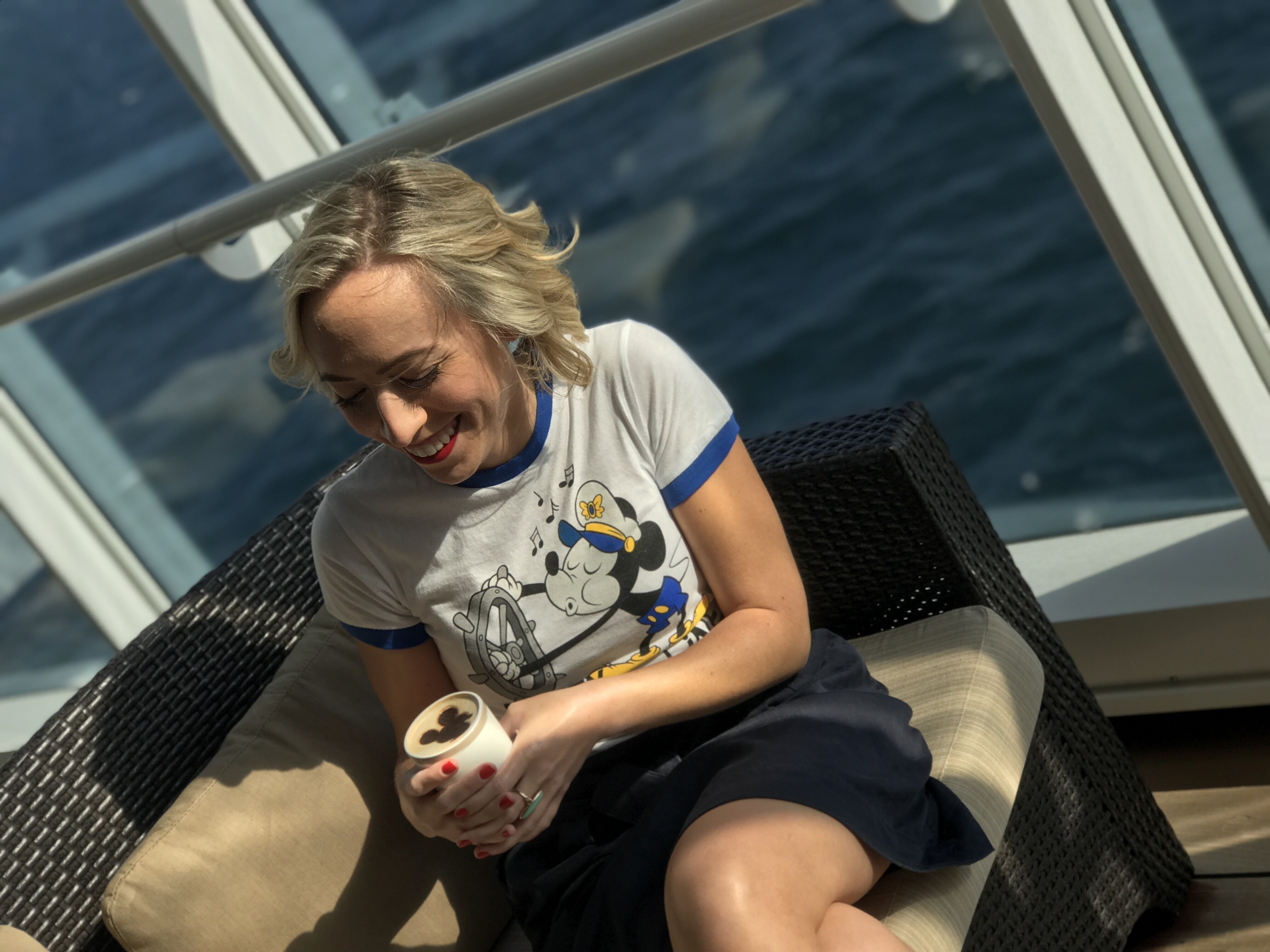 The evening shows were the perfect way to end each day. After dinner, we would head to the Walt Disney Theatre. Throughout the evenings, I saw Frozen, A Musical Spectacular, The Golden Mickey's, and Disney Dreams: An Enchanted Classic. I seriously felt like a little kid again watching these shows. There were so many songs from my Disney childhood that brought back memories in Disney Dreams. And Frozen, A Musical Spectacular? Epic. Let me just say that the "Let It Go" moment made me gasp, applaud, and cry all at once.

In between dining, enjoying a show, or participating in fun activities, there are so many great photo ops around the ship (very important.) I took the below porthole photo just outside the After Hours area, which has three great areas for adults to relax: Crown & Fin Pub, Azure, and Cadillac Lounge.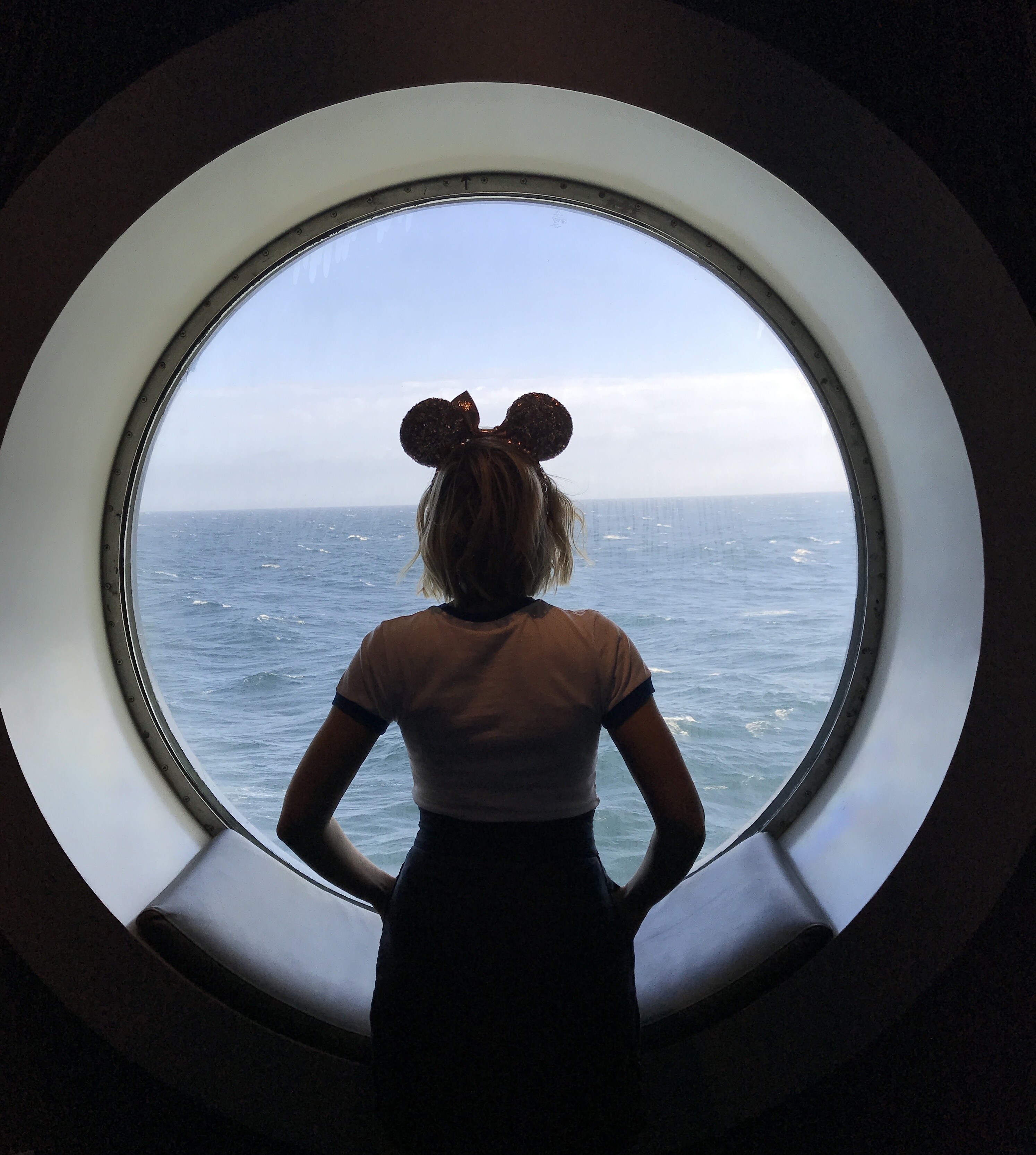 I went to a fun trivia night at the Crown & Fin Pub, and I would highly recommend it!

I also saw so many beautiful sunrises and sunsets right outside my Stateroom balcony: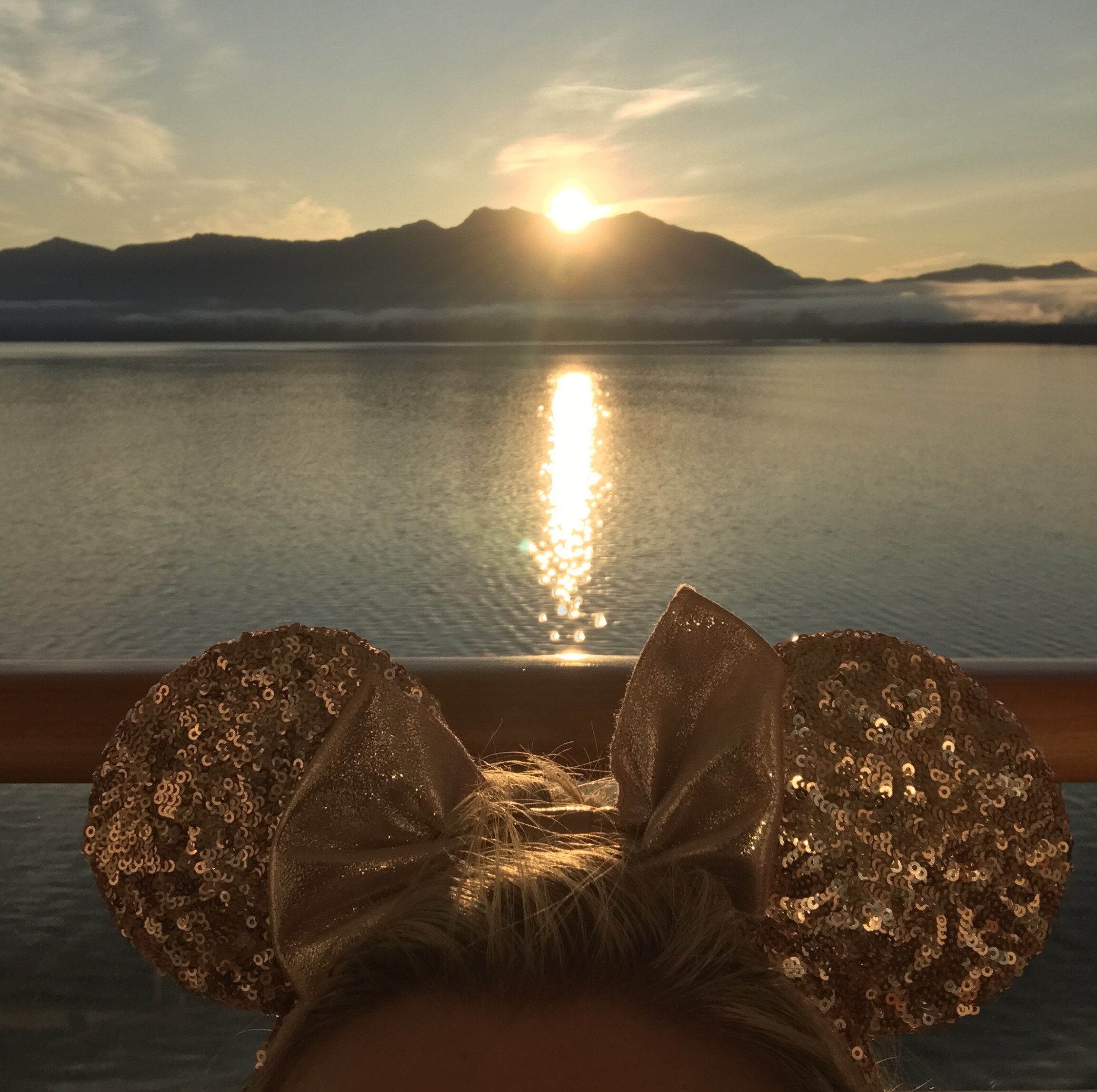 Gotta get those ears out for the perfect sunrise photo!

And I spent a great deal of time taking in the sights passing by: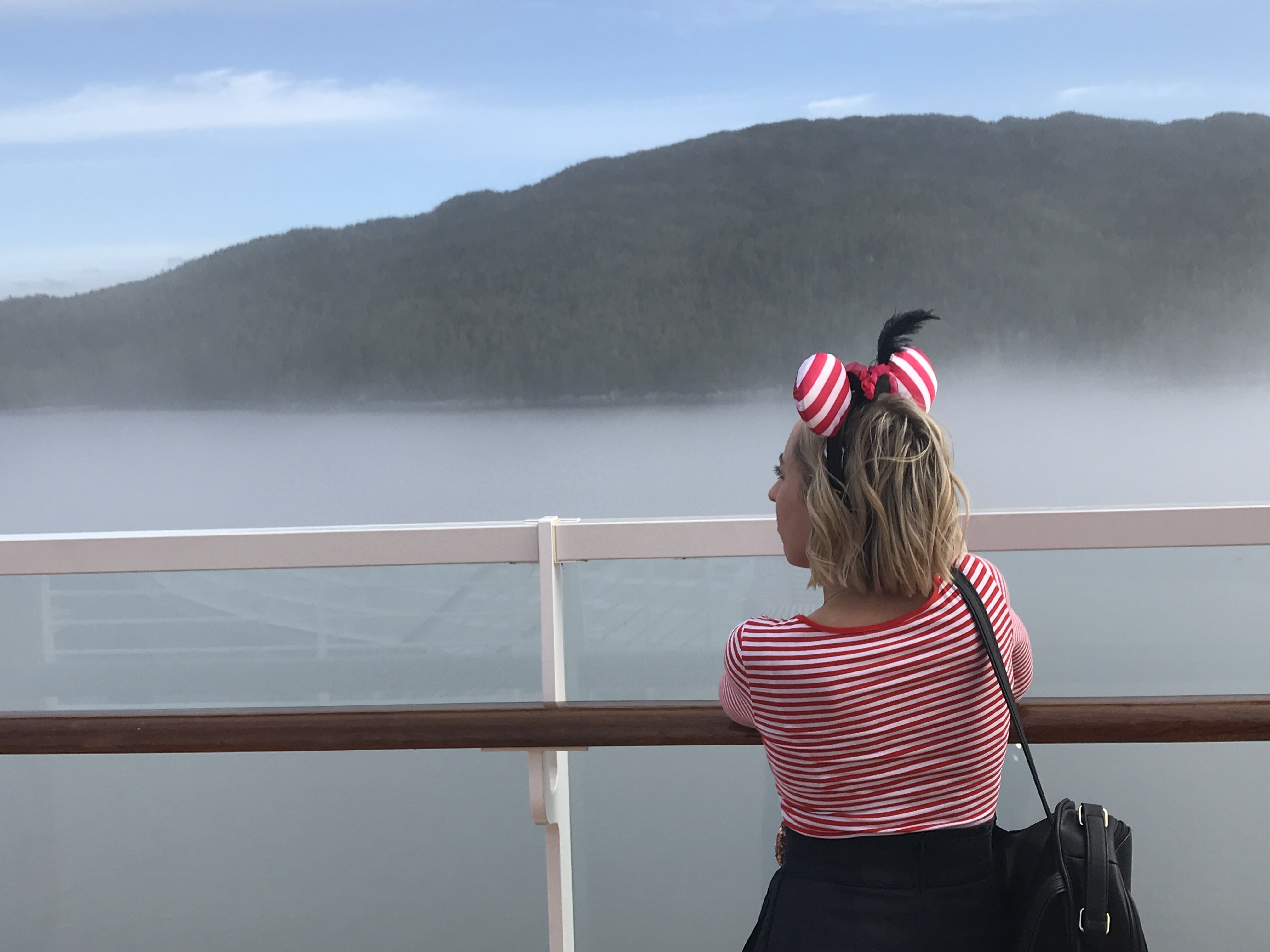 When we came into port in Vancouver after seven nights of Alaskan adventures, it was bittersweet. The Disney Wonder had truly become my home away from home. I will never forget the beautiful experiences I had aboard and ashore. But as I left the ship, I knew that it was not "goodbye," but it was "see you real soon!" I can't wait for my next Disney Cruise Line adventure!