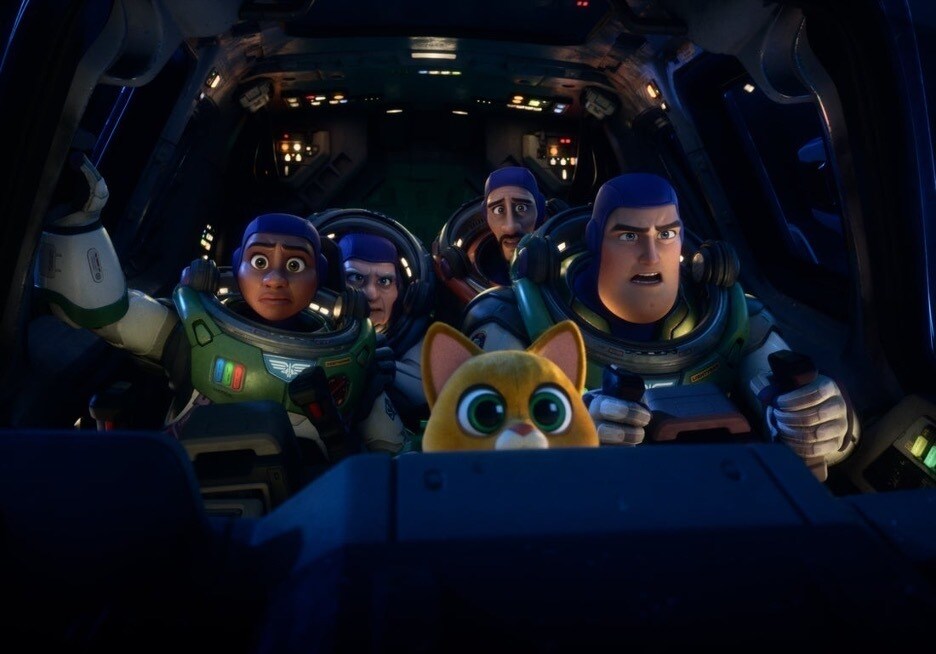 Pixar's latest movie, Lightyear, is now streaming on Disney+, and it's already got a ton of buzz! From the exciting plot and all-star cast to the reimagined Buzz himself, Lightyear is a must-see for the whole family. Here's what a few members of the Lightyear cast had to say about bringing these new classic characters to life.

Starting with the man on everyone's mind, superstar Chris Evans voices a new version of Buzz Lightyear. This Buzz is from the film that Toy Story's Andy watched and fell in love with as a child. When asked about the difference between the Buzz in Toy Story and the one in Lightyear, Evans shared, "The Buzz that we all know is obviously a toy, and there are certain ways that [toys] can move through the world without the weight that we [humans] may carry… [The] impacts of the choices that we make as people are a little bit more consequential, and it's fun to put Buzz against that backdrop."
In Lightyear, although Buzz is a highly admired Space Ranger with a reputation for heroism, he's not the biggest team player and has little patience for inexperienced newcomers. When an incident on a faraway planet leaves Buzz and his team marooned, their only hope for escape is dependent on Buzz completing a dangerous mission with a time-travel twist — every time Buzz returns to his crew, what he's experienced as only minutes has been years for the crew back on the planet.
Having an ageless companion becomes very useful when time travel is involved, which is why Buzz is given a robot cat named Sox, voiced by Peter Sohn. "It's so funny, when we're talking about Sox… He's a cat, but he's loyal like a dog," Peter shared. "And I'm a dog guy. I can totally jump into the idea of, 'Whatever you want, Buzz… I'll bring you your snacks, I'll fetch your newspapers!' So [voicing Sox] was really fun in the room."
Once Buzz and Sox formulate a plan to save the planet, they need help from an elite, highly trained squad. Of course, when Buzz can't find one of those, a team of rookies called the Junior Zap Patrol has to step up to the plate to help!
Leading the group is Izzy Hawthorne (Keke Palmer), a descendant of Buzz's best friend Alisha Hawthorne (Uzo Aduba). While not as experienced in the field as her grandmother was, Izzy certainly brings the enthusiasm. According to Keke Palmer, "[Izzy] wants to make her family proud, and that's something I think we all can relate to… I really admired that about her. I feel like she displays so many great leadership qualities that sometimes we overshadow — she knows how to push her friends forward, and she knows how to see something in somebody so they can carry out their duty."
The Junior Zap Patrol is rounded out by Mo Morrison (Taika Waititi) and Darby Steele (Dale Soules), who bring a perfect balance to the ragtag crew. Darby is a tough-as-nails weapons expert who is "no-nonsense, rough… and very loyal to those who treat her with respect," per Soules, while Mo is a go-with-the-flow personality who joined the team on a whim and struggles with following through. Waititi muses, "Mo, I feel, is very similar to how I was in in the early days: a little aimless and trying to focus on something. I was interested in a thousand different things and I wanted to do everything all at once."
However, every team of heroes ends up face to face with a villain, and for Buzz Lightyear that can only be Zurg. But this time around audiences should expect some surprises from the iconic villain they think they know. As voice of Zurg James Brolin says, "[I] realized that my character was much more complex than I had imagined. Even at this point, I'm not supposed to tell you everything that Zurg is — but he is certainly multiple personalities, and a conman."
Be sure to see how this adventure unfolds —and how this incredible team of voice actors comes together — in Lightyear, now streaming on Disney+!
Follow Pixar on Facebook, Twitter, Instagram, and YouTube for more updates.