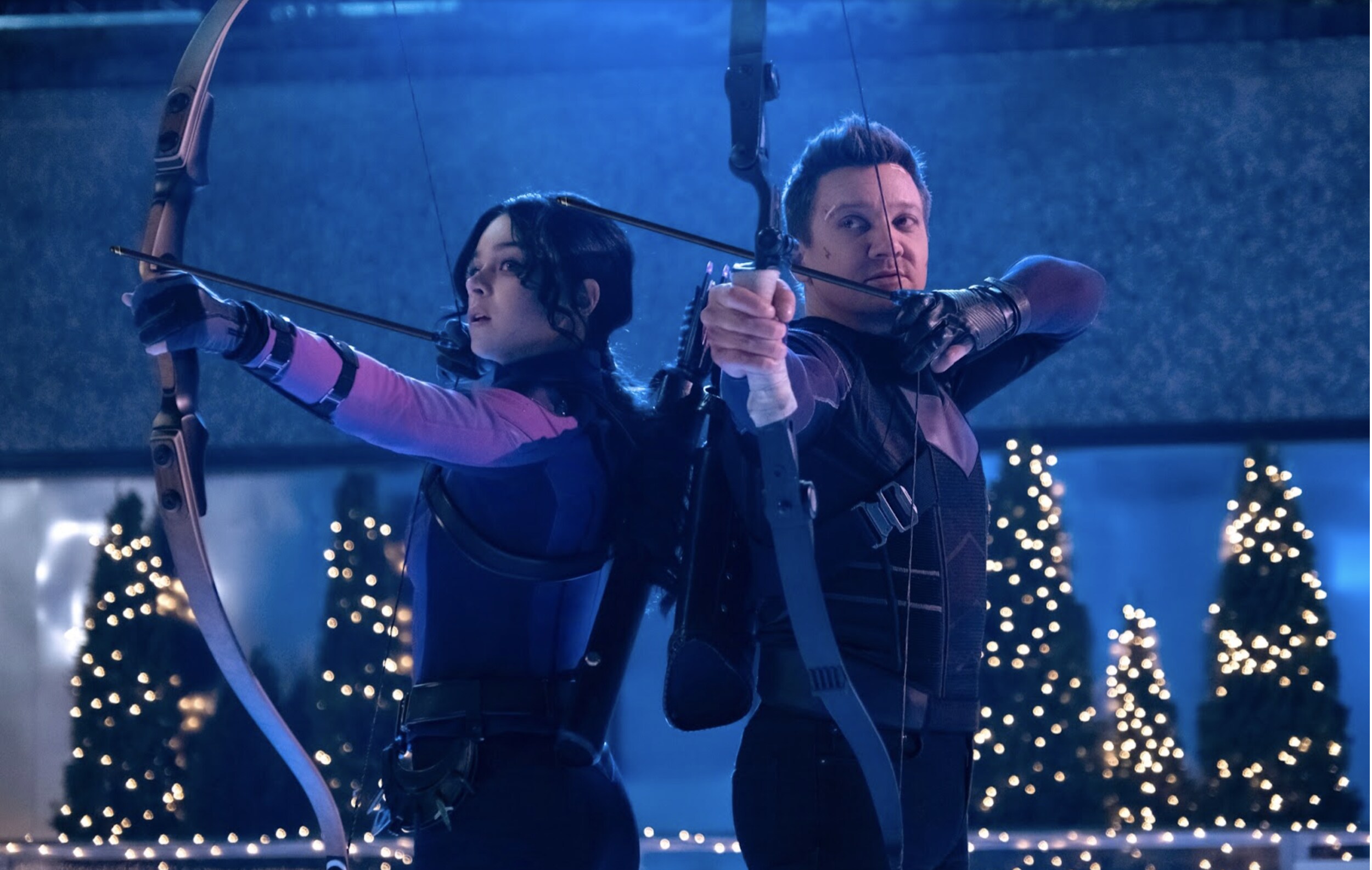 Avengers fans will now get all the Hawkeye info they've been craving with six episodes of the new Original Series from Marvel Studios, Hawkeye. Clint Barton, aka Hawkeye (played by Jeremy Renner), thinks he's left his chaotic Avenger days behind him. He has found a fulfilling life as a father who, post-blip, really just wants to spend a peaceful Christmas with his kids during a visit to New York City. But if there's one thing about being an Avenger, it's that living a normal life is easier said than done.
Intimate scenes of dinner and family outings open us up to Clint's family dynamic. As an Avenger who must sometimes leave quickly to fight crime, he teaches his three children to always look out for each other. "The most important thing is to remember these three words: Don't lose Nate," the unconventional father tells them, referring to his youngest son. It's clear just how caring and protective Clint really is towards his family. But unfortunately, it appears this festive holiday season isn't the time for him to leave the life of Hawkeye behind.
Fans should get ready for tons of action and adventure when the series premieres on Disney+ November 24. The show is the most intimate look into Hawkeye's life since Marvel Studios' Avengers: Age of Ultron and Marvel Studios' Avengers: Endgame (both titles are now streaming on Disney+). During the recent Hawkeye global press conference, executive producer and president of Marvel Studios Kevin Feige shared that Hawkeye is not a deviation, but rather a continuation of the Marvel Cinematic Universe. "[Hawkeye's previous roles] were relatively small, obviously," he said. "In Ultron, we saw a little more, and then he just started stealing all the scenes, but it was always the intention to explore much more. The character's history is vast." Fellow executive producer Rhys Thomas, who directed three episodes of the series, discussed how the team was prepared to meet the challenge of fitting the pieces together. "Obviously the MCU has already set a pretty high bar — the highest of bars — so stepping into this is obviously a huge opportunity in many ways," said Thomas. "You're also inheriting a vast universe and a deep well of backstory, so really the endeavor is to try and match that as best you can and do it justice."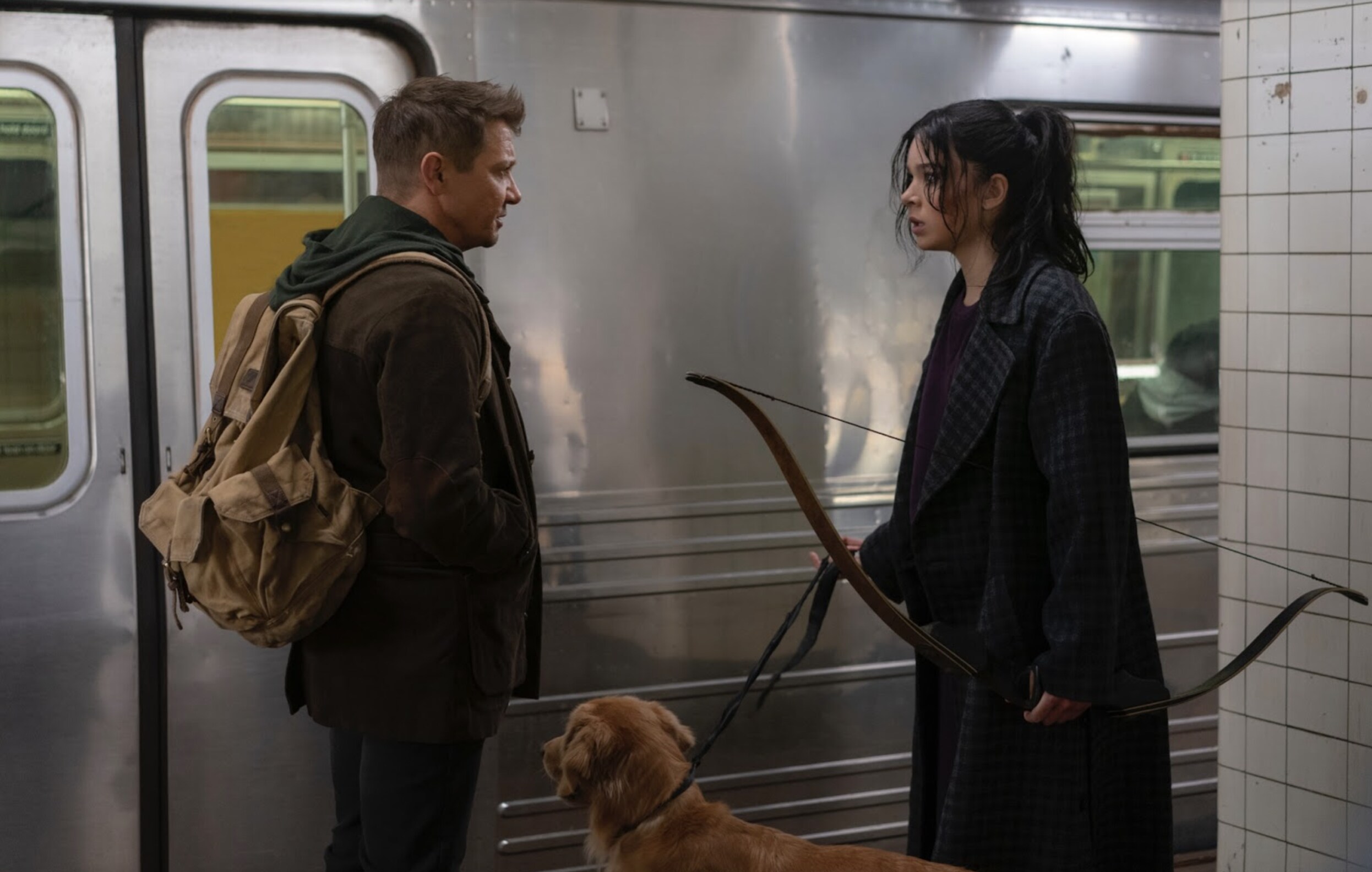 In the first episode, viewers will quickly find that Hawkeye isn't the only one who knows their way around a bow and arrow. College student Kate Bishop (played by Hailee Steinfeld) is a skilled archer whose past motivates her to keep loved ones out of harm's way. As one of Hawkeye's biggest fans, the mischievous Kate finds herself defending his legacy when she accidentally stumbles into a secret meeting full of people with bad intentions. When she and Clint finally cross paths, she earnestly becomes his sidekick — or tries to — swiftly bringing Hawkeye out of retirement.
Hawkeye's inherent selflessness leads him to quickly become Kate's "reluctant mentor under the surface," as Feige puts it. And as it turns out, Jeremy Renner brought that same supportive spirit on set with Steinfeld as they filmed. "I just wanted to communicate with her that I had her back, and that there's gonna be a lotta strange things that go on," he shared. "It's different than other types of filmmaking. I just wanted to let her know that she wasn't alone, and I had her back and I'll give her the answers if she needed them."
In the series, Kate Bishop proves to be a deserving complement to Hawkeye. She's not only a precise archer, but a black belt in karate and a swift fencer as well. Her confidence in her physical skillset keeps her ready for any battle that comes their way. In fact, Hailee Steinfeld admitted that her character's grit heavily influenced her performance during filming. "I really do feel like playing this character forced me to find a confidence and a determination and discipline that's always been inside of me, but I had to bring it out of myself to do this character justice," she said. "I feel so lucky to be playing a character that is so loved by so many and that people have been waiting for some time to see brought to life." Fans are already speculating whether, in time, Kate Bishop will have her own place in the MCU. But for now, there are so many cool things to look forward to in the series.
The creative direction that Feige, and Thomas and directing duo Bert & Bertie, who also helmed three episodes, pursued with Hawkeye has allowed for all sorts of surprises that viewers can all look forward to! For one, audiences will get a glimpse of an actual Avengers musical, which Clint attends with his kids. The musical, which MCU fans have been requesting for years, seems to tie everything together with appearances from Hulk, Thor, and other Avengers. Hilariously, Feige shared that the musical scene was a suggestion from Thomas. "It was an innocent suggestion in one of our calls that I quickly tried to backtrack on," said Thomas. But the damage was done. Feige recalled, "I loved the idea. It gave us context for the opening episode, context for why Clint is in New York, context for Clint seeing himself in the way the world sees Hawkeye." Clint is trying to envision himself as this family man with an Avenger's past. But viewers will have to tune in to this enthralling series to find out if he can find a balance between his roles as Super Hero and Super Dad.
Be sure to check out Hawkeye by Marvel Studios, now streaming exclusively on Disney+.