As Disney fans, any day we get to learn more about the stories behind our favorite Disney movies and attractions is a great day. Enter Adventures by Disney. Adventures by Disney groups travelers with knowledgeable and high-spirited Adventure Guides to take them on journeys to locations around the globe.
We got the chance to go on their Disneyland Resort and Southern California Short Escape, which adds up to three not only great, but magical days and nights touring the most iconic Disney spots in Southern California. Here's how it all went down.
Day 1: A Very Disney Welcome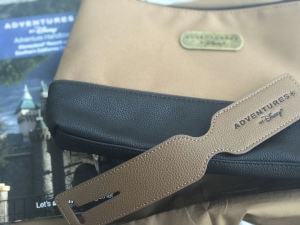 Prior to the trip, I received the above coordinated travel pouch and luggage tag in the mail, along with a booklet filled with information I would need for the trip. While I tend to like to know every detail before going into any excursion, this itinerary also left lots of room for surprises, which got me really excited for what was ahead!
Upon arriving at the beautiful Disney's Grand Californian Hotel and Spa, I was greeted by our chipper Adventure Guides, Alyssa and Lori, who had not only already checked into the hotel for me, but also had a custom Adventures by Disney lanyard, my 4-day Park Hopper (!!) tickets, and maps and schedules of events for Disneyland Resort! These were the first clues that I was about to feel like a VIP all weekend.
After a round of introductions, the group headed off to dinner at Disney California Adventure, but not before popping into Blue Sky Cellar to get a sneak peek at all of the amazing things we have to look forward to once the newly reimagined Pixar Pier comes to life!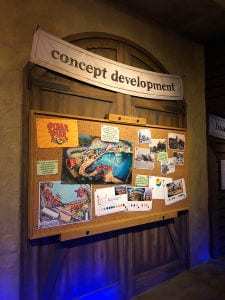 After dinner, we enjoyed a spin on Toy Story Midway Mania (using FASTPASS selections that Alyssa and Lori had put on our tickets as a surprise) and then made our way to our own reserved viewing section for the brand-new Paint the Night Parade! I was seriously amazed by this parade. The lights, the music, and the dancing added up to a visual extravaganza that was nothing short of spectacular. I look forward to watching it again and again in the future!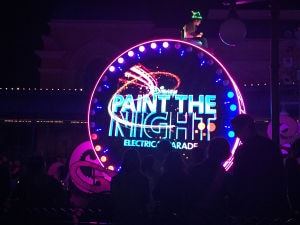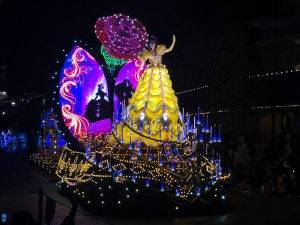 Get a look at Disney California Adventure park's Paint the Night Parade and so much more in our video about all things Pixar Fest!

To commemorate our amazing first day, Alyssa and Lori bestowed us each with a pin to add to our lanyards. This one says "It all started with a mouse," in honor of Walt Disney's famous quote: "I only hope that we never lose sight of one thing—that it was all started by a mouse."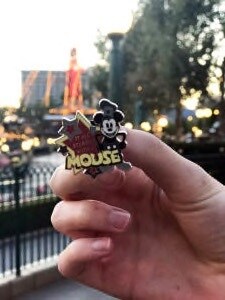 Such a perfect way to end day one!

Day 2: Walt's World
Day two started with a quick jaunt into Disney California Adventure Park during Extra Magic Hour (available to all registered Disneyland Resort Hotel Guests) ) for a pre-breakfast ride on Guardians of the Galaxy – Mission: BREAKOUT! When it comes to waking up, this method is preferable to any alarm clock.
At our breakfast buffet at Storytellers Cafe, I met Kenai from Brother Bear, who was a delightful breakfast companion!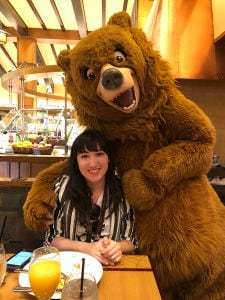 After breakfast, the group boarded a lovely motor coach and headed to The Walt Disney Studios for a private tour!
For any Disney fan, getting the chance to tour the Studios is a special treat. The Studio is filled with uniquely Disney details, like this Mickey Mouse bike rack: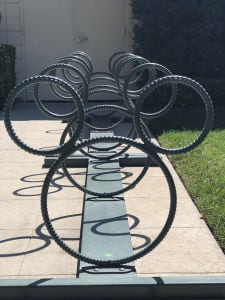 And this street sign at the intersection of Mickey Avenue and Dopey Drive: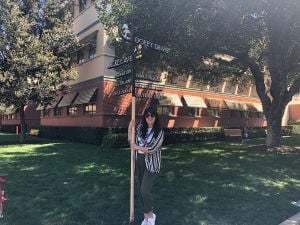 Here, Alyssa and Lori regaled us with behind-the-scenes stories of how the studio was built, anecdotes about Walt and those who knew him best, and even a chance to shop at the Studio store! Everything about this was incredible.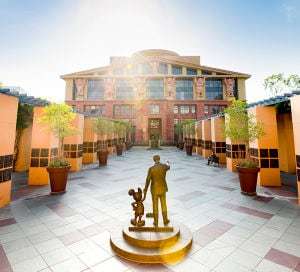 The above, known as Legends Plaza, pays homage to the men and women who have contributed significantly to The Walt Disney Company: Disney Legends. The Partners Statue in the foreground shows Walt Disney and Mickey Mouse, hand in hand, gazing upon what they have built. You may recognize it, as the statue can be found in nearly every Disney theme park around the world! In the background, the seven dwarfs hold up the roof of the building. The financial success of Snow White and the Seven Dwarfs held up the company, so it's only fitting that on the Studio lot, they are "holding up" the corporate headquarters.
This lovely statue pays homage to Roy Disney and Minnie Mouse.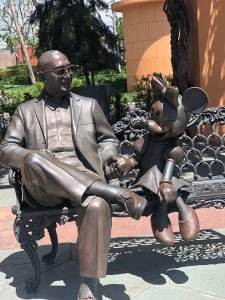 Surrounding the plaza are plaques honoring all of the Disney Legends! I couldn't help but measure up my hands to Jodi Benson's, the voice of Ariel in The Little Mermaid. If matching hand size equals matching vocal talent, I am expecting a phone call from casting directors very soon. Don't worry, I am available.

Even something as simple as walking down a hallway proved fascinating, with Disney movie artwork covering the walls, like the below Moana and Dumbo art pieces. Alyssa described the animation process in great detail as we made our way down this hallway.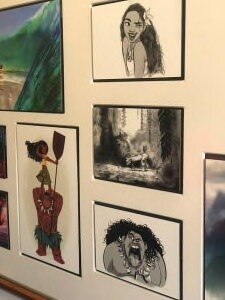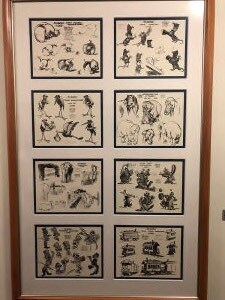 A trip to the Walt Disney Archives (a Disney fan's dream library) gave me the chance to hold one of Walt's Academy Award statuettes. It was heavy!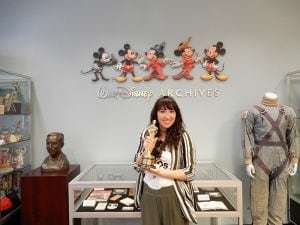 Next, we had lunch at the commissary on campus, to get that full Cast Member experience. I am still thinking about the taco bowl I ordered there, to be perfectly honest. After lunch, we went to a place that I only ever would have dreamed of visiting: Walt Disney Imagineering!
Imagineering is a place that I never thought I'd be able to tour this thoroughly, and I am so thankful that I got the chance. I find it important to share that there's a hallway that looks like the monorail: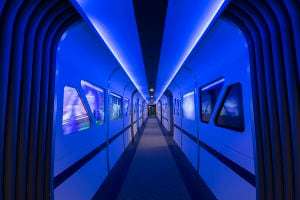 The Imagineering tour was given by actual Imagineers, whose insight into the process of building theme park attractions opened up my eyes to so many things I didn't know before! There's so much that goes into making just one attraction come to life: from the models, to the sound design, to installing the attraction in the Parks, to testing the ride, and so much more—it takes a very, very large village to make these dreams a reality. Learning so much of the nuts and bolts of what makes these attractions come to life somehow made it all even more magical, and I was super excited to go back to Disneyland Resort the next day and see it with fresh eyes.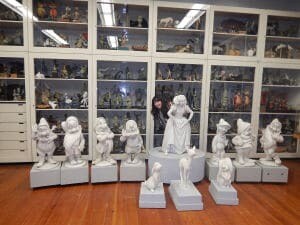 Above are the original Carrara marble statues from Disneyland Resort's Snow White's Grotto and Wishing Well! Though photographs aren't typically allowed, an exception was made for our very special group, and we all got to pose with them! Replicas of these statues now reside in Disneyland Park, Tokyo Disneyland, and Hong Kong Disneyland.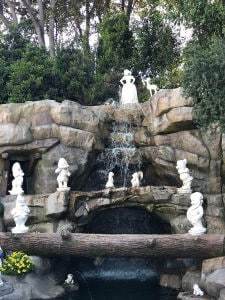 Another pin for our lanyards commemorated this unforgettable tour: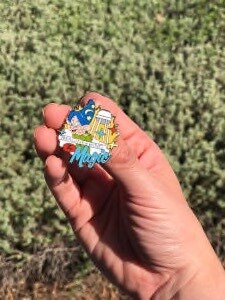 After another round of shopping at the store on the Imagineering campus, we were off to a special surprise: a visit to the Griffith Park Merry-Go-Round, where Walt first dreamed up the idea for Disneyland!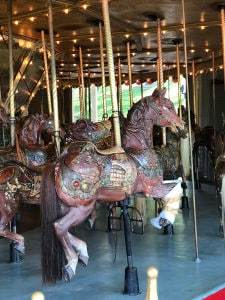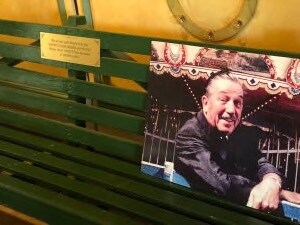 This part of the journey was not complete without a ride on the iconic merry-go-round. It was the perfect precursor to our next destination: The Tam O'Shanter, a restaurant frequented by Walt and Disney animators and Imagineers. Walt's favorite table even has a special dedication!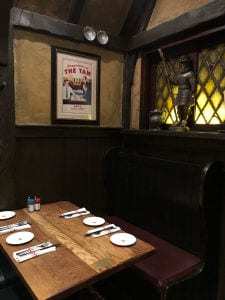 We had a delicious meal, then headed back to the Grand Californian Hotel and Spa, but first, Alyssa and Lori surprised us yet again with a pin reminding us of our visit through Walt's world.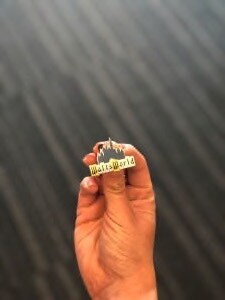 Day three was upon us, and it was time to visit one of the most iconic Disney locations in Southern California: Disneyland Resort! We woke up early for an incredible reason: we got to go into the Park before anyone else!
Here I am soaking up the sun's rays before Disneyland opened.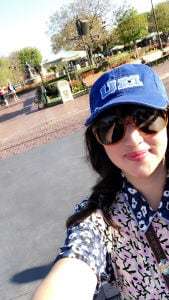 Next, a character breakfast at Plaza Inn was ripe with photo opps. I had never met Rafiki, Eeyore, or Chip before, and you can tell by my face in these photos that I was incredibly excited.

Throughout our incredible day at Disneyland Resort, we got the chance to go on so many attractions (thanks for the FASTPASS selections, Alyssa and Lori!) and even go Backstage to hear from Cast Members what it's like to work on these rides on a day-to-day basis.
We also got the chance to tour Walt's actual Main Street apartment, which I've always been so curious about, and learn about its design and history. Take a peek at the inside: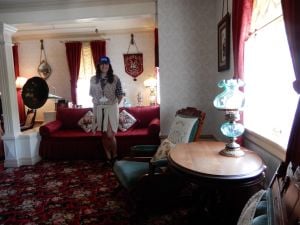 Such a once-in-a-lifetime experience!
Because this adventure took place during Pixar Fest, we were privy to all of the fun-filled Disney•Pixar food and events like the Pixar Play Parade!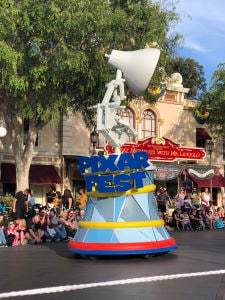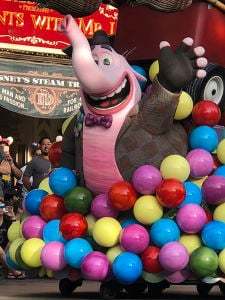 Not only that, we had reserved seating for Fantasmic! as well as Together Forever - A Pixar Nighttime Spectacular.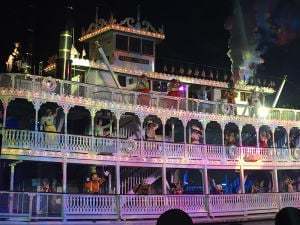 On a scale of one to ten, this day was a twenty!

Day 4
Another morning waking up in the gorgeous Grand Californian Hotel and Spa, and it was time to pack up and go. We said our goodbyes, but not before receiving another pin—this time Chip and Dale-themed—that I promptly pinned on my jacket.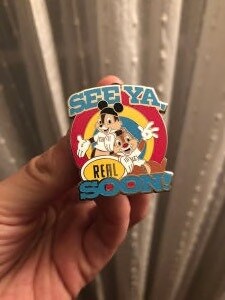 Like the pin says, it wasn't goodbye. It was a "see ya real soon!" to our Adventure Guides and the new friends made along the way. I will certainly cherish the first-hand memories of the many places that have shaped The Walt Disney Company. Being a VIP for a weekend was the cherry on top of an unforgettable experience. 10/10 would recommend!