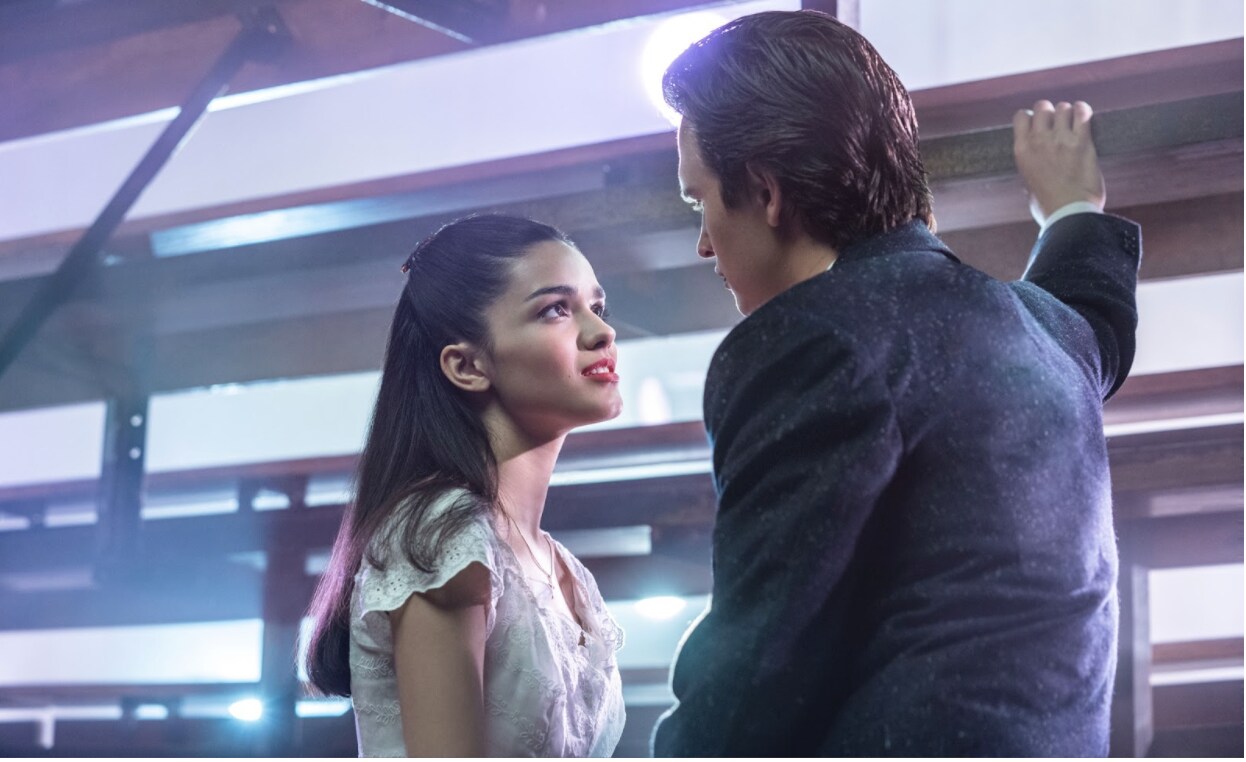 Nominated for 7 Academy Awards including Best Picture, Steven Spielberg's West Side Story brings a fresh twist to a beloved story. In the film, now streaming on Disney+, a love story emerges in the midst of a tumultuous gang rivalry. Maria (Rachel Zegler) is the protected younger sister of the Sharks gang leader, while Tony (Ansel Elgort) is an ambitious young man looking to finally part ways with the rival Jets gang. Together, they must try to diffuse the tension created by their relationship before someone gets hurt.

With a screenplay by Pulitzer Prize and Tony Award winner Tony Kushner, this 2021 film adapts not the original film, but the 1957 play instead. With a book by Arthur Laurents, West Side Story first made its debut as a Broadway musical in 1957 and was turned into a film in 1961 starring Natalie Wood, Richard Beymer, Russ Tamblyn, Rita Moreno, and more. This time around, Kushner made intentional efforts to build upon the original themes of interracial dating, gentrification, racism, and classism, making the film especially relevant for today.
If you're a fan of West Side Story, you'll be delighted to know that not every cast and crew member of this newest adaptation is new to the franchise. Before his sudden passing on November 26, songwriting legend Stephen Sondheim played a significant role in developing music for this iteration. When he was only 24, Sondheim wrote the original lyrics for West Side Story. During a recent global press conference for this new film, Spielberg shared that "Steve was there for three weeks, five days a week, sitting right next to me at the recording studio." In fact, Sondheim helped Tony Kushner revise his script, and left a lasting impression on members of the cast. "I think I can speak for everyone here today that a lot of us wouldn't be here without the words of Steve Sondheim," said Rachel Zegler. "We were so lucky to not only be able to sing his lyrics, but be able to talk to him about them… It was really inspiring as an artist to watch someone who had created this insane piece of work."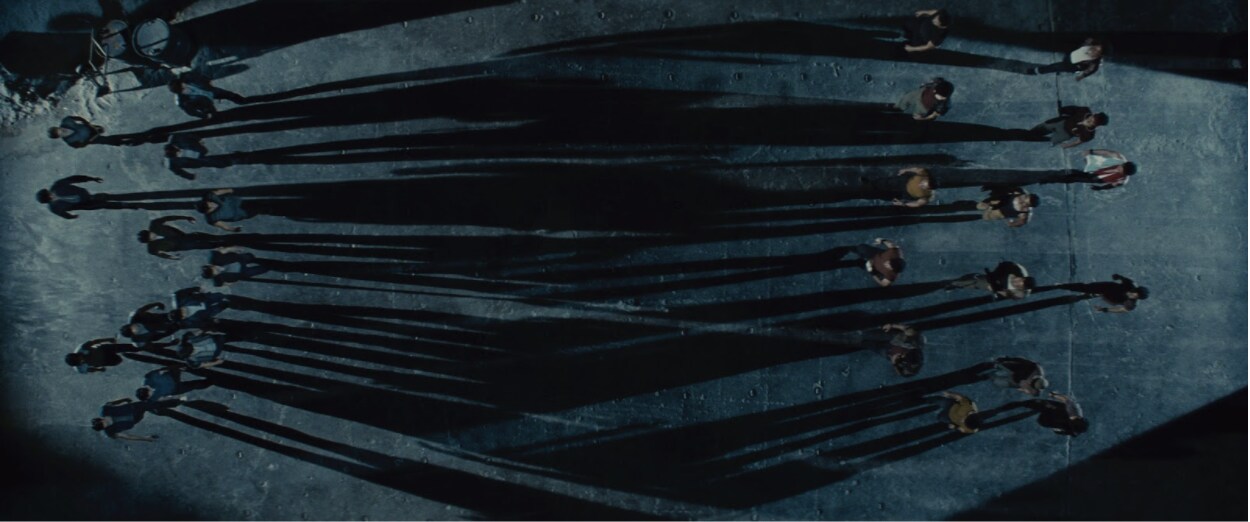 In addition to Sondheim's return to support the new film's music team, actress Rita Moreno was also heavily involved behind the scenes. While also serving as executive producer, Moreno moved on from her 1961 role of Anita and this time graced the screen as Valentina. When screenwriter Tony Kushner began to craft his vision for the film, his husband, writer Mark Harris, gave a suggestion that was ultimately perfect for Moreno. In the original West Side Story film, Doc, played by Ned Glass, used his drugstore as a safe space to get Tony off the streets. As Doc's widow, Moreno's character Valentina offers Tony the same solace. "I love me in this movie," said Moreno. "I love every scene I'm in, therefore I love what I'm doing."
Choreography and costume design are used as tools in the film just as strategically as casting. Rather than simply serving as entertainment, the dances complement the music to accentuate the beauty and differences of the rival gangs' and the cultures from which they come. If viewers pay close attention, the performances guide them through the themes of West Side Story in perfect musical fashion. For example, in the film, Tony and the Jets crew almost always wear blues, blacks, and gray colors; yet in particularly impactful scenes, you may notice a blending with the Sharks' signature yellows and red colors. This is especially true as Tony and Maria grow closer despite the rivalry.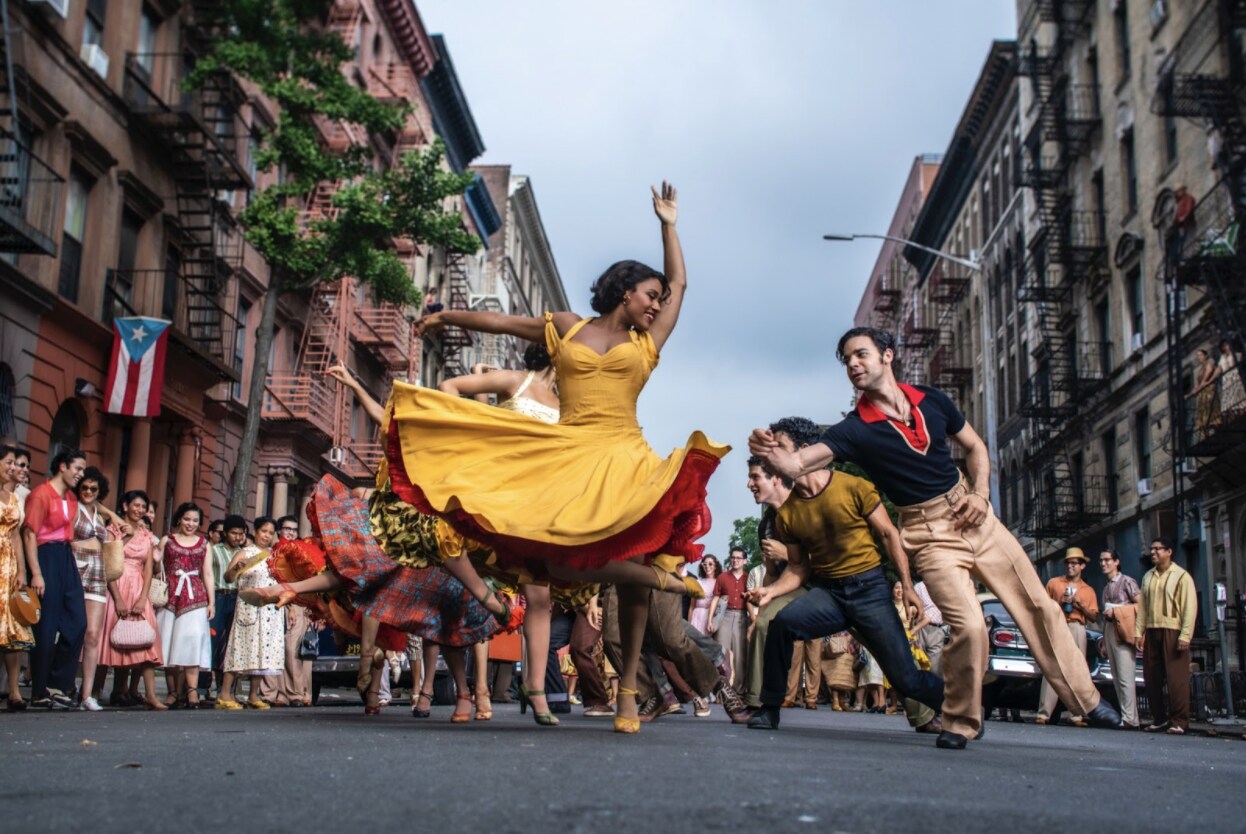 Despite the problems their characters might have on screen, the dancers had no problems working together on set to create the new West Side Story. Thanks to choreographer Justin Peck, electrifying energy radiates across the screen with every dance number. It took four and a half months of intensive training, but despite the difficult physical requirements of the job, the dancers hit each step with precision and joy. In fact, shooting all the takes for the song "America" took three days by itself, and to make matters worse, it was shot on some of the hottest days of the year. "Saturday, the heat index was 102 degrees," recalled Spielberg. "The actual temperature was about 96 [degrees]." The poor dancers sweat so much during filming that all signs of sweat on their costumes had to be removed in post-production. Yet despite the glaring heat, when the dancers got to peek at how the takes were coming out in Spielberg's shaded production tent, it gave them the energy to keep going. "[There was] an outcry of joy when they'd see themselves dancing, and they wanted to go out and do it again," said Spielberg.
Ultimately, the level of detail paid to the cast, choreography, costumes, and crew helped turn the film into a cinematic masterpiece. When Kushner first learned that he was hand-selected by Spielberg, he recalled thinking, "This is absolutely an impossible thing!" Yet after months and months of work, the team crafted a creative production that has proved to be gratifying not only to the eyes, but to the heart.
West Side Story is now streaming on Disney+.