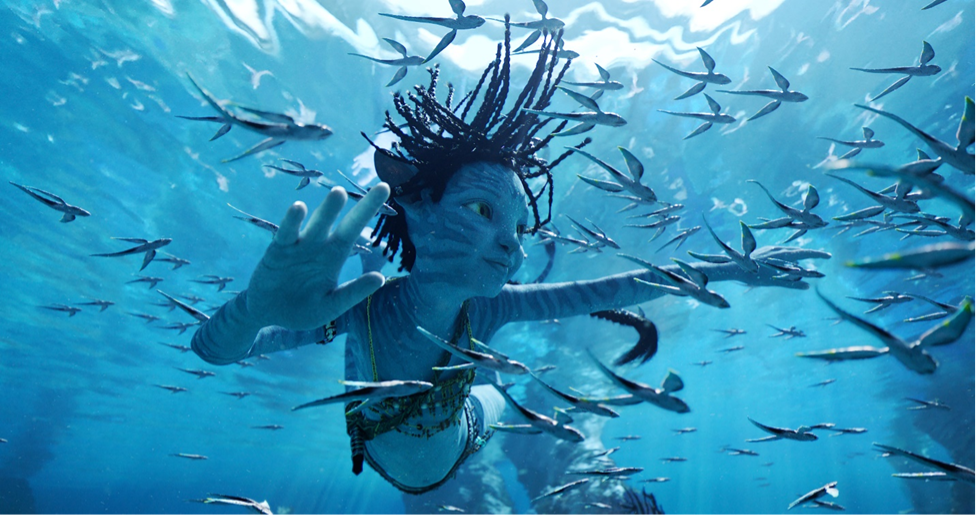 Avatar: The Way of Water, the highly anticipated sequel to the 2009 Academy Award–winning film Avatar — and second installment of the Avatar film series — is finally here. Directed and co-produced by James Cameron, the visuals and storyline of the new movie make the perfect complement to the original film that captivated audiences.

After the events of the first film, Avatar: The Way of Water continues the story of Jake and Neytiri, now parents who will do everything possible to protect their family and keep them together. When unexpected events force the family to leave their home, the Sullys flee to a territory occupied by the Metkayina clan, who live in accord with the oceans that surround them. The family must now learn to both understand and acclimate to the water world and gain acceptance within their new community. Reprising their roles from the first film are Sam Worthington and Zoe Saldaña as Jake Sully and Neytiri, Stephen Lang as Recom Colonel Quaritch (a surprise to many, as his original character was killed at the end of the first film), Joel David Moore as Norm, CCH Pounder as Mo'at, Giovanni Ribisi as Selfridge, Dileep Rao as Max Patel, and Matt Gerald as Recom Wainfleet — while Sigourney Weaver returns to the cast as the Sullys' adopted teenage daughter Kiri, the biological daughter of the avatar of Weaver's character from the first film, Dr. Grace Augustine. Newcomers to the Avatar world include Kate Winslet as Ronal, Cliff Curtis as Tonowari, Edie Falco as General Ardmore, Jemaine Clement as Dr. Ian Garvin, and Brendan Cowell as Mick Scoresby.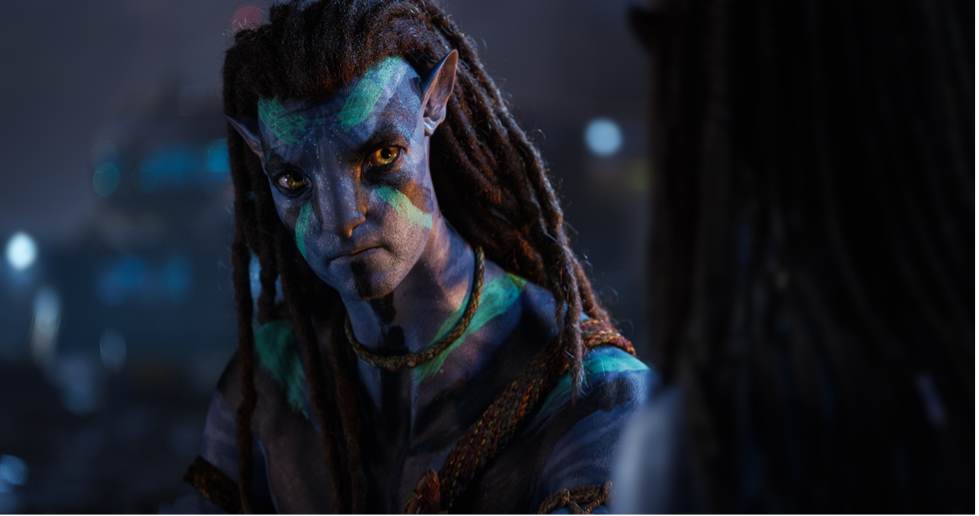 One would think it was obvious to make a sequel to such a successful film, but James Cameron wasn't as quick to make the decision. "It's not a no-brainer … Do you want to call down lightning to strike again in the same spot? It's a lot to live up to," he admitted. For Cameron, it was important for a sequel to honor what the audience loved about the first experience, but also to get them off-balance and do things that they don't expect. "There are a lot of surprises, in terms of where the story goes in this film, that we're not putting into the trailers and the TV spots. You have to experience it," Cameron explained. "It also goes a lot deeper, in terms of the heart and the emotions. It was a much simpler story [the first time], and the characters were simpler." Cameron was also inspired by the fact that both Saldaña and Worthington are now parents. Cameron shared, "I'm a parent of five, so we wanted to get into the family dynamics, and the responsibilities of having kids."

For Saldaña, one of the things she noticed in both her personal life as well as Neytiri's is how their lives changed once they had kids to care for. "Neytiri and I, in a way, lived parallel lives. There's a level of fearlessness and rebellion that I had as a person, that Neytiri had herself. When I became a parent, fear entered my realm," she explained. "The fear of losing something that you love so much… you just spend a great deal of your time creating these hypothetical scenarios that are just unimaginable. When I read the second script, that was Neytiri. But I didn't see it then. I see it now. Because my job wasn't to see it, my job was to be it." James Cameron agreed. "You may be fearless when you don't have kids. [But] you learn fear when you have something greater than yourself that you could lose," he explained. "Sam played a character that would leap off of a leonopteryx, go flying through the air with no parachute, to land on the biggest, meanest predator on the planet, to solve his problem. Would he do that as a father of four? I'm thinking, probably not."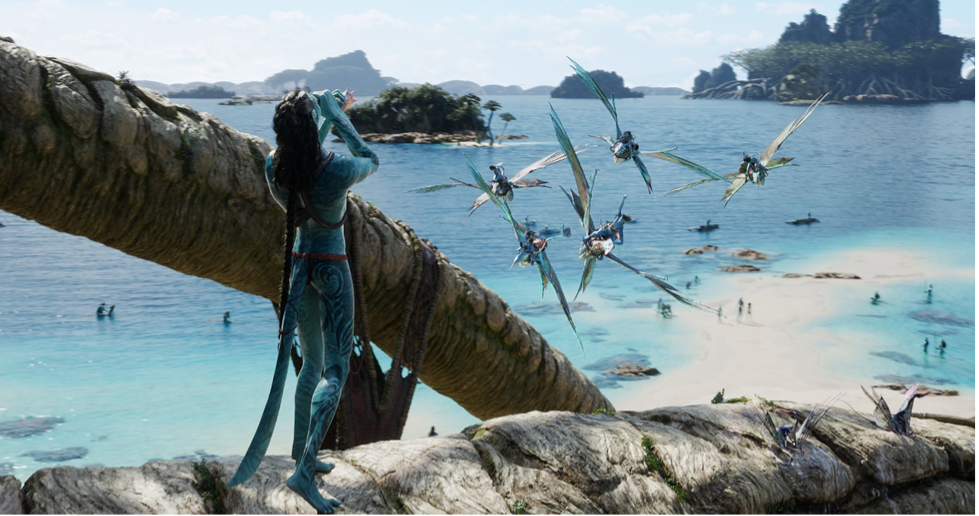 For Sam Worthington, the first film showed him opening his character's eyes to love, and the love of culture and the planet, while this movie is a natural extension of the first — showing him protecting that love, as well as the love for his family. "Jake's journey has always been taking these parallels of where he fits into this world, and finding something worth fighting for, and one of his teenage boys is going through that as well. Like most teenagers, they're trying to figure out where they belong in the world, but sometimes as a dad, you can't find that empathy to actually help," Worthington shared. "Lo'ak [played by Britain Dalton], and Neteyam [played by Jamie Flatters], he's trying to help these boys. Jake's a warrior, but sometimes you have to become a bit of a pacifist and calm down in order to listen to your kids. I think I've learned that."

Like Sigourney Weaver's Dr. Grace Augustine, Stephen Lang's character Colonel Quaritch was killed in the first movie — so to find a way to bring him back in the sequel was a pleasant surprise. "I was honored to be able to deepen and expand on the vision that Jim had for this character," Lang shared. "In the first film, he's very colorful and has personality. Essentially, though, he moves through like a mindless shark. But in this iteration of it, there's the absolute magnificent irony of coming back as the very thing he has been trying to destroy, and having to make the adjustment to that [and] adapt to it. And it's just been a total pleasure for me to continue to massage this character and find the depth and humanity that's in him."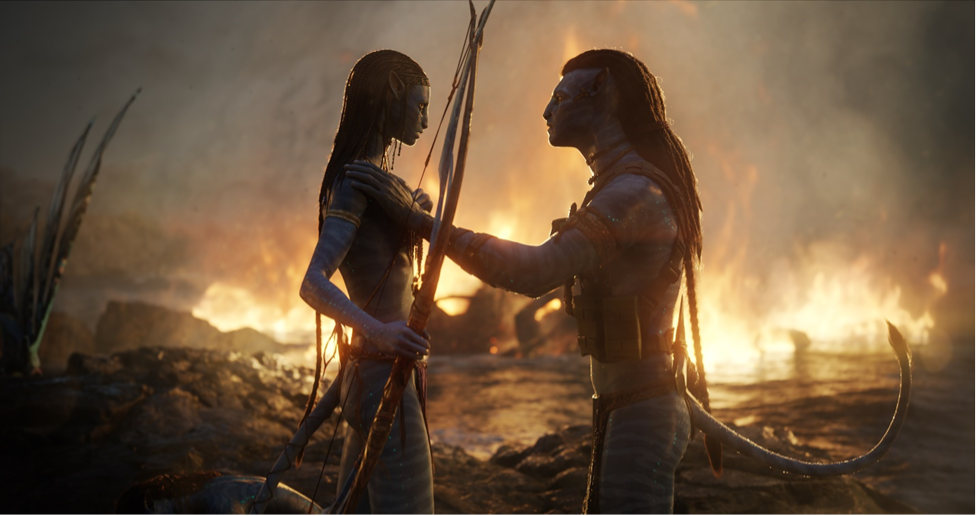 Weaver felt nervous about returning in her new role as teenager Kiri, but welcomed the challenge. "Luckily there was a long time to prepare, and I went to high school classes and a few other things, so I could hear the pitch of [teenage] voices. There's a big range of who an adolescent is between twelve and fifteen," she detailed. "And once I saw that, I was like, okay, I can let Kiri come out, whoever that is, combined with who I was at fourteen. By the time I got there, I just enjoyed leaving this shell behind and becoming this sometimes brat," she laughed.

Newcomer Kate Winslet was overjoyed to join this wonderful cast and be engulfed in Pandora itself. "When I got there, I was welcomed into this world, and Zoe and Sam, what they did the first time around was to create that heartbeat. You know, it's one thing for Jim to write it — it's quite another to find it, and to give it a life and a pulse, and real blood in its veins. It was really extraordinary to be around that," Winslet shared. "It's not just a performance; it's not things they came up with in one day. It's a universe, a love that is palpable, and you feel it. You step into that space, and it's absolutely loaded with truths and dynamics, and pulses that these guys built. They built that, and they shared it, and it's honestly very special to have been part of it."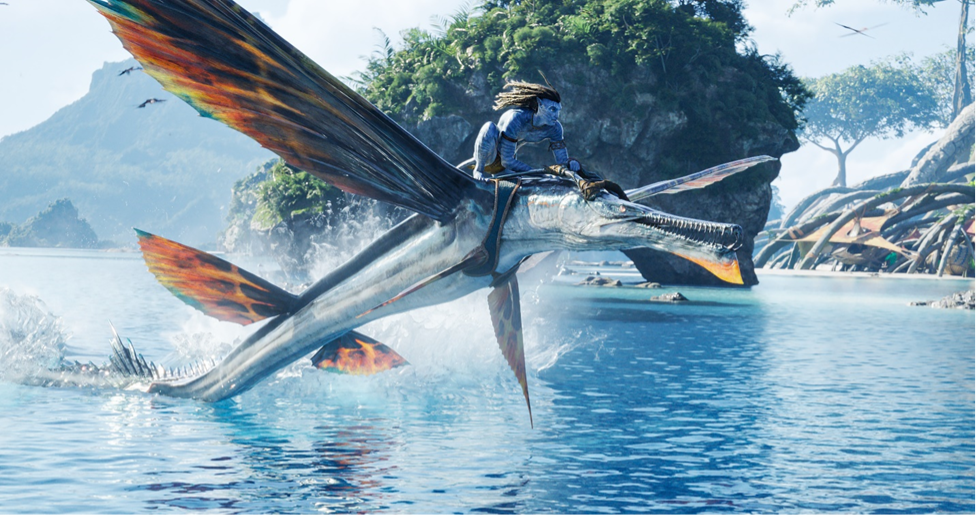 For producer Jon Landau, the excitement is in the theme that Cameron wrote into the story. "Themes are what you leave the theater with, and this movie has heart, emotion, and a message again about our world. Not just the environment, but about people — accepting them for their differences," he explained. "In the movie, Jim wrote the line, 'Oel ngati kameie' , or 'I see you.' And we want people to know that they're seen, and to see others that same way."

Experience the Academy Award–winning phenomenon streaming on Disney+ June 7. Watch Avatar: The Way of Water at home, buy it now on Digital.