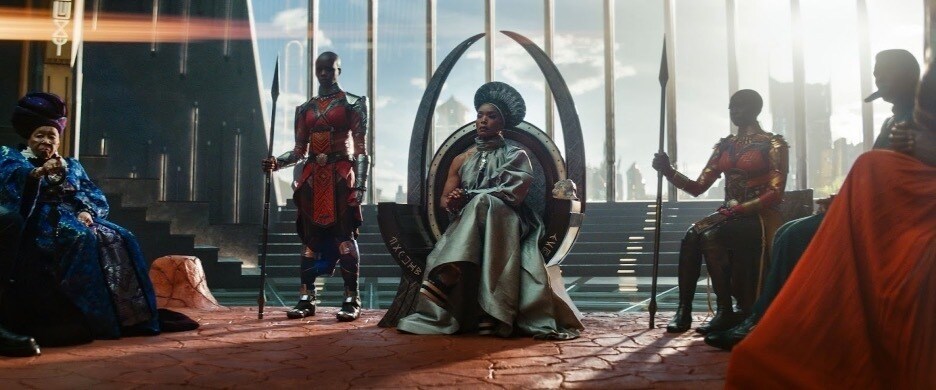 Marvel Studios is going back to Wakanda. In theaters now and coming to Disney+ on February 1, Black Panther: Wakanda Forever is again directed by Ryan Coogler with script by Coogler and Joe Robert Cole; executive produced by Victoria Alonso, Louis D'Esposito, and Barry Waldman; and produced by Kevin Feige and Nate Moore. This installment finds Shuri (Letitia Wright), Queen Ramonda (Angela Bassett, who recently won both a Golden Globe and a Critics Choice award for the role), Okoye (Danai Gurira), and Nakia (Lupita Nyong'o) dealing with the loss of their king, T'Challa. The world is reckoning with Wakanda's transition of power, and testing its boundaries. Wakanda is out as the world power they secretly always were; everyone now knows about vibranium, and they all want some for themselves. Without (they think) the Black Panther, who is left to protect Wakanda and their resources? Separately, audiences are introduced to the world of Talokan, with its leader, Namor (Tenoch Huerta Mejía) and fierce warriors Namora (Mabel Cadena) and Attuma (Alex Livinalli).

Of course, actor Chadwick Boseman (King T'Challa) tragically passed away in 2020 after a private battle with colon cancer. The world — and the cast and crew of Black Panther — were rocked by his loss, but all of that grief was channeled into the making of Wakanda Forever. Marvel Studios president Kevin Feige said, "When we lost Chad, all of that obviously was then poured into this movie — keeping the idea of a celebration of Wakanda and the character at the forefront, in addition to the grief that comes with that." Everything was woven into the fabric of the film. Producer Nate Moore shared the process of incorporating that loss, "I think, as storytellers, you just want to be as honest as possible with what the characters would experience in the film after they experience the loss of T'Challa. And that is not just grief — it's also sometimes joy, sometimes humor. It is all of the emotions anyone feels with any profound loss." That leaves many options to how the story could go. In deciding what direction to take with the script, writer and director Ryan Coogler explained, "What we wanted to look at was, when you lose somebody, there's a blast radius — you know, like a bomb that goes off. Who was the closest to it? That's who we explored. The main characters, their identities were kind of wrapped up in this man, is the truth of it."
Behind the scenes, the cast and crew were dealing with their personal grief, too. Director Coogler said, "It was just great to see some of these folks and give 'em a big giant hug again. We were all processing this feeling of grief and loss, but it's also great when you don't have to do it alone." Actor Lupita Nyong'o, who plays T'Challa's love Nakia, agreed. "Playing her was very therapeutic for me, because I had to look beyond my frustrations with losing Chadwick and learn from her — learn from that wisdom that she seems to possess," said Nyong'o. Danai Gurira also looked to Boseman's memory for strength while making the movie. "The key thing for me, anchoring me, was the goal of honoring him and the way he loved excellency. He loved to see us shine and loved to see us do our thing." On the first film, she shared, "We'd go to him and say, 'What do you think about this? And what do you think about this about my character?' And he would always give us so much encouragement about doing great things. He had such great taste. [So thinking of] that was really an anchoring aspect throughout the process for me." Actor Letitia Wright, who plays T'Challa's younger sister Shuri, said, "I think the way it was written and the delicacy, the gentleness of how we approached it — we were able to bring something that felt real, that felt truthful. I was able to really give my heart to it and give Shuri a full arc, and hopefully people can really resonate with that and find some healing, alongside us, with it."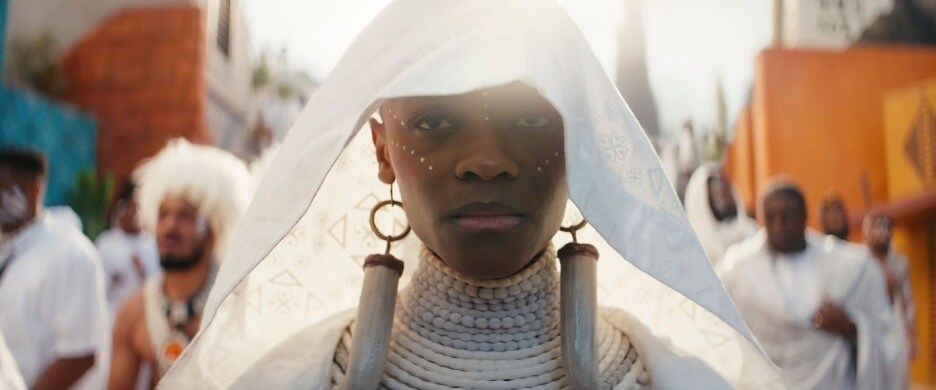 Shuri is one of the people most affected by T'Challa's death. Coogler explained, "Shuri, every day she was alive, she had her brother. So when she lost him, she really lost her sense of self. She identified herself as this guy's little sister, and as his protector and as the person who looks out for him. So when she loses that, it makes her very unmoored." Wright explained how she approached the challenge of playing a character in that transition. "It was, firstly, through connecting with Ryan, that heart-to-heart conversation of, how do we take a step forward? Gentle step forward, 'cause it's so raw, when we spoke… How do we create a full arc of this human being, of this young woman going through something alongside her fellow family members and Wakandans?" If Coogler compares the impact of T'Challa's death as having an impact radius, then Shuri is right at the center of that. Wright said, "We meet her in the first film and she is that ray of sunshine. She's so clothed and protected in royalty and love… She just wants to create. I loved Shuri in the first one, because there was no limit to her. She was the person her brother went to for his protection, his armor, and he encouraged that… What does that look like when your heart is broken?"

Part of Shuri's journey in Wakanda Forever leads her to meeting some new people outside of Wakanda. Without giving too much away, one of those new characters is named Riri Williams (played by Dominique Thorne). When asked about that storyline, Wright beams. "It was so much fun. Really excited for Dominique and her performance — she is incredible." Wright continued, "Riri is so much fun, and I just love the fact that we get a beautiful opportunity to see another Black, young girl just be a genius and be at school doing her thing, and inspire so many… So many cool scenes between myself, Dominique and Okoye, some of my most favorite scenes. I couldn't cope on set because we were just busting up in the corner laughing."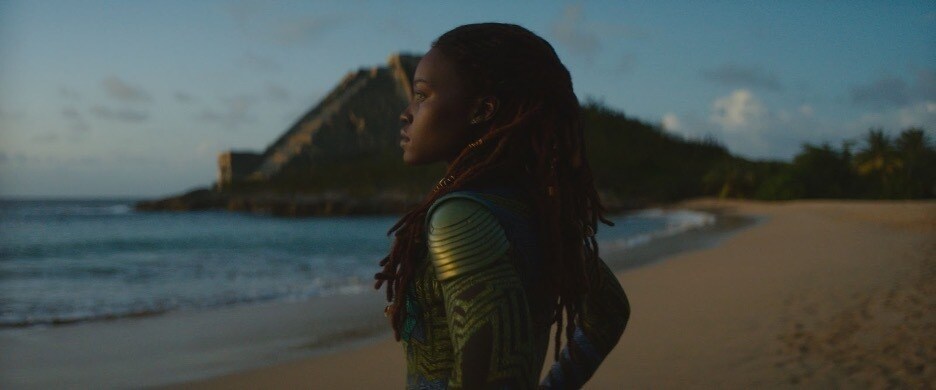 Of course, not every moment matched how the actors were personally feeling. Lupita Nyong'o shared her reaction to finding out Nakia's storyline for the film: "I remember in the beginning, reading the script, I was so envious of Letitia because she gets to be chaotic," she laughed. "And that's how I felt — I felt raw and wanted to express it. Nakia, though, is an example of someone who's just a little further along in terms of her processing." It made sense to Nyong'o for Nakia to be the character who displays that aspect. She shared, "In the first film, Ryan described her as T'Challa's oasis, and that really, really resonated with me. So when I was reading this script and thinking about where she is, I realized that what she was once to T'Challa, she now has the opportunity to offer Shuri." Not only can Nakia offer that solace to Shuri, but also possibly the audience. Nyong'o explained, "When we're talking about exploration of grief, it's really grounding to have someone who is befriending the change for the people in the story, but also for an audience. And the fact that she was T'Challa's love, in a way it allows an audience to know that it's okay, you know. It's okay." Producer Nate Moore agreed that having different characters embody different perspectives was beneficial to the story. "We had such a collection of talent and such a collection of characters who all have a different point of view with that loss, that I think Ryan [Coogler] found ways to express all the different colors of grief through the ensemble," he said. "Which is why hopefully the film will be powerful for people."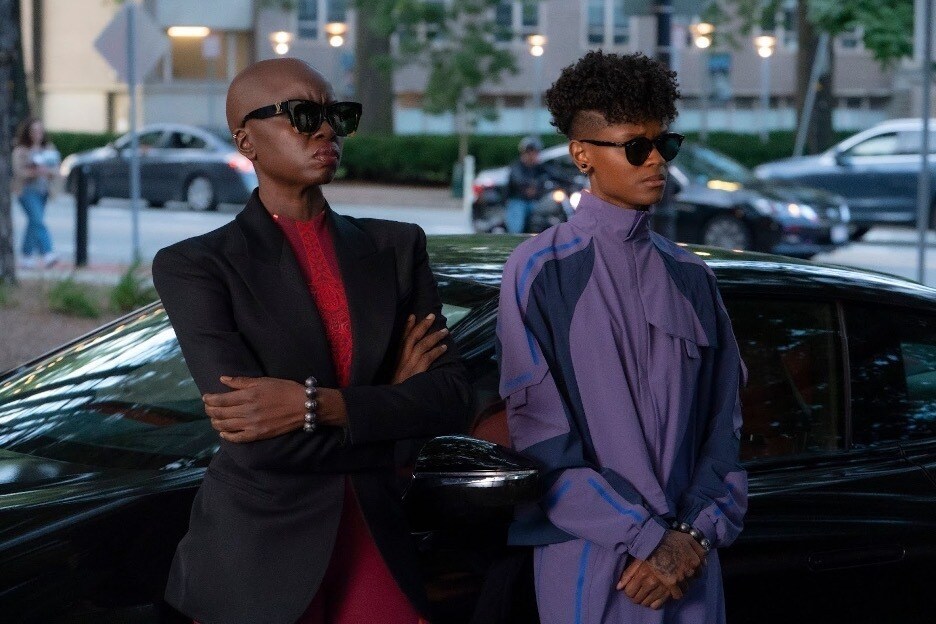 Like Shuri, Okoye has to grapple with ramifications on her identity. For actor Danai Gurira, tapping into that other side of Okoye was difficult. "There are two sides of me. There's the side that gets it, and the side that's like, 'Whoa, really? Do we have to?'" she laughed. "I felt quite displaced in the process, and I think that was connected to what my character was experiencing, and also to the experience of the loss of our brother… I had to anchor myself through comrades around me to walk through it." At the same time, while the process could be difficult, Gurira recognized the importance of telling these stories. "I'm very thankful for the idea that these characters get to explore so many facets of their humanness. I think that that is something that is crucial, honestly, with a platform this unprecedented, that we see a kaleidoscope of their humanness and the world gets to see that. Because it isn't very common, we don't get to see that much."

One of the big fight scenes in the movie takes place between Okoye and Talokan newcomer Attuma, played by Alex Livinalli. In fact, it was the longest scene they shot for the movie, taking about four months and going back to it a couple times, too. Livinalli shared, "We trained for months, me and Danai… Just getting to know her as a person, it helped create a bond when we shot the fight scene. I'm just very grateful that it was with her. And you know, I wouldn't want to mess with her." Gurira agreed, "Thank god it was Alex, you know? 'Cause he's a big guy and he's so nice. I know he's not gonna really hurt me. But yeah, it was a lot of work and the beauty of it is, we had to find the psychology in it and you're working together, so there's a lot of storytelling that has to go into [it]." But of course, a fight is not just emotional — at the end of the day, it's physical. Gurira laughed, "The shoulder was like, 'What you doing to me, man? What you trying to do here?' So you'd thank God for astounding [physical therapy]."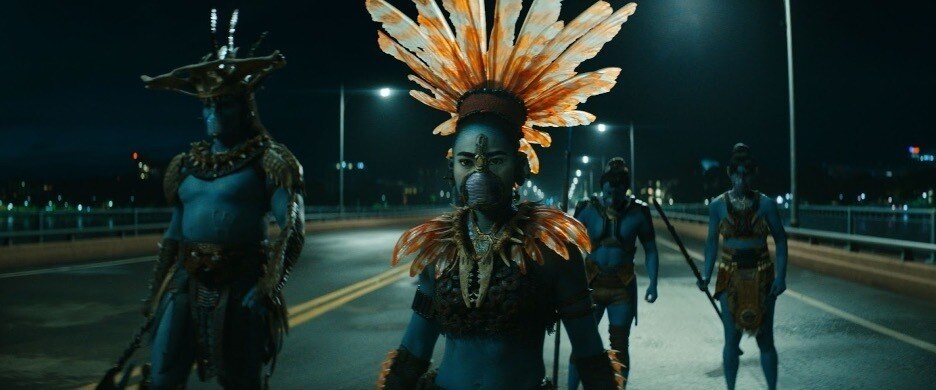 Though some characters introduced in Wakanda Forever aren't connected to T'Challa's death, they still embody an aspect of grief. Explained producer Nate Moore, "That's not just the Wakandans, by the way, who definitely feel it, but it's the loss that Namor and the Talokan feel because of the loss of their homeland." Actor Tenoch Huerta Mejía, who plays newcomer Namor, agreed. He compared his character's struggle with Shuri's: "We have these two characters, taking different decisions with the grief and the threat. And at the same time, they share the same wound, historically… and as individuals, they share that wound. How they solve the problem is about their personality and their own history. That's beautiful, that balance in a movie." Despite playing an antagonist, Huerta Mejía found a way to connect to the character and believes audiences will too. "I think Ryan, with the script, found a way to make it human, to justify why people do that kind of thing. It doesn't mean that it's okay or not. But it explains it, you know?," he shared. "Maybe it's not an excuse, but it's a reason, an explanation for why things happen, why people choose different reactions in the face of grief or threats to life. And that's beautiful because it's human."

Huerta Mejía believes that the Talokan storyline will be important for Latin Americans to see on the big screen, as it amplifies Indigenous representation, bringing in influences from the rich histories and cultures of ancient Mesoamerican civilizations. He explained, "I think when Ryan and the team decided to provide Namor with this background, it was a fantastic move and I think now is the perfect moment to speak about it." Providing broader representation on screen allows audiences who don't normally see themselves reflected on film that honor — along with all of its benefits. Huerta Mejía shared, "I hope this helps people to embrace who they are, who we are, you know?... They taught us to be ashamed of who we are, but it's time to cut it off and say, 'Yeah, this is who I am and [there's] nothing wrong with me.' The mistake was in the eyes who were looking at us, who were judging us — and most of the time, it was ourselves. So it's time to change the glasses and reconcile who we are, and our ancestors, and embrace them." It's remarkable, Huerta Mejía said, to have that happen in a project the size of Black Panther: Wakanda Forever.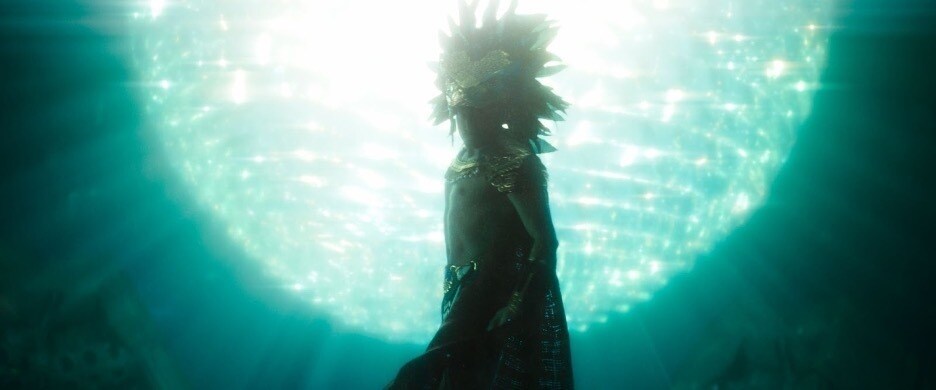 Actor Mabel Cadena, who played Namora, felt the pressures of honoring that Indigenous heritage. "We have an Indigenous language for the first time in a movie like this. I feel proud about this challenge. It's really hard to learn the [Yucatec] Mayan language. My [dialect] coach would say to me all the time, 'Hey, Mabel, I want my people to be represented with dignity, this language,'" she laughed, noting that it was good motivation to keep going. And once she finally saw the end result of her efforts, she was thrilled she did. "I'm very happy because when I watched the movie for the first time, as a Mexican woman and a Latin American woman, it was like, 'Oh my god, this is amazing.' This movie has a lot of diversity, a lot of colors, a lot of language, and I'm very proud to be part of something like this," she said.

The world over is excited for Rihanna's return to music, marked by the release of the original song "Lift Me Up" on the Wakanda Forever soundtrack. Director Ryan Coogler shared of the process, "We were looking for a great artist who could tell the story of the film, and embrace the themes of the film, and present them to the audience in a different packaging. That's what Kendrick did for us so beautifully with the first film." He continued, "This film is different. It made sense that it would be a woman, it made sense that it could be someone who could speak to the feeling of motherhood, because that's a major theme in this film. I think it timed up, that she was in that kind of space in her life." On Rihanna's end, Coogler explained that she decided to get involved after the world got its first peek at footage from the movie. "It was really the trailer, when she saw the performances that everybody was putting down, that was what put her over the edge and she said, 'Hey, I want to see this film, I want to see if I can figure this out,'" he shared. After a collaborative process in which the song came together, Coogler found that it all tied back to Chadwick Boseman. "Once she played us the record, she said straight up, 'I did this for Chad.' So it was him, man… Chad brought us all together. He just keeps on giving, you know? So I'm just really thankful that Rihanna was the latest gift to join the family, and I can't wait for folks to see how it's used in the film."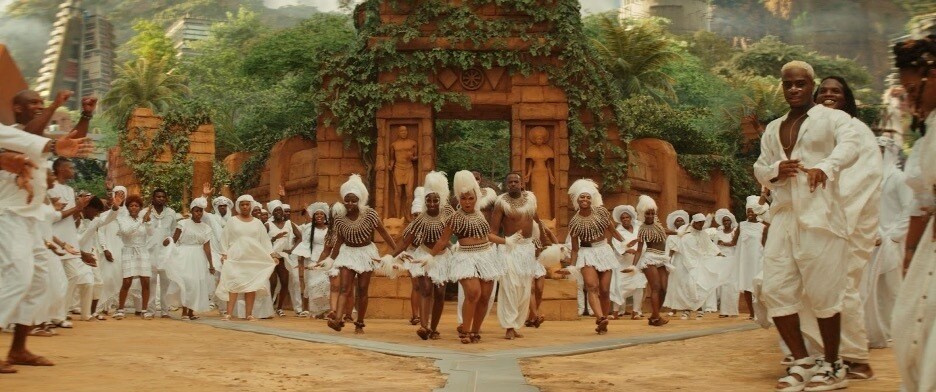 Be sure to catch Marvel Studios' Black Panther: Wakanda Forever, in theaters now and on Disney+ starting February 1.