We are really excited right now! Today at D23 Expo Japan, Walt Disney Parks and Resorts Chairman Bob Chapek updated the world on quite a few of the projects we've been waiting to hear more about. It's truly music to a Disney fan's ears when moments like this happen. We're talking updates on Walt Disney World Resort, Disneyland Resort, Disneyland Paris, and Hong Kong Disneyland. We're also talking Star Wars: Galaxy's Edge, Iron Man, Guardians of the Galaxy, Pixar, and more. We've got it all. Prepare yourselves and let's get right into it:
PIXAR FEST AT DISNEYLAND RESORT
Pixar Fest is bringing our fave Pixar characters to Disneyland Park and Disney California Adventure Park starting April 13. Here's what we can expect:
PIXAR PIER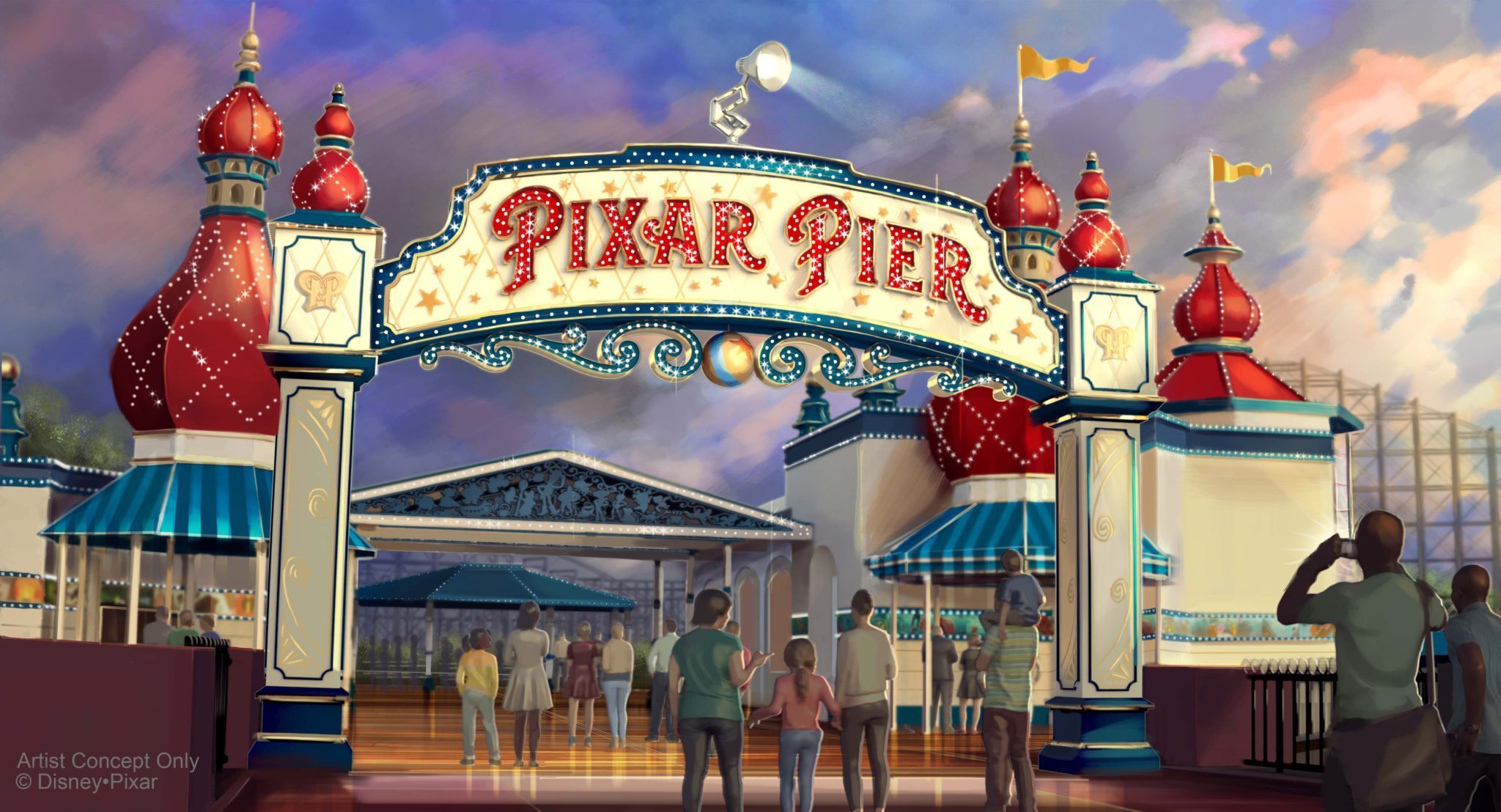 We now know that Pixar Pier at Disney California Adventure Park will be opening on June 23, 2018, and we're already planning our summer trip. Pixar Pier will feature four neighborhoods representing Pixar stories and will include newly themed attractions, foods, and merchandise. We can't wait to see it all!
PAINT THE NIGHT PARADE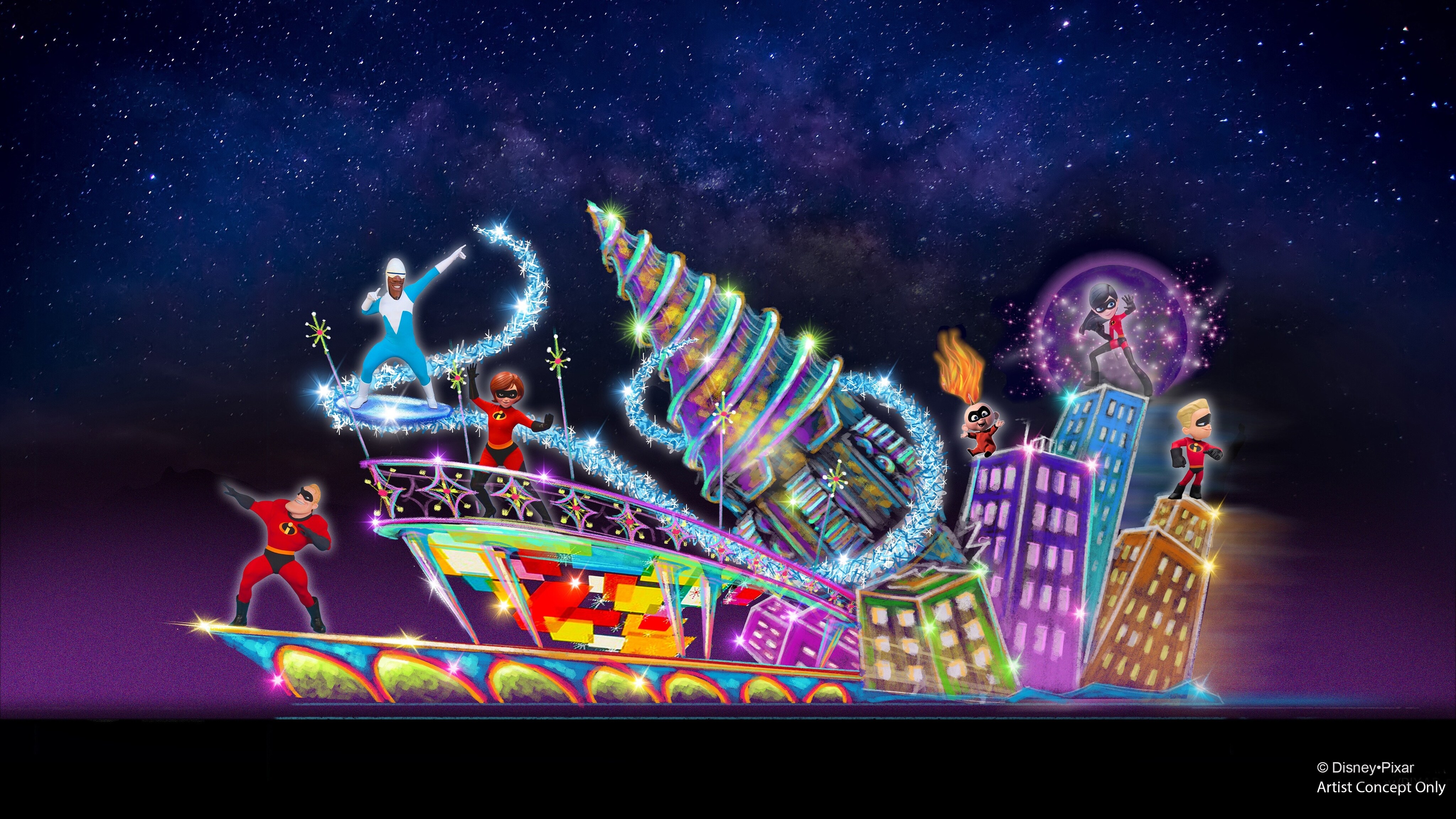 If you've seen this parade before, you know that it's breathtaking. We learned today that a new float will be added to feature characters from The Incredibles like Mr. Incredible, Elastigirl, Frozone, Violet, Dash, and Jack-Jack. We'll see them come to life, showcasing their powers with high-tech, pop art effects inspired by the mid century modern style of the films.

THE INCREDICOASTER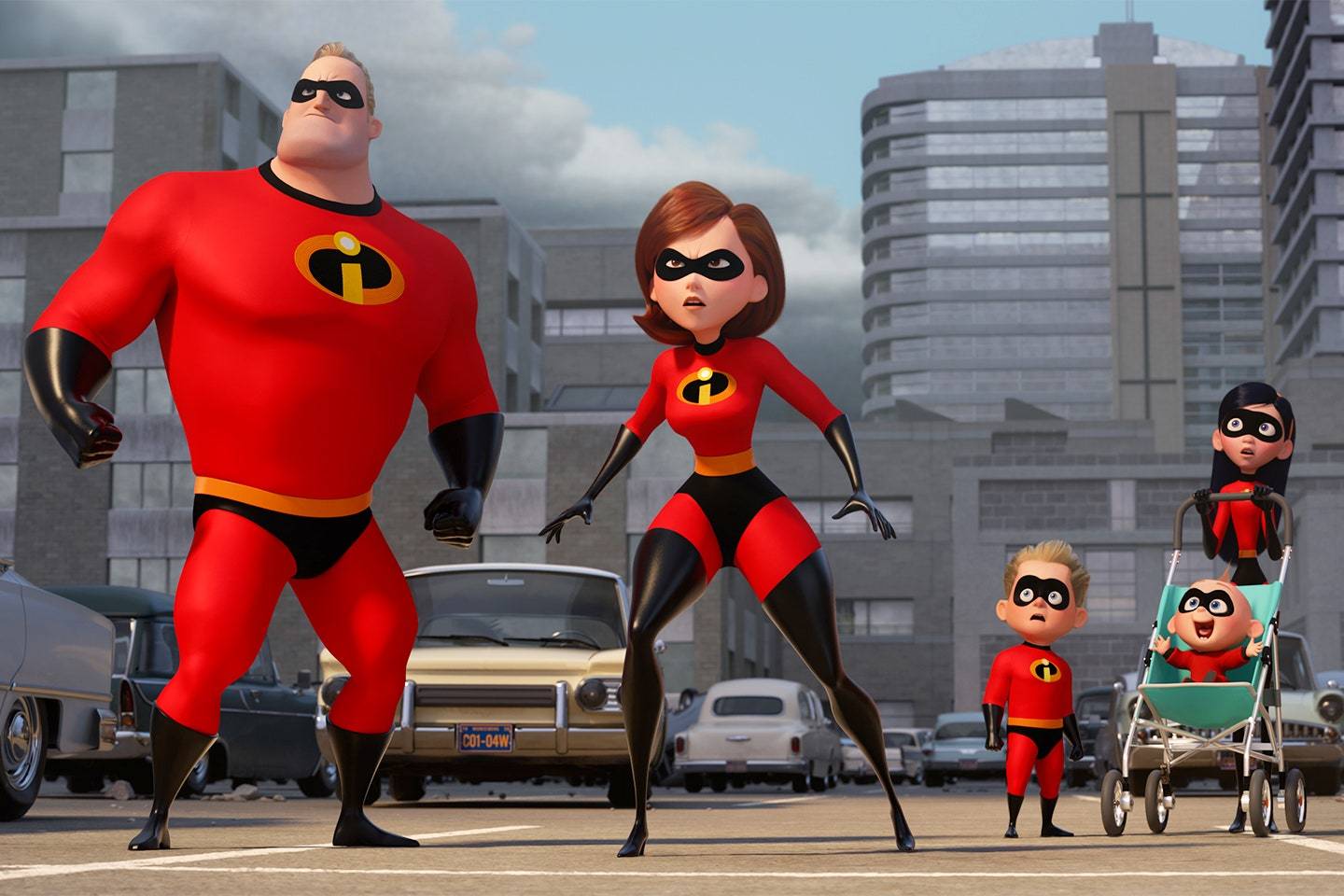 June 23 will also mark our first chance to experience the new Incredicoaster, which is inspired by the upcoming Incredibles 2. Prepare for this epic adventure by taking a look at the recent casting announcement for Incredibles 2, coming to theaters on June 15!
STAR WARS-THEMED HOTEL AT WALT DISNEY WORLD RESORT
A stellar @StarWars-inspired resort is coming to @WaltDisneyWorld. #D23ExpoJapan18 #GalaxysEdge pic.twitter.com/hYIwhNc9lE

— Disney (@Disney) February 12, 2018
We heard last year that this hotel was happening at Walt Disney World Resort and really could not handle the pure joy the news brought us. We're feeling those emotions again because we learned that the hotel will be a luxury resort with complete immersion into an authentic Star Wars story. From the moment we arrive at the hotel, we will be able to journey through space as we board a starship and depart for a multi-day Star Wars adventure. Need. This. In. Our. Lives. ASAP. And even better, this hotel will be seamlessly connected to Star Wars: Galaxy's Edge, the Star Wars-themed land coming in 2019 to Disney's Hollywood Studios.
STAR WARS: GALAXY'S EDGE AT DISNEYLAND RESORT AND WALT DISNEY WORLD RESORT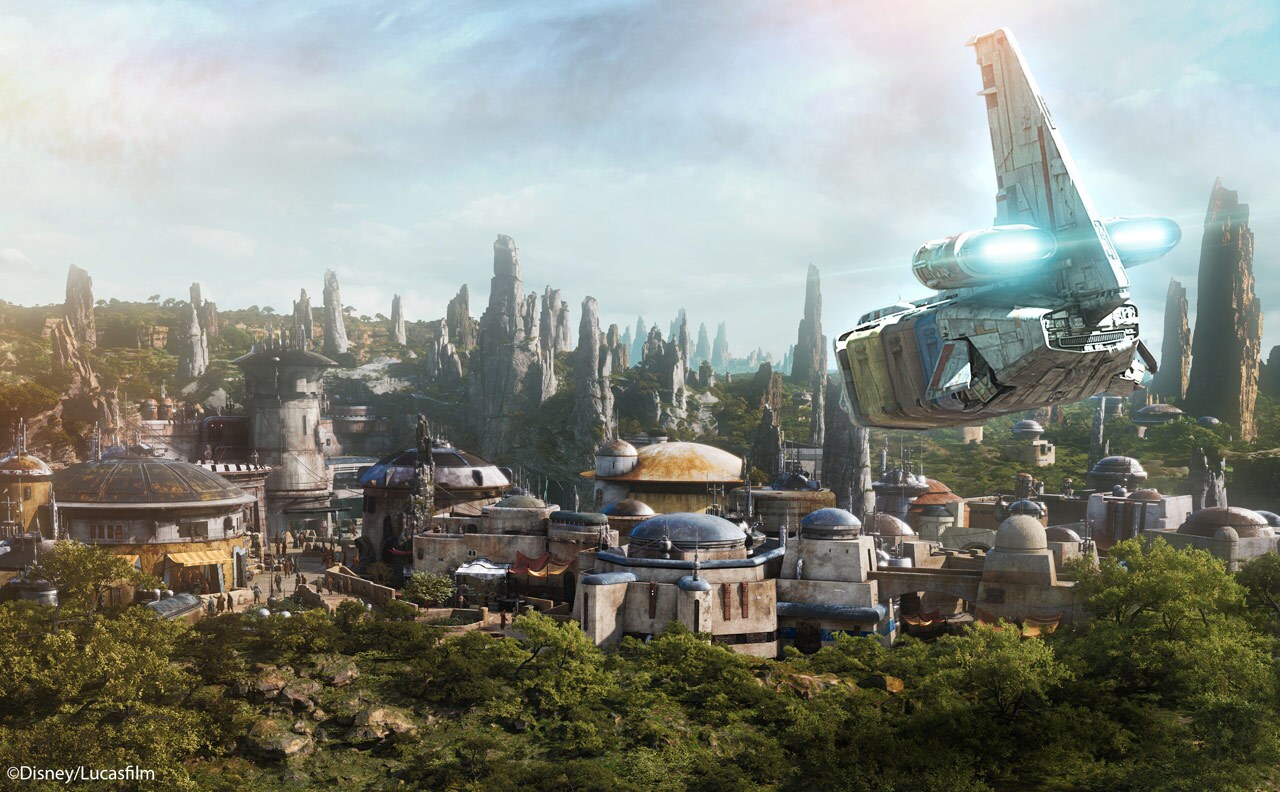 Speaking of the Star Wars-themed lands coming to Disneyland Park at Disneyland Resort and Disney's Hollywood Studios at Walt Disney World Resort, we learned that Imagineers are truly pushing the boundaries to create these immersive experiences. The lands will include the creation of a full-sized fleet of X-wing star fighters and a life-size Millennium Falcon starship. Star Wars: Galaxy's Edge will also include two attractions. One attraction will put guests inside a Star Destroyer and in the middle of a battle between the First Order and the Resistance. The second attraction will give us the chance to fly the Millennium Falcon. Excuse us while we grab our lightsabers because we are very ready for this.
GUARDIANS OF THE GALAXY-INSPIRED ATTRACTION AT EPCOT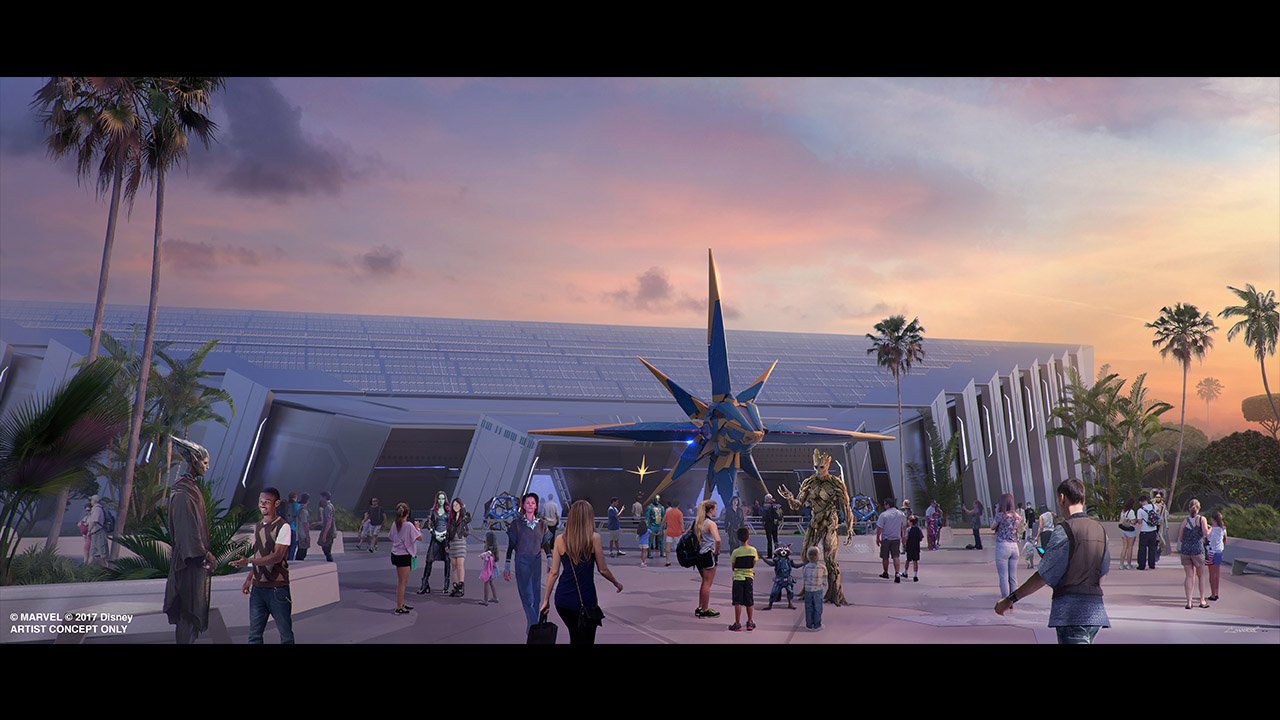 This attraction at Epcot in Walt Disney World will feature a brand-new, innovative ride system, as well as our pal Star-Lord. We're even more intrigued because we found out it will be one of the longest enclosed roller coasters in the world! That's right, in the world! We can't wait to experience this in person.

ROCK 'N' ROLLER COASTER AT DISNEYLAND PARIS

Walt Disney Studios Park at Disneyland Paris will be getting some Marvel Super Hero action in the form of the Rock 'n' Roller Coaster, which is being reimagined into a high-speed, hyper-kinetic adventure where we can team up with Iron Man and the Avengers. One word: Yaaaas.
DISNEY'S HOTEL NEW YORK – THE ART OF MARVEL AT DISNEYLAND PARIS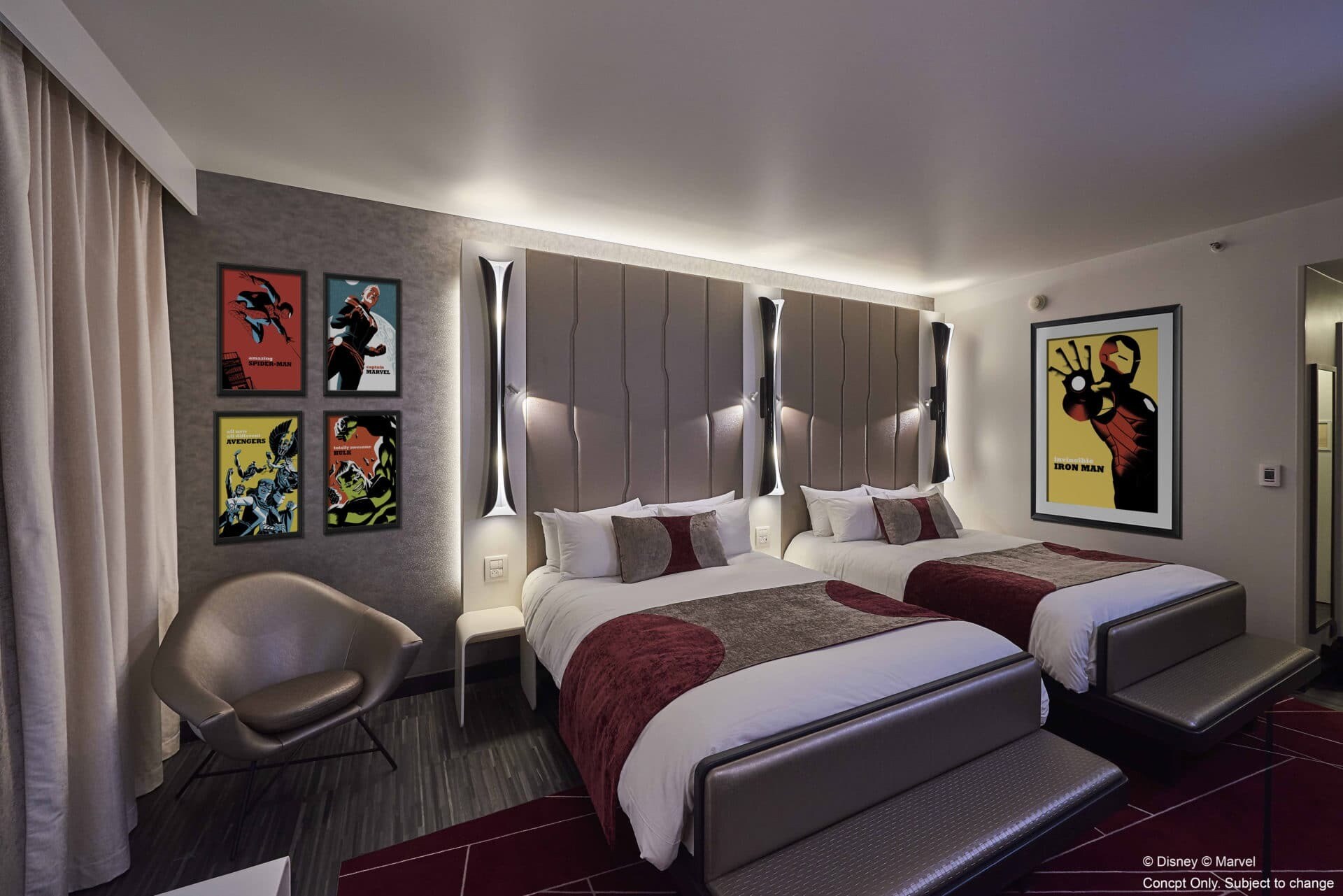 Also coming to Disneyland Paris is Disney's Hotel New York – The Art of Marvel, opening in 2020. You can see a sneak peek above. As if that wasn't enough to get us excited, Marvel Summer of Super Heroes will also be coming to Disneyland Paris in June!

ANT-MAN AND THE WASP-INSPIRED ATTRACTION AT HONG KONG DISNEYLAND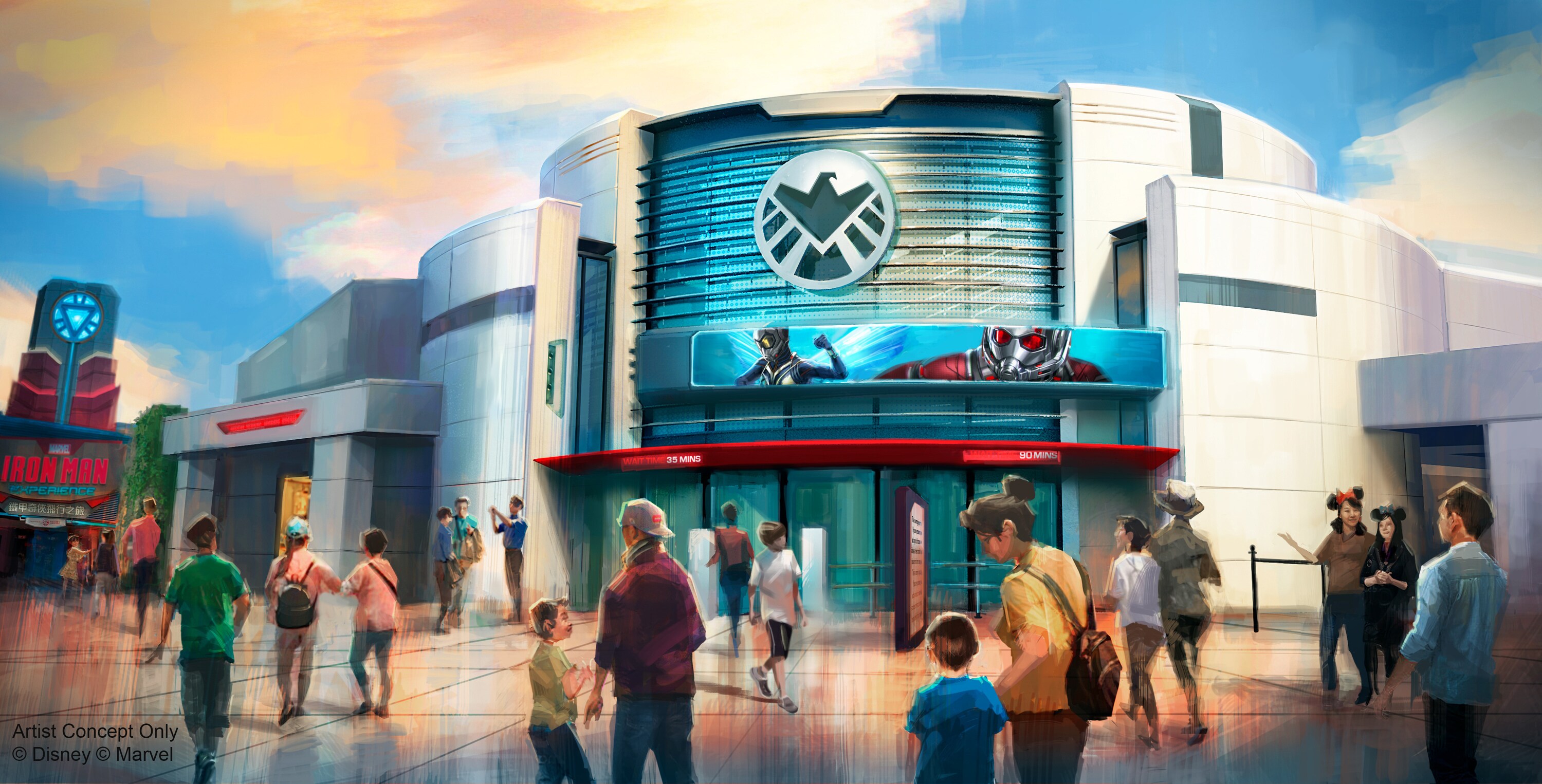 Hong Kong Disneyland already has the Iron Man Experience, and more is underway in the form of an attraction where we will be invited to team up with Ant-Man and The Wasp to fight Arnim Zola and his army of Hydra swarm bots. Yes, please. Take a look at more concept art: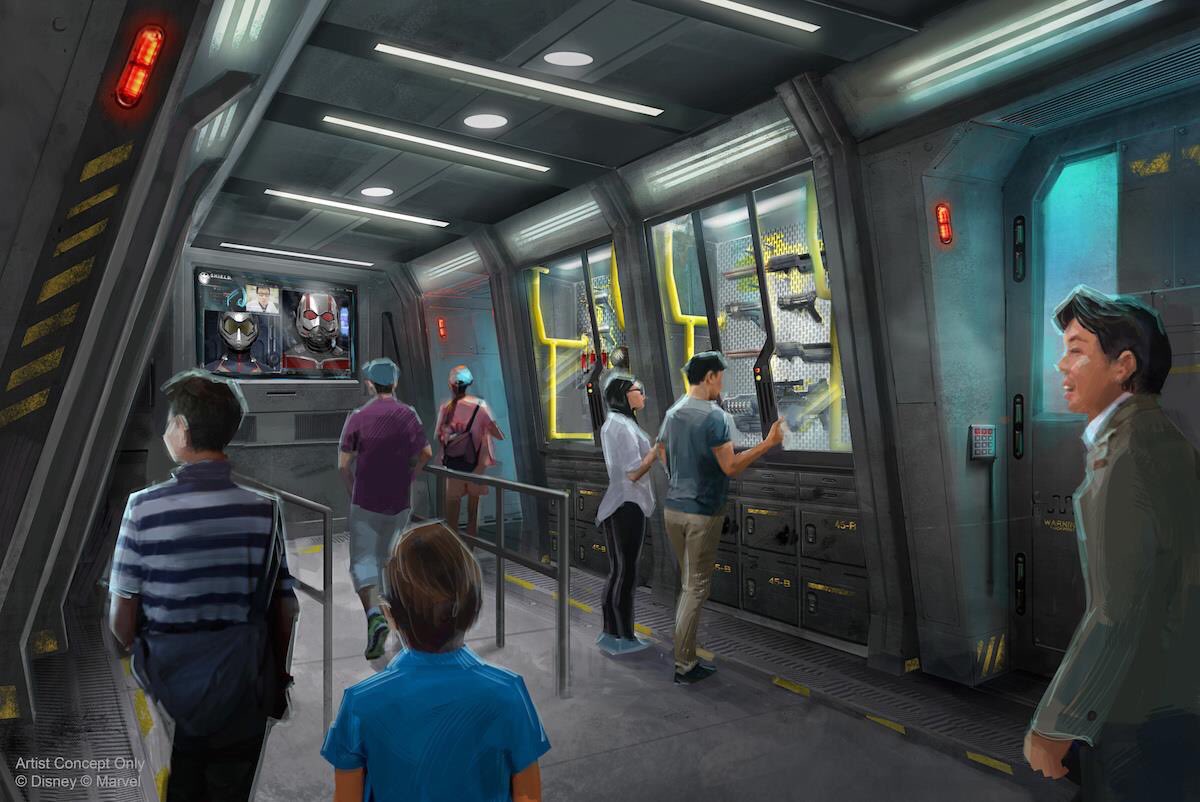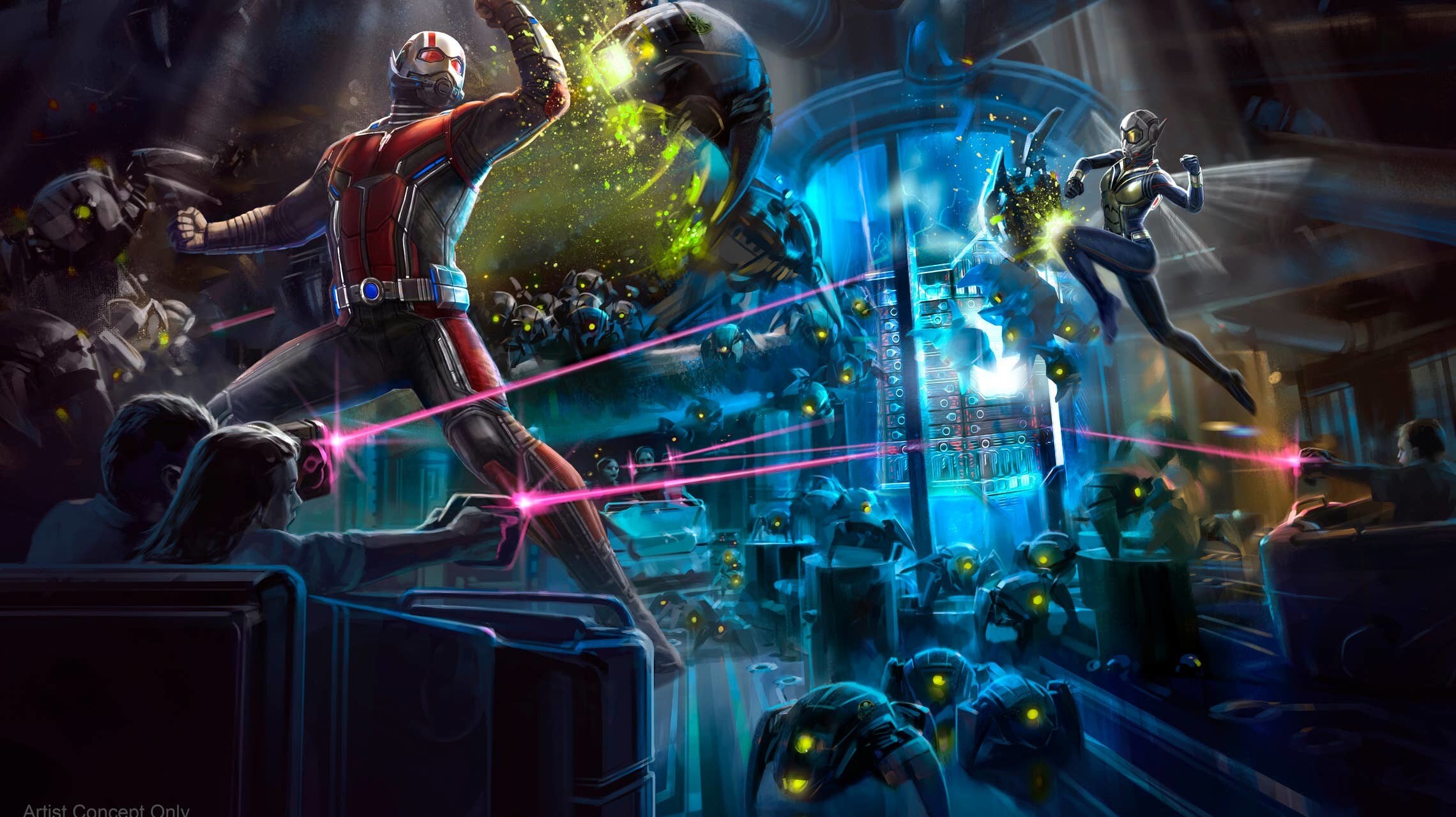 MICKEY & MINNIE'S RUNAWAY RAILWAY AT DISNEY'S HOLLYWOOD STUDIOS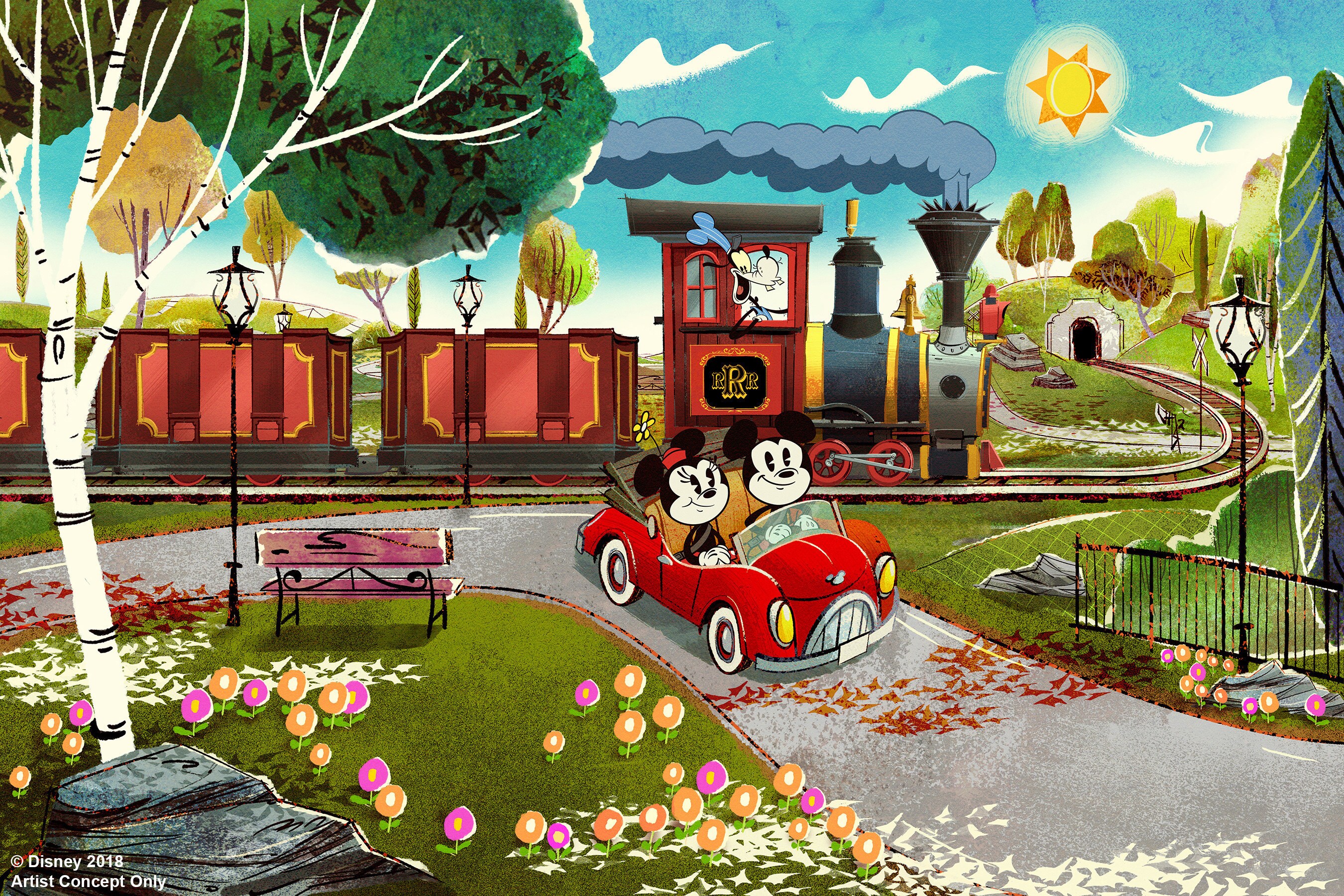 The above concept art debuted at D23 Japan and it is delightful. This attraction will be opening in 2019 at Disney's Hollywood Studios in Walt Disney World Resort. It's the first-ever ride-through attraction themed to Mickey Mouse and will feature a new original story inside Disney Channel's "Mickey Mouse" cartoon shorts. We can tell it's going to be adorable!
Does anyone else need a moment to take this all in? We do! We'd like to thank D23 Expo Japan and Bob Chapek for bringing us so much joy today. For more information, head to our pals at Disney Parks Blog!