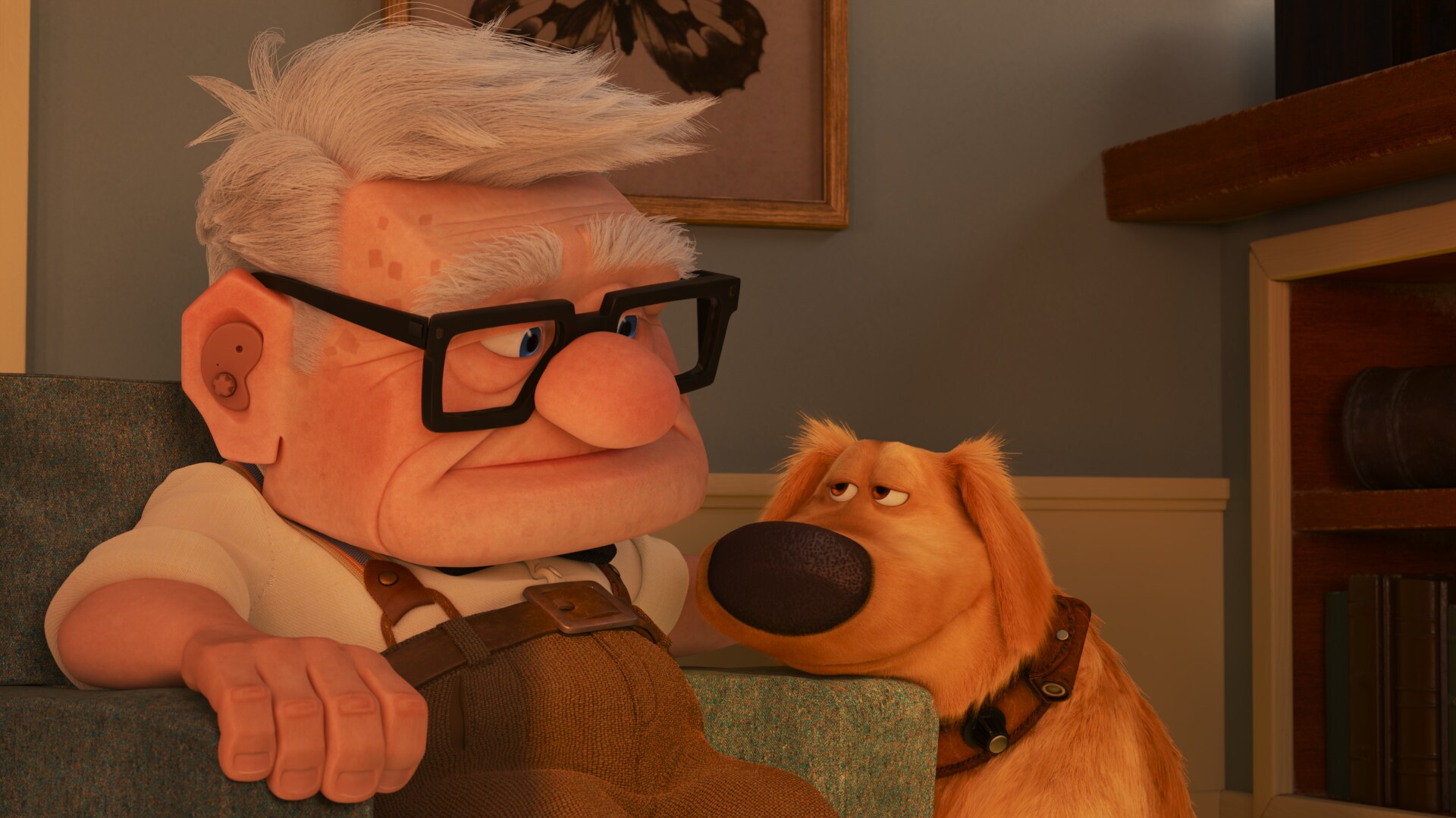 Squirrel-loving Dug is back in a Disney+ Original Series of new Pixar shorts titled Dug Days. Dug won the hearts of audiences back in the 2009 film Up, which follows Carl, an elderly man who ties thousands of balloons to his roof in order to preserve the home he once shared with his late wife Ellie from real estate developers. He unknowingly takes Junior Wilderness Explorer Russell on his journey to Paradise Falls, a dream destination for Ellie, and along the way they meet Dug, a kind-hearted golden retriever who has the ability to communicate with humans thanks to his high-tech translating collar. Filled with thrilling adventures and humor, Up quickly became an animated classic. Now, fans will get to see Dug and Carl continue their humorous misadventures in a suburban neighborhood setting. Voice of Dug, Bob Peterson, writes and directs a series of five new shorts that follow Dug and Carl as they set out to conquer backyard adventures and learn how to take care of each other.

The five shorts are set at Dug and Carl's new home, with each story told from Dug's perspective. Fans get the chance to explore facets of dog behaviors as Dug learns to identify his feelings and adjust to his new life with Carl. Carl is also learning to take on new adventures while also making time for his new woodworking hobby. Every episode is filled with fun-loving moments between a man and his dog.
Last week, we got to screen all five of the new Dug Days shorts and virtually sit down with director Bob Peterson and producer Kim Collins to discuss what goes on behind the scenes.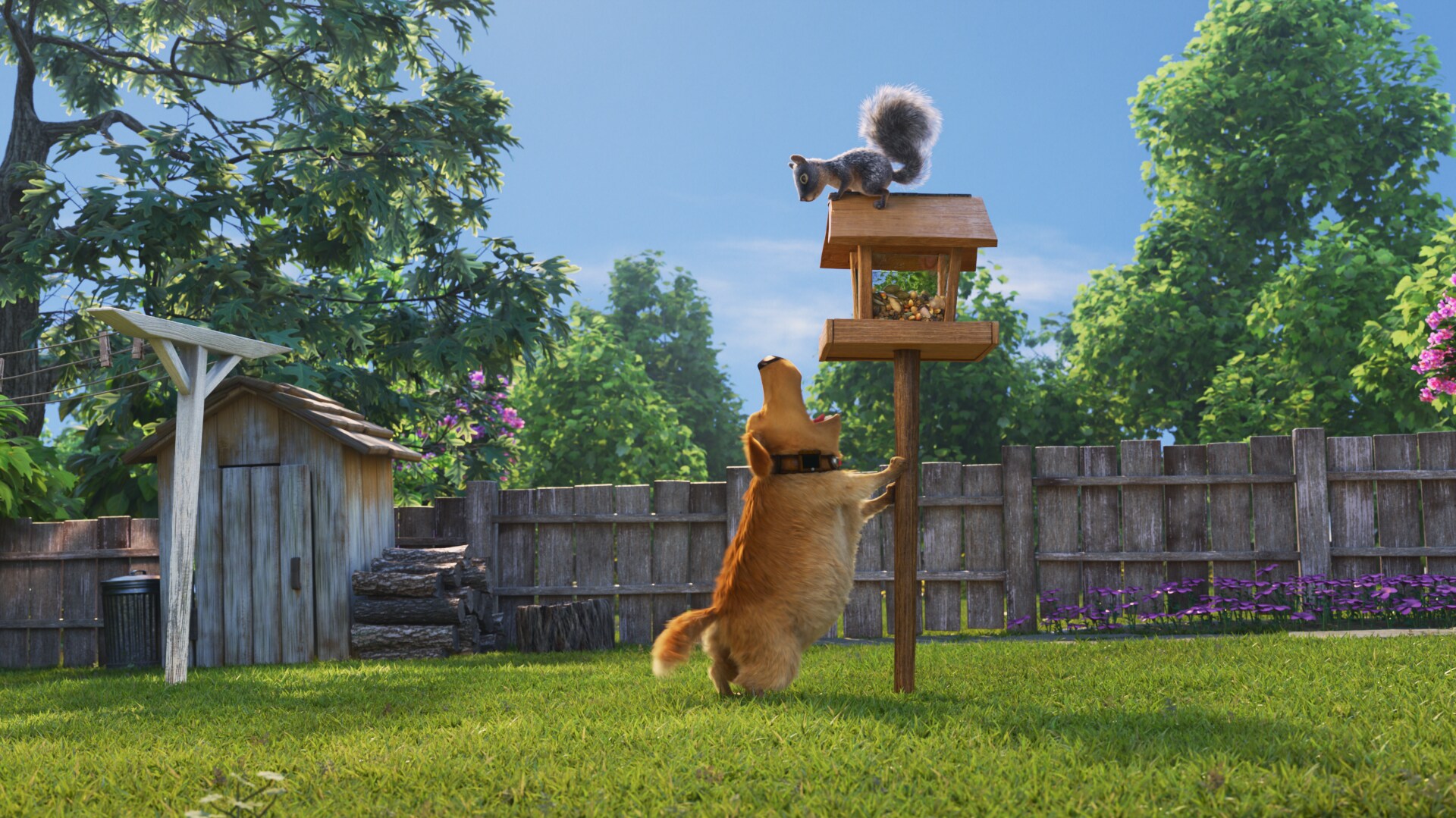 Disney and Pixar have a long history of "human and dog" shorts, all the way back to Mickey and Pluto. What is it like as animators to continue that legacy?

KIM COLLINS: I think what's really cool about streaming, and Disney+ in particular, is it's a whole new way to share those shorts, so you feel you can continue that tradition.
BOB PETERSON: Pluto is my all-time favorite, then you have Lady and the Tramp. Dug kind of fits in the middle. There's no accident that dogs make their way into our entertainment, because they're so connected to us — they're family members — and I feel honored to be the voice of a dog. We're thrilled that we can put a dog on screen.
Which Dug Days episode is your favorite?
PETERSON: For me, there's two favorites: the fireworks episode, called "Flowers," and my favorite moment of this series is at the very end of the science episode where Carl and Dug are in his front room and Carl is describing what it's like to have love for your pet — your dog protects you, and gets you through your day, and is your best friend, and that's my favorite moment in all [of] these.
COLLINS: I love them all. They're all very different in tone, but going into it, the science episode was my favorite. The flowers episode about the fireworks quickly became my favorite as it went through production because people brought so many amazing ideas. 
What are the key messages that you would like fans to take away?
PETERSON: I think the main themes are relationships with your pets, and how much they mean to you and how much you mean to them. Also what's going on inside your pet's head — they react to things and they have emotions. Take time to think through what's happening inside your dog's or cat's head, because it is complicated and wonderful.
Bob, you've done a lot of voice acting, but this is the first time you've directed yourself in a leading role. How was that creative process?
PETERSON: I'm very hard on myself. It's important when you're performing to gather others, because sometimes you can't hear the performance in your head. I'll think I was great and then others will say, "I think there's more there." I've done [voice acting] for so long now for so many things, [so] I generally have a pretty good sense of what's working or not, but it took me a while this time — since it's been 10 years — to get back into that voice and all that dog talk. It clicked a couple weeks in, but I have to have those external ears listening.
Do your dogs have any of the fear of fireworks that inspired that story in Dug Days?
PETERSON: My dog had real trouble with that. We literally had to bring the dog in and close its ears. This one was about dogs' fears, and I didn't want to do it if we didn't solve the problem in the end. Dug is just trying to save Carl through this whole thing, but yes, my dog did have these issues and that's what inspired this. I'm so glad that Dug and Carl found a way to solve this issue.
Keep an eye out for these Dug Days Easter Eggs that Peterson and Collins noted:
Carl and Dug's new address, 333, is the same as Bob's grandmother's house from his childhood.
The ferris wheel in the flowers episode is from Toy Story 4, a project that Collins worked on prior to joining Dug Days.
Carl's front-room shelf is home to a number of Easter eggs. The ceramic frog represents Carl's nature alarm clock from Up, and the baseball cap on the coat rack has the initials "JR" in honor of Up producer Jonas Rivera.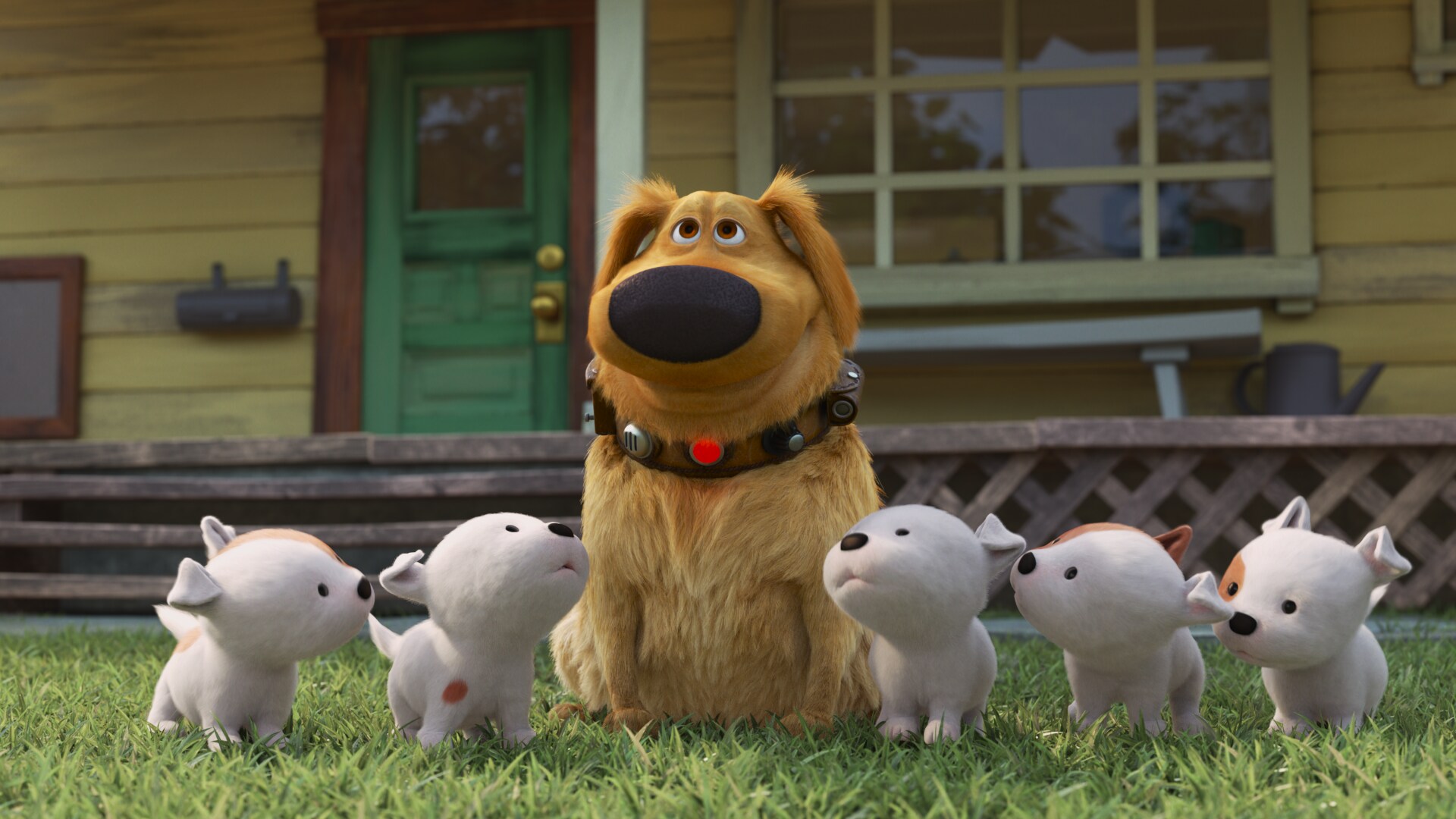 From puppies to… SQUIRREL! Peterson had plenty of inspiration for Dug's upcoming adventures. "Everything is new and he's excited about all of it," says Peterson. "But the smallest things can distract Dug, never mind an actual squirrel."

You can catch Dug Days now streaming exclusively on Disney+.
For more Disney+ news and updates, follow @DisneyPlus on YouTube, Facebook, Twitter, and Instagram.