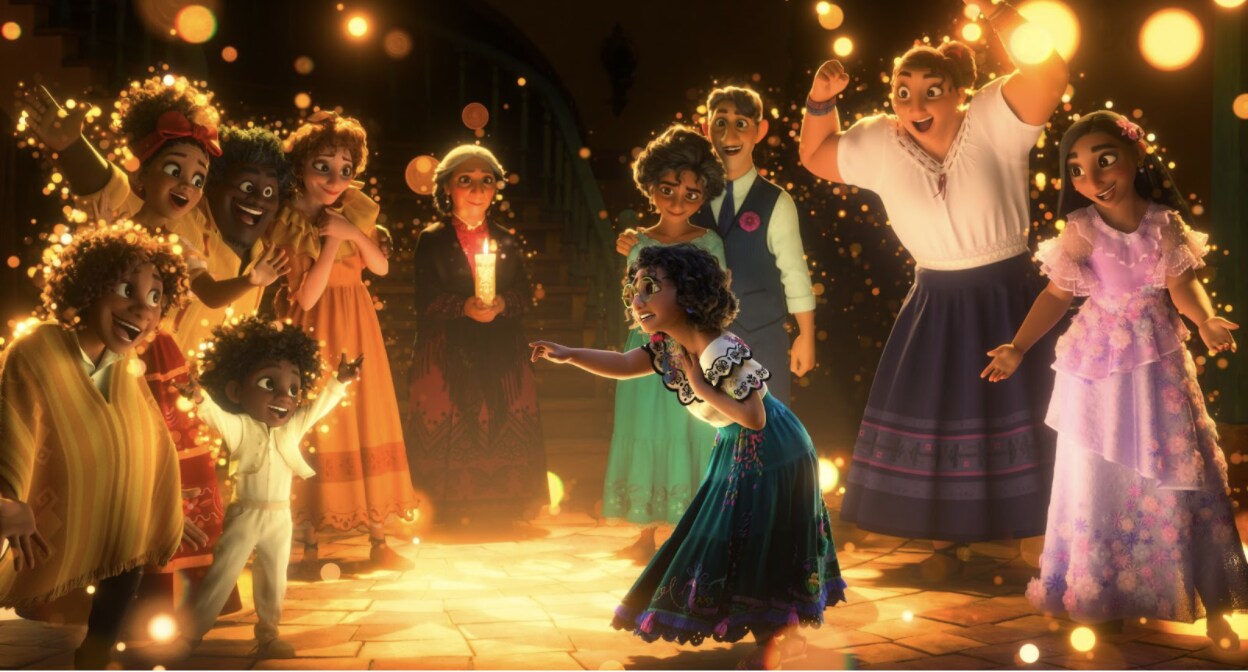 Walt Disney Animation Studios' 60th feature film, Encanto, tells the story of the Madrigal family, whose children are each blessed with magical gifts — all except Mirabel, who must learn to overcome her insecurities and embrace what makes her special (even if it's not magical) in order to save her family's powers and casita. The movie is a musical, with songs written by Lin-Manuel Miranda. Jamal Sims choreographed the characters' movements to Miranda's songs, and was assisted in that by Kai Martinez, who went on to work with the animators as an animation reference consultant as they worked off Jamal's filmed references to ensure that the choreography translated to screen with authenticity and accuracy. Disney News recently had the chance to chat with Sims and Martinez to find out more about their experiences working on Encanto.

What was it like choreographing for animation instead of live-action?
JAMAL SIMS: It's kind of the same, but different at the same time. With live-action, you're dealing with live people who have great skill sets, but they are limited in what they can do. But with animation, we can do a lot of different things. We could jump off of buildings and swing down during the choreography. And in live-action, we probably couldn't do that. So it just allows us to be a little more free in the creative process, and to explore movement in ways that we probably couldn't in live-action. So that's the biggest difference for me, because these characters are so real in the animation — they are real people to us as we start to create.
KAI MARTINEZ: And I'd say also, for me, coming in and working with the animators after we finished the references, being able to really fine-tune each character, each movement. For instance, we spent five months just making sure they were on-beat. So it was like we have all this time to make sure it's perfect, and exactly the way we want it, and then we can change it if we need to. Whereas with live-action, you have your takes and you [choose] the best one. So there's a little more room for error on the live-action as well.
What were both of your reactions when you first heard the songs from Lin-Manuel Miranda?
JAMAL SIMS: I was terrified, because they're so good! You never want to have a good song and then a bad dance. It was like, "Oh, we've got to either meet it, or we have to go beyond." So it was intimidating but inspiring at the same time, because the music is what inspires me, as a choreographer, to move. It always starts with the music. And there have been other projects where they were like, "Well, here's the demo," and the demo doesn't sound inspiring. And you're trying to create something great, but the demos aren't great. But the demos were great here, so it was inspiring for me as a choreographer.
KAI MARTINEZ: Yeah, yeah. Same. I mean, I'm from New York, so I was like, oh my gosh. He did Hamilton and In the Heights. Lin! Broadway! You know? And I'm also Latina. I'm Colombian. So just with all of that, I had so much respect for his work. And I remember when we first heard the demo — "We Don't Talk About Bruno" was the first song we worked on. And it was like, wow. There were a couple of moments like that were like, "Wow. This is really Lin's voice. Like, he really wrote this song." And then we met him on the red carpet at the premiere, and he was like, "I saw the videos you guys did!"
And what Jamal said is very accurate, as far as [Lin] gave us everything we needed in the music, in the storytelling, in the wording, and in how it progressed. So being able to assist Jamal, who's also a master storyteller in his own right, and watch him work, and watch him build this story to the words of Lin — I was taking notes in the back, like, "OK. Got it." It was so amazing to watch.
For Jamal, what were your first thoughts when you first saw footage coming together?
JAMAL SIMS: I was literally speechless, because there was so much attention to detail in the animation in terms of movement. Like, things that I would not have imagined that they would capture — those nuances that [I thought] nobody's going to understand: that snap, or her little look. I mean, it was captured. Or the hair flick, or whatever — it was in there. And the appreciation for what we did, the animators really took full responsibility for showing it on screen. And it came out, and I was just floored. It was beyond what I thought it was going to be.
And then for Kai, since it sounds like you were really involved in the animation coming together, what were your first thoughts when you saw a finished product after all of your work?
KAI MARTINEZ: I didn't know what to expect coming in working with the animators. I had never done that before, so at first I was a little timid. I didn't know how far we could push it, how precise we could actually get. You think animation — cartoons. Maybe it's like a reference of what the movement should be like. But can they really get it precise? And I think after the first scene that we did, I saw how we were able to push it. And I realized that the animators were as meticulous about the anatomy and body movement as dancers are. I remember Renato [dos Anjos, head of animation] saying, "Isabela's leg is turned out too much." And I was like, "What? You saw that? That's crazy." So that got me excited. So once I realized I could push it, we were going in. We were very diligent.
And then to see — because I saw the animation side. I didn't see it with the lighting, and the hair, and the texture. I didn't see much of the finished product until the premiere. And so when I saw it at the premiere, I was like, "I feel like I'm seeing people." It feels so realistic, and it's just seamless, the transitions between the musical pieces and all that. So amazing.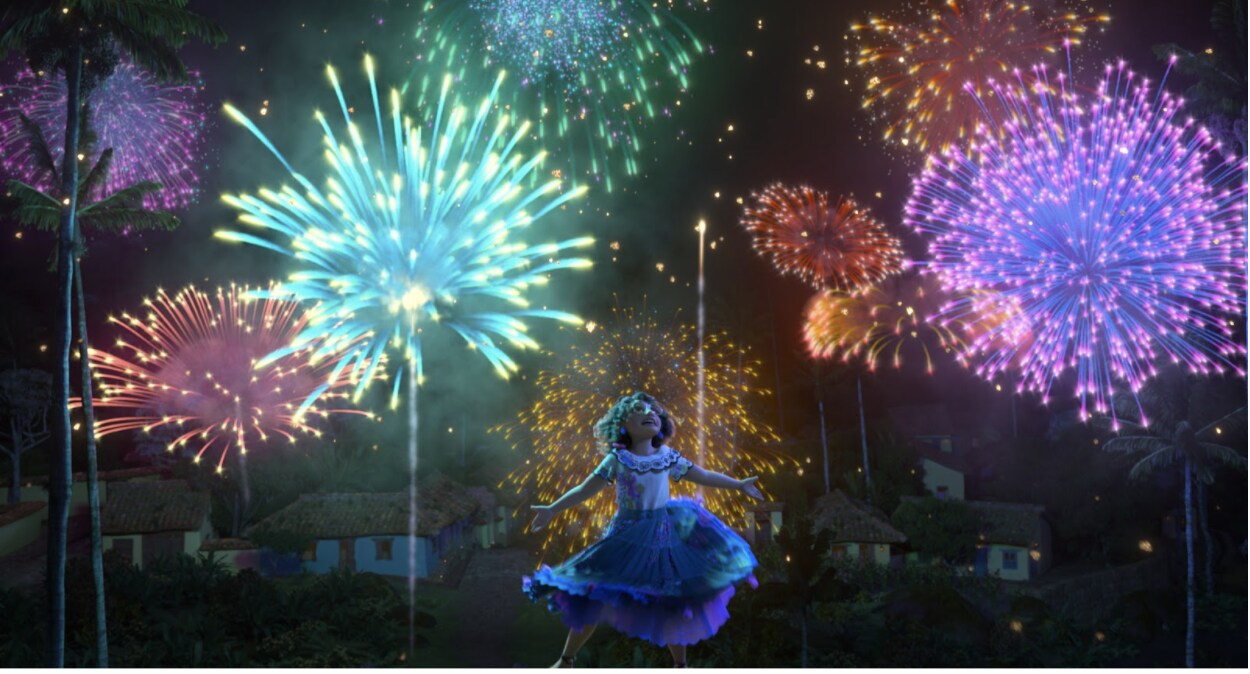 For both of you, what do you hope audiences take away from Encanto?

JAMAL SIMS: Oh, gosh. I just hope people understand this family dynamic. Because I'm in love with my family. And I think something that really isn't represented today is the understanding that everyone plays an integral part of the family dynamic. The family wouldn't be the same without that one person. Everybody adds their own thing that makes this unit. And I was just so happy to see this idea and this concept being brought to life, and the fact that we don't have a princess, and we don't have a prince. These are just people that love each other, and the dynamics that happen with that. And we're not perfect, but we're perfect for us. That's the message I take away, because I just love family so much.
KAI MARTINEZ: Same, same. Being Colombian American, it's been a dream seeing my culture represented on a platform like Disney. And the idea of family is a universal ideal that we can all take from it. I also love that a new generation of young children, of people, are being exposed to Colombian culture in a positive light. It's beautiful to see the music, the culture, and the people — the diversity of people, and the diversity of our food, and all that. And I love the way it was done, because it doesn't isolate anyone. Because the message of the story is universal. It's a story about love. It's a story about family. It's a story about understanding your own magic. And I think that's something we can all relate to.
Many of the family members in Encanto have a power, and a corresponding room that showcases their power. What do you think your power would be, and what would your room look like?
KAI MARTINEZ: You know, I've thought about this. I would want to be able to just create music to whatever I was feeling. And my room would be bold. It would be colorful. it would just have music. You would see the music.
JAMAL SIMS: She took mine! She literally took mine, and that is not fair. I should've gone first, because that was my answer. [LAUGHS]
KAI MARTINEZ: For real?
JAMAL SIMS: That was my answer. I promise you.
KAI MARTINEZ: [LAUGHS]
Maybe you could share a room.
JAMAL SIMS: OK. All right. [LAUGHS]
Be sure to catch all the family dynamics and choreography in Walt Disney Animation Studios' Encanto, now streaming on Disney+.