Calling all Disney fans! The 2019 class of Disney Legends are here! This year's honorees are an incredible group of performers, filmmakers, Imagineers, and more. To open the Disney Legends ceremony at D23 Expo, Bob Iger, chairman and CEO of The Walt Disney Company, took the stage to welcome everyone.
The applause from the crowd was electric, and it only got more electric as Bob welcomed new Disney Legend Christina Aguilera to the stage to perform her hit single "Reflection" from Mulan. It was incredible, emotional, and exhilarating to see!
From there, the ceremony began, and Bob Iger returned to the stage. Introducing the awards, he said, "Over the years, the Disney Legends ceremony has become one of our company's most meaningful traditions." He went on to say, "The award is the highest honor our company bestows on anyone, reserved for the artists and visionaries throughout our history who have pushed the envelope of creativity, challenged traditional wisdom, and broken the restraints of the status quo in search of new possibilities." After those inspiring words, Bob began presenting Disney Legends awards to the twelve new honorees, starting with...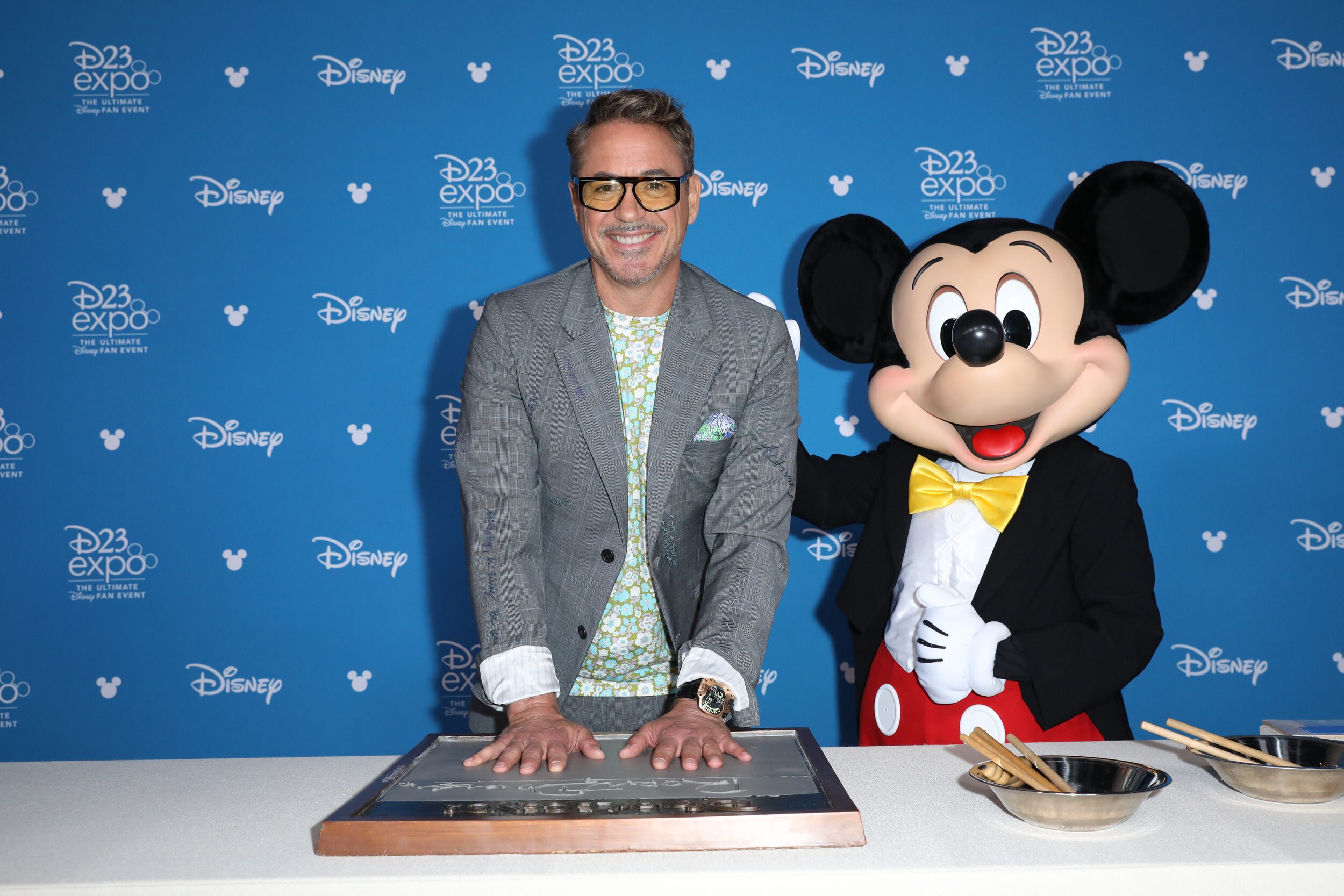 ROBERT DOWNEY, JR.
He is Iron Man. He is Tony Stark. He is Robert Downey, Jr.! Robert is a two-time Academy Award nominee and Golden Globe winner who has appeared in more than 80 films. Disney fans know him best for his role as Tony Stark, aka Iron Man, in 10 Marvel Studios films, including the biggest movie of all time Avengers: Endgame. Robert is the first Avenger to also become a Disney Legend.
After a standing ovation and tons of cheers from the crowd, Robert took the stage. He made us laugh and feel inspired, saying of his new Legend-status, "Playing Tony over these many years, and that thematic idea that technology can guide our species towards enlightenment or destruction has been a really worthwhile, ongoing meditation and a great gift. I want to thank the fans who made this all possible."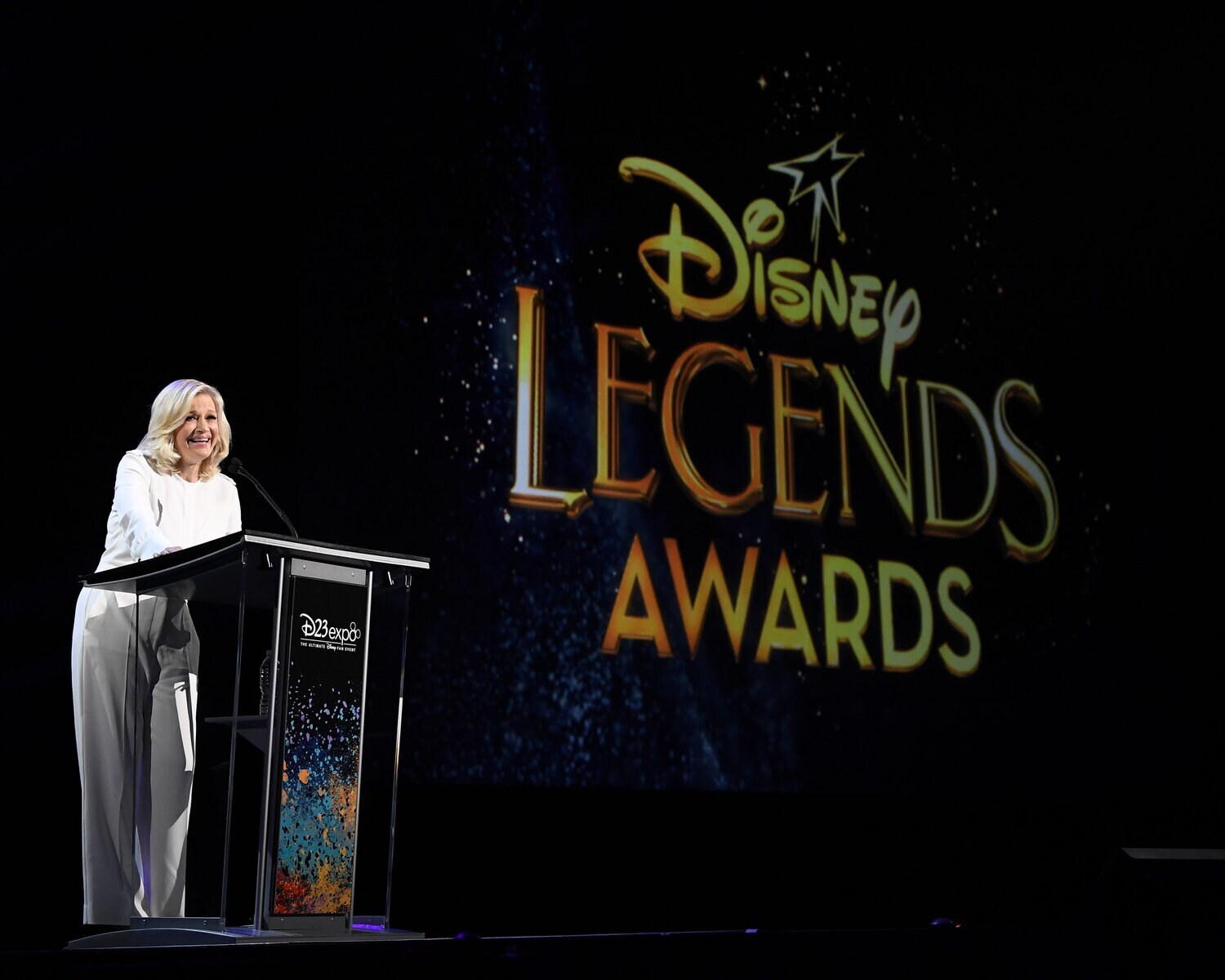 DIANE SAWYER
One of the most respected journalists in the world, and now a Disney Legend, Diane Sawyer is perhaps one of the most well known news anchors, tackling some of the biggest issues of our time with original reporting, primetime specials, long-form interviews, and in-depth investigations for ABC News. After more than a decade in television news, Sawyer joined ABC News in February 1989 as co-anchor of Primetime. She was named co-anchor of Good Morning America in January 1999, and held the post until taking over the World News anchor chair in December 2009.
Diane accepted the honor saying, "I'm really just a kid reporter who gets up every day and gets to ask questions of the world and go off to far-flung places. Although, I'm also the girl who remembers her first Disney experience...All of our friends got together and we saw something I will never forget. This is 60 or more years ago. We saw some tiny little mice who had needles and threads and they were singing 'Cinderelly, Cinderelly, night and day it's Cinderelly…' and my eyes opened and my heart leapt and for the first time I felt the delight of all that was possible."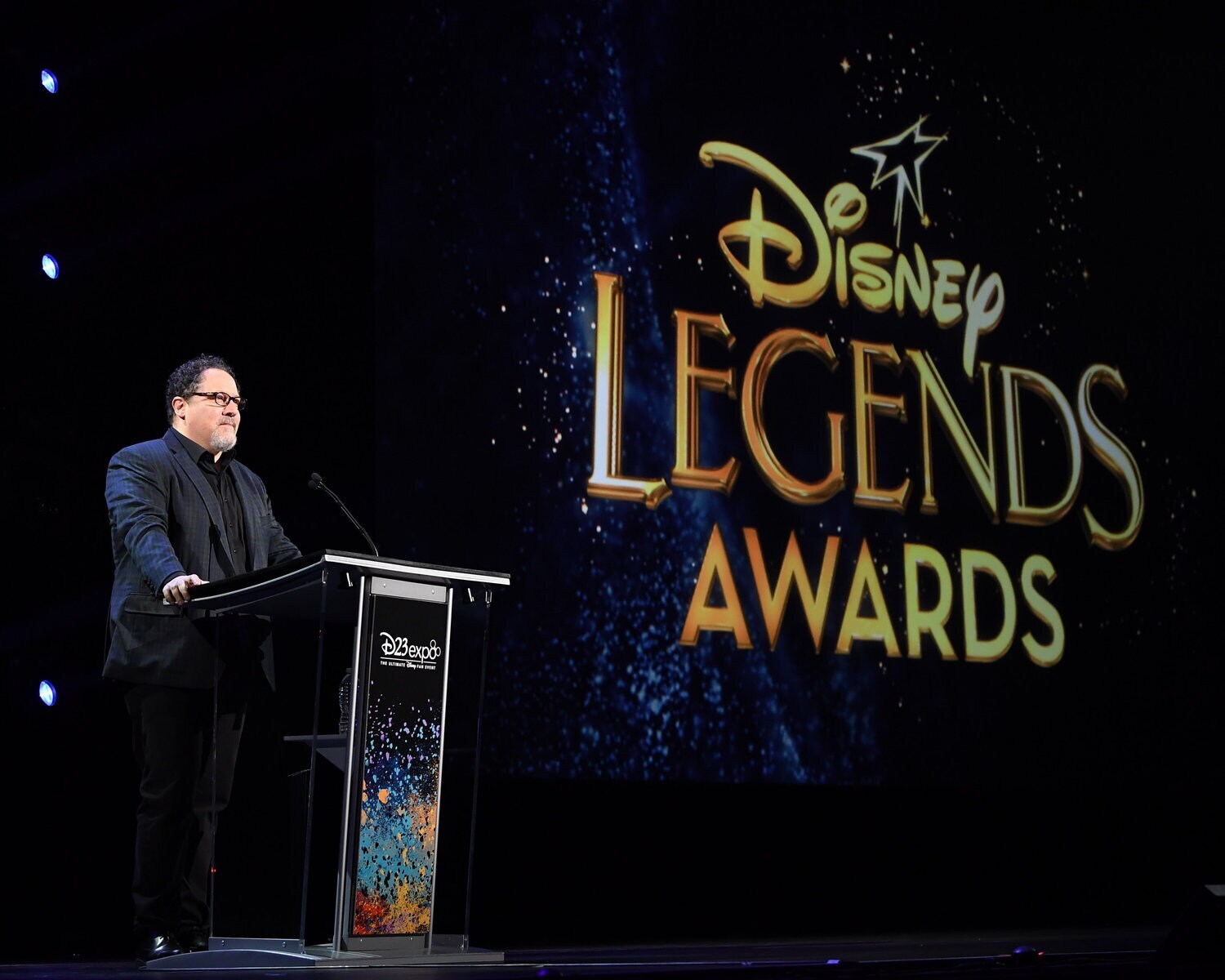 JON FAVREAU
With projects for Disney, Star Wars, and Marvel Studios, Jon Favreau has been involved in nearly every aspect of The Walt Disney Company. Whether you know him for directing Iron Man, Iron Man 2, The Jungle Book (2016), and this summer's The Lion King; as Happy Hogan in several Marvel Studios films; as a voice actor in Buzz Lightyear of Star Command, Star Wars: The Clone Wars, and Solo: A Star Wars Story; or for his work on the upcoming Disney+ series The Mandalorian, you definitely know that Jon has earned his Disney Legend status.
Here's what Jon had to say about becoming a Disney Legend, "Thank you so much. Thank you to my family, my Disney family, my Marvel family, my Star Wars family, my family of fans out there. You're the reason I'm here, so thank you for creating a dialogue through storytelling and sharing our childhood memories and bringing those memories into the future and creating new memories for each generation."
HANS ZIMMER
As prolific as film composers get, the legendary Hans Zimmer has scored more than 160 projects which, combined, have grossed more than $28 billion worldwide. Hans has been honored with an Academy Award, two Golden Globes, three Grammys, an American Music Award, and a Tony Award. Hans has been scoring projects for Disney since White Fang (1991), with several major projects to his name, including Muppet Treasure Island, Iron Man, various composing, editing, and producing roles for the Pirates of the Caribbean franchise, and, of course, his Oscar-winning work on The Lion King (1994) as well as this summer's reimagining.
Hans Zimmer could not attend the Expo in person to accept the honor, but appearing on video, Hans said, "It's a great privilege to be selected by people I admire and trust and to be recognized alongside my extraordinary peers. Disney has been a home to me for the past 30 years. It's a place that has supported all of my outlandish and crazy ideas. I'm forever grateful for the opportunities I've had to help bring the magic of Disney stories to life."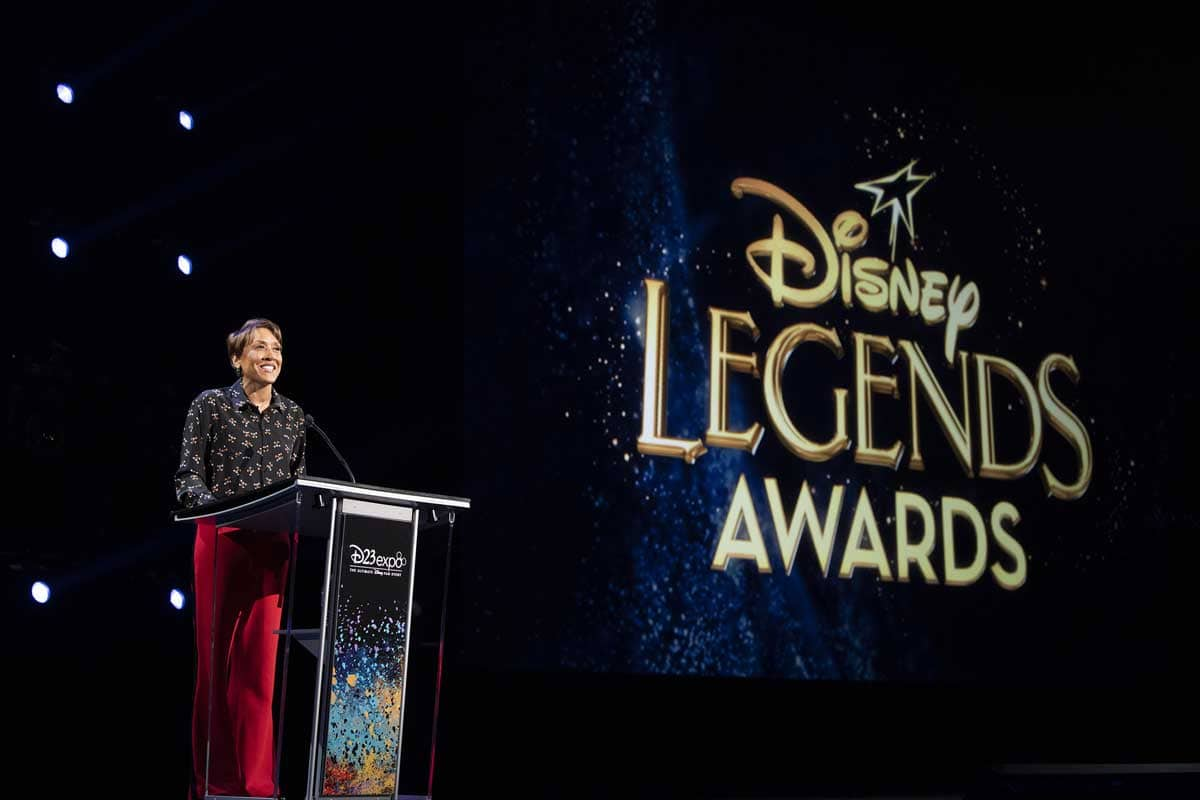 ROBIN ROBERTS
As one of the foremost hosts on both ABC and ESPN, Robin Roberts, best known for her work as an anchor on Good Morning America, has been a legendary presence of TV for nearly 30 years. Since joining GMA, the show has won four Emmys for Outstanding Morning Program. For ABC, Robin has hosted numerous specials, as well as red carpet coverage of the Academy Awards, and has created original broadcast and digital programming for the network through her production company, Rock'n Robin Productions.
Appearing to accept the Disney Legends honor, and giving an extraordinary and emotional speech, Robin said, "It is truly a privilege, it is truly a blessing to be a part of a company where all we want to do is touch people's hearts. That's it. That's all we want to do."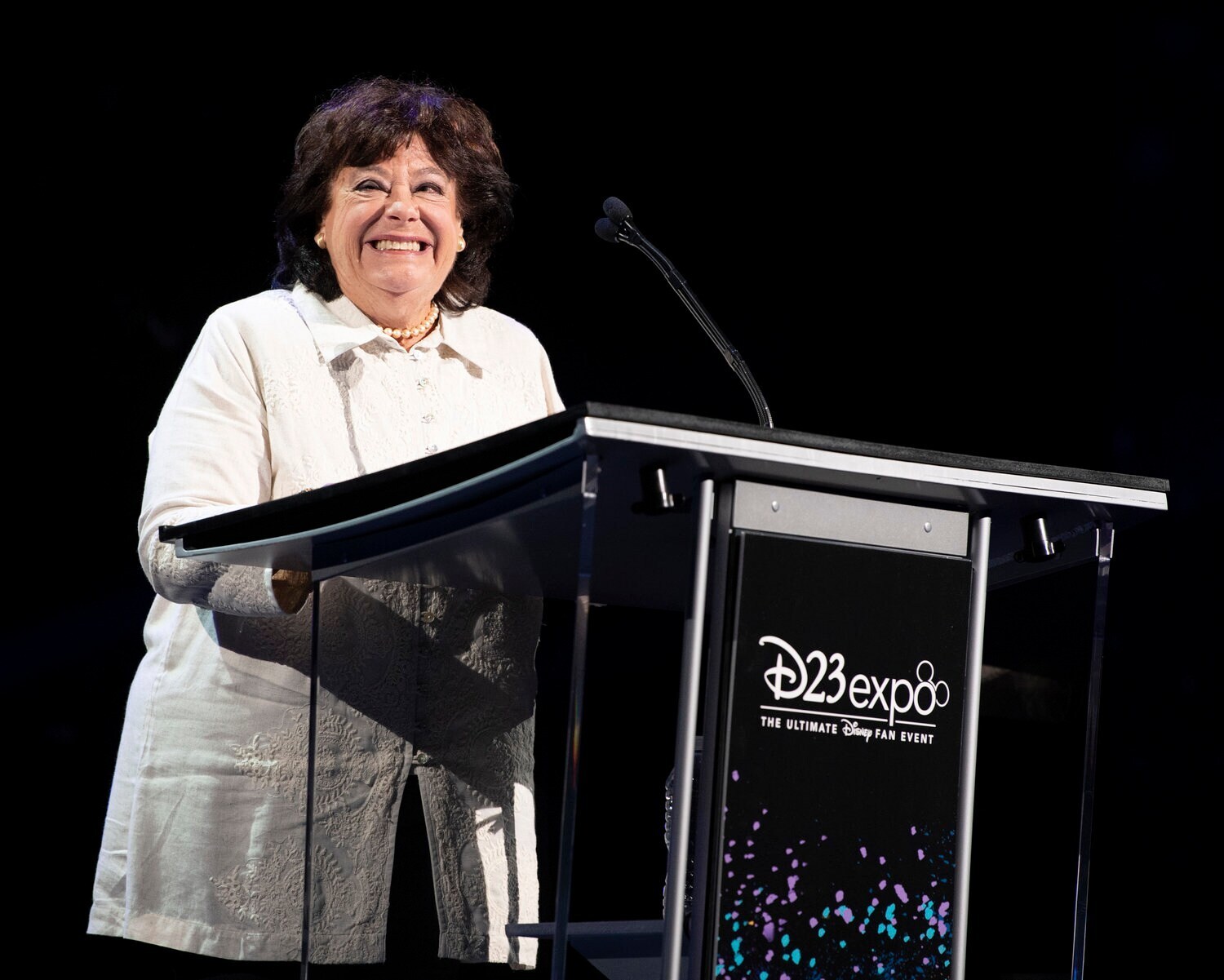 BARNETTE RICCI
You definitely know the work of Barnette Ricci. She started as a Disneyland choreographer, and worked up to choreograph and direct Christmas parades, America on Parade, and the Main Street Electrical Parade. Barnette also worked on the grand openings of Walt Disney World, EPCOT Center, and Tokyo Disneyland and directed popular stage shows. She is perhaps best known for creating the classic attraction Fantasmic!
Barnette spoke about the honor, saying, "You know, being able to create shows for a living and bring happiness and joy for people? Gosh, that's the dream job of dream jobs. And I was able to do that for so many years...but I have to say that I am so very proud and so very, very honored to be a Disney Legend. It's like, really super great!"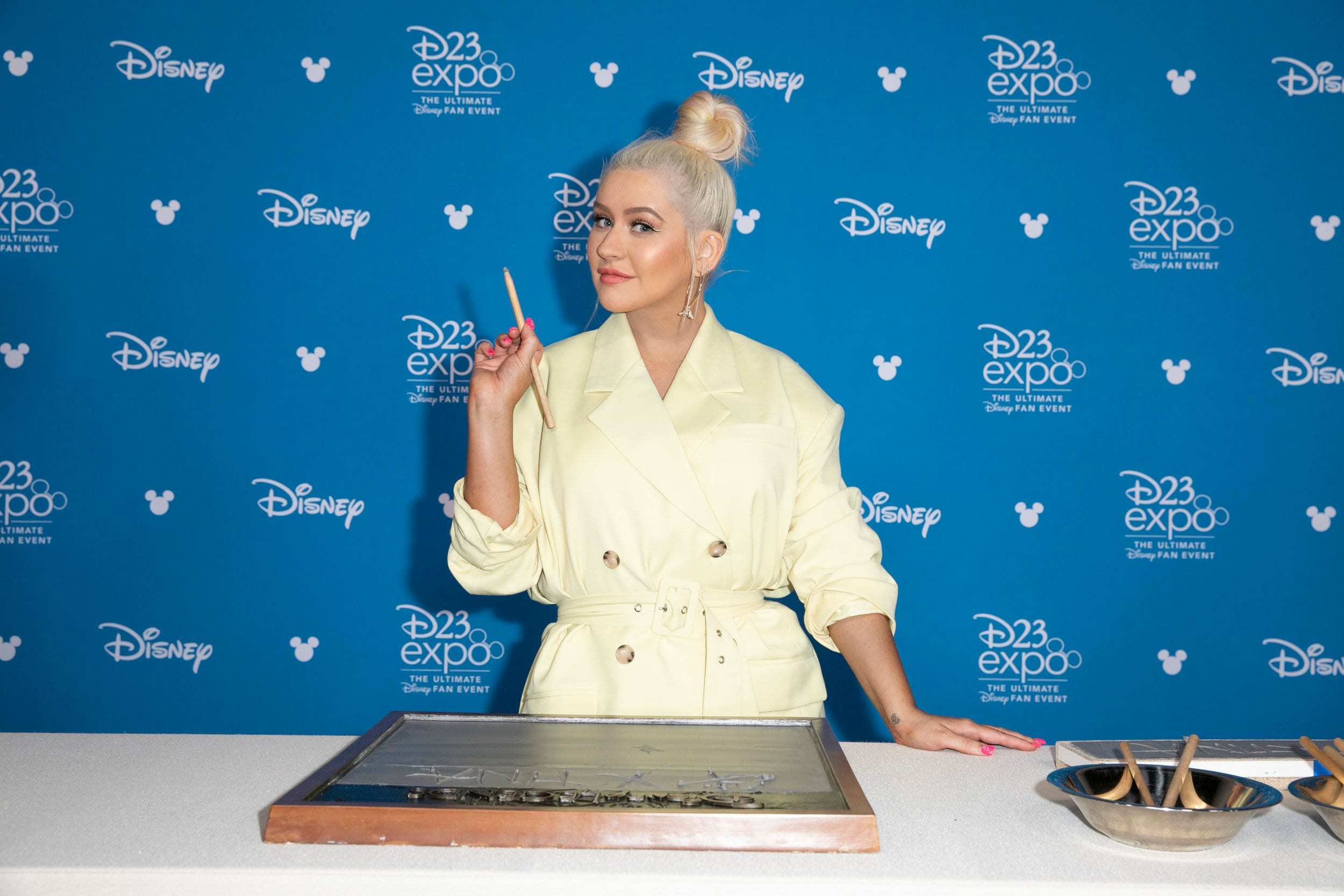 CHRISTINA AGUILERA
During her three-decade career as an entertainer, Christina Aguilera has earned multiple Grammy Awards, sold over 43 million records and achieved five No. 1 singles on the Billboard Hot 100 chart. One of the preeminent musical performers of our generation, Christina joined the Disney family as a member of Disney Channel's The All New Mickey Mouse Club. Later, Christina performed the hit pop version of "Reflection" from Mulan. Christina has appeared on dozens of Disney television shows and specials, including Dancing with the Stars.
Accepting the Disney Legends honor (after her incredible musical performance), Christina said, "This is way cooler than a Grammy, I have to say." Later, she said, "The world of Disney has made me feel like anything is possible...if I can imagine it, I can do it."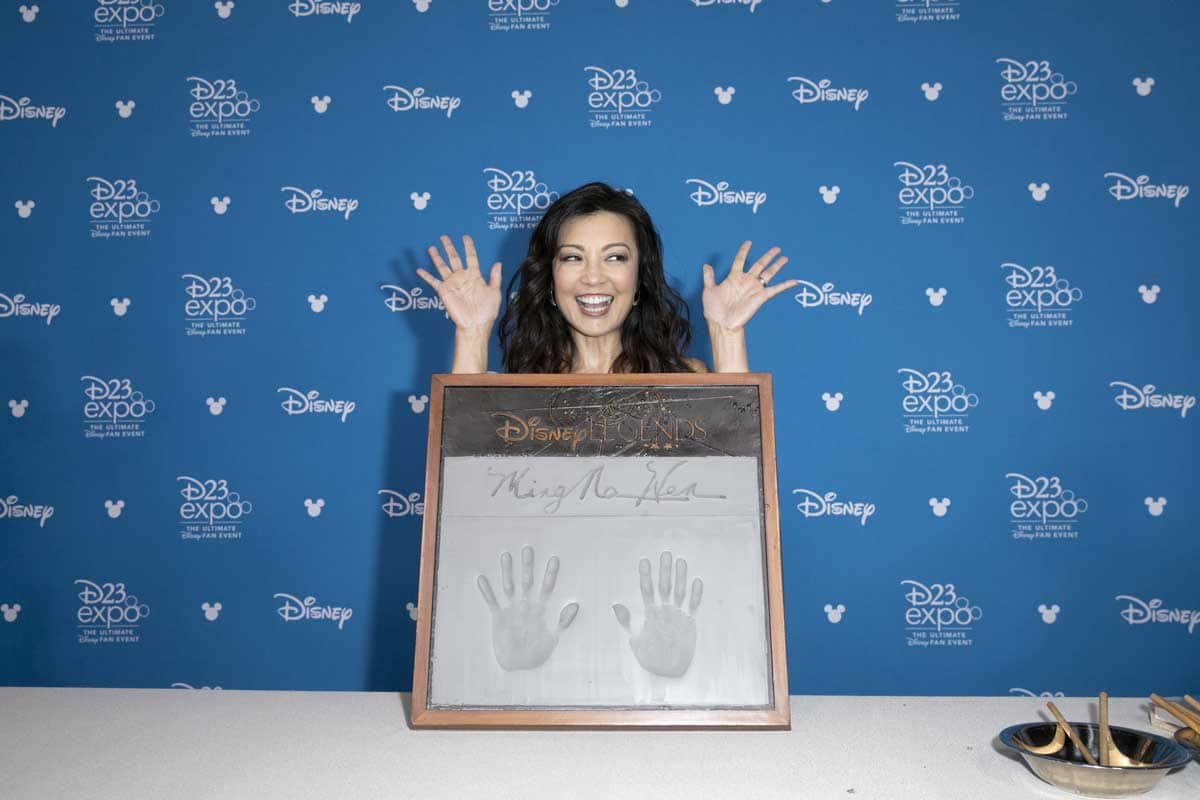 MING-NA WEN
As the voice of Mulan, Ming-Na Wen has been heard in countless projects since the original 1998 film. These days, fans of Ming-Na know her best as Agent Melinda May on ABC's long-running series Marvel's Agents of S.H.I.E.L.D. Ming-Na has also been well known to Disney fans for her television projects, including her voice work in Phineas and Ferb and Milo Murphy's Law, and a recurring role in ABC's Fresh Off the Boat. Ming-Na joins her fellow Disney Princess voice actresses as a Disney Legend.
At the ceremony, Ming-Na accepted the honor by honoring her mom, saying, "The impact of Disney in my professional and personal life is a gift already. This Legend thing is insane! But most of all, when people ask me how I get my inspiration for all of these strong, female role models… it's my mom. She's here. She was a single mom, with three jobs to raise her kids...and she is a woman warrior, through and through."
JAMES EARL JONES
Close your eyes. Think of the phrase "No, I am your father." Whose voice do you hear? The answer is almost certainly James Earl Jones, legendary Oscar, Emmy, and Tony Award-winning actor and voice actor. Disney fans obviously know James as the iconic voice of Darth Vader is several Star Wars films, and as the voice of Mufasa in both 1994 and 2019's The Lion King.
James couldn't attend the Expo in person, but he appeared via video to accept the honor. Find out what James had to say, in his incredible voice, "I've had the great honor to work with Disney several times over the years, and it is a great honor to be included in the Disney Legends hall of fame. Thank you, and may the Force be with you."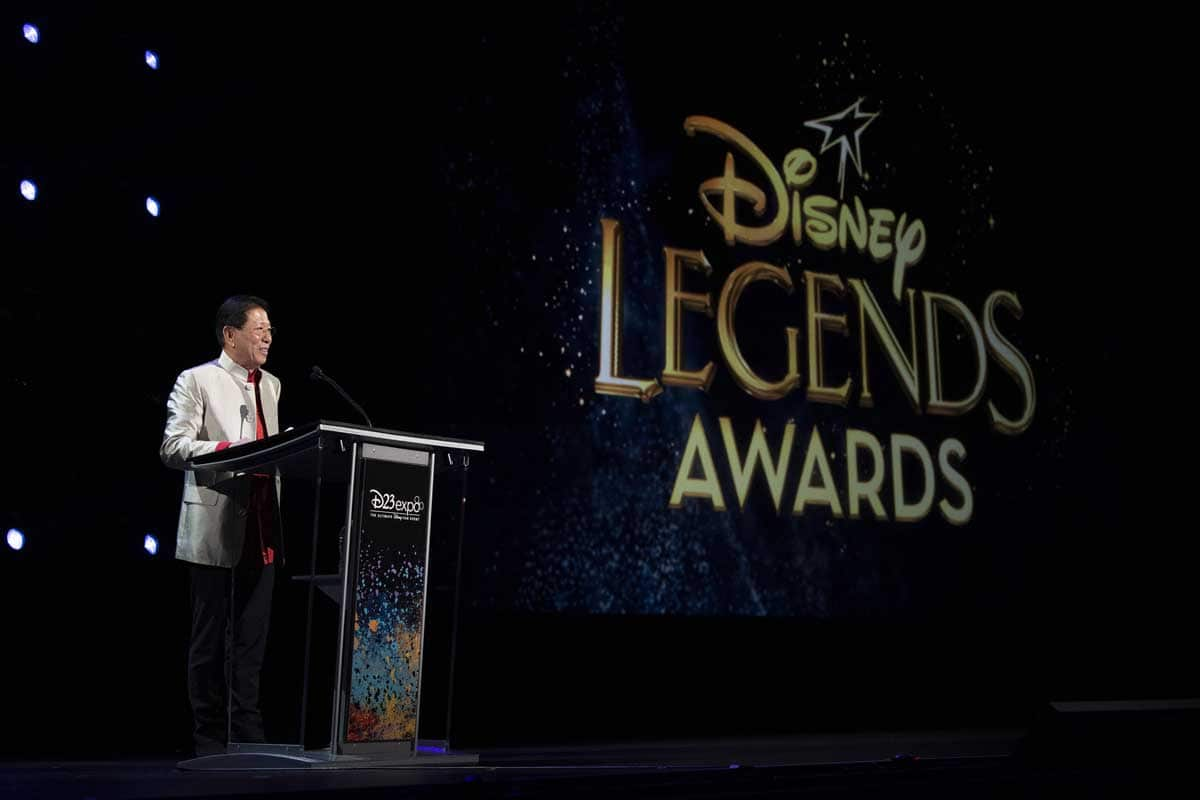 WING T. CHAO
You've certainly enjoyed the work of Wing T. Chao. For 37 years at Disney, Wing played a vital role in designing and developing projects at Disney Parks and Resorts all over the world. Wing served as vice chairman of Walt Disney Parks and Resorts for Asia Pacific Development, as well as executive vice president of Walt Disney Imagineering.
During his hilarious and inspiring speech, Wing said of the honor, "Today I would like to express my appreciation and thanks to all of the incredible Disney leaders...and the talented Disney Imagineers and the remarkable colleagues from various other parts of the company. I see a lot of them here today, and I would like to say thank you for the collaborations and thank you for the memories."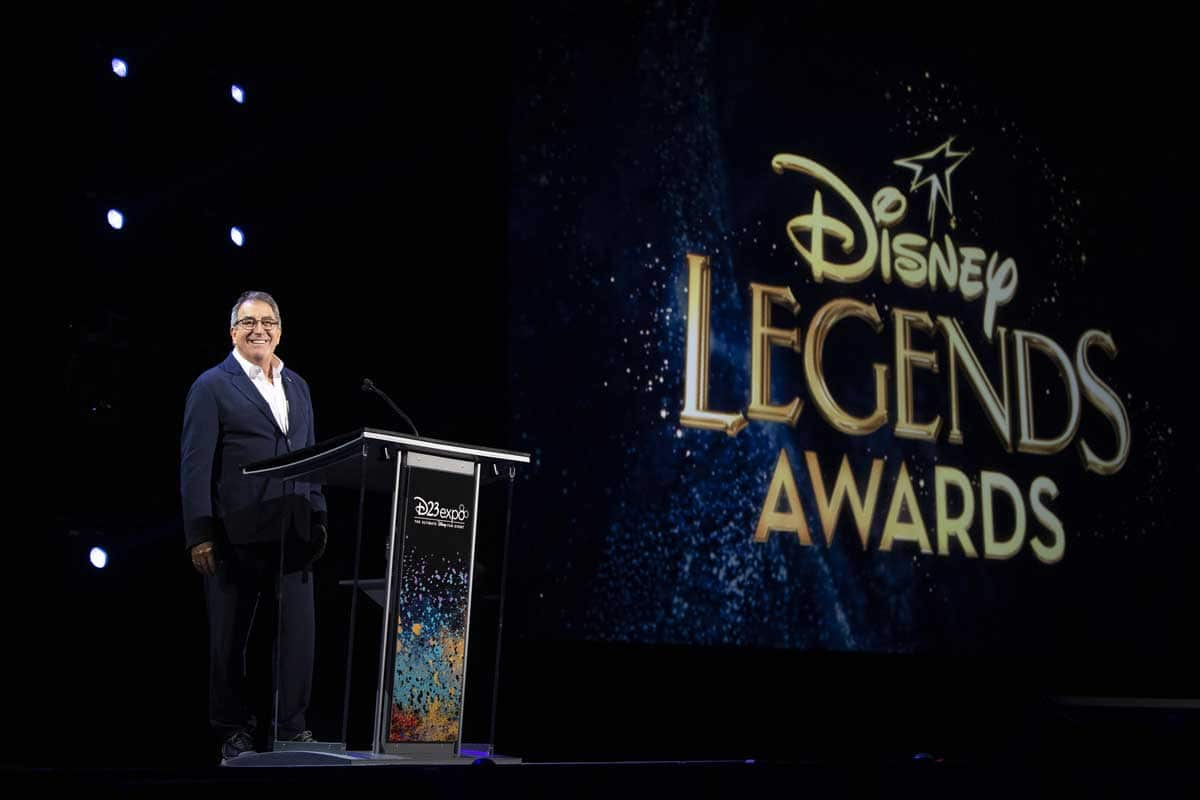 KENNY ORTEGA
Kenny Ortega is multi-award-winning director, choreographer, and producer. Plus, he's got a huge – some might say legendary – Disney pedigree! Not only did Kenny have his directorial debut with Newsies, but he also directed Hocus Pocus, High School Musical, High School Musical 2, High School Musical 3: Senior Year, The Cheetah Girls 2, Descendants, Descendants 2, and Descendants 3.
On becoming a Disney Legend, Kenny said, "The Walt Disney Company has allowed me to work in the place of my dreams. When I was a boy, I imagined a dream and now I'm living that dream, I'm dancing that dream."
BETTE MIDLER
Few people represent the word "legend" like Emmy, Grammy®, Golden Globe, and Tony winner Bette Midler. When Disney set out to expand its film production with Touchstone Pictures, Bette was instrumental in leading the way to box office success in a string of hit films Down and Out in Beverly Hills, Ruthless People, and the smash-hit Beaches, which featured the song "Wind Beneath My Wings." Disney fans also know Bette for her voice role as Georgette in Oliver & Company and as Winifred Sanderson in Hocus Pocus.
Bette couldn't make it to the ceremony, but her daughter Sophie took the stage to accept the award in her honor. Reading a wonderfully witty speech from Bette, she said, "In all my performing life, and that's 50 years now, I have never called myself an artist. I never thought of what I do as art, I thought it was just entertaining. But in joining this class of artists today, after all these years, I feel that I have finally earned the right to call myself an artist.."
Disney+ is available for pre-order in the US. Be among the first to have it and start streaming November 12. Don't want to miss any breaking news? Be sure to follow Disney+ on Facebook, Twitter, and Instagram.