This weekend at San Diego Comic-Con, I was so excited to moderate the "Powerful Young Women in Disney Comics" panel on behalf of Oh My Disney. I have always been a huge fan of Disney Comics. To meet the authors and artists behind them, and to watch an audience full of young faces hear their stories, was beyond incredible.
The panelists included Delilah S. Dawson (Star Wars Adventures, Star Wars: Forces of Destiny), Amy Mebberson (Disney Princess Comics), Cecil Castelucci (Moving Target: A Princess Leia Adventure), Jody Houser (Star Wars: Forces of Destiny), and Katie Cook (Tangled the Series Comics). The focus of the panel was to talk about the importance of female characters in comics, and female authors in the comics industry. We also chatted about the projects the panelists have worked on, and there were some exciting reveals about upcoming products. I was truly inspired and held on to every word. Read on if you are someone who is aspiring to be a comic book author, comic artist, or you just really love comics (I do too!)
First off, here's a look at our panel: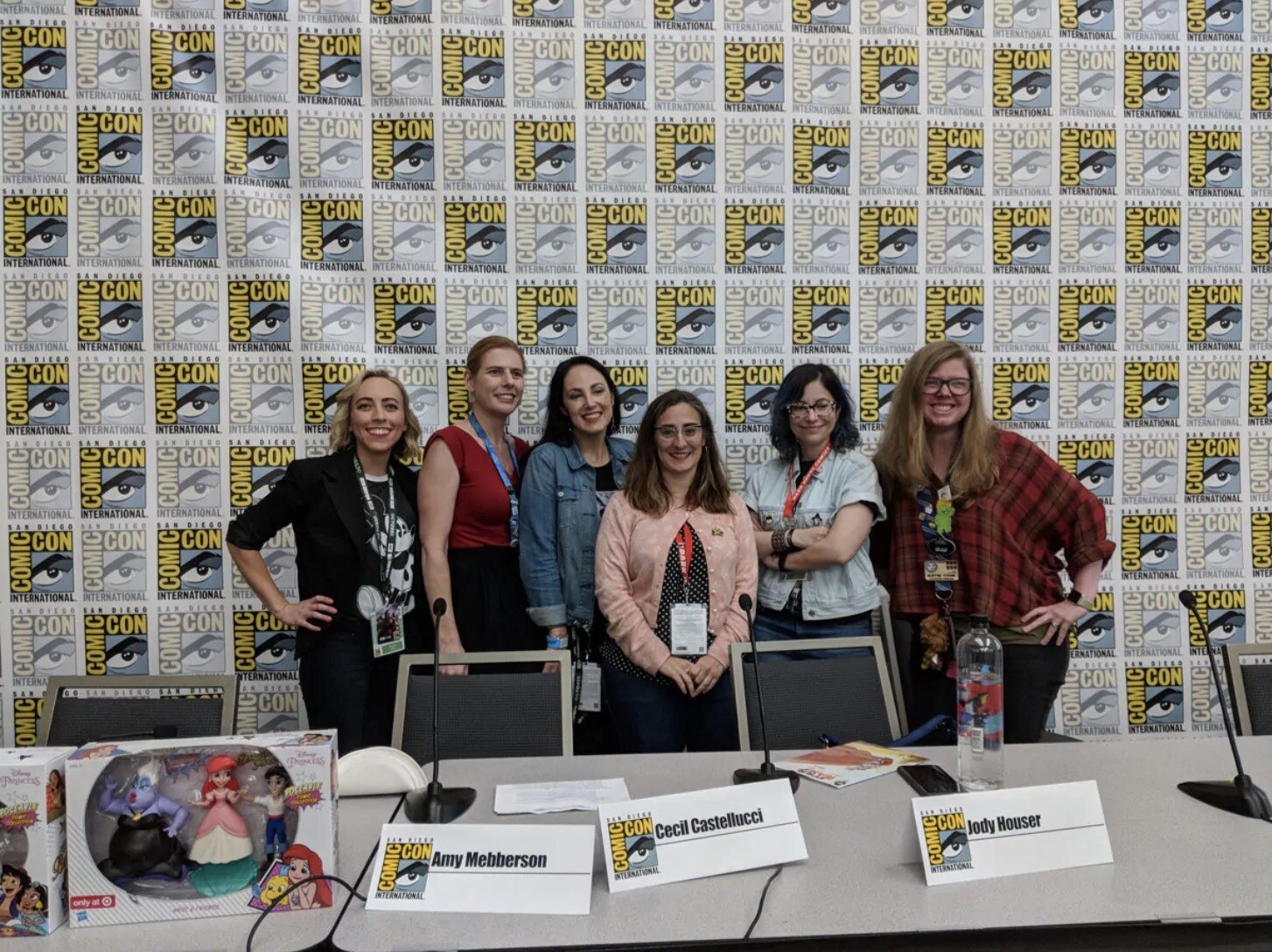 Without further ado, let's get into some of my favorite moments from each of the panelists:

Delilah S. Dawson
Delilah wrote for the Star Wars Forces of Destiny comics, which celebrate strong Star Wars characters like Rose and Paige Tico. Speaking of those characters, Delilah said, "I'm a really big Rose and Paige Tico fan because... They don't think of themselves as special, they aren't born with magical powers, they aren't princesses... They are the backbone of the Rebellion and they're so… they're the 'us.' They're the everyday people that are caught in this war and instead of running or toeing the line, they fight."
One interesting thing Delilah mentioned about her process is that she likes to pay attention to the details in Star Wars movies when researching for her comics. She told the panel, "It's an interesting process – if you ever get the chance to, watch the Star Wars movies and... look at all the people in the background." Next time I watch a Star Wars movie, I'll be doing just that!
When asked why it is important for female representation in the comics industry, Delilah said, "Comics are for everyone. They are for girls. They are for women. They are for anybody that wants them. There aren't boy comics and girl comics—there's comics for everyone." The panel audience cheered after this comment, and so did I!
Amy Mebberson
Amy is the creator of the adorable Disney Princess Comics, which are truly hilarious and follow the Disney Princesses as they are faced with the day-to-day situations of their world. Amy had a very exciting announcement! She revealed that she worked alongside Hasbro for the brand-new Disney Princess Comics Collection line. She unveiled the Disney Princess figures that she helped design to be authentic to the comics' look and feel. We got to take a look at the figures, including Pocahontas, Belle, Rapunzel, Ariel with Ursula and Eric, and Jasmine and Aladdin with the magic carpet. Right before Amy revealed this, she said "I love my job!" 
The Disney Princess Comics Collection line will be available next month at Target. Sign. Me. Up. I can't wait to collect these!
Amy clearly loves writing about the Disney Princesses and had this to say about making them even more relatable to a contemporary audience: "So many young girls and people look up to them. They are strong, they are kind, they are compassionate, they are all those things… I think comedy is an extremely powerful thing to make the characters relatable because every Princess is different and there is always a funny side to what they do; and for me, writing comedy was always easy. I always love cracking jokes about these wonderful girls that come from such a big place of love."
When asked what themes specific to young girls she hopes her readers take away from her stories, Amy said, "Being strong and wanting to get your hands dirty… is not mutually exclusive from liking to wear jewelry or wear dresses, or paint the walls. Princess is everything. There's literally something for everybody." She also added, "Some character traits are universal and timeless. There's nothing dated about being kind." This was such an important moment in the panel!
Cecil Castelucci
While speaking with Cecil, we all found out that she is working on an upcoming young adult graphic novel, featuring an iconic Disney character. I seriously cannot wait to find out which character she has taken on. When asked how she developed this character, Cecil noted, "It's like swimming in all the things that you love about your childhood and getting to be that person in a way ... I used to play a lot of these characters [as a kid.]" Same, Cecil, same.
When asked how she gets into the minds of iconic Disney characters, Cecil said, "You watch the things over and over and over and over again and you're like, oh I'm working! ... I liked to look at the things that I wasn't always paying attention to... the things on the side, the other characters, the background characters, all of that kind of stuff to really get a sense of the world."
We also discussed what themes were important to her for young girls in the panelists writing. Cecil's answer? "Self-rescuing. Being a skilled person who can do things and be your own hero." Yes!
Jody Houser
Jody wrote the Rey-focused issue of Star Wars: Forces of Destiny, and it was clearly a dream come true for her. She said of the process, "Getting to watch movies over and over again for work doesn't hurt, but also getting to write the Rey issue, I was building off [of] the Forces of Destiny animated shorts, which were giving a fun perspective when Rey was still stranded on Jakku... I adored seeing her in the movies and seeing how she's grown as a character, but getting to develop a little bit of this very early part of her and where she was growing from, it meant a lot to be able to do that."
We also discussed how nearly half of comic book fans on Facebook are now women, and the rise of female participation in the industry. When asked about how she's seen this firsthand, Jody commented, "Seeing fandom come together and sharing their joy of the stories they love, I think that's one of the most powerful things to spread the good news about comics."
Jody also spoke to the theme she hopes readers take away from the stories she works on, which is, "The ability for any one person to make a difference in the world, whether you're alone or very small… there are still things you can do to be a hero to someone else… Don't think you're not important enough to make a difference." It was so amazing to see young faces in the audience hearing these words from Jody!
Katie Cook
Katie Cook proved her great sense of comedic timing in developing original stories for Tangled: The Series comics. Katie said,  "I think Rapunzel is right up there with best Princess for me." She spends time writing about Rapunzel, Cassandra, Eugene, Pascal, and Maximus, and the stories are so fun to read and have major life lessons for one and all weaved in.
When speaking to her favorite themes, Katie said, "Self reliance I think is a really big one, especially for the Princesses and Star Wars. You can have friends and you can have a support system, but self-reliance is a really big issue, especially with pre-teens and young women."
When asked why it's important for female authors to write female characters, Katie told the panel, "I write the stories I wanted to read when I was twelve… and I have kids and I have daughters and I want to give them something that I know they'll enjoy and I know I'll enjoy. And it's writing for that all-ages tier—a seven-year old's going to enjoy it, and a four-year old's going to enjoy it, and I'm going to enjoy it as an adult, but for me it's… pure selfishness. Ten-year-old Katie wanted this book, and now she can have it." This got a big laugh from the audience, but seriously, Katie is making dreams come true by writing the stories we all wanted to have growing up!
The panel ended with questions from the audience, where fans got to talk to their favorite authors. It was an all around inspiring day (may I say the Best. Day. Ever?) and Oh My Disney was so proud to be a part of it. Thanks so much to Disney Comics and the panelists for allowing us to moderate this panel at San Diego Comic-Con! BRB, going to read some Disney Comics.