We had the incredible opportunity to visit the set of Disney's Jungle Cruise as the production roared to life with intricate locations, costumes, and characters, shot on the island of Kauai in Hawaii. We watched a scene being filmed, toured the set, and interviewed members of the cast and crew, including stars Dwayne Johnson and Emily Blunt. Afterwards, we could not wait to see the final film, and the wait is almost over! The film lands in theaters and on Disney+ with Premier Access on July 30, and it's sure to be action-packed, hilarious, and heartfelt. 
In case you missed the latest, Disney's Jungle Cruise is inspired by the Disney Parks attraction and is an exciting adventure that takes place on the Amazon River with skipper Frank Wolff (played by Johnson) and intrepid researcher Dr. Lily Houghton (played by Blunt). Lily travels from London, England to the Amazon jungle and enlists Frank's help to guide her downriver on his boat, La Quila. The unlikely duo encounter innumerable dangers and supernatural forces on their journey, and they are so fun to watch together! Jaume Collet-Serra directs the film, which also stars Edgar Ramírez, Jack Whitehall, Jesse Plemons, and Paul Giamatti. 
We sat down with Emily Blunt, Dwayne Johnson, Jack Whitehall (who plays Lily's brother, MacGregor Houghton), Paul Giamatti (who plays Nilo, Frank's rival), costume designer Paco Delgado, and producers Glenn Ficara and Hiram Garcia. We learned so much about the process and incredible journey during the making of Jungle Cruise! Here's an exclusive behind-the-scenes look: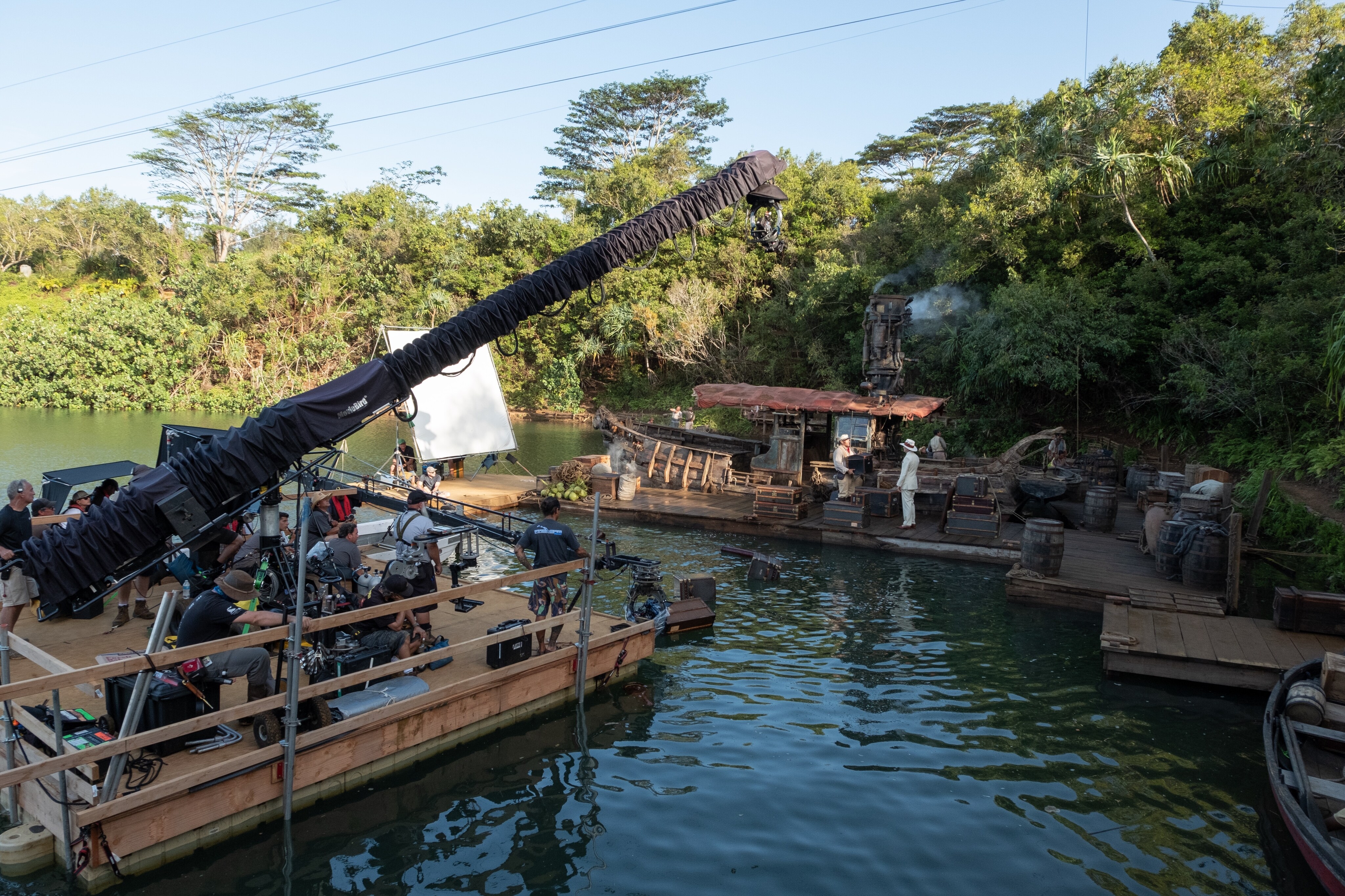 We started our visit with a tour of the set, which included the docking area shown above, a marketplace, a hotel, a tavern, Nilo's landing, Frank's living quarters, and of course, Frank's iconic boat, La Quila. We learned on our tour that the film takes place around the year 1916 in Porto Belo, Brazil. The sets revealed that while Frank runs a one-man operation, lives in a modest shack, and built his boat by hand, Nilo practically owns the town and runs a large fleet of boats. Some of the sets (like Nilo's landing) could only be accessed by water! We even got to step aboard La Quila and stand at the helm: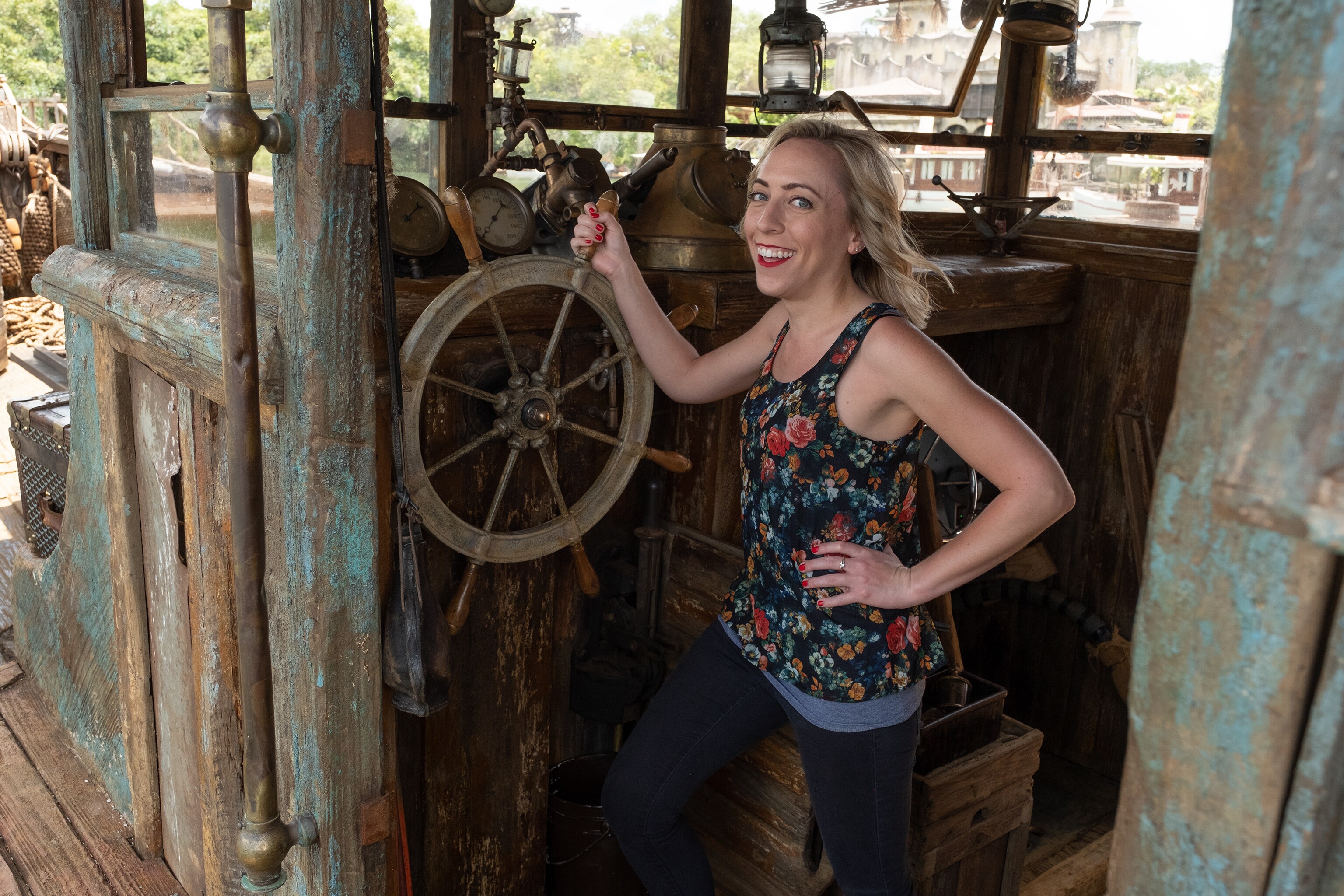 And here's a closer look at La Quila during our tour, and a view of the water around the set: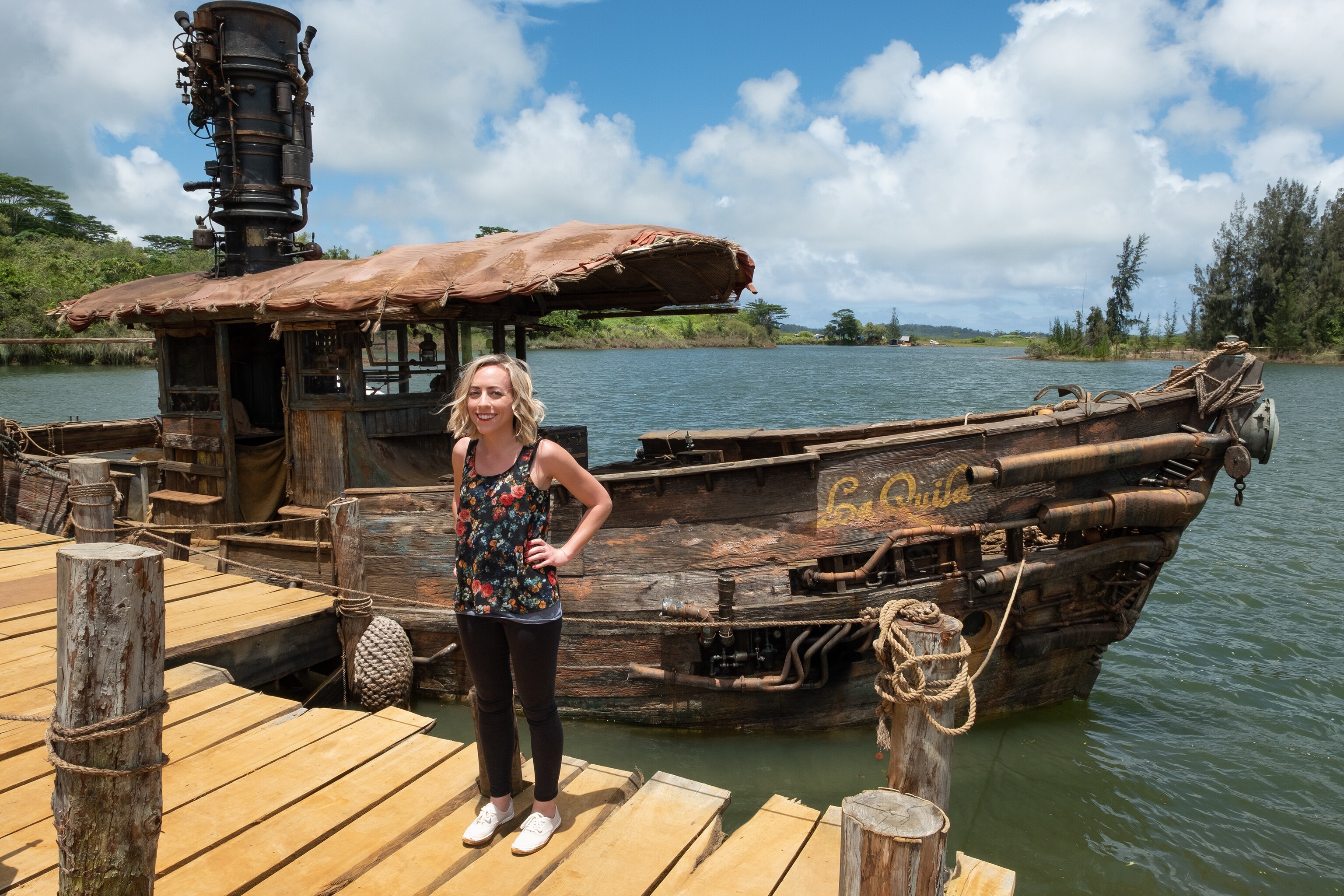 After our tour, we watched a scene being filmed on the tavern set, including some incredible character work by Johnson, Blunt, Whitehall, and Giamatti. It was so exciting to watch them all in action together!

When we spoke to producers Glenn Ficara and Hiram Garcia, they noted that they jumped aboard the film two or three years previous. Ficara and Garcia read the script at the same time as Johnson, and all three loved it. Ficara noted, "I think you'll be very surprised by the tone of the movie — by the scale, the scope, the set pieces, but most importantly the core of Dwayne and Emily Blunt." They noted that the chemistry between Johnson and Blunt on screen will make audiences feel like the two have known each other forever. As far as the plot, Ficara and Garcia teased that what triggers the story is Blunt's character Lily showing up to search for a legend that "may or may not exist." Whitehall's character MacGregor also joins Frank and Lily on the adventure and adds some incredible comedy, according to the producers.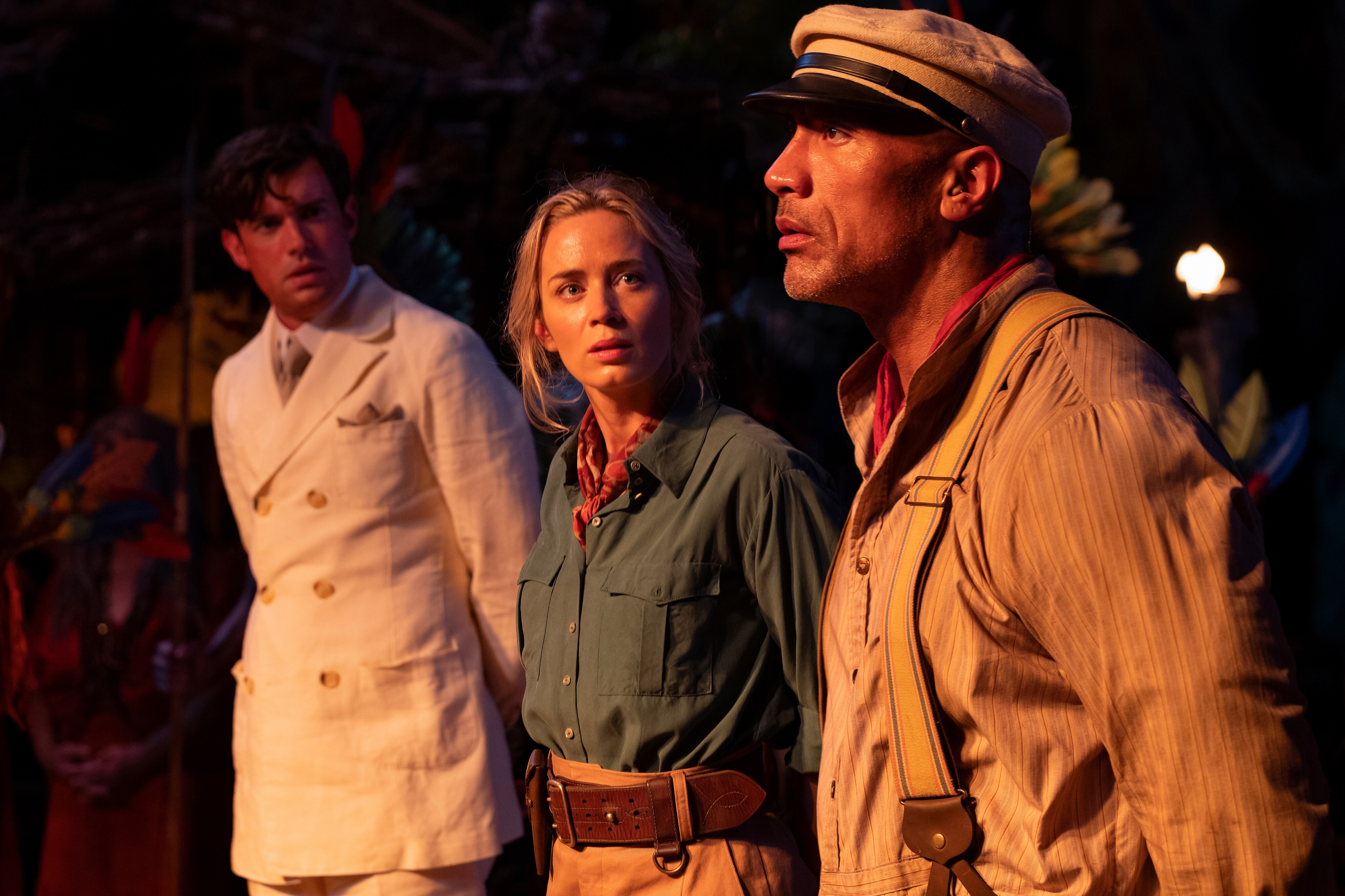 Ficara and Garcia were also working very closely with Disney Imagineers as the film progressed. Garcia noted that throughout the film, "There are nods to the world of Disneyland in subtle ways." Ficara added, "It was important for us to transport the audience and transport this iconic [attraction]." They also noted that as the journey through the Amazon progresses, we'll see some beautiful wish-fulfillment scenes for Disney fans, as well as danger, excitement, and animal encounters. "Because the ride is now over 70 years old, you have three generations of families that have all experienced it… so, it's really deep-rooted… when you hear the name it brings back memories of you and your family going there," Ficara said. For fans of the Disney Parks attraction, they also confirmed we will get to see the "backside of water" in the film, as well as some excellent puns delivered by Johnson. 

Costume designer Paco Delgado talked about what inspired him to create the costumes for the film. Of starting his work on the film, Delgado said, "I always think that when you design a movie, you are almost like a reader. It's exactly the same process as a person who reads and starts to imagine things in their head. That's the way I normally try to work." For Blunt's character, Delgado was excited to depict a woman in trousers in the time period that the film takes place, and took inspiration from Amelia Earhart and other female icons of the early 20th century.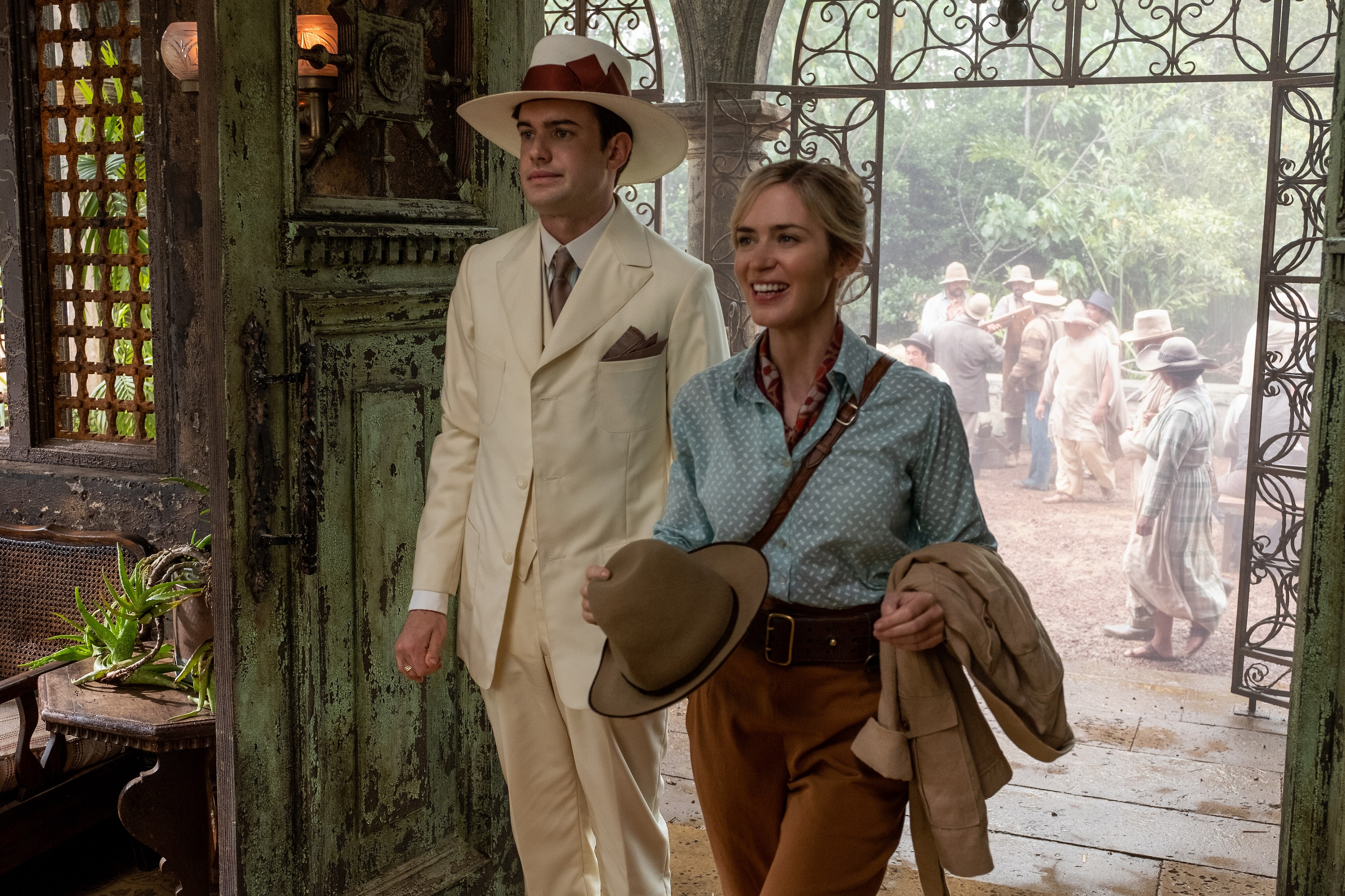 Delgado noted, "I always find that in order to be free to create, you have to have a really huge foundation. I believe that everything comes from the research." He and his team looked at library records and photographs of the time period to see how expeditions and clothing might have looked. "Costumes and clothing are so intermingled with society," Delgado said, and that heavily influenced his work.

Giamatti was incredibly excited to be a part of Jungle Cruise and to portray Nilo. He said of the script and story: "There's lots of really interesting stuff going on in there. It's got some fantasy elements in it that are very cool. And it's surprising and I just thought it was unexpected." For his character, he was given a lot of opportunity to explore traits and props, and even chose for his character to have a pet cockatoo. When asked about filming on a set built in Kauai, Giamatti noted, "Working here is unbelievable. It's beautiful."
Whitehall was equally excited to join the cast of Jungle Cruise and shared, "I love Disney. I read the script and it just instantly appealed to me. It was so much fun and it was exactly the kind of movie that I'd go and watch in the cinema. Added to that you've got Dwayne and Emily who I've been a huge fan of for a long time. And Jaume the director was great. I met him and I thought he was superb and really had a distinct idea for what he was going to do with it. So, I was on board very easily." He explained that his character MacGregor is a very savvy, dapper gentleman who is "really dragged on this cruise by his sister and is a reluctant party on it." He also noted, "probably not a million miles from how I would behave if I was in the situation that the character is in." He went on to joke, "MacGregor might just be the worst person you can throw into this environment." 
Whitehall noted that Lily is very head first, asking questions "on the way down," while MacGregor balances that out. When asked about building the brother-sister relationship with Blunt's character, Whitehall said, "We grew up a couple of streets away from each other in London… we instantly got on and had a natural chemistry." As far as MacGregor's relationship with Johnson's character Frank, Whitehall noted, "Over the course of the movie, I think he realize[s] you shouldn't judge a book by its cover, and there's a lot more depth and surprising aspects to Frank's character than he probably suspects when he first met him." Regarding working with Johnson, Whitehall said, "He's incredible. He's exactly the kind of person you want him to be."
Between scenes, we also interviewed Blunt and Johnson — in their amazing costumes — as a light rain drizzled over the set. Holding umbrellas, the hilarious duo answered questions about working on the film. Blunt said of taking on her character Lily, "There was something about this character… she just was so tenacious and exciting, determined, completely free-spirited. And kind of weird. A really interesting character." She also noted, "She is very unusual and at the time she's kind of a trailblazer." On Frank and Lily's scenes together, Blunt noted, "At the core of it is this relationship, this unlikely duo… there's this chemistry between them and this rapport between them." 
Both Johnson and Blunt are incredibly excited about the film, and grew up as Disney fans as well. "I was just so amazed because I'd always dreamed about going to [Walt Disney World]... I finally went and I fell in love with the ride just like I fell in love with the Park," Johnson said. Johnson also noted that he took inspiration from the fact that Walt Disney was the very first skipper for the Jungle Cruise attraction at Disneyland. Blunt added, "I think that the experience for me, and I know for Dwayne as well, is just really personal and it feels really exciting. And I think that Disney films are those kind of films that are seared into your nostalgia. Certainly as a child I have such lasting memories of Disney movies. Those were the films I grew up watching, so it's completely surreal to be now in a few of them." Of the film itself, Johnson said, "There's heart, there's universal [themes], there's fun, there's adventure, and there's also a good lesson with that as well." When asked about the filming experience, Blunt said, "I'm having the time of my life." Johnson chimed in, "It's a dream come true."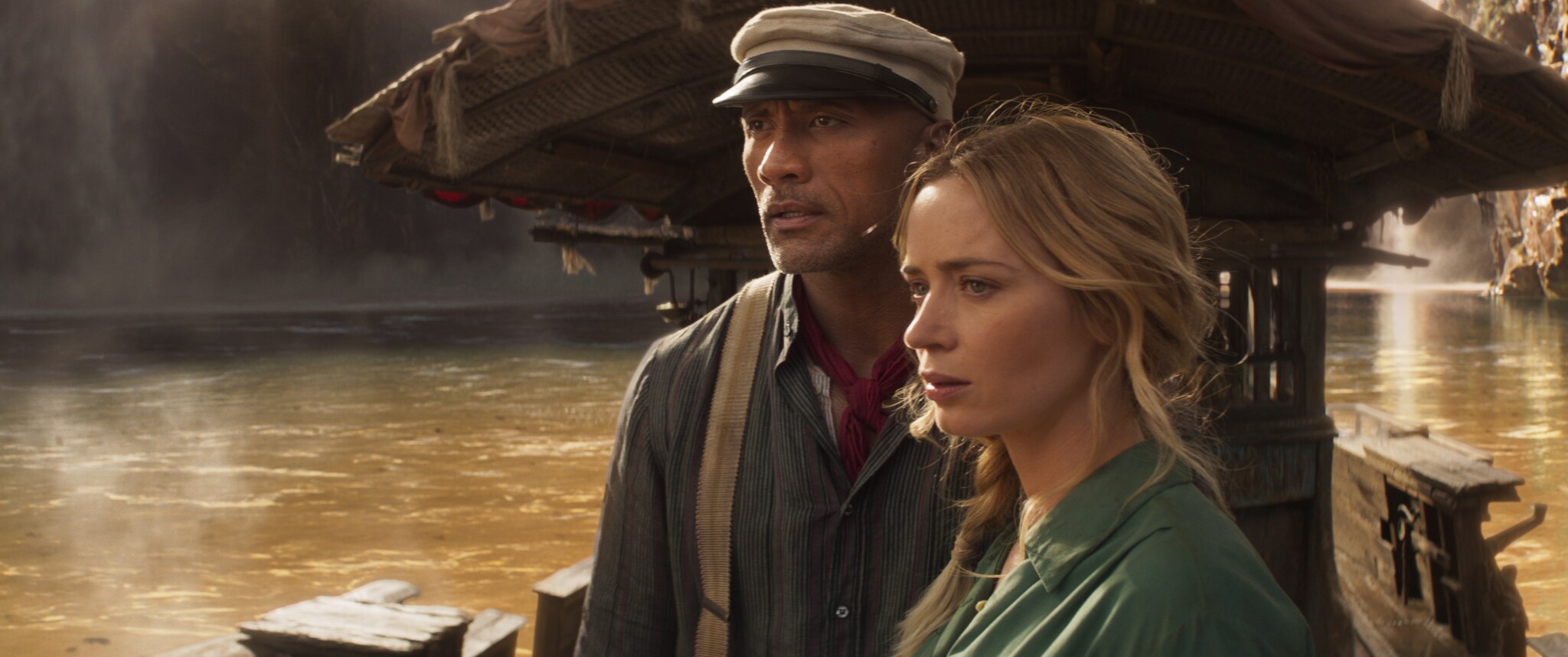 Visiting the Jungle Cruise set was a Disney dream come true, and we can't wait to see the film come to life!

Disney's Jungle Cruise is in theaters and on Disney+ with Premier Access on July 30. (Additional fee required.) For more Disney+ news and updates, follow @DisneyPlus on YouTube, Instagram, Twitter, and Facebook.