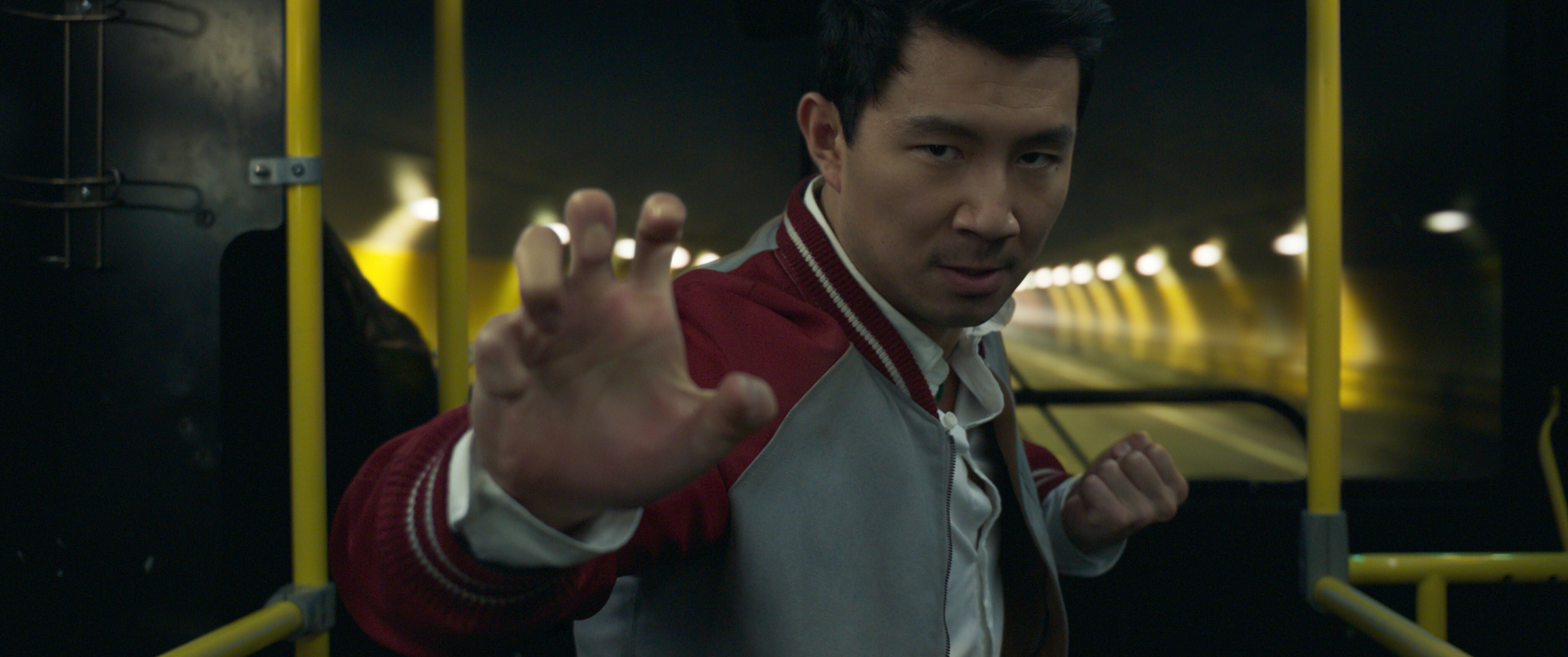 The latest installation of the Marvel Cinematic Universe has arrived. Marvel Studios' Shang-Chi and The Legend of The Ten Rings stars Simu Liu as Shang-Chi, who must confront the past he thought he left behind when he is drawn into the web of the mysterious Ten Rings organization. We sat in on a recent press conference with producer Kevin Feige, co-writer and director Destin Daniel Cretton, and actors Simu Liu, Awkwafina, Meng'er Zhang, Sir Ben Kingsley, and Ronny Chieng.
It's been a while since Marvel Studios introduced audiences to a new hero. Co-writer and director Destin Daniel Cretton talked about the process of bringing this story to the screen, saying, "I personally connect with Shang-Chi's journey. I love that this is a Super Hero that doesn't get splashed with chemicals to get his superpower." Instead, it's simpler than that. President of Marvel Studios and producer Kevin Feige shares, "It was really the story of this father and son." Cretton expands, "It is a journey of self-discovery, of growing up, of learning how to finally deal with pain that he's been running away from his entire life. And when he is finally able to look inside into his past and embrace good, bad, the joy, the pain, and accept it all as a part of himself, that's when he finally steps into his big boy shoes, and I think that's kind of what we're all doing as humans in some way or another. I really connect with that." And Sir Ben Kingsley, who reprises his role as Trevor Slattery in this film, explains, "I think when you hear Destin, you know that the motives behind telling this story are pure, crystal clear, lucid, pure motives. They are life-enhancing and they're not patronizing because they do introduce in a beautiful way memory, ancestry, loss, and families torn apart and reunited and reconfigured. All this is from Destin's heart and Kevin's heart and the writers' heart."
An exciting part of Shang-Chi is that it brings a whole new area of the world into the Marvel Cinematic Universe. To be accurate about the characters in the movie and the world they exist in, many of them speak Mandarin. Cretton explains how the writers decided what language a character would speak at any given moment: "The conversation... was always rooted in just the logic of the characters, and who would naturally be speaking what language. We were constantly having the discussion of what made sense for the scene." Simu Liu, who plays Shang-Chi, a character who was raised in China until his teen years and then spent a decade in the U.S., notes, "What I really loved is that moment where [Ronny Chieng's] character is talking to Awkwafina's character, and she's like 'Oh, no, my Chinese isn't good.' And [he's] like, 'No worries, I speak ABC.' … They called it out, and ABC, of course, means American-Born Chinese, but it's the first time that you really see in a movie someone just calling out a lived experience." Awkwafina, who plays Shang-Chi's American friend Katy, agrees, "That was really a big moment. Culturally, you just never see that." And Ronny Chieng, who plays Jon Jon, a colleague of Shang-Chi's sister Xialing, says, "What I really like is that we actually have different Chinese accents." Feige notes, "To bring this specific character into the MCU, but just as importantly to bring representation of another kind to this film — that was really what Destin brought." Cretton adds, "I think what is extra relevant to the culture is that this is a Marvel film. If we were not putting Shang-Chi shoulder to shoulder with all the amazing other Marvel Super Heroes that we've come to love in the past, that would be, to me, a big disservice to the culture and the character."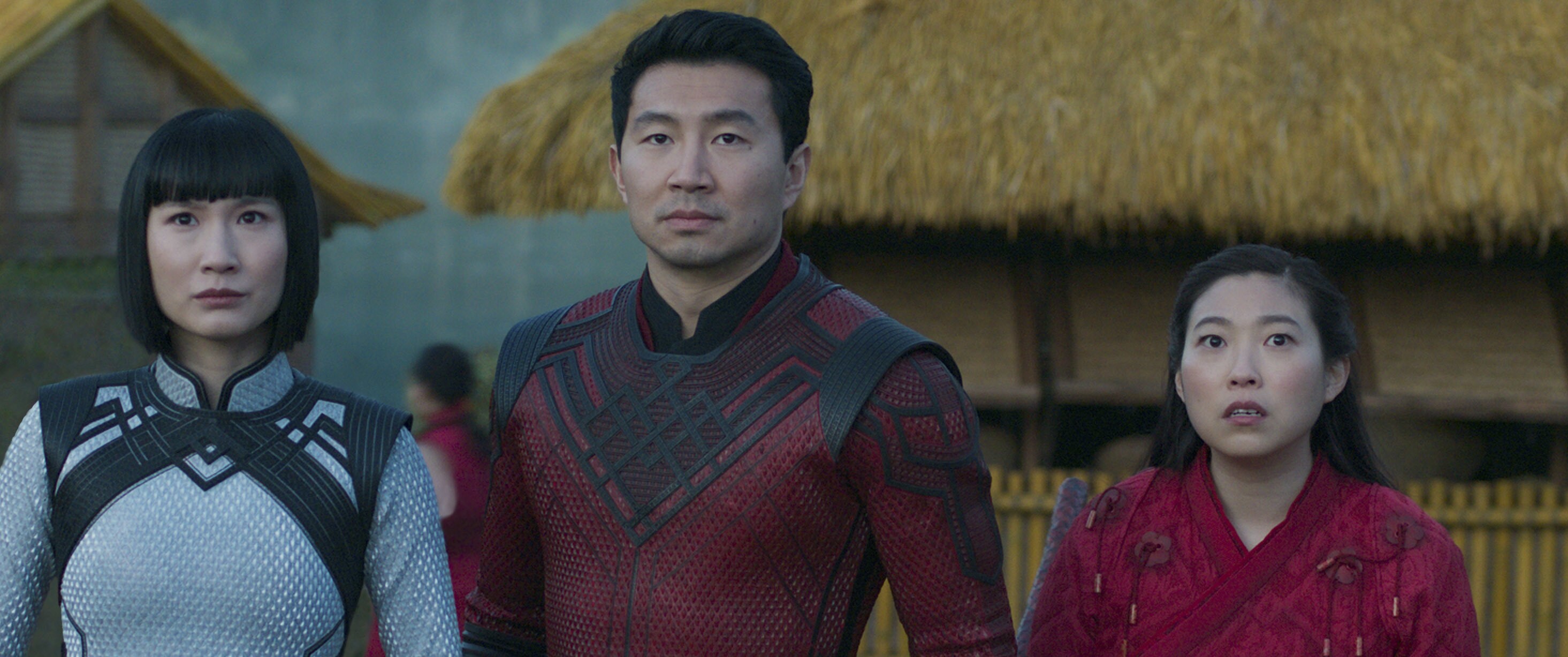 Previous to going to film school, Cretton worked for two years as a childcare worker at a group home for at-risk teenagers. This job influenced his entire world view, even as a filmmaker. He explains, "I feel like the stories that I am drawn to are a combination of humor, optimism, but also not shying away from the very real darkness and pain that we all experience as humans. And I think this movie really does encapsulate a lot of the things that I really believe in." While Cretton was nervous before taking on this film, he spoke to his friend and director of  Marvel Studios' Black Panther Ryan Coogler for advice before beginning. "The thing that Ryan said to me — which really eased my mind — was, the pressure is hard… but none of that pressure comes from the people that you're working with or for. And that's what I found. This is a very special place to work where there is an environment of curiosity, of exploration that comes from the top down. There is no fear-based mentality at this studio, which allowed us to take risks and chance, and I think that's a huge reason that the movie turned out the way that it did."
When it came to finding the right person to play Shang-Chi, Simu Liu volunteered himself by tweeting at Marvel before ever even auditioning. But Feige admits he never saw the tweet, telling Liu, "It was your acting ability, your constant professionalism, and then multiple reads and meetings that you did that got you the job." But Cretton remarks, "I do think the universe saw that," and Liu adds, "Speak it into the universe and it will find a way." But Chieng notes about Liu, "You actually have a stunt background. You do flips, and you were doing this way before the movie." And Cretton adds, "He did do a backflip — actually, the exact backflip that is made fun of in [Marvel Studios'] Black Widow — as the closer to his first audition." Awkwafina jokes, "I did a really slow somersault at the end of mine." When he was actually cast, Liu says, "My nerves were sky high. I was an actor from Toronto, and I really had never allowed myself to imagine being a part of the MCU. I mean, it's the craziest dream that someone can possibly dream."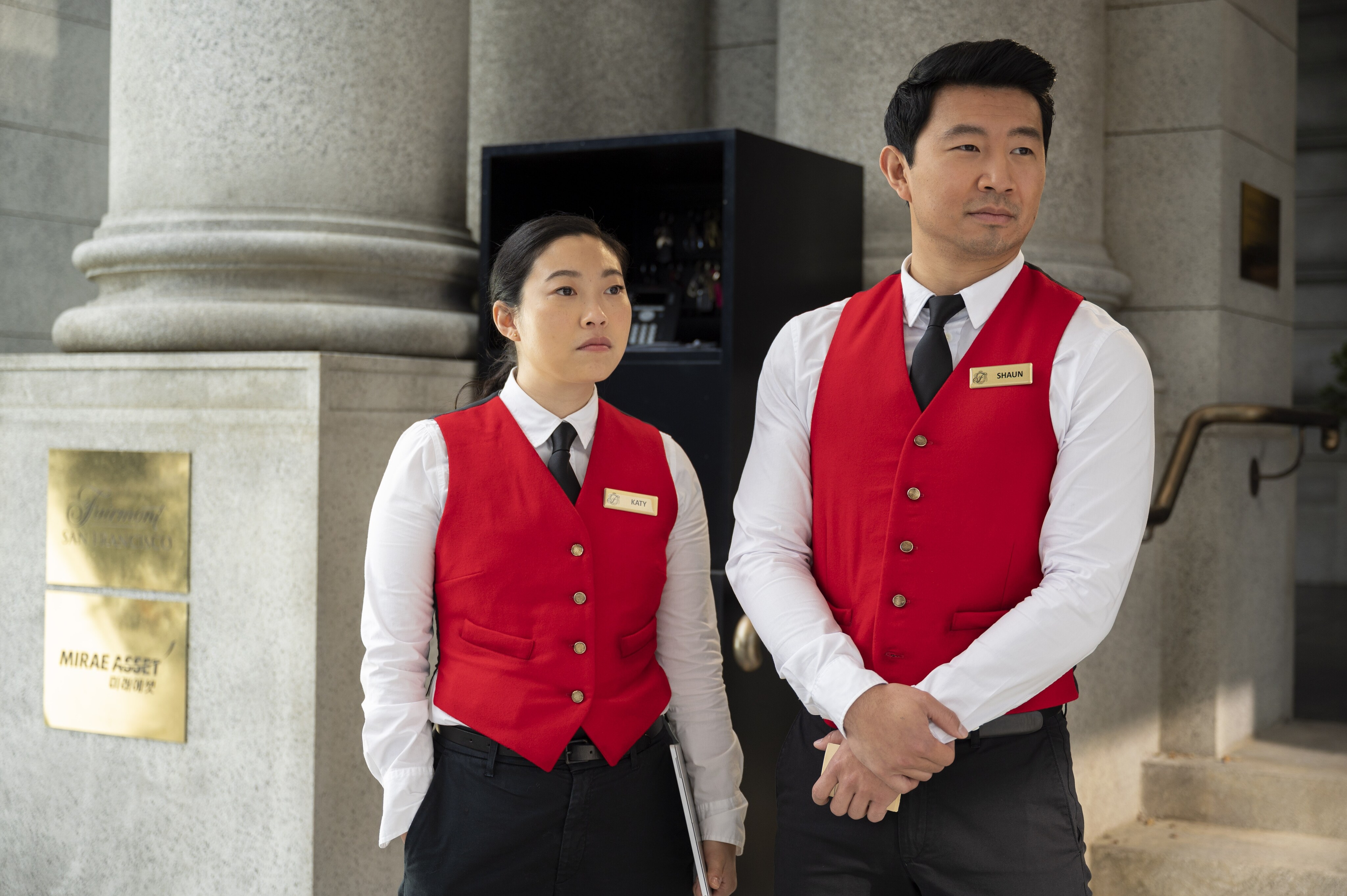 With so many of his scenes opposite Awkwafina, Liu says, "Nora did such a great job of putting me at ease and just being in the moment with me, and we had such a beautiful chemistry, this bickery old-couple chemistry, right from the get-go." Shang-Chi and Katy's friendship is central to the film. Cretton shares, "When one of our co-writers, Dave Callahan, and I were creating this relationship, we actually have a lot of friends who are not the same gender as us, and it is strictly platonic but also very intimate, caring, and we haven't seen a lot of that on screen, and we're really excited to create that relationship between Shang-Chi and Katy. It also just naturally felt like the only way to go with this movie because Shang-Chi is so deep in his own inner struggle. I don't think there's emotional space for anything else."
As for Awkwafina, this was the most physically demanding role she's had, though she jokes, "I was more falling, so it's more like I was working as a team with gravity." But she went to a race track and learned how to drift in a car — she quips, "Probably not practical in any kind of traffic," — and she also learned how to shoot a bow and arrow. But even more physically demanding was the role of Shang-Chi's estranged sister, Xialing, played by Meng'er Zhang. This was her first film role. She notes, "When we were doing some stunts, it was just so different from stage acting. I remember the makeup team doing the final touch on my fringe to make sure everything's perfect. And people came to tell me, 'So Meng'er, there will be some wind, a little bit of water,' and I'm like, 'Okay.' I'm ready, I'm in character, and three, two, one, action — and the wind was like [WHOOSH]."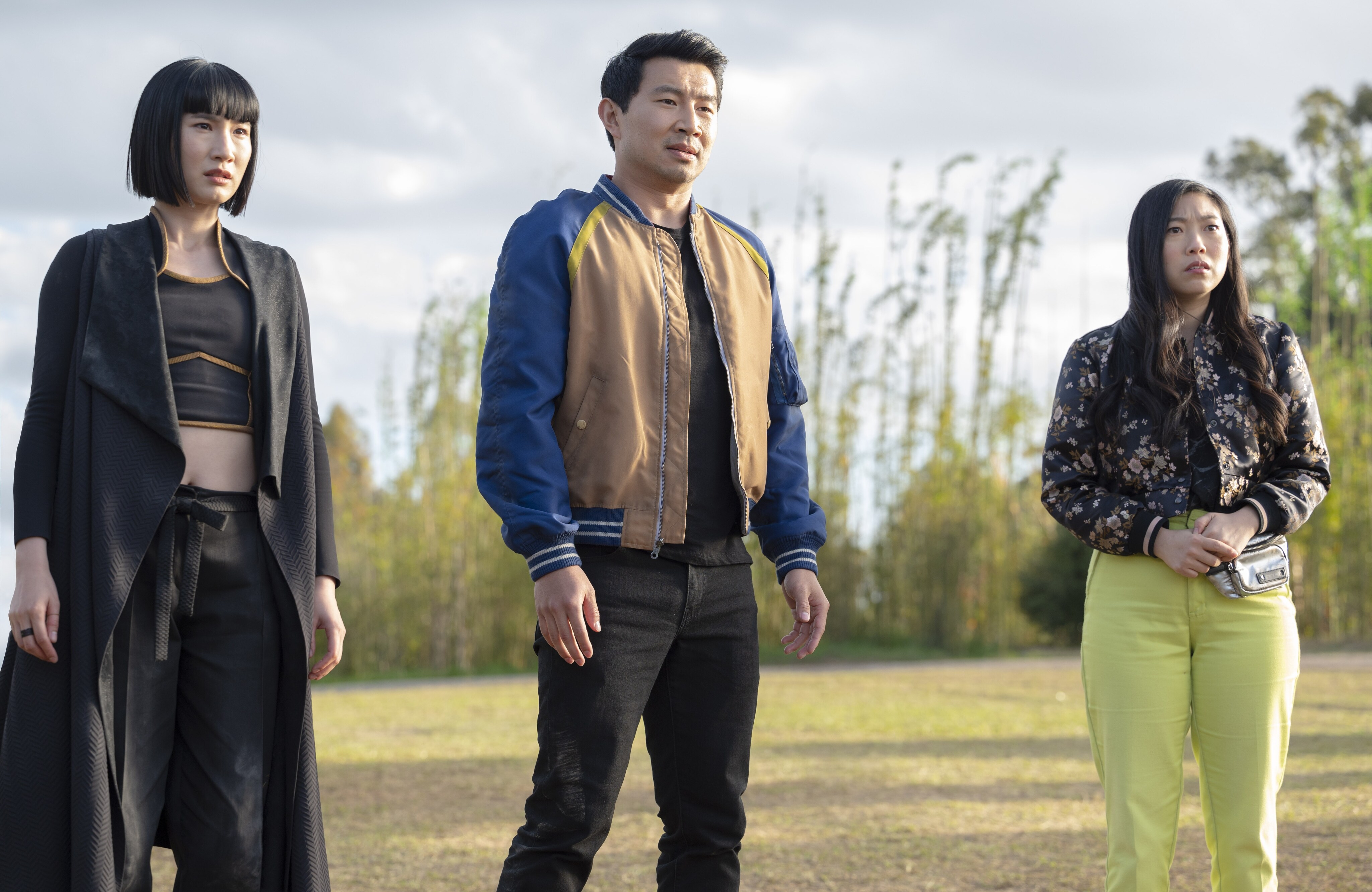 Luckily, Zhang had legendary co-star Sir Ben Kingsley to consult on the differences between acting for the stage and for screen. She shares, "I asked him a lot of questions on set. And he said — so beautiful — 'When we are on stage, we are landscape artists. And when we are in front of a camera, we are portrait artists.' And I think that just gave me a very clear image, and I learned so much. I literally took notes every time I talked to Sir Ben." Kingsley jokes, "I remember you were taking notes. I thought you were correcting my spelling." But in all seriousness, Kingsley says, "As soon as I arrived on set, the fact that my colleagues were from a different culture was immaterial. We are actors together." The camaraderie between the actors shows.
Kingsley remarks, "To tell a story is to heal. And I think that this story, because it's so beautifully told, and so rich, will ultimately be healing. It's just a really beautiful story."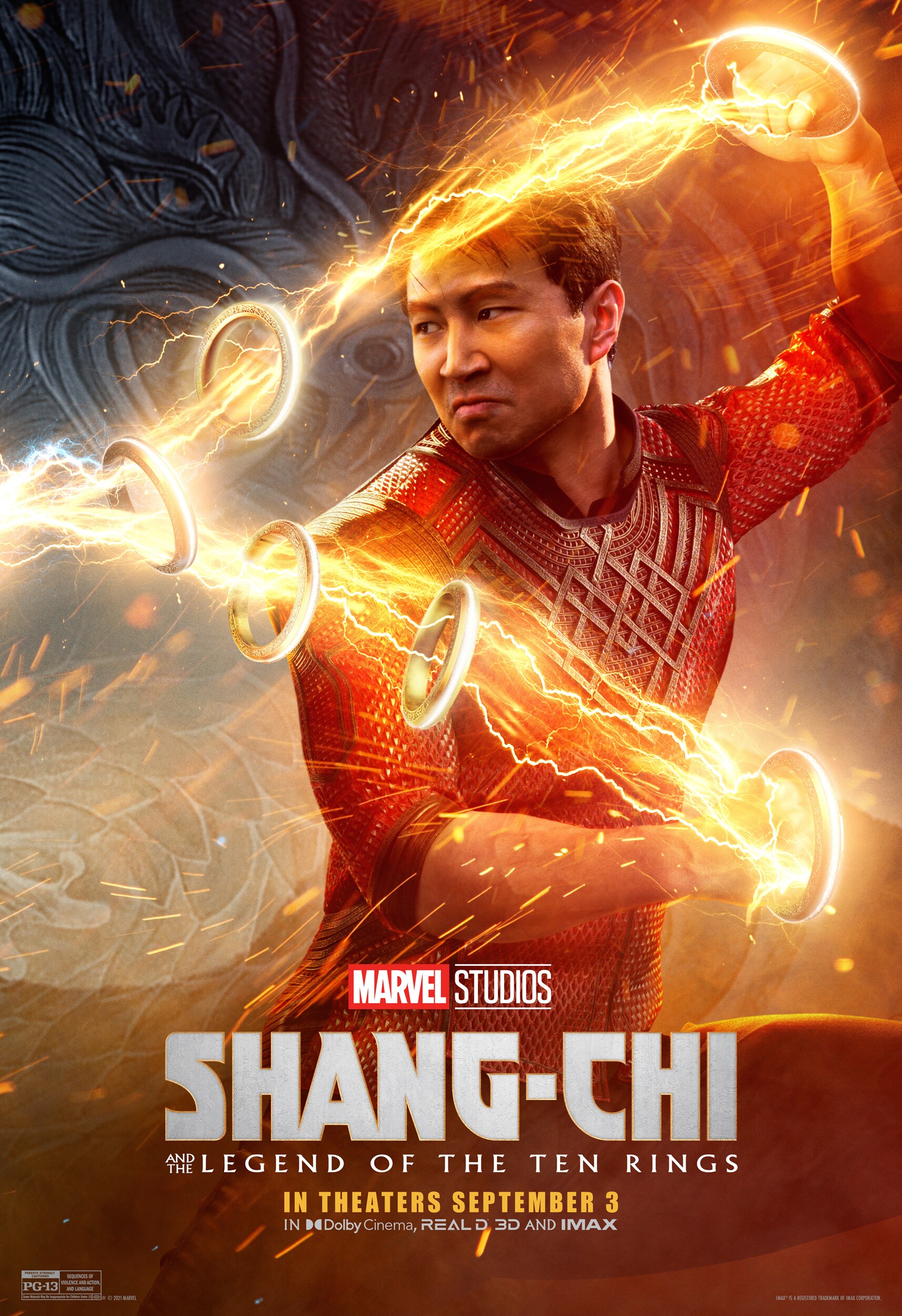 On Thursday September 2, director Destin Daniel Cretton surprised some of Marvel Studios' Shang-Chi and The Legend of The Ten Rings' first audiences at Hollywood's El Capitan Theatre with a surprise visit to their screening!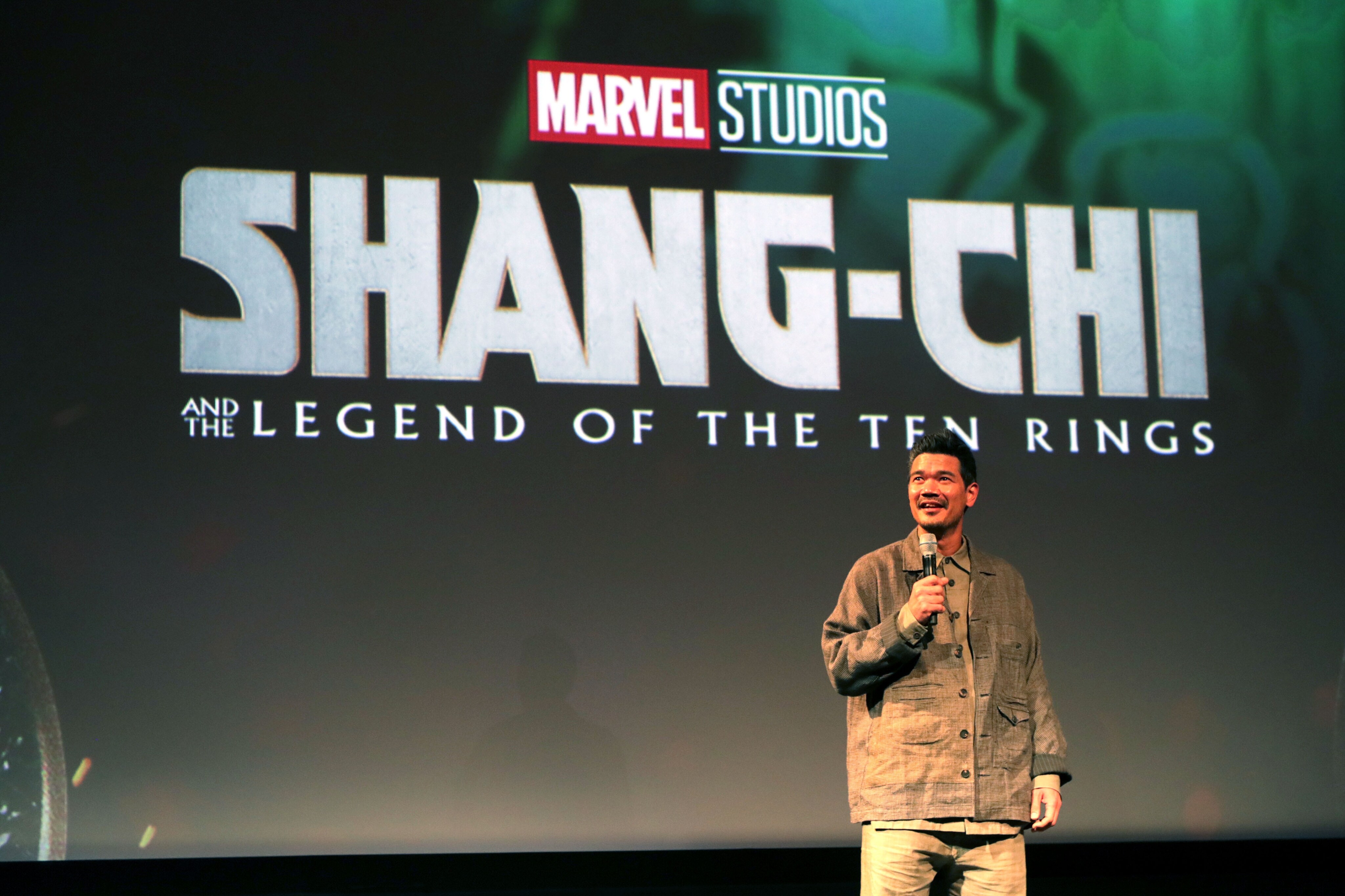 Marvel Studios' Shang-Chi and The Legend of The Ten Rings is now streaming on Disney+.