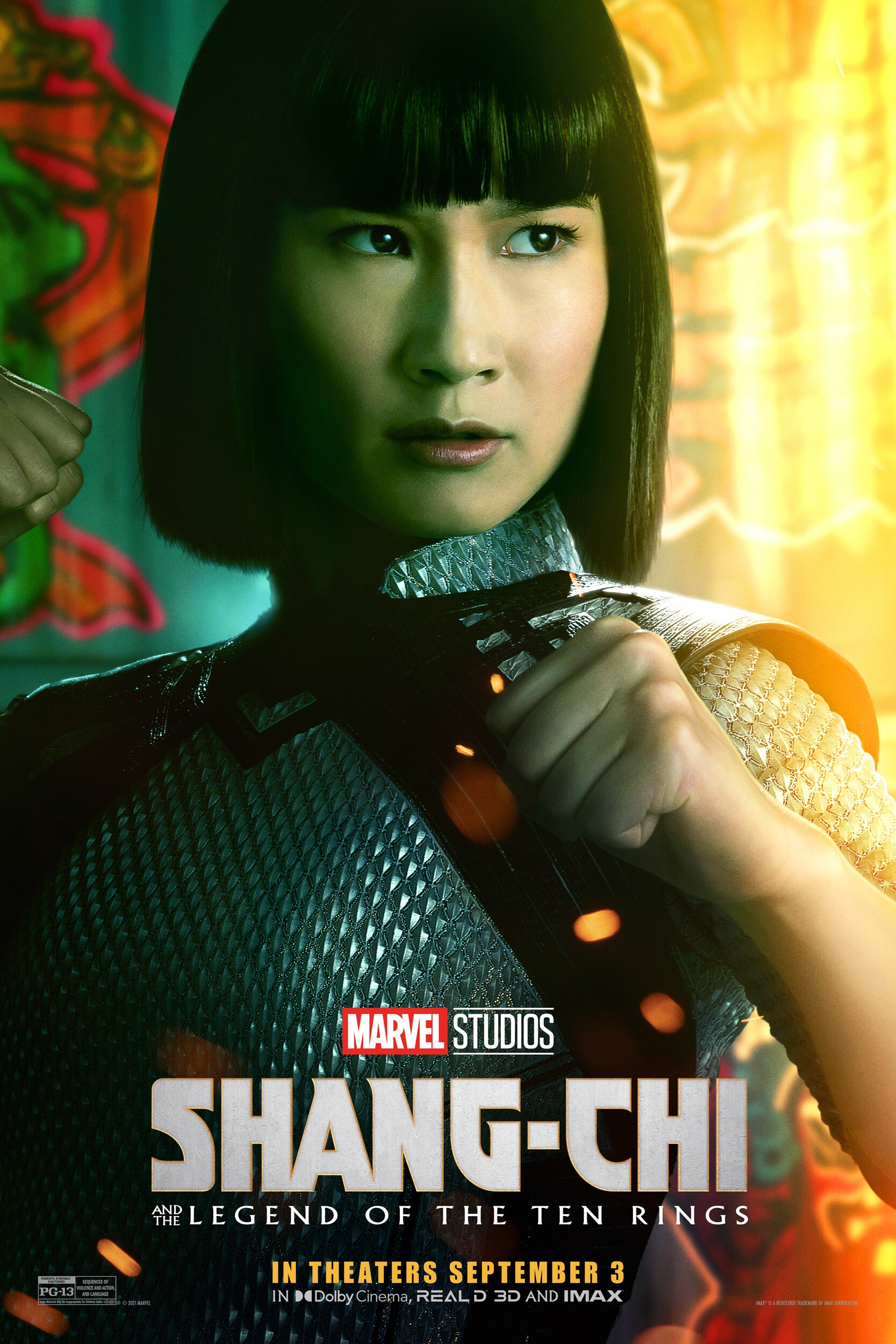 Marvel Studios' Shang-Chi and The Legend of The Ten Rings has arrived in theaters. The latest installment of the Marvel Cinematic Universe stars Simu Liu as Shang-Chi, who must confront the past he thought he left behind when he is drawn into the web of the mysterious Ten Rings organization. Also starring Meng'er Zhang as Shang-Chi's sister Xialing, Awkwafina as his friend Katy, and Tony Leung as Wenwu, Shang-Chi and Xialing's father and the head of the Ten Rings organization, Shang-Chi and The Legend of The Ten Rings is produced by Kevin Feige and Jonathan Schwartz, co-written by Destin Daniel Cretton, Dave Callaham, and Andrew Lanham, and directed by Cretton. We were lucky enough to chat with Meng'er Zhang recently and ask her a few questions about what it was like to make her feature film debut in this movie! 

DISNEY NEWS: So, this is your first on-screen role, which is amazing. What a first movie. What was it like to step onto the Marvel Studios set?
MENG'ER ZHANG: I mean, I didn't even know I was auditioning for a Marvel film when I sent [in] my self-tapes. It was just an audition call that I saw in a group chat, and I sent my self-tapes, and I got a callback. And when they flew me to do a screen test with Simu, that's when I realized I was auditioning for Shang-Chi.
And it was such a dream. I still have to pinch myself, you know. I can remember the first day I stepped on set. I remember I put my hand on the wall and it was like, all of a sudden the memories of my character flew into my veins. It was like a magic moment. I almost— oh my god, I almost cried. You know, I want to live there. I want to live on the set. So much, so many details. I thought it was just like the outside, but when I stepped in every individual room it was just like, I really can live there.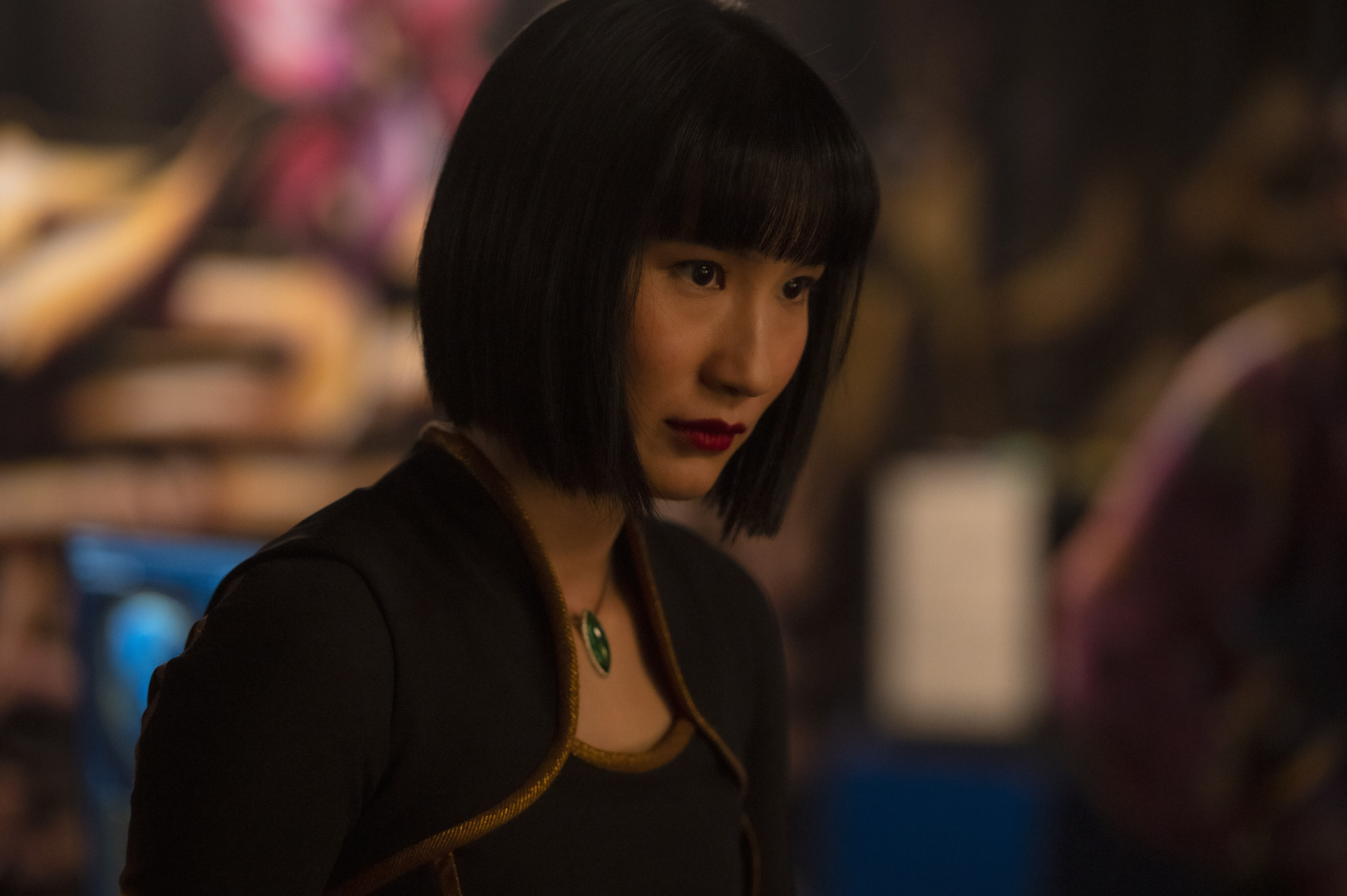 There are so many amazing actors in this movie, including legends like Tony Leung, Michelle Yeoh, and Ben Kingsley. What was it like working with them?
I mean, it was like a masterclass to me. I literally took notes when I talked to Sir Ben, because everything he said [was] so, so beautiful. Because we both have a theater background, and this is my very first film. I had no experience working in front of a camera. So I went to him and asked him, "So what is the difference between acting on stage and acting in front of a camera?" And he said, "When we are on stage we are landscape artists, and acting in front of a camera we are portrait artists." And I mean, it's so beautiful. It's just so clear to me. And Tony, I mean, his work ethic is amazing. He never went back to his trailer. He never asked for anything. He just sat there and watched, and he was ready the whole time. And I could watch his performance under a microscope, all those details. You know, all those small, small things that he does have such a huge impact for the character. And Michelle Yeoh, she's such a unique person. I really adore her. I thought she was serious, you know. But actually, she can be pretty goofy. We just had so much fun.
Your character has some really fun, exciting action scenes. What was it like filming those scenes?
My favorite action scene was with Simu, the first scene that we shot in the fight ring. And that was the first scene that we shot. And I did punch him in the face... I was nervous, and he encouraged me, and he said, "It's OK if you [do], there's no way you can hurt me. I'm so strong," you know. So I said OK, I got into my character. I went for it. And I did punch him in the face. I didn't mean to, it was an accident. But it did feel good.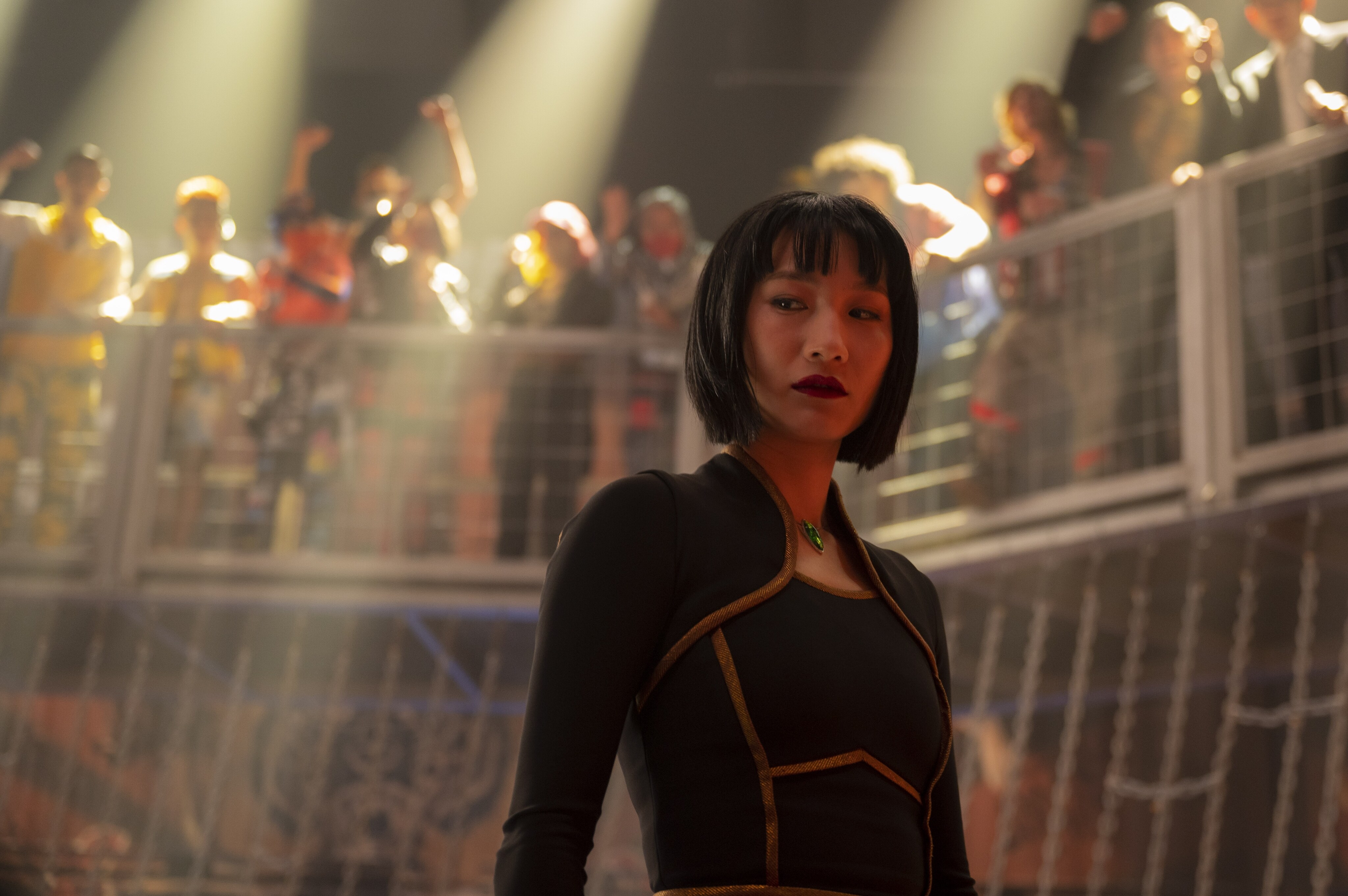 In what ways are you similar to Xialing, and how are you different?
I mean, I think she's definitely tougher than me and cooler than me. But yeah, we definitely have some similarities. Like, she's a tough woman who knows what she wants, and she knows to stand her own ground, and [to] find her voice and use it. I think I'm like that.
So Awkwafina's character, Katy, thinks Xialing is really cool.
I love her.
How was it acting out those scenes with her?
Yes, I mean, Awkwafina, she's the coolest girl I have ever met. And she's so funny and she's so witty. It was pretty intimidating doing improv alongside her because she comes up with those ideas so quick. And she can keep going, you know — she has endless energy and jokes. But I just, English is not my first language. And I was nervous. But I learned so much from her and I really enjoyed doing it with her. And it's really fun. It's really fun working with her. And I think Awkwafina is just like her character, Katy. Such a supportive friend, and wow, if you ask me what one thing I can have from my brother [Shang-Chi], [it's] Katy, his best friend Katy.
We have such a strong bond together, all of us — Simu, Awkwafina, [and I]. I got married on this film. I met my husband, Yung Lee. He is one of the action designers of this film. We didn't prepare anything for our marriage. And the production threw us a big party to celebrate. Awkwafina, she booked a whole venue, a karaoke party to celebrate us. And Simu, he took us on a Disneyland trip. We had so much fun.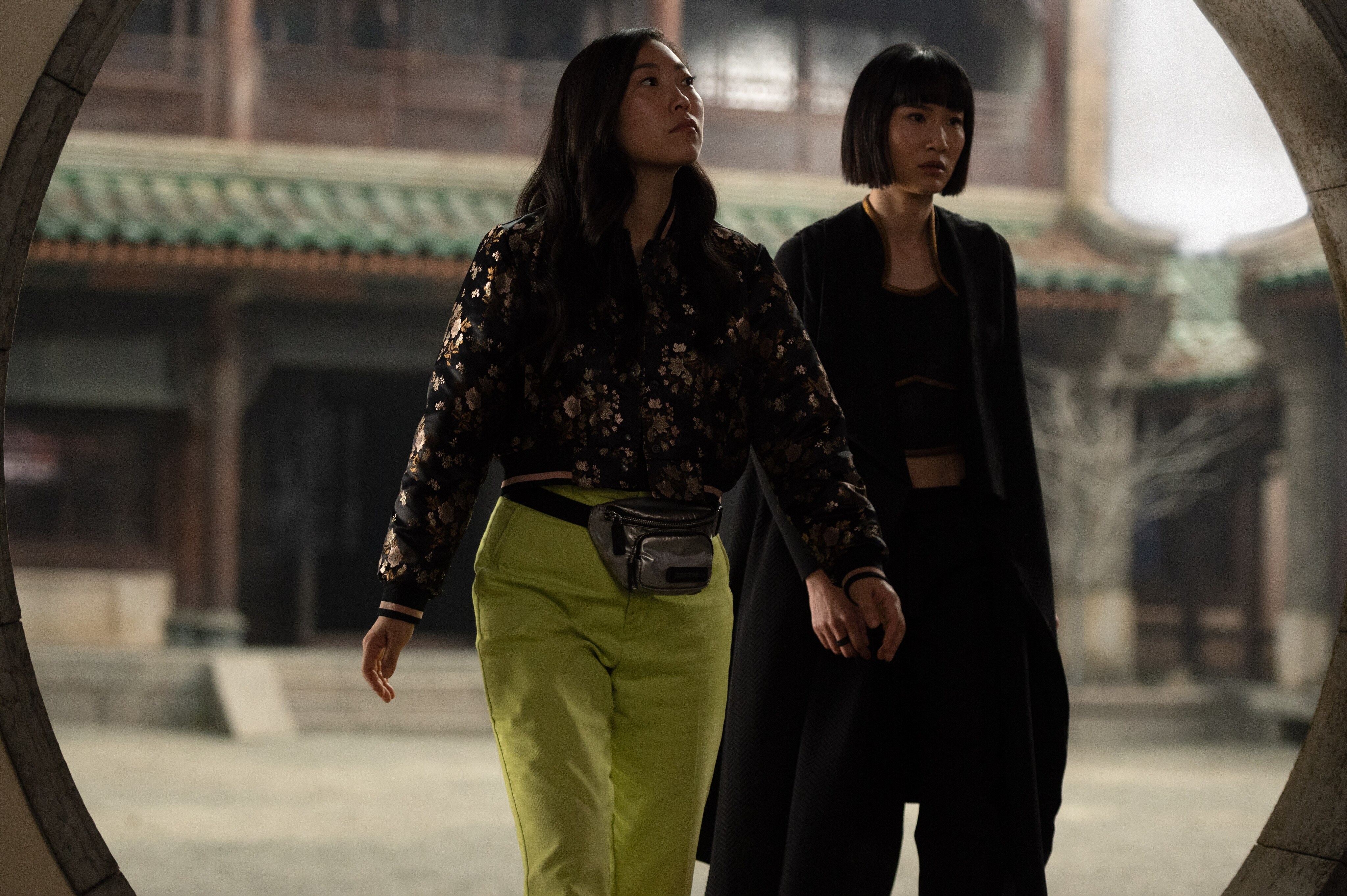 Well, Ronny Chieng mentioned at the press conference that you love Disneyland.
I do.
What are some of your favorite attractions or parts of Disneyland?
Our favorite part, of course — Avengers Campus. I'm telling you, we went to Disneyland like three times the past month. You know, I could go to Disneyland every day. I just love it. Every time we went there, we lost our voices. I remember when we were in the Avengers Campus and I was just walking around the corner and I saw The Wasp.
You were starstruck?
Yes. And my favorite hero is Ant-Man, and I took a lot of pictures with The Wasp. I mean, she's so cool. It was just like, I had no chill. And it's just like seeing they're not like— I don't know how to say it. They are in the real world, you know. They're real to me.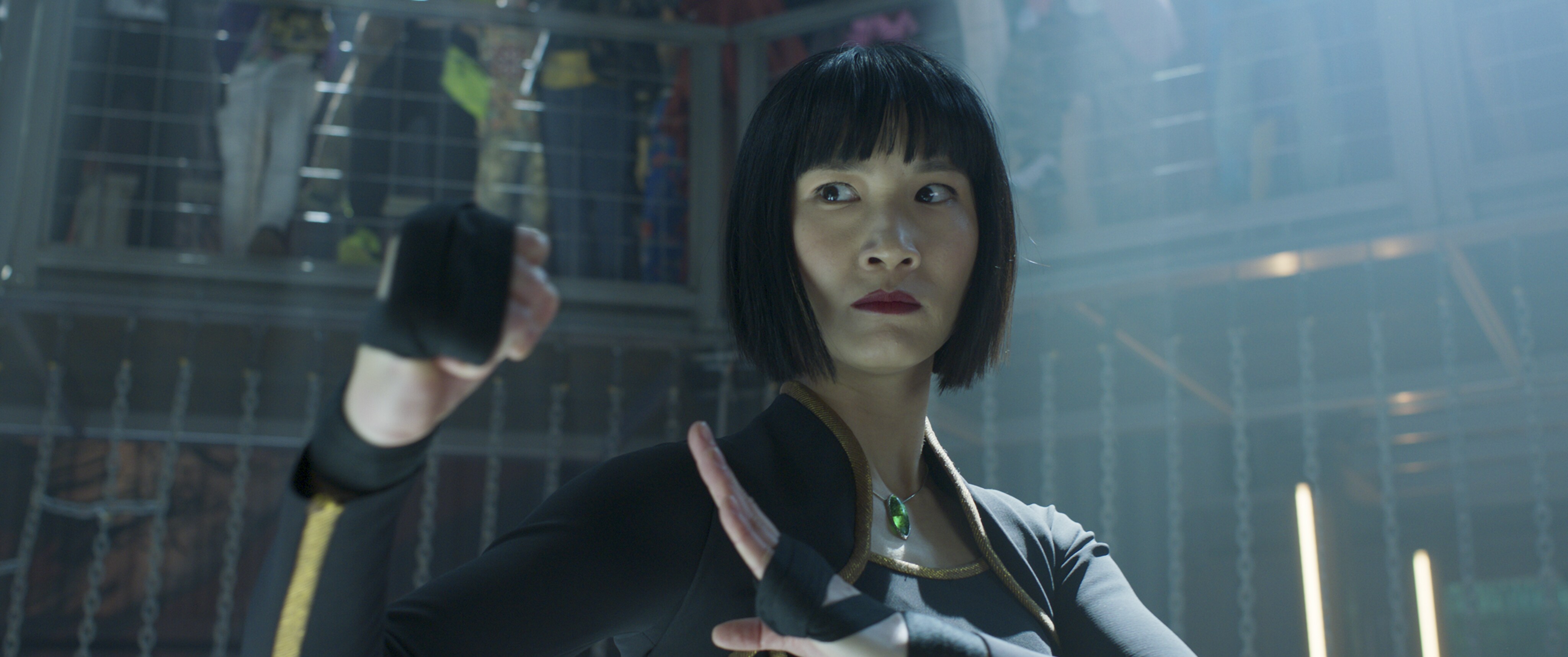 Check out Marvel Studios' Shang-Chi and The Legend of The Ten Rings, in theaters now.