We first found out that Oh My Disney is featured in Ralph Breaks the Internet!
Ralph Breaks the Internet is in theaters now and you can get tickets here! We've been jumping for joy ever since we first found out that Oh My Disney is featured in the movie. And, when we heard that the scene taking place at Oh My Disney would feature all of the Disney Princesses together as online avatars for the first time ever, we basically became human embodiments of the "stars in your eyes" emoji.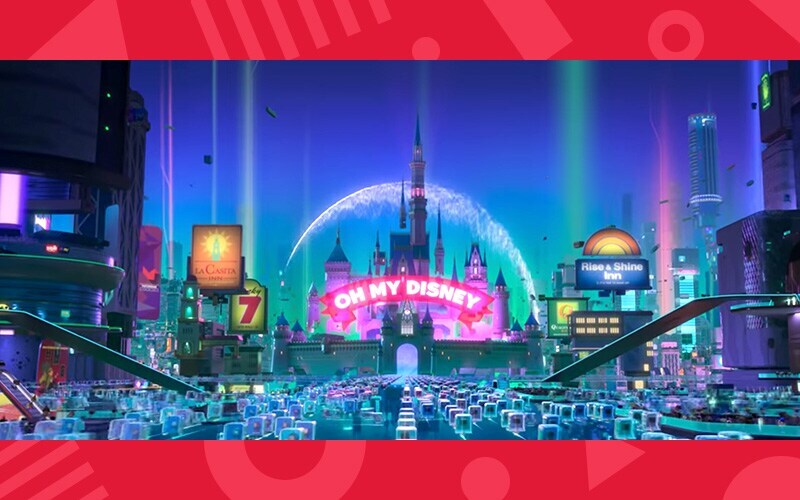 This is why when we recently had a chance to sit down with Ralph Breaks the Internet writer Pamela Ribon, characters art director Ami Thompson, and head of animation Kira Lehtomaki, (who all played a big role in bringing this scene to life), we had to ask them all about it.
So what came first: the idea to set a scene at Oh My Disney, or the decision to feature the Disney Princesses' online avatars in the movie?
"The Princesses together in one place was first, for sure," said Ralph Breaks the Internet co-writer Pamela Ribon. "We weren't sure where they were going to be."
Around the time that directors Rich Moore and Phil Johnston were finishing up Zootopia in 2016, they decided, along with Ribon, that they wanted to include a scene that could best be described as "meta" in Ralph Breaks the Internet.
"We thought well, gosh, if [Vanellope] met all the Disney Princesses, I bet that … might break the Internet," said Ribon. So, she set off to write a scene that we are sure will soon be many people's new favorite Disney movie scene.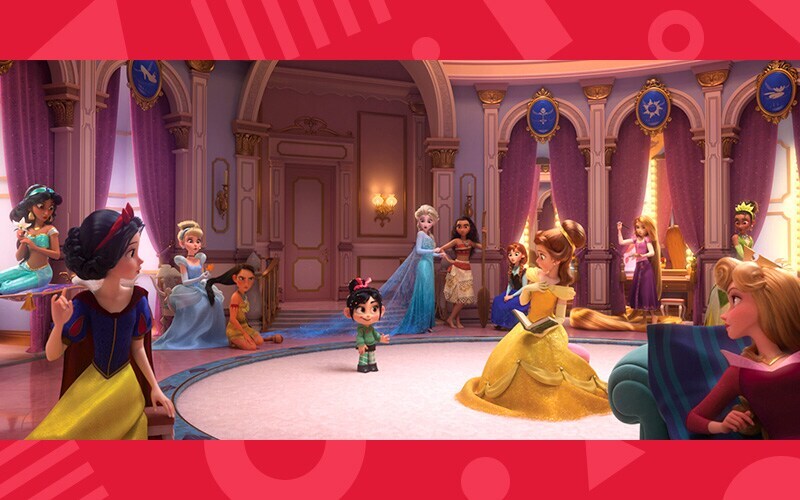 In fact, Ribon's first draft of the scene was so spot-on that a large portion of it remains in the final cut. Finding a website that was the perfect fit to house the Disney Princess avatars, was a search in and of itself.
"We knew we wanted a place where we could imagine the characters that live in the Disney universe living online [as avatars]," director and co-writer Phil Johnston told us.
The team was looking for "a place where you can just really love what you love and everybody else there loves it too," and Oh My Disney provided just that! "We knew that was a pretty safe place for Vanellope to meet a bunch of strangers who end up being family."
Transforming beloved 2D animated characters into CG was no small task. So while Ribon took a lot of Oh My Disney quizzes as research to craft the scene ("It's really fun when you take [an Oh My Disney quiz] about something that you've worked on."), characters art director Ami Thompson and head of animation Kira Lehtomaki conducted their own research to ensure that the Princess avatars were faithful representations of the classic animated Princesses.
Said Lehtomaki: "We watched the movies, we talked to original filmmakers, we talked to the voice actresses. We talked to the characters at the Park. Anything and everything, we sort of just absorbed like sponges."
"The more we dove into it, the more neat personality things that had always been there but we had never really contemplated before, came to the surface. So that was really cool," she added.
Once the animation process began, "Our main challenge [was] to the design the Princesses to make sure that they all belong in the same world ... When we looked at every character design, I realized that they are all drawn really differently … So, we decided to come up with an Oh My Disney website version of [the] Princesses," she said.
Legendary Disney animator Mark Henn, who was the original supervising animator for Arielle, Belle, Jasmine, Mulan, and Tiana, was on board to help the animators develop the unique characterizations, movements, and expressions of the Princesses.
"Nobody knows these ladies better than Mark. And we were more than fortunate to have him along the journey with us through every part of the process," said Lehtomaki. "He'd comb through every scene in the film during our rounds and dailies just to make sure that we remained true to who these ladies were ... And then one of my favorite parts was that he actually did some hand-drawn animation to help teach us and inspire us."
This type of attention to detail is what we love about Disney animated films! And let's not forget – many of the original voice actors behind the Disney Princesses will be reprising their roles in Ralph Breaks the Internet! These women were also able to provide insights and inspiration to the animation team.
"The fan girl in me was about to explode when I learned that this was going to happen," Lehtomaki recalled. "But the idea that they came back and voiced these characters added so much authenticity to their movement and their roles … Most of them have lived with these characters the majority of their careers!"
Someone who hasn't lived with their Princess role quite as long is Ribon herself, who actually ended up voicing Snow White in Ralph Breaks the Internet! While she originally provided Snow White's voice during the storyboarding phase, her on-point performance stuck around until the final product.
"They got a little attached to … my ridiculousness," she said.
We can't wait to hear her performance and see Oh My Disney in Ralph Breaks the Internet, in theatres now!