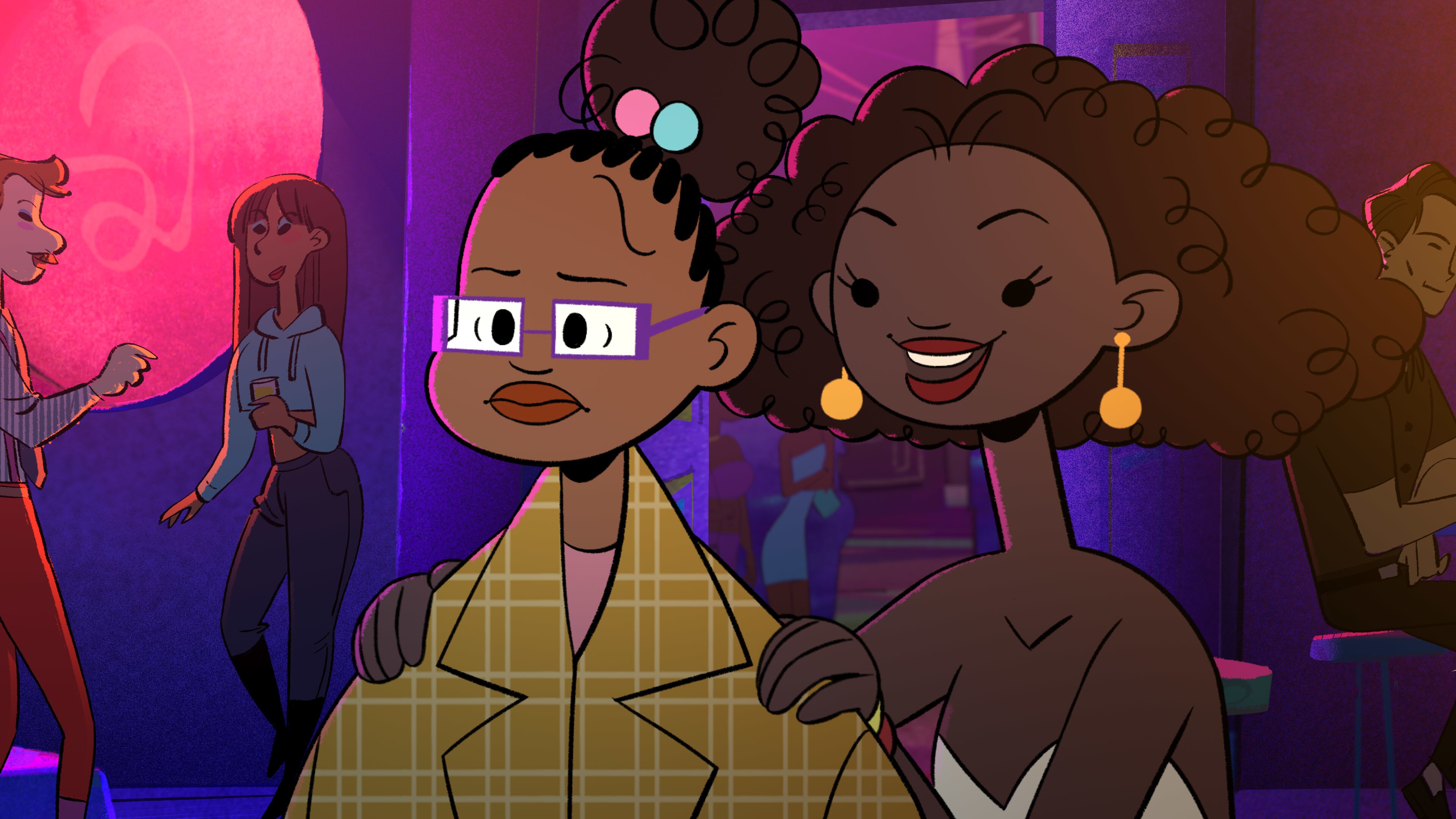 Pixar's SparkShorts has added two new animated shorts, "Twenty Something" and "Nona," to Disney+. The shorts mark the ninth and tenth projects in the Pixar SparkShorts program, and each tell witty, humorous stories that are relatable.

First up is "Twenty Something," which centers around Gia — a sweet and curious young woman out on the town with her sister on her 21st birthday. But on a night that was supposed to celebrate her arrival into adulthood, Gia instead finds herself propelled into a situation filled with confusion and insecurity. Certain that she's already failing at her newfound adult status, Gia has to be reminded that it is OK to take your time and find your own way — and most of the time, you're doing much better than you think. Directed by Aphton Corbin, who previously worked on Toy Story 4 and Soul, and produced by Erik Langley, "Twenty Something" is now streaming on Disney+.
Corbin's idea for the short was based on her own insecurities around adulting, combined with her feelings of impostor syndrome. "When I was asked to direct my own SparkShort, I panicked. This feeling crept up [in me], where I was feeling like an adult one minute, and feeling like two kids stacked in a trench coat [the next]," she shared. "[But] something about this idea really clicked, and I realized that this is what I wanted to base my short on: insecurity and feeling too immature for the task at hand." She decided to take her idea and turn it into a fleshed-out story. "I loved the idea of all these kids, what they would look like being stacked up in a trench coat, trying to navigate through life," she noted. "It felt like a perfect metaphor of trying to steer through life while hiding your insecurities."
Aphton's first idea was to tell the story in an office setting, with the club being more of an afterwork activity, but it somehow didn't feel right. "It felt like the story didn't really take off until Gia entered the club, and given my more introverted personality, the awkwardness of going out to the club felt so relatable, and a better location to tell the story," she explained. "So, I scrapped my boards — which was a hard thing to do, but I realized was necessary — and started with this new location in mind. It finally felt right — Gia going out for her 21st birthday, and her first trip into the adult world."
"Twenty Something" tells a coming-of-age story in the most unique and relatable way, reminding audiences that it's perfectly OK to not always have to have it together, no matter what age they are.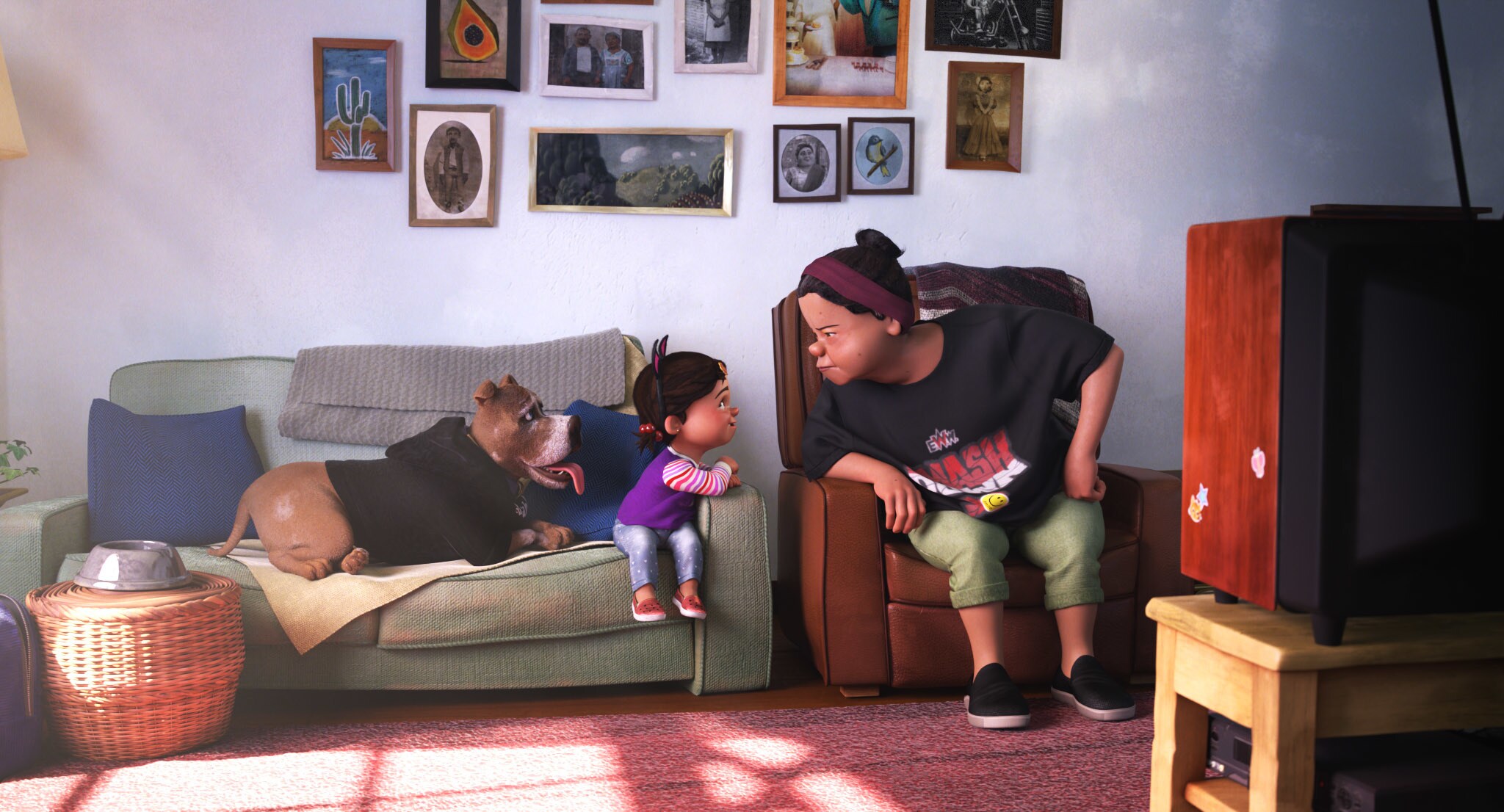 The next short, "Nona," follows a spunky and vivacious grandmother who lives alone in her apartment with her pet dog, but is still very much full of life. Today is a big day for Nona, as she's all geared up to completely disconnect from the world and watch her favorite pastime: wrestling. Unfortunately, Nona's friendly but strong-willed granddaughter comes to visit unexpectedly, and has, well… other plans. What ensues is a battle of wills, an emotional climax, and a sweet compromise. Written and directed by Louis Gonzalez and produced by Courtney Kent, "Nona" tells the story of love that endures, the reality of grief, and new beginnings.

Although writer and director Louis Gonzalez borrowed from his own life to tell this story, with influences from his own grandma, Pearl, and his daughter, Lola, the script wasn't that easy to put together. "Our first pass was terrible. The grandmother [came off] as mean, and neglectful — it was everything you didn't want it to be…" But after some tweaking and collaboration with an amazing team, they finally had something they were proud of.
"Nona" was animated in CG, with a lean team of only 30 people. Despite only being given six months to complete it, director Louis Gonzalez is more than pleased with the result of his first short. From an early age, Gonzalez had a love for comics, drawing, and graffiti, and he always wanted to tell his own stories. After over a decade in the animation department at Pixar, and with his children grown, he wondered if it was time to pick those dreams back up. "As the kids became teenagers, they [still] love me, but they no longer wanted to be around me," he laughs. "It left me in this void that made me ask, can I now tell my own stories? Is this the time? Am I too old?" Although uncertainty and fear riddled him, when the opportunity came, he decided to take the leap. "If I see something scary on the horizon, I run towards it because I know I'm going to grow from it." What a fantastic result.
Don't miss Pixar's SparkShorts, "Twenty Something" and "Nona," now streaming exclusively on Disney+.