One day while exploring Disney's Hollywood Studios and having the time of my life at the brand new Toy Story Land at Walt Disney World, I got to meet up with two people who were pivotal in creating the new Play Disney Parks app. Enter Dan Soto, who is the Vice President of Digital Experience for Disney Parks and Josh Gorin, an Executive Research & Development Imagineer at Walt Disney Imagineering. I had been playing with the app all day, so when I met up with Dan and Josh, I had a ton of questions about how this cool idea came to be.
In case you don't have it on your phone yet, the Play Disney Parks app is free to download and is available in the App Store and Google Play for Disneyland and Walt Disney World. Download it and follow along as I learn more!
How It All Started
Let's start from the beginning. As you may know, the Play Disney Parks app is an interactive way to play games, answer trivia, listen to music, and earn achievements while in Disney Parks. You can also use the app even when you're not at a Disney Park, and believe me, I am in that app all. Of. The. Time. When you open the Play Disney Parks app, you'll see an adorable map of one of the Disney Parks, depending on where you are. It is so, so cute.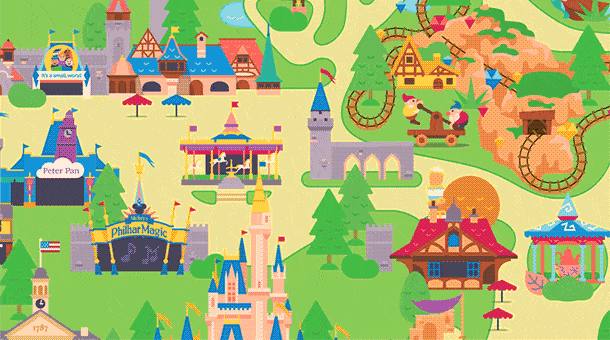 So how did the idea come about? Josh told us, "First we started with a challenge. How do we take this device [our phones] and turn it from something that is a distraction into something that really enhances the Park experience? As we looked at creating those in queue games, we called upon a rich tradition of doing in-Park interactivity. Things like Agent P World Showcase, Sorcerers of the Magic Kingdom, even Wilderness Explorers, which is a paper-based experience, to look at what ... our Guests already like to do in the Parks and how they interact with each other. Then we spent a lot of time in line. We brought our whole team in, from the technology developers to the artists, and we just went again and again and again to experience those queues, see what people were doing, and try out experiences ourselves."
Dan added that they also wanted to "make sure that the game play aligns with what your actual queue experience is. So if there is a portion of the queue where we have a lot of props and great things for Guests to be interactive with ... that may dictate a specific type of game play that we may want for that area of the queue."
Josh continued, "And then it was a lot more testing, iterating, and play testing to find out what those  experiences were that really resonated and were really uniquely Disney, and were [also] unlike other mobile apps, so that we could create something that leveraged the Park environment as it hadn't before."
"The more you explore the app and the more you explore the Park, the more hidden Easter eggs, animations, and secrets you'll uncover in the game board."
I can tell you from using the app that every queue experience is different! I was truly surprised every time I got in line and busted out a game or trivia. Also, everyone's game board will look different! And, it's amazing how intricate the design is, and how many options for play there are. The amount of work that went into creating this app is incredible. I asked Josh and Dan how long they had been working on the Play Disney Parks app and they told me it had been about two years!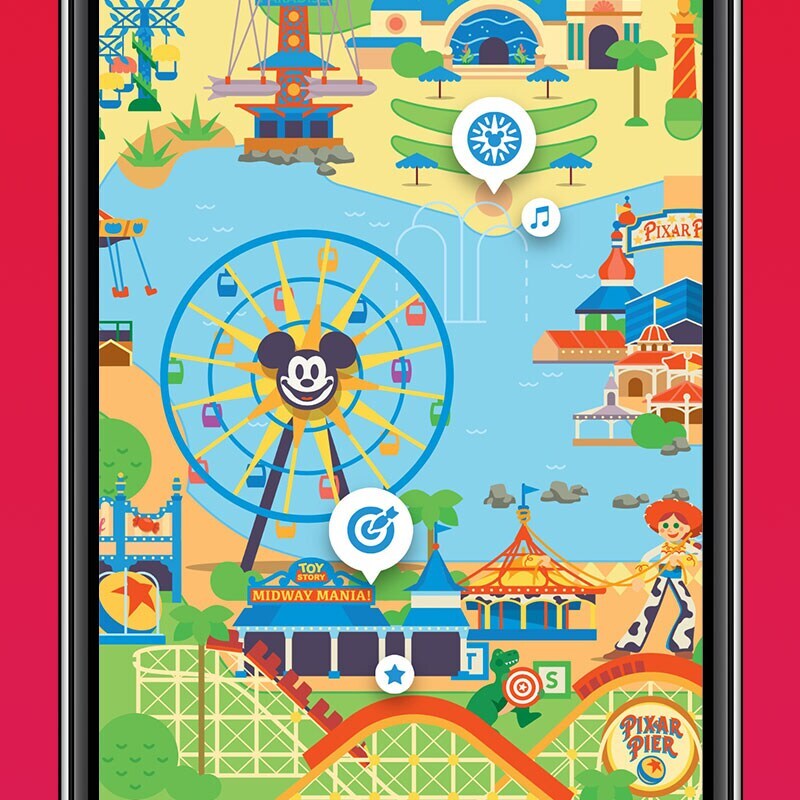 The app is clearly very intuitive, but Josh said it best when he explained how it all works: "So the first thing our guests see are these animated and colorful game boards. They're a really fun, new take on the theme park map, really based on a style that is, sort of old meets new, Mary Blair meets apps experience. And there are a lot of fun animations and hidden secrets, and Easter eggs that our guests are learning to discover, and we have even more. The more you explore the app and the more you explore the Park, the more hidden Easter eggs, animations, and secrets you'll uncover in the game board."
The Easter eggs are one of my favorite parts of the app. We'll get more into Easter eggs later!
The Games and Trivia
Honestly I forgot I was even in a queue when I played some of these games. Josh told me, "This is all about turning wait time into play time. And so these are unique activities designed to get Guests playing and enjoying their time together while waiting. This isn't a traditional mobile game. People don't come to Disney Parks to have their noses buried in a screen. These are activities uniquely designed to get them up, engaged with the story, looking, clicking, moving around the world, and connecting to the people they came with."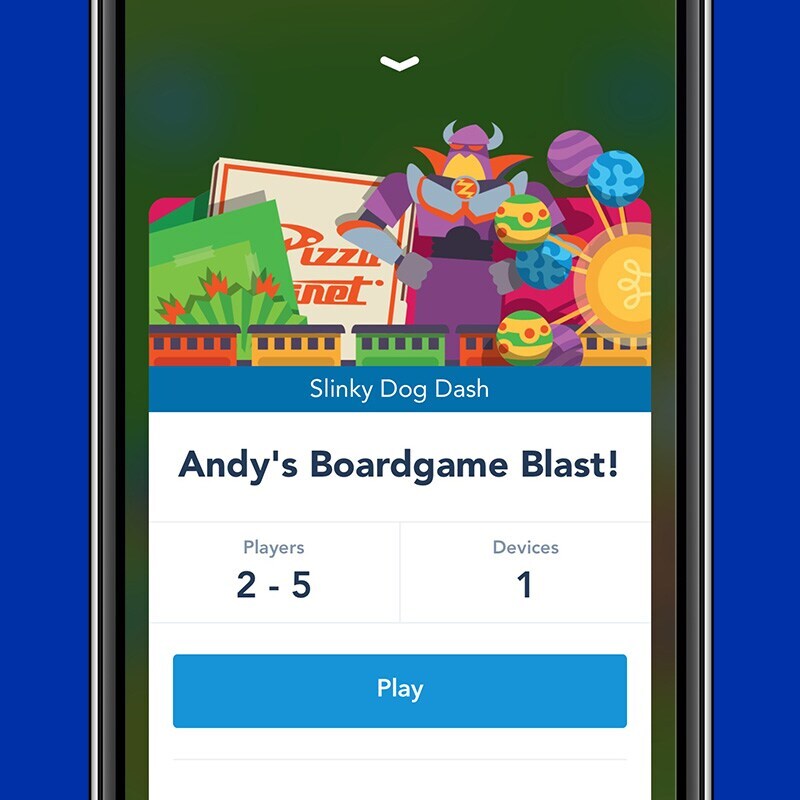 Since we were in Toy Story Land, Josh mentioned the games available there: "Here at Toy Story Land, we have Playset Party, and as we play you earn these really fun digital achievements. … We also have one for Slinky Dog Dash, and a game called Andy's Board Game Blast. And one thing you'll notice right away is these games are often designed to play with one phone, handed and passed among multiple players. So our group is using the same devices, in some cases holding it at the same time, lifting it up, passing it from person to person. When we designed these games, we were really going for a family game night vibe."
I definitely noticed other groups playing the games with one phone while I was in the queues and it's really cool to see! Dan also added, "In some cases, [you'll be] engaging with other folks that may be in the queue with you. So social gaming is an element of this." Love that!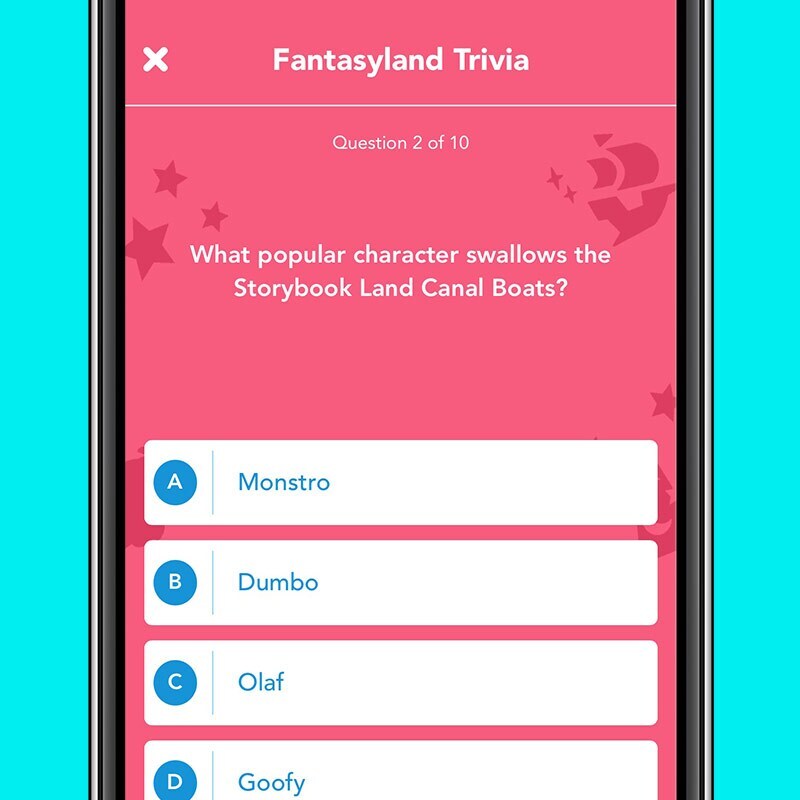 Josh told me, "We know our Guests love trivia, they love to show off and prove their Parks and Disney knowledge." I can definitely relate to that. Josh continued, "We've got a range of questions, themed to different areas and the more you play, again the more achievements you can earn. So again, this is really about how do we add a whole new layer of interactivity and storytelling to the Disney Parks experience?"
As you're playing and wandering the Parks, you can also earn achievements literally by going on an attraction (marked on the map by a "star" icon.) You better believe I was all about those achievements in my adventures!
The Music
The music elements of the Play Disney Parks app are so amazing, and if you love Disney Parks music (who doesn't?!) you will be all about it. I actually listen to the music when I'm at work here at Oh My Disney!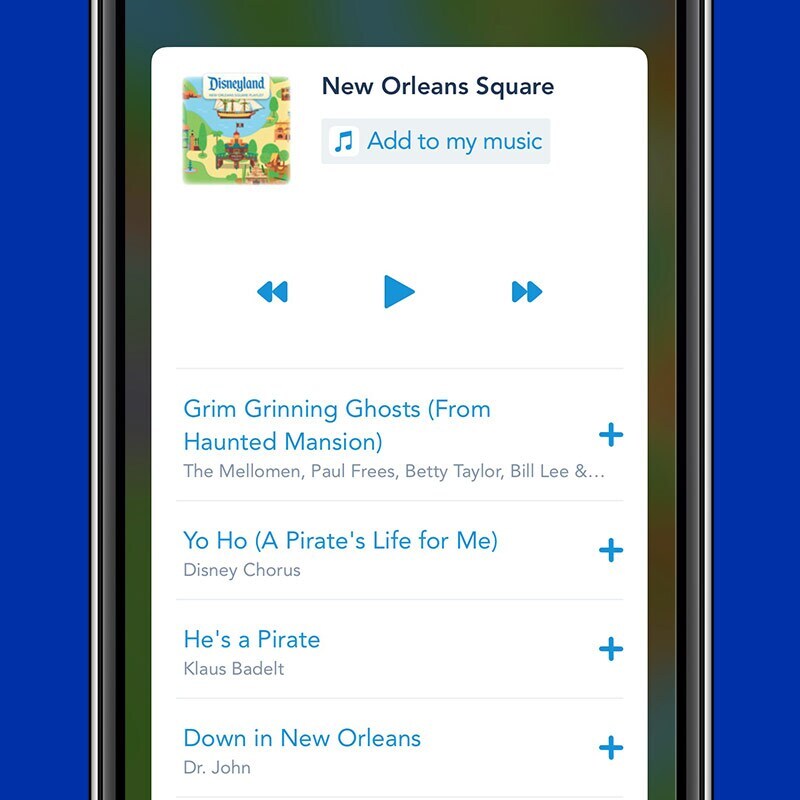 Josh explained, "One thing we're really excited about is these custom curated music playlists, integrated with Apple music. So as you click around the board you're going to see these note icons, and you're gonna get playlists designed by our Disney Music Group and our Imagineering music studio, to be themed to different areas. So, for example, I love the Muppets so I'm going to head over here to the Muppets attraction and click on the music note, and I'm going to get the ultimate Muppets playlist with some popular songs and some really deep cuts."
It's the perfect way to start off a trip to a Disney Park, or if you're planning your next road trip. Josh added, "And speaking of a road trip, we even added in the parking lot a little car, and when you click that you get your road trip playlist." Sign me up for that.
The Easter Eggs
When I asked about Easter eggs in the Play Disney Parks app, Josh joked, "Some of them honestly surprise us sometimes."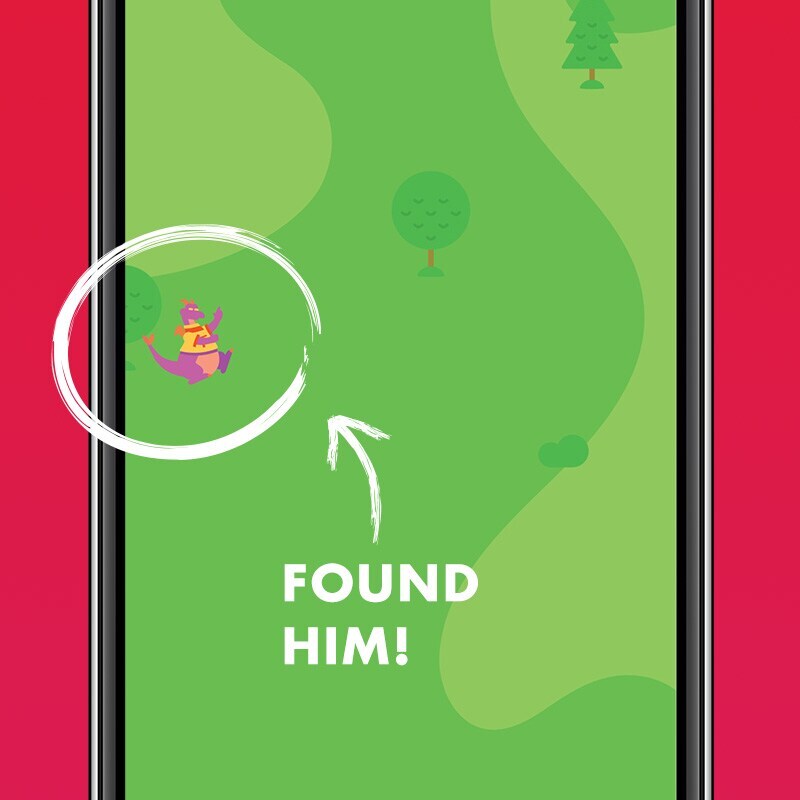 I, of course, asked if they could show me one of the Easter eggs. We headed to the Imagination Pavilion in Epcot on the map. If you scroll and scroll to the left, Figment himself pops into the screen and then disappears! There are also landmarks on the map that mirror exactly what is in the Parks, right down to the details of the trees.
Another cute Easter egg? Josh revealed that "The cars in each map are actually themed to each Park they are parked in front of." You have to see it – the tiny cars are so perfect!
At one point porgs can be seen in the app, and that always makes me very happy.
There are even Easter eggs right in front of your eyes within the queues themselves. "We repurposed some effects that were already there to make them work with [the Play Disney Parks app] and we added some effects and props of our own that hopefully are so seamlessly blended in that you don't even notice."
For example, at Disneyland, the Tinker Bell lantern in the Peter Pan's Flight queue has added some effects specifically for the Play Disney Parks app. Check it out next time you're there!
Josh added, "We actually are working on more as we speak, and we're going to be adding on more in the very near future. So the goal is to make the Parks feel vibrant and alive and truly a place that the more you look, the more you discover, and you're never finished exploring!"
How Dan and Josh Got Started at Disney
Okay so obviously Dan and Josh have the coolest jobs ever. So, of course I wanted to know their Disney story and how they started working for the Walt Disney Company. Here's what I learned.
Dan has been a Disney Cast Member for 20 years! He said, "My more recent past has been involved with a lot of the Digital experiences that our Guests are experiencing in the Park already today. Things like the My Disney Experience App. So I've been involved since day one on all of that work that has really just created this amazing tool that has allowed Guests to do their Fastpasses or dining reservations, and that truly is your vacation partner when you're here. To take it back to the [Play Disney Parks App], what's neat is it's the same log in. So when you log in to your My Disney Experience account, you're also logged into the Play Disney app. For the last 10 years of my career, I've been involved in both of these spaces and it's been super rewarding."
I for one am very thankful for both of these apps when I'm at the Parks!
Josh has been with Walt Disney Imagineering for 13 years and actually got started as an intern! He told me, "I always liked creative stuff and technical stuff, wound up studying film, fine arts, and computer science engineering. Got brought in as an intern in the Research and Development group at Imagineering where we get to invent the future of the theme park experience, and over the last thirteen years have worked on a bunch of projects and play tests about how do we make these worlds more immersive and more responsive. How do we let our Guests truly feel like they're in a new place, and that they have a role in that story? And technology has always been a way to enable that, and so from the early days of the Kim Possible World Showcase adventure at Epcot through newer things like some of our most advanced animatronics and interactive characters and role playing experiences, it's really been about how do we give our Guests control to take an active role in that story? So I'm very excited that Play Disney Parks is the culmination of that work. That we finally have the technology in Guests' pockets to deliver an experience and make them take on an active role in that story."
Truly inspiring to meet fellow Cast Members who have made such a positive impact on the Guest experience at Disney!
What's Next?
After two years of work, I had to ask Dan and Josh how it felt to see the Play Disney Parks app in the hands of Guests, and what we can expect to see next.
Dan said, "We're super excited about the additional level of activity and storytelling this adds on top of an already incredible physically immersive experience for our Guests." Josh added, "We're also listening really closely because we want to keep growing. We want to keep iterating, trying new things, experimenting, adding more. We want this to feel just as alive and vibrant as our Parks themselves. And so the hope is that our Guests will continue to share their feedback, play more, play big, and we can't wait to see what's next."
"...when our Guests do get to visit Black Spire Outpost for the very first time, they're going to find the Play Disney Parks app a very important tool for navigating their journey."
Of course, one of the biggest upcoming land openings is Star Wars: Galaxy's Edge at Disneyland and Walt Disney World, which I am out of control excited for. Josh told me, "We're working very closely with the Imagineering team with designing that amazing land to build this layer of interactivity and personalization in from the very start, so that when our Guests do get to visit Black Spire Outpost for the very first time, they're going to find the Play Disney Parks app a very important tool for navigating their journey." Truly I could not be more excited to experience this. They had me at Black Spire Outpost.
Dan concluded, "So the future is super bright." I totally agree and can't wait to see what's next on the Play Disney Parks app! Make sure you download it on the App Store or Google Play for Disneyland or Walt Disney World. And of course, be on the lookout for the Oh My Disney team at the Parks playing on the app and rocking out to Disney Parks music!