Here are 10 things we learned about the show, the characters, and the people who make The Simpsons.
Fans of The Simpsons gathered at D23 Expo 2019 to hear from the newest cast and crew members of the Disney family: The Simpsons! Moderated by Yeardley Smith, the voice of the iconic Lisa Simpson, the panel featured show creator and executive producer Matt Groening, producer Al Jean, show director Mike B. Anderson, writer/producer Matt Selman, and Nancy Cartwright, the voice of Bart Simpson and so many others.
Kicking off the panel Yeardley said that anytime she moderates, she tries to make it special for the audience. "My dream is, for these panels when I moderate, is that you go away having learned one thing about our show or the people who work on it that you didn't know before." Luckily for us, Yeardley and the panel gave us just that: a whole bunch of things you may not have known about The Simpsons! Here are 10 things we learned about the show, the characters, and the people who make it.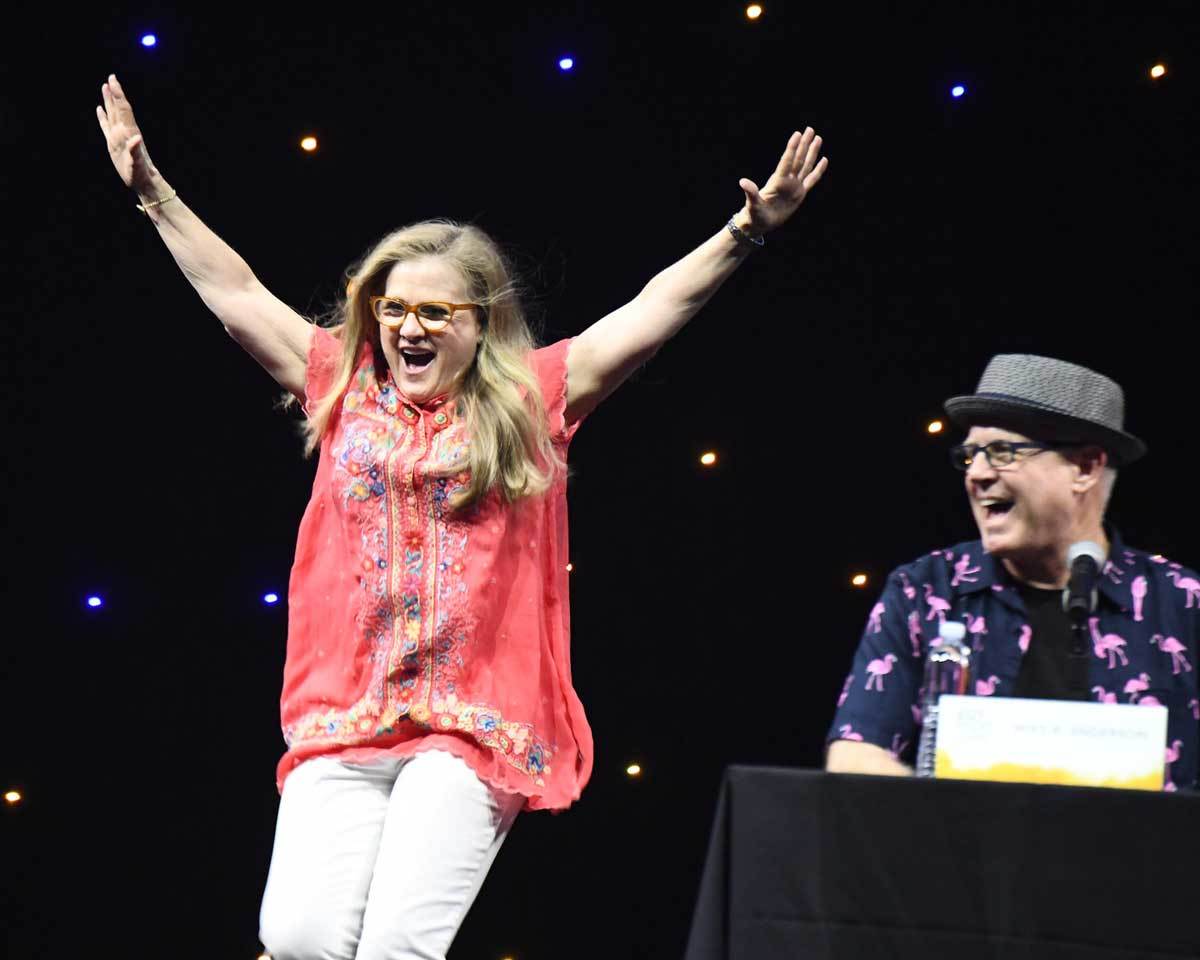 1. NANCY CARTWRIGHT IS A WOMEN OF MANY VOICES
Nancy Cartwright is the voice of Bart Simpson, of course, but during the panel she treated the crowd to even more of her many, many amazing voices including bully Nelson Muntz, older bully Kearney, Ned's son Todd Flanders, brainiac Database, and the adorable Ralph Wiggum.
2. MATT GROENING'S ADVICE TO ASPIRING ARTISTS
Series creator Matt Groening shared some words of wisdom with the crowd, saying, "Whenever I talk to kids, I say… 'Finish everything. Finish projects. Even if you get discouraged, just finish it.'" Great advice, indeed! We'll start heeding it by… finishing this article!
3. TREEHOUSE OF HORROR IS HITTING A NEW MILESTONE
This upcoming season, the annual "Treehouse of Horror" episode marks a major milestone: "It's Treehouse of Horror XXX, episode 666, for real," said director Mike B. Anderson. Talk about creepy! But when we're dealing with The Simpsons, it's sure to be a hilarious blast, too.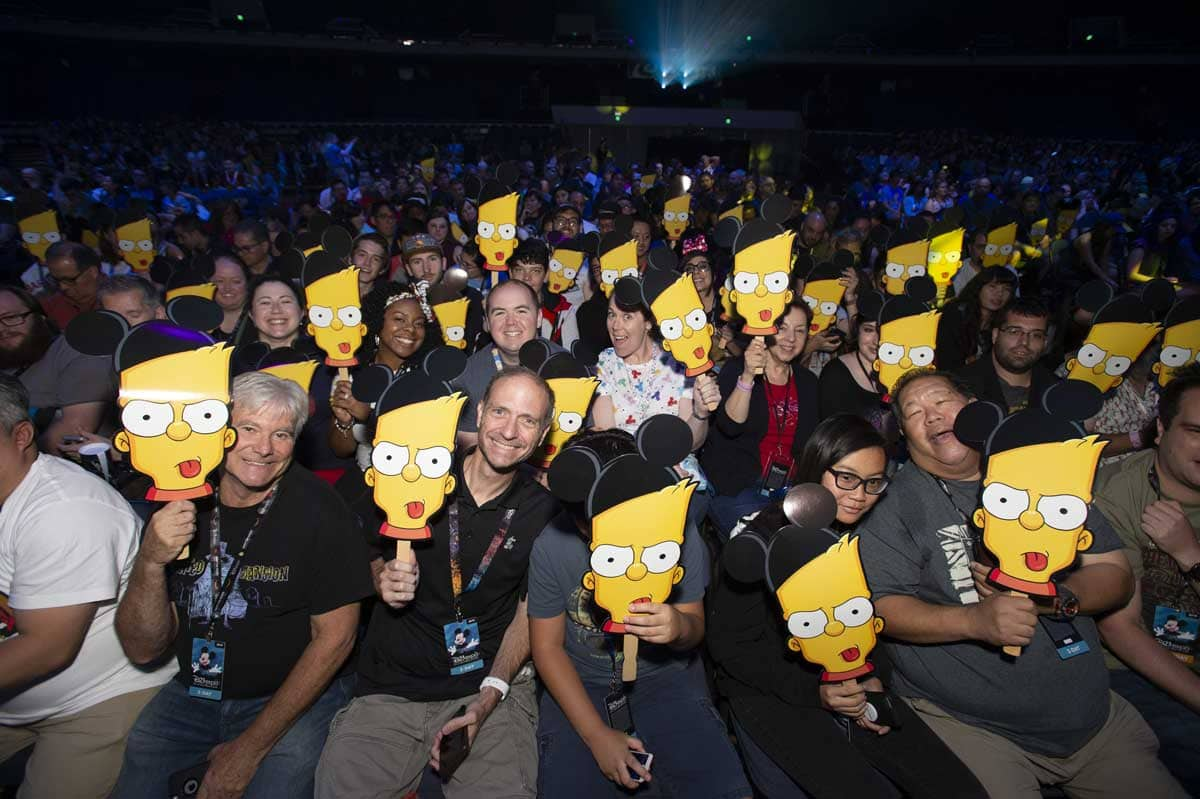 4. HALLOWEEN EPISODES ARE HARD, BUT ANIMATORS LOVE THEM
Who doesn't love Halloween? The Simpsons animators sure do! Speaking about making the beloved "Treehouse of Horror" episodes, Mike B. Anderson said, "Halloween shows are our favorites because it's so challenging and we get to draw new things… It's also three acts that are completely different, so you have to design everything as you would for one show." We're all about this dedication to Halloween.
5. THIS SEASON'S THANKSGIVING EPISODE IS SURE TO BE AN INSTANT CLASSIC
Yes, "Treehouse of Horror" are the holiday episodes people love most, but the director promises that this season's Thanksgiving episode is sure to be a hit. "Now the frights and chills have spilled into another holiday: Thanksgiving! This year we will have a 'Thanksgiving of Horror,'" director Matt Selman said. "Super scary."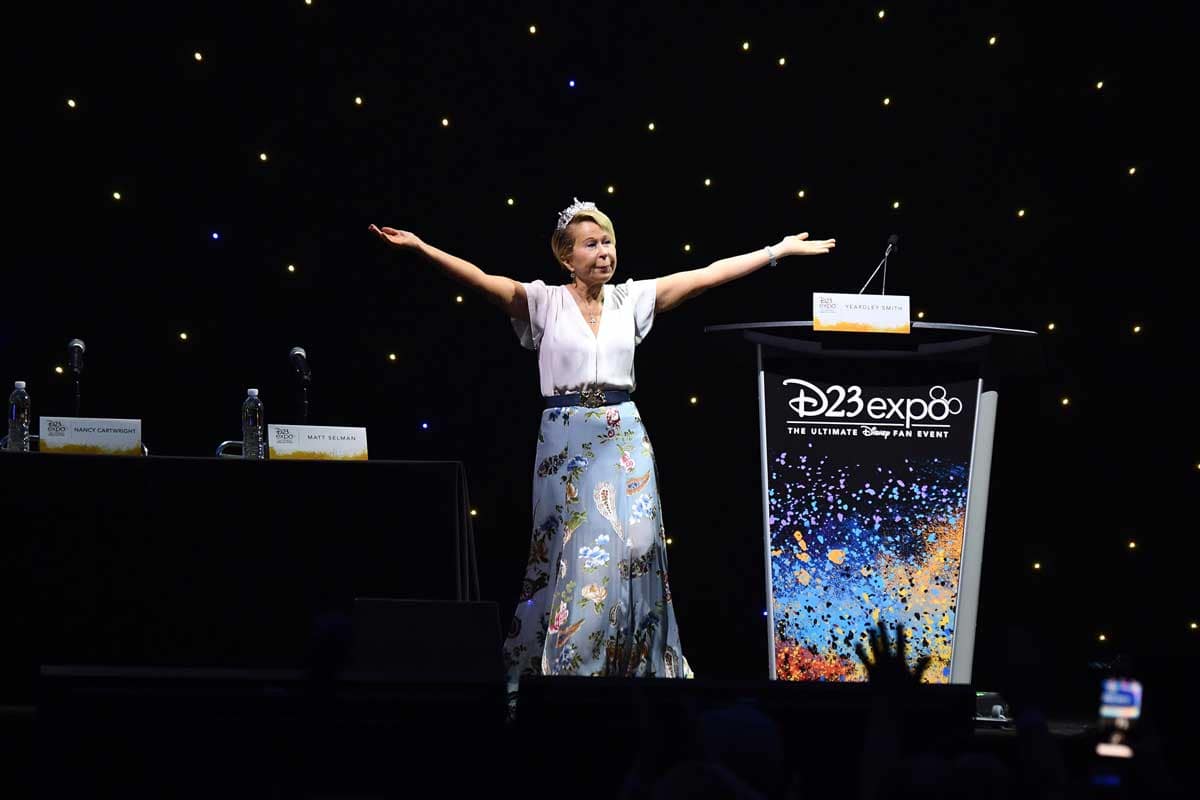 6. YEARDLEY SMITH HAS GROWN ALONGSIDE LISA, AND VICE VERSA
Yeardley was asked by creator Matt Groening, "How has the character changed you or how have you changed the character? Because I can't tell the difference." Yeardley's answer was as sweet, brilliant, and endearing as Lisa herself: "I'm so honored by that comparison. I love my character. I always say getting to play Lisa Simpson is like getting to know someone for my entire life."
7. NANCY CARTWRIGHT ALSO WROTE AN EPISODE
It may have aired last year, but you may not have known that the multi-talented Nancy Cartwright also wrote an episode of The Simpsons! Talk about awesome. Here's what she had to say about the experience: "There's this incredibly powerful, talented… staff. And thank goodness, because what I pitched was my story and what ended up coming out was my story, but enhanced so much."
8. AN INCREDIBLE ARRAY OF GUEST STARS ARE COMING THIS SEASON
You won't believe the amazing guest stars stopping by The Simpsons this year! Here's a brief list of talent that the panel let us know about: John Mulaney, John Legend, Chrissy Teigen, Jason Momoa, Dr. Jane Goodall, Olivia Colman, and the return of Jon Lovitz as fan-favorite character Artie Ziff! Can. Not. Wait!
9. THE RECURRING COUCH GAG HAS SURPRISING DISNEY ORIGINS
Matt Groening discussed his connection and love of Disney and how it inspired parts of The Simpsons and even his other Fox animated series Futurama. For The Simpsons specifically, Matt shared that the hilarious couch gags that are different at the beginning of every episode have a surprising Disney origin: "The couch gag, where did that come from? That came from the beginning of the 'Mickey Mouse Club' TV show in the 1950s. There's an amazing piece of animation in the 'Mickey Mouse Club' theme song… it ends with Donald Duck and he bangs on a gong. The gong gag changed from episode to episode. Sometimes the gong would vibrate Donald, sometimes the gong would collapse. And I thought that'd be great, if I ever get my own cartoon show I'm going to do a Donald Duck-style gong gag. And that's where the couch gag came from." Seems like the Disney connection with The Simpsons was meant to be!
10. EVERY. SINGLE. EPISODE. OF THE SIMPSONS IS COMING TO DISNEY+
Okay, so maybe we already knew this, but it's too amazing not to share again, because Disney+ will be the exclusive streaming home of The Simpsons starting November 12 in the US. Is there anything cooler?!
Disney+ is available for pre-order in the US. Be among the first to have it and start streaming November 12.