Get ready to enter a whole new world with Disney's live-adaptation of Aladdin–in theaters now!
This was the most joyful experience of my career.
That's how Will Smith — legendary actor, not to mention two-time Academy Award nominee and four-time Grammy winner — describes his time working on Aladdin, which is in theaters now. At first glance, it might seem like quite the statement coming from someone of his caliber and filmography. And yet hearing Smith and other members of the cast and crew recount their experiences working on this production, one soon understands that these feelings are no exaggeration. They come from the heart.
I recently had the pleasure of spending the afternoon in beautiful (some might even say shining, shimmering) Beverly Hills with the talented group that included, in addition to Smith, legendary Disney composer Alan Menken and rising stars Mena Massoud (who plays Aladdin) and Naomi Scott (who plays Jasmine.)
As a '90s Disney kid, being excited for a live-action adaptation of one of my favorite Disney animated flicks ever is basically in my DNA. However, after yesterday's hangout, it's safe to say I'm (quite possibly) even more ecstatic to see the film! Here's five things I learned about the creation of the film from the cast and crew that are sure to make you excited, too!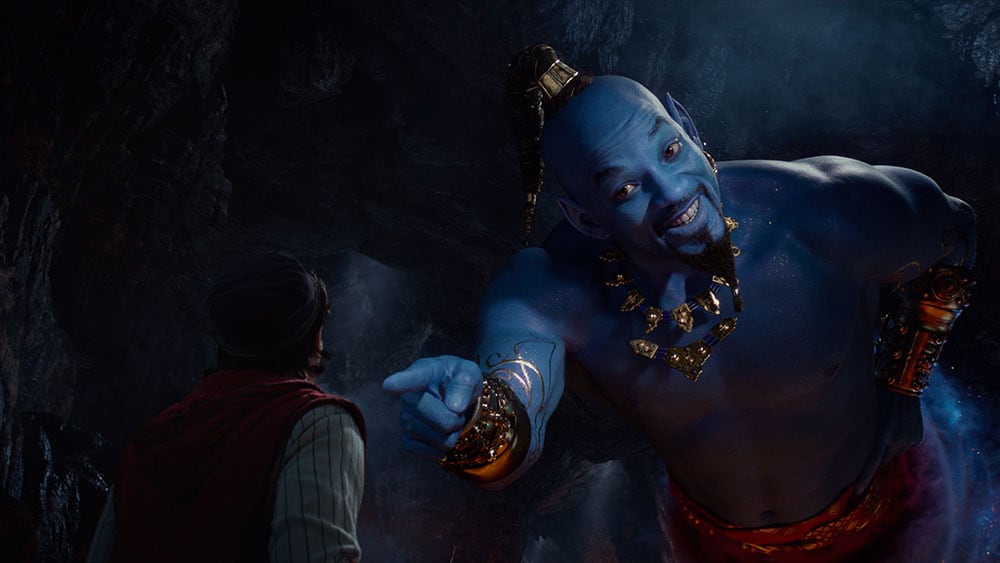 Aladdin Was Will Smith's First Disney Movie Ever!
For Smith, a longtime admirer of Disney films, getting to work on a film like Aladdin, was a dream come true!
"Disney magic is real! I love how these stories bring out your inner child and cause you to smile and appreciate the moments," raved Smith.
One of the main challenges for the actor was finding his own take on the Genie character that Robin Williams brought to life in the animated movie. "I started off this process fearful that I couldn't add anything new to this character." However, it was Smith's experience working on the music of the film, that really helped him discover his voice. "The whole experience just started waking up this fun, child-like, silly part of me!" The song that really helped Smith find his confidence was "Friend Like Me." Through his experiments in the recording studio, Smith was able to give the song an old-school hip-hop feel that left even Alan Menken in awe. "During those times, I would just back off and let him do what he does because it's so good," laughed Menken.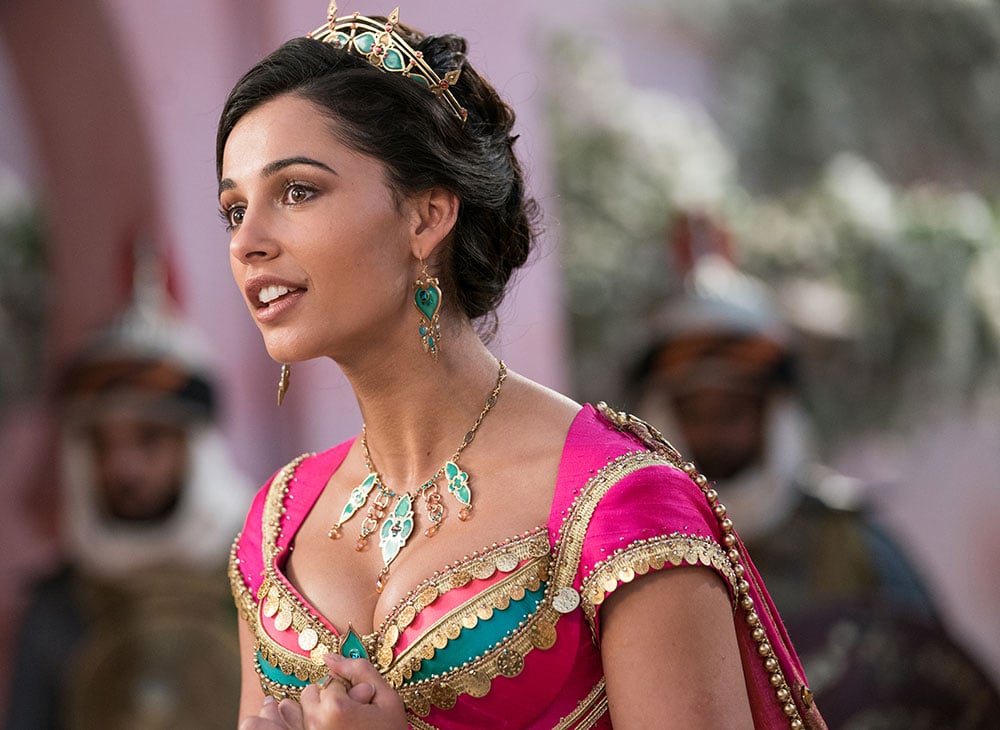 The Film Features an Updated Take on Jasmine and a New Song
Going into the live-action adaptation of the animated film, one of the main goals for director Guy Ritchie was to give the character of Jasmine more independence. Building off Jasmine's iconic line in the animated film, "I'm not a prize to be won," Ritchie sought to imbue the character with her own hopes, dreams, and challenges. The filmmaker quickly discovered that one of the most effective ways he could do this was through giving the character an original song. Titled "Speechless," this new track was a collaboration between Alan Menken and Pasek and Paul (songwriters of La La Land, Dear Evan Hansen, and others) and is a solo piece performed at a pivotal moment for the character.
Naomi Scott spoke passionately about the song, saying that it really evokes the idea that, "Everyone has a voice. Your voice matters. Speaking out against injustice matters, not standing by and being a spectator." Scott's performance is said to have moved many on set, even bringing director Ritchie to tears!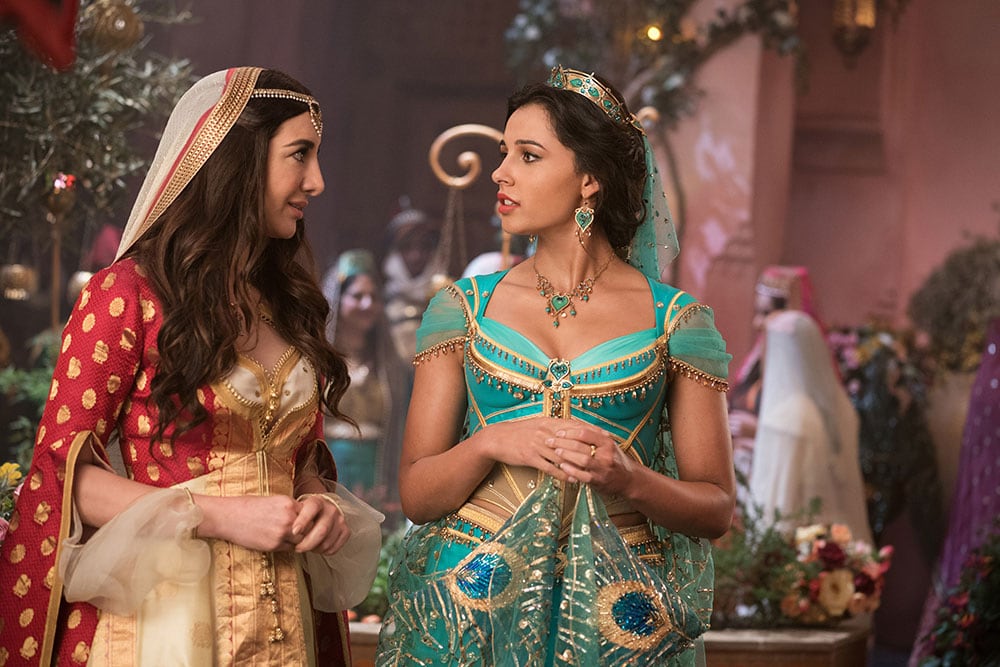 Get Ready to Meet a New Character
Another addition to the live-action version of the film is a new character named Dalia, who serves as handmaiden and trusted confidant to Jasmine. Bringing this character to life is none other than Nasim Pedrad of Saturday Night Live fame.
One of the things Pedrad enjoyed most about the experience was really getting to improvise and play around with her character.
I loved being able to create something from scratch and then see it intersect with this story we all know and love.
Oftentimes, her riffs were so hilarious that they left cast and crew unable to move forward because of all the giggles. "I was laughing the whole time working with her," recounted Scott.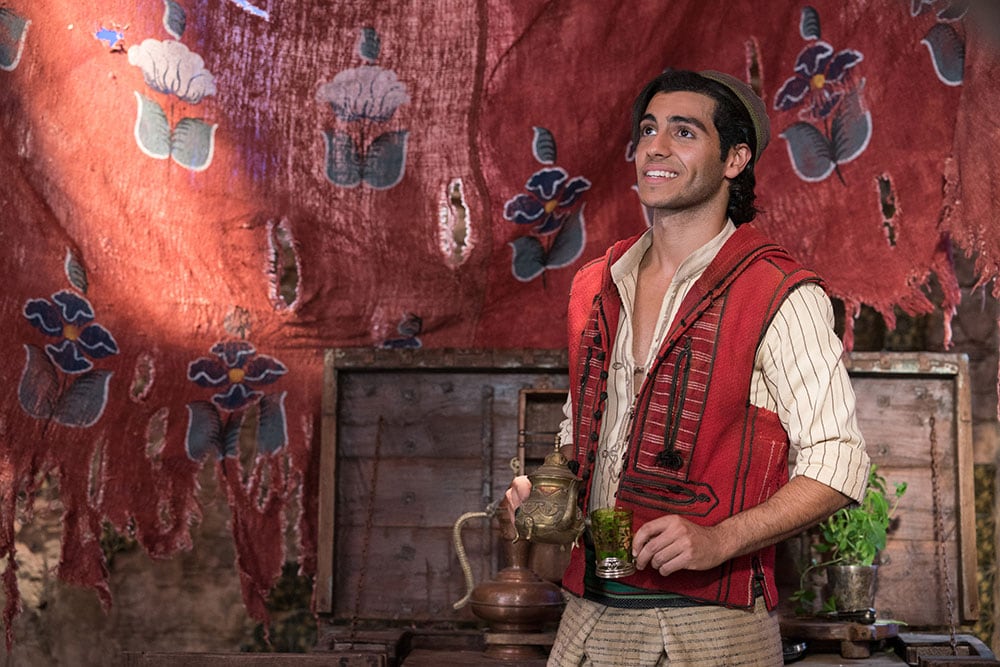 Lights, Camera, Dance!
As you've probably seen from the trailers, one can expect many an elaborate dance sequence in this live-action adaptation. Helming those sequences were choreographers Jamal Sims and Nicky Anderson. Massoud was especially excited to work with the duo.
Jamal's one of the best in the business. I grew up watching Step Up, which was to me, the dance film of my generation, and Jamal choreographed that film!
For one particularly memorable sequence involving the Genie "manipulating" Aladdin's dance moves, the team went to some rather unconventional lengths to make it extra wacky and bizarre. "Guy had this brilliant idea to actually attach these long puppeteering arms onto me...and physically [puppeteer] me. We had a lot of fun with that piece," laughed Massoud.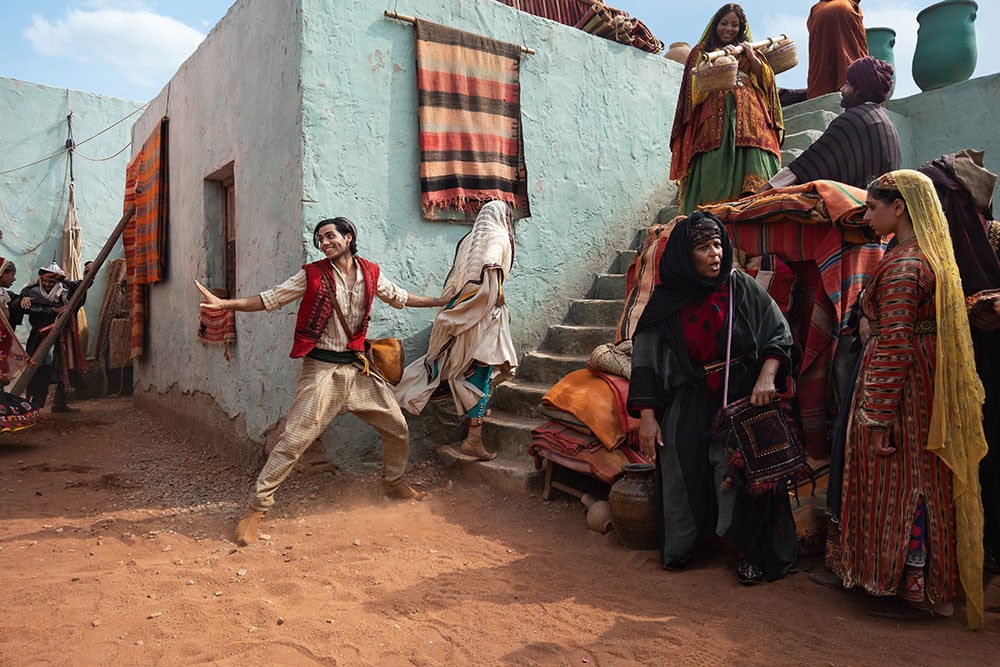 Expect a Visually Stunning Setting
Beyond casting, the team also went to great lengths to research and ensure that the film looked and felt like an actual world. Led by former Game of Thrones production designer Gemma Jackson, the team had the unique challenge of creating a set that could allow for overhead bird's-eye views and street views, while at the same time, fostering enough room for dance sequences and special effects.
"As an actor, the ultimate compliment I can give is that we were transported to that time and place. When you walk through [the set], everything from the textures on the wall to the ability to go out on the rooftop, was a powerful way to transport us to the emotions and smells of the experience," added Smith.
Ready to venture to this whole new world? So are we! Hop on your Magic Carpet and soar over to see Aladdin, in theaters now!