There's magic in the fresh ocean air! We can feel it, and so can Disney Cruise Line's Director of Entertainment Creative, Christiaan Abbott. He had a lot to say when we chatted with him about all the exciting things that Disney Cruise Line has in store this upcoming year—including Star Wars Day at Sea and Marvel Day at Sea, for instance. From imaginative dining to fireworks accompanied by an epic Star Wars soundtrack, Abbott's team helps make sure there is something for everyone on board. Put on your sea legs and read on to discover some highlights about Disney Cruise Line and Abbott's awesome job:

You can be one of the first to meet Captain Marvel this year during Marvel Day at Sea.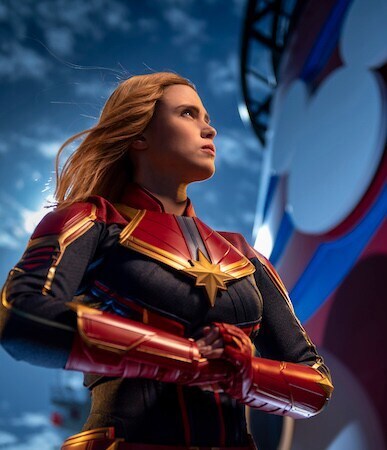 You can expect to run into fan-favorite characters such as Black Panther, Iron Man, Spider-Man, and Groot during Marvel Day at Sea on the Disney Magic—and for the first time, you'll get to have a meet-and-greet with Captain Marvel!
On top of that, an impressive finale called "Marvel Heroes Unite" features our favorite Super Heroes and Villains facing off in a nighttime show. "Probably one of the best deck events in the entire cruise industry," Abbott said, and we don't doubt it. You can bet that we'll be assembling alongside the Avengers on the Disney Magic!
Abbott can't get enough of the enthusiastic fans on Star Wars Day at Sea.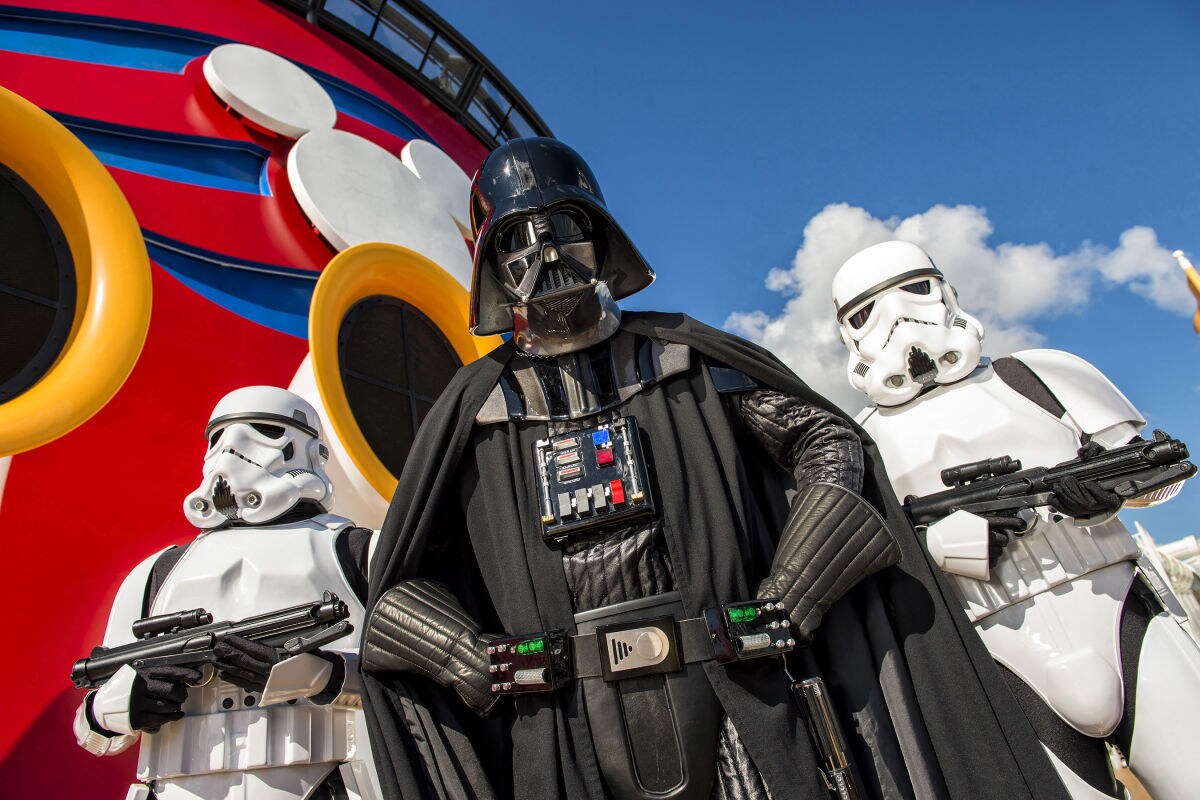 Don't forget to pack your sunscreen, toothbrush … and most importantly, Jedi robes, for an epic Star Wars Day at Sea on the Disney Fantasy! Abbott loves seeing the creative and original outfits that guests rock during the costume celebration. BRB while we make room for our Chewbacca costume in our suitcase.

And to prove you're the biggest Star Wars fan in the galaxy, you can participate in interactive trivia called "The Superfan Challenge." Abbott admitted, "It's so incredibly entertaining, even for those who don't know much about Star Wars, to watch."
Moreover, there's no better way to pay homage to the Star Wars legacy than joining your favorite Jedi, droids, and villains at the "Summon the Force" deck celebration. We can only imagine how legendary it is to witness fireworks bursting to John Williams' iconic score.
The live shows and delicious dining onboard are fit for a princess.
The Disney Dream is full of enchantment with Disney Cruise Line's first-ever Beauty and the Beast musical production! "It rivals anything on land … it's a beautiful show," Abbott said. This Broadway-quality production took home the Brass Ring Award for Best Theatrical Production at the 2018 International Association of Amusement Parks and Attractions Expo. Say no more, we'll be there.
You can even enjoy live entertainment while you dine! Abbott's recommendations are Tiana's Place on the Disney Wonder and Rapunzel's Royal Table on the Disney Magic. We're talking Tiana's famous buttermilk beignets alongside live jazz and a regal banquet with none other than the Snuggly Duckling Thugs. What more can we ask for?
Abbott can't choose just one favorite memory from his time at Disney Cruise Line.
Abbott has had the chance to help coordinate and celebrate engagements, weddings, graduations, and Make-A-Wish trips for many of the thousands of guests he's met onboard.
Clearly, a vacation with Disney Cruise Line leaves a lasting impression, and Abbott has seen the effects firsthand. He said, "It's amazing to see some of these kids that vacationed with their moms and dads—now they're vacationing with their kids."
Thanks to Disney Cruise Line, magical moments can happen not only on land at the Parks, but also on the high seas.
Abbott works with talented, award-winning crew members from all over the world.
Talent runs in the Disney Cruise Line family, which includes performers from cities like Sydney, Paris, London, New York, Chicago, and Los Angeles. Starting his career as a cruise line performer himself, Abbott praised the Tony Award-winning and nominated singers, renowned magicians from the Magic Castle, and other world-class entertainers that keep the show running.
For those interested in helping make magic as part of the Disney Cruise Line family, Abbott suggested keeping an eye on DisneyAuditions.com and DCLjobs.com for opportunities.
Abbott has us convinced that there's always a little magic in that fresh ocean breeze when you're sailing with Disney Cruise Line! A happily ever after is waiting for us on the horizon, and we're so ready to embark on the best. Cruise. Ever.