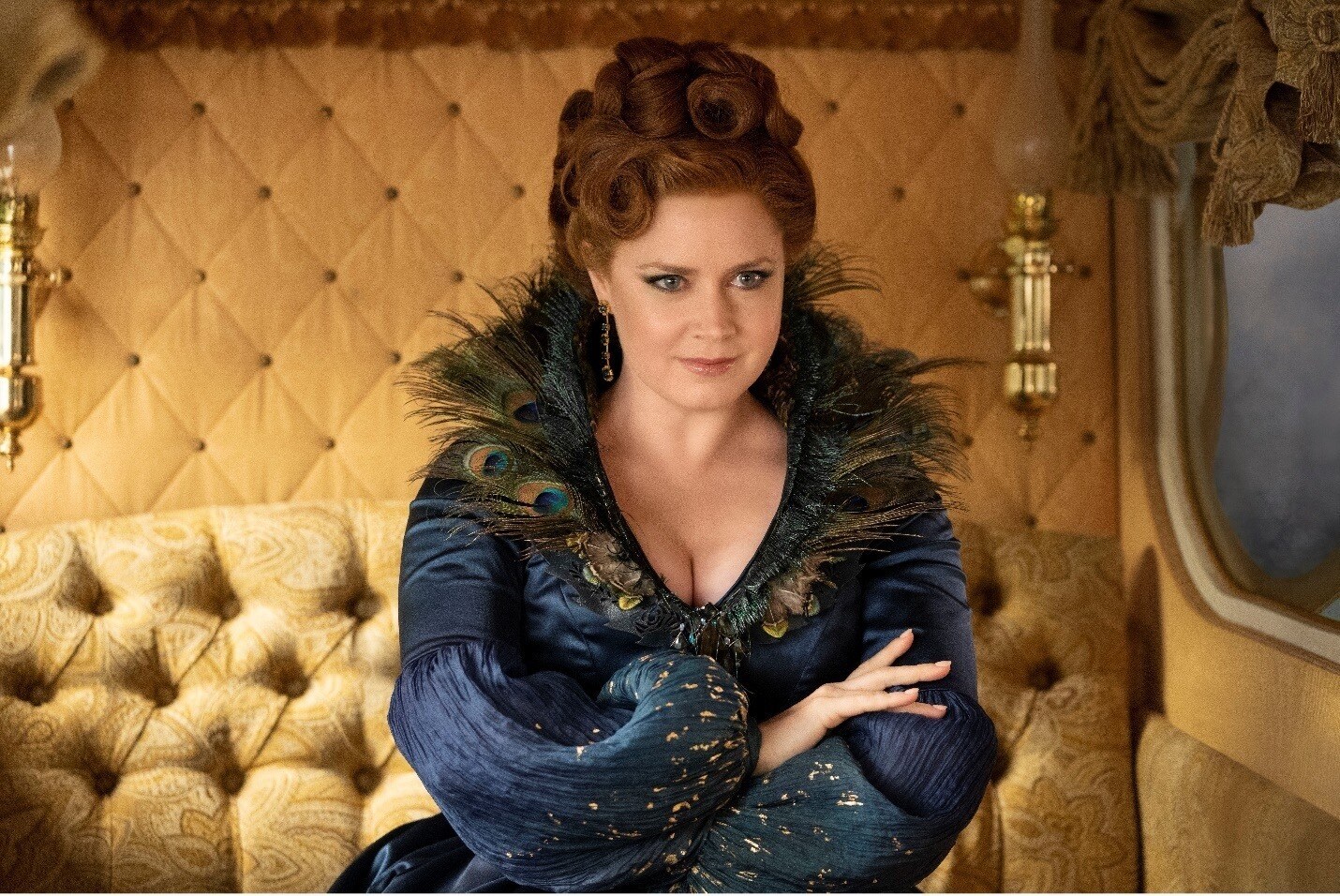 Disney's Enchanted fans are in for a real treat. Disenchanted, a Disney+ Original movie, is the sequel that's sure to keep fans guessing. Now streaming on Disney+, this action-packed movie features the original Enchanted cast fans know and love plus a few new faces; Amy Adams reprises her role as Giselle and Patrick Dempsey returns as her husband Robert, with Idina Menzel returning as Nancy Tremaine and James Marsden as Prince Edward. New to the fold is Maya Rudolph as Giselle's antagonist Malvina, Yvette Nicole Brown plays Rosaleen, Jayma Mays plays Ruby, and Robert's now older daughter, Morgan, is played by Gabriella Baldacchino.

The film centers around Giselle and Robert's life after their "happily ever after." It's 10 years later, and cute little Morgan has become a strong-minded teenager no longer interested in fairy tales and musical numbers — plus the couple has added a brand-new baby to the family. Things seem to have become quite mundane and fairy tale-less. Giselle comes up with the idea to move to suburbia — to a quaint, little place called Monroeville that reminds her a little of her home, Andalasia. But moving doesn't take the problems away like she planned; in fact, it seems to bring problems of its own. Giselle feels like nothing she's trying is working, so she decides to take extreme measures and use some Andalasia magic — an act that if she doesn't fix, will change the lives of her family, and Andalasia, forever.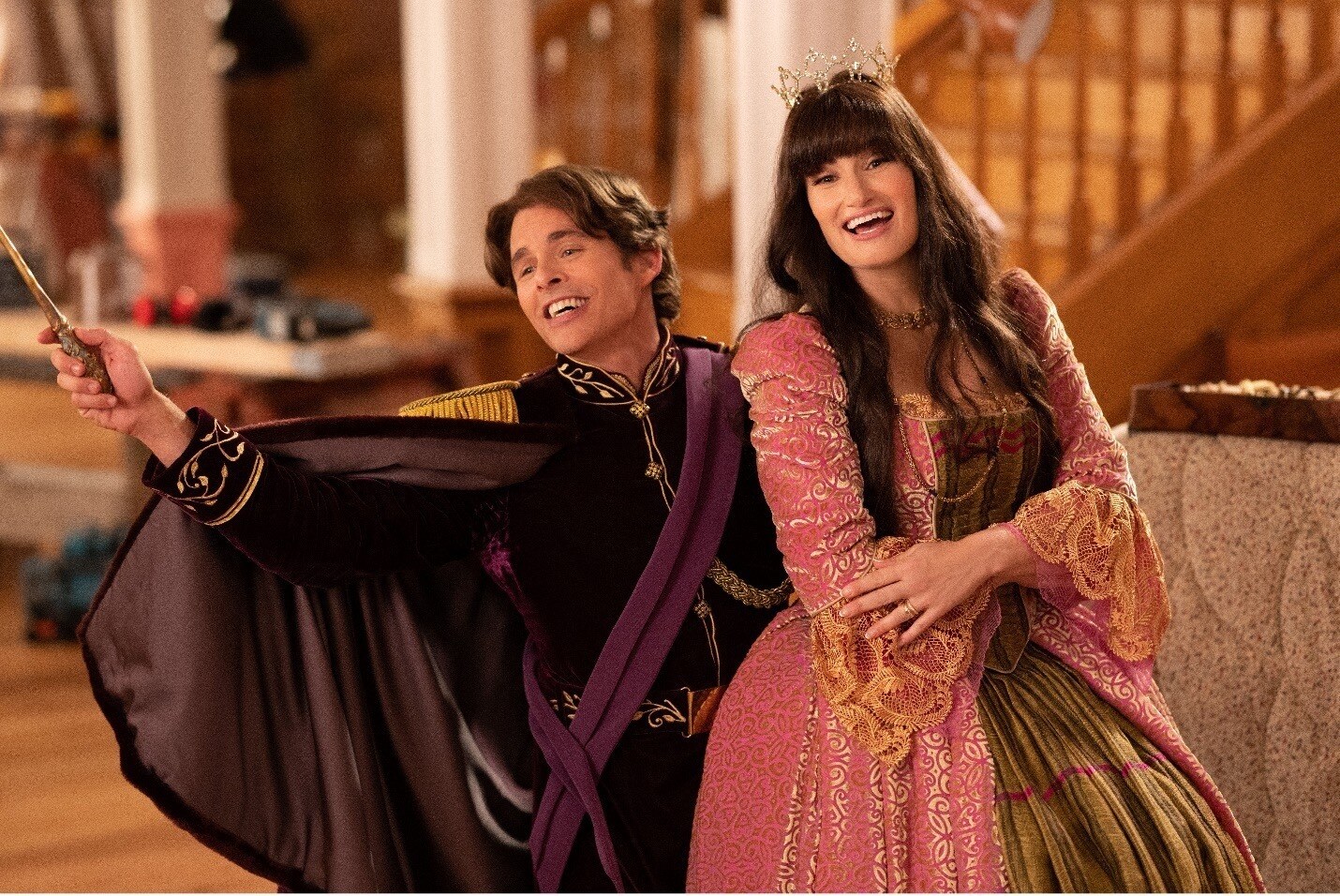 Unlike your typical fairy tale story, Disenchanted demonstrates finding your "happy ending" in reality, with its ups, downs, and everything in between. It's not perfect, but that doesn't mean you're not perfect for each other. Directed by Adam Shankman and produced by Barry Josephson, Barry Sonnenfeld, and Amy Adams, the movie's screenplay is by Brigitte Hales from a story by J. David Stem, David N. Weiss, and Richard LaGravenese. The musical comedy also features new songs with music and a score by Alan Menken and Stephen Schwartz.

Director Adam Shankman was very excited to work on this movie with Amy Adams as a producer as well as an actress on this movie because for him, they spoke the same language. He explained, "We're friends, and we're both musical nerds and Disney nerds. I suddenly thought, I want to make a movie — not with Amy, but for Amy as well. And I thought it would be this beautiful thing because, as an actor, [she] inspires me so much." Adams was equally excited to make this sequel to the first film. "It was really just such a pleasure getting the returning cast together. And then for our new cast members, I was just so pleased to get everybody we have," she beamed. "When we left Giselle in the last movie, there's been an evolution from the beginning of Enchanted to who Giselle is at the end of the movie. That's sort of where my launching place was, taking that evolution of who she might be after 10 years and everything that I loved about Giselle in the first movie, and then just getting this opportunity to spin it throughout this one. Coming back, I feel like Giselle never left me. Really."
For Patrick Dempsey, his role as Robert starts off similar to the last film, but as the storyline progresses his role takes on new challenges and he even gets to sing. "You know, it's an extraordinary feeling you get when you sing. The vibration, there's something very intoxicating about it. So for me, it was a fantastic ride," he shared. "I had a great time where I could work a little bit, do some sightseeing in Ireland, and work on the musical. I really appreciate the talented voices of Idina and Amy and Maya and everyone, so it was nice to get a taste of that."

Newcomers to the movie were just as thrilled to join this exciting musical. Maya Rudolph describes it as training for the marathon she'd been training for her whole life. "To what Patrick said, even though I've had a chance to sing in things before, it was nothing like this experience. And knowing that I was going to get to sing this [Alan] Menken and [Stephen] Schwartz song was really, truly almost like a life fulfillment." Gabriella Baldacchino agreed, saying, "I think 'dream come true' is the best way to put it. When I was little, and even growing up, Enchanted was my favorite movie, so being able to join all these people was surreal to me. I'm so, so grateful to sing music written by Alan Menken and Stephen Schwartz."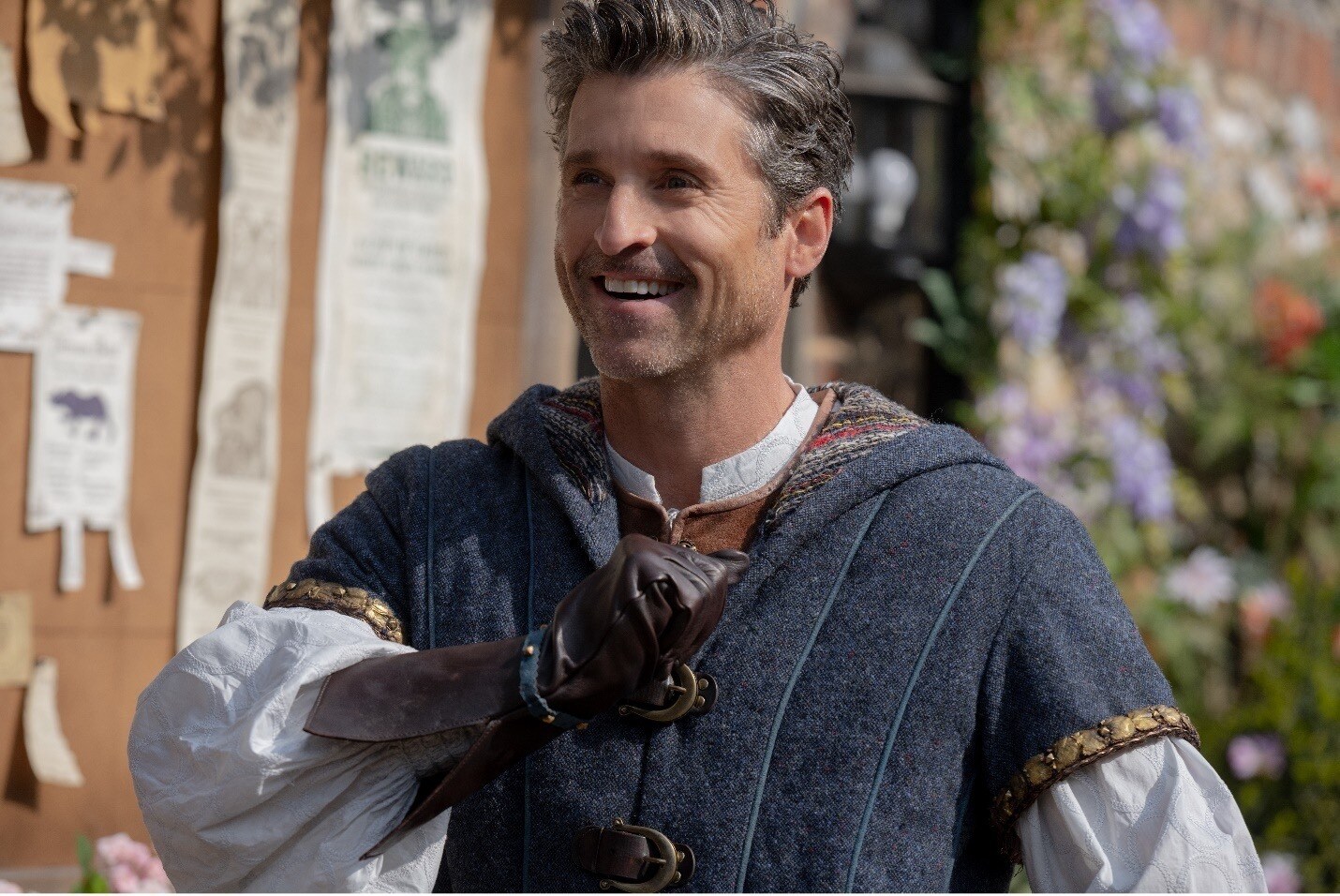 Much of the movie was filmed in Ireland, but as it was during the beginning of COVID, it proved to be challenging at first. "There was a lot of testing, a lot of masks. I ended up spending 14 days in Northern Ireland to begin my journey, locked down. But then it was good to be outside," Dempsey recalled. "It was a great opportunity to live and work. It was really sad in some ways, because Dublin was shut down. Everything was still on lockdown. [But] I'd met a lot of people on hikes and traveling, and then sharing my journey on Instagram, I was their top spokesman [laughs] for traveling to Ireland and enjoying the sights."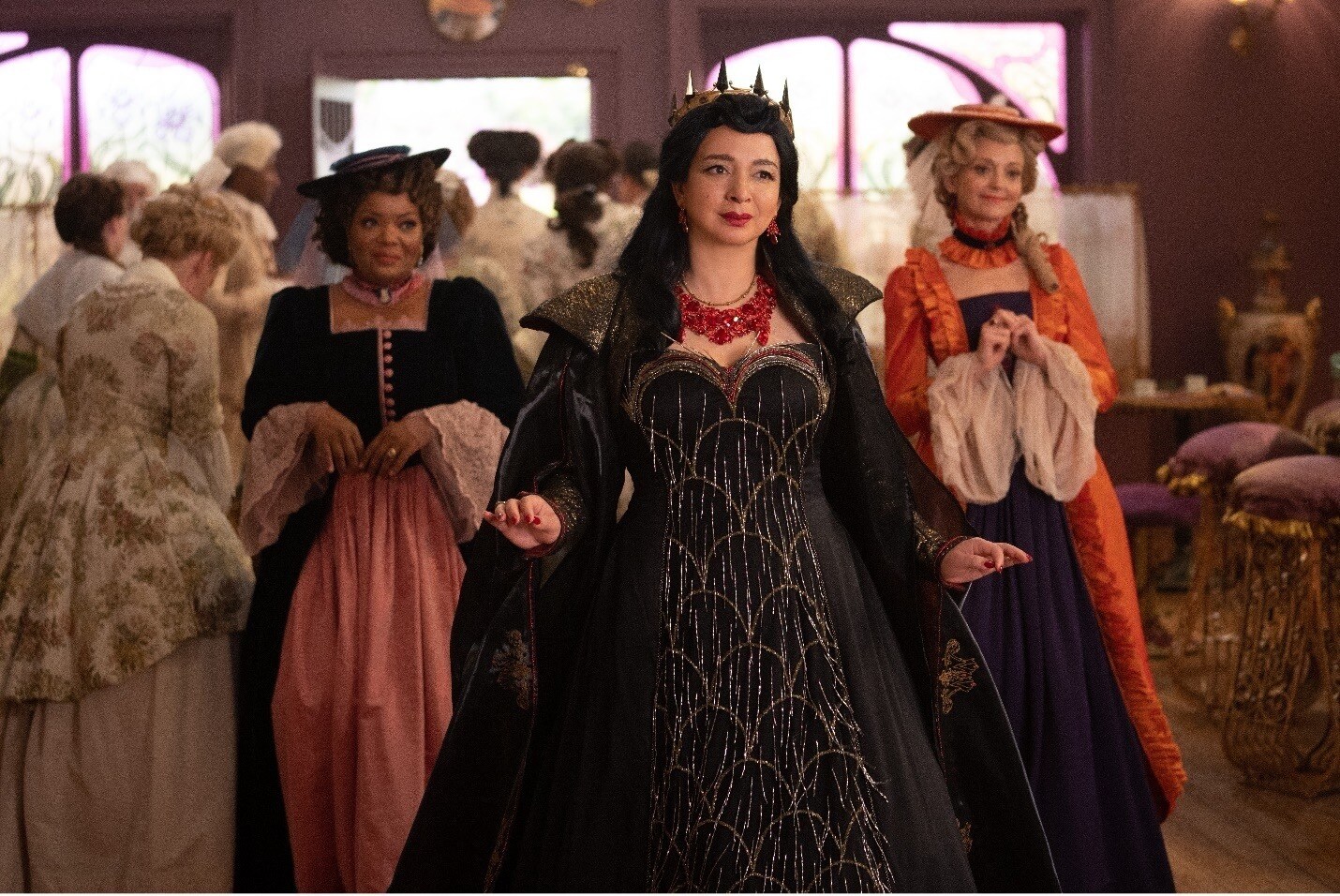 Then, of course: Easter eggs. "I don't think Disney [has] ever allowed winking at itself, so this was such an incredible opportunity. If you look around the town, every sign of every shop has something Disney-winking involved in it. But it's super subtle. There is a not-so-subtle nod in Gabby's solo song. Every shot in that song is something that's a nod to another 'I want' song," Shankman revealed. "The magic mirror is a replica of the magic mirror from Snow White. So, it is floor-to-ceiling — there is, everywhere you look, you could swing a cat, you're going to hit a trope. How about Jayma and Yvette's ball dresses are literally the stepsisters' dresses from Cinderella?"

There's a lot to look forward to! Don't miss the Disney+ Original movie Disenchanted, now streaming on Disney+.  And for more Disney+ news and updates, follow @DisneyPlus on YouTube, Facebook, Twitter, Instagram and TikTok.