Back in June of last year, I got a chance to visit the set of Avengers: Infinity War at Atlanta's Pinewood Studios. This is the sixth part in a series of articles from that trip. You can also read the previous interviews with Chadwick Boseman and Mark Ruffalo, Anthony and Joe Russo, Chris Evans and Scarlett Johansson, Danai Gurira, and Christopher Markus and Stephen McFeely. 
When something is as big as Avengers: Infinity War, half the battle is keeping the secrets of the movie … well … a secret! At times, the actors in the film only received single scenes instead of the whole script. Don Cheadle, who plays James Rhodes aka War Machine, discovered a good way to work around that issue.
"Well in the absence of the script, I just write my own lines," Cheadle joked. Of course, we had to ask if we'd see his name billed next to co-writers Christopher Markus and Stephen McFeely. Cheadle replied, "Yeah!? Where is my story credit?!"
But in all seriousness, Cheadle discussed how not knowing the full story allowed for a different type of atmosphere on set:
It's very interesting on set when you don't know the entirety of everything and things are changing real time. It keeps you on your toes, that's for sure. But it's ultimately exciting and it's as fun for us sometimes discovering it as it is for the audience. Because we had no idea how that was going to turn out and the story is really intricate. It's a very different [story] I think from what I've seen. It has a little bit of a different feel than the last movies have. And there's a little more gravitas. It kind of has to be that way. I think you have to try to bring in some more serious elements.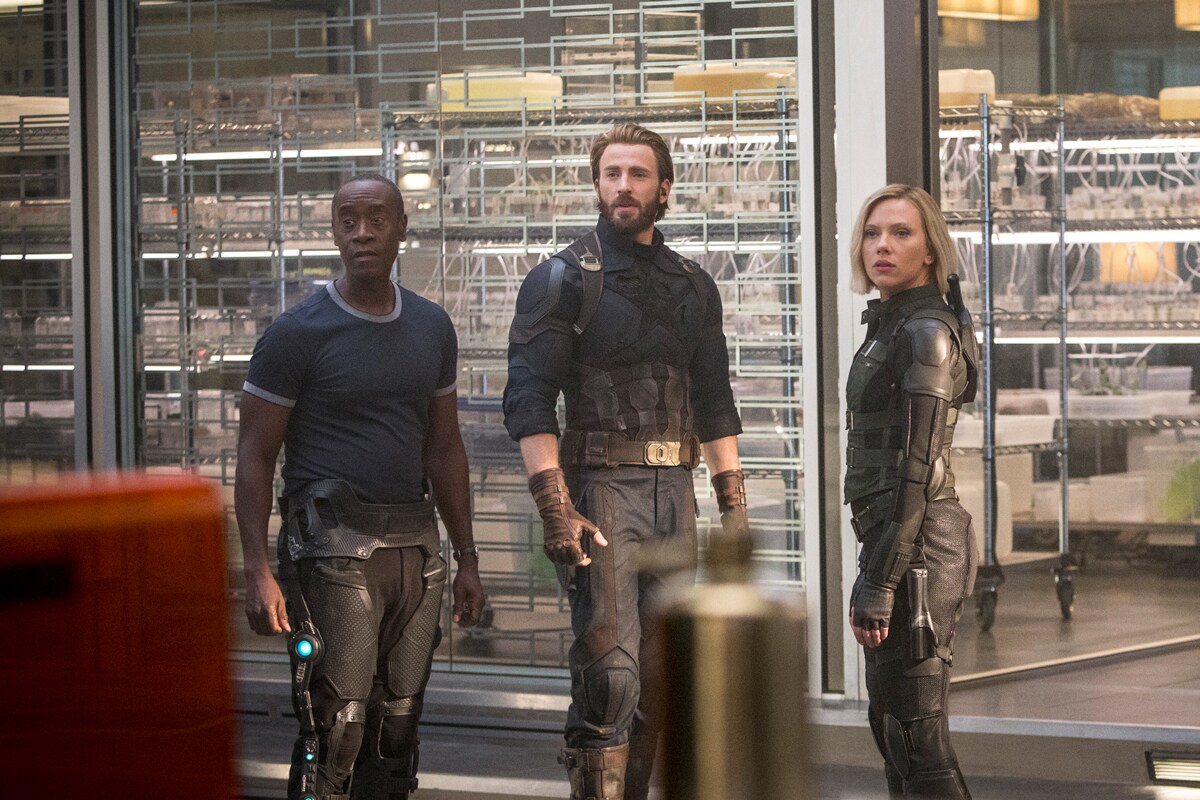 When we last saw Rhodey, he was rehabbing from his catastrophic injury in Captain America: Civil War.
"That's going to be a thing for him to put that suit back on," said Cheadle. "Last time he was in it, it didn't go so well. [The accident] is something that he's fighting to put behind him. But absolutely, it creeps up."
Marvel Studios' Avengers: Infinity War Official Trailer

Cheadle joked, "I'm going to keep an eye on everybody. I want to keep that jewel [Vision] in front of me, not behind me … [Vision] is now my mortal enemy." He then changed his mind and said, "No, I think we worked it out over the break."

But the serious ramification of Captain America: Civil War leaves Rhodes in a difficult position. Cheadle filled us in:
[Moving forward] I think there are definitely more questions for Rhodey … I think he's negotiating this reunion and his re-joining this team … I think he was always somewhat [struggling] with having Tony as a friend and trying to support him but still somehow trying to stay within the chain of command and the military man that he is … But I think their relationship has deepened since the last event. I think Tony feels somewhat responsible and culpable in a way. And they [Tony and Rhodey] ultimately want to be back together.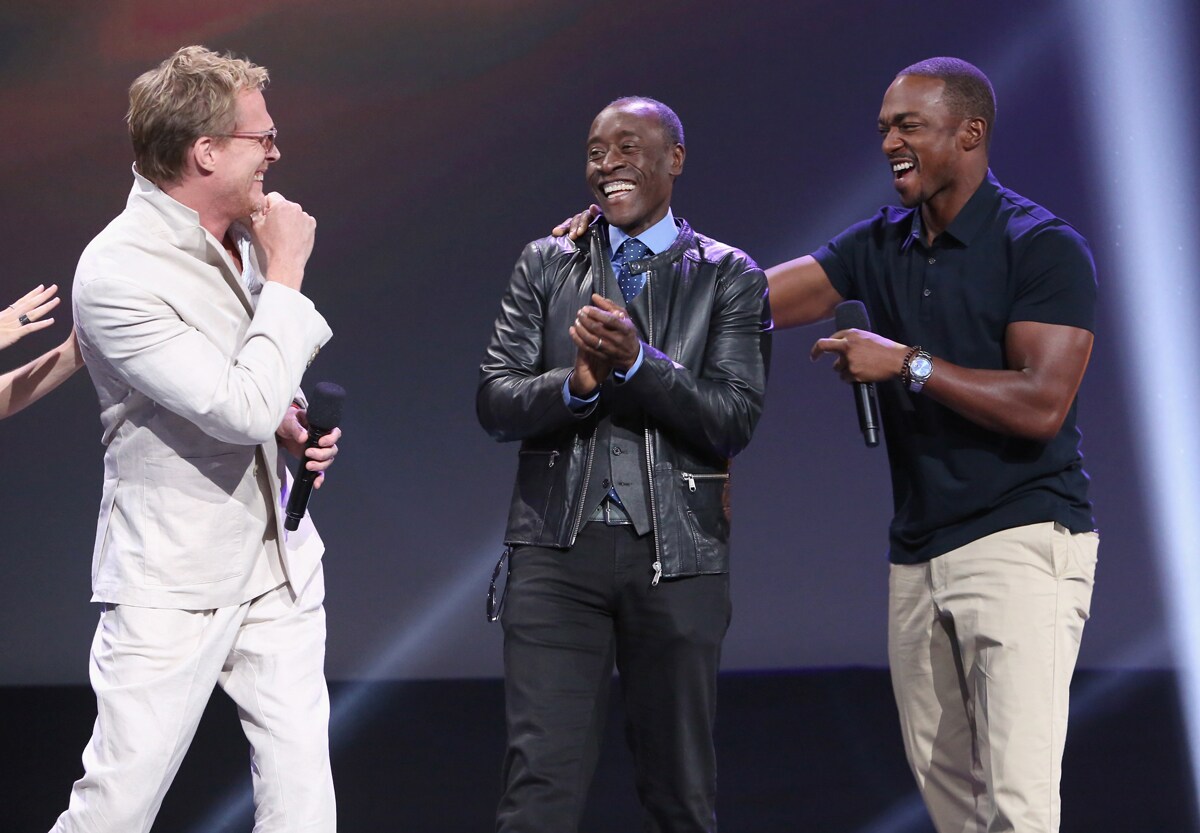 We're hoping they resolve their differences! At the base of their conflict, Tony has never been afraid to break the rules, while Rhodes has always been a more level-headed, realist. But while taking on Thanos, he will be taken out of his comfort zone:
I think as always we've seen that Rhodey would prefer to deal with real world things and that's kind of what he understands. And when we start leaving the planet and talking about things coming from outer space, he's like, 'Dude, I don't even know what that, what is that?' ... He's been thrown into the deep end ... but they all are in a way in this one. So everybody's going to have to figure it out on their feet.
And Rhodes knows first-hand that being an Avenger does not mean you are always safe. Case in point, Cheadle told us, "I think Rhodey being injured was kind of starting the [idea that] people can really get hurt. Things can really go south for these characters. I think the stakes have been raised. And we understand that we're not invincible and super heroes can go down."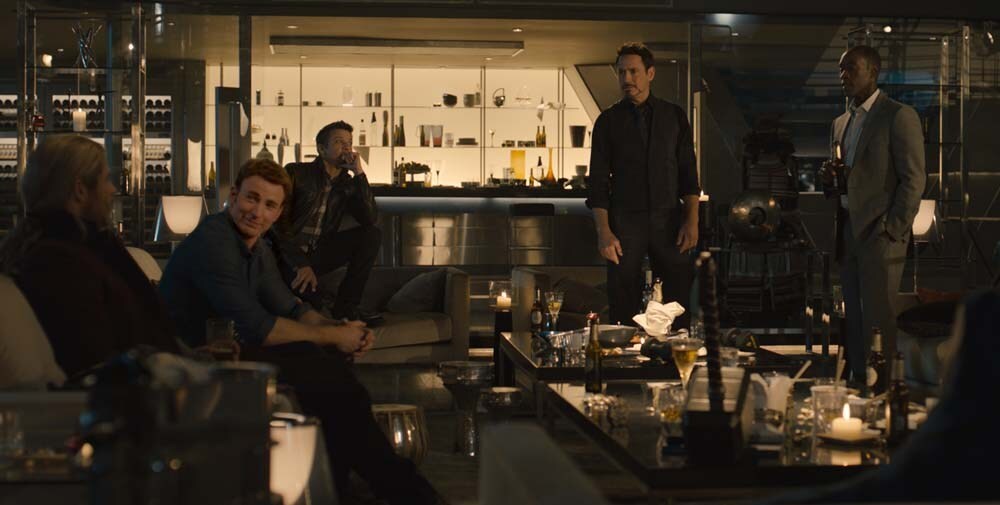 And while the action sequences and mystery surrounding the movie are a ton of fun, being back on the set with his fellow Avengers is what Cheadle enjoys the most. He told us of his fellow cast mates:
Mark [Ruffalo] and I go way back. So we have a lot of fun on set. It's funny because any little satellite group I think [is] probably a bit of a nightmare for the Russo's. For me it's fun and it keeps the frame alive. But for them probably they're like, guys, can you just say the lines that we wrote in the script? Whenever you have all of us back together again and we haven't seen each other for a while, there's a period of giddiness. Everyone's kind of catching up and we're performing for each other a lot of times. Trying to crack each other up and be there in those kinds of ways for each other. So it's always fun coming back.
And we are excited to see the team back together again on April 27 when Avengers: Infinity War hits theaters. Check back here on Monday for more from our visit to the Infinity War set.