Back in June of last year, I got a chance to visit the set of Avengers: Infinity War at Atlanta's Pinewood Studios. This is the seventh part in a series of articles from that trip. You can also read the previous interviews with Chadwick Boseman and Mark Ruffalo, Anthony and Joe Russo, Chris Evans and Scarlett Johansson, Danai Gurira, Christopher Markus and Stephen McFeely, and Don Cheadle.
Avengers: Infinity War is full of iconic characters and continued storylines from movies like Captain America: Civil War. One of those stories is the budding relationship between Wanda Maximoff aka Scarlet Witch, played by Elizabeth Olsen, and Vision, played by Paul Bettany. When we last saw them in Civil War, Wanda (a member of "Team Cap") was imprisoned on the Raft in the middle of the ocean, while Vision (a member of "Team Iron Man") was coping with the guilt of accidentally injuring James Rhodes. With their allegiances divided, they were separated in the time between Civil War and Infinity War. Olsen explained what has happened:
We have stayed on separate teams and the people on Cap's side have been fighting more rogue missions. We all look a bit different to suggest being in hiding and [Wanda and Vision have] been trying to, within that time, find points of meeting in different places in order to try and forward our relationship.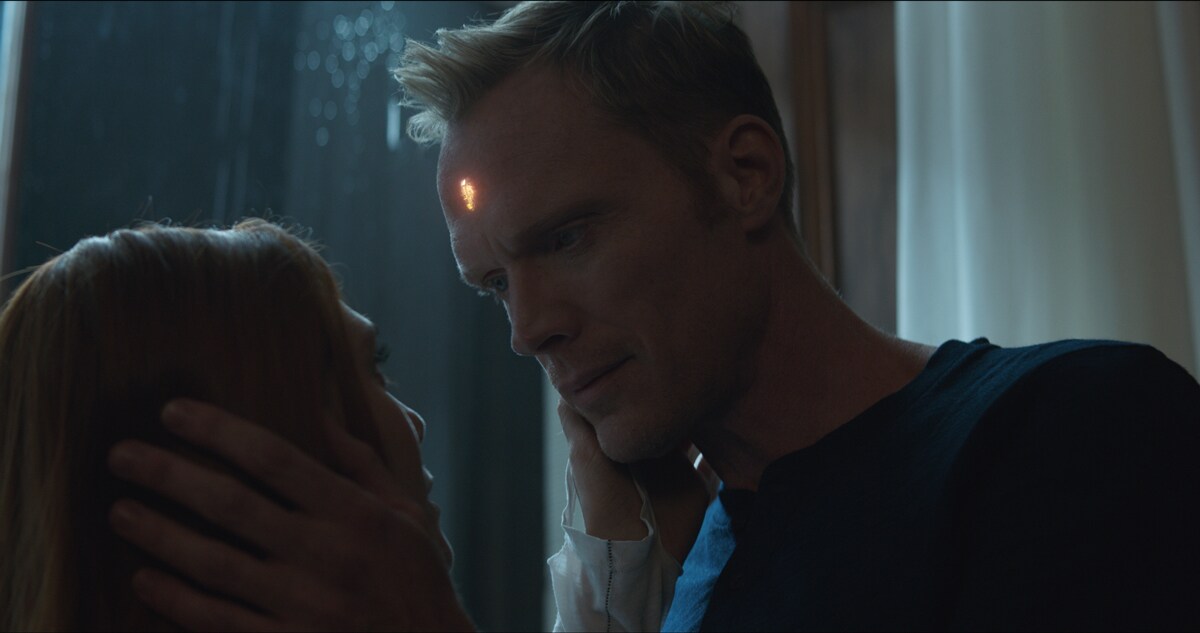 But how does Vision go undercover? Bettany offered up some ideas: "You either travel to different Mardi Gras around the world or Halloween, or you discover the ability to change your appearance with nano-technology." We're very excited to see this version of Vision!
We then asked Bettany and Olsen how they would describe the relationship between Vision and Scarlet Witch. "They're very much in love at this point," said Bettany. "Soulmates," Olsen added. Olsen admitted that the story of Wanda and Vision is a departure from her previous roles in Avengers movies. "This is definitely the most emotional arc I've done in an Avenger film," she said. "Because when we're talking about Vision becoming human, we're talking about their relationship." And as actors, being able to have one another as a constant to react to in scenes makes filming the movie even more special.
"[It's] fun," Olsen said. "It just feels like you have something really specific to work with all the time. And that feels nice. There's like an anchor point to everything, which is what you're constantly looking for when you're doing these movies. What anchors you to a grounded reality? And you have that throughout the whole film. You have your partner, your life partner with you by your side, and that creates a different kind of stakes, as well."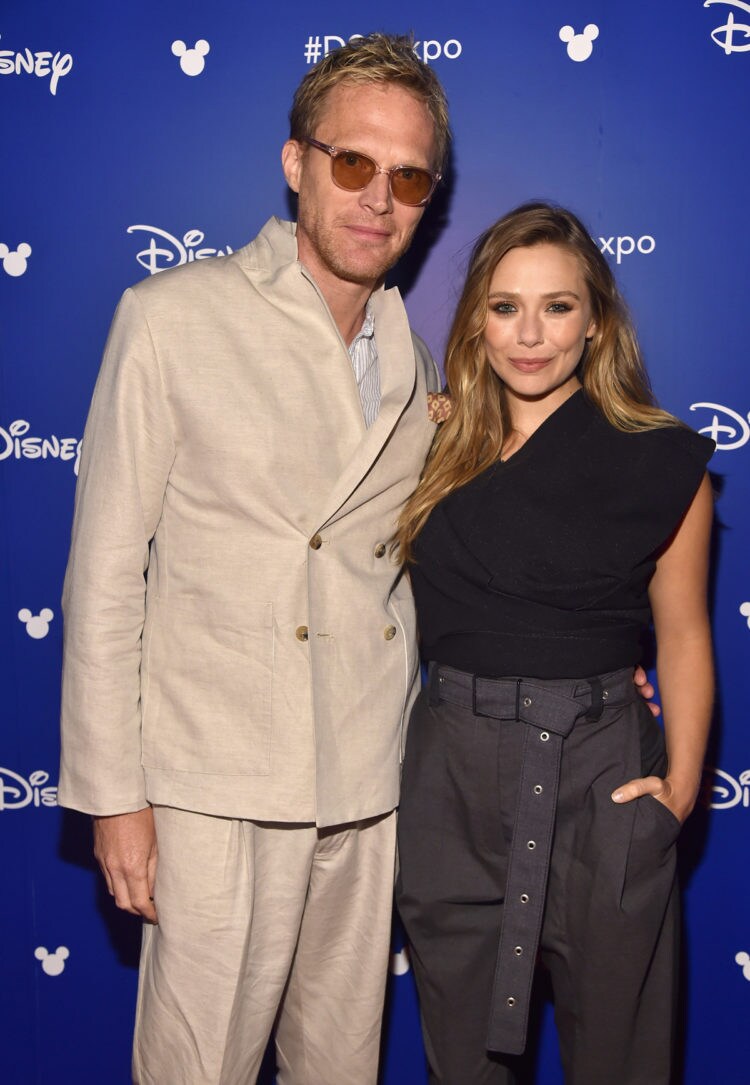 Those stakes are higher than ever in Infinity War, as Vision holds one of the Infinity Stones on his forehead! "There's some really bad dudes who want the stone from my head," Bettany said, "and that's a problem for Vision. One that troubles Vision and Wanda a lot." And that doesn't only affect the relationship between the two of them, but for the Avengers as a whole. Bettany continued:
The cost and the danger that we're all facing becomes more important than certain beef that people had in the past because it's so desperate ... So I think old grudges are buried and put off until next time.
With so much going on within the film, both Olsen and Bettany complimented directors Joe and Anthony Russo for allowing such a collaborative atmosphere. Olsen said, "The Russo's at the beginning of filming are like, 'You're in control of your character. If there are things you think we missed, please participate, please say [it].'" Bettany added, They really want you to be a collaborator and it's great."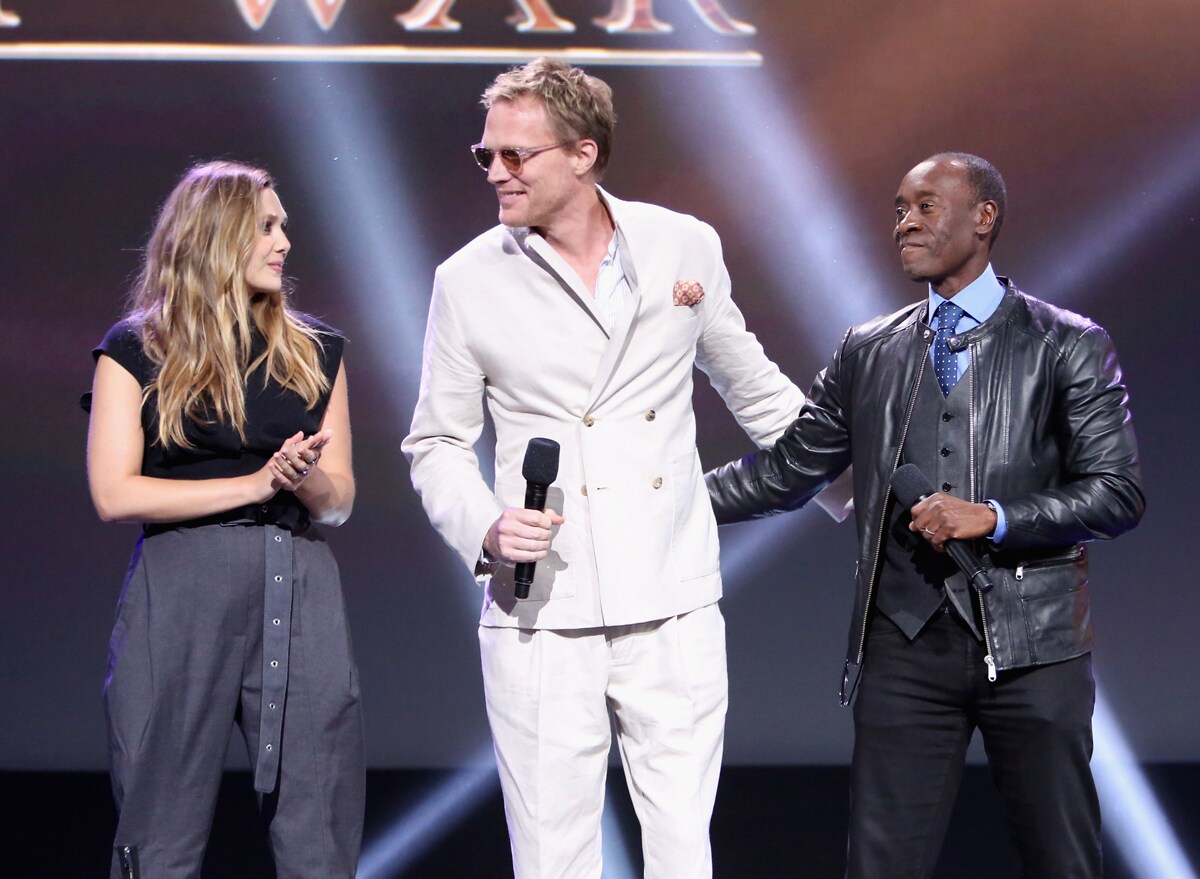 And the support doesn't stop on set. Both Bettany and Olsen agreed that Marvel Studios has been incredibly open to taking ideas from the actors. "[Marvel Studios] makes it the most creative environment it can be," Olsen said. Bettany summed up working with Marvel Studios by saying:
I think the success of the Marvel [Studios] films comes from the fact that they're made by fans. They really love those characters. When I first came out dressed as Vision, Kevin Feige nearly cried. I didn't grow up reading comics but they make you fall in love with your character. They really do. Their love for these stories is really infectious and you become really invested, and there's a lot of invested people beyond the financials of it all. They really want to do a good job, and I think fans really trust that if they bend things that they're in safe hands—that the story is in safe hands because I guarantee you it's made by geeks. This movie is made by geeks. They love them, they feel it when they're talking about it.
Will Wanda and Vision be able to overcome Thanos? Make sure to see Avengers: Infinity War when it hits theaters on April 27. Check back here on Wednesday for more from our visit to the Infinity War set.