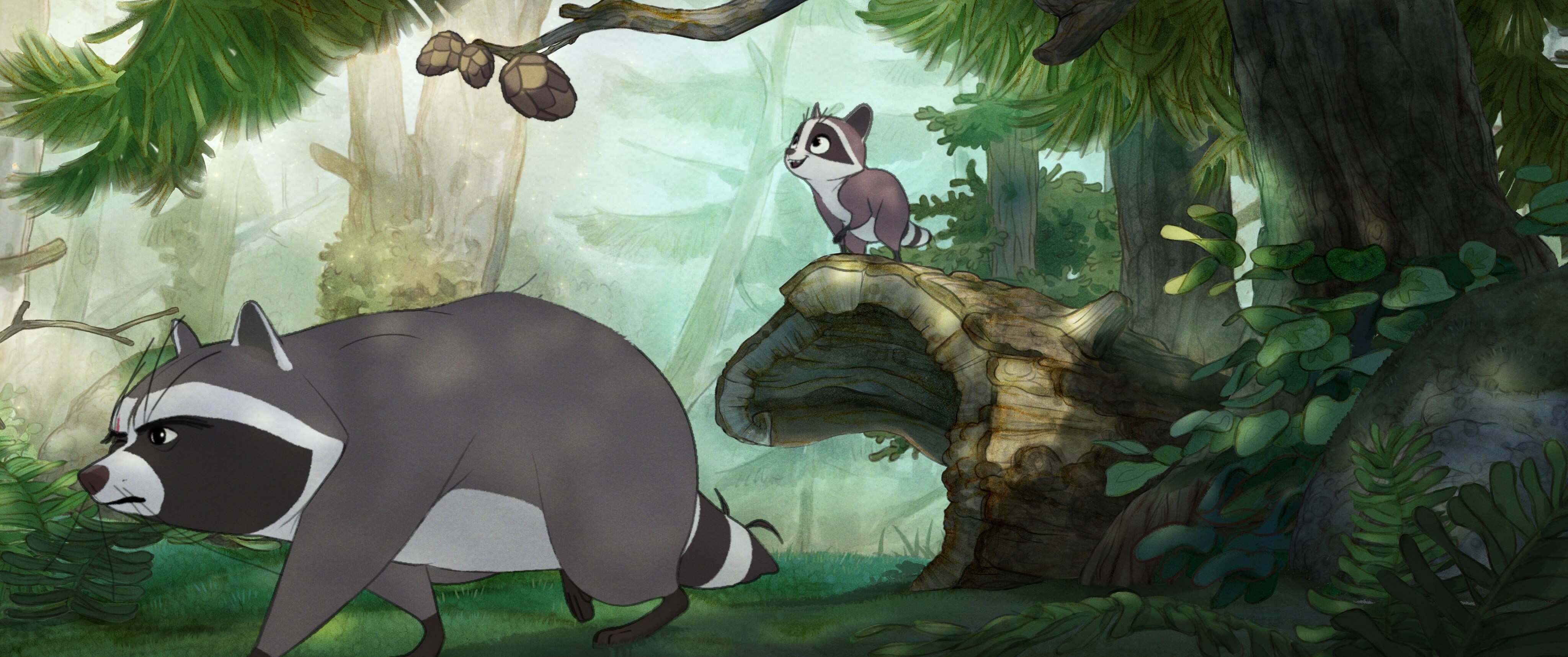 Walt Disney Animation Studios' 60th animated feature, Encanto, comes to theaters on Wednesday, November 24, and there's a new theatrical short before the film. "Far From the Tree" tells the story of a parent and child raccoon as they explore a Pacific Northwest beach, with the little one more interested in exploration and the parent, naturally, focused on keeping the young one safe. Disney News sat down with "Far From the Tree" director Natalie Nourigat and producer Ruth Strother to hear more about the making of the newest Walt Disney Animation Studios' short. (Interview has been edited for length and clarity.)
What was your inspiration for the short?
NATALIE NOURIGAT: This short came about in 2018 after finishing up "Exchange Student" for the Short Circuit program, and this amazing opportunity came up to pitch ideas for a theatrical short. I had three ready to go in my sketchbooks, waiting for an opportunity like that. And I thought I was just going to pitch the three, but around the time it was go-time, I thought, OK, I'm just going to throw [in] this fourth idea. It's not fully baked, but it's something that feels really personal to me about growing up in Oregon, going to this specific beach with my family, and the way it feels as a kid to get to spend the whole day with your family in a beautiful place. And that was the idea that ended up getting selected, I think because it was personal and rooted in something that I clearly felt very emotional about. But the idea changed a lot over development and production. So folks like my amazing producer Ruth helped me in the development process, asking all the right questions and digging into this emotional starting point that lacked conflict and a plot [LAUGHS], and finding one that would speak to everything that we started with, but also go to a deeper place with the theme of children and parents.
Where did that theme come from?
NOURIGAT: In the beginning, that idea was multigenerational. It was a parent, a child, and then their child. And I think it was coming from, personally, this question of — I loved getting to do that with my parents, I loved going to Cannon Beach with them and my brothers — am I ever going to take a little person here? I don't know if that's part of my story, but I love the idea of passing these wonderful memories of childhood on and introducing somebody to this beautiful place that we live in. And I don't want anybody to think that "Far From the Tree" is autobiographical. [LAUGHS] I was not put in danger by my parents, but we did want to dig into more complex themes than just, going to the beach with your family is fun. We polled a bunch of folks in our studio and we looked for universal themes like, are there things that I would like to do differently than my parents? Are there things that I think they did not do so great, or things that I would like to change? Is that as easy as it seems? Or, when you become a parent, do you inherit this sort of humility, realizing that it's easier said than done and the world is a complicated place? We got these really beautiful stories from coworkers — some folks were like, "I did make a conscious choice to do things differently and I have a different relationship with my kid, and I love that." And we also had stories from folks who said, "I had all of these ideas about, oh, you just do A, B, C, and then there are no problems, and actually I have so much more gratitude for my parents now that I see how hard it is." So we hope that everyone who watches this movie feels seen, and hopefully we can give a feeling of connection and hope and healing to everyone.
Ruth, what was the process of working on the short like on your end?
RUTH STROTHER: It was wonderful. That goes without saying. It's so cool listening to Natalie talk about it because it really does come from a really personal place for her. And I think my biggest job, and the burden that I felt was just to ask the right questions. She was clearly digging deep and going to some very raw and vulnerable places and asking a lot of questions of herself. My job was just to help guide that by asking questions about the truth that she was seeking, and the feelings that she was feeling, and making sure that it continued to come from a place that was authentic and felt true for her. So it was a joy to work on it. We are so thankful for the entire team that came together. All of our department heads were such experts and everyone brought their voice to the table. Everyone contributed. Everyone felt free to give their notes, their ideas, and their experience because we all have parents and we all have experiences that we can share. So we really relied on our team to bring truth to what they were doing and to bring that emotion to the table, and I think it's up on-screen, which is wonderful.
Natalie, how was this experience different from making your Short Circuit short, "Exchange Student"?
NOURIGAT: In some ways, it was an extension, and I was so lucky to have "Exchange Student" as training for the theatrical short. It went so much more smoothly, having been through that process before. But "Far From the Tree" had more time, more people, more runtime, so I got to push so much further — myself as a leader with a larger team, teaming up with folks like Ruth who were dedicated to the project and worked on it for longer. We had more of this tight-knit leadership group that we got to form. We got to push the art style much further. It's building on top of what we got to do with "Exchange Student," but we got to try it a second time. I know we can do even better. I was just very excited to get to do more shorts with Disney.
What were both of your reactions when you first saw the footage for "Far From the Tree" coming together?
NOURIGAT: Well, for me, I'll never forget the first time that we saw the first look of picture, a moving look of picture that [Director of Cinematography, Lighting] Roger Lee and [Visual Effects Supervisor] Josh Staub collaborated on. My heart lit up because I was like, this is going to work. You know, this art style that we're going for, it's moving, the camera is moving, everything is working. This is going to be the perfect artistic vehicle to carry this story that we're cooking up. It was so exciting.
STROTHER: It's hard because, when we're in production, we see all of these shots over and over again and there's not like that [one] moment where you suddenly see it all together — it's more like, you're seeing it and you've become so familiar with it. So it was really nice when we were doing color timing and post [and got to see it]. We'd gone into quarantine two weeks before we were supposed to wrap up production, so our last two weeks extended out about six months as we figured out how to do everything from home. So when we went in as a group and watched the whole thing put together and finished in color timing — not having been together for a really long time or sat in a theater and seen anything on a big screen for a really long time — that, to me, was the most moving moment. Like, wow, this is a thing that we did, and it's here and it's real and it's on the screen. It still moves me and I still think it's beautiful. So that was a really encouraging moment for us all.
So in a way, was your own short the first movie you saw back in theaters?
NOURIGAT: Oh, yeah. It felt like such a privilege to get to go back into the Disney Animation building and this theater where we see all of our films when they're in production, and be back together with these people that we had been spending every day with, but we hadn't seen for months. It was emotional and really nice.
What do you hope audiences take away from "Far From the Tree?"
STROTHER: Natalie asked for a dedication at the end of the film, which is: "To parents everywhere who are doing their very best, we want to say thank you," and that's really what we want this to be — an acknowledgment that parenting is hard and that everyone is doing their best. They're doing the best with what they learned when they were growing up. So we want people to walk out and feel really seen and really acknowledged, and hopefully find a little grace and a little forgiveness if they need it, and be able to have their eyes opened a little more with perspective of what everyone is going through on a daily basis.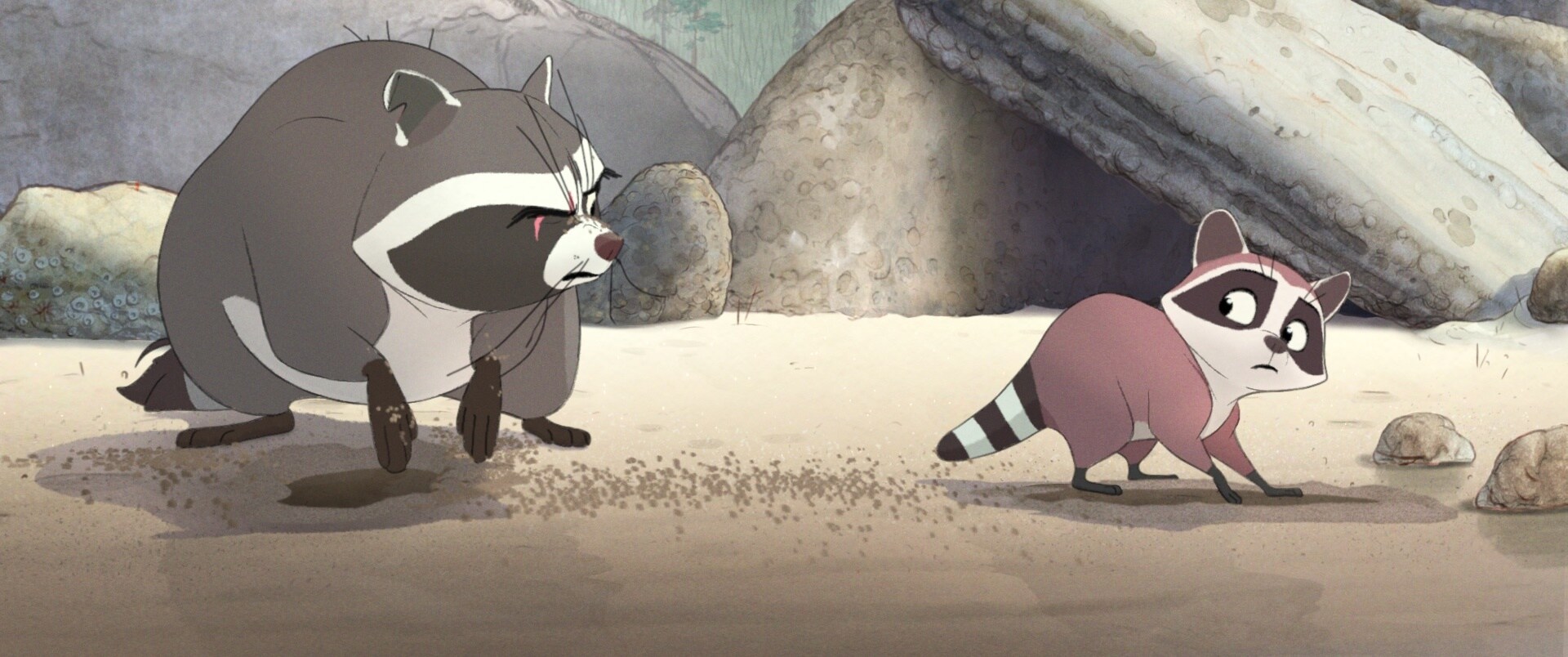 Catch Walt Disney Animation Studios' "Far From the Tree" when it's released ahead of Encanto on Wednesday, November 24.