We all know Edna Mode has one of the coolest jobs in the world. Designing super suits takes innovation, skill, and a keen eye to incorporate all the things a suit does and doesn't need (no capes, obviously).
And to celebrate Incredibles 2, film and tv students from the Fashion Institute of Design and Merchandising (FIDM) had the opportunity to channel their inner-Edna and design super suits inspired by the characters of the Incredibles world.  To learn more about the project, we sat down with the class to discuss their designs and how they took inspiration from the iconic film for their looks.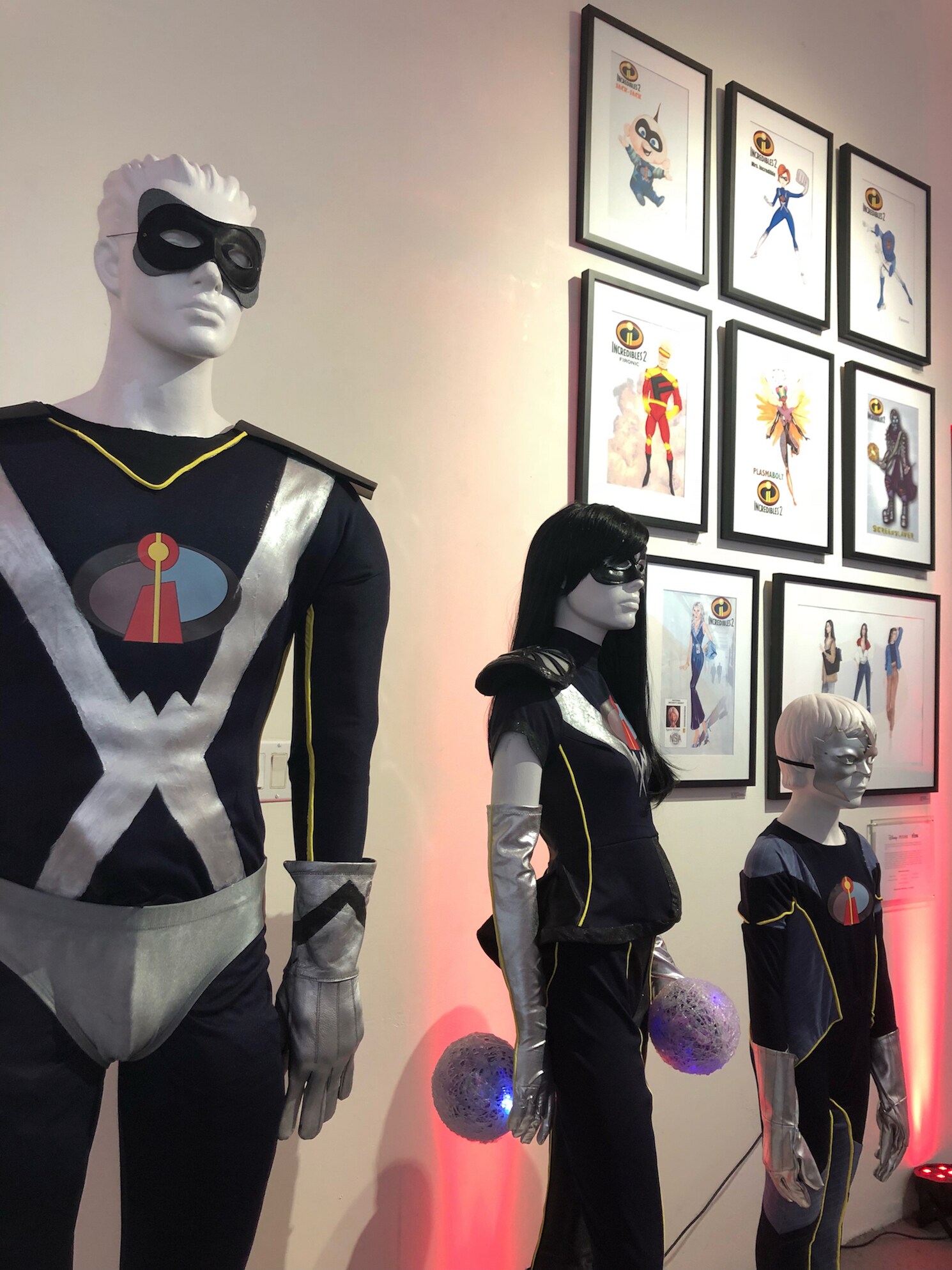 All of the students worked together to create three new super suits for Mr. Incredible, Violet, and Dash that they designed, constructed, and brought to life for the Incredibles 2 art show at Gallery Nucleus. To make sure their designs felt cohesive like the Parr Family's red suits, the students agreed on a color palette and logo for everyone to use. As student Shealyn Biron explained:
We reimagined the logo as a group, because it's still so true to the original logo, but we wanted to play around with the colors. I think the colors were really something we put a lot of symbolism into. The blue in it is from Mr. Incredibles' very first suit, the grey is from Elastigirl's first suit, and then the red is from their original family suit. We chose that navy blue, because it's a color we haven't really seen. We were deciding if we wanted to go with super bright Pixar colors or if we did want to go more muted, sort of like superheroes we're used to seeing [in film right now], and we thought this blue was a really nice in-between.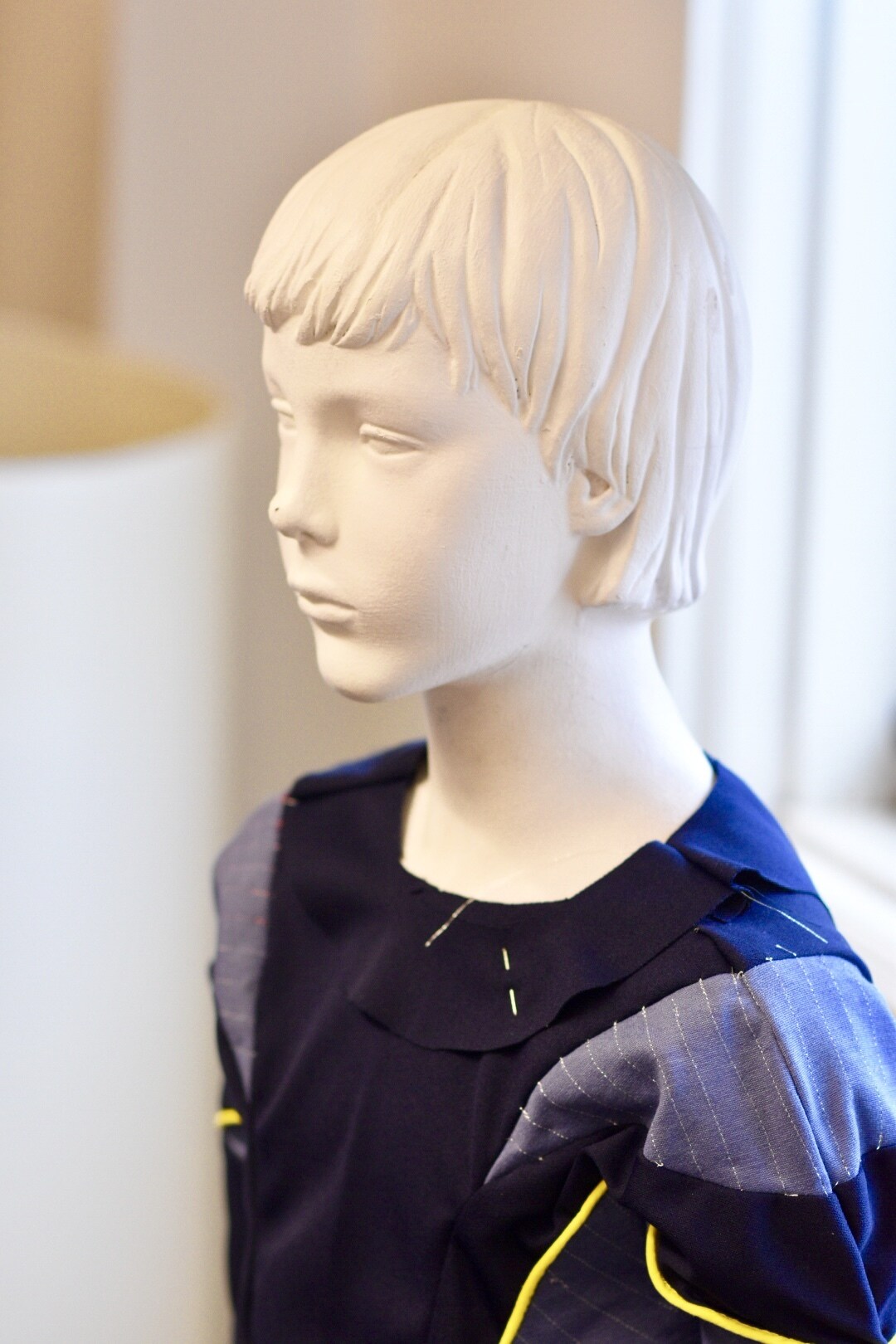 For Dash, Biron and fellow student Anna Harvey looked at exteriors of sports cars to create movement for their Dash design. They also utilized mesh and stretchy materials found in running clothing to help Dash be able to speed away quickly in their look.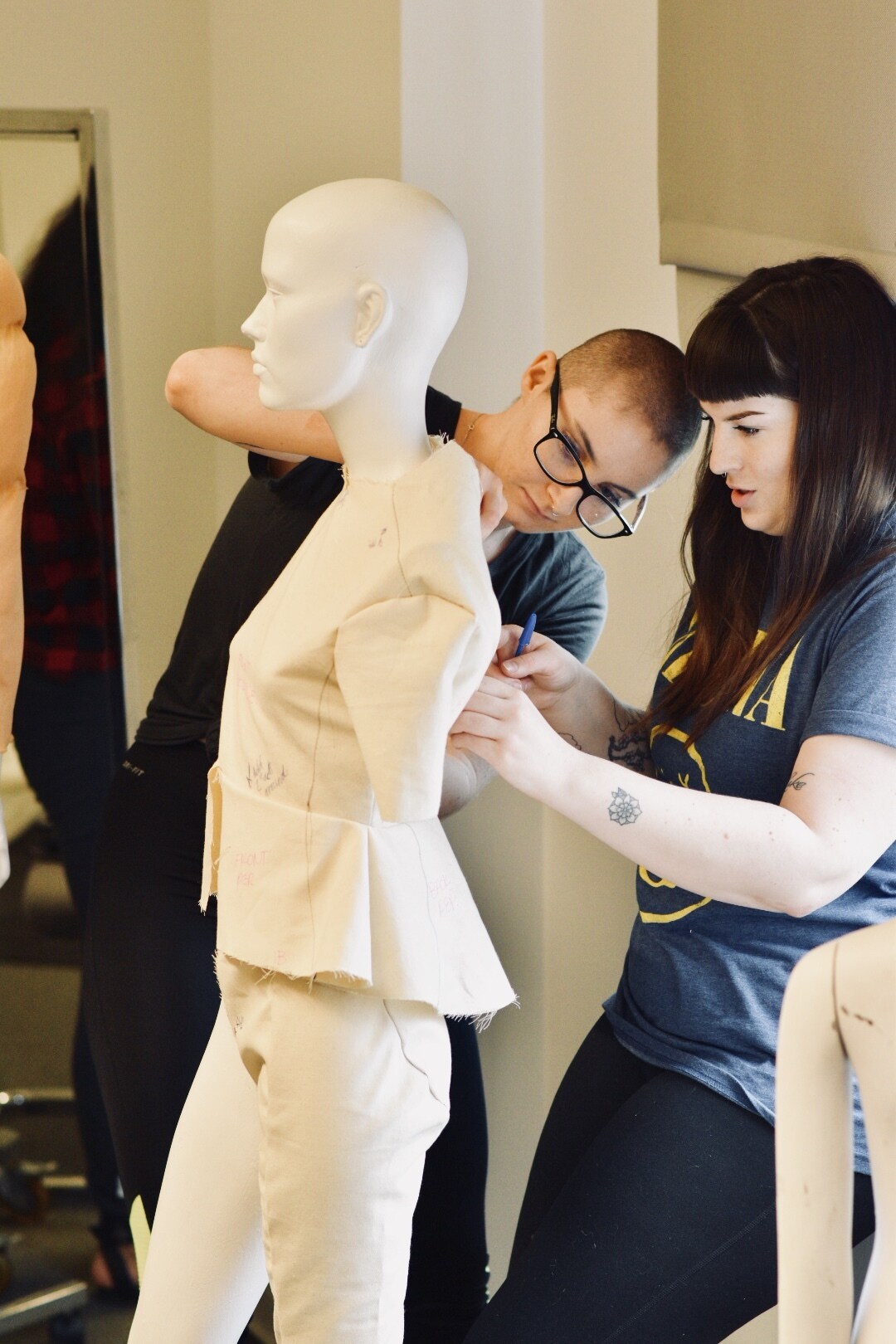 For students Lee Diemer and Jenevieve Wiegman, it was important to incorporate Violet's newfound confidence at the end of The Incredibles into their design. They also took inspiration from her powers and "tried to incorporate a few of the glowing textures and more things like that, which is why we picked the more slippery, almost iridescent fabric as the contrast fabric," noted Diemer.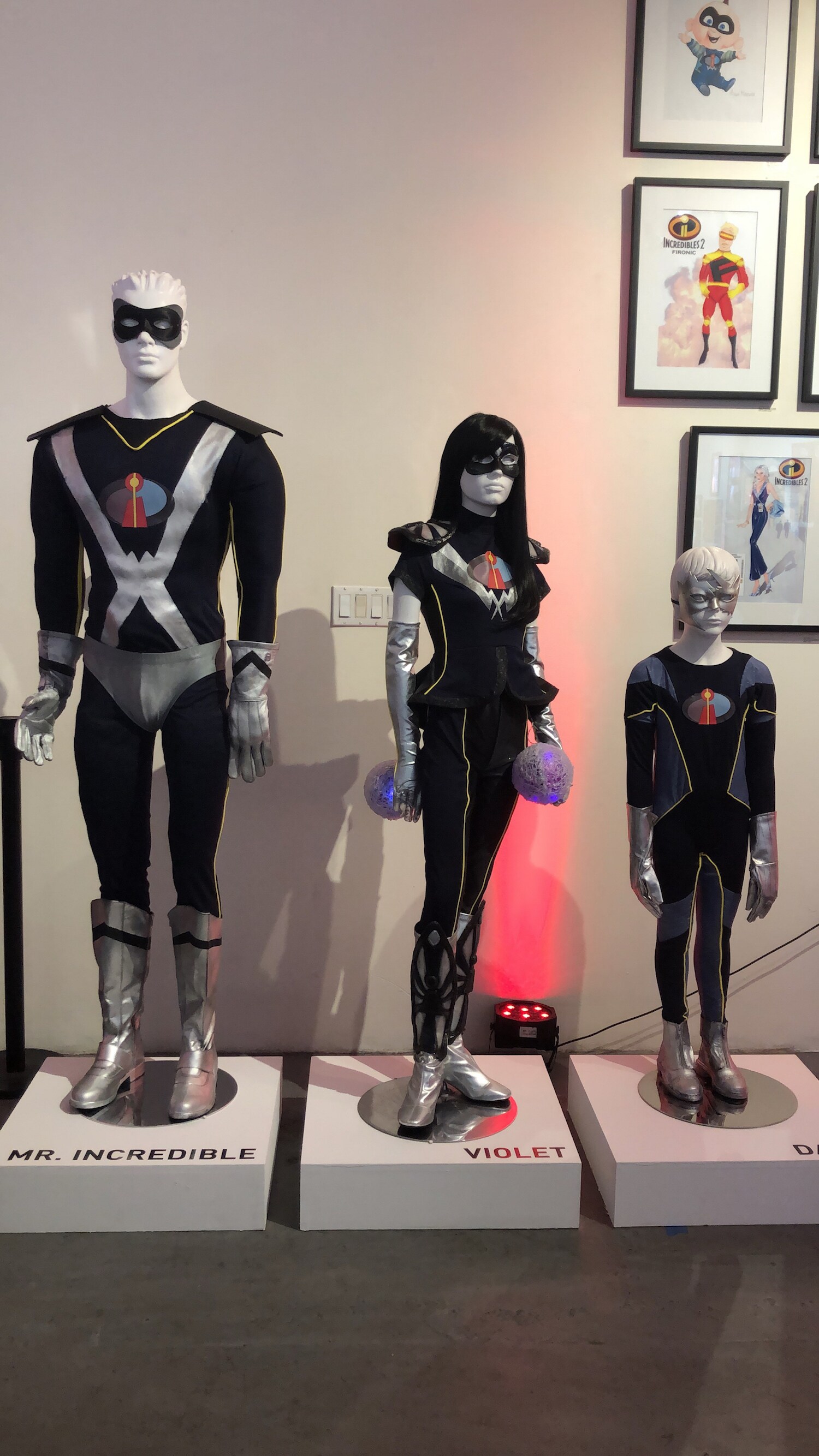 Students Rima Varghese, DeJanaye Starling, and Breana Hale wanted their Mr. Incredibles suit to be practical. "We wanted to make sure that it was lightweight, and he could move in it," said Starling. "It [needed to be] realistic to what they would be doing if they were actually here in this world wearing this outfit."
Each student also sketched a redesigned super suit for one of the characters in the film, while student Bailey Johnson designed off-duty outfits for Violet. From Mirage to Frozone, to Screenslaver and Jack-Jack, the students put their own spin on what each character would wear. "It's so cool to be able to take the art form that we're studying and put into a new medium. We sew a lot, we do illustrations a lot, but to bring it into an animated world is so unique and such an interesting opportunity," said Biron.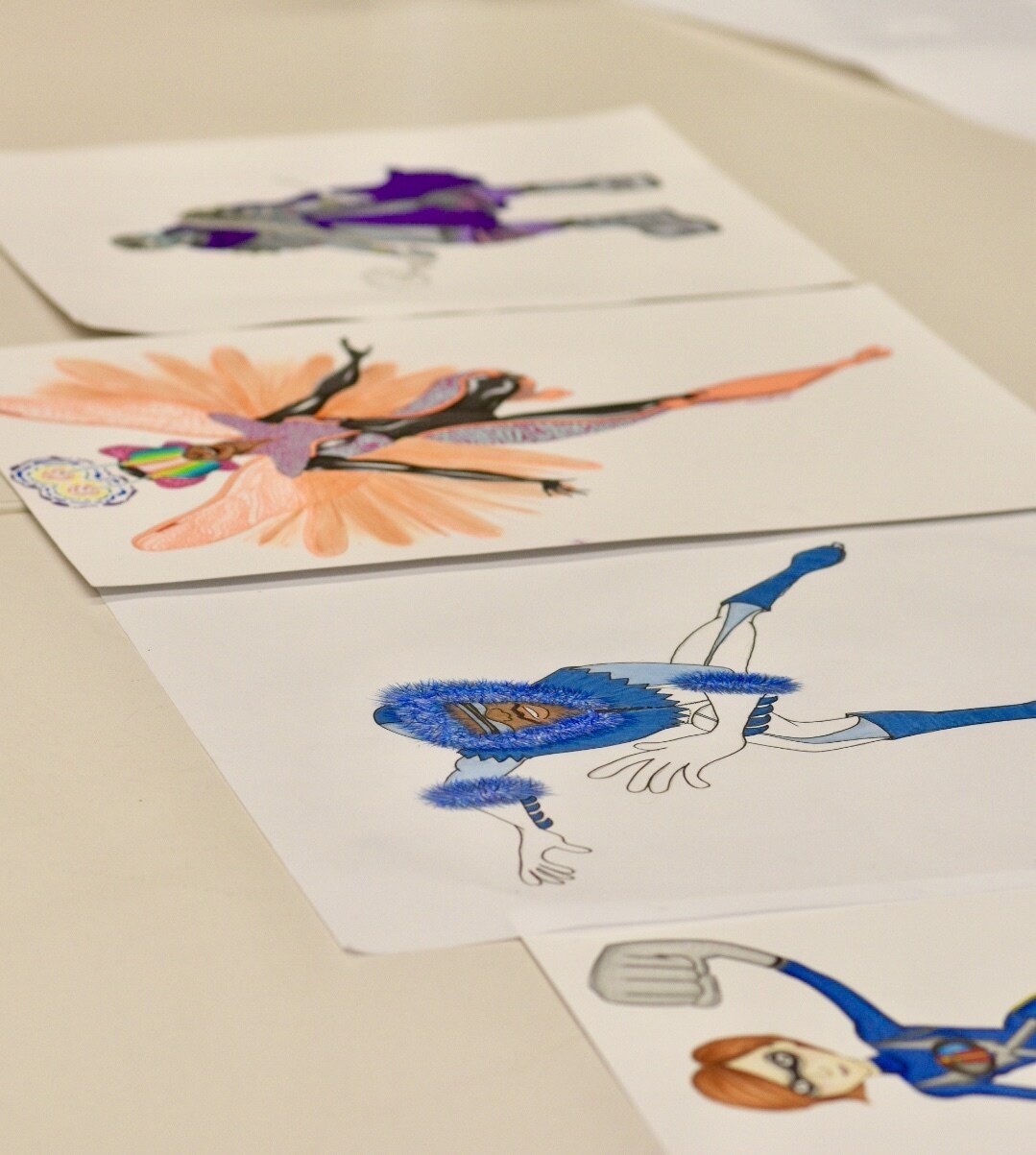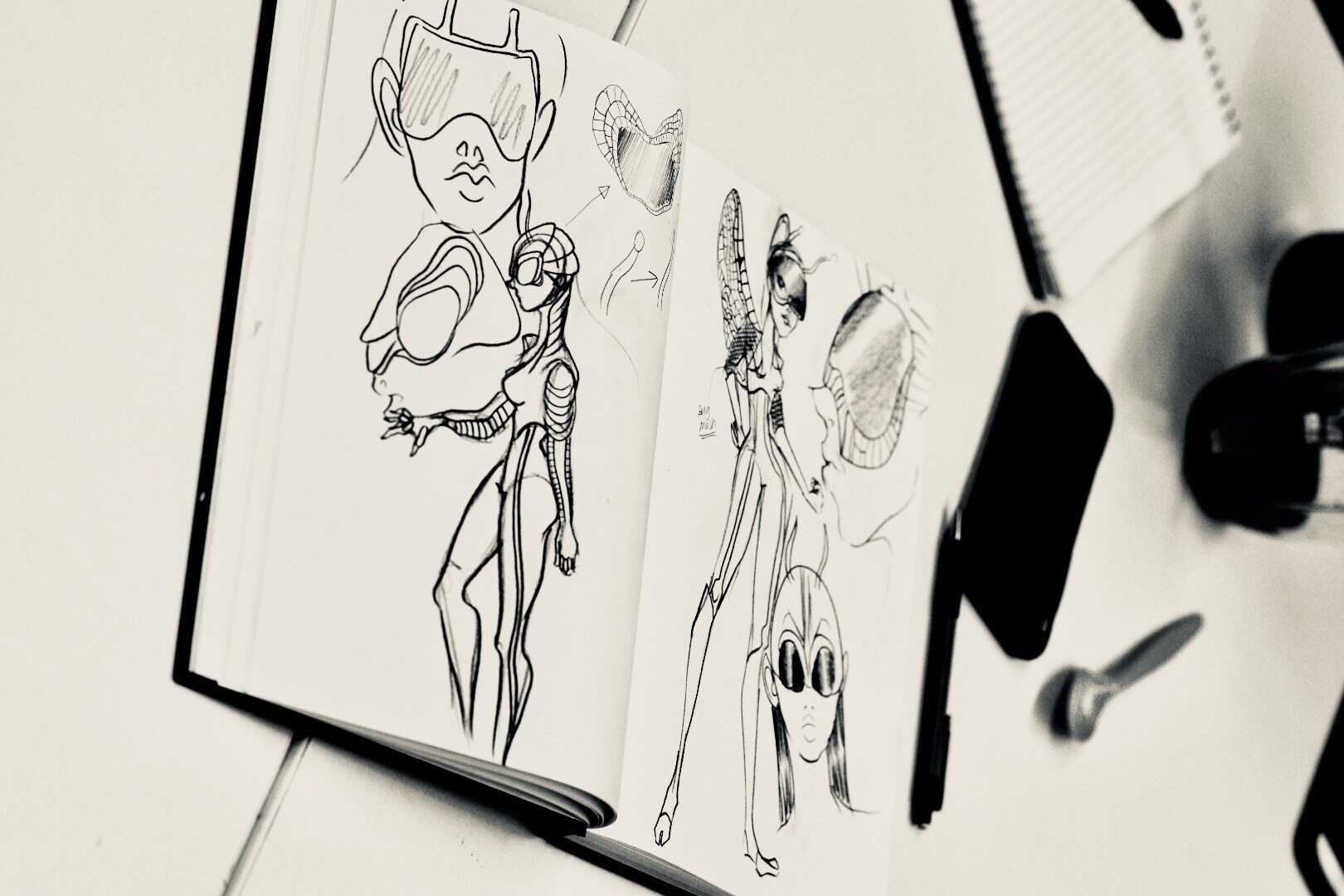 The project was also a great learning opportunity for students, as they researched their Super looks. "It definitely made me dive deeper into what does a [Super] wear. Coming into this project, at first, I had no idea what [Super] costumes [are made of]. So, you get to research [and] learn something new at the same time," explained Hale.
"It also pointed out the challenges that the original [Pixar] designers must have faced in making all these different superheroes – not only to be animated with the technology they had at the time, but being able to make sure that kids could know what [each Super's] powers were with just simple colors and shapes, little things like that," noted Diemer.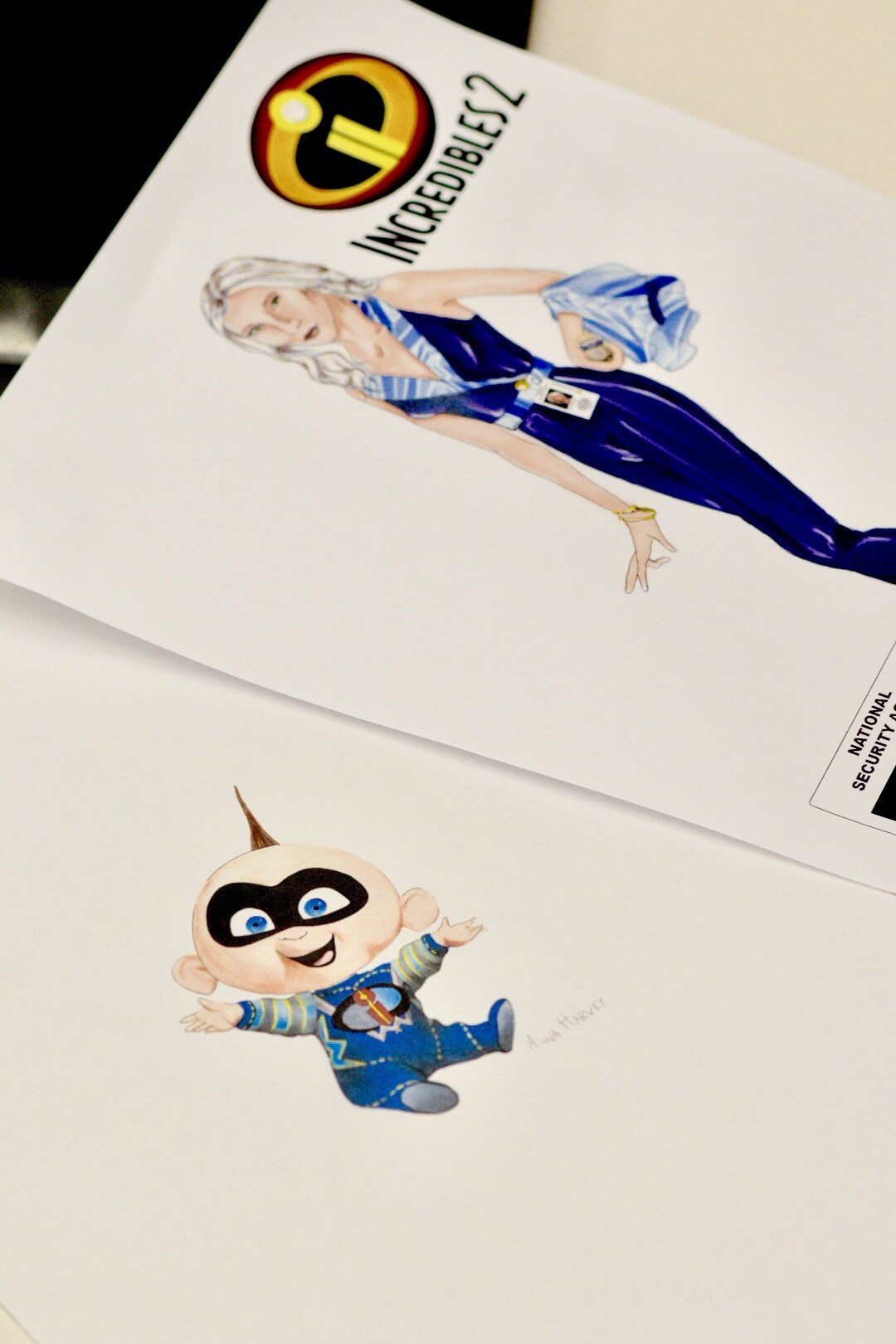 All of the students noted that The Incredibles was one of their favorite Disney•Pixar films, and that they each watched the film multiple times to gather inspiration for their designs. "It's a classic film. I think especially because the first film came out so long ago and most of the people who watched it who were younger are now in a totally different place in their lives," noted Varghes. "It's interesting to be able to go back and connect to something you had when you were a kid. So, I think that's what's going to bring people back to [Incredibles 2]."
And the opportunity to collaborate with Disney•Pixar on this project was definitely a highlight for everyone. "You take it to heart, because you love the company so much, you love the idea so much, and you really want to embody who you are as a costume designer and really put your best foot forward, because it's such a phenomenal company. It's really a cool experience to be chosen as a school to be able to have this opportunity," shared Wiegman.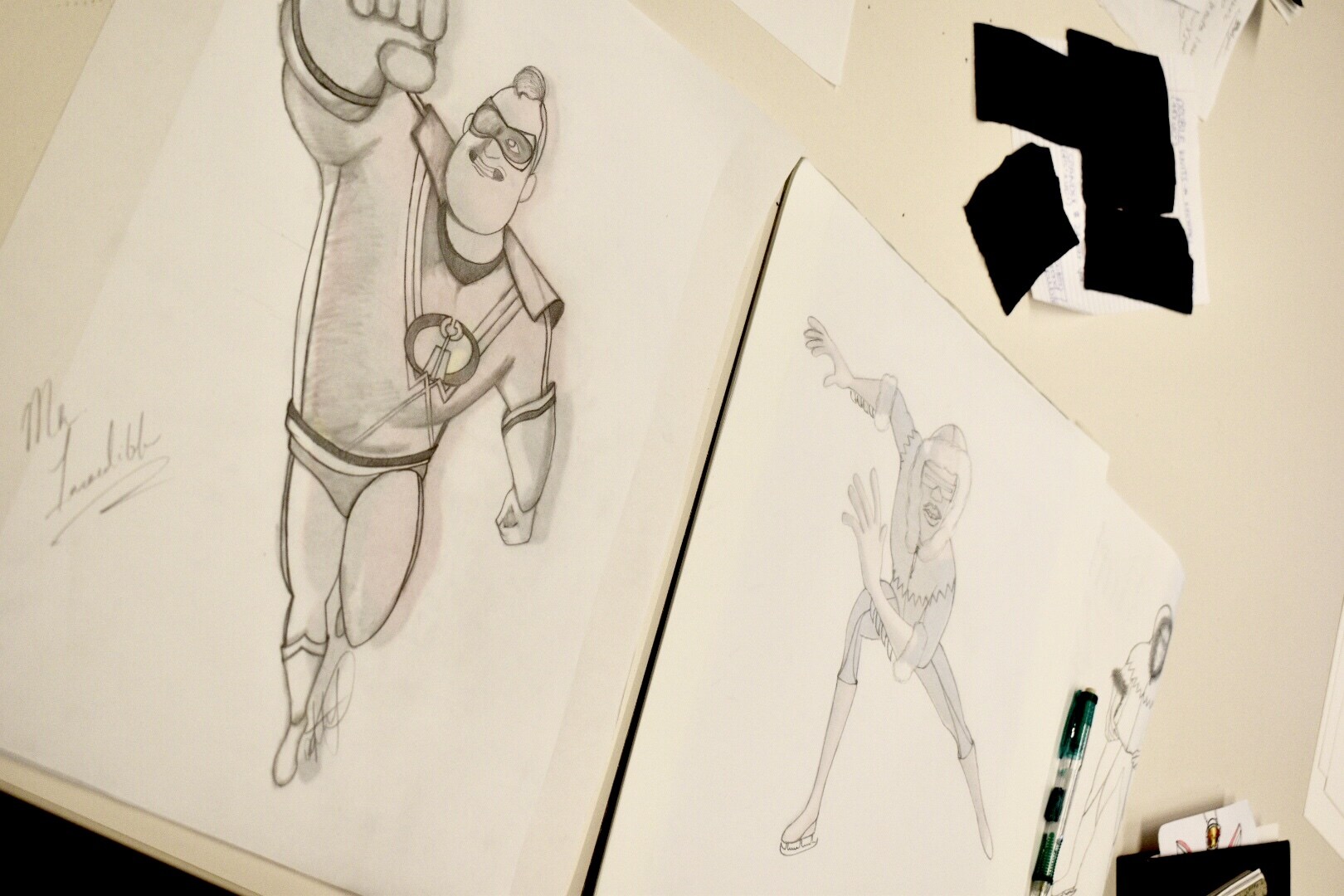 You can see all of the FIDM students' work on display now through July 1 at Gallery Nucleus. Incredibles 2 is in theaters now.