One of the many aspects to look forward to in Incredibles 2 is the costumes. While we're over here rocking our Trina Turk Incredibles 2 line, the characters in the film will be wearing those mid-century, vintage-inspired styles that we came to know and love in the first film. Behind those costumes is a team of fashion-loving individuals (who sometimes even create physical versions of the animated costumes that they can wear themselves!).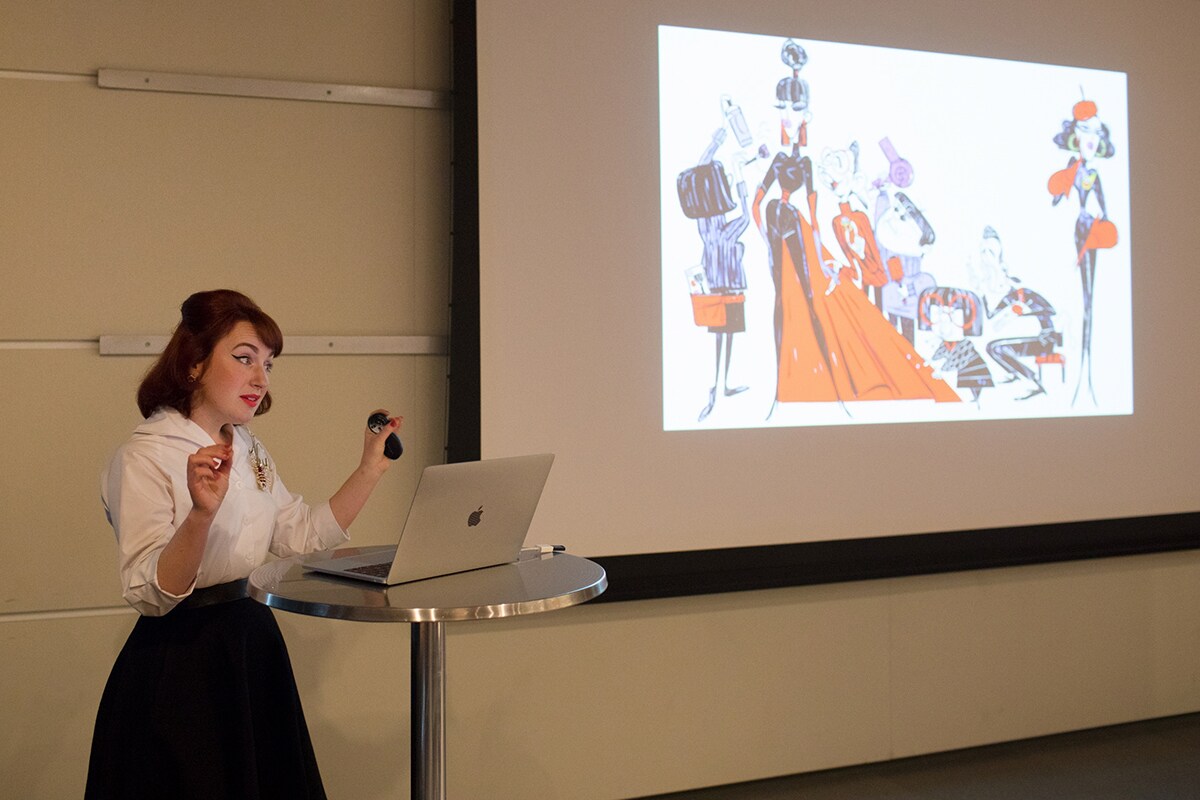 "I have a passion for vintage styling, particularly for mid-century looks, and for years I've incorporated authentic vintage into my everyday dress. I think this is one of the reasons why the Incredibles team brought me on," said Deanna Marsigliese, Character Artist on Incredibles 2.
Marsigliese breaks her creative process down into two parts: "being creatively theoretical," (that is, thinking about how the costumes aid the story), and "being creatively practical," a process that "is full of really cool challenges, and is centered around being clever and efficient."
Edna Mode
When designing a clothing line on behalf of the fabulous Edna Mode (a glimpse of which we will get to see in the movie), Marsigliese had the challenge of thinking like Edna.
"One thing that was very clear, which she states in the first film, is that she likes things to be dramatic," she noted. "But knowing this could only get me so far, because a lot of times fashion designers don't necessarily design things that they would wear on their person, they design for their models. Their aesthetic is oftentimes different."
After researching prominent fashion figures like Italian designer Elsa Schiaparelli, Marsigliese "started with a very classic, mid-century inspired silhouette that was always very bold, very dramatic, as Edna would have done." Then, she played with and rearranged those designs to push the boundaries of the new and dramatic even further. "I started to add surrealist elements of my own, and then it really started to make it feel specific."

But what was Edna's motivation for making this fashion line? Marsigliese recalled that Edna hates models, which she mentioned herself in The Incredibles. "She says she wants things to be 'bold, dramatic and heroic.' So I figured Edna would use her fashion line as a vehicle to celebrate superheroes and her powers. Once I realized that, the designing fell into place on its own."

Bryn Imagire, Shading Art Director, designed pieces for the Parr family, for Edna Mode, and for new character Evelyn Deavor.

For Edna, director "Brad [Bird] said for the first time she [Edna] is Japanese and German, so I looked at Japanese fashion designers like Rei Kawakubo, Eiko Ishioka, and Chitose Abe ... They always looked really comfortable in contrast to what they were creating for their models, and I really liked that contrast," Imagire noticed.

Background Characters
There are hundreds of people that populate the world of Incredibles 2, and they all need costumes. "I really wanted to look at what made 1950s day-to-day-wear iconic. So I studied a lot of home-sewer patterns ... I took note of the boldness of shape, and the silhouettes, the perfectly tailored fit. This was the most defining quality I found," said Marsigliese.

The outfits on background characters cannot compete with the main characters, but they are still "stylish and with a modern twist." Once a few looks are constructed, the tailoring team comes in to work on strategies to optimize a few basic pieces for multiple uses, by doing things like changing the sleeve length or the collar.

Said Fran Kalal, Tailoring Lead:
The world is populated with these amazing background characters. To costume this many background males, we made twelve unique garments and re-fit them to six different body types. By using variations of color and patterns, we were able to take just those twelve garments and make 72 uniquely costumed characters.

"Our background females had twenty unique garments and seven body types. With color and hair variations, we were able to make 64 uniquely costumed characters," Kalal added. On her own time, Kalal creates physical outfits of the costumes she made, so that she can wear them out in the real world.

The team uses real pieces of fabric as reference when creating and tailoring their designs. "It's always good to have tangible pieces of fabric so that the team knows ... what the material acts like, how shiny it is, what the stitching looks like," said Imagire.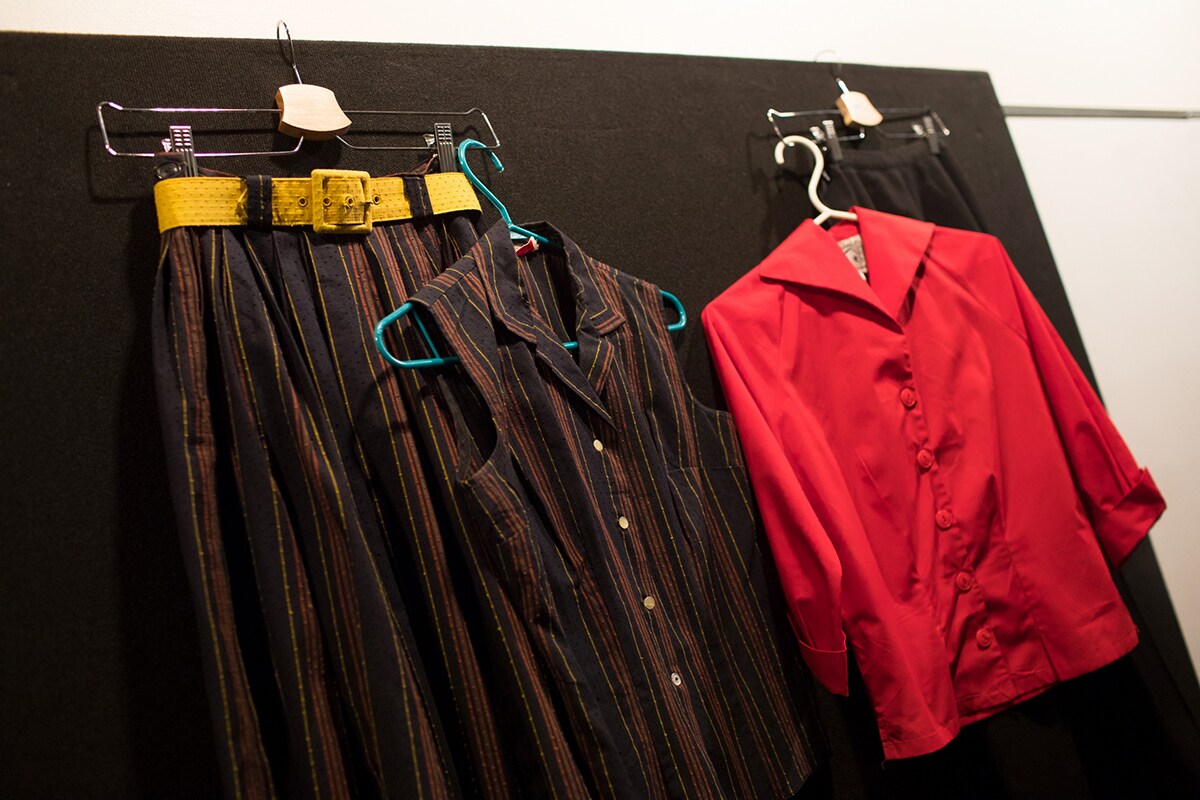 The team can then animate density and gravity in a simulation to see how fabric moves, which makes these reference fabrics very helpful. The controls can direct the fabric in the simulation to do things like be lightweight, be stretchy, to bend easily, and more!
Evelyn Deavor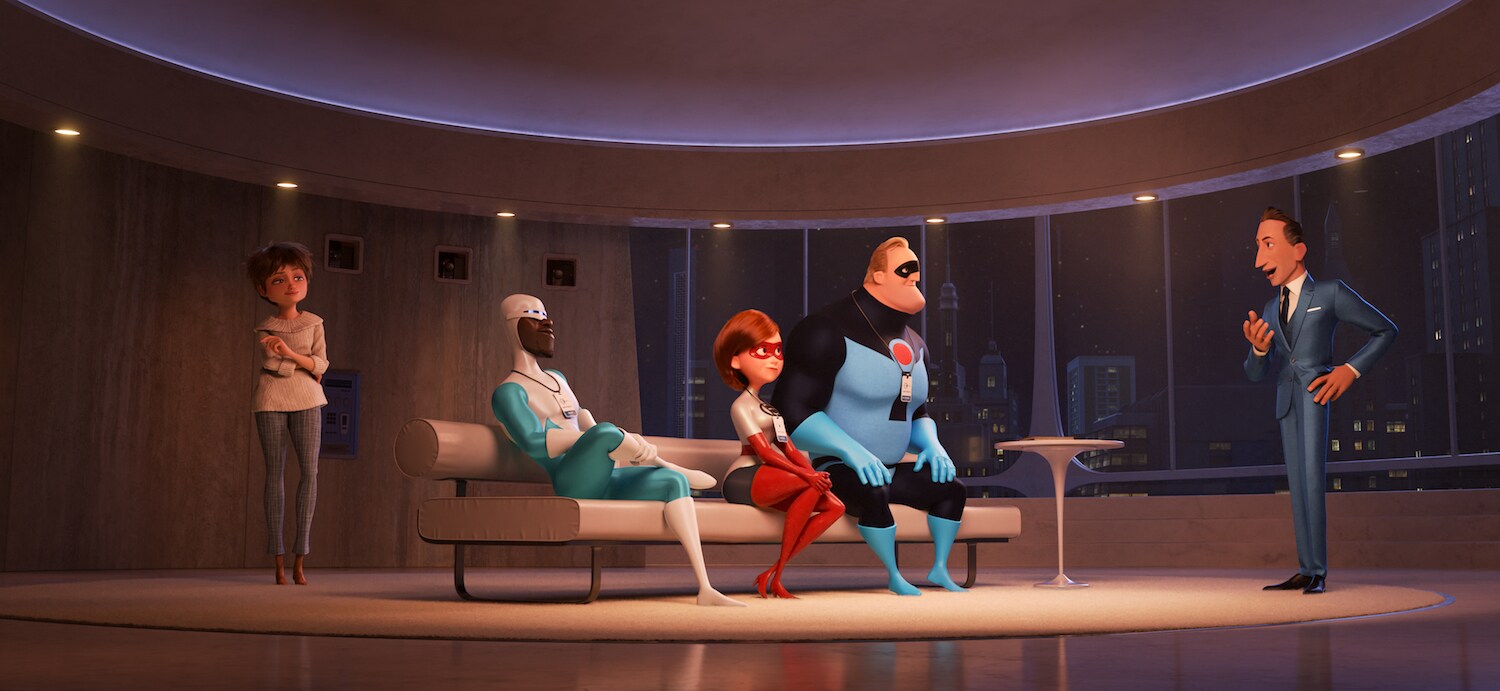 Evelyn Deavor, a new character we'll meet in Incredibles 2, works as a technical designer.
"For inspiration for Evelyn, Brad asked me to look at Patti Smith, Laurie Anderson, Diane Keaton, and Annie Lennox," said Imagire. "He wanted her to feel Bohemian. Since she's a designer, she works a lot, so she couldn't be hindered by her clothes that much."
An early draft of Evelyn was more colorful than what we see above, but that felt less Bohemian than Bird intended, so Imagire pivoted the designs closer to the neutrals that you see above and will see in the film.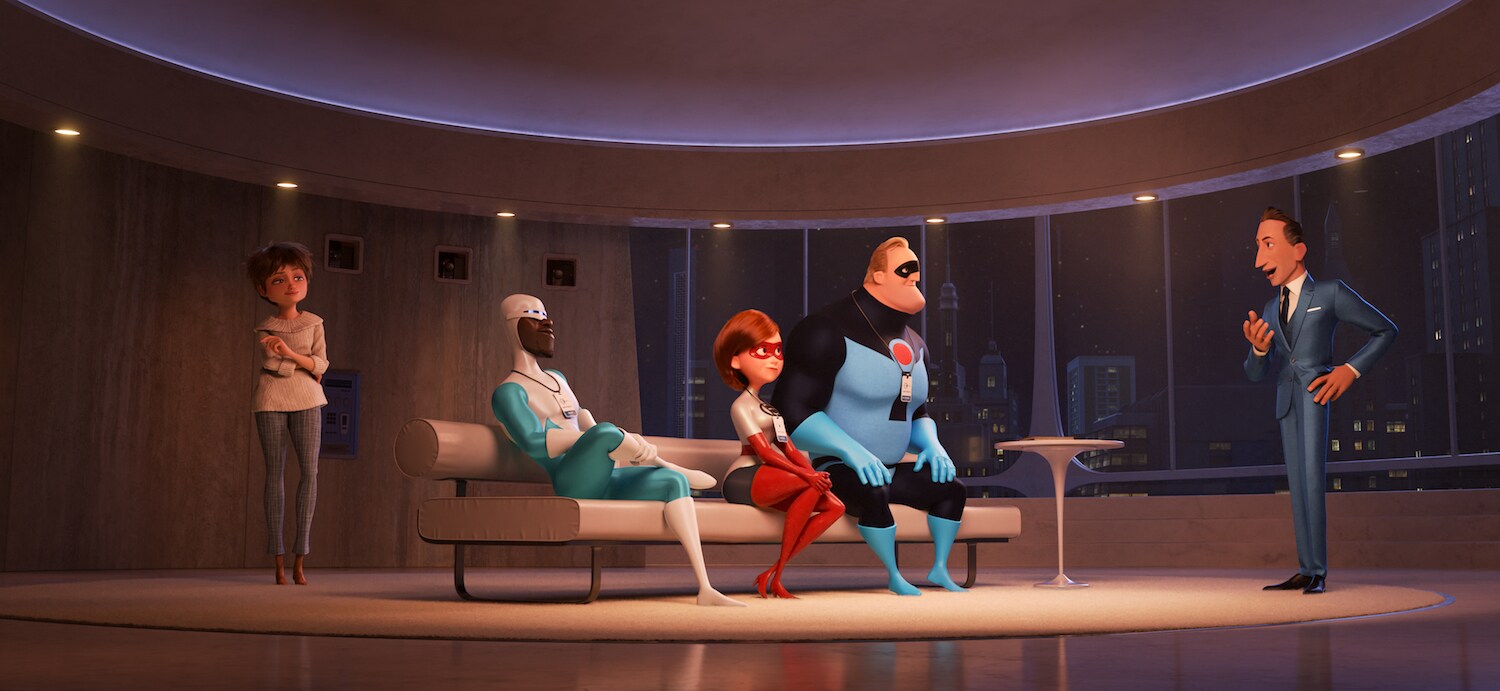 Evelyn Deavor's outfits indicate "that she's worked hard, and wants to enjoy the fruits of her success," added Kalal. "So she's dressed in luxurious materials such as tweed, leather, and even faux zebra hair."
Evelyn is truly fabulous, and we are looking forward to seeing all of the bold looks she and all the other characters wear in Incredibles 2 on June 15!