Here are some of the new and returning Halloween Time food items that are available at the Disneyland Resort!
We love visiting the Disneyland Resort during Halloween Time! The decorations, the pumpkins, the characters in their Halloween garb, and the transformed attractions are exactly what we need every year to get us into the spooky spirit. This year, we are especially excited for all of the new and returning Halloween Time food items that are available!
We recently caught up with Disneyland Chef Scott Daffron, who told us that "almost every location has something themed for Halloween, which is brand new this season." Count us in! Here are some of the things we can experience during this festive holiday:
Plan it out with a checklist:
Not only are there a plethora of new treats available for this spookiest of seasons at the Happiest Place on Earth, you can also now map out your dream food journey while you are at the park with a handy food guide and checklist!
Said Disneyland Resort Chef Scott Daffron, "You [now] have an actual roadmap for the food that's here for Halloween Time, for both Disneyland Resort and Disney California Adventure … it truly is a checklist." He then added, "I would not advise eating your way through the whole checklist in one shot."
We … may or may not take that advice, Chef Scott!
Churros, churros, and more churros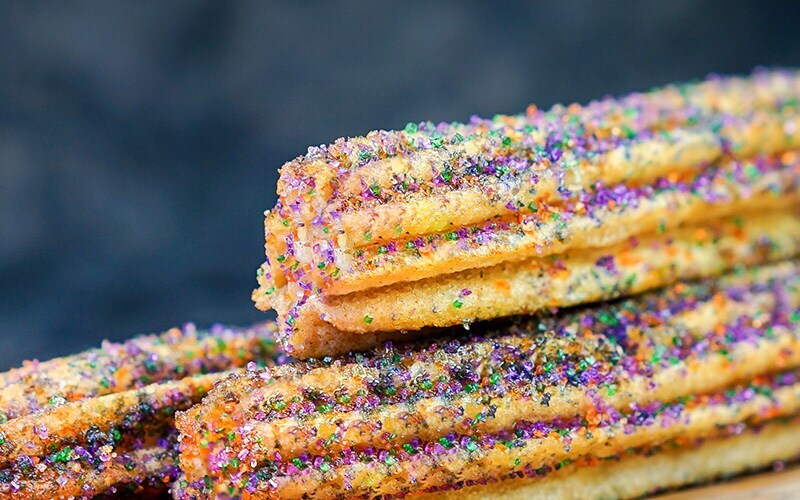 We counted a total of seven different churros (not including two different churro ice cream sundaes!) on the above food checklist, and it is now our goal to try every single one.
In particular, the s'mores churro is really calling our name. The s'mores churro is "smothered in marshmallow cream, chocolate syrup, mini chocolate chips, and graham cracker crumble on top," Chef Scott told us. We are officially in a foodie paradise.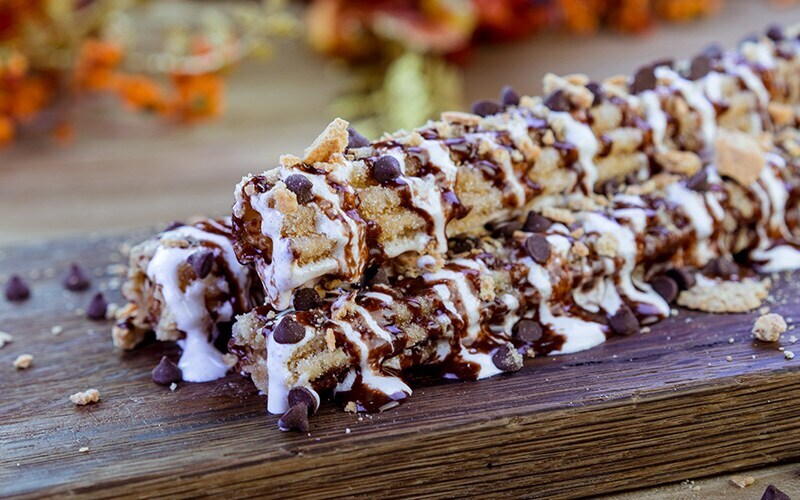 Rounding out the list of churros we can't miss are the Halloween Churros, Purple Churros, Pumpkin Spice Churros, Maleficent Churros, Orange Sugar Churros, and Sour Apple Churros.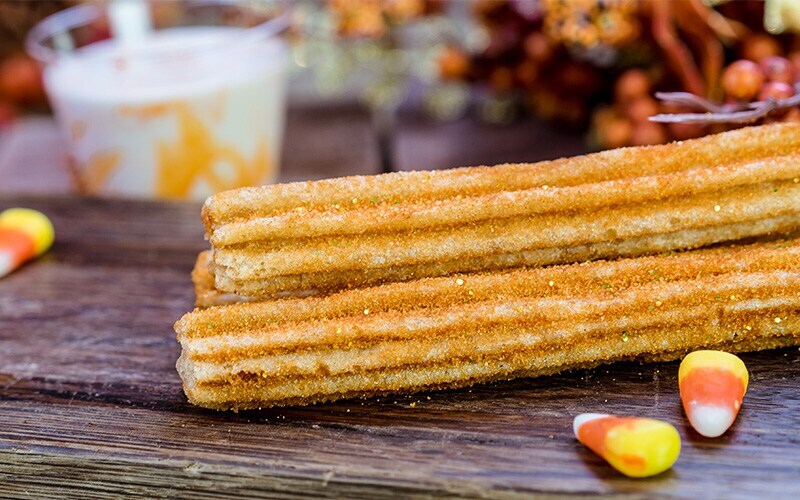 Orange Sugar Churros with candy corn sauce
"You can go churro crazy, for sure," said Chef Scott. "Just make sure to leave room for everything else."
Sure! ;)
A taste of Autumn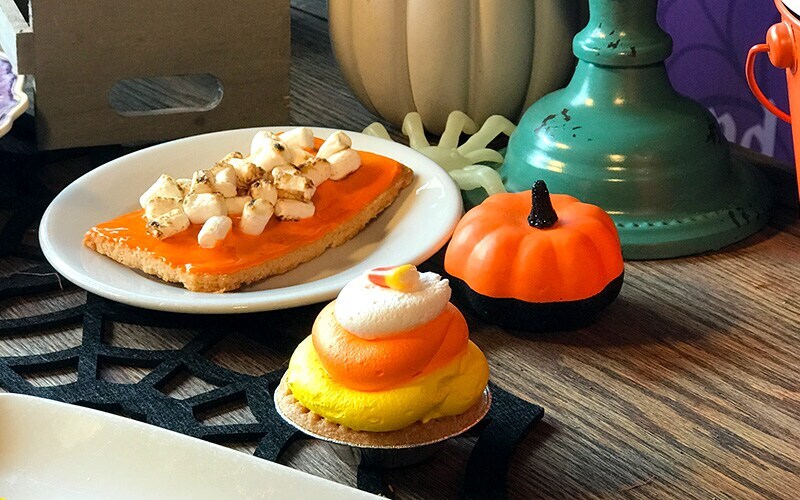 Chef Scott's personal favorite dessert is the sweet potato hand pie, in the background of the above photo. "The flavor puts you in that Autumn feel."
The marshmallow-topped orange treat can be found at Jolly Holiday Bakery Cafe on Main Street at Disneyland Park! We're ready for that taste to remind us of all things fall.
Our returning faves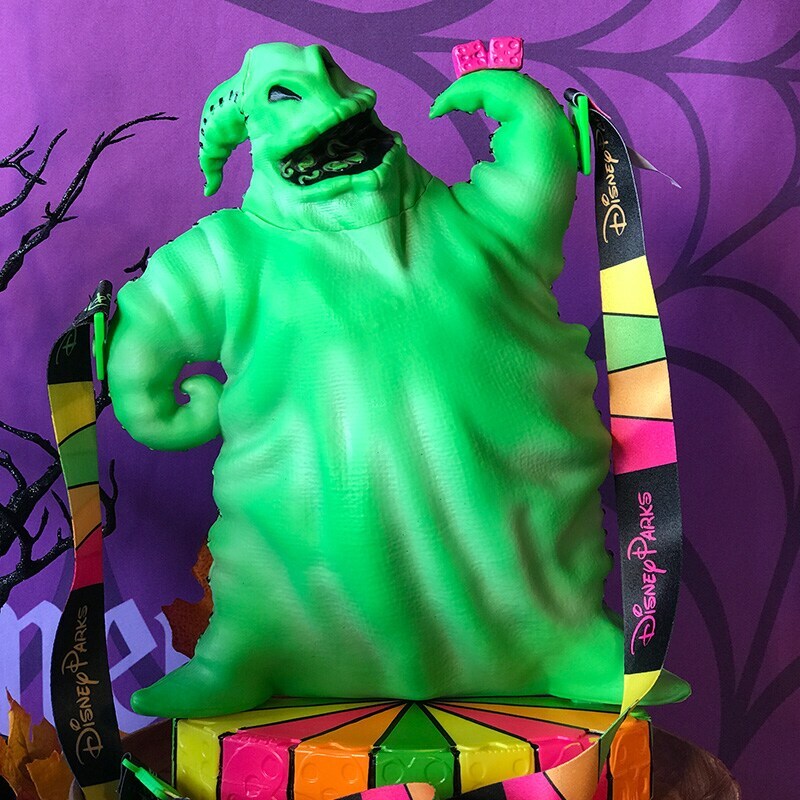 Besides the popcorn, which we will be storing in our Oogie Boogie popcorn bucket (simply iconic), we are also ready to sink our teeth into some of our Halloween Time favorites, like Clarabelle's Bat Wing Raspberry Sundae (available at Clarabelle's on Buena Vista Street at Disney California Adventure) and the "Spoke-y" Cone Macaron at the Cozy Cone Motel in Cars Land. Just yum!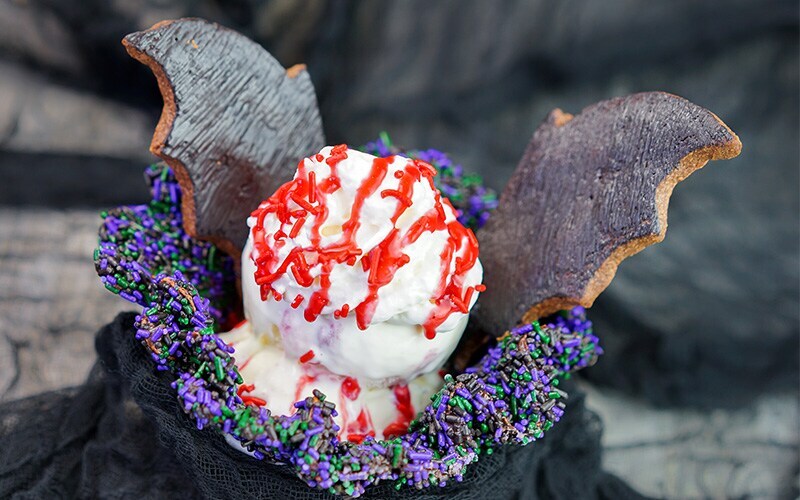 Chef Scott's advice for the ultimate food crawl?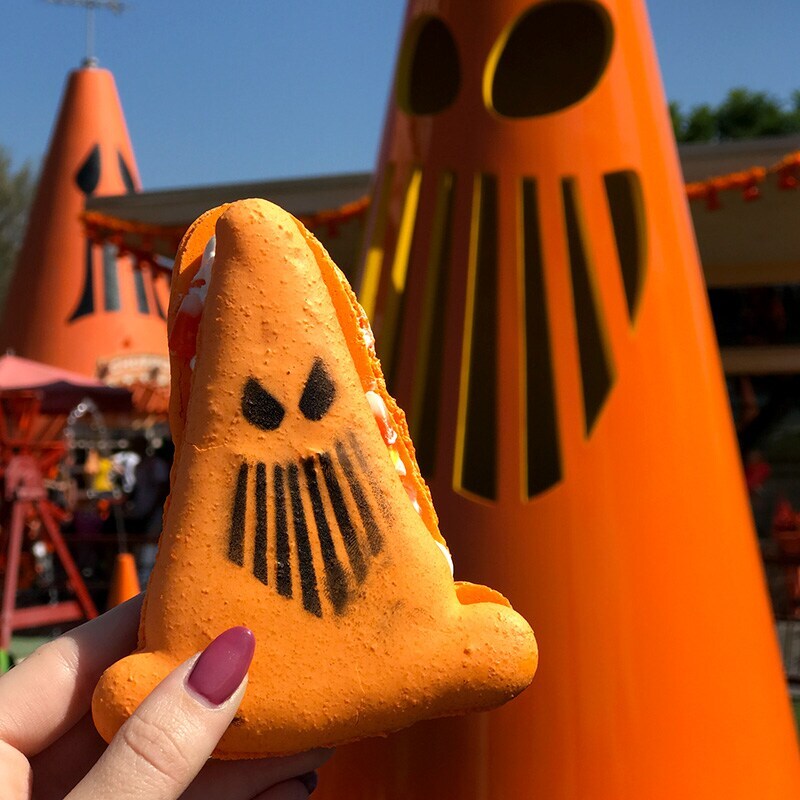 "Make sure when you come in, come hungry. Grab a checklist and highlight what you want to see that day, and plan your trip around the attractions and the foods that are in those locations, and it will be awesome."
We will definitely be taking this advice when we head back to Disneyland Resort to celebrate all things Halloween Time, from now until October 31!