Marvel fans, the wait is over. The all-new thriller series, Marvel Studios' Moon Knight, is now streaming on Disney+. The series centers around the very complicated story of Steven Grant, a quiet and reserved museum store clerk who at first believes he has a sleepwalking problem because of his tendency to experience blackouts and wake up in bizarre places. But he soon learns that his "problem" is way more complicated than that, and a bit unbelievable.
Steven suffers from dissociative identity disorder and shares his body with real-life mercenary Marc Spector. As Steven learns more and more about this other "person," he also finds himself in dangerous and terrifying scenarios that require him to surrender his body to the stronger and braver Marc. But as Marc's enemies close in on them, they must find a way to work together through this surreal condition while also uncovering a dangerous secret among the ancient gods of Egypt. Oscar Isaac stars as characters Steven Grant and Marc Spector, Ethan Hawke plays the charming but deadly cult leader and enemy Arthur Harrow, and MCU newcomer May Calamawy plays Layla El-Faouly, an ally to Moon Knight. Justin Benson and Aaron Moorhead (who both worked on Marvel Studios' Loki) are co-directors of the series, Grant Curtis (Marvel's Spider-Man 1 through 3) is an executive producer, and Mohamed Diab serves in both roles.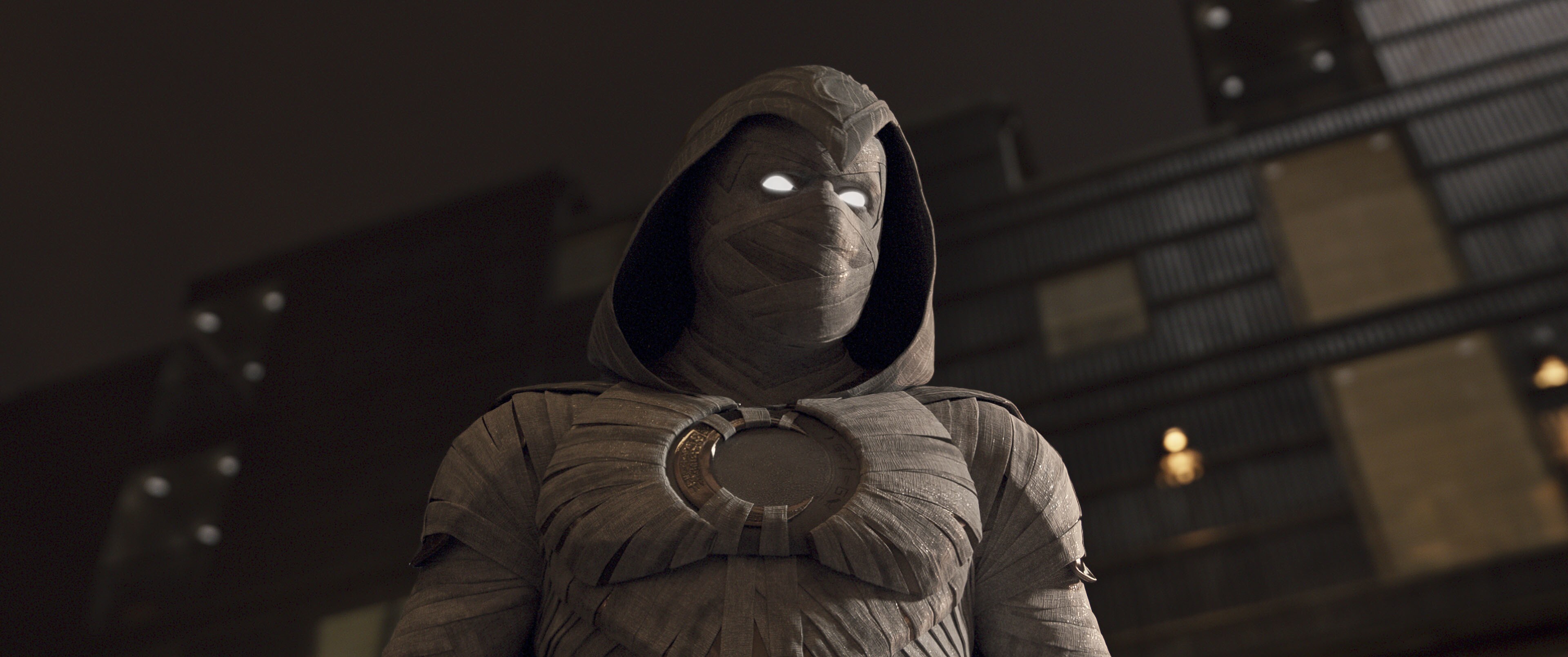 Marvel may have wanted to tell this story for some time, but waited until the time was right. "I think Moon Knight in particular has been on [Marvel President] Kevin Feige's radar from day one," Grant Curtis stated. "If you look at [Moon Knight's] history, he first appeared in "Werewolf by Night" in 1975. Then when you look at years and decades of storytelling, as the great storytellers and artists on the Moon Knight pages have been doing, I think a merger into the Marvel Cinematic Universe was a natural progression, and I think this was just the perfect time."
The roles of Steven and Marc required someone who could step up to the challenge of dual characters, and Oscar Isaac was more than happy to fill that need. "It just seemed like there was a real opportunity to do something completely different in the MCU," Isaac noted. "Marvel has done such an amazing job at combining action and comedy in such a great way. And I thought with Steven, there was a chance to do a different type of comedy than we've seen, of someone that doesn't even know they're being funny, and that was really exciting," he shared. "And then to find the counterpoint of that with Marc, in some ways leaning into a bit of the stereotype of the tortured, dark vigilante guy — but what makes him so special is that he has this little Englishman living inside of him," he added.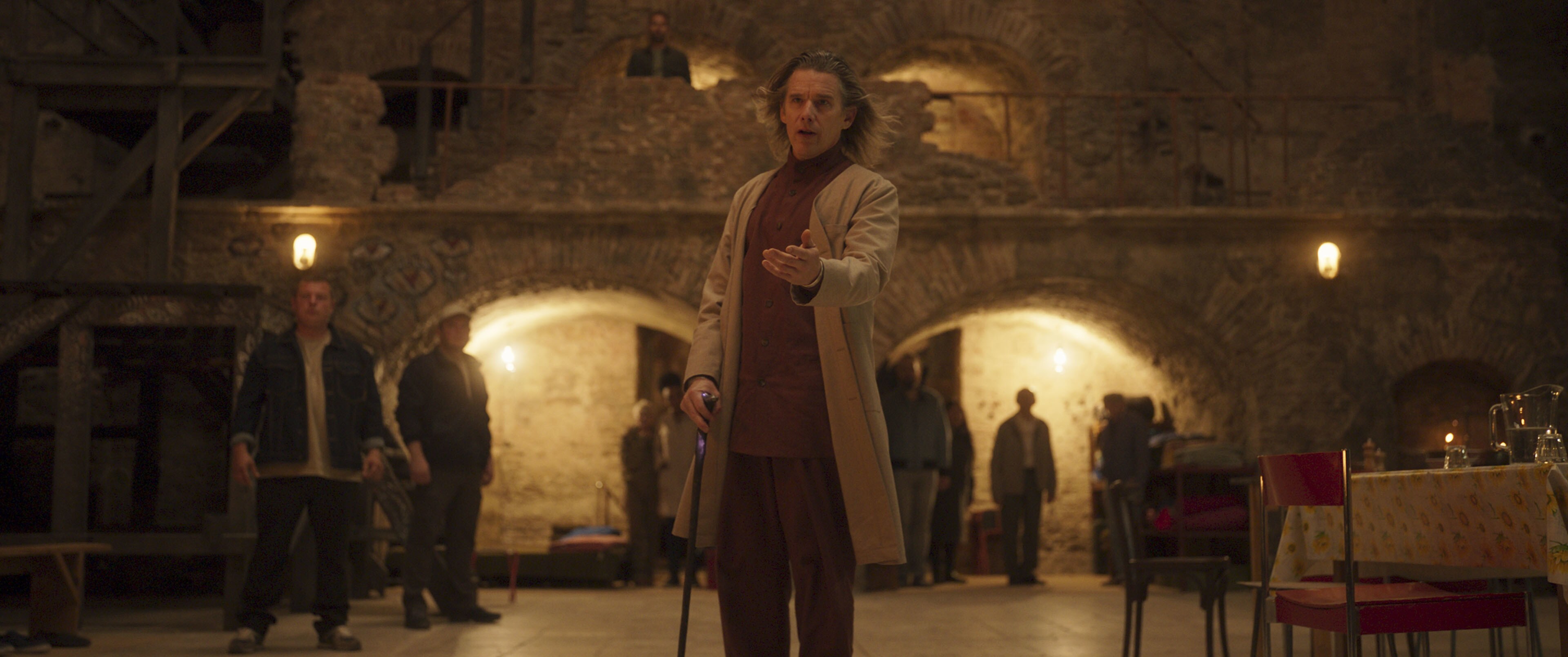 The antagonist in Moon Knight feels quite different from the typical bad guy that audiences have come to expect, and for good reason. "Movies are paved with storytellers using mental illness as a building block for the villain, and we've now inverted the whole process," Ethan Hawke explained of his character, the soft-spoken Arthur Harrow. "I can't be 'crazy' because the hero's 'crazy.' So I had to find a kind of sane lunatic, or sane malevolent force... I think that was our riddle, and we came up with somebody who was trying to save the world. In his mind, he's Saint Harrow… he thinks he's going to be part of the great solution." May Calamawy also enjoyed playing the multifaceted character Layla, who's an ally to both Steven and Marc. "I love how strong she is," she revealed. "But at the same time, I felt like I got to play the full gamut of a woman with her because she's strong, she's for the people, and she fights for what she believes in, but she's also really vulnerable and scared. So that was fun for me."
Moon Knight is filmed in such a way that the viewer sees exactly what Steven is seeing as he blacks out and wakes up in another unexpected scenario, an exhilarating and unique vantage point for the audience. "The story is so point of view," Isaac shared. "It means that you're just in the skin of this guy, and you're experiencing it just as he's experiencing it — there's something terrifying about that."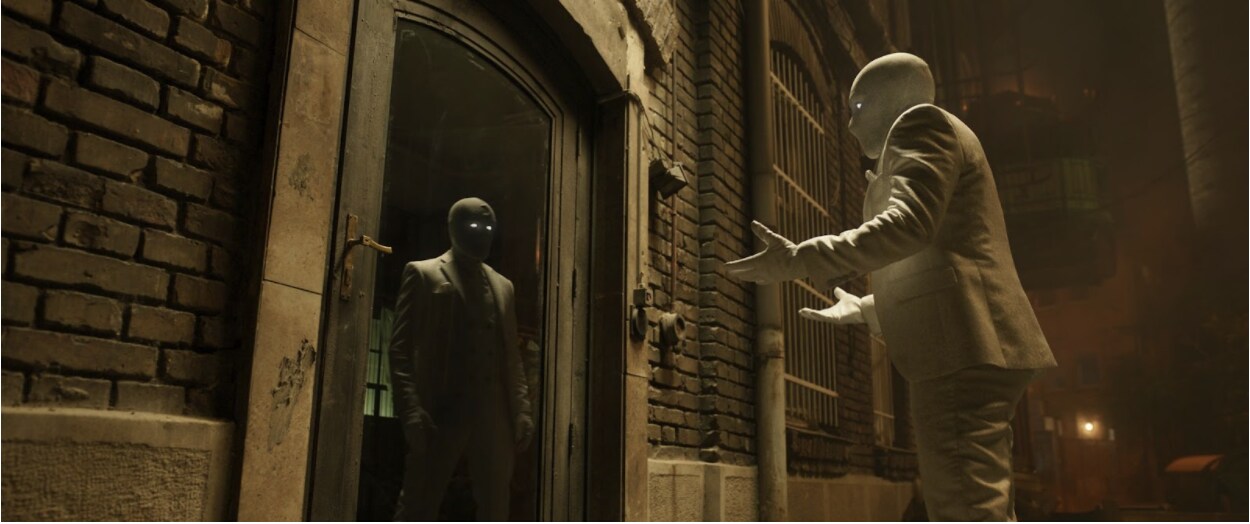 Playing two completely different characters was no easy task. There are many scenes where Steven Grant has conversations with Marc Spector, which basically means Isaac had to converse with himself. "I think maybe the most fun thing is acting opposite somebody and letting something spontaneous happen that you didn't expect," Isaac shared. "But there wasn't an opportunity to do that here, and we still had to find what makes it feel spontaneous and not all planned out. So that was challenging." It probably helped, though, to have his own brother be a stand-in for the other character and work opposite him. "We hired my brother, Michael Hernandez, to come in and be the other 'me.' That's the closest thing to me there is on Earth," Isaac laughed. "So he would play either Steven or Marc — even do both accents and everything — and that was really helpful to have someone that's not only a great actor, but that also shares my DNA, to play off of."
When asked what they wanted audiences to take from Moon Knight, director Mohamed Diab said, "All the information [the public generally knows] about dissociative identity disorder is from movies. It's a bit shallow. But what I learned through the journey of doing the show is that the character needs to live with themselves, the identities. And I identified with that in the way that each of us, the persona [we have] is the mask that we're putting on. Right now, I'm putting on a mask to hide my desires, to hide everything — the other real character in me. And I think what I'm learning — what I learned from Marc and Steven is I need to be the same — I need to be one person. And I think this is the struggle that all of us through the journey of life are trying to achieve." Isaac added, "And I think that is the thrust of it, you know? That in itself is its own superpower, to be able to live through abuse or trauma and survive it, and then come to terms with it as opposed to push it all away. And to see that journey happen, I think that's a really powerful thing."
Don't miss Marvel Studios' Moon Knight, now streaming only on Disney+. And for more Disney+ news and updates, follow @DisneyPlus on YouTube, Facebook, Twitter, and Instagram.