Read up on all the details about the artists involved in the "Mickey: The True Exhibition"!
We cannot wait to celebrate Mickey Mouse's 90th anniversary through art at "Mickey: The True Original Exhibition" in New York City, which will be running from November 8 to February 10! In case you missed it, read up on all the details about the artists who will be involved in the exhibition—the lineup is epic!
Ahead of the exhibition opening, there were three pop-up locations across the country displaying some of the art. Artist Amanda Ross-Ho presented her oversized classic Mickey ringer t-shirt art at a location in Chicago. Kenny Scharf displayed his Mickey Mouse wristwatch-inspired, neon-infused "Cosmic Cavern" in San Francisco. Finally, Shinique Smith's large bale sculpture composed of classic Mickey plush and textile, called "Bale Variant No. 0026, Ode to Mickey Mouse, My First Love" was revealed in Los Angeles. Here's a picture of Shinique with her art: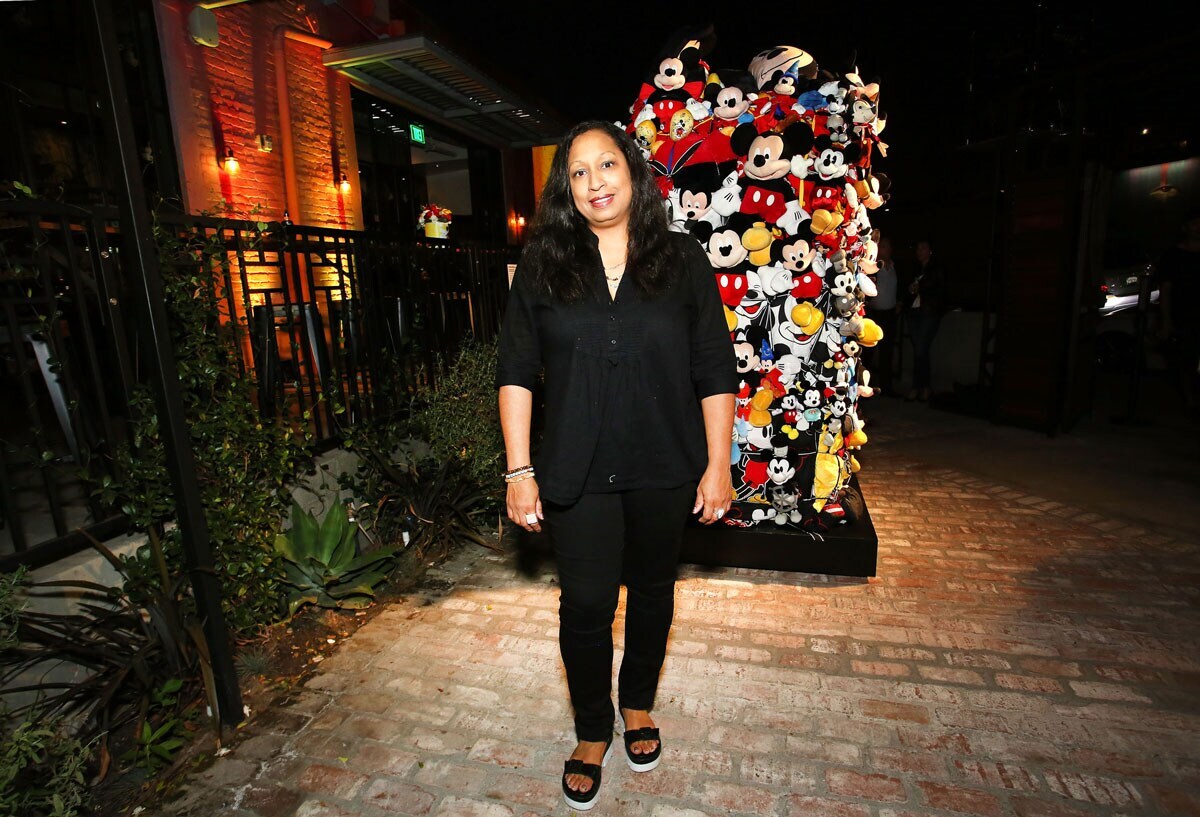 Amazing!!
All of the art at pop-up locations around the country are now at the exhibition in New York City, which premieres tomorrow, November 8. The exhibition is a 16,000 square-foot immersive experience, and we cannot wait to check it out! Designer and creative director Darren Romanelli curated the artistic team involved, and we are awestruck. In addition to Amanda Ross-Ho, Kenny Scharf, and Shinique Smith, here's the full list of artists and a description of their art:
Tanya Aguiñiga
Aguiñiga's art will be a wall weaving created from plush ears, blankets, and textiles. It sounds beautiful and comforting all at the same time.
Daniel Arsham
Arsham will be displaying a piece called "Hiding Figures," a wall sculpture based off his work in surreal sculptures.
Katherine Bernhardt
This art will be a giant wall mural featuring Mickey Mouse, Minnie Mouse, and Mickey's favorite food (which we're willing to bet is also our favorite food.)
Brian Bress
This art will be a video installation and Bress will be drawing while wearing a custom graphic Mickey costume!
Oliver Clegg
We love "The Sorcerer's Apprentice" from Fantasia, and this art by Clegg will be an oil painting on recycled wood canvas featuring the scene. It's sure to be gorgeous!
James Jean
Jean will be displaying photograph prints and hand-drawn illustrations of his Mickey and Minnie Mouse figurine collaboration, which we can't wait to see.
London Kaye
The art by Kaye will be a colorful floor-to-ceiling crochet installation inspired by the "The Band Concert." She had us at crochet.
Oliver Payne
For Disneyland Resort fans, Payne's art will be a sight to see! He will be displaying large wall prints of vintage photographs of the Resort.
Ariana Papademetropoulos
The art by Papademetropoulos will be a watercolor painting with a lot of heart—it depicts an old photo of a Mickey Mouse figurine on her grandmother's bedside table. Adorable!
PEACEMINUSONE
This art will be a colorful Mickey Mouse print, emerging from behind a layer of dry wall. We're pretty sure it will be epic!
Brian Roettinger
For comic fans, Roettinger drew inspiration from Mickey Mouse comic strips for his art, which will be an ink graphic wall.
Keiichi Tanaami
Tanaami's art will use wood and crushed glass as a frame to highlight a large, colorful pop-art print. How cool!
Darren Romanelli, aka DRx
Get ready for this art by Romanelli, because we are not prepared. It will be a 3000% Be@rbrick wrapped in reconstructed vintage Mickey Mouse and Minnie Mouse tees and sweatshirts. YES.
Clearly the art at "Mickey: The True Original Exhibition" is going to be a wonderful celebration of our pal Mickey Mouse on his 90th anniversary. For more information on the exhibition, visit Disney.com/MickeyTrueOriginal. We'll see you in NYC!