Big news out of the Annecy International Animated Film Festival: a brand new animated series Chip 'n' Dale and Monsters At Work are coming to Disney+.
Big news out of the Annecy International Animated Film Festival this morning: a brand new animated series Chip 'n' Dale is currently in production and set for global release as a Disney+ Original. The 39 seven minute episodes will feature the return of everyone's favorite chipmunk troublemakers in non-verbal, classic comedy stylings.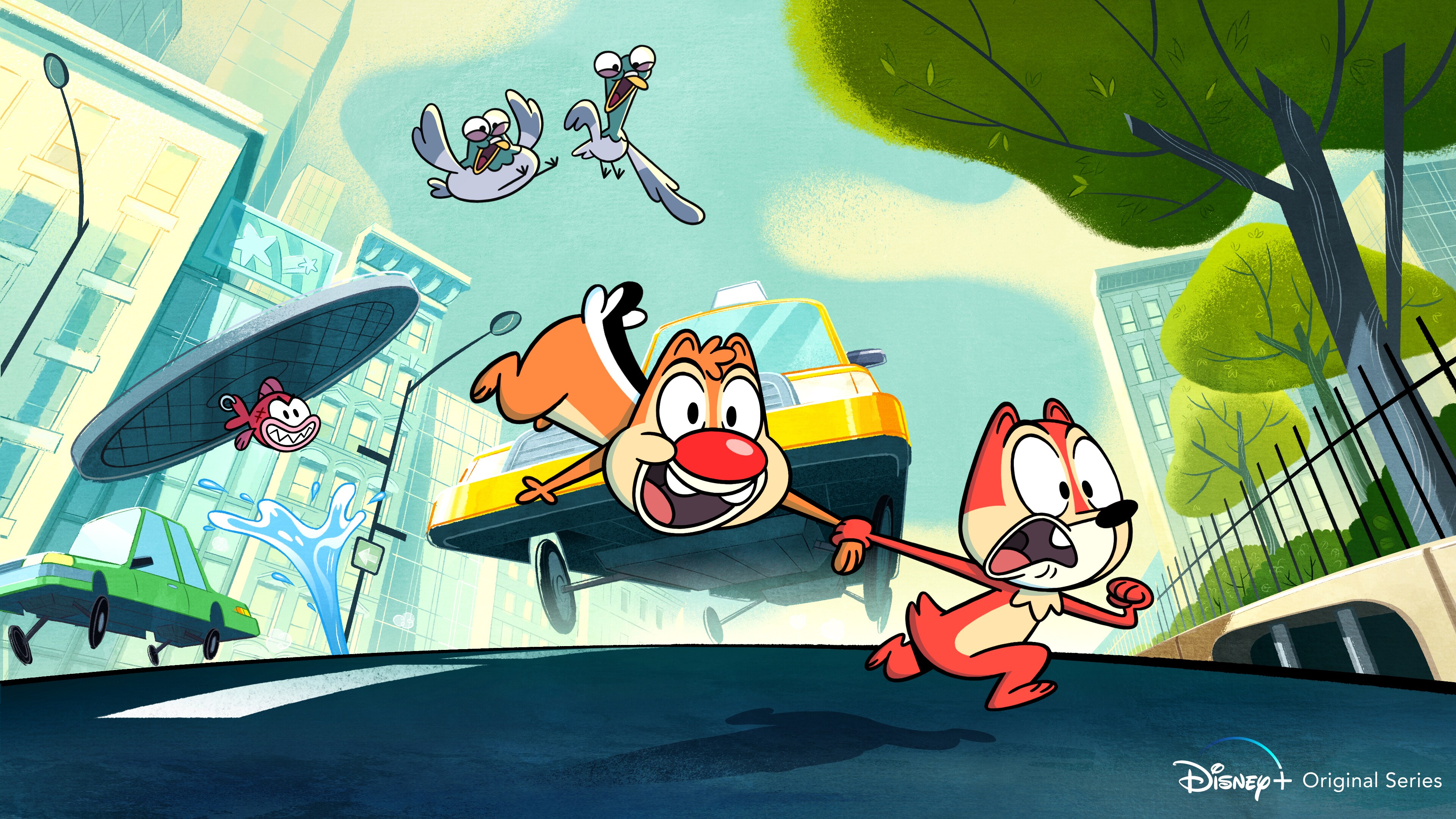 Each of the 39 shorts will follow the ups and downs of the cutest chipmunks around living life in the big city. Combining a traditional style of animation with contemporary, comedic narratives, Chip 'n' Dale is directed by Jean Cayrol and produced by Marc du Pontavice.
Disney+ also gave a first look at Monsters At Work, a brand new animated series inspired by Disney and Pixar's Monsters, Inc., coming to the streaming service in 2020.

The series is produced by Disney Television Animation, executive produced by Disney animation veteran Bobs Gannaway (Mickey Mouse Clubhouse, Planes: Fire & Rescue) with Ferrell Barron (Planes: Fire & Rescue) serving as producer.
Monsters At Work stars Ben Feldman as a brand new character in the Monsters world, Tylor Tuskmon. And, of course, Monstropolis wouldn't be the same without the original Monsters, Inc. voices Billy Crystal and John Goodman returning as Mike and Sulley.
The series picks up six months after the original movie's story, with the Monsters, Inc. power plant now harvesting laughter (instead of screams) to fuel the city of Monstropolis. Tylor Tuskmon is an eager mechanic on the Monsters, Inc. Facilities Team (MIFT) who dreams of working his way up to the factory "Laugh Floor" to become a jokester alongside his idols Mike and Sulley.
In addition to Mike and Sulley, other fan-favorite Monsters, Inc. characters will appear in the show as well! Including Celia, voiced by Jennifer Tilly, and Yeti, voiced by Pixar mainstay John Ratzenberger (who will also voice a new character, Bernard). Plus, Bob Peterson returns as Roz… as well as her twin sister Roze?!
On top of these classic characters, there are tons of new characters as well! Joining the cast of the new animated series is Kelly Marie Tran as Val Little, Tylor's lifelong friend and confidante; Henry Winkler as Fritz, the scatterbrained boss; Lucas Neff as Duncan, an opportunistic plumber; Alanna Ubach as Cutter, the rule follower; Stephen Stanton as Smitty and Needleman, the bumbling custodial team, and Aisha Tyler as Tylor's mom Millie Tuskmon.
Monsters At Work and Chip 'n' Dale can't come soon enough! These new series sure sound like screams worth going nuts over!
Disney+ is available for pre-order in the US. Be among the first to have it and start streaming November 12. And be sure to follow Disney+ on Facebook, Twitter, and Instagram for more.
Disney+ launches in the U.S. on November 12, 2019. Sign up for updates about Disney+, the ultimate streaming destination for movies and shows from Disney, Pixar, Marvel, Star Wars, National Geographic, and more!