The wait for Pixar's new animated film Soul is almost over, as it debuts December 25 exclusively on Disney+. The movie, starring Jamie Foxx and Tina Fey, tells the story of Joe Gardner (played by Foxx), a middle school band teacher who dreams of one day becoming a true jazz club musician. When it looks like his luck has finally turned, a series of events transport him into The Great Before — a place where, among other things, souls live before they go to Earth. While looking for a way home, he befriends 22 (Tina Fey), a soul who feels quite the opposite of Joe about the world and has no interest in living on Earth at all. The movie also features voice performances from acclaimed actress Angela Bassett as Dorothea Williams, a jazz musician, and Phylicia Rashad as Libba Gardner, Joe's mother.
Pixar's new animated wonder follows Joe's journey as he fights to get back to his life and the real world, which holds a future that he's determined to live out. The first Pixar movie to feature a Black lead, Soul celebrates compassion, community, friendship, and a sense of giving to others. Many would consider the film's music to be its heartbeat. Born from an array of great talents young and old, and written by award-winning composers and musicians, the music created for Soul is sure to delight everyone from jazz enthusiasts to curious children experiencing the genre for the first time.
Inspiration From Jazz Greats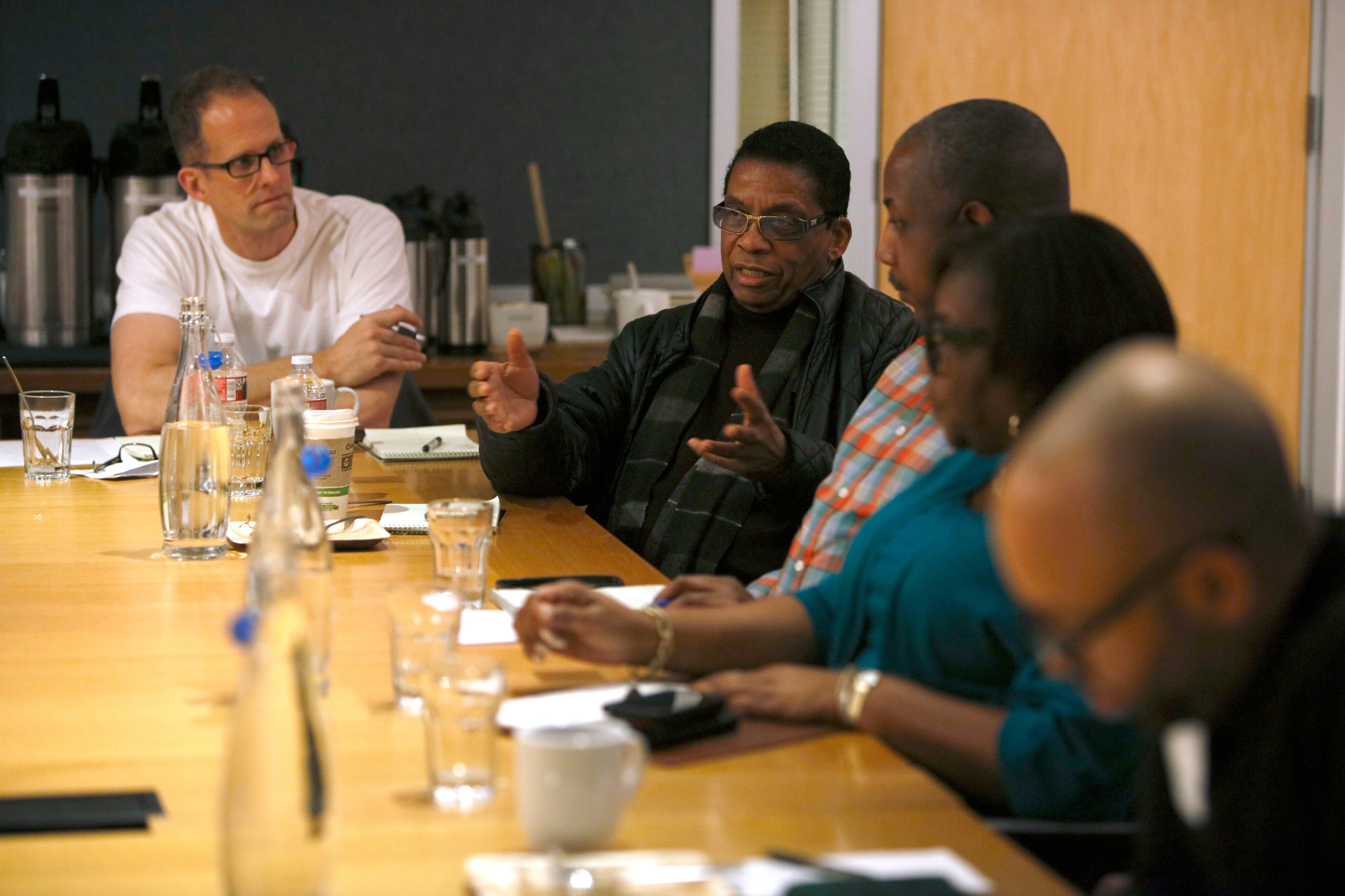 While making Soul, the team knew they wanted Joe to have a deep passion in his life, but weren't sure what that passion should be. "We searched all around, and then almost by fate, somebody referred us to this video of an online Masterclass of jazz legend Herbie Hancock," director Pete Docter explains. In the video, Hancock describes a concert he did with legendary musician Miles Davis. During Davis' set, Hancock played a chord so off-key that he feared it would destroy the entire performance. To his delight, Davis not only made the chord work, but the result sounded magical. "It took me years to figure out what actually happened. I judged what I had played," Hancock explained. "Miles didn't. [He] just accepted it as something new that happened, and he did what any jazz musician should always try to do, and that is try to make anything that happens into something of value."
That's exactly the kind of passion the Soul team was looking for, and the perfect representation for what they were trying to convey in the film. "Don't judge. Take what you're given," Docter details. "Turn it into something of value." So a jazz musician Joe became. Story artist Aphton Corbin wanted to make sure the audience experienced the exact moment Joe fell in love with jazz. "This moment was a huge cornerstone in Joe's character," Corbin explains. "So I made sure to focus on his face. That way we could see how he felt about music, and the audience could see that music wasn't just his hobby. It was his reason for living."
New-Age Jazz Sound With a Classic Jazz Influence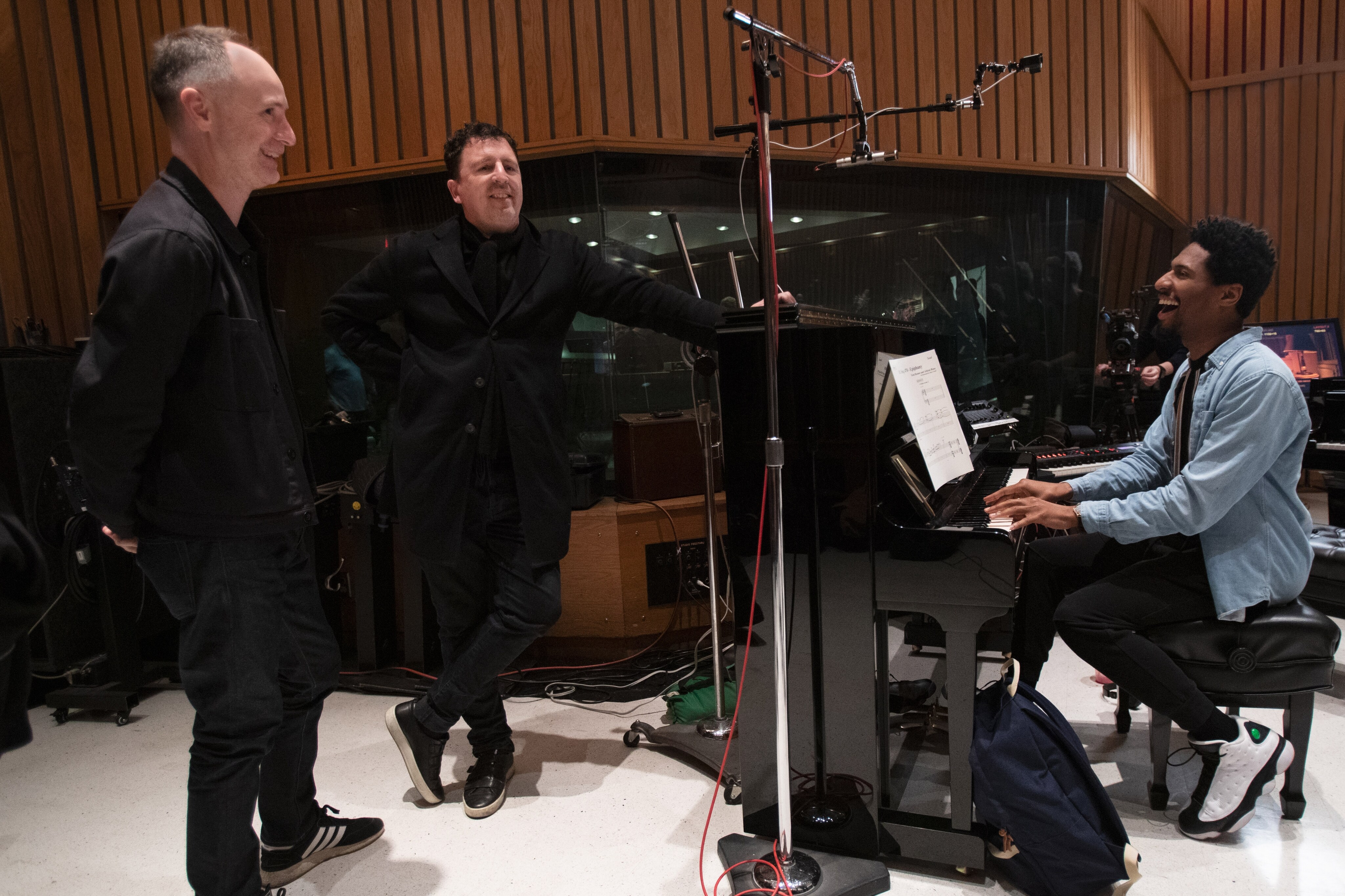 All of Joe's piano performances in Soul were written and performed by renowned musician Jon Batiste, who's known for his eclectic music that is often a smooth mixture of jazz, soul, R&B, and other soulful genres. Batiste was responsible for the Jazz compositions and the arrangements heard throughout New York City, while Oscar-winning composers Trent Reznor and Atticus Ross created the score, including all the music that helped bring The Great Before to life. "Their music is so radically different, yet somehow perfectly matched and wonderful for the film," producer Dana Murray beams. The goal was to create music that felt as if it were being played by a real jazz band in New York, while also being accessible to all ages. But this was something much of the team was initially concerned with — after all, jazz is not the type of music you'd think children would be drawn to. Would kids be engaged, or tune out? Turns out all of the concern was for naught, as the music was in fact one of the highlights of the film for children. "When we actually screened it for a bunch of kids, they locked in on the jazz," co-director and writer Kemp Powers confirms. "Like the scenes where there was actual playing of music, you could see them lean all the way in. So I just think we can't underestimate kids. They're endlessly curious… they're sponges, you know? It's pretty great."
Batiste created music that, like Joe, was inspired. "Every song has those kind of harmonic, melodic, and rhythmic textures [that] bring you to a place spiritually," Batiste explains. "We channeled all of the greats that I had the pleasure of playing with in jazz clubs around the world. When [Joe] walked into the club, I wanted to channel their spirits through the types of compositions."
Batiste's music was brought to life by a wide range of great musical talents from different generations, ranging in age from 95 to 19, with elders like Roy Haynes and Harvey Mason, who played with greats Louis Armstrong, Charlie Parker, and Herbie Hancock, alongside younger, budding members. The classical jazz savants combined with the innovative new talents to create a unique sound that was perfect for the movie. "I could go on and on about the process. It was amazing," Batiste raved.
Making the Movie Look Authentic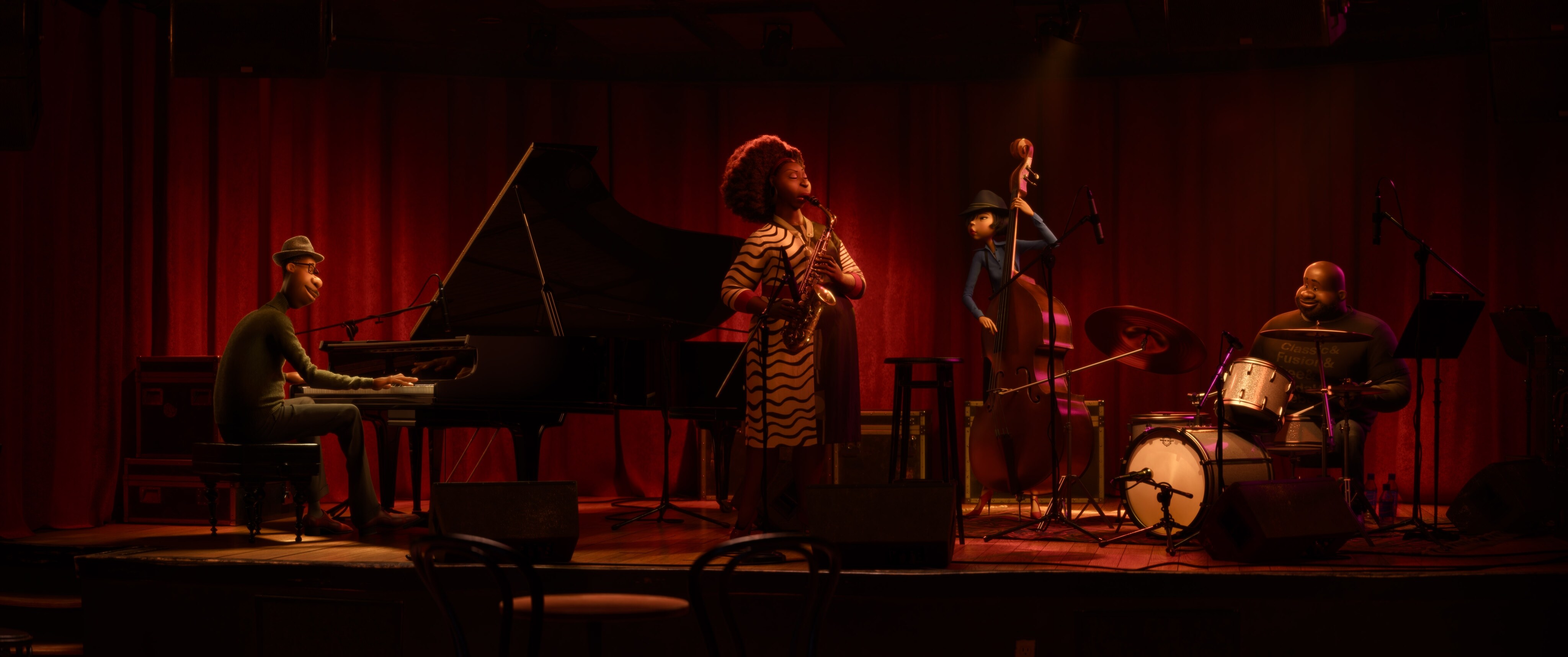 Just as the team took great care in making the music for Soul, they wanted to ensure that Joe Gardner's life within the music looked real. "To make sure that this representation was as genuine as possible, we turned to tons of experts outside of Pixar, including many music teachers and working jazz musicians from New York City and right here in Emeryville," Powers describes. And, of course, since it was Joe's dream to play in a New York jazz club, they visited many jazz clubs in Manhattan to capture the right feel.
The creative team also relied heavily on cultural consultants to help the story look and sound authentic, and turned to the talents who also lent their voices to the film. "People like Daveed Diggs and Questlove … were also great cultural consultants as far as the music," Powers noted. Much of the team has varied backgrounds in music as well, adding depth to the creative process — for instance, Powers himself used to be a music critic. "I'm [also] a musician myself, and my son is even named after the jazz great Charles Mingus," he reveals. In the end, the team compiled all of their knowledge and research with the consultants' input, and transferred that magic into the script.
Visuals to Match the Sounds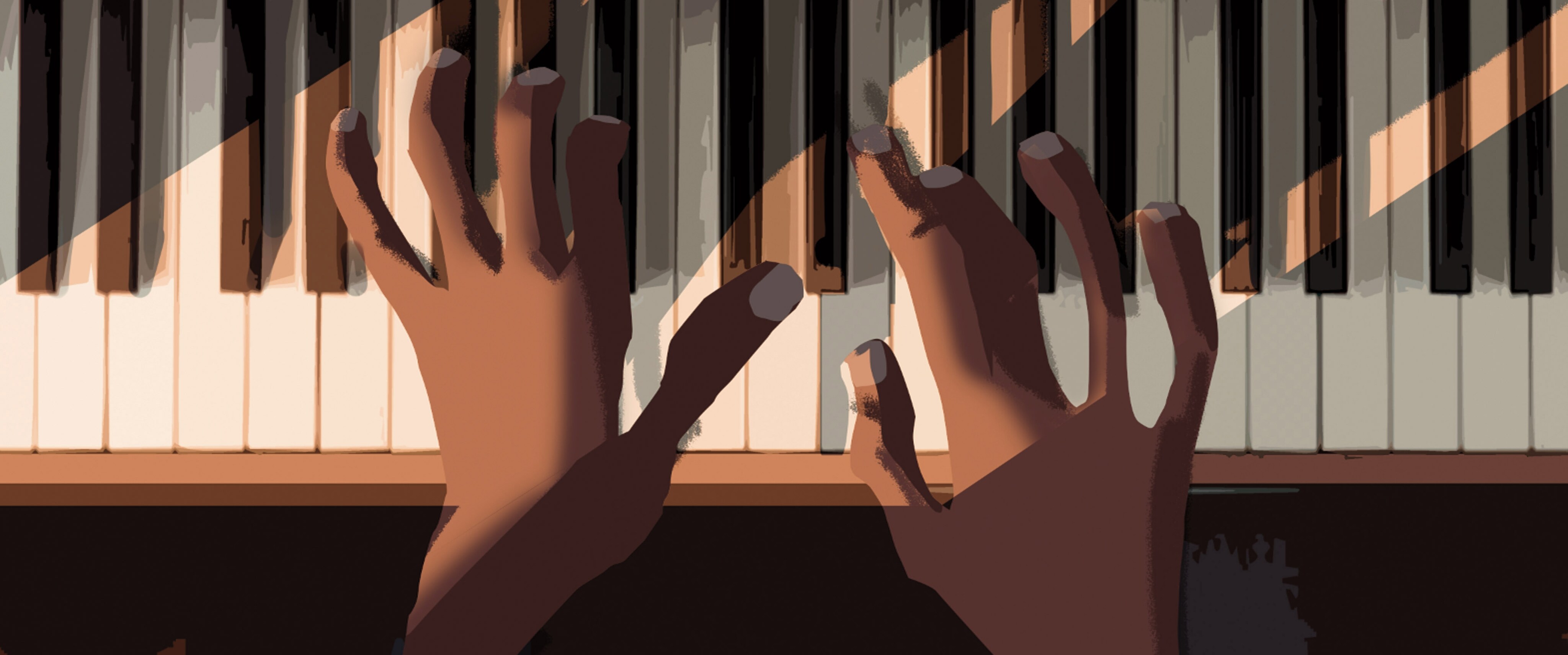 But the right visual backgrounds for the music is just part of the story. "Animators are the actors of the medium," animator Jude Brownbill explains. "We are responsible for the movements, gestures, and expressions our characters make in every scene."
"When you're animating a film that has a primary focus on playing jazz music, you have to get the notes right," animator MontaQue Ruffin adds. This means making sure that Joe is playing the right notes and that his hands are moving in time with the film's music—it was the animation team's job to animate his performance, frame by frame. "As a team, we needed to be honest with the things that we were not familiar with and be a sponge to those who were," Ruffin explains. "We recorded video reference of Jon Batiste's hands as he played the piano, and by having this information, not only did it allow us to inspect hand movement and finger articulation, but it also served as a visual roadmap. This allowed the animator to create a first pass of general hand placement, and once that was tied down, the animator then layered in the fingers and other nuance details until the animation was completed."
We can't wait to experience the visuals and amazing music of this film! Don't miss Pixar's Soul, debuting on December 25 only on Disney+.