Seeing as how we're living through a historic era in which society is using unity and awareness to combat division and injustice, Pixar couldn't have released its new animated movie, Soul — which debuted December 25 on Disney+ — at a better time.
Starring the voices of Jamie Foxx, Tina Fey, Angela Bassett, and Phylicia Rashad, among several others, this film marks not only the first Black lead by Pixar, but also their first predominately African American cast. The film tells the story of Joe (played by Foxx), a middle school band teacher who finally gets a chance of a lifetime to play in a real jazz band — but before his dreams can come to fruition, he is detoured and ends up in The Great Before. It is here in the Soul World where Joe begins an adventure that teaches him what living, and life's dreams, are truly about. The film is jam-packed with great jazz music, diverse culture, hearty laughs, and the lesson that the value of life is in the journey, not just the destination.
It All Started With an Idea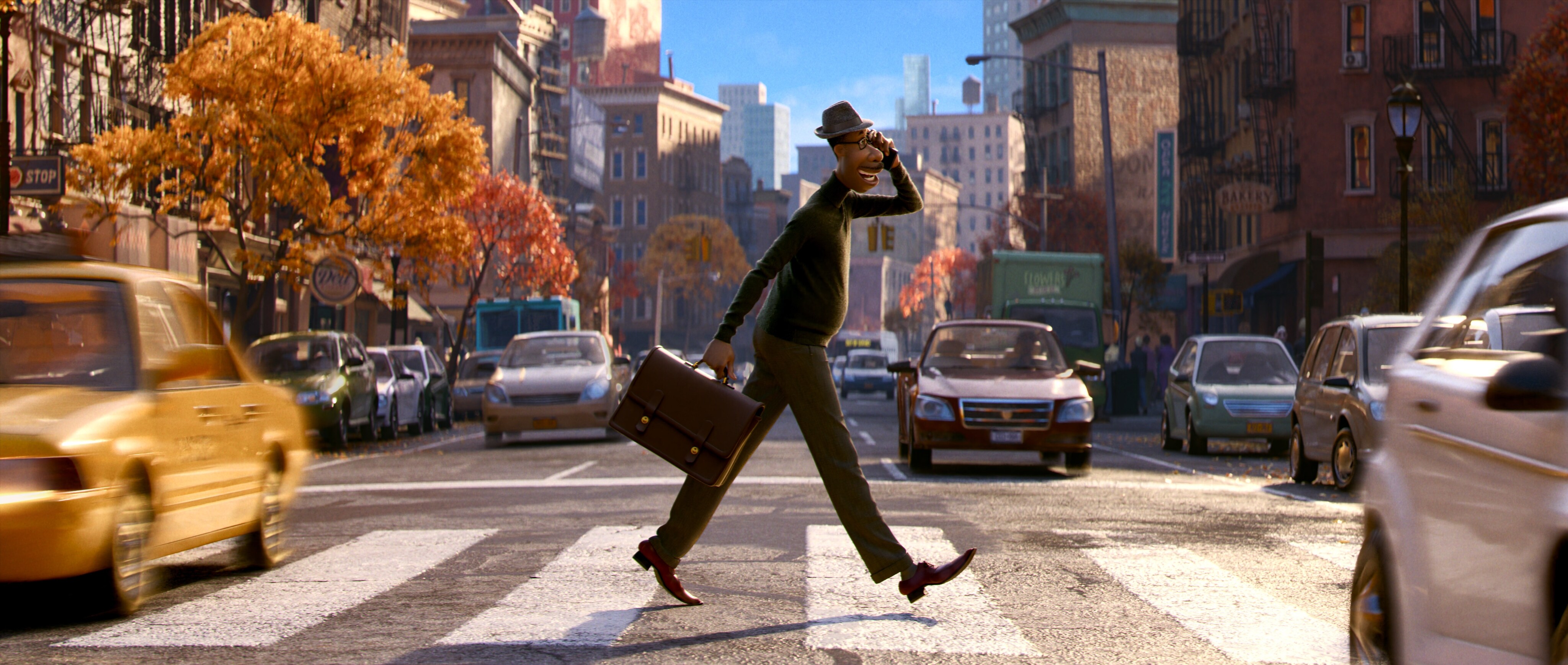 What was the driving force behind such a groundbreaking film? The idea began with the desire to have a character display their own true passion in life. Passion comes from our soul, which all of us are born with, and it helps to define who we are as individuals. Director Pete Docter explains, "I took this picture of my son when he was born, and the moment that he arrived, we could already see him in there. How does that happen? It's because we are all born with our soul. Our soul is the essence of us, our makeup of what passions and inspirations we have. We wanted our main character in the film to have those passions born into him, and it be something that we could all root for. Jazz was the perfect representation of what we were trying to say in the film, and if our main character was going to play jazz, or as one of our consultants called it, 'Black improvisational music,' we felt our main character needed to be Black."

Representation Matters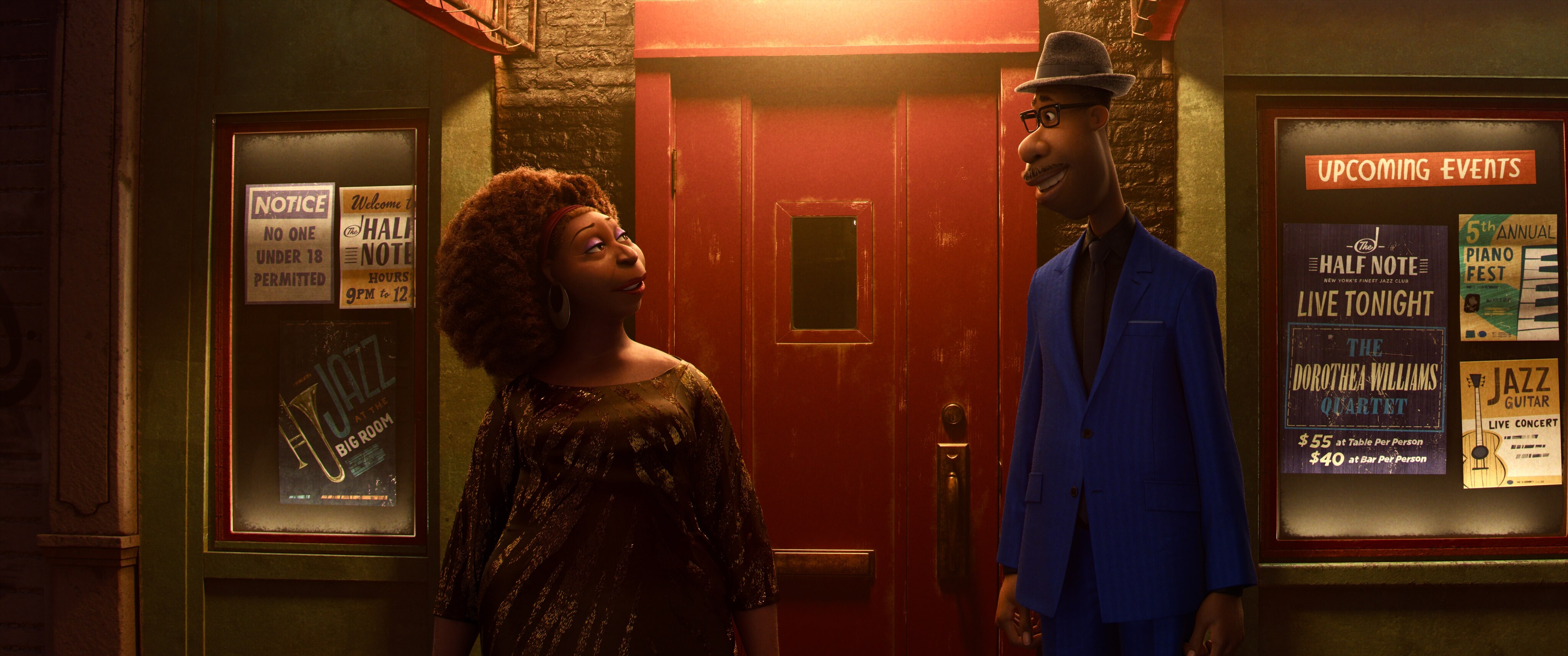 For African Americans, Soul represents so much more than just another animated film. In an industry where Black culture, communities, and even jazz music aren't well represented, for young Black children to be able to see an entire movie filled with people that look just like them is paramount. And although the timing of the film's release is not lost on the cast and crew, Pixar had been working on Soul long before Black Lives Matter became the movement it is today. "We've been working on this film for a little over [5] years, and it's just been quite a journey of discovering and learning," producer Dana Murray details. "Learning about jazz music, about Black culture, and about ourselves." Co-director and writer Kemp Powers elaborates, "Animation is not an industry where there's been a lot of Black representation. But I feel that Pixar has been one of the few places that has been very genuine in recognizing these shortcomings and making a tremendous effort to start to rectify it. This film is that first effort."

Developing the Characters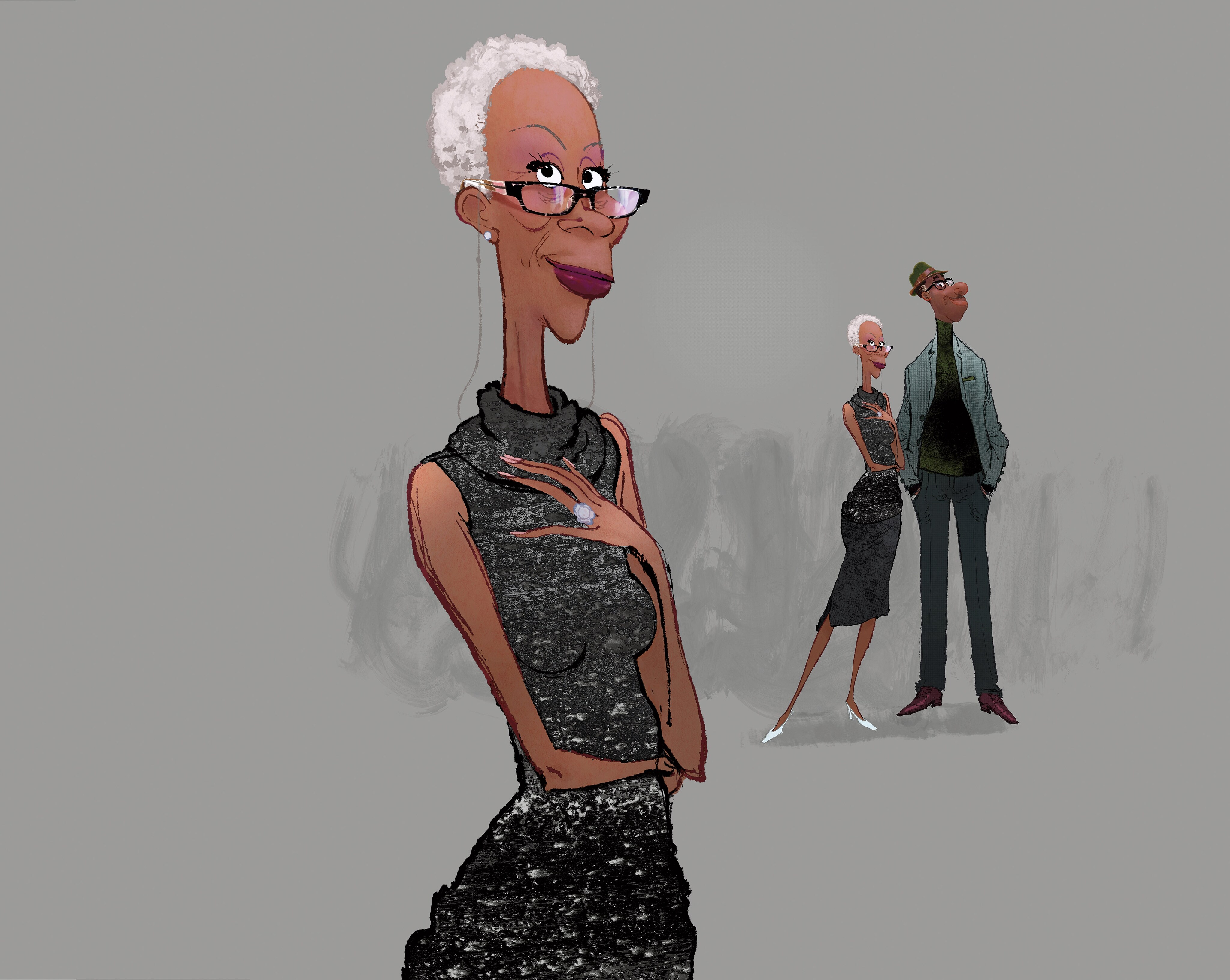 Kemp Powers came on board early to help develop the story. "I realized in many ways, Joe was just like me. So I used a lot of my own personal experiences as I was writing the character," Powers explains. "But it had to transcend my own experience, because while people who are from my city and ethnic background might recognize a lot of the elements of Joe's life, I don't represent every Black man's experience. So it was really important that we invite a lot of Black voices into the creation of not just Joe, but all of the characters of the film." The team partnered with a number of consultants on the film, as well as their own internal group of African American Pixar employees to help make the film culturally authentic. "We also turned to all different kinds of Black crafts people," Kemp details. "From Bradford Young, the famous cinematographer who contributed a great deal to the look of the film, wonderful musicians like Herbie Hancock and Terri Lyne Carrington, Jon Batiste — who's behind the movie's jazz compositions — and even Questlove and Daveed Diggs, two of the performers in the film who also served as consultants. This group watched our reels, gave us story notes, looked at the character lines and the sets, and even helped us review the animation." The team also took many trips to New York City, where the film is set; visited jazz clubs, public schools, and museums; and even spent some time in local barbershops.
Making It an Authentic Experience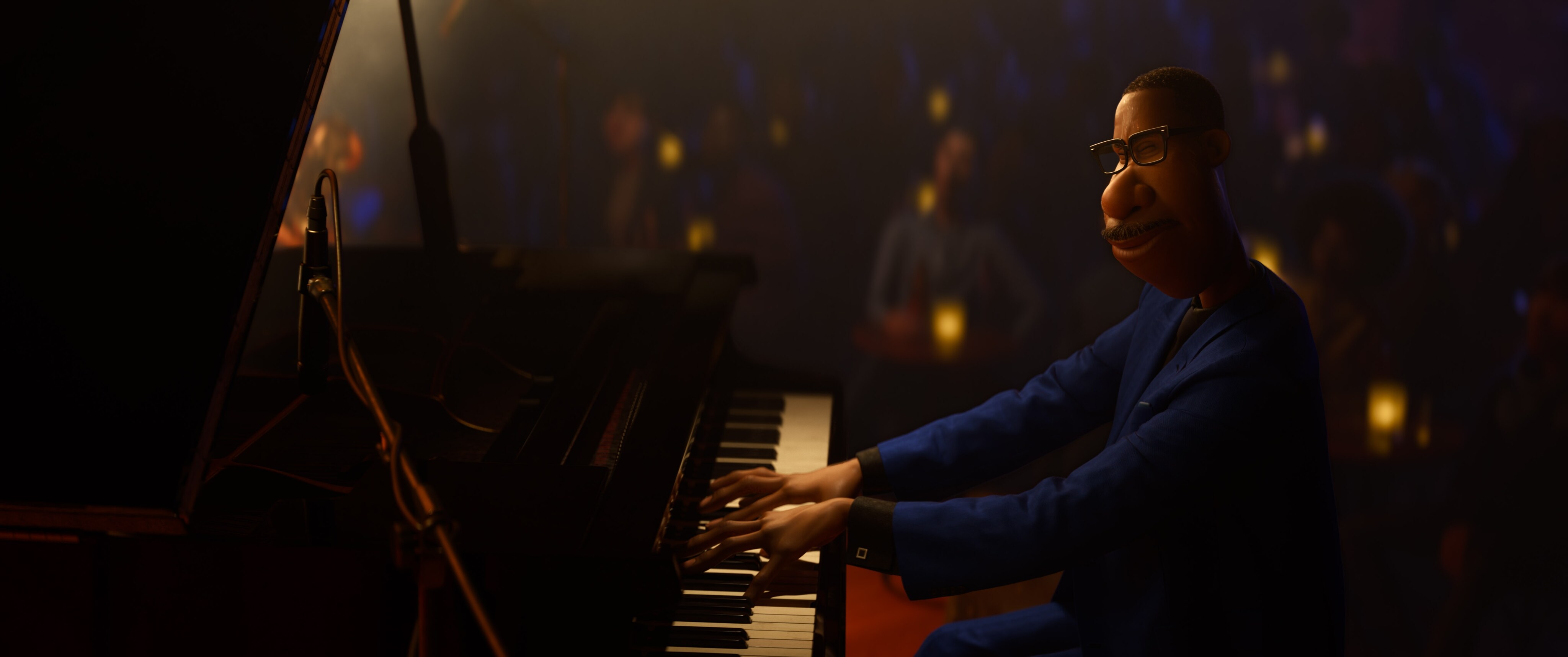 It's one thing to appreciate when an animated film visually creates a fantasy world, or even a place you've never been, But as a Black girl born and raised in Brooklyn, I can vouch for how Pixar's Soul visually details the neighborhood and community of this middle school band teacher: from the Manhattan jazz spot "The Half Note," to Joe's apartment in Queens and his mother's tailor shop, to the inside of a bustling train and the soul-stirring sound from a rising talent on the subway platform. "As animators, we strive to immerse ourselves in the subject that we're animating, and we're constantly searching for the details and specifics that make our characters as authentic as possible," animator MontaQue Ruffin explains. "Doing our research is key. It always has been, and it always will be. As a team, we needed to take trips to the National Museum of African-American History and Culture. We needed to include and work with consultants like Dr. Johnnetta Betsch Cole and our executive producer, Kiri Hart. [And] we needed to visit our local barber and tailor shops to hear their voices and their stories."
The Famed Barbershop Scene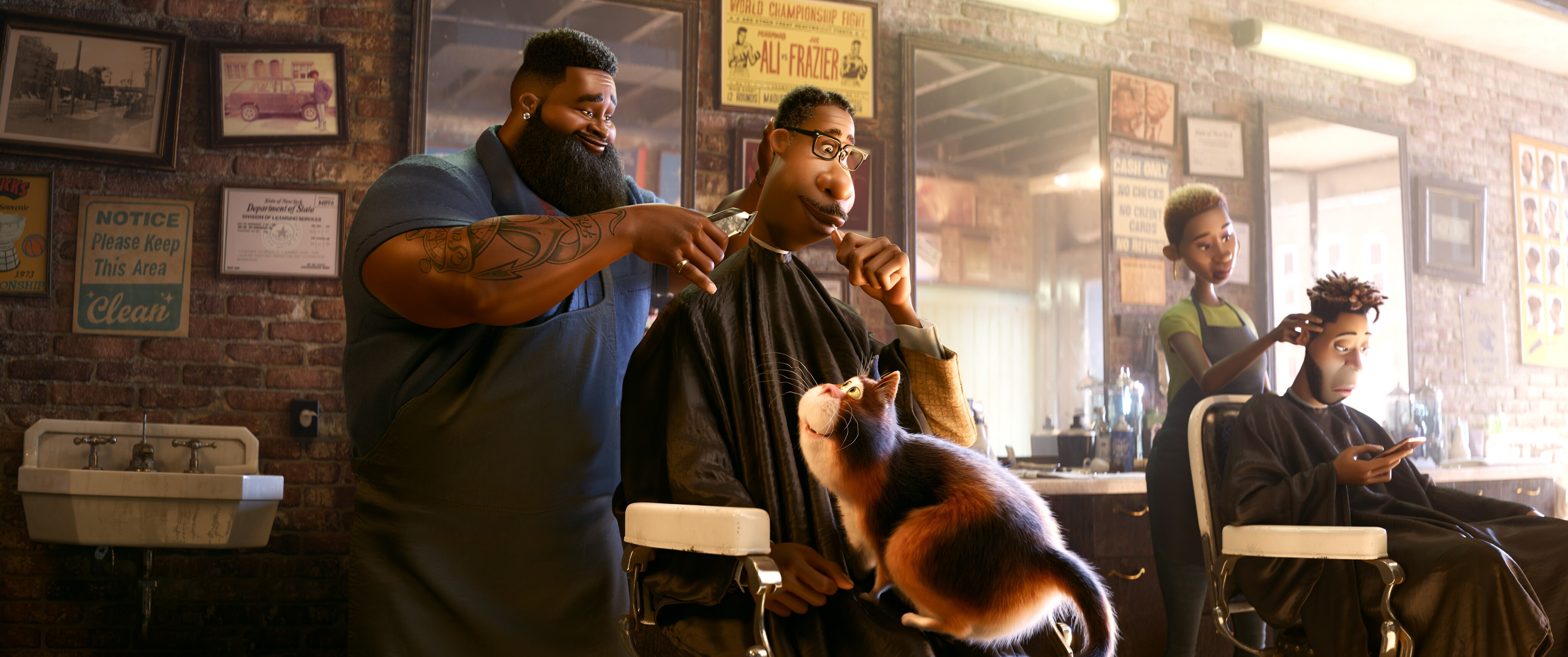 From the streets of L.A. to the corners of Brooklyn and beyond, barbershop culture is a staple in the Black community. You feel a sense of family immediately upon walking in — experiencing the regulars and their jokes, spirited debates, and incredibly human stories. And when Pixar was tasked to re-create the barbershop essence in animation form, it rose to the challenge. "For me it was the hair. It was actually my idea because I really wanted to see Black hair rendered the Pixar way. Just being able to show Black hair being trimmed, shaped, and cut, with different colors and shapes in a Pixar film was really a joy," beamed Powers. "The barbershop scene became one of everyone's favorite scenes in the entire movie, because we had a great deal of fun with it — but it also became a scene that was tweaked so much because Pixar is known for its Easter eggs, so we threw in not just Pixar eggs, but Queens, hip-hop–centric Easter eggs all up in the barbershop. Even the Barber poster that sits in the barbershop with all of the Black men hairstyles — creating that poster, with Pixar animators, was one of my highlights of working on the film." 

All That Jazz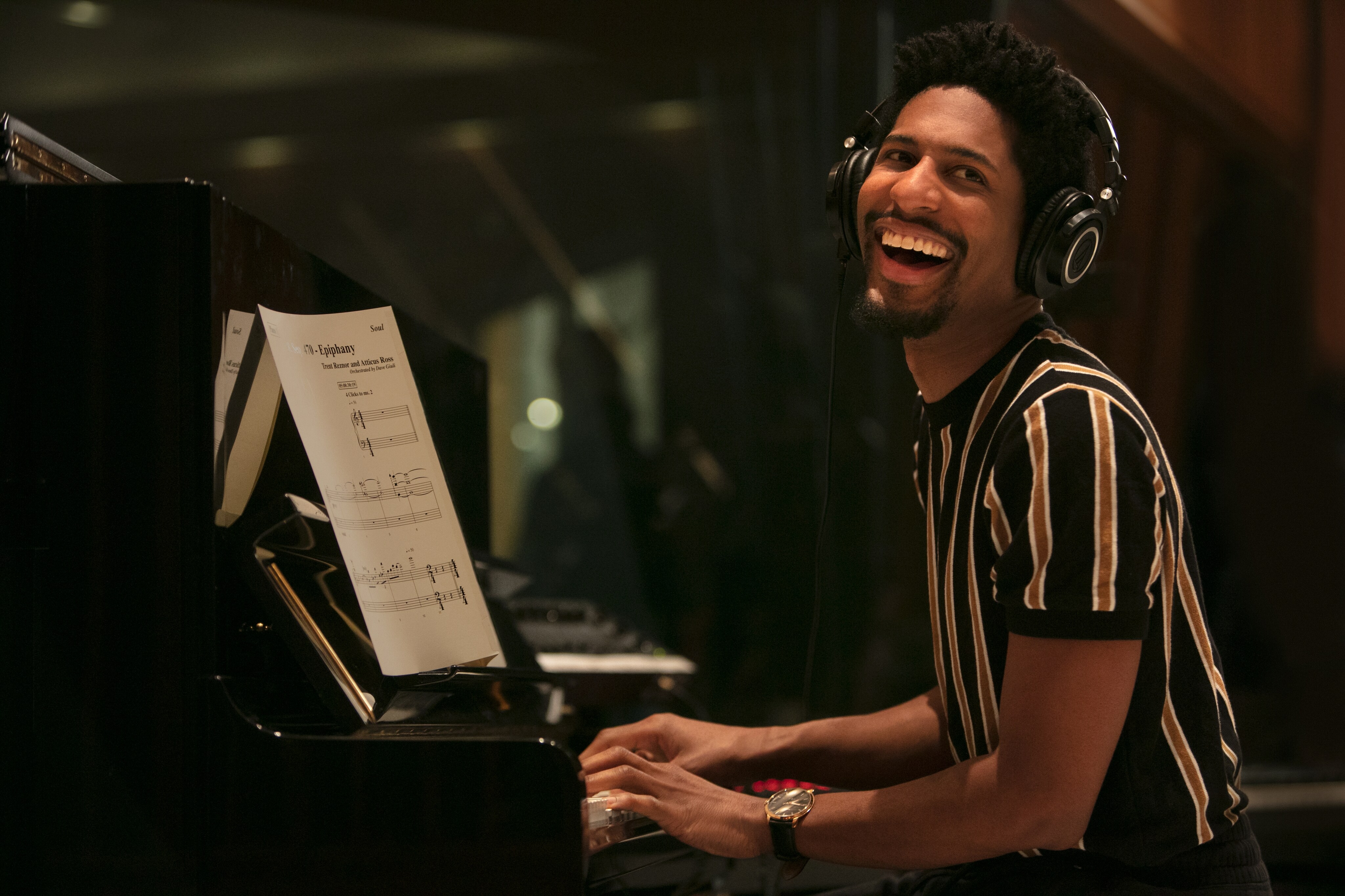 Famed pianist and musician Jon Batiste wrote and arranged the jazz music in the film. In doing so, he utilized an eclectic array of musicians of all ages to compose a modern sound with a classic flavor. "We channeled all of the greats that I had the pleasure of playing in jazz clubs with around the world, as well as the ones who I've listened to for years since I was a little boy, and I wanted to channel their spirits through the compositions," Jon shared. "I'm so happy that the world is finally [going] to see it. People need light in this time, and that's one of the great pleasures of working with Pixar. They've created these films that delve into all of the cultures of the world, and create it in a way where it's accessible to all people. It doesn't matter where you're from or what your experience is. The stories transcend all of that. So, I just wanted to do my part."

Soul Is for Everyone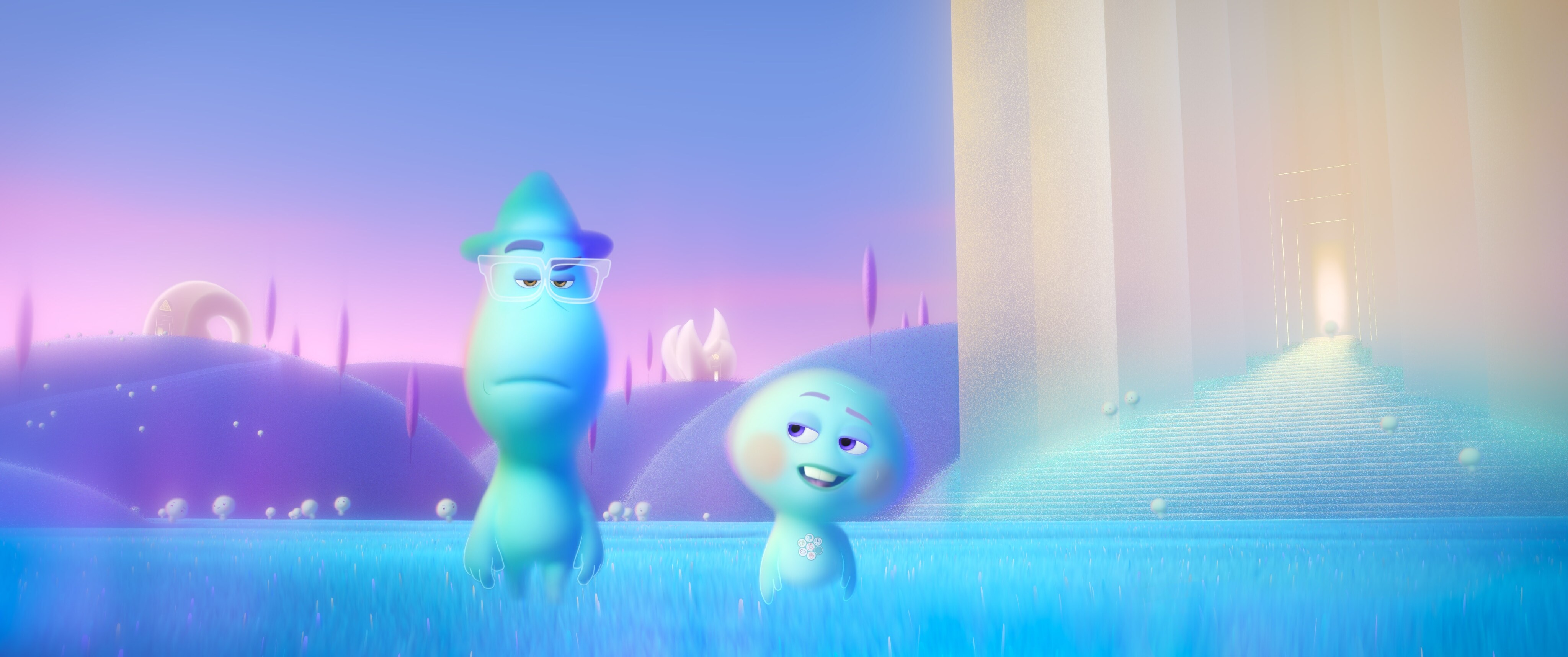 As impressive and needed as this depiction was, make no mistake: Soul is a visual and spiritual triumph any human culture can appreciate, learn from, and enjoy. When it comes down to it, we can all relate to someone like Joe; we can all relate to pursuing our life's passions; and we could all use a sense of community with common love and support for one another. We are not as different as some may want us to believe. "One of the things Soul does so well is celebrate how important it is to just be a good member of your community, and how some of the best work you'll do in your life has to do with making the people around you, [their] lives better," said actor Daveed Diggs. "Because when you share the load of living, it makes it easier." Foxx adds, "We really need to celebrate that: being able to celebrate community, being able to celebrate love, this [film] looks for the good. We're showing you Joe's smile, we're showing you Joe's energy, and he just wants to pass it on."
Enjoy the gift of Soul, now streaming on Disney+.
Check out Disney+ on YouTube, Facebook, Twitter, and Instagram and be sure to follow for all of the latest Disney+ updates and more!