So many incredible experiences are coming to Disney Parks around the world! Here's everything we learned from the Parks panel at D23 Expo.
Disney Parks around the world are getting some exciting new attractions and experiences! Disney Parks, Experiences, and Products Chairman Bob Chapek revealed all the ways that Walt's vision will be brought to life during the Disney Parks panel at D23 Expo! Let's just say that in the coming years, you'll be making memories that will last a lifetime. Keep scrolling to see the countless incredible updates from today:
Mickey & Minnie's Runaway Railway
Mickey, get ready to step into the spotlight. "Mickey & Minnie's Runaway Railway," is coming to Disneyland and Walt Disney World Resorts!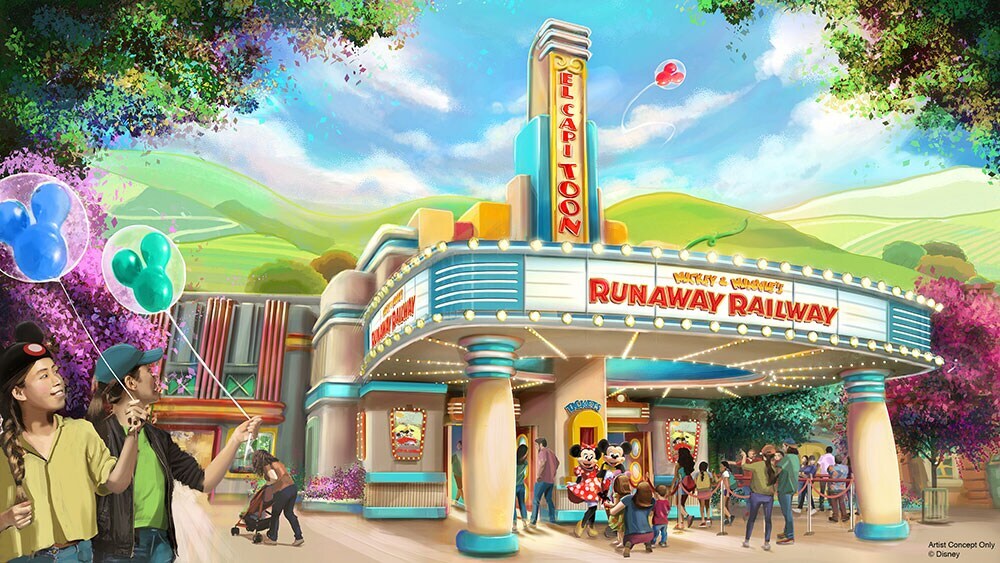 Mickey & Minnie's Runaway Railway will make you feel like you're inside the world of Disney Channel's Emmy Award-winning "Mickey Mouse" cartoon shorts! After boarding a train with none other than Goofy as the engineer, you'll face one magical moment after the next as you embark on a zany, out-of-control adventure filled with surprising twists and turns.
The action takes place at the El CapiTOON Theater in Mickey's Toontown at Disneyland, where Mickey and Minnie will premiere their newest short, "Perfect Picnic"! Before you enter the cinema, you can admire costumes and props from the toon world in a special exhibit created by the Toontown Hysterical Society.
Magic Happens
There's something magical down the road for Main Street, U.S.A. Debuting spring 2020 at Disneyland Park, "Magic Happens" is an extraordinary new parade that celebrates awe-inspiring moments of magic — both big and small — that are at the heart of so many Disney stories. This daytime spectacular will feature stunning floats, beautiful costumes, and beloved Disney characters — all led by Mickey and his pals!
Moana sails on her voyager wa'a (or canoe) upon a breathtaking wave, inspired by beautiful koa wood carvings inset with LED panels that provide a dazzling glimpse into the magic the ocean holds. This concept art gives you a sneak peek: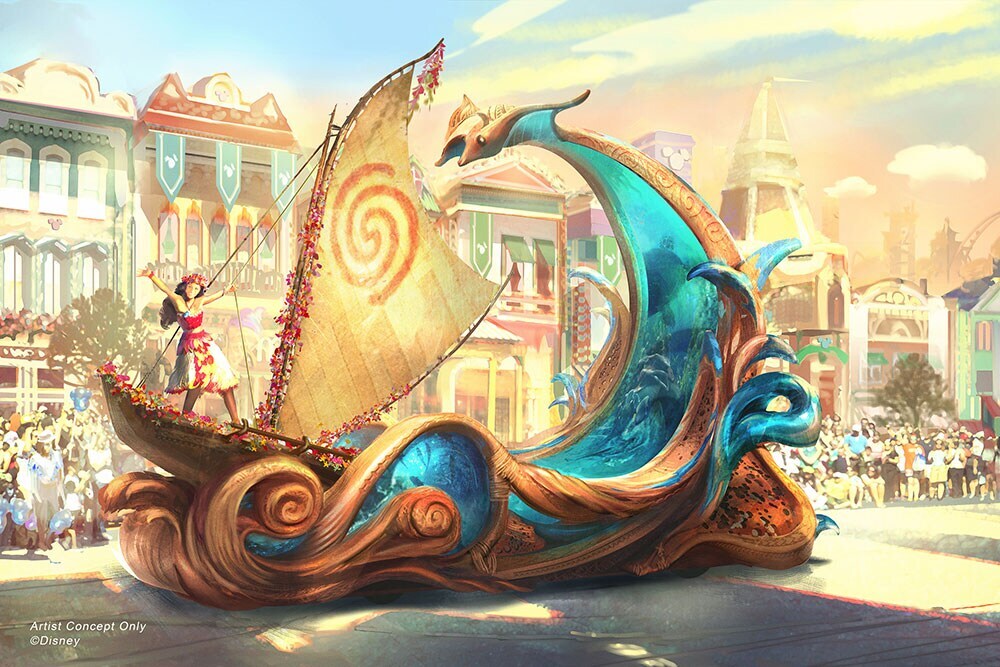 Miguel must've strummed Ernesto de la Cruz's guitar because there's magic coming our way! This spectacular Coco-themed float bridges the Land of the Living and the Land of the Dead with vibrant marigolds. Fantastical alebrije spirit animals, along with Danté, are along for the ride: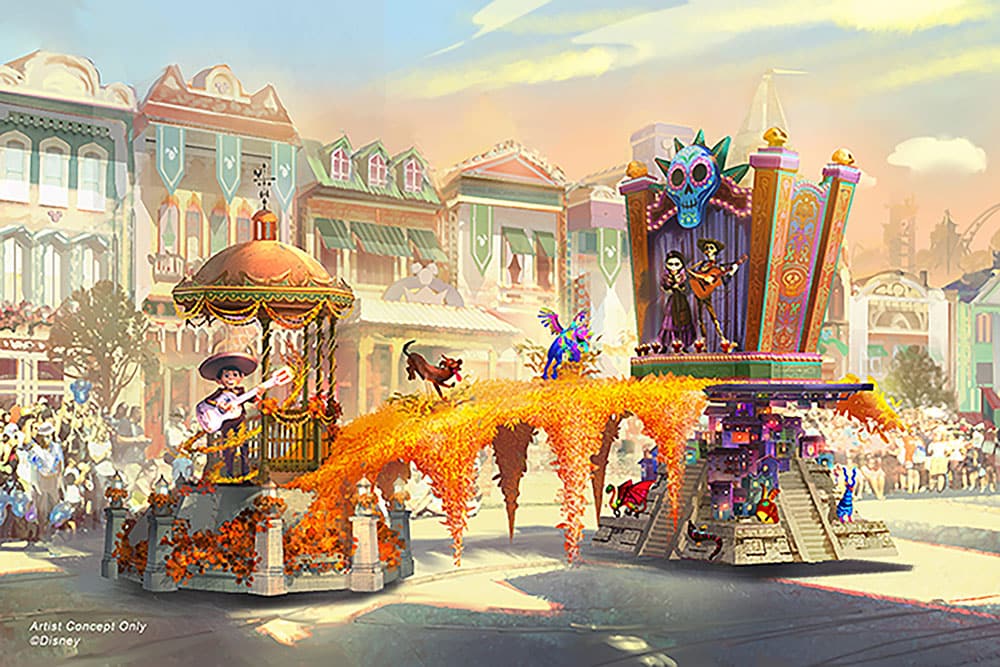 "Magic Happens" ends on a regal note with a grand finale, celebrating magical moments from Disney classics! The trio of fairies from Sleeping Beauty are back at it again, transforming Princess Aurora's gown from pink to blue… and back again. It's a tough choice, we agree.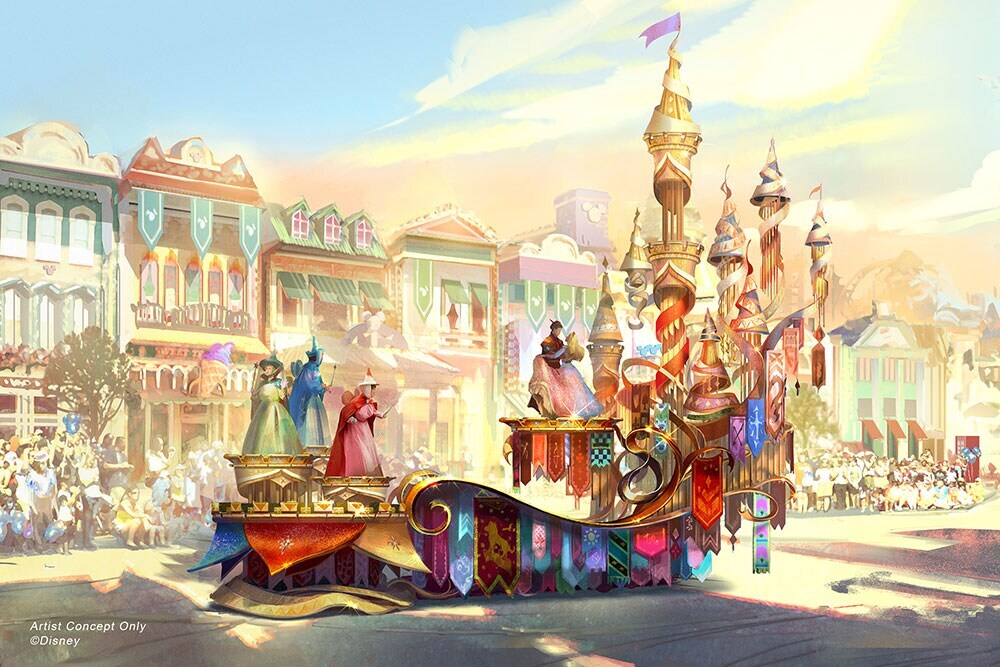 You can expect even more floats and characters, an energetic musical score, and a new song produced in partnership with singer-songwriter Todrick Hall!

Zootopia at the Shanghai Disney Resort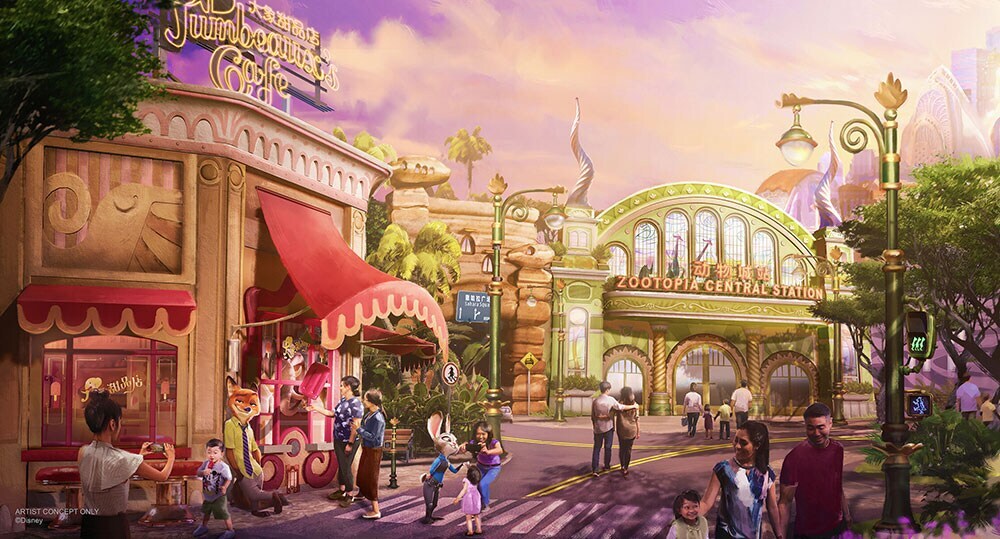 Take a leap of faith like Judy Hopps would and book a trip to Shanghai Disney Resort for the upcoming Zootopia-themed land! Storytelling and state-of-the-art technology will bring your favorite mammalian metropolis to life.

Hong Kong Disneyland Transformation
Frozen fans will be ecstatic after the multi-year transformation of Hong Kong Disneyland. A new coaster called "Wandering Oaken's Sliding Sleighs" features Olaf and Sven, as they help pull your sled to the top of the lift before sending you on a winding journey through Arendelle!
In addition, for the first time in forever, "Frozen Ever After" (the popular attraction at Epcot) will let guests at Hong Kong Disneyland experience the full force of Elsa's powers!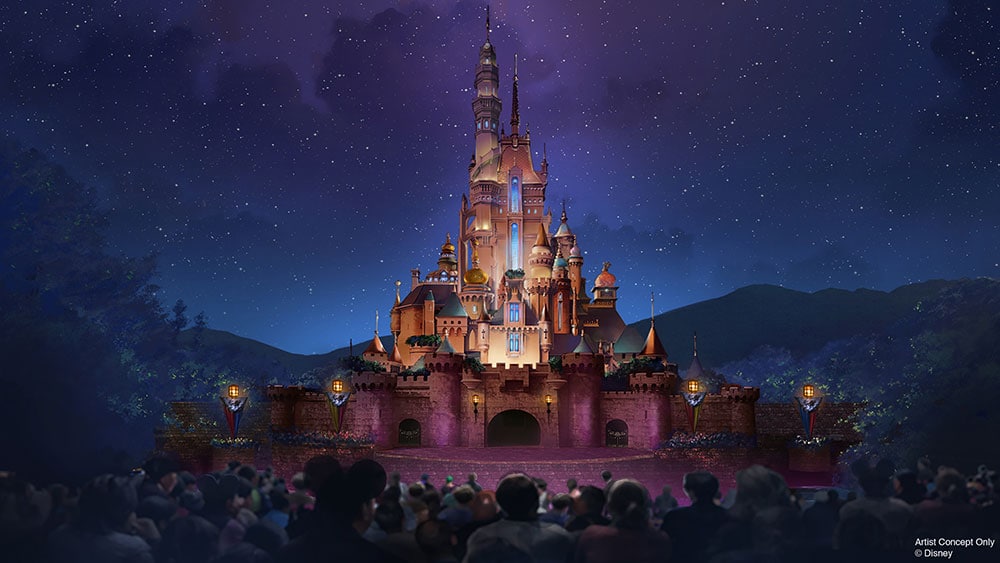 While you're there, make sure to witness the Hong Kong Disneyland castle as it transforms into The Castle of Magical Dreams, inspired by 13 beloved Disney stories featuring Princesses and heroines!
First-Ever Disney Cirque du Soleil Experience at Disney Springs
For the first time, the magic of Walt Disney Animation Studios will be brought to life by Cirque du Soleil, Walt Disney Imagineering, and legendary Disney animators! Previews will begin March 20, 2020, leading up to the world premiere on April 17.
50th Anniversary of Walt Disney World Resort
50 years is quite a milestone. The "50th Anniversary of Walt Disney World Resort" will be one of the biggest celebrations ever, and you won't want to miss out! For the first time, festivities will extend beyond Magic Kingdom to each of the resort's four Parks with new attraction openings, entertainment, food and beverages, merch, and more.
The best is truly yet to come. It looks like there are lots of exciting experiences, lands, attractions, food, and so much more coming to Disney Parks in the near future!