Walt Disney Animation Studios' Raya and the Last Dragon tells the story of Raya, a lone warrior on a quest to bring back the last dragon, so that she can save her homeland of Kumandra from the sinister Druun. Along the way, Raya must learn that she can't do everything herself, and that she must open herself up and trust others to save Kumandra. With Kelly Marie Tran voicing Raya, Awkwafina as Sisu, the last dragon, and Gemma Chan as Raya's unrelenting nemesis Namaari, Raya and the Last Dragon is now in theaters or order it on Disney+ with Premier Access. Raya and the Last Dragon is a fantasy film set in the fictional land of Kumandra, but that world is inspired by the beautiful cultures of Southeast Asia.
Writer Adele Lim emphasized that Kumandra is a fictional land, and that Southeast Asia served as its inspiration. "Rather than the simpler task of having one Southeast Asian country being reflected in one Kumandran land," she explained, "to Disney's credit, they really, really went deeper to find the underlying inspirations and core and threads that ran through so many of the communities." Her partner in writing, Qui Nguyen, compared it to the legends of King Arthur and the Knights of the Round Table, and how those were based on the cultures of multiple European nations — the cultures of several real countries were synthesized into something fictional. He added, "This is our chance to create our [Southeast Asian] Excalibur and our [own] Arthurian legend. It was something to celebrate a culture that Adele and I grew up in and to make legendary heroes that our kids can aspire to." Of that synthesis, Lim said, "When you truly look at what makes our culture amazing, whether it's our arts or our food, the best street food in the world, it is because of all these different elements really coming together and creating something transcendent." The cast and crew agreed that those who have a Southeast Asian cultural background would find much to identify with in Raya and the Last Dragon.
To ensure this cultural authenticity, the filmmakers formed a story trust of Southeast Asian cultural experts, including choreographers, musicians, linguists, architects, cultural experts, martial artists, and anthropologists. In the early days of making the film, a group of filmmakers and artists traveled to Laos, Indonesia, Thailand, Vietnam, Cambodia, Malaysia, and Singapore to gain inspiration. The key creative team itself consisted of people with Southeast Asian cultural backgrounds, and they shared their life backgrounds and added details they felt were important. Lim explained, "Whether it's in the story team, our visual arts department, animation — people who... are able to add in all these different details at different levels of the script. Things that you don't necessarily glean from a seminar or learning or reading about but things that you feel in your DNA." As to how the team chose what aspects of the different Southeast Asian cultures to use in the film, producer Osnat Shurer said, "It's a really organic process. A lot of what we did was look for commonalities, for example, recurring patterns."
In addition to getting the small details right — like how the characters will take off their shoes before entering someone's home or any sacred place — the film also speaks to larger cultural attributes. Actress Thalia Tran, who voices Little Noi, connected to how the movie portrays the values of family and community. "[Noi] speaks in her own language, but that connection she has with her gang of Ongis and even with the relationship she develops with Tong and Raya and Boun, that sense of family, is definitely something that I related to personally." She continued, "And I know growing up in a Vietnamese family that family always, always comes first, from the traditions to just everyday life."
Adele Lim, who grew up in Malaysia, specifically loved imbuing Raya with the toughness of the Southeast Asian women she grew up admiring. "There's a history of strong female leaders and warriors in many countries in Southeast Asia, and I myself grew up in a family of very empowered women who inspired me and also scared me a little bit," she shared. "So it was important that Raya's actions and her attitude really embody that same spirit. You know, one of leadership and fearlessness, of love of family, responsibility for others, as well as the ability to kick all kinds of butt." 
In addition to being one of the film's writers, Nguyen, a martial arts expert, also served as the film's fight consultant. His co-writer Lim remarked that though there's a rich tradition of action films in Asian cinema, they weren't representative of all Asian cultures: "I had lots of action heroes on screen growing up, but it was like Hong Kong action kung fu." For Raya and the Last Dragon, Nguyen diversified the fighting styles shown on screen, making sure that the style of Raya and Namaari's fights aligned with the film's Southeast Asian inspiration. He explained, "Mainly, I wanted it to be rooted in the martial arts of Southeast Asia, specifically Pencak Silat, Muay Thai and Arnis." Director Carlos López Estrada noted how exciting it was to have Nguyen on board: "It was really special for the entire crew to have Qui just down the hall… To have that direct access to someone who is so knowledgeable in the combat of that region is, I think, is invaluable. And you really see it in the fights. They feel so different and so unique." Nguyen brought on Maggie Macdonald to choreograph the reference fights, believing that having a female fight choreographer would be best when the two leads who do the most fighting were female characters. "I wanted to make sure that the different way a female body moves was right, and we wanted to honor that so it didn't feel like we had Raya doing a move that The Rock should be doing," he said.
In addition to the crew, each cast member brought their own life experiences to the role. When casting young Boun, the filmmakers encountered a fortuitous coincidence. Producer Osnat Shurer shared, "We were towards the end of auditions and Izaac Wang came in and just nailed it. I remember us looking at each other going, 'This is it, we found him.' So I was the one who went outside to talk to his mom in the kitchen area because I was so excited, and then I realized that I recognized her. She had been at our Baci ceremony just weeks before since she's a Lao traditional dancer. So, it all came full circle." At a press conference over video with the cast and filmmakers, Wang represented his Lao culture by wearing a pah bieng, a ceremonial traditional Lao accessory, over his suit. "It's amazing to see all the things that are included in this movie, including the food and some of the weapons that you see," Wang said. "And there's a bunch of things that I can't even name because I've been centered around [different] cultures my whole life."
One aspect of the movie's cultural authenticity that may not be readily apparent to a Western audience is the character of Sisu. Yes, Sisu herself is not the fire-breathing type of dragon you're used to. In Southeast Asia, dragons are water deities known as the naga, and they bring great auspiciousness. Lim explains, "[Sisu is] tremendously amazing and heartwarmingly funny, but there is a hidden wisdom underlying all of it, that Raya and hopefully the audience, ultimately comes to see. That humor comes from a place of seeing the best in people, the best in Raya, the best in the people that Raya thought were her enemies, in all these people who you think have let you down and betrayed you. The dragon is the one who can see that spark and that potential. And it inspires everybody to sort of come together and really get past it."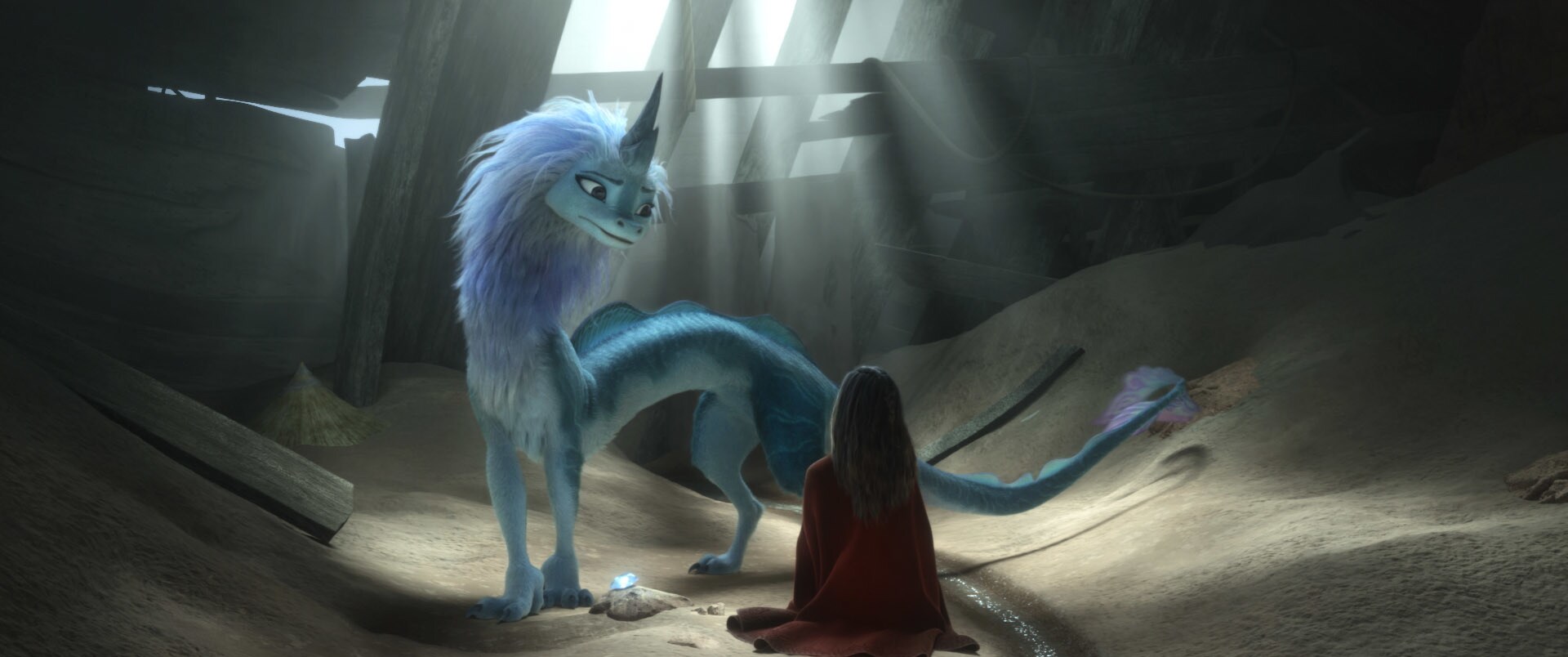 With Awkwafina and Kelly Marie Tran nodding in agreement, Nguyen said, "I think we're all aware what this kind of movie with heroes that look like this will mean to so many kids and families out there. To have such an A-class group of actors, and to be able to be representatives of that to so many kids is such a dream come true for not just us as filmmakers but just for, like, honestly, the community." Daniel Dae Kim, who voices Raya's father, Chief Benja, added, "It's exposure that brings understanding and that understanding is what changes perception. What this movie does on the scale of those things cannot be underestimated… I think we can't undervalue the power of the fact that this is a Disney movie and the people that will be watching this movie by and large are families, parents with their children, seeing this kind of representation, and understanding what is possible."
Looking at the faces of the principal cast over Zoom, Sandra Oh, who voices Virana, Namaari's mother and leader of Fang, said, "For someone like myself, growing up in the '70s and the '80s, I didn't see anything [like this]. And I feel like that has been the same way, representation-wise, for a very long time. I'm actually just glad that I'm still alive to be a part of this type of screen where you see the people who have made it."
As López Estrada puts it, "The most powerful thing that I think film can accomplish is it can give someone an opportunity to experience life through someone else's eyes, someone who gives you a perspective that you wouldn't have. And Raya does that in a way that's very optimistic, very hopeful."
Experience the magic of Disney Animation's Raya and the Last Dragon in theaters now, or order it on Disney+ with Premier Access.
For more Disney+ news and updates, follow @DisneyPlus on YouTube, Facebook, Twitter, and Instagram.