Here's some epic news about the Destination D event from D23: The Official Disney Fan Club!
Today is a great day to be a Disney fan! Once again, our friends at D23: The Official Disney Fan Club revealed some epic news at their Destination D event in Walt Disney World. Disney Parks, Experiences, and Consumer Products Chairman Bob Chapek was on hand to give us the details on some exciting attractions and experiences coming to Disneyland Resort and Walt Disney World Resort. Here's everything we've learned so far:
Star Wars: Galaxy's Edge
Get ready for videos that will give you a sneak peek into the two major attractions coming to Star Wars: Galaxy's Edge at Disneyland Resort and Disney's Hollywood Studios at Walt Disney World Resort. Plus, we learned the names of the attractions! Here they are:
Millennium Falcon: Smugglers Run
This attraction will put guests behind the controls of the most famous ship in the galaxy. There will be three unique flight crew roles guests will be able to take on. Honestly, it sounds like a dream come true to this Star Wars fan!
Star Wars: Rise of the Resistance
Guests will be in the middle of an epic battle between the Resistance and the First Order in this attraction. The sneak peek above was shot in the actual attraction!
We also learned that the legendary John Williams will be creating new and original Star Wars themes exclusively for the land. Prepare your emotions for this preview of the all-new music, recorded by the London Symphony Orchestra at Abbey Road Studios:
And ... we're crying tears of joy!
Star Wars-Themed Resort
We also heard more about the upcoming Star Wars resort, and it sounds truly unlike anything we've ever experienced. Take a look at this concept art: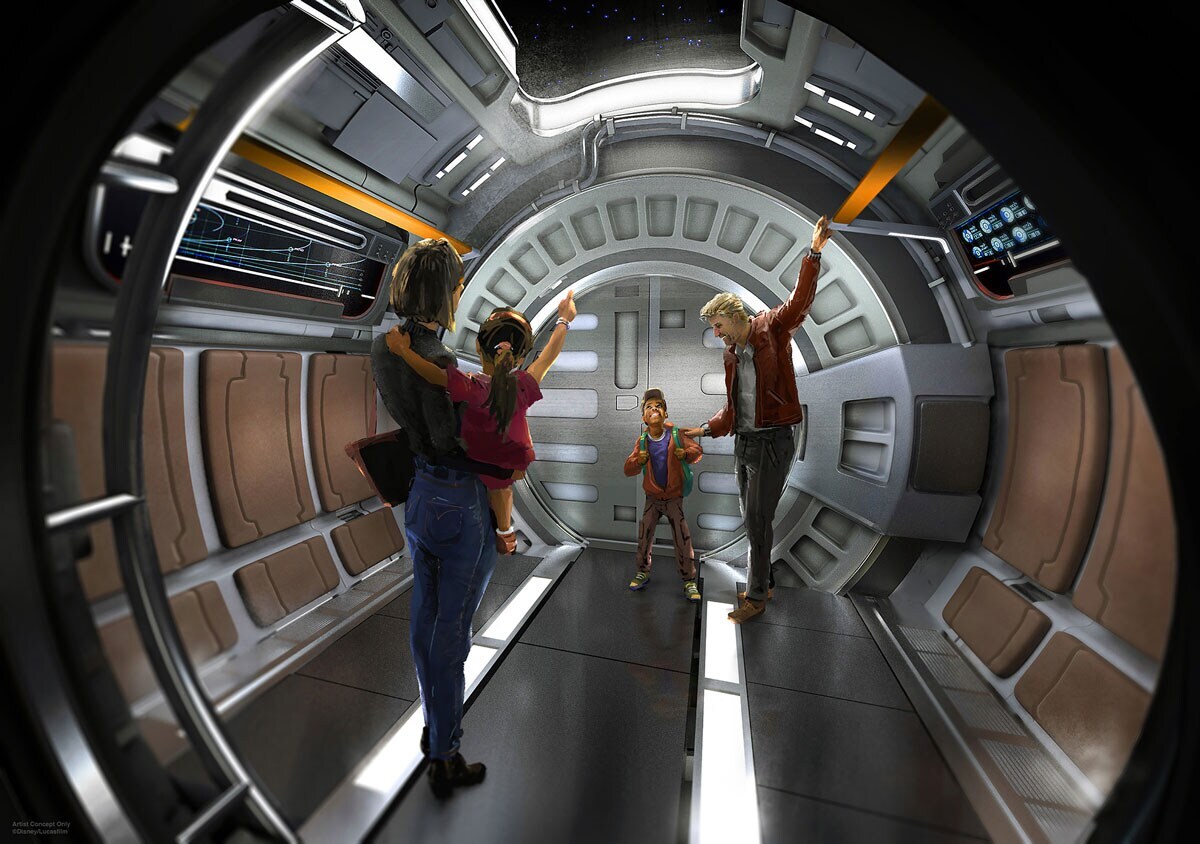 The resort will be a fully immersive, multi-day Star Wars adventure aboard a luxury starship. We're talking high-end dining and space-view cabins here!! Sign. Us. Up!
Epcot
Shifting gears, we also found out about what's to come at Epcot in Walt Disney World Resort.
New Nighttime Spectacular
This new spectacular will celebrate how Disney music inspired people around the world. How beautiful! We were treated to this gorgeous concept art:
The spectacular will feature massive floating set pieces, custom-built LED panels, choreographed moving fountains, lights, pyrotechnics, and lasers. It's set to open at Epcot in 2020 and, yes, we'll be counting the days until it does!
Epcot Forever
Before the new nighttime spectacular debuts, there will also be a limited-time show that will celebrate Epcot and feature classic Epcot tunes. And here's some more concept art to dazzle your eyes: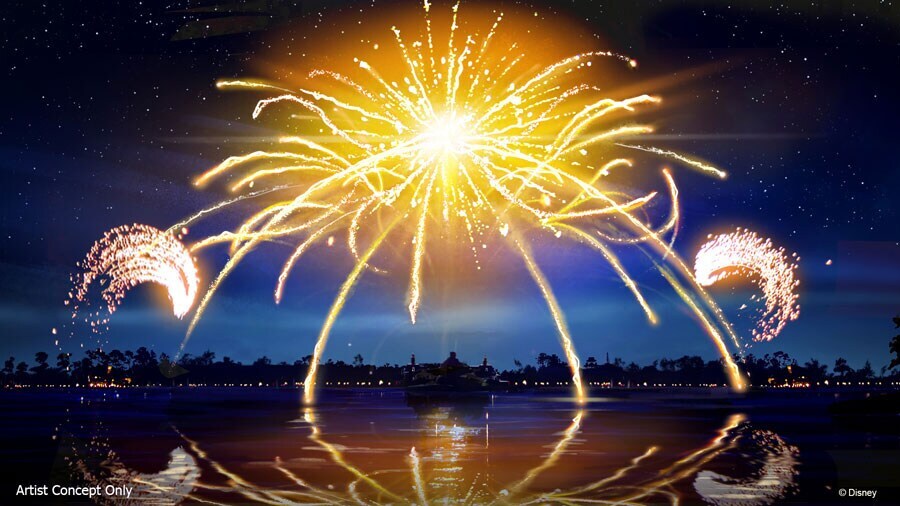 We are so excited to see this and celebrate Epcot!
Remy's Ratatouille Adventure
This is the name of the Ratatouille experience coming to the French Pavilion at Epcot!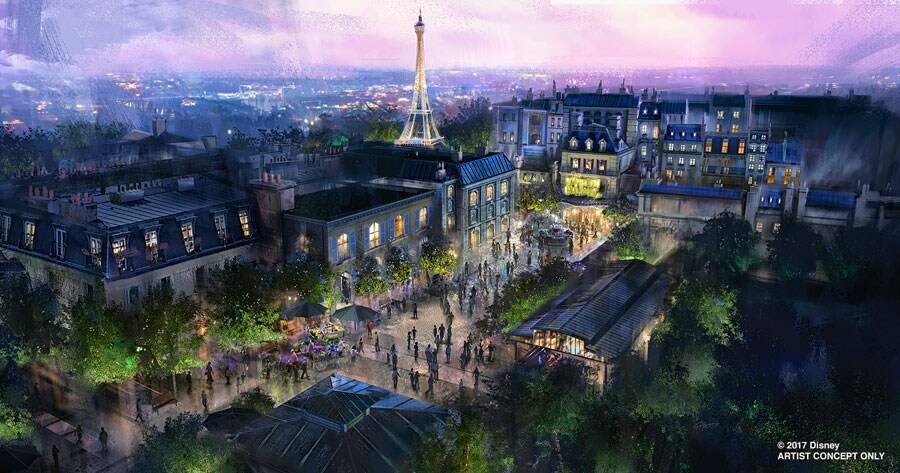 We can't wait to hear more about the adventure. In addition to the Ratatouille news, we also learned that there will be a Beauty and the Beast sing-along happening at the France Pavilion. This is everything we've ever wanted and more. Getting our singing voices ready now!
Celebrating Mickey Mouse
This year mark's Mickey Mouse's 90th anniversary, and of course Disney Parks is celebrating in an epic way.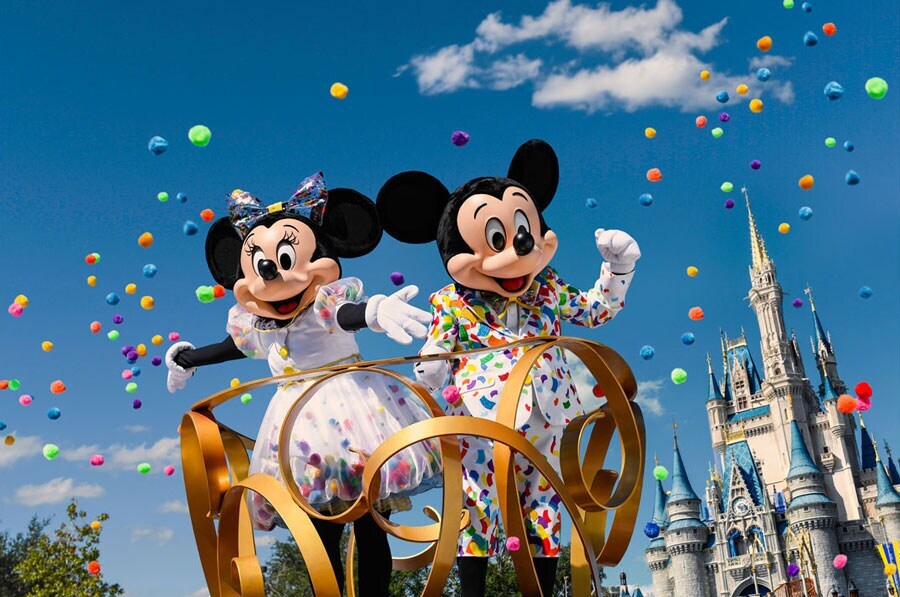 Here are some experiences we can't wait to enjoy:
Wonderful World of Animation Nighttime Show
This show will debut at Disney's Hollywood Studios in May 2019 as part of the 30th anniversary of the Park! It will explore 90 years of Disney animation, and is sure to dazzle us.
Mickey & Minnie's Runaway Railway
We learned about this attraction at last year's D23 Expo, and we're so excited that it's the first-ever ride-through attraction themed to Mickey Mouse!
Get Your Ears On — A Mickey and Minnie Celebration
This is the celebration at Disneyland Resort and will feature all new entertainment, food, and merchandise, including the return of Mickey's Soundsational Parade in January 2019. Yes to all of this!
Mickey & Minnie's Surprise Celebration at Magic Kingdom Park
And over in Walt Disney World Resort, Magic Kingdom Park will be celebrating Mickey and Minnie with a new dance party, as well as food and entertainment. We're so excited to celebrate our faves Mickey and Minnie!
If you can't wait to celebrate and are in the New York City area, you can check out Mickey: The True Original Exhibition going on now! Here's the complete list of artists showcasing their art, and get more info on tickets here!
BRB, going to take a few minutes to process this wonderful news. More information is coming out of D23's Destination D event, so make sure you look out for updates on D23: The Official Disney Fan Club as the weekend continues!