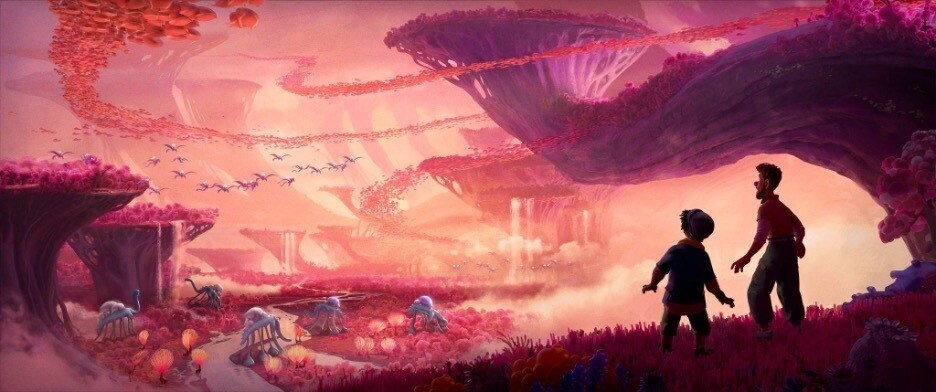 Walt Disney Animation Studios has a history of indulging the imaginations of fans with new and amazing worlds, from San Fransokyo to Zootopia and everything in between. This wondrous tradition continues in the vast, hidden subterranean world in their newest film, Strange World, giving fans a close view of the wondrous creatures, unique plant life, and unknown dangers that live there. This action-packed comedy adventure, set to release in theaters November 23, also tells the story of family, legacy, and the conflicts between generations, but is never without love.
Strange World tells the story of Avalonia, a city that's been enhanced by a revolutionary plant called Pando. However, when it appears to be diminishing, Searcher Clade (voiced by Jake Gyllenhaal), the farmer who years earlier discovered this miraculous plant, is tasked with journeying to a strange new world to find a way to save it and Avalonia. He is joined by his family – wife Meridian, voiced by Gabrielle Union, and his son, Ethan, voiced by Jaboukie Young-White. Dennis Quaid is the voice of Jaeger, Searcher's larger-than-life father and a legendary explorer — a path that Searcher chose not to follow. Joining them in the cast is Lucy Liu, who voices Avalonia's president, Callisto Mal.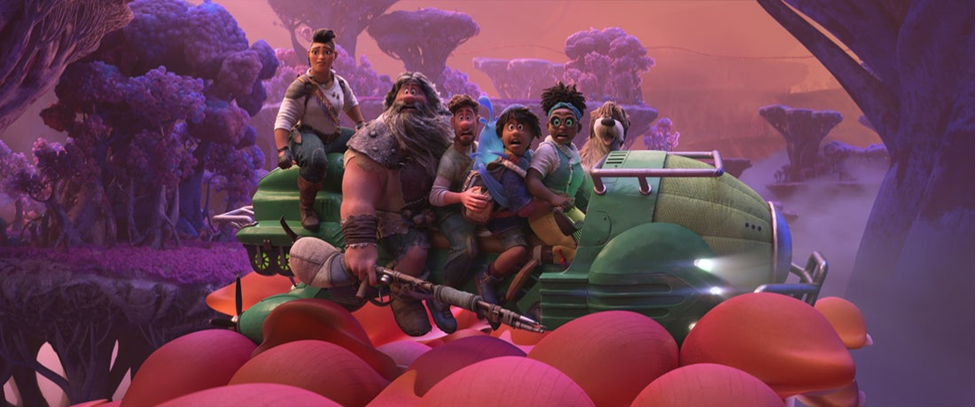 When asked about the inspiration behind the design of the Strange World, Production Designer Mehrdad Isvandi remembers the ideation being equal parts fun challenge and nightmare. Their first task? Create a world without green. "We reserved green for Pando, and we got away from blue in the sky. Our brain is adjusted to seeing blue skies. Removing that option and thinking of something else to make the image beautiful was an exciting challenge throughout production." But with that challenge came difficulty. "There is something with green that, when you see it, you feel, 'Oh, it's beautiful.' [When] researching what is beautiful, everything that comes up is green. So now that we are removing that, what do we do? We want to keep it different, but our color choices are limited. So we [took] inspiration from whatever we could find: coral reefs, food, anything."

Avalonia is also unique, though there are elements that feel familiar — like huge mountains in all directions, a city with big buildings, and beautiful, vast farms. Sean Jenkins, Head of Environments, reveals that one of the big references for the look and feel of the farms were the images that Director Don Hall sent the team of his family farm in Iowa. "We really took that as inspiration for how, even though it's its own world, that area would look around the farm."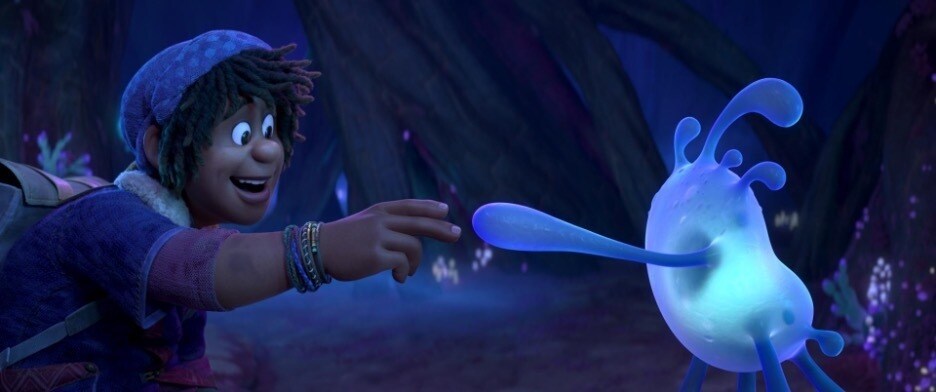 But as much as they found inspiration, they still had to make Avalonia its own thing, with its own style, look, and feel. "There was a word that kept coming up while building," Jenkins explains. "It became part of the vernacular of the show, which was: chonky. We really wanted to lean into the French comic books and just this kind of pulp novel and magazine world, so we wanted everything to have a lot of substance. When you go through and look at the architecture in Avalonia, especially on the farm, it's all chonky. There's no little fine filigrees or things like that. It's all big and substantial. You walk up on the porch and the columns are huge. All the details are big. And that really was part of the style of Avalonia."

For every new world, there are naturally new forms of life to populate it: characters, creatures, and of course, plant life. When Jenkins thinks of challenges he faced, he thinks about having to actually name everything created for this new territory. "We had the Strange World and we wanted to fill the world with things. They don't exactly look like plants, but we call them plants just because we didn't know what else to call them. So then we start to figure out, there's the pop bubble plant and there's a fountain plant. We start to create names for all of these things so that somebody could figure out, 'Okay, well, I'll put a pop bubble plant over there, maybe next to that fountain plant.'"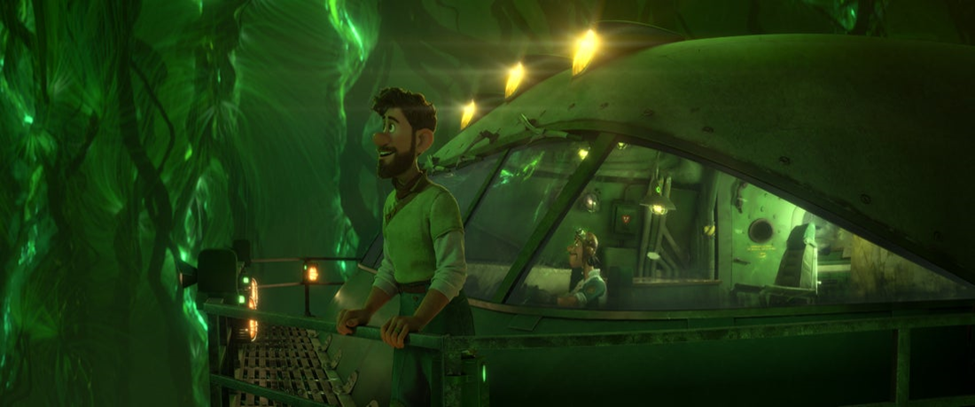 With the plant Pando being a focus in the movie, it became a kind of character. "Whenever you see Pando on the screen, there's always a glow, there's always a motion in the plants," Jenkins explains. "So as [the Lighting department] picks it up, particularly for some of the night shots, there's this really beautiful glow that ends up going through those fields. And then it had to live in Avalonia, so it had to have that shaped language. It had to, again, have kind of that chonkiness to it as well, [so viewers knew] that it was something heavy and substantial that grew there."

The environments and creatures within the Strange World are so unusual that the filmmakers had to be sure they were not distracting from the main characters of the film. For Jenkins, the most memorable part of creating this film is the collaboration amongst so many talented people. "These movies take a lot of work and a lot of people to be able to get across the finish line. And for those of us who've been through a few movies here, you start realizing that the pieces that you take away the most are the people that you work with. And this has been such a strong, cohesive, collaborative team. If you were to ask me five years from now what I would remember the most, it's really the people that I was working with."
Don't miss Strange World, heading to theaters November 23.