This summer, a group of five animation and computer graphics students joined the Walt Disney Animation Studios CG & Art intern program, an immersive experience that is part of the Talent Development program, which offers hands-on experience focused on multidisciplinary learning and team collaboration.
Throughout the eight-week program, they met with Disney Animation directors, art directors, and editors, and were given the unique opportunity to create a short film under the mentorship of artistic leaders. This year, the program was helmed by supervisors Alessandro Jacomini (Director of Photography, Lighting) and Mark Empey (Character Technical Director) at Walt Disney Animation Studios.
The personal mentors "met with [the interns] every day to make sure they had what they needed to achieve their task for the day. I think that was incredibly helpful because they felt comforted and supported by having somebody to connect with on a day-to-day basis," Empey told us.
While in past years, each intern in the program focused on a single discipline—for example, animation or lighting—this year's CG & Art interns were asked to have a hand in all levels of production, from story development to execution.
Because of this, Jacomini noted that this year they were looking for "artists that were great and had a strong sensibility, but at the same time we could perceive that they would be able to collaborate and tackle multiple disciplines."
"We wanted to make sure to help them decide where they want to go with the continuation of their academic career, but also their professional career beyond that. They told us this experience helped to clarify ideas or reinforce their intuition," he added.
What resulted is a 30-second short that we immediately fell in love with, and think you will too.
We'll let this year's adorable short, "Voilà," speak for itself, and then keep reading to hear from two interns about what it was like to be part of this program:
Such incredible work, don't you think? And this took five people only eight weeks from start to finish! These students have seriously bright futures ahead of them. We spoke with two of them: Felicia Chen and Chrisy Baek. While both Chen and Baek touched every part of the process, Chen focused on the look and visual development of "Voilà," while Baek focused on the look of the short, as well as modeling and lighting.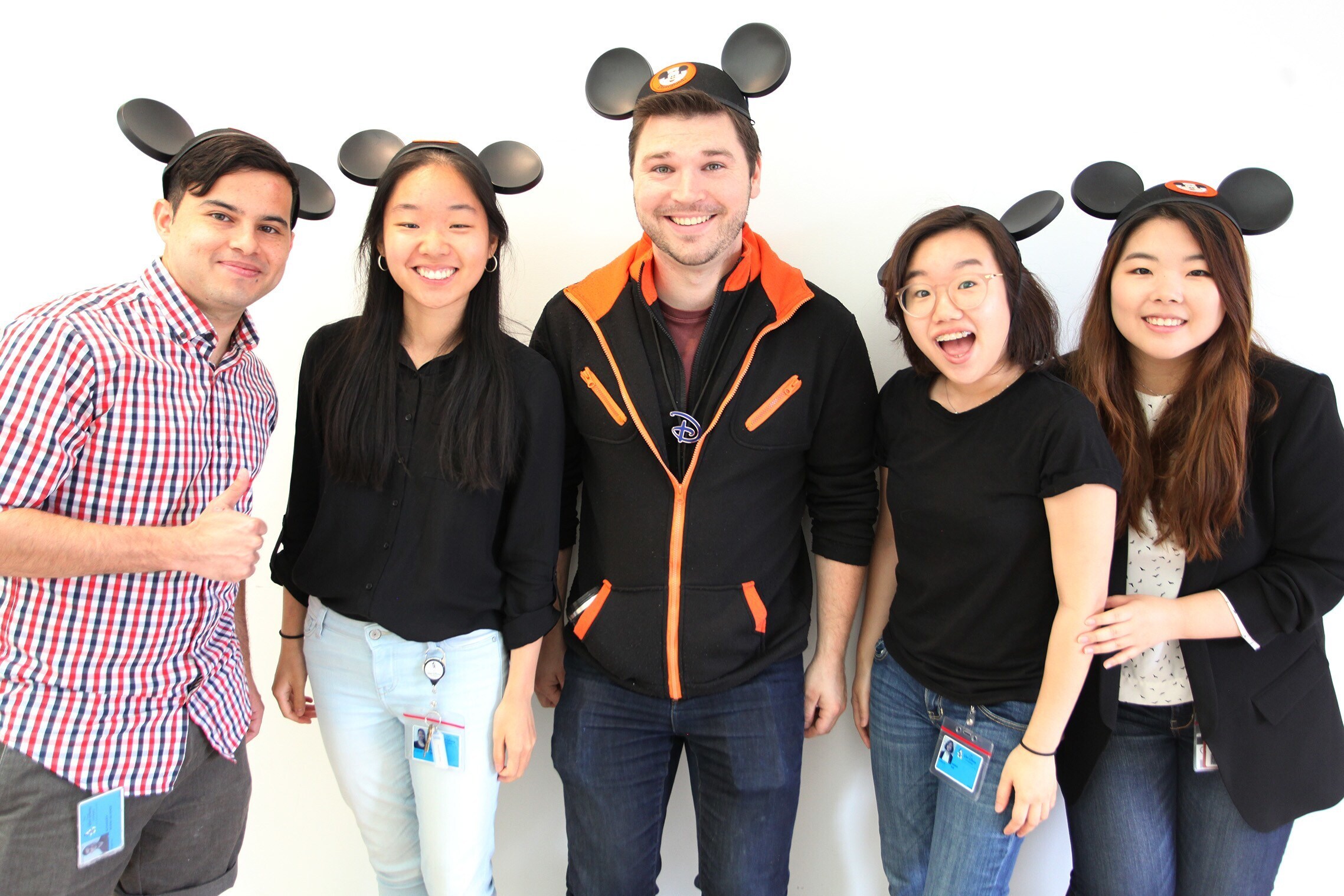 As a Computer Science major, Chen was looking forward to spending some time focusing on art rather than Computer Science: "I'm really grateful that it was structured this way so that a lot of us that were more generalists were able to do the internship."
"After the internship, it made me want to go into the art side even more," she said.
Added Baek: "I really enjoyed how our program was a production program, because we didn't have to specialize, and we got to experience the whole pipeline. I wouldn't have thought about doing lighting and comping until I actually experienced it fully."
Originally, the interns were told to limit the short to fifteen seconds and one character. However, once the inspiration for "Voilà" came about, they realized they needed more time and an additional character to tell the full story.
"The fact that we chose to do an original story in such a short amount of time was amazing," Baek told us. "Although initially they only expected fifteen seconds, we pushed together as a team to make it longer and really develop a story … I think we worked really well as a team."
"They really wanted to push some of these complexities, and all we could do was support that," said Empey.
This initial time constraint did inspire at least one aspect of the short. Said Chen, "We thought we had to come up with a story that had a twist ending, whatever it was … at the end, the painting he's making is just a stick-figure drawing."
This successful push for a longer story is ultimately what both Chen and Baek are most proud of when reminiscing about their experience on "Voilà," because it led to a finished product that is incredibly universal.
"I think we all struggle with how we view our own art versus how someone else might view it," Chen recalled. "After other people watched it too, they mentioned how it was relatable to them and it draws upon what every artist felt when they were younger, and the process they had when they doodled and when they showed it to someone else."
As for what they'll always remember about the internship, both Chen and Baek are, of course, effusive. Baek was most moved by "how friendly everyone was and how accepting they were … they supported us so much."
"I was really surprised about the fact that everyone came to the theatre to support us and watch our short. The whole ending process was amazing because they did a closing ceremony ... and made a cake for us."
Baek added: "I think it was just really amazing that we were able to also be invited to meetings about future movies as well. They treated us as real members of the team … we were really welcomed into every part of Disney Animation. Whatever we wanted to learn, we would be able to learn it just by asking."
Watching "Voilà," it certainly becomes clear: these interns learned a whole lot this summer! We can't wait to see what their futures in animation will bring.