You wouldn't expect the experience of creating an animated film set in a fantasy world to mirror real life, but that was what happened during the creation of Walt Disney Animation Studios' latest movie. Raya and the Last Dragon tells the story of Raya, a lone warrior who must track down the last dragon to help save her homeland of Kumandra from the sinister Druun. Along the way, Raya must learn that it'll take more than a dragon to save Kumandra — it'll take trust and teamwork as well. Featuring the vocal talents of Kelly Marie Tran as Raya, and Awkwafina as Sisu, the last dragon, Raya and the Last Dragon premieres in theaters and on Disney+ with Premier Access on March 5. We were so excited to hear from the filmmakers about their experience making Raya and the Last Dragon, which was unlike any other.
Shot production of Raya and the Last Dragon was just getting started in March 2020 when everyone was forced to work from home. As co-director Paul Briggs recalls, "Animators were carrying some of their computers out of the building to go home and start making the movie from home." Now, under the best of circumstances, animation is a highly collaborative art form — but having to adapt to making an animated film from over 450 separate homes took the levels of collaboration to new heights, with the whole crew, including artists, technologists, and production staff, adjusting to a brand-new workflow. The filmmakers agree that this transition wouldn't have been possible without the studio's talented Technology team. Says writer Qui Nguyen: "Our Technology team deserves the biggest props because they were able to — over the period of maybe two weeks — just set up all of our systems so that we could just continue to work."
Not that the experience wasn't without its particular challenges. Director Don Hall shared of the vocal recording process, "Our cast needed to record from their homes — very often in closets, which coincidentally have the best acoustics in your house." Awkwafina, who voices Sisu, was all the way across the world in Australia, where she'd been shooting a movie. Of course, everyone experienced their fair share of the usual internet connectivity issues. And in video meetings — which were plentiful — Briggs jokes, "A lot of times pets would come in and get right on the screen. It's always cats."
But that made the filmmaking process much more personal than the typical experience, and it brought the whole team even closer together than usual. Says Briggs: "It was really special to get a glimpse inside people's homes, and see their loved ones, and their kids, and their pets." Though at first the filmmakers worried about how the physical distance would impact their collaboration, their video conferencing ended up making the process more intimate, strengthening the crew's bond.
And as it turns out, the crew's experience overcoming the challenges of remote filmmaking directly relates to the theme of trust in the movie. When the audience meets Raya as an adult in the film, she's a lone warrior — but she learns that in order to accomplish her goals and save Kumandra, she must open herself up and trust others. Simulation supervisor Avneet Kaur explains, "One of the sentences that best describes the theme of our film is, 'It takes more than a dragon to save the world; it takes trust and teamwork as well.' This became a living metaphor to describe how we all came together... while working from home. Trust was indeed the glue that held us all together, even when we were isolated."
Across the board, it seems like everyone, no matter their role, was in awe at how their experience working on Raya and the Last Dragon seemed to mirror Raya's own journey in the movie. "It was really interesting to be telling a story about a group of people coming together and trusting one another, and we were doing the exact same thing from our homes making this film," says Briggs. Voice of Raya, Kelly Marie Tran, echoed the sentiment: "The movie has this wonderful message of figuring out how to trust people and work together for the greater good. It's been really wild to sort of have real life be a weird metaphor of that as we're all working on this thing together separately."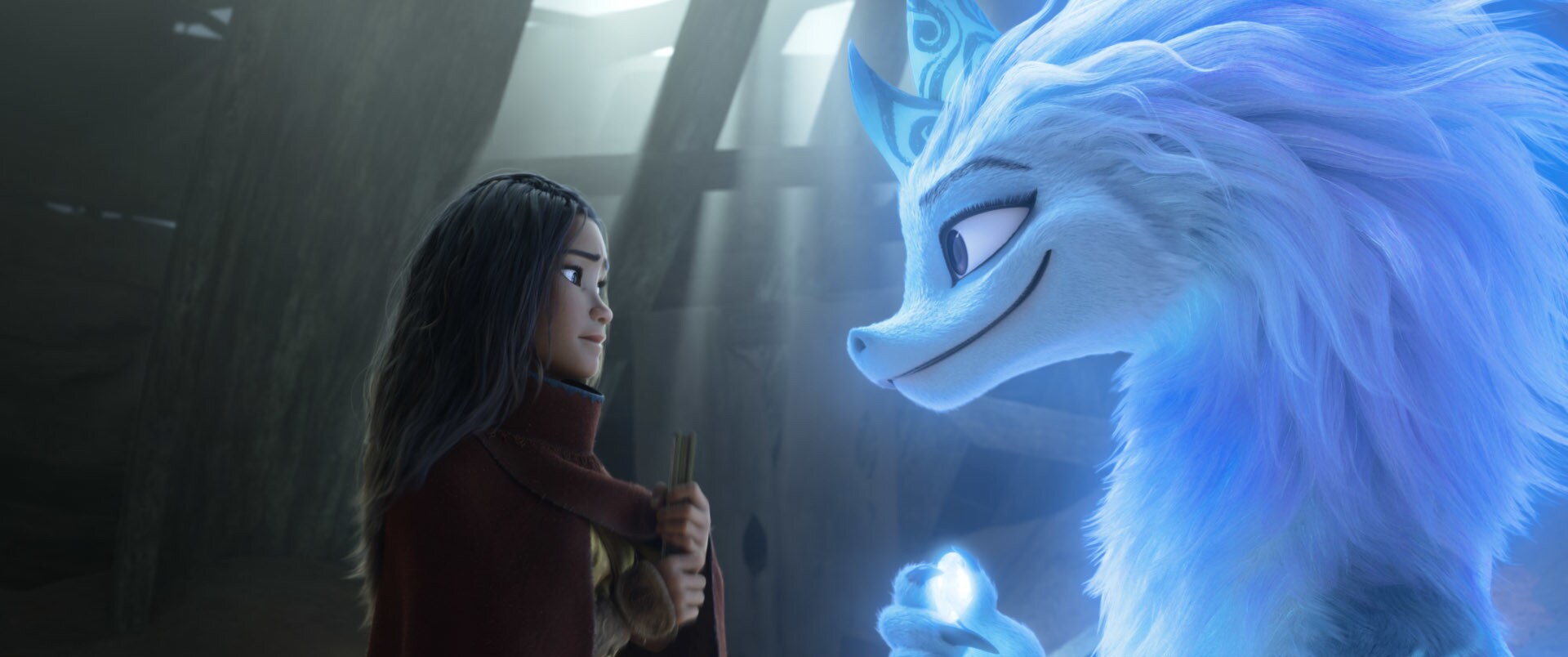 Years ago while the team was still completing their research for the movie, a group of filmmakers and artists were able to take trips to Southeast Asia for inspiration — traveling to Laos, Indonesia, Thailand, Vietnam, Cambodia, Malaysia, and Singapore to learn more about the culture, architecture, food, and atmosphere. Once they were home, the group continued working with an incredible team of cultural experts — including choreographers, musicians, linguists, architects, cultural experts, martial artists, and anthropologists — which were dubbed the Southeast Asia Story Trust, to ensure that the film was rife with authentic details. (Though Kumandra is a fictional world, it's heavily inspired by the connected cultures of Southeast Asia, with each detail purposefully designed to have significance.)
And of course, many key members of the creative team pulled from their life experiences for many aspects of the movie — including when it came to naming the titular character! Writer Adele Lim shared, "Getting inspiration also for the name of Raya, even though Kumandra is this fantasy world, we wanted a name that would resonate across multiple cultures in Southeast Asia. We went through hundreds of names, but Fawn [Veerasunthorn, head of story] and I had this really emotional response when the name Raya came up as an option. In Malay it means 'celebration,' and evokes a really joyful time when people come together." Added Veerasunthorn, who grew up in Thailand: "In [Thai] the name means 'the one who leads,' which I thought was a great name for our character and her journey." As for Tran's portrayal of Raya, director Carlos López Estrada explains, "From her first recording session, we all immediately saw that Kelly was our hero. She brings the perfect blend of emotion, humor, heart, and heroics to what will be Disney's first Southeast Asian Princess."
Of course when the filmmakers conceived of the movie, they had no idea what was ahead for the real world, nor how applicable this story would become. Director Don Hall explains, "The world of Raya is a world under duress. It's a world with a considerable amount of existential pressure from these creatures called the Druun… We had no real way of knowing during the making of the film that our own world was going to be put under an incredible amount of existential pressure. It came by surprise with all of us. But how the film mirrors our own experiences in the real world right now has been nothing short of extraordinary."
And at the end of the process, because of the challenges they'd faced and the way they'd banded together to overcome them, the filmmakers found that the artists of Walt Disney Animation Studios were even more proud of their work than they'd expected. Co-director John Ripa explained, "The trust that everybody put into each other empowered people, and gave them a sense of ownership of what they were doing, and connected them to the film in a deeper way that a lot of people hadn't experienced before. So many people told us that — in all these conditions, with everything that went wrong, and wind knocking out your power — it was one of the best experiences they've had on a film."
We're sure that experience translates to the screen, and we can't wait to watch Raya team up with Sisu to save Kumandra. See Disney Animation's Raya and the Last Dragon in theaters or order it on Disney+ with Premier Access on March 5. Disney+ subscription and additional fee required.
Follow Disney+ on YouTube, Facebook, Twitter, and Instagram for all of the latest updates and more!