Walt Disney Animation Studios' experimental and innovative short film program, Short Circuit, is back for a second season, exclusively on Disney+! Celebrating five years since the program's inception, this season features five all-new short films that "push the envelope visually and thematically," while exploring the unique storytelling styles of each director.
Following the success of the first season, where the program dropped 14 new shorts, the goal for Season 2 was to continue inspiring and surfacing new and diverse ideas and storytelling voices — and the launch of Disney+ created an opportunity to showcase these talented filmmakers and their visions with the world. This group of filmmakers not only experimented with new technical innovations that pushed the limits in the filmmaking process, but their experiences within the program were memorable for them as directors as well.
Last week, we got to screen all five of the new Short Circuit films and virtually sit down with the five incredible directors, as well as their production manager, to discuss the process of bringing their ideas to life!
Jennifer Newfield, Production Manager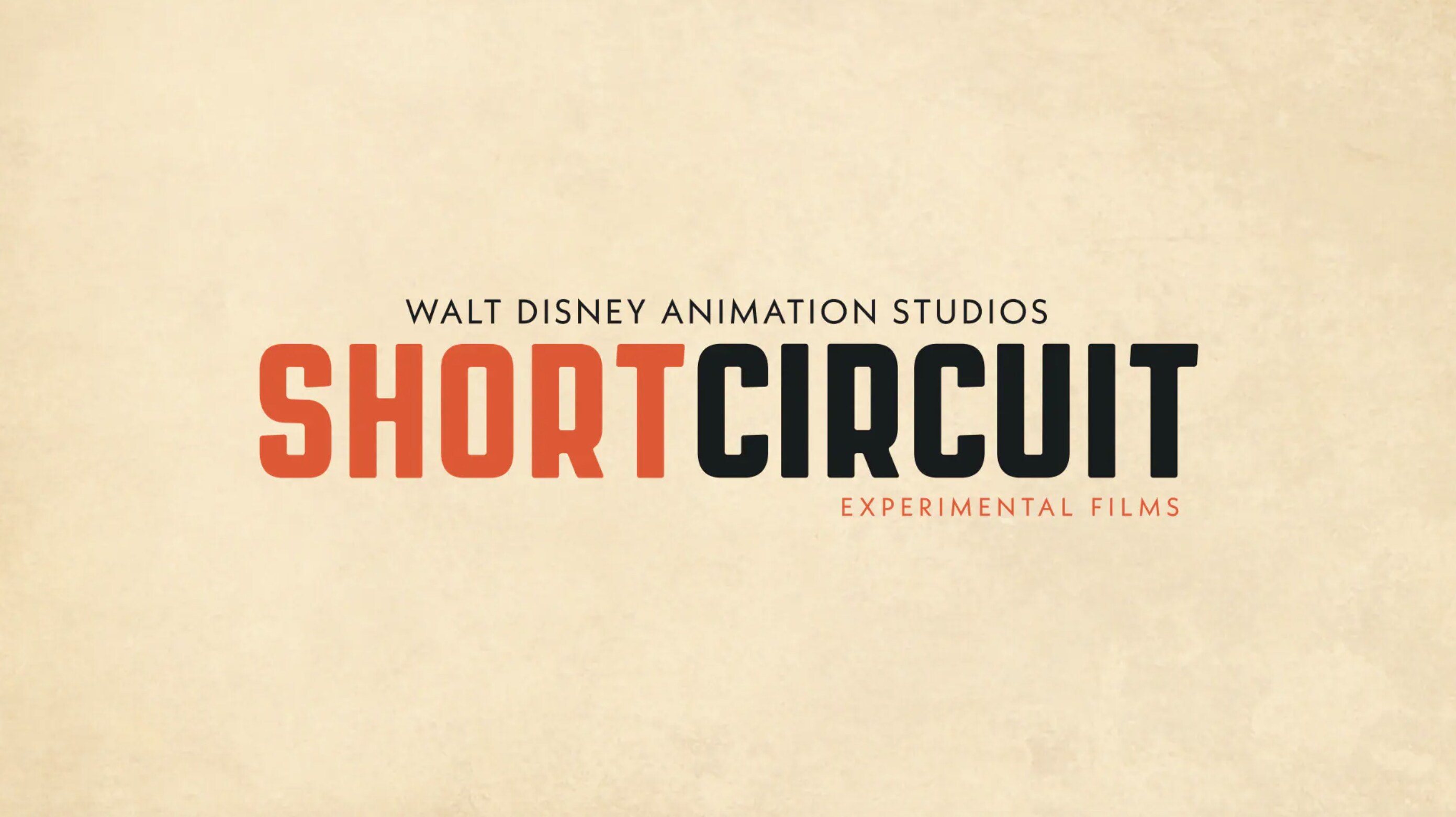 Short Circuit production manager Jennifer Newfield hopes that this program will continue to "inspire anyone at the Studio to submit an idea, and that means anyone!" Working at a large company can feel overwhelming at times, but Newfield wants people to know "that there is a place for them" to tell their story through this program.
From a production manager standpoint, what is your favorite part of production on Short Circuit?
"I try to gain as deep of an understanding as possible as to what they want to get out of their experience directing. How can we build up their skillset and understand what they want to get out of it so when they're done with their short, and they go back to their day job, they can bring something more… It's the most satisfying moment for me."
Newfield's advice for those interested in production management is that "you are not only organizing...it's about the partnerships you create, that's where your uniqueness comes in. You are someone who is building up trust with your creative counterparts and how to best support them."
DINOSAUR BARBARIAN Directed by Kim Hazel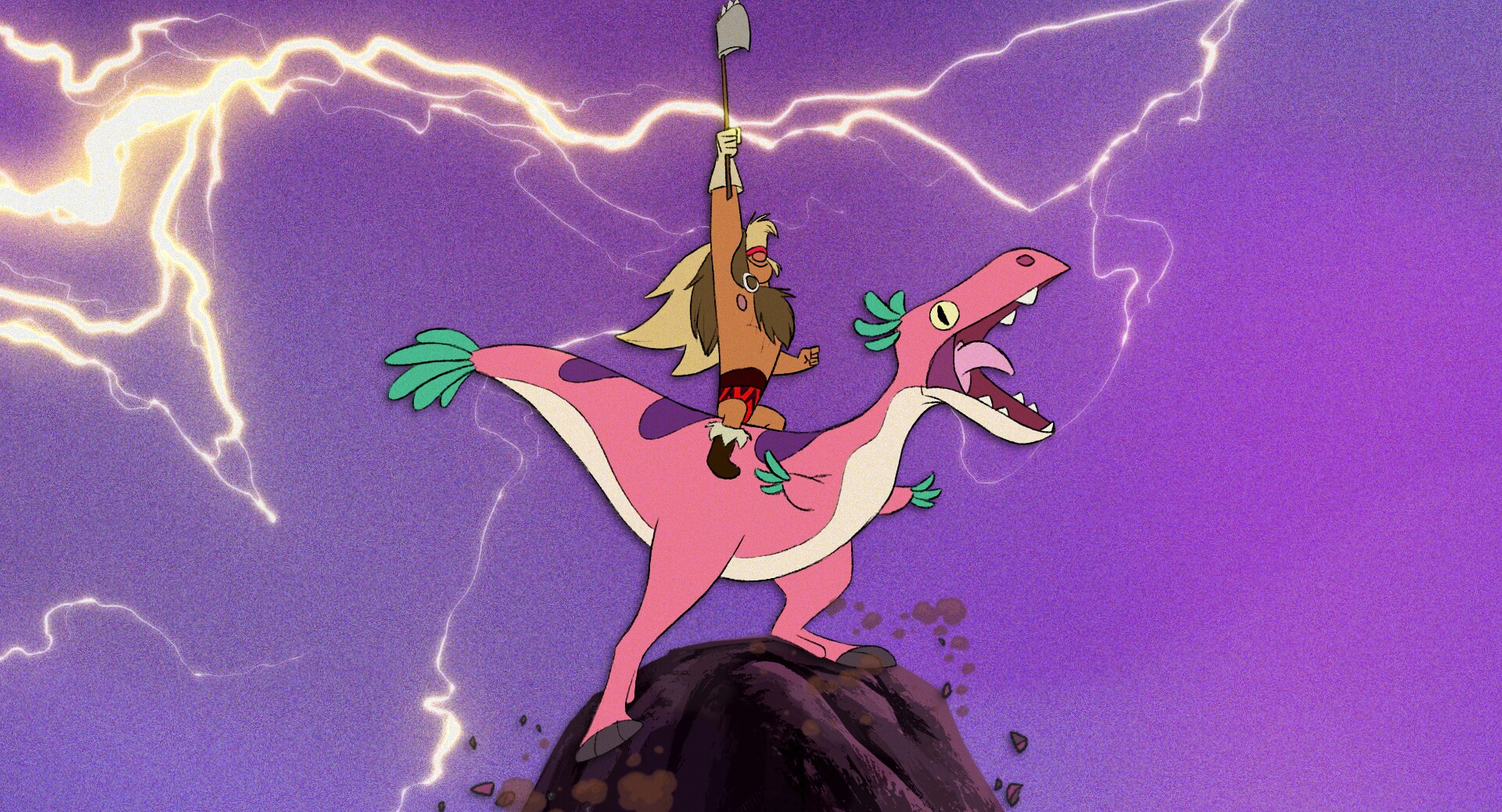 While the idea started off as a lunch table joke, "Dinosaur Barbarian'' became a comedic short film inspired by "the 2D cartoons from the '80s and '80s fantasy illustration." With a catchy cartoon theme song composed by the Mondo Boys, this project was special for director Kim Hazel because she got to work with traditional 2D animators who created the characters that she loved from her childhood — and for many of the character animators who worked on the short, it was a dream come true to do 2D animations for the first time on a project for Disney. This short follows the character Dinosaur Barbarian, who is so focused on saving the day and battling evil that he forgets about smaller, yet still important tasks, like taking out the trash.

What do you want people to take away from your short?
"There's always room to take care of yourself, no matter how busy you think you are. It was important to me that he [Dinosaur Barbarian] wanted to improve himself for himself, and not for somebody else."
What drew you to the Short Circuit program?
"I was really excited to get to create something small, fun and silly. I really wanted to have experience collaborating with other people in the studio...and this was an opportunity to meet more people, learn more about them, and hear their ideas."
Fun Fact about "Dinosaur Barbarian":
Keep an eye out for hidden Mickeys and other Easter eggs!
GOING HOME Directed by Jacob Frey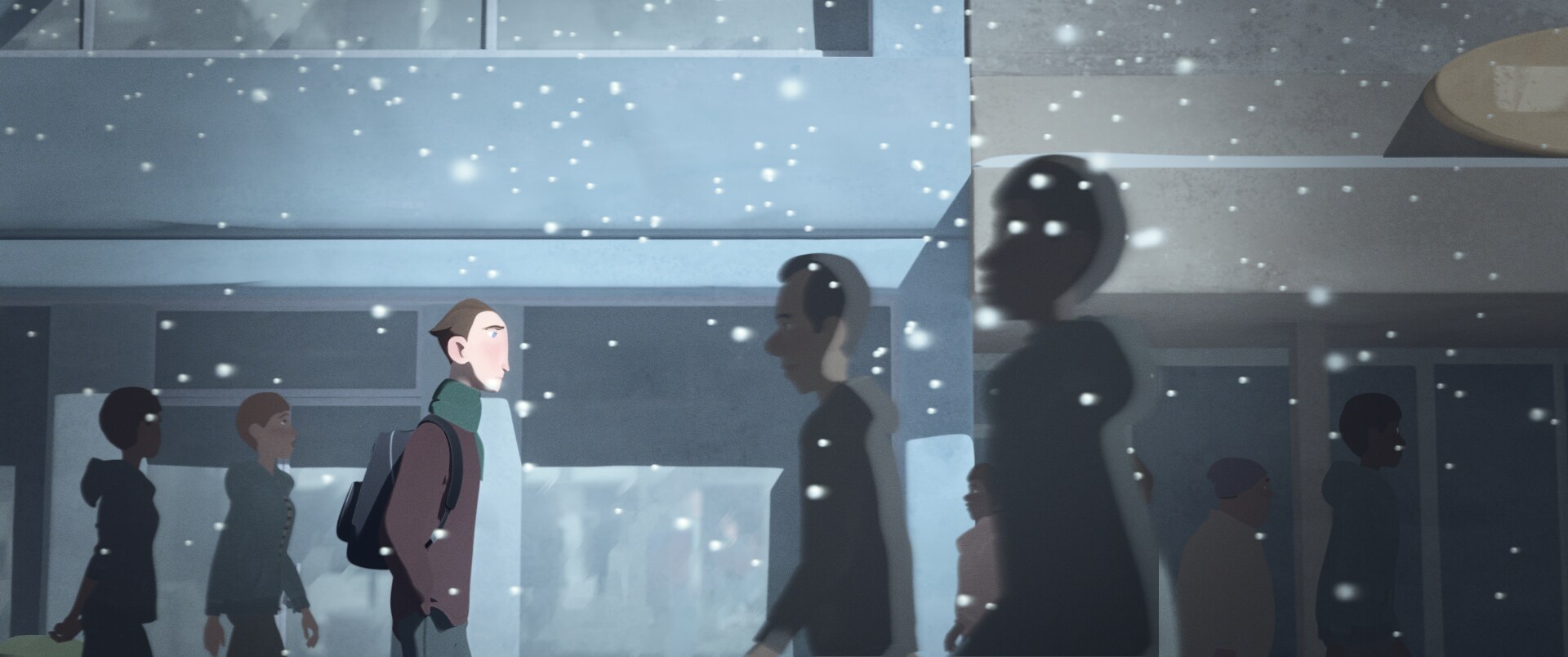 In this heartwarming short, audiences are immersed in a story about the meaning of home and what it feels like to grow up. The story follows a young adult who repeatedly visits his hometown, but with every new arrival he starts to face the inevitable: change. "Going Home" is based on the real-life emotional story of director Jacob Frey's experiences of noticing changes when visiting his hometown in Germany. The amazing character development combined with the dramatic musical elements are incredibly moving. Jacob uses the art of storytelling to encourage viewers to cherish the moments we have with the ones we hold dear to our hearts.
What do you want people to take away from your short?
"I hope that it sparks some inner thought process [about] really cherishing the moments with loved ones. I really want people to see their loved ones as much as possible, reach out to someone you haven't talked to in a long time, and just stay in touch."
What drew you to the Short Circuit program?
"I directed prior to coming to the studio, but it gets hard to do your passion projects outside of your job. It was cool to submit an idea and get dedicated time to tell the story that you want to tell. My story comes from a really emotional experience and it was cool working and sharing similar experiences with other people."
Fun Facts about "Going Home":
There's a cameo character of a three-legged dog from a previous short film by Jacob.
Jacob's parents were very supportive of his animation career. They were staged actors in his shots, and he did his first animation test with them.
CROSSWALK Directed by Ryan Green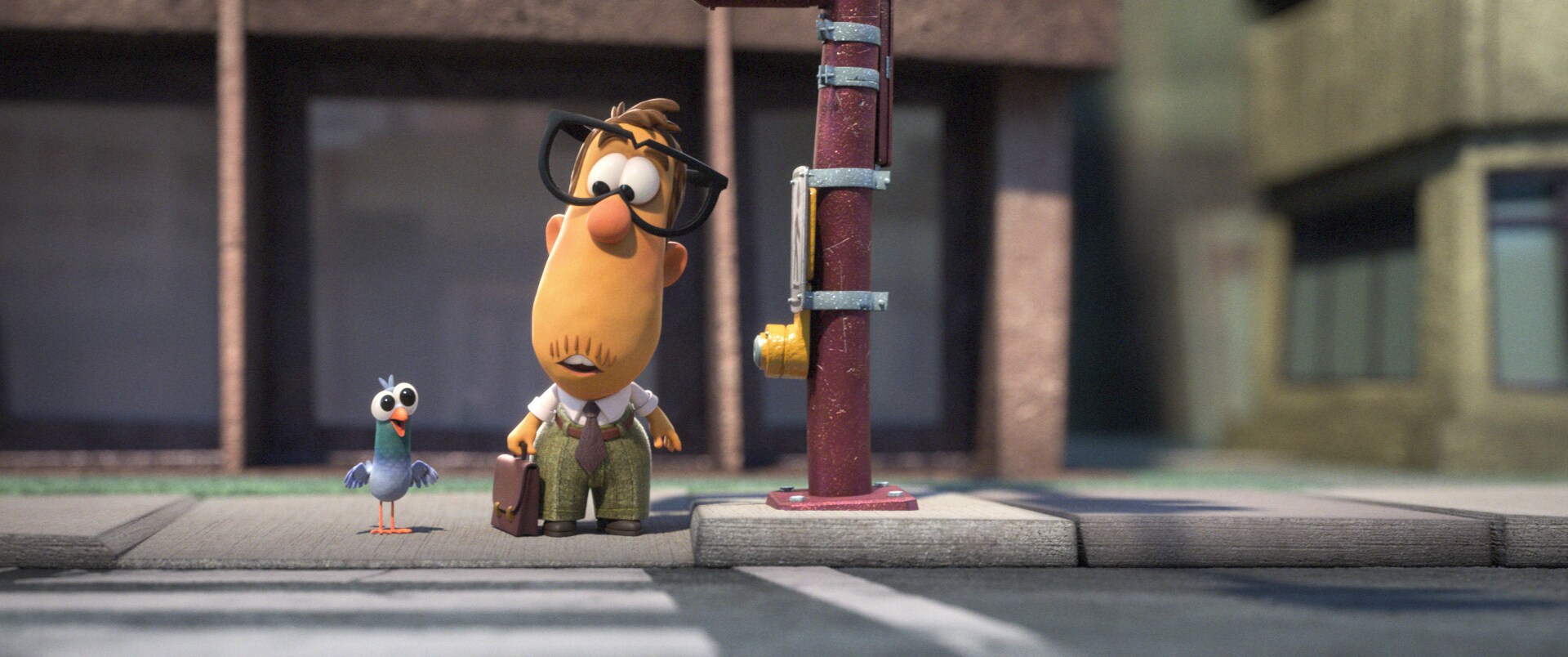 "Crosswalk" will have audiences laughing hysterically while also diving into deep thoughts! "Crosswalk" follows a law-abiding citizen who must find his inner strength to cross the street at a light that won't change. Director Ryan Green was inspired to create his short by the many times he's waited at a crosswalk sign even when there was no traffic. While Ryan does not endorse running out into the street, he hopes this metaphorical piece will inspire viewers to find the inner strength to contemplate and think more profoundly about the experiences we have in our everyday lives.
What do you want people to take away from your Short?
"My short deals with things like personal freedom versus social living, at a metaphorical crosswalk. It's not a moral story… I want them to contemplate that scenario, especially when they go to a crosswalk; everyone seems to have that experience in their life."
What drew you to the Short Circuit program?
"Having the chance to tell the story. I'm a story artist during the day… but I wanted to try to test myself to see if I could [tell a story] from the ground up and also communicate with a team properly as a leader."
Fun Facts about "Crosswalk":
The sound of the crosswalk button in the short is the exact sound from the crosswalk that inspired Ryan's film. It was recorded on a phone and the audio was good enough to be used in the short.
Ryan drew the 2D intro for his short film himself.
SONGS TO SING IN THE DARK Directed by Riannon Delanoy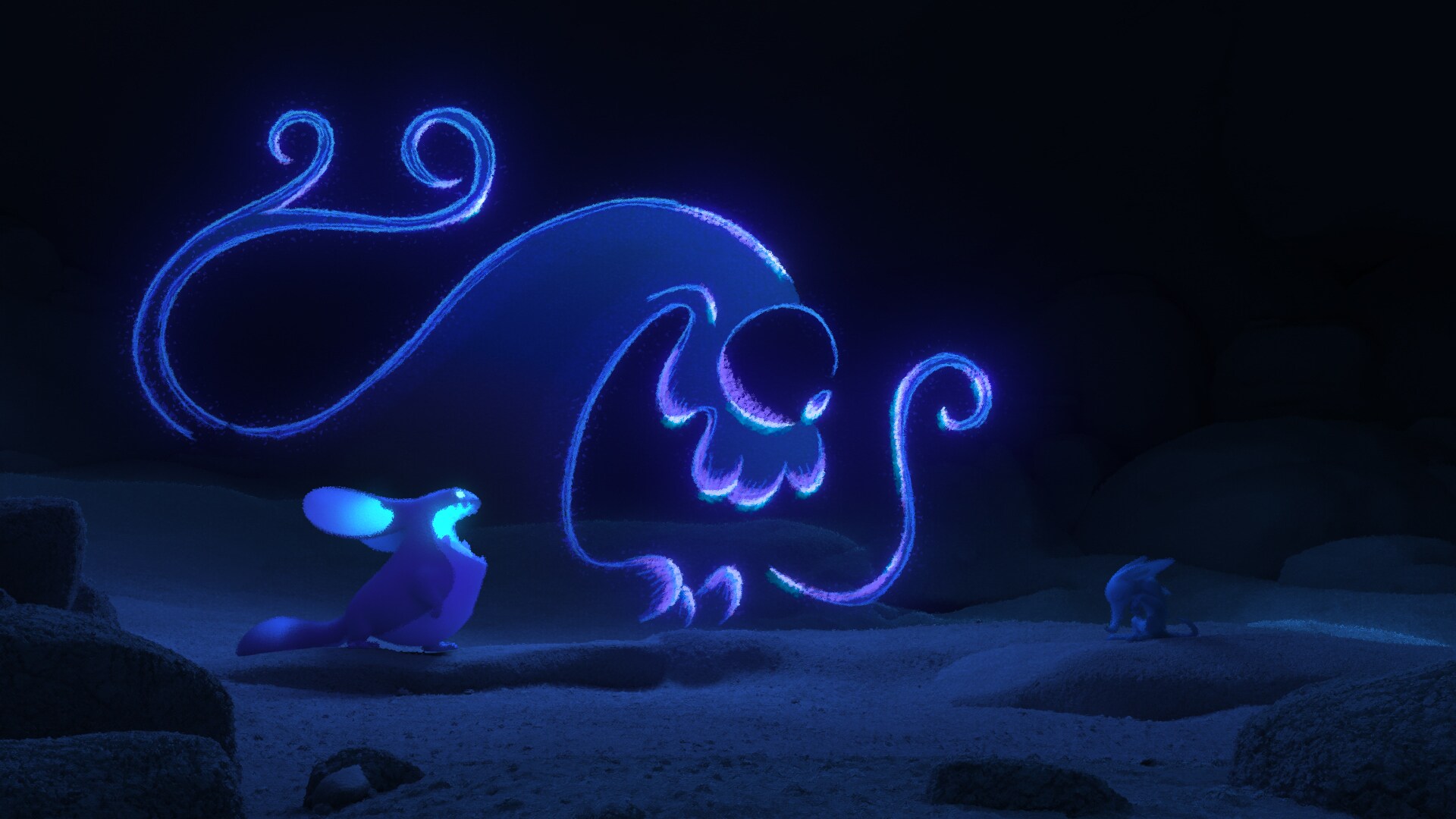 Set in a completely dark world, "Songs to Sing in the Dark'' explores a new spin on the idea of sounds and how we deal with fear. This short explores the natural world, monsters, and big expressive visuals all rolled into one. What makes this short truly unique is how director Riannon Delanoy seeks to answer the question, what is sound? What she discovered through the making of her short is that "sound is not just echolocation and navigation, it's also armor and camouflage, and colorful pictographic holograms." This short film follows two creatures living in the depths of a dark cave as they engage in a battle of acoustic one-upmanship. As things escalate and fear sets in, they come to realize that they are stronger together.
What do you want people to take away from your short?
"I think we should confront and understand and maybe even become friends with the things that we are scared of. I think that's a much more interesting way of going through life than being scared of the unknown."
What drew you to the Short Circuit program?
"I really wanted there to be more avant-garde experimentation in the studio. I think we have an amazing look with the features we do, but it's a very specific look and I wanted to branch out and do more stuff with the resources we have at the studio."
Fun Facts about "Song to Sing in the Dark":
The cave setting in this short is the same cave from the film Moana!
Both Riannon's parents are scientists, who encouraged her to understand and learn more about her fears and the unknown.
NO. 2 TO KETTERING Directed by Liza Rhea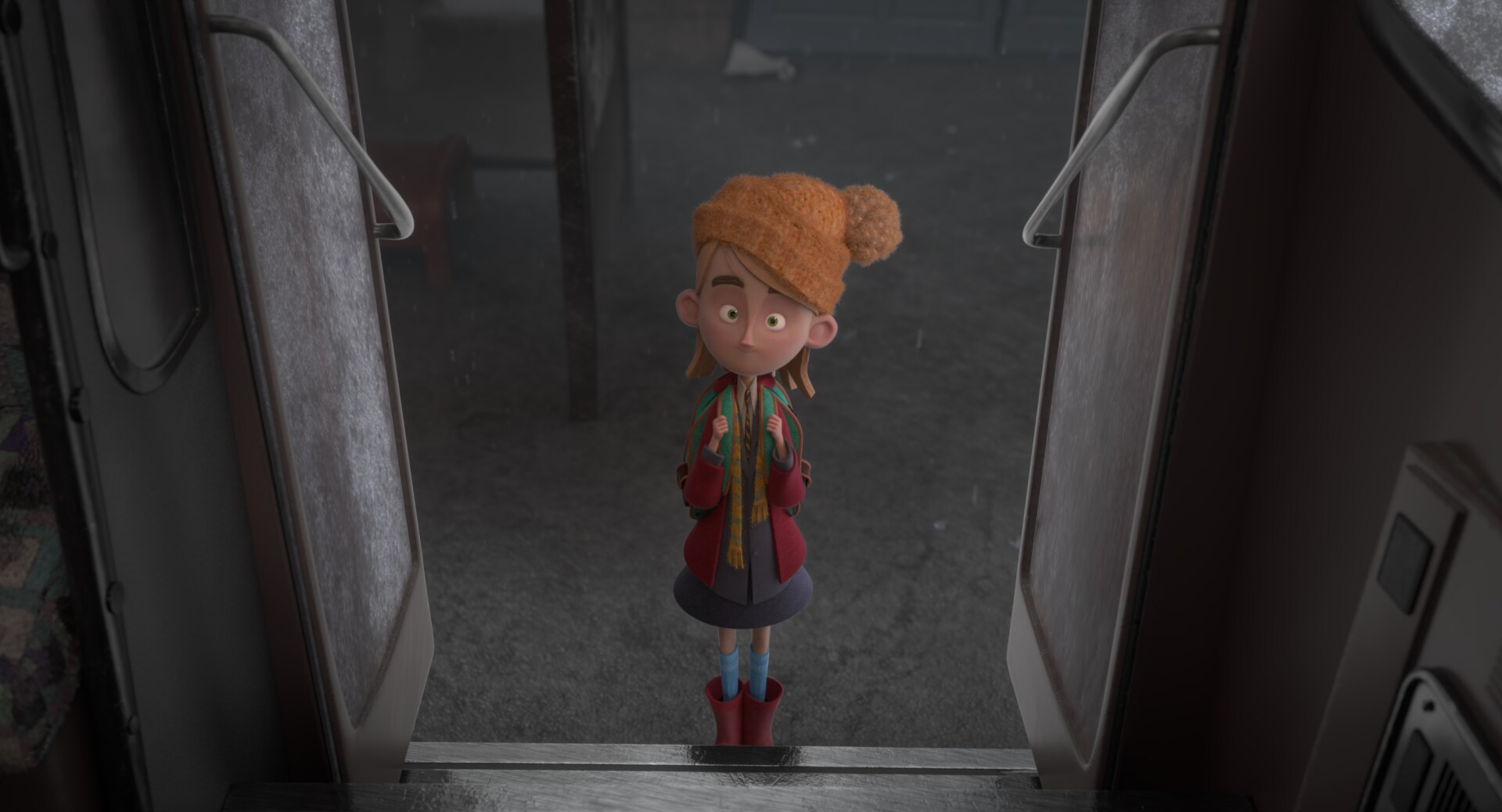 Growing up in England, director Liza Rhea found that a simple smile could make a world of difference while catching the bus to school. In her short film, "No.2 to Kettering," she uses color to portray the emotional journey that her main character is on. In addition to exploring various color styles and techniques, Liza challenged herself and the team of animators to give each character a unique look. The story begins one dreary, ordinary morning, where a young school girl learns how the power of laughter can lift even the most sullen among her fellow bus riders along their journey to Kettering.
What do you want people to take away from your short?
"I really want the message to be: just remember how important it can be to be decent to your fellow man. Sometimes just a tiny moment of kindness can have a ripple effect. ad This film came from someone just smiling at me on a bus, and now it's a Disney short… look at the impact that a small act of kindness can have."
What drew you to the Short Circuit program?
"As someone that would love to direct more, I saw it as a great opportunity to cut my teeth and not take on more than I can handle. I love that it's a super experimental program. You get to collaborate with multiple different departments… and for me it was really good to dip my toe in the water."
Fun Facts about "No. 2 to Kettering":
The bus driver is based on a real bus driver from Liza's hometown.
The bus drivers gave Liza the nickname "The Smiler" as a kid, because she would smile at strangers on the bus.
As far as how these five directors plan on celebrating the premiere of Season 2, Kim plans on staying up until midnight to watch Season 2 pop up on the Disney+ homepage. A few others are still figuring it out because "it still doesn't feel real yet," but one thing's for sure — all of these shorts are moving and exciting to watch.
You can catch Short Circuit Season 2, now streaming exclusively on Disney+.