Holy unanticipated occurrences! Comic book fan Flora Buckman always believed that super heroes weren't real — that is, until she meets Ulysses. A squirrel who receives superpowers after an encounter with a vacuum cleaner, Ulysses brings a renewed purpose to the Buckman family, and hijinks, of course, ensue. Adapted from the Newbery Award-winning children's book by Kate DiCamillo, Flora & Ulysses is sure to delight the whole family!
Comedy is baked into the DNA of Flora & Ulysses, and it comes by its laughs honestly. The cast runs deep with experienced comedic actors (many of whose voices you'll recognize from DuckTales!), and they worked off a script by former Arrested Development writer Brad Copeland.
Comedian Ben Schwartz, who plays Flora's dad George Buckman, a comic book illustrator, served as kind of an unofficial comedy dad to Matilda Lawler (Flora) and Benjamin Evans Ainsworth (Flora's neighbor William Spiver) on set. He shared, "Anything they wanted to know, I'd tell them, of course. But they're both incredible." Schwartz, who trained in improv comedy at the Upright Citizens Brigade Theater, had fun playing with the kids in scenes. "Any time I got to improvise with Matilda, it was very fun because she'd be so excited to do it," he explained. And when Ainsworth saw how much fun Lawler had improvising with Schwartz, he couldn't wait for his turn. The trio had so much fun that they didn't stop improvising when the camera stopped rolling — they'd improvise their own scenes for fun in between takes.
As for how much of the movie itself is improvised, the cast agreed that while they stuck to the script for the most part, director Lena Khan gave them room to play. Schwartz said that any improvising was "always within the boundaries of what that scene is and only if it heightens either the emotion or the comedy of the scene without bringing it somewhere else." Actor Danny Pudi, who plays the villainous Miller, added, "Obviously, the world is so fully realized," so there wasn't too much improvisation needed.
But improv wasn't the only form of comedy explored on the Flora & Ulysses set. Of course, with a superpowered squirrel as one of the movie's main characters, there's bound to be a lot of physical humor, too! Actress Alyson Hannigan, who plays Flora's mom, Phyllis Buckman, explained that "Lena was so great about establishing everybody's physicality with their characters during rehearsal." Of course, some characters were more physical than others. Pudi described his experience acting out being attacked by a CGI squirrel: "In terms of the physicality, they would give me pillows to put under my shirt, [or] sometimes this weird, headless squirrel mushy doll to simulate what the real squirrel would look like, and then it was just a lot of, like, 'Okay. Just kind of run, dance, jerk your head around, and move your body,'" he laughed. "Technically I've been attacked by a few animals in my life, so I used that as my acting prep work."
Pudi was excited to play the villain in the movie. "I showed up to set with a real twirly-ish mustache, thinking, like, they're gonna love this. And as soon as I stepped on stage, Lena was like, 'Shave it,'" he laughed. His DuckTales costar Schwartz raved, "Danny is a straight-up action villain in this. It's incredible."
But Pudi wasn't the only one who experienced acting opposite Ulysses. As Flora, Ulysses' closest human ally, Lawler was often acting opposite a squirrel who wasn't yet there. Sometimes, Khan would hold up a stuffed animal squirrel so Lawler could get an idea of what it would be like once Ulysses was CGI-ed in. But "for the most part during the actual scenes, I had this gray, creepy thing that kind of looked like a rat. And then some other times, I didn't have anything, and I had to pretend there was something there when it was nothing. It was definitely interesting and kind of challenging," Lawler explained.
With all of Ulysses' shenanigans, most of the actors had their own encounter with physical comedy while filming. Hannigan and Schwartz laughed about how they had to do a thousand increasingly wacky takes for a scene where their characters had an awkward entrance. Schwartz joked, "There could be a weird supercut of us trying to say hello to each other," to which Khan deadpanned, "We have it on our editor's computer."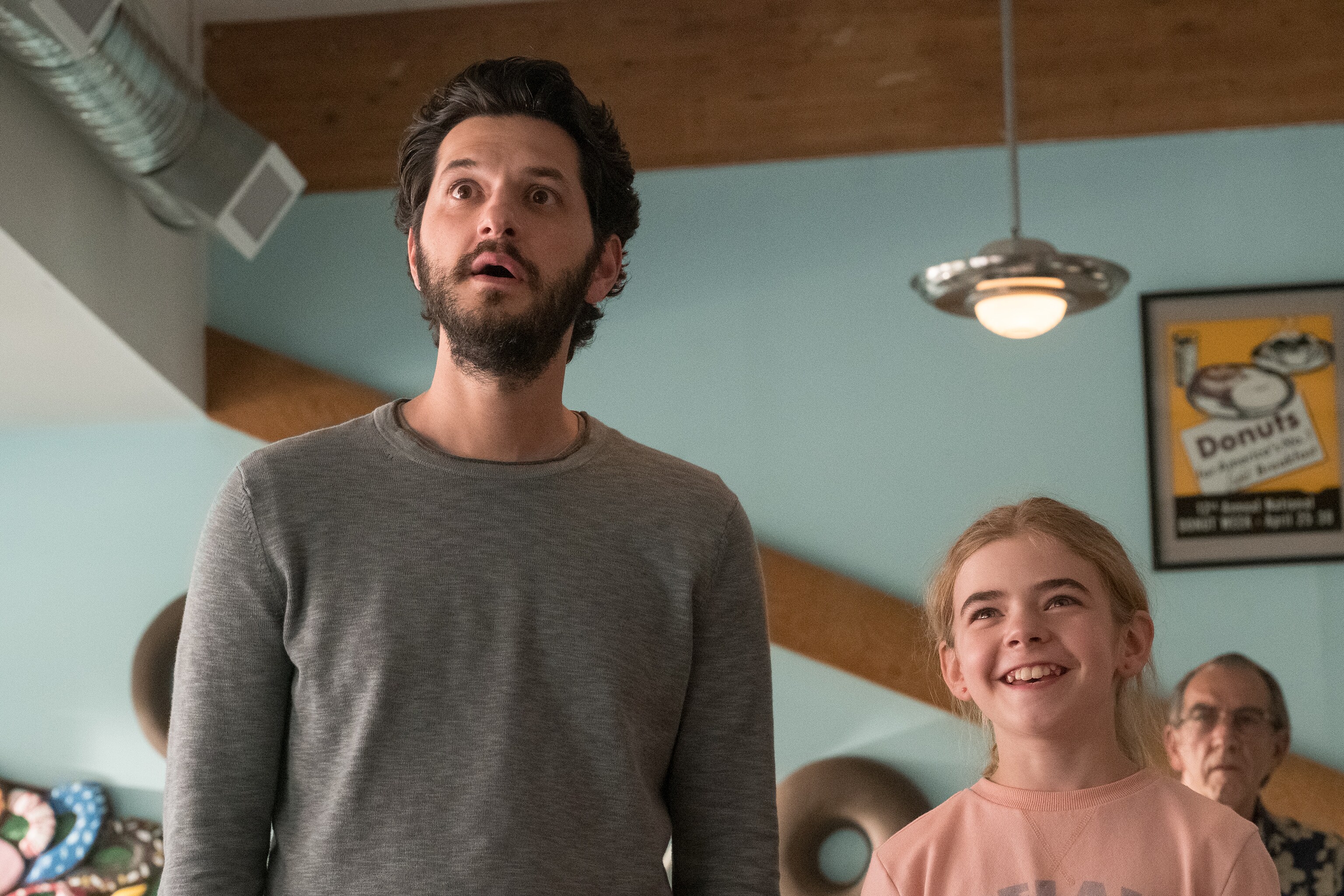 As onscreen father and daughter, Schwartz and Lawler really bonded, and they developed this mind trick they'd do on set where someone would tell Schwartz a word, and he'd mentally "send" it to Lawler. She'd then be able to successfully say that word on the first try. It's clear the two have a real connection! Though they were insistent that there was no magic involved in the trick, the third member of the Buckman family, Hannigan, feigned exasperation, saying, "They won't explain it, and they won't tell you how they do it, either. So annoying."
After the shoot wrapped, Lawler and Schwartz turned their connection to the written word, becoming pen pals! Schwartz divulged that after he sent her a letter that he'd typed on his typewriter, "Her parents got her a typewriter, I think for her birthday, and then she typed me a letter back, and now we go back and forth with letters that we type each other." So cute! We know Ulysses would approve.
We can't wait to see how the cast's obvious chemistry plays out on screen. Witness the tail of an unexpected hero! Flora & Ulysses is now streaming on Disney+!
For more Disney+ news and updates, follow @DisneyPlus on YouTube, Facebook, Twitter, and Instagram.