Magic is in the air at D23 Expo. The weekend is off to an incredible start with tons of exciting announcements to share from its first-ever showcase presentation! 

Magic is in the air at D23 Expo. The weekend is off to an incredible start with tons of exciting announcements to share from its first-ever showcase presentation! Six new series in development for Disney+ were presented with sneak peeks, trailer premieres, and details about the anticipated streaming service. We were also graced with in-person and video appearances of stars at the sensational event, who we'll be seeing in Disney+'s upcoming originals from Disney, Pixar, Marvel, Star Wars, and National Geographic! Looks like Disney+ has big plans for its launch on November 12, but until then, here's everything we learned today about what's to come.
Launching November 12
Plan your next movie night — these original movies and shows are set to stream when Disney+ launches on November 12:
The Mandalorian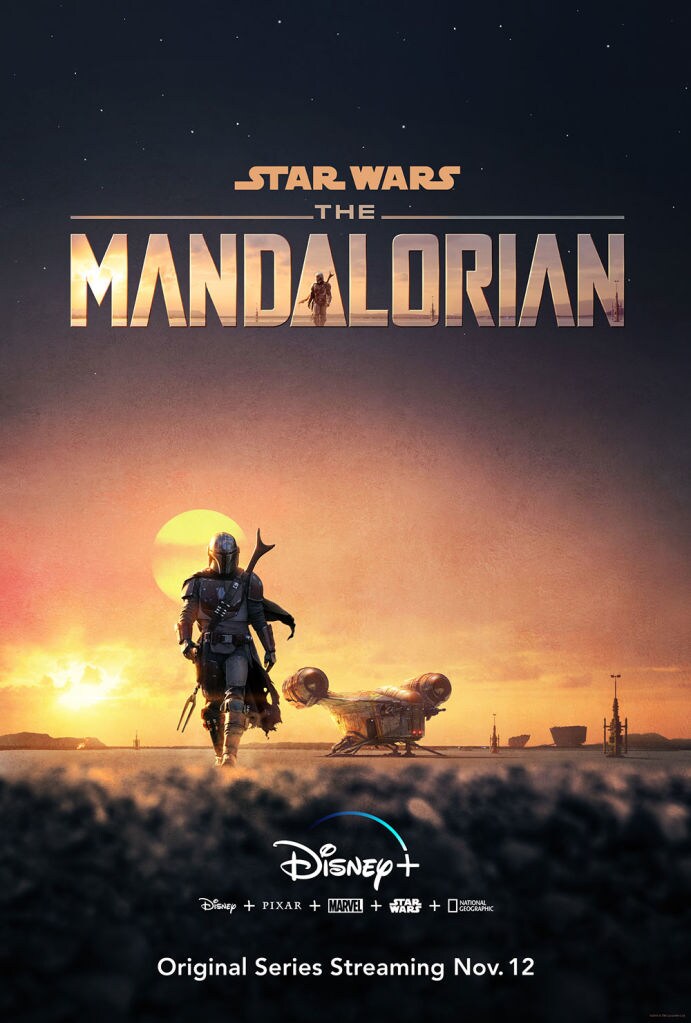 Executive producers Jon Favreau and Dave Filoni joined stars from The Mandalorian, the first Star Wars live-action series, to premiere its epic teaser trailer! Get a glimpse into the outer reaches of a galaxy far, far away:
High School Musical: The Musical: The Series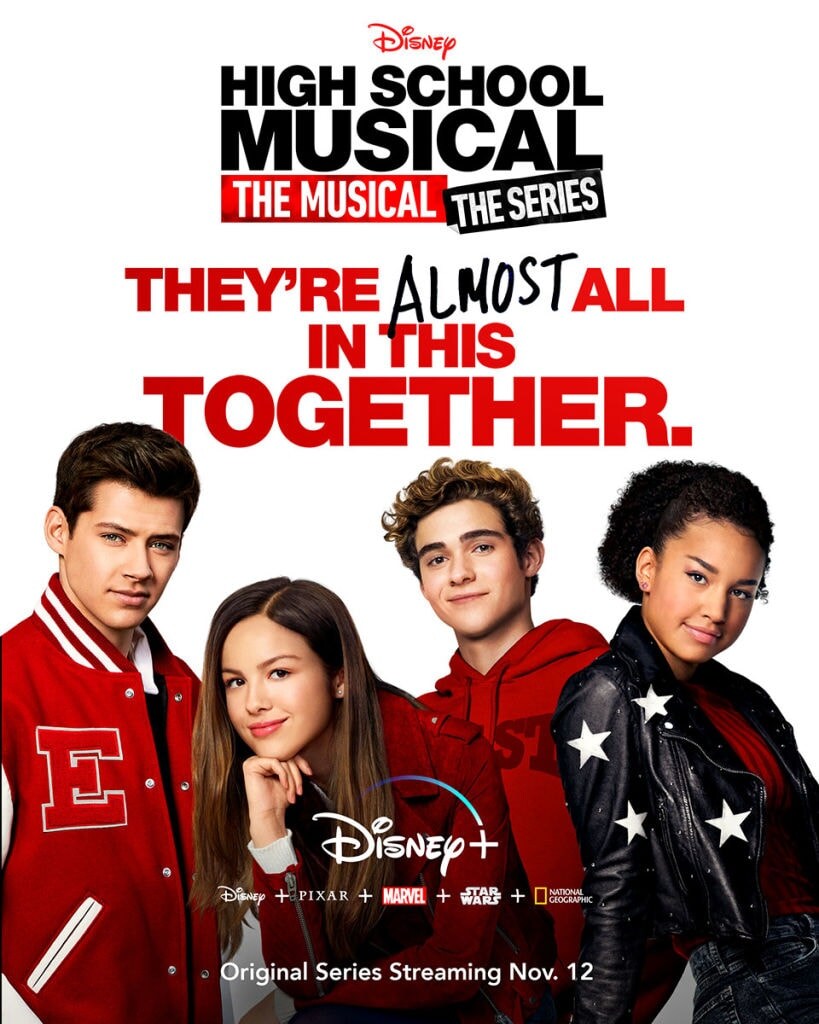 The talented up-and-coming cast of High School Musical: The Musical: The Series gave us nostalgic feels with a live performance of "We're All In This Together." Troy and Gabriella would be so proud! Right after, the cast invited 3,600 fans to watch the first episode and revealed the series' teaser trailer — see for yourself:
Lady and the Tramp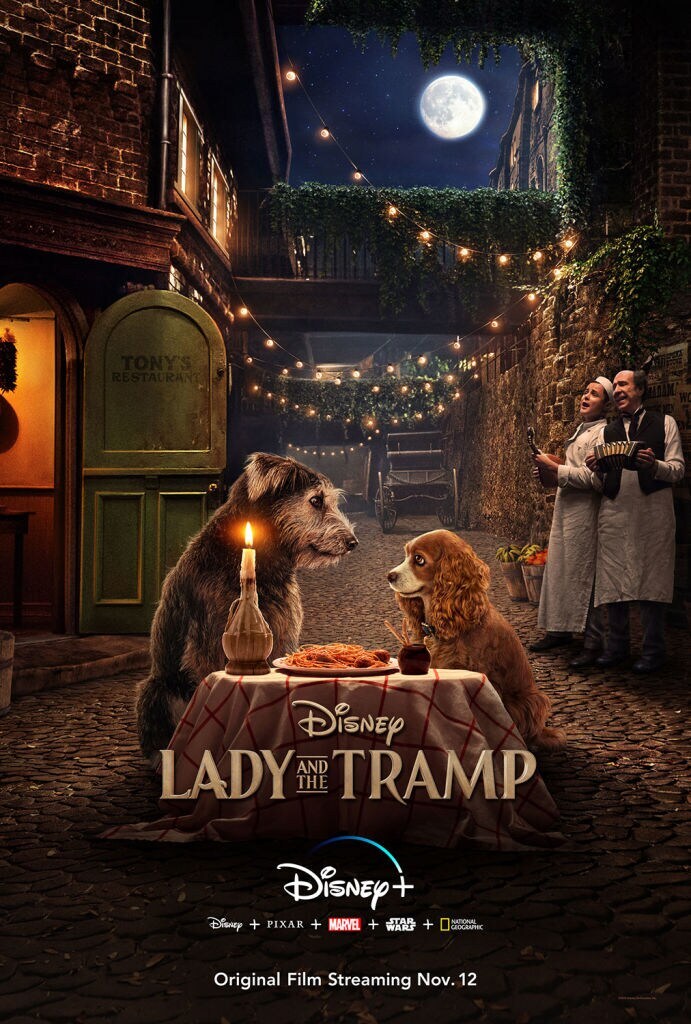 Rose ("Lady") and Monty ("Tramp") — the canine stars of Disney's upcoming live-action film The Lady and the Tramp — made an appearance to showcase the charming first trailer for the retelling of the 1955 animated classic. See for yourself: 
Noelle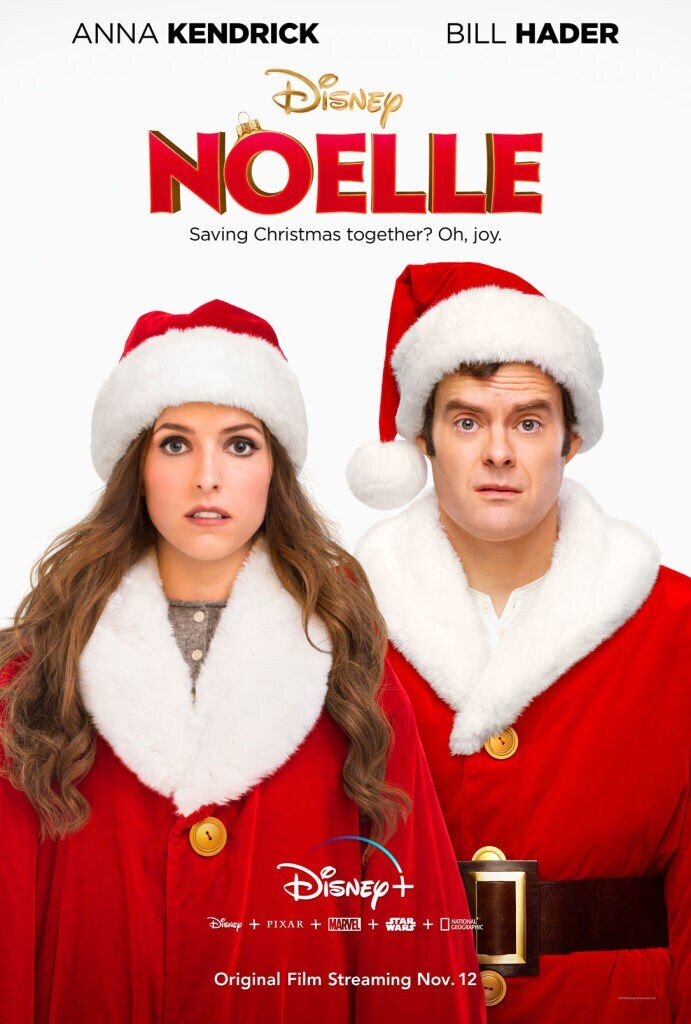 Anna Kendrick and Billy Eichner shared a new trailer for their upcoming holiday film Noelle, which follows Kris Kringle's daughter (Kendrick) and son (Bill Hader) as they try to save Christmas. It's coming to Disney+ on November 12, just in time for the holidays! We're already feeling festive with this trailer:
The World According to Jeff Goldblum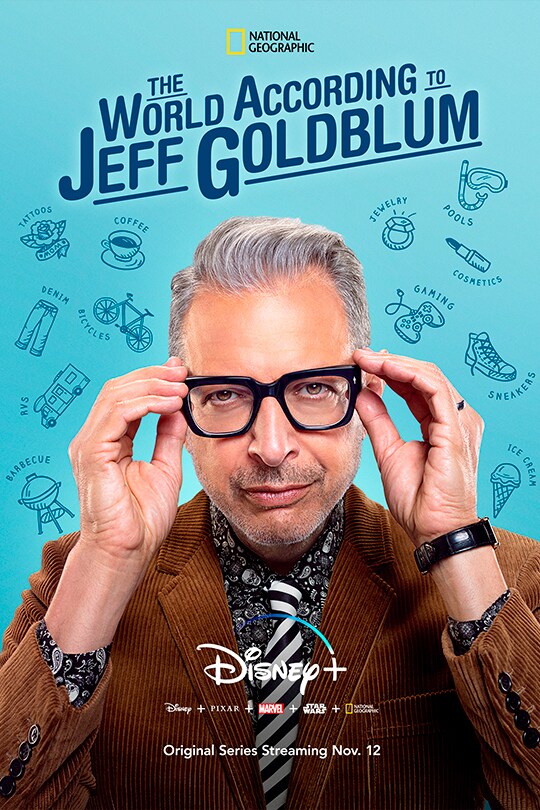 Through Jeff Goldblum's always inquisitive and highly entertaining mind, nothing is as it seems in National Geographic's new series, The World According to Jeff Goldblum. Check out the new trailer for the series, which the legendary man himself stars in and hosts:
Encore!
Executive producer Kristen Bell gave us a taste of the upcoming unscripted series Encore!, which follows former castmates of high school musicals. We're already hooked from the trailer:
"Forky Asks A Question"
Forky from Disney and Pixar's Toy Story 4 is back to ask all the important questions about how the world works: What is love? What is time? And the deepest question of all: What is cheese? Tony Hale, who reprises his craft-project-turned-toy role, announced the first short ("What is Money?") in a new collection of Pixar animated shorts titled "Forky Asks A Question."
Upcoming Projects
The magic doesn't stop there. These titles are set to premiere after the service launches! Check out what the stars shared about their upcoming projects:
Ewan McGregor made a surprise appearance to announce one of Lucasfilm's new untitled series — and he will be reprising his role as Obi-Wan Kenobi in it!
Kevin Feige, president of Marvel Studios, also revealed that three new live-action series derived from Marvel comics are in the works: Ms. Marvel, Moon Knight, and She-Hulk.
Hilary Duff brought our childhoods back to life by announcing that she will reprise her iconic role in the all-new Lizzie McGuire series from Terri Minsky!
Kermit, Miss Piggy and the gang will bring a new kind of mayhem and laughter to Disney+ with their first-ever unscripted short-form series, Muppets Now. We're so ready for some spontaneous fun with all the frogs, pigs, bears, whatevers, and other surprising guest stars!
We were treated to a scene from the Disney+ original film Togo, an untold true story set in the winter of 1925 across the treacherous terrain of the Alaskan tundra!
Executive producer and recurring guest star Gina Rodriguez joined lead actress Tess Romero to announce that Diary of a Female President is coming to Disney+ in January! Told using the narration from her diary, this half-hour single camera comedy series follows 12-year-old Cuban-American Elena's journey from middle school to ultimately becoming president of the United States.
Grace VanderWaal and Graham Verchere, the leading talent of Stargirl, helped introduced the coming-of-age film based on the New York Times' best-selling young adult novel. Stargirl is set to launch on Disney+ in early 2020!
We found out that Marvel Studios' The Falcon and The Winter Soldier, launching on Disney+ in 2020, finds Emily VanCamp reprising her role as Sharon Carter! Wyatt Russell is also set to play John Walker, a character from the comics coming to the screen for the first time.
Monsters At Work stars Ben Feldman and Aisha Tyler unveiled the latest design of their characters Tylor and Millie! Inspired by Disney and Pixar's Monsters, Inc., the new Disney Television Animation series follows a new cast of monsters in Monstropolis, with special appearances from Mike and Sulley (voiced by Billy Crystal and John Goodman).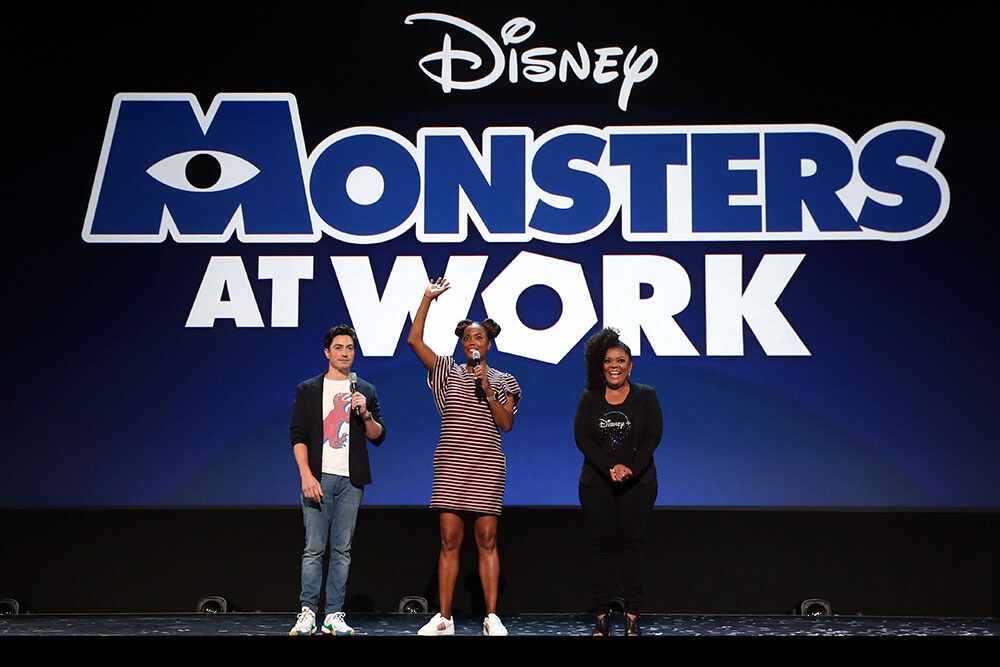 We can't wait to see Paul Bettany and Elizabeth Olsen as Vision and Wanda Maximoff once again in Marvel Studios' WandaVision, premiering on Disney+ in 2021! Kat Dennings and Randall Park also made surprise appearances, reprising their roles from Thor and Ant-Man and The Wasp, followed by Kathryn Hahn, who has been cast as a new character in the series.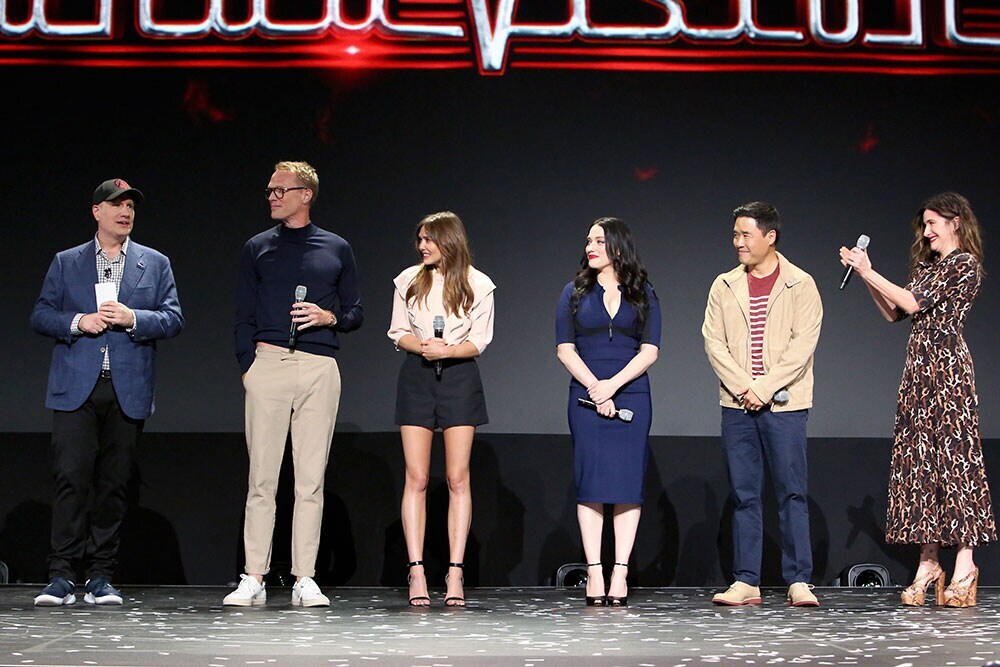 Tom Hiddleston is returning as the mercurial god of mischief in Marvel Studios' new series Loki, debuting on Disney+ in 2021, and we wouldn't want it any other way!
Marvel Studios' animated series What If…? focuses on different heroes of the Marvel Cinematic Universe and imagines what would happen if the events took an alternate turn. Hayley Atwell, who will voice Peggy Carter in the series, announced that What If…? premieres on Disney+ in 2021.
Stars Diego Luna and Alan Tudyk joined Kathleen Kennedy to introduce us to the second Lucasfilm live-action series in development for Disney+! Both actors will reprise their roles from Rogue One: A Star Wars Story in this series, which follows Cassian Andor's adventures as a rebel spy during the formative years of the Rebellion.
There is so much lined up on our watch list when Disney+ launches on November 12 — and the streaming service is just getting started. Disney+ is available for pre-order in the US. Be among the first to have it and start streaming November 12.