Recently, we learned about "Bao," the new Disney•Pixar short playing before Incredibles 2. Now, we have even more details about "Bao," so you can get to know the story before seeing it in theatres. Here's everything we learned: 
"Bao" can mean two things in Chinese, depending on how it is said: "said one way, it means 'steamed bun,' but said another way … it means 'treasure' or 'something precious,'" explained director Domee Shi. 
We can see how this dual meaning will come into play, as "Bao" tells the story of an empty nester who one day discovers that one of her dumplings has come to life! Get ready to witness this exact moment in a recently released clip:
It is just so cute, our hearts are melting (and we're hungry? How does this work?).
"In Chinese culture, food and family go hand in hand," said Shi at a recent event held at Pixar Animation. "'Bao' is inspired by a few of my favorite things in this world ... all wrapped up in a cute little package."
With "Bao," Shi becomes the first female director of a Pixar short. To influence her process in this awesome filmmaking achievement, Shi looked to her own mother, a "dumpling queen," for inspiration: "Food was how my mom showed her love for me. We've always had this special connection making dumplings together."
Not only was Shi's mom her inspiration, but she also gets a cultural consultant credit in the film!
"I made sure to involve her as much as possible in the research for "Bao;" I'd bring her in to do dumpling making demos for the whole crew."
So how did "Bao" come about?
"'Bao' originally started out as a personal side project, but [when] there was an open call at the studio for pitches for shorts, I decided to throw it in the mix and see what would happen,"  said Shi, who had been encouraged by Inside Out director Pete Docter to pitch the idea. And the rest is history!
Production Designer Rona Lui expressed how special it was for her to be a part of creating the world of Bao:
"Working on "Bao" was extremely special to me because it gave me the chance to express my experience as an immigrant through color and design."
And if you can't get enough of "Bao," take a look at this adorable poster: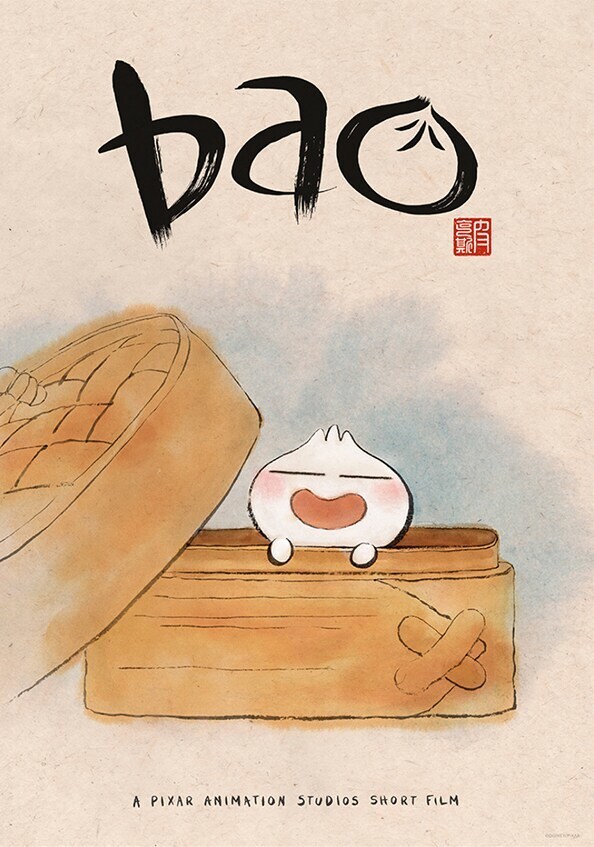 What a cutie! We are super excited to see "Bao," but for now we will leave you with Liu's words:
When you watch it, we hope that you will feel like you do when you're at your mom's house: feeling cozy, and safe, and loved.
You can check out "Bao" playing before Incredibles 2, in theatres June 15!
Incredibles 2 - Everything's Great