Raya and the Last Dragon from Walt Disney Animation Studios is an epic adventure interlaced with messages about trust and family, but what viewers may not realize is how food is also an important part of that journey. Southeast Asian culture has a strong sense of community through food, and throughout the story, characters eating and sharing their food becomes a metaphor for trust. The filmmakers sat down to talk about how their own personal food stories shaped the movie.
Director Carlos López Estrada described how real-world experiences helped bring the animated world to life: "Every decision has so much intentionality behind it, and I think that is what will transport you into the world of Kumandra — the fact that you can look everywhere on the screen, and there's so much thought and so much research and so much love put into every single frame."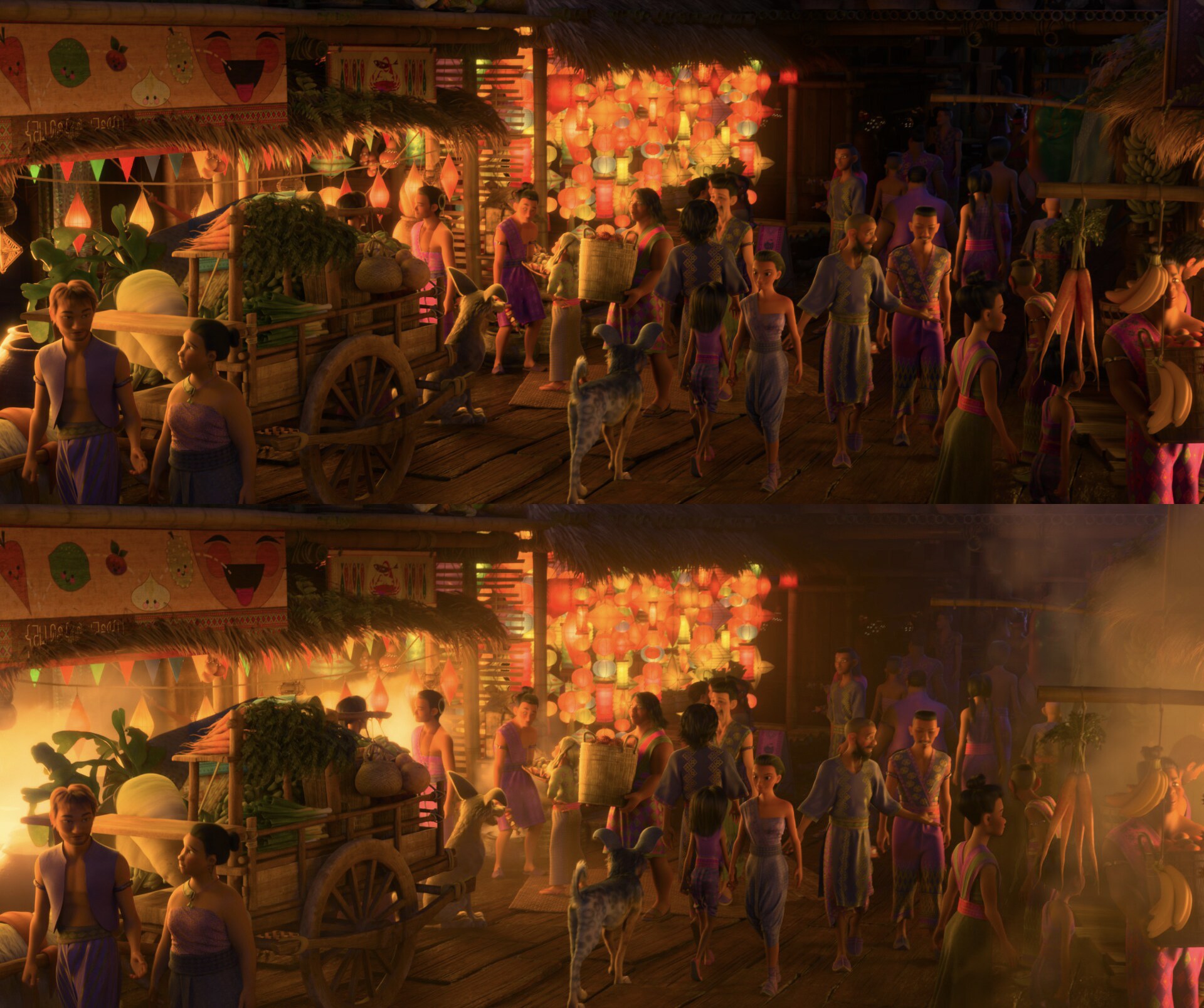 There are five distinct lands of Kumandra: Heart, Fang, Tail, Spine, and Talon. Each land having individual characteristics inspired by Southeast Asia, but Talon can be seen as distinctly similar to the real night and water markets throughout Southeast Asia. Located right on the waterfront, it's filled with bustling food stalls and busy customers; you can almost smell the street food in the air when the characters arrive. "Food is something that everyone comes together around. We realized how visual that is, and how we could lean into it in the movie," said producer Osnat Shurer.
Walt Disney Animation Studios is all about detail, and when it came to the importance of food and culture, the team utilized their own experiences to get it just right. "Obviously, these are animated movies, so everything you see on the screen is created by us," explained López. "So we have a chance to decide how we're going to design it, how we're going to allow the story and our inspirations to affect it. And a lot of it was detail that our filmmaking crew would try to indicate in the script."
Director Don Hall described how food became a visual metaphor for trust in the film. "We tried to use it to also just tell a story. As the characters are coming together, they're beginning to share food. And it became a really important piece of visual iconography for the film in just tracking that theme of trust."
"Food became the tool to track Raya's emotional journey," explained head of story Fawn Veerasunthorn. "As she becomes more trusting of Sisu and her team, we bring her into a family-style dinner setting for us to highlight the feeling, the benefits of being part of a community."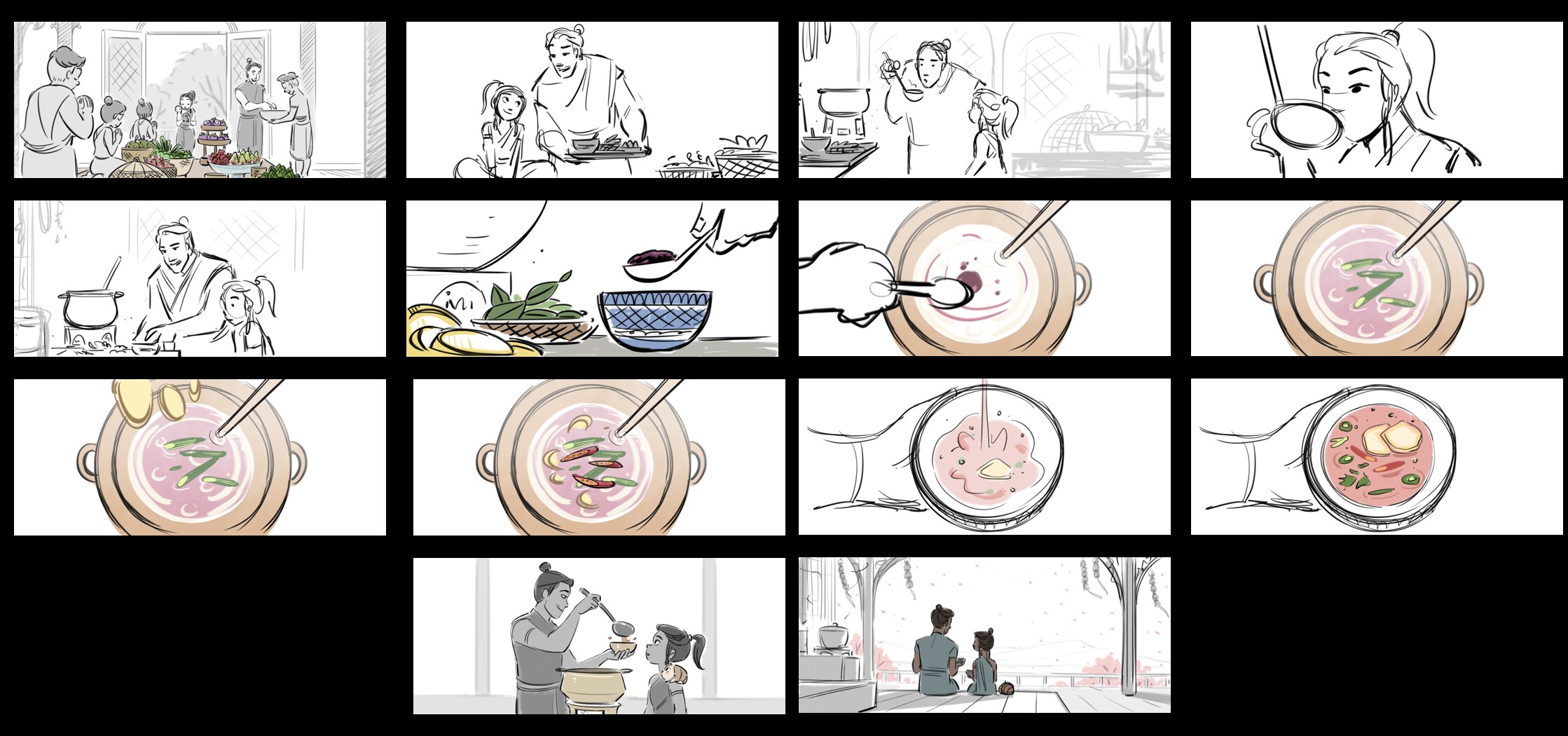 Raya's father, Benja, shows her how to make a bowl of soup inspired by Thailand's tom yum soup. He even demonstrates how to combine the real-world ingredients of lemongrass, lime leaves, and palm sugar to create Kumandra's unique dish. This is a direct reflection of Benja's desire for harmony between the five lands of Kumandra.
Veerasunthorn explained how this metaphor related to the animation team as well. "There is this philosophy of combining five distinctive flavors; spicy, salt, sweet, sour, and bitter. On paper they don't look like they would go well together, but once combined they create a unique and satisfying dish, just like our team and how we came together to collaborate on this movie," she said.
According to Veerasunthorn, the filmmakers' cooking classes and research trips throughout Southeast Asia — including to Laos, Indonesia, Thailand, Vietnam, Cambodia, Malaysia, and Singapore — were a vital part of storytelling authenticity. She recalled how especially impactful one part of the research trip was for co-director John Ripa. While visiting Laos, the team went to give alms to the monks. In this early morning ceremony, they walk the streets with bowls, while people offer small spoonfuls of traditional sticky rice to each monk.
"The monks rely on the community for food, and John was so worried they were only getting a little bitty amount of rice," laughed Veerasunthorn. "And he said, 'That's not going to be enough, I'm going to give them all the whole thing!' We were like, just wait and see... As the monks came and opened up their bowls of food, they were full. And that was when John told me he realized the power of community coming together. This strong, powerful thing was so touching to him."
It's emotional, personal experiences like these that makes Raya and the Last Dragon so special. For writer Adele Lim, it was being able to include moments from her own culture that brought joy and inspiration both onscreen and off. "For me and Fawn, a big delight of this film was being able to share it with our coworkers and see them sort of light up and find all the things that we find beautiful, and they've taken it to heart as well. And all of that went into the movie."
See Disney Animation's Raya and the Last Dragon in theaters or order it on Disney+ with Premier Access on March 5. Disney+ subscription and additional fee required. 
Check out Disney Plus on YouTube, Facebook, Twitter, and Instagram and be sure to follow Disney+ on Facebook, Twitter, and Instagram for all of the latest Disney+ updates and more!