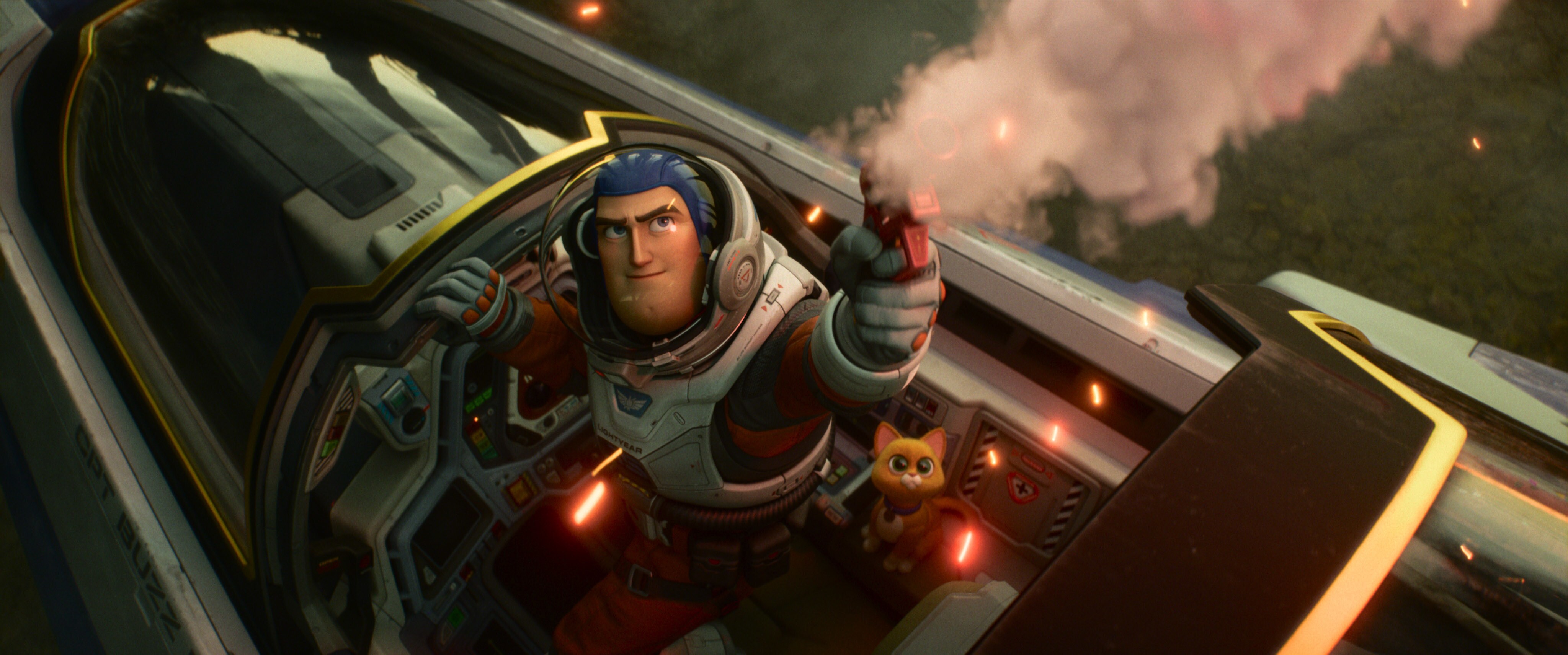 The Disney and Pixar fans accustomed to the toy version of Buzz Lightyear may be shocked by all of the action in his real life. Typically, the level-headed Space Ranger can handle any obstacle that barrels toward him; yet in Disney and Pixar's latest film, one mission forces him to rethink what he believes to be true about space, time, and himself. Lightyear has all the elements of an adventurous sci-fi film: warped time, advancing technology, and an unpredictable future. Now streaming on Disney+, the film has plenty of nail-biting surprises that will be waiting inside this intergalactic origin story.
The new Buzz in Lightyear is a man that never slows down. Blow after blow, the tenacious Space Ranger, voiced by Chris Evans, dusts himself off and tries again. However, when one of his missions lasts far longer than anticipated, he is forced to do some unfamiliar reflecting. "Lightyear is a fish out of water story," said director Angus MacLane. "[Buzz is] trapped in a future he doesn't recognize, desperately trying to get back to the past to correct the mistake of his youth, a hero out of his own time." To authentically capture Buzz's complicated experiences with space and time over the years, those behind the film did some digging.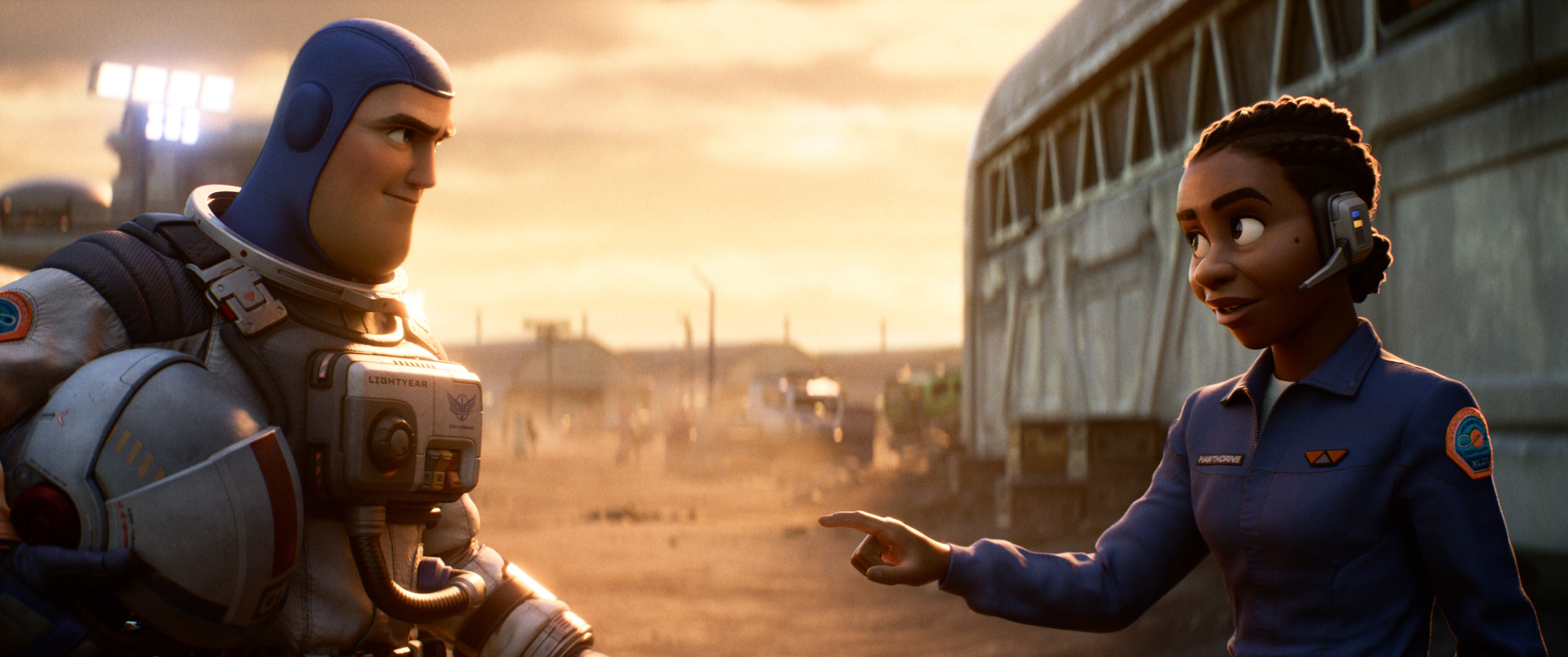 The filmmakers kicked off their research with an exciting trip to the Johnson Space Center in Houston. "The goal is to take your key creatives and expose them to the people, environments, experiences, all the stuff that will impact the design and the language of the film," shared Lightyear producer Galyn Susman, "and we completely lucked out." Thanks to an introduction by longtime Pixar producer Lindsey Collins, they first connected with Tom Marshburn, who is currently an astronaut on the International Space Station (ISS). Marshburn then roped in fellow astronaut Kjell Lindren, and together they all embarked on a comprehensive multi-day exploration of the space center. They saw the original control centers for the Apollo and ISS missions, and so much more. "We saw buttons and switches, knobs, dials, and badges. We were guided through a replica of the ISS U.S. quarters, and the labs. We saw vehicles, training aircraft, and capsules. We even got to sit in a few," Susman said.
After the trip, the team agreed on a neo-retro aesthetic for Buzz's world, representing a time when technology wasn't very sleek. "It's a celebration of the early 1970s and 1980s vision of the future," said MacLane. "Lightyear is a film where the flimsy industrial design has been eliminated, only the chunk survives." From the spaceships to ground vehicles, the teams behind Disney and Pixar were intentional about bringing viewers a nostalgic look for Buzz's missions. This meant big zip disks and no touch screens. "Early exploration sketches inspired us to settle on a clear design ethos: a rugged military aerospace design, combined with the 1980s consumer electronics aesthetic," he said.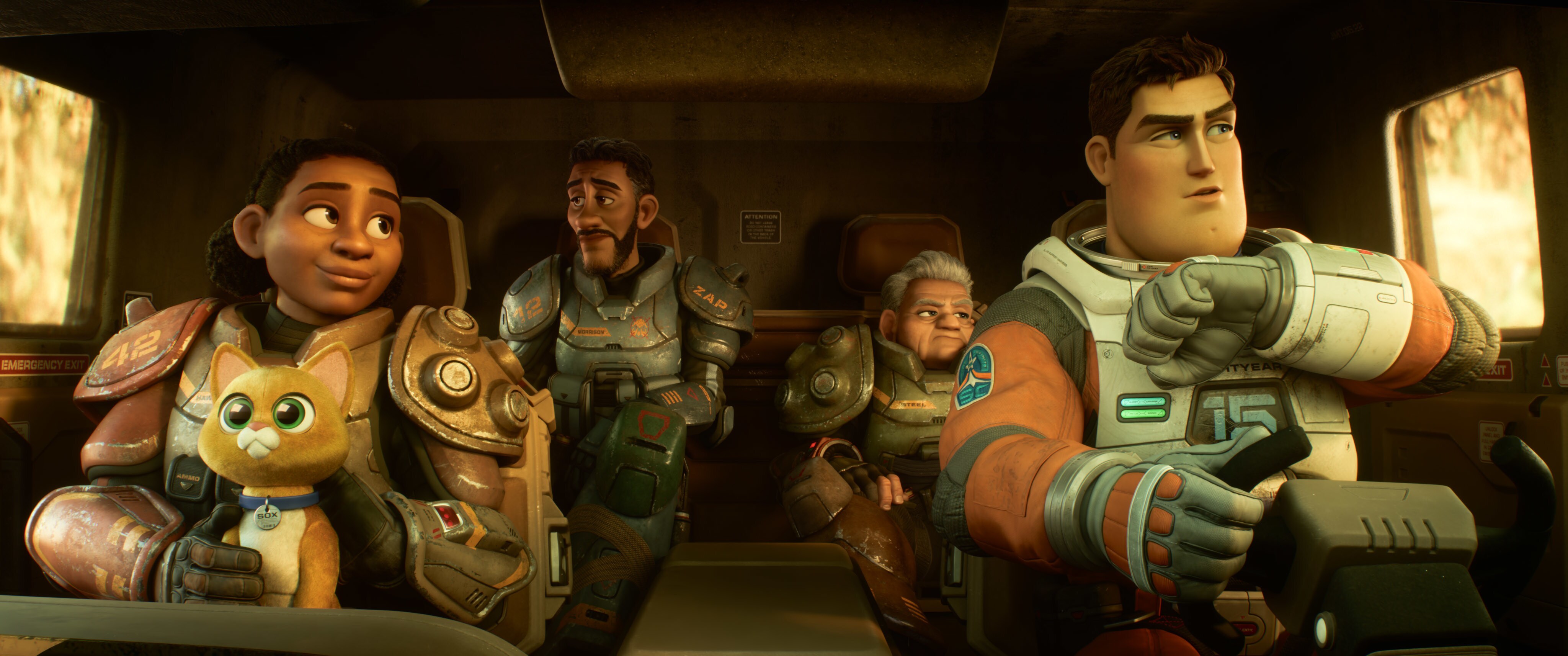 The teams worked diligently to make Buzz's world as realistic as possible — not just on base, but in space, too. All of the exposed wires, analog controls, and numerous buttons like those surrounding Buzz in the film were a direct result of their research. "Real cockpits have all sorts of details that shake and rattle, lights that blink, buzzers that scream while the whole vehicle's shaking like crazy," added sets art director Greg Peltz. "Space launches are violent, chaotic events, and we wanted the designs of our ships to sort of highlight that sense of danger, so that audiences can experience that excitement themselves while they're watching."
Buzz's life-saving onboard computer system "I.V.A.N." is another example of neo-retro technology on the ship. Voiced by Mary McDonald-Lewis, the Internal Voice Activated Navigator does not let its bulky form impede function in any way. I.V.A.N. helps Buzz steer clear of enemies and travel safely. "If you think you recognize that voice, it may be because she is the voice of OnStar, your car's onboard computer," said Susman. "I just kind of get a kick out of that!" Together, I.V.A.N. and Buzz's robotic cat companion Sox help the Space Ranger with his more complicated, mechanical needs.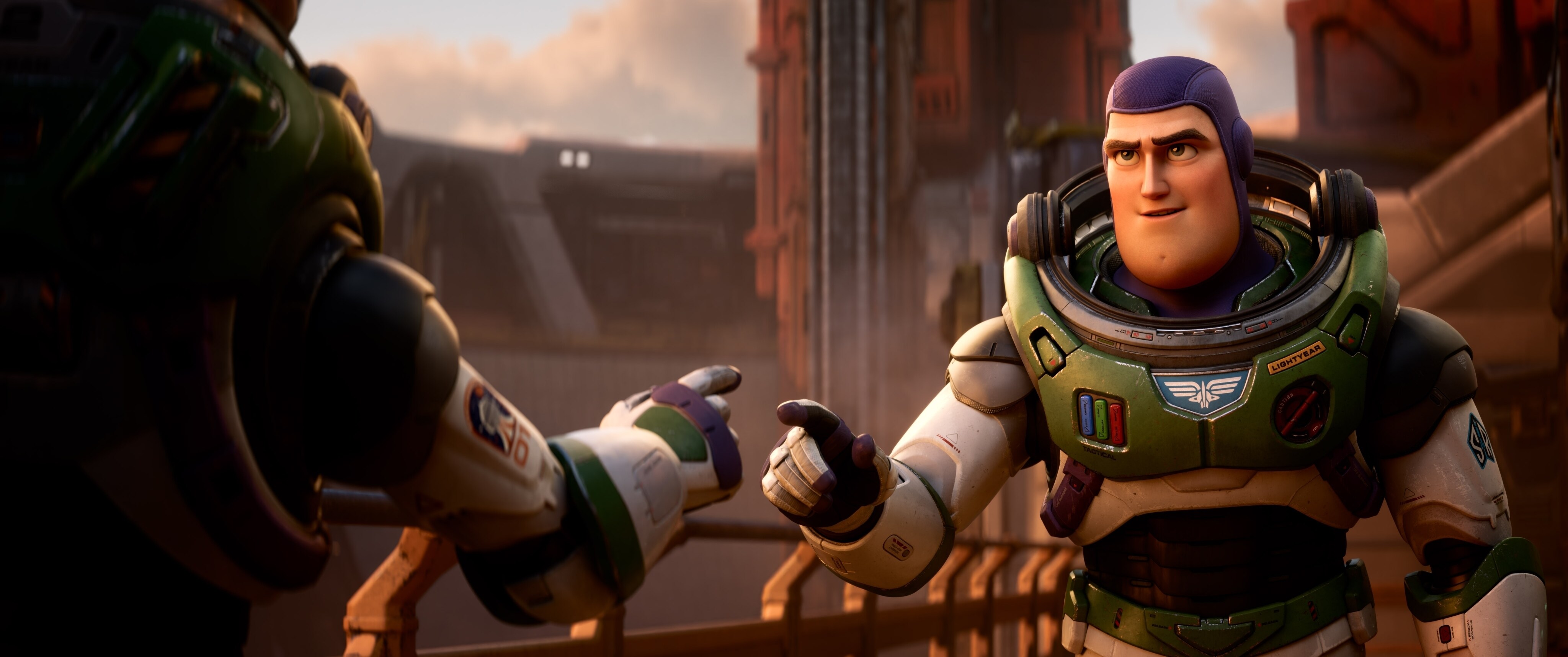 Anytime Buzz is called to action, he is already suited up and ready to go. Mission after mission, the calm and composed Commander has the perfect space suit for the job. Tailoring and simulation supervisor Fran Kalal helped to conceptualize how Buzz's suits would change as the world around him moves on. In doing so, Kalal and her team were able to successfully bridge art and fashion with physics and computer science. "Each time Buzz returns from a test flight, Star Command has years to plan the next ship and suit in hopes of supporting Buzz to complete his mission," she said. "What changes to the ship, suit, and fuel of each mission will reach hyperspeed and get the crew home?" To answer that, her team explored the protection spacesuits provide, and how innovations to their design could tell a story.
In addition to a trip to NASA, Kalal and her team met with a spacesuit consultant, reviewed materials from the Smithsonian, studied a replica, and even viewed other films. Buzz's first launch and entry suit in the film keeps the same chunky shape shared by the technology around him. Reminiscent of human space exploration's early days, function wins over form. Layered with cooling wires and more, the suit is designed to keep a ranger alive in space or on water long enough to be rescued. "The suit has padded knees, elbows, and shoulders to protect Buzz from jostling in the ship, and to offer mobility," said Kalal. "The utility belt is bulky with large metal buckles. And the boots, gloves, and neck rings all allow for rotation, but they're pretty heavy and unwieldy." Little by little, Buzz's additional spacesuits lose some of that bulkiness. "Our experience is aligned with Buzz, observing decades of change in minutes," said Kalal. By the time Buzz wears his fourteenth suit, it is much more form-fitting, has better mobility, and even better neck support. "We achieved new levels of technical and look complexity to deliver these costumes," she said, "which we hope you'll enjoy as much as we do."
Experience the changing world through the eyes of Buzz in Lightyear, now streaming on Disney+.