The Marvel Studios 10th Anniversary Film Festival is coming soon!
We are always looking for a chance to watch more Marvel Studios films. From Iron Man to the life-changing Avengers: Infinity War to the most recent Ant-Man and the Wasp, these movies are so epic that we love when we get to see them on the big screen. If you feel the same way, get ready to experience the magic all over again because the Marvel Studios 10th Anniversary Film Festival is about to kick off! We first heard about this amazing news from our friends at D23.
In honor of Marvel Studios' 10th anniversary, our fave films from the past decade of the Marvel Cinematic Universe are coming to select IMAX locations in the U.S. and Canada from August 30 to September 6. That's right, all 20 of them! What a time to be alive.
Fun fact: Iron Man, The Incredible Hulk, and Captain America: The First Avenger have never before been seen in IMAX, so this is a pretty important time in history. Assemble all your fellow Marvel fans and clear your schedules: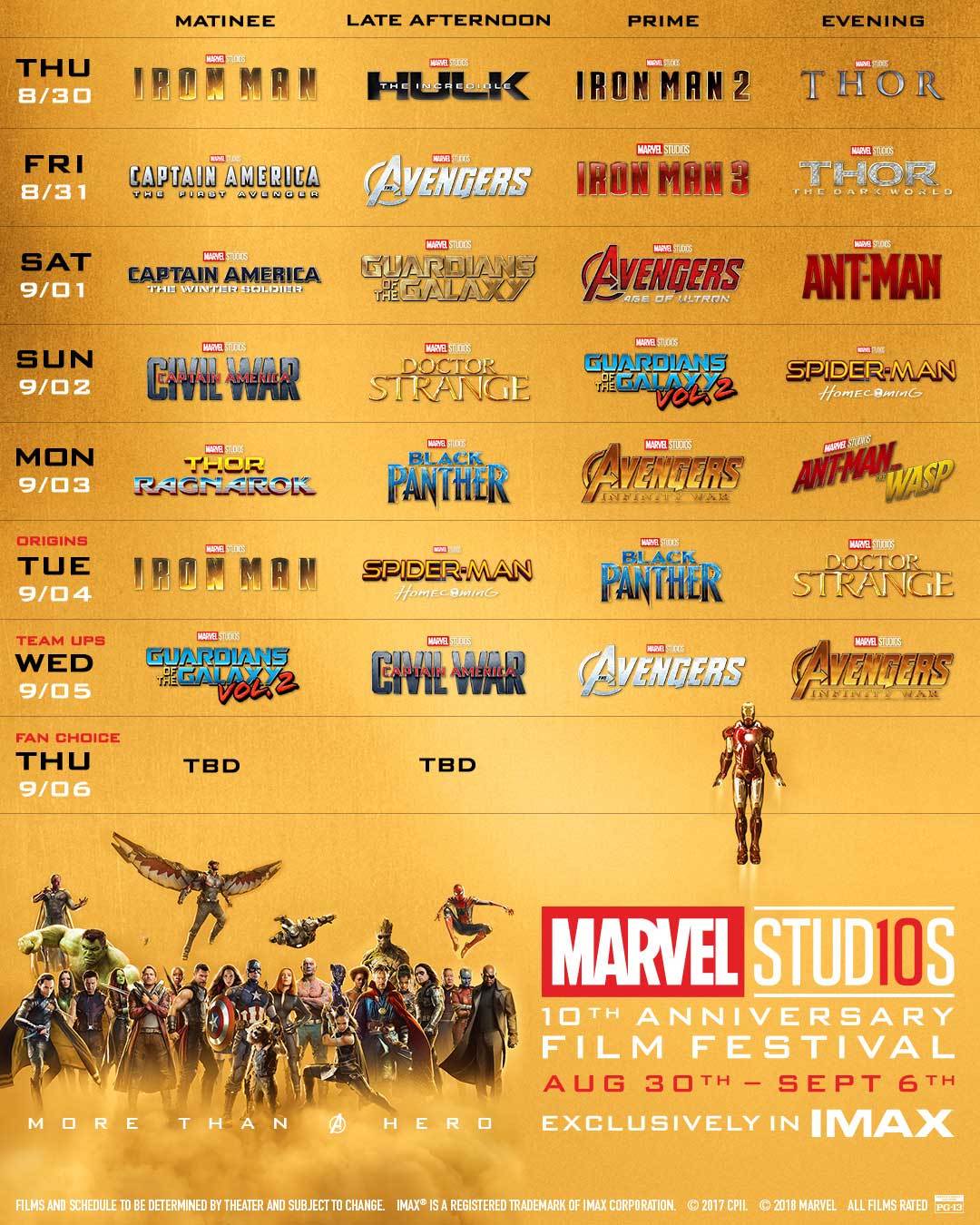 As you can see, for the first five days, the 20 films will play in the order they were released. The next two days are themed, focusing on "Origins" and "Team Ups." And for September 6, fans like us get to decide which two films should be shown for the finale of this iconic festival! The polls are open from now until August 17 on Twitter at @IMAX and @Marvel Studios, so cast your vote for either Iron Man, The Avengers, Captain America: The First Avenger, or Black Panther. We know, it's a tough choice. We'll be following along using the hashtag #MarvelStudios10FilmFestival!
This will be one movie marathon to remember. Be part of the Marvel Studios magic and grab your tickets now!